Blog > Book Marketing – Posted on Mar 14, 2018
50 Book Marketing Ideas Every Author Needs to Know
No matter what kind of book you're writing, all self-publishing authors will eventually reach the same question: what's the best way to market it? The great news is that you're not the first indie author to face this challenge. By following in the footsteps of those who have succeeded before you, you can create a focused and effective book marketing plan that will get people snatching up your masterpiece.
In this post, we offer up dozens of book marketing ideas that you can steal for your own promotional efforts. Not only that, it features a free book marketing checklist that you can print out and treasure forever!
Without further ado, here is your list of book marketing ideas to market your book:
Identifying your target audience
You've probably heard a variation of this before: If you're selling to everyone, then you're really selling to no-one. You need to nail down your target reader before you start marketing your book (or even better, before you start writing it).
1. Build a proto-persona
This is where you create a hypothetical reader who will really love what you're writing. Give this reader a fully-fleshed profile that includes: a name, occupation, and home life. Every time you make a book marketing decision, think about this person.
Learn more: "Creating a proto-persona for your book"
2. Find out where this persona 'lives'
We're not suggesting you physically stalk someone. Instead, this means figuring out where this imaginary person goes to find their next read and where they go to talk about the things they love. Try looking through related Reddit threads, following the authors they love on social media, and peering into forums.
Determining your market viability
Thinking like a traditional publisher, one of the things you will want to do before putting pen to paper is to research the market.
3. Find out if there is an existing market
One method, suggested by Kindlepreneur's Dave Chesson, is to run an Amazon search with your primary keyword. This might be "How to stop smoking," for example. Then take a look at the Amazon Best Sellers Rank of the top three titles listed. If the #2 and #3 books are selling significantly fewer copies than the #1 book, it might suggest that the market is already being well served by that top-ranking book.
Learn more: "Best Marketing Books"
4. Determine what sets you apart from the competition
So, you've determined that people have an interest in books like yours. If you're writing a novel, that might be enough. But if you're writing a non-fiction title, you need to identify how it's different. Does it do exactly the same thing as a competing title, you will struggle to sell it. Pinpoint exactly how it stands out.
Learn more: "How to Validate Your Book Idea" (Free course)
Researching categories and keywords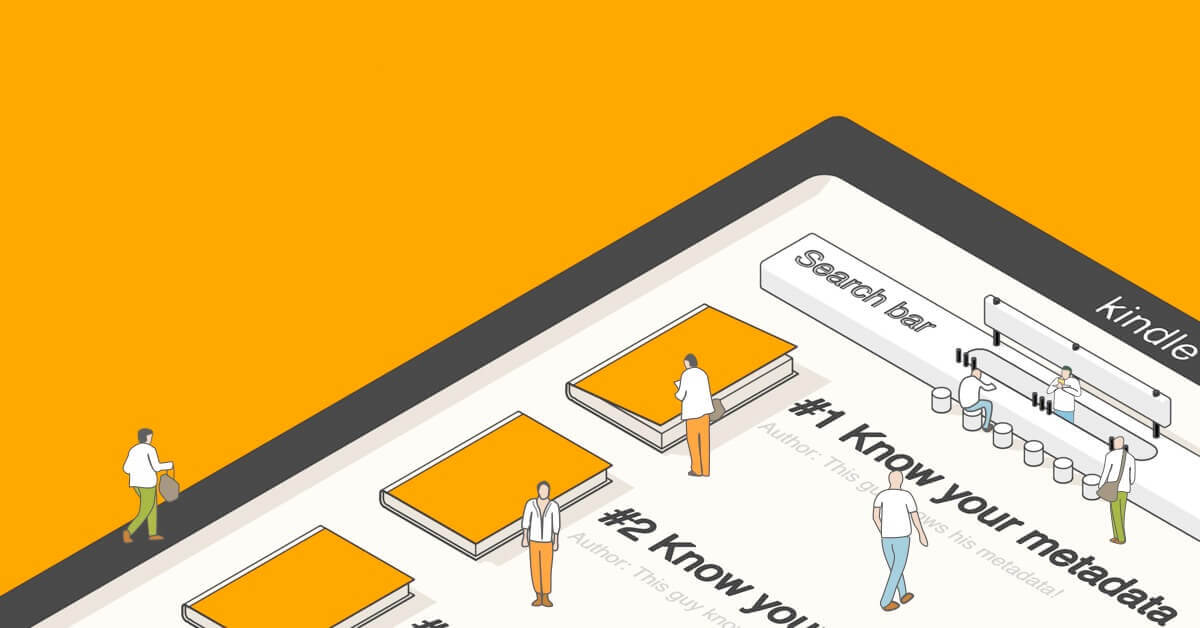 5. Select categories where you have a chance at being a bestseller
Becoming a #1 Best Seller on Amazon has plenty of benefits, not least of all the prestige and the additional exposure that it gets you on the platform. The good news is that you only have to reach the top spot in your category to earn that title. So when selecting your categories, pick a few where the current #1 book is ranked relatively low on Amazon's Best Sellers Rank.
6. Identify keywords shared by the bestsellers in your category
Take a look at the titles and descriptions of the books you'll be competing against and see if any words or phrases keep popping up. This will begin to give you an idea of the words that users might enter into the search bar when looking for a work just like yours.
Perfecting your book and 'product'
To compete with similar books of a professional standard, you need to consider your book as a full package — from the way it looks to the blurbs used to market it.
7. Edit and format to a professional level
Most of your marketing efforts will hinge on people actually liking your book — enough to mention it to friends and leave reviews on your Amazon page. To get to that point, you need to make sure that your entire project is up to snuff. If that means getting professional editing services, a proofreader and having your book properly formatted, then, by all means, take care of it.
Learn more: Format your book for free with the Reedsy Book Editor
8. Design (or commission) a cover that 'sells'
Cover design really matters. It will be your primary marketing asset across all your book marketing channels: your ads, your website and — crucially — your retail pages. Apart from your title, it's the one thing that will get browsers to click through to your page.
It's been shown time and again that a professional cover has a significant impact on marketability — saving a couple hundred dollars by making your own cover may cost you thousands down the road.
Learn more: "Book Cover Design for Self-Publishing Authors"
9. Write a Description that will get people to read more
Imagine you're a door-to-door vacuum salesperson. Your cover will get the customer to open the door and talk to you. The next stage is to get them interested — and that involves having a great description.
Often called the blurb, the book description is the bit of text on your Amazon page which often includes a synopsis. The purpose of this text is to 'hook' them: grab their interest and leave them needing to know more.
Learn more: "Writing an Irresistible Blurb for your Novel"
10. Hone your sample chapter
If there's one section of your book that really needs to work, it's your sample chapter: the part that readers see when they hit 'Look Inside' on your Amazon page. To continue our vacuum salesperson analogy, this the publishing equivalent of getting the Hoover out and demonstrating it on the customer's carpet. Within a few short pages, you will need to convince them to hit the 'Buy Now' button.
Learn more: "Optimizing Your Book for Amazon and Other Online Retailers"
11. Write an Author Bio
This doesn't have to be very long at all. Fiction authors: make sure that the tone of your bio is in tune with what you're publishing. If you're a writer of psychological thrillers, then your bio probably shouldn't be too irreverent.
If you're a non-fiction author, use the bio as an opportunity to establish your authority in your field: mention any awards, relevant qualifications, experience, as well as places you've spoken and have been published.
Learn more: "How to Write an Author Bio"
12. Include a link to your mailing list
Acquiring readers is not easy, so make sure you lock them down. Authors who have written more than one title will have a section at the back of the book to let readers know where to find them. If it's digital, then there will be a simple link so that they can buy the next book on the spot.
Or even better, include a link to sign up to your mailing list. Your mailing list should be a fundamental part of your book marketing strategy — which is why we're going to give it its own section:
Growing your mailing list
Here are a few tips which will help you master the art of growing your mailing list.
13. Set up a mailing list
Use a service like MailChimp or Mailerlite to manage your mailing list. One of their best features will allow you to see who has opened your newsletter and clicked on the links (such as "Buy now!").
14. Include a sign-up button on your author website
An author website is not just an online expression of your brand. It's also a place where you can capture readers for your mailing list. You can create your own, or work with a professional designer to build a website that is great at converting leads.
Learn more: "10 Tips for Making an Author Website"
15. Use a lead magnet to incentivize sign-ups
'Leads' are people who may be interested in your product, who you are also able to contact. People in sales will always talk about tracking down new leads, or developing hot leads (while shying away from weak leads).
Lead magnets are incentives you offer readers in exchange for signing up to your mailing list. Fiction authors sometimes use free short stories — or free novels! — as a lead magnet, while non-fiction authors will often share additional resources (like worksheets or video webinars) that relate to their book.
You can publicize your lead magnet on your website, on social media, at the back of your book, or even on Facebook ads. These will prove to be one of your best tools when it comes to adding suitable readers to your mailing list.
Learn more: "Author Nick Stephenson on Reader Magnets"
16. Install an exit pop-up to increase subscribers
You might find it annoying as a user, but we can attest that pop-ups are very effective at getting people to sign up. Creating one may require the help of a professional, but it's something you should consider if you're pulling out all the stops for your mailing list.
17. Attract new subscribers with giveaways
If you don't have any short stories, or worksheets to use as a lead magnet, you could also run a giveaway. First: find a prize that will attract your kind of reader. If you write horror novels in the vein of Stephen King, why not give away a signed poster of the film It, or a Stephen King box-set?
Learn more: 6 Steps for Building your Mailing List with Giveaways
Looking for a professional book marketer?
The best marketers are on Reedsy. Sign up for free to meet them within seconds!
Learn how Reedsy can help you craft a beautiful book.
18. Use Facebook ads to capture leads.
Facebook is a great platform for authors, and their advertising service has proven to be effective at targeting very specific audiences. While you can use their ads to direct users to your Amazon page, you can also use them to capture leads.
Learn more: Facebook Ads for Authors (Free course)
19. Provide regular content to subscribers
Once you have readers on your mailing list, you need to keep them warm. That means sending regular newsletters with content they'll find useful or entertaining. By regular, we don't mean every day. Some authors send a newsletter every week; others space theirs out to every few months. It's up to you to determine how often you reach out.
20. Identify your street team
Your street team is a group of dedicated readers who will help you get the word out during your book launch. They will be active on social media and will be prepared to leave good (honest) reviews on launch day. In many cases, a street team is made up of friends, family, and a number of engaged mailing list subscribers. Identify them early, as you're going to need them before long.
Learn more: Build your Street Team in 4 Simple Steps
Building your platform (Non-Fiction)
Building an author platform is all about expanding your ability to reach an audience. For non-fiction writers, a strong platform is usually crucial to scoring a publishing deal. Here are a few ways you can go about building yours and demonstrating your authority in your field.
21. Speak at conferences and events
If you've spoken at an event, it immediately gives you some credibility — even if it was to an audience of 50 people. Check out the author bio of any non-fiction author and you're likely to see a list of places where they've spoken. While TED Talks might be out of your reach, TEDx events have much less stringent requirements.
Oh, and whenever you speak at an event, get the audience to sign up to your mailing list!
22. Guest blog or contribute editorials to media outlets
Try pitching guest posts to niche (but relevant) blogs, as well as larger media outlets like HuffPost, Forbes, or Inc. While you can arrange this yourself, many authors prefer to work with experienced publicists who already have connections.
23. Obtain testimonials from prominent figures in your field
Take a look at the bestselling books in your category. Do they have quotes and endorsements from experts? Seek out those experts' contact info and try reaching out to them — and even your competing authors. It could surprise you how many people are willing to read your book and provide a quote, especially if you approach them properly.
Once you have some quotes, use them in your book description, on your adverts, and anywhere else you can think of. By giving you a testimonial, they are effectively lending you some of their platform.
24. Put time into building your social media presence
Don't fall into the trap of thinking that social media doesn't matter. It does, but the trick is to pick one or two social networks where your ideal readers "hang out" and to focus just one those.
Say for example, that you write about energy trading. The more interesting things you have to say on Twitter about news in the energy trade, the more you're going to get retweeted and followed. Before you know it, you're an authority on the topic, and when the time comes to launch your book, you already have a captive audience of potential readers.
Preparing for your book launch
When new readers arrive at your Amazon page, almost all of them will look at the top reviews. Social validation is an incredibly important part of the purchasing decision, so in the run-up to your launch, it's important to focus on securing as many positive reviews as possible.
25. Mobilize your street team
About a month before launching, send your street team an ARC (Advanced Reading Copy) and ask them to leave you a review on launch day. Also, give them pre-written tweets or Facebook posts that they can use at that time as well.
Make sure you follow up a week before the book launch to make sure that they a) have read the book, and b) are ready to leave their review.
Learn more: "How to Distribute your ARCs" (video)
26. Create an author page on Amazon
Upload a professional-looking author photo and put your author bio to good use! Your author page will look a little empty until you have a few books under your belt, so consider recording an introduction video where you talk about your first book.
27. Set your book to pre-order
Promotion needs to start well before it's actually your launch date. And it's much easier to secure book sales by asking people to 'pre-order today' than to hope they'll remember to come back later and buy it. Even better: a solid number of pre-orders will likely result in a decent Amazon ranking when you do launch.
28. Find appropriate reviewers
Don't forget to also look outside your street team and seek out reviewers with a suitable audience of readers. Most review bloggers will have a full plate, so the earlier you can reach them the better. You can use this directory to search for appropriate review blogs.
Learn more: "How to Get Book Reviews (in 5 Smart Steps)"
29. Start a Goodreads profile
Goodreads is a massive social network of readers. It's a place people go to share what they're reading and it has been known for making certain authors' careers.
30. Create a trailer
Take a cue from the movie studios and make a trailer. Or, at least consider it. The medium doesn't suit every type of book, so take a look at what your competitors are doing and see if the cost of creating a trailer makes sense for you.
31. Submit your book to Reedsy Discovery
Having launched in March 2019, this marketing platform offers indie authors exposure to thousands of readers and hundreds of qualified book reviewers. For $50, you can submit your book to Reedsy Discovery for a chance to secure a professionally written, honest review before launch.
Read more: Launching your book on Reedsy Discovery
Cross-promoting with other authors
One of the things you'll discover is that authors who write similar books are not your enemies — they're your potential allies.
32. Join forces with comparable authors
In building your mailing list and social media profile, you may have accumulated 5,000 readers who you can readily access. By teaming up with three authors who write similar books and have roughly the same audience size, you can instantly quadruple your reach.
33. Organize takeovers of each others' platforms
Book marketers know the simplest version of a cross-promotion is an agreement to send a newsletter about another author's book when they launch. And in return, they'll do the same for you. This can also extend to running competitions on each other's Facebook pages, or practically anything you can think of.
34. Create a giveaway bundle
We mentioned giveaways before. You can get together with your author pals and give away a book bundle on Goodreads.Those who don't win the giveaway will still have your title on their 'to-read' list, which often converts to book sales.
Running a promotion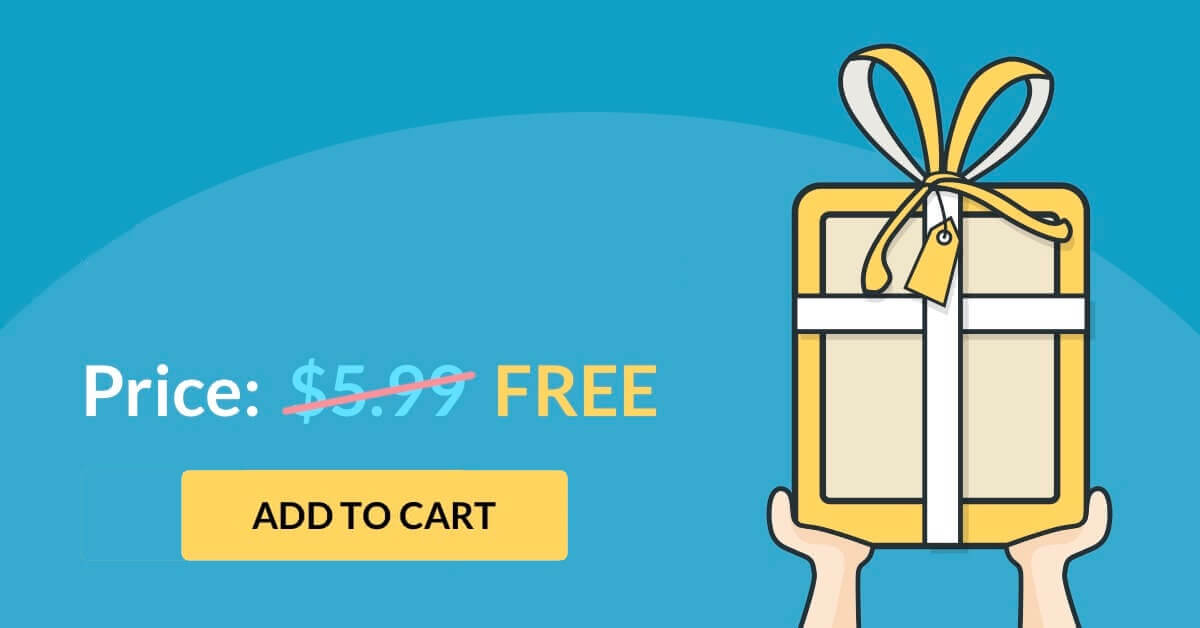 It's simple economics. If you lower the price of your book or give it away for free, more people will read it. If your goal is to get more reviews and better visibility on Amazon, then a price promotion is the way to go.
35. Choose a type of promotion to run
Depending on your specific goals, you will need to determine the length of your promotion and how much your discount will be. If you are selling your ebook exclusively with Amazon's KDP Select, you will be eligible for their promotion programs, including Kindle Countdown Deals and Kindle Free Promotions.
Learn more: "The Case for Amazon Exclusivity"
36. Learn to set your book to free on Amazon
If you're going to run a free ebook promotion, you'll quickly notice that Amazon won't let you set your price to zero — which isn't ideal, considering that they're the largest retailer by far. There is, however, a well-known loophole that will let you make your book available for free. Check out the link below to learn the secret.
Learn more: "Setting up a free promotion without KDP Select"
37. Research appropriate promo sites
There's no point in discounting your book if nobody knows about the discount. Thankfully, many sites like Bookbub and Bargain Booksy are centered around connecting readers with promos. To find the promotion sites that are best suited for your audience, start with this directory.
38. Create a multi-tiered promotion strategy
You don't want all your promotional activity to drop on the same day. Amazon's algorithm ignores isolated sales spikes, so make sure your marketing efforts last the entire promotion to create a sustained increase in purchases. That's where your multi-tiered strategy comes into play, which you can learn about at the link below.
Learn more: "Plan a Multi-Tiered Book Promotion"
39. Use your backlist to promote your current book.
This only applies if you have a backlist. If you're releasing the second book in a series, you can discount book one and include a link at the back page that encourages the reader to purchase the latest title. By promoting an earlier book, you can boost the sales of your newer one without dropping the price at all!
Learn more: "Successful Book Promotion Strategies"
Advertising your book
The perceived wisdom is that in self-publishing, advertising doesn't work. That is, with a couple of exceptions...
40. Learn to use Facebook Advertising
With infinitely customizable audiences and a low minimum spend of $5 a day, Facebook is the perfect platform for authors to reach potential new readers. There's a small learning curve involved, but the payoff is worth it.
Learn more: "Facebook Ads for Authors" (Free course)
41. Test out your marketing assets with Facebook Advertising
The other benefit of Facebook ads is that it lets you run A/B tests to determine if readers respond better to a different blurb, title, or cover image. Even a 10% difference in clicks can make all the difference in your success — so be sure to test, test, test.
Learn More: "How to use Facebook Ads to Test Your Cover Design"
42. Try out AMS
Formerly a KDP Select-only option, Amazon Marketing Services now allows authors to pay for 'sponsored placements'. The upside to AMS is that they'll charge you only when a user clicks your ad not whenever someone simply looks at it. They can also be tested for as little as $5 a day.
Learn more: Amazon Ads for Authors: Two Case Studies Showing They Do Work
Other book marketing opportunities
43. Draft a press release
For the best chance of getting media attention, you need to make a journalist's life as easy as possible. And the vehicle for doing that is a press release. It's a short document that defines what's newsworthy about your release and provides answers to a journalist's biggest questions.
Learn more: "How to Build a Rocking Author Media Kit"
44. Search for media opportunities
Getting media exposure tends to be easier for non-fiction authors (see tip #22) as you will have something to talk about that relates to the real world. Having said that, there are plenty of writing and publishing blogs that may be interested in your story as an author, or the writing tips you can share.
45. Plan a Blog Tour
A 'blog tour' is simply when you line up guest posting opportunities on a number of sites. Just like the old press tours, except you can do it all from your living room. You will want to get your blog tour planned as far in advance as possible — or perhaps even hire a professional publicist to set it up for you.
Learn more: "What is a Blog Tour?"
46. Look for podcasts opportunities
Everybody's got a podcast these days! And that means there are plenty of podcasters looking for guests. Look out for shows that closely align with the subject of your book: there's no point reaching out to an H.P Lovecraft podcast if you're promoting a guide to using band saws.
47. Seek out social media influencers
You may have heard the term 'influencers' bandied about without knowing what it really means. It's basically anyone with a big enough social media following. Some influencers will ask for an endorsement fee to market a product, but if you can find ones whose interests are closely aligned with your own, it might be the start of a fruitful partnership.
Learn more: "5 New Opportunities to Get Book Reviews"
48. Search for local radio and TV opportunities
Local radio and TV shows are always on the lookout for interesting interviews. Some folks have managed to get themselves on local television just by pretending to be experts — so if you actually have something interesting to share, write up a press release and start contacting producers.
49. Contact local bookstores to organize signings and readings
Local bookstores are often interested in supporting local authors. Get in touch and talk about hosting a reading (if you're a novelist or poet) or giving a talk (if you're a non-fiction writer). If you know other local authors, get them involved too — and don't forget to bring copies to sell and sign!
50. Start attending book festivals
Festivals are a great place to network. You can meet readers, catch-up with fellow authors, and rub elbows with industry professionals. If you can get yourself onto a panel — even better!
51. Sell your book to libraries
Despite what you might think, libraries do sometimes buy books from independent authors. Just make sure it's available through a wholesaler, contact your local library, and make a compelling case for why they should stock your title. The best thing about it is its dynamo effect: once one library has your book, it becomes easier to get it into more branches.
Learn more: 5 Reasons Why You Should Sell to Libraries
Infographic: Book Marketing Checklist
To help you remember the most important elements of this list, you can download and print this nifty marketing checklist.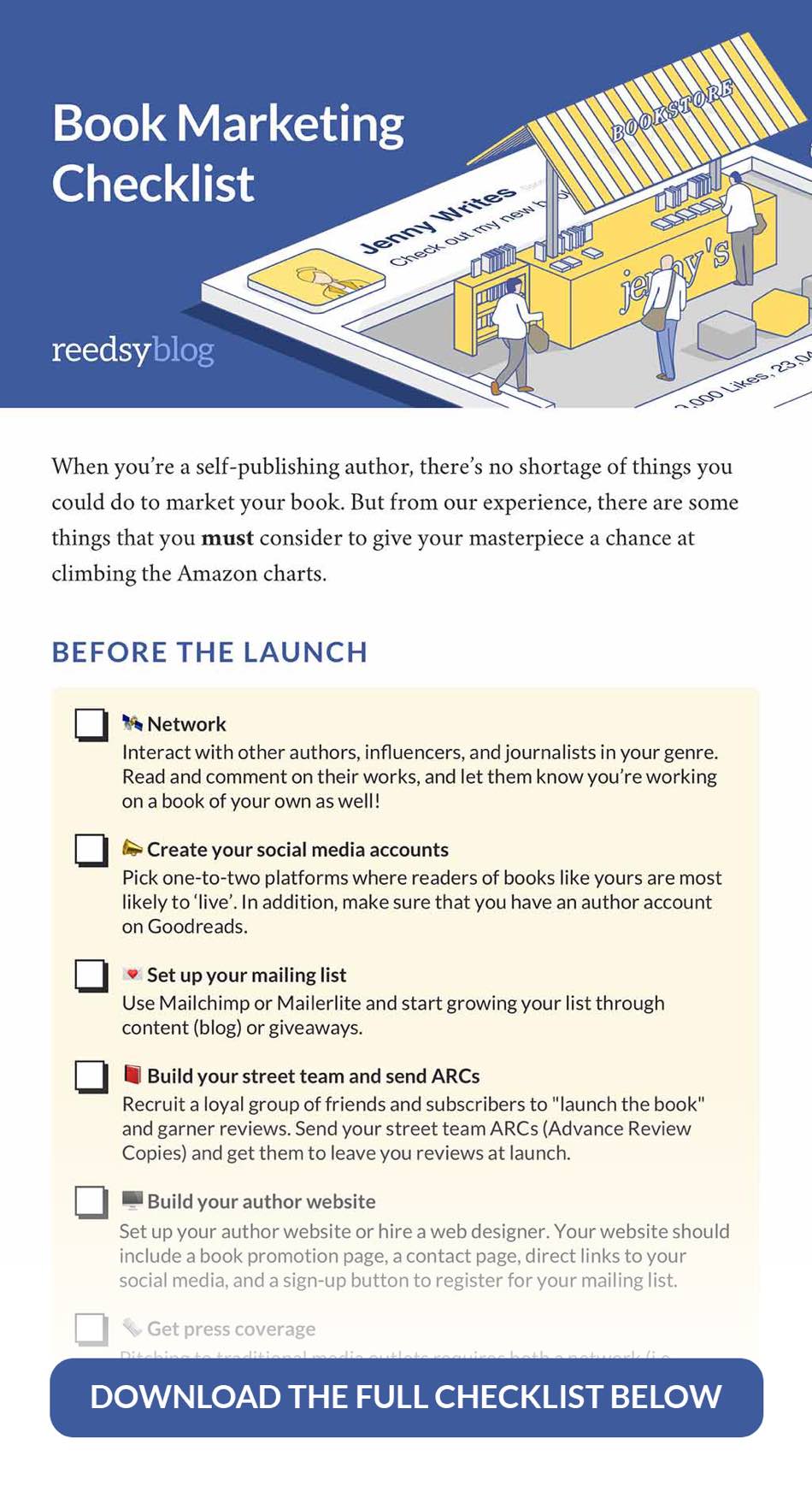 Enter your email address to download Reedsy's Book Marketing Checklist
You'll get it in your email inbox right afterward.