Last updated on Jul 07, 2021
The Essential Guide to Amazon KDP
We all know what the Kindle is: Amazon's e-reader, which revolutionized the publishing world with its introduction in 2007. Readers no longer cram multiple paperbacks into check-in luggage on their way to a beach holiday. Commuters now bring a virtual library with them on the train each day. Books can now be started moments after you hear the author talking on the radio. And just as the Kindle forever changed how people consumed books, Kindle Direct Publishing did the same for the act of publishing.
In this post, we're looking into the basics of Kindle Direct Publishing (or KDP, as it's better known) and why it's become the go-to publishing platform for indie authors in the English-speaking world.
What is KDP?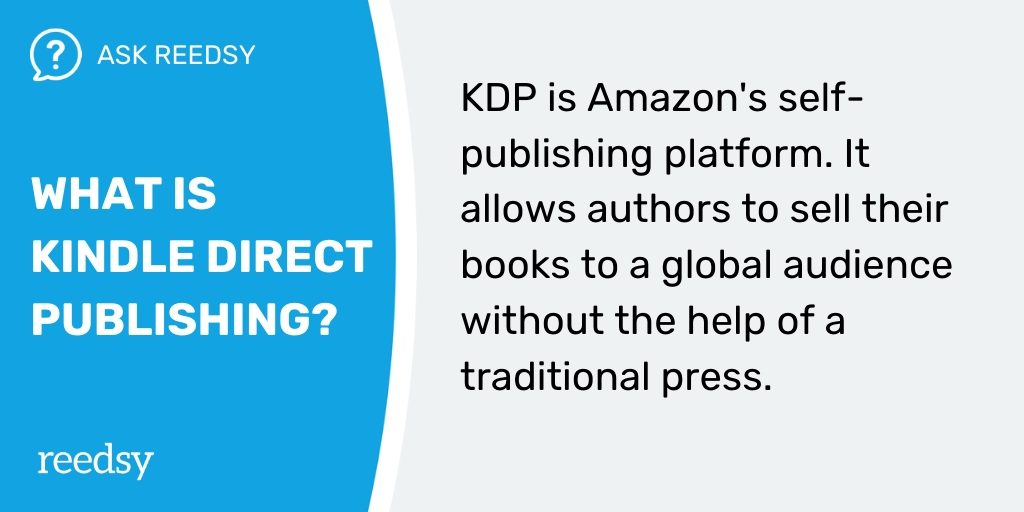 Kindle Direct Publishing is Amazon's publishing platform that allows independent authors to access readers around the world, without going through a traditional press. In a matter of hours, anybody can create an author account, upload their book files, and sell their book through Amazon — all without any setup cost. It's the most accessible platform for self-publishing authors.

Launched concurrently with Amazon's ebook reader in 2007, KDP opened up the publishing world. Readers could now not only buy indie ebooks through Amazon.com but also through the Kindle store preloaded on all Kindle devices. This accessibility has led to multiple waves of bestselling authors who have found success through self-publishing, including E.L. James (Fifty Shades of Grey), Hugh Howey (Wool), and Andy Weir (The Martian).
Besides, authors of niche genres have gained access to readers when, before, they would have been ignored by the traditional publishing model and struggled to find their readership in the early days of self-publishing.
For a closer look at how to set up an account on KDP, take a look at our guide on Amazon self-publishing.
What are the benefits of KDP Publishing?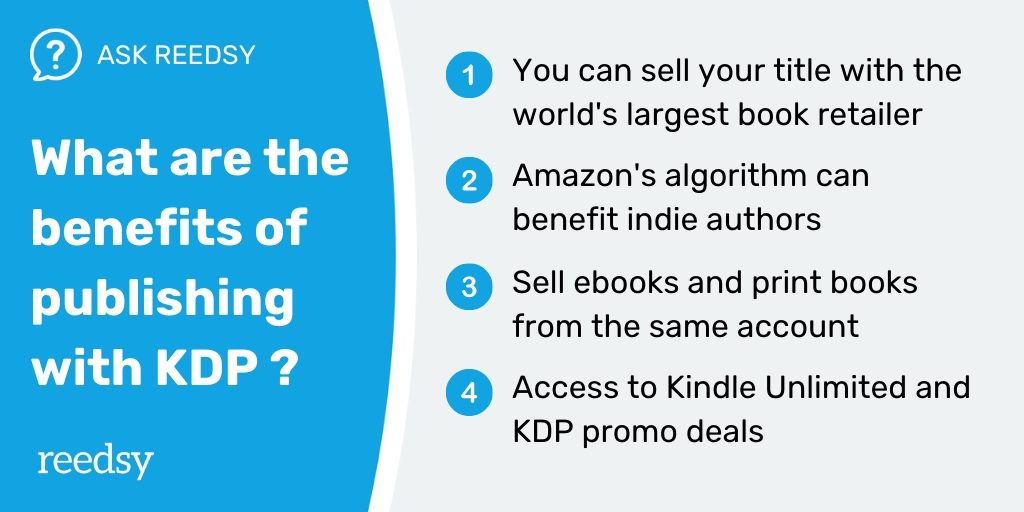 To fully answer this question, we should clarify that we're not talking about the benefits of independent publishing. Those upsides are numerous and covered in great detail in our article comparing self-publishing and traditional publishing. Instead, we'll look at the edge Amazon and KDP has over its competitors, such as Barnes & Noble, Kobo, and Apple Books.
1. Amazon is the largest bookstore in the English-speaking world
To be more accurate, it's the largest bookstore in the world, period — though Amazon doesn't quite have the same iron grip in non-English language book markets. One retail news site suggests that in the US, Amazon held an 83% market share of ebooks in 2019 — with the remaining 17% spread between its competitors.
Some indie authors will spend a good part of their week managing their titles across a half-dozen retailers, only to find that the majority of their sales still come from one source: the Kindle store.
2. The Kindle Store is algorithm-driven, which is good news for indie authors
Amazon's book stores do not have a merchandising team. Where Apple Books, Kobo, and other online retailers have groups of humans who choose new titles to promote (or authors whose backlist they'll feature), Amazon doesn't care about merchandising. They let their algorithm decide which books to feature and promote.
Why is this good news? Won't the algorithm just promote famous authors and big new releases?
Well, actually, that won't always be the case!
It's as if The Terminator worked at Barnes & Noble: the algorithm is a heartless book-selling machine that doesn't get star-struck by big-name authors. It looks purely at data to determine — in its cold, calculated way — which books to put in front of more readers. Indie authors have an equal chance of seeing their book rise in its category — as long as you can get pre-sales, sales, and user reviews (and you're able to get people who land on your page to press the 'buy' button). This may sound like a big ask, but it's a lot easier than calling up every bookseller around the country and begging them to stock your book.
If you want more info on all things Amazon algorithm, be sure to check out our demystifying guide.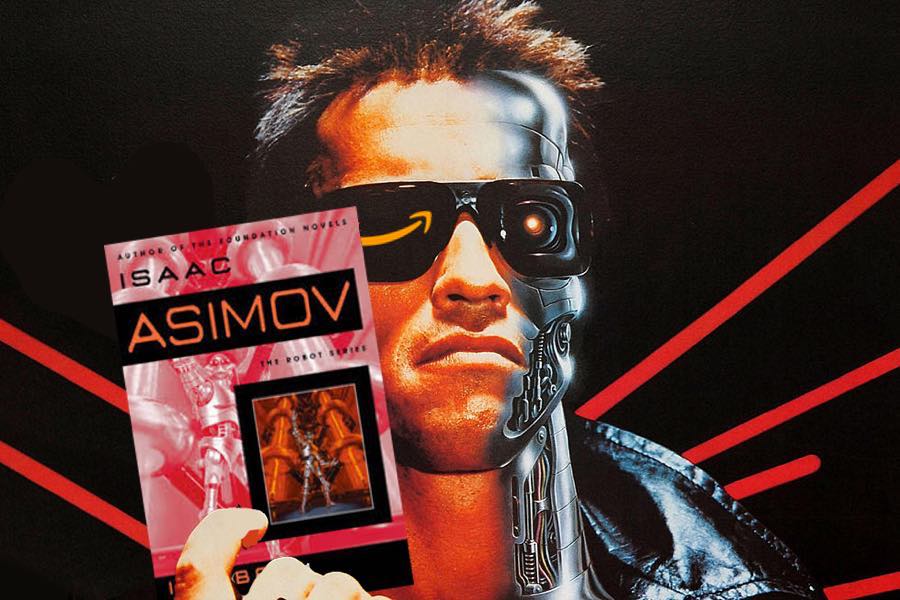 3. You can sell ebooks and print books from a single account
Despite the ebook revolution, print books aren't going anywhere. For self-publishing authors who want a handsome paperbound edition to put in their bookcase (or you know, to sell to paying customers), there are several print-on-demand services available. With print on demand (POD), a supplier will churn out copies only when someone orders them — making this system an affordable alternative to large-scale print runs.
Kindle Direct Publishing offers a service called KDP Print (formerly known as Createspace), which manages print-on-demand. Authors need to upload immaculately formatted print files (different from the ebook format), but once they do that, they can start selling physical copies from their existing KDP account. In short, authors can stay within the Kindle ecosystem to minimize their time spent on admin.
4. You have access to some pretty cool marketing tools
When you're self-publishing a book, you can't just set it live and hope for the best. Thankfully, Amazon offers a whole suite of marketing tools that help authors reach their target audience on the Kindle store. This includes Amazon advertising, which lets authors feature their books as 'sponsored products' on the pages of comparable titles.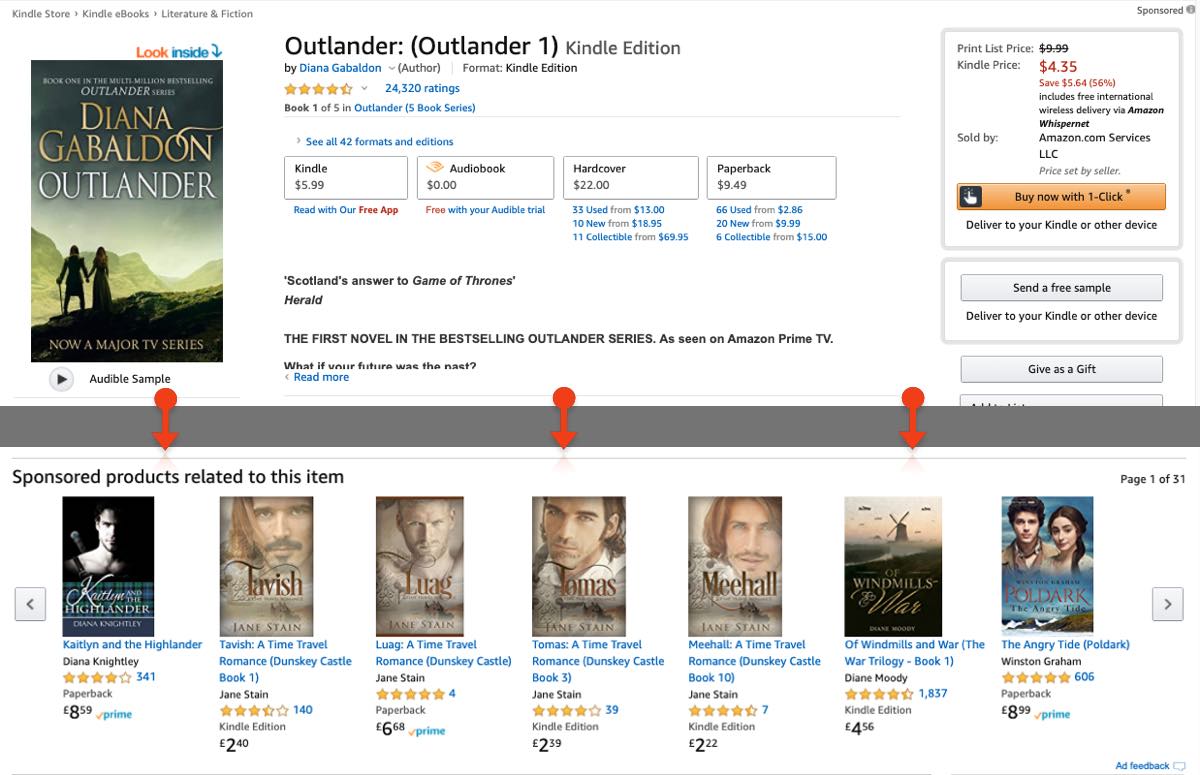 Free course: Amazon Algorithms
Send your book to the top of its category by using Amazon's recommendation system to your advantage. Get started now.
In addition to paid advertising, Kindle Direct Publishing offers free promotional options that can be accessed through their KDP Select program. You can check out our deep dive into KDP Select for all the juicy details, but in short, they include access to:
Kindle Unlimited – Amazon's subscription-based service (Netflix for books)
Kindle Free Promotions — Turbocharge your downloads by making your book available for free (for five out of every 90 days)
Kindle Countdown Deals — Run a week-long price drop that will see your book promoted in the Kindle store's Countdown Deals section.
There are minor downsides to enrolling in KDP Select (and the Amazon platform, in general), which you will discover in our next section.
What are the drawbacks of KDP Publishing?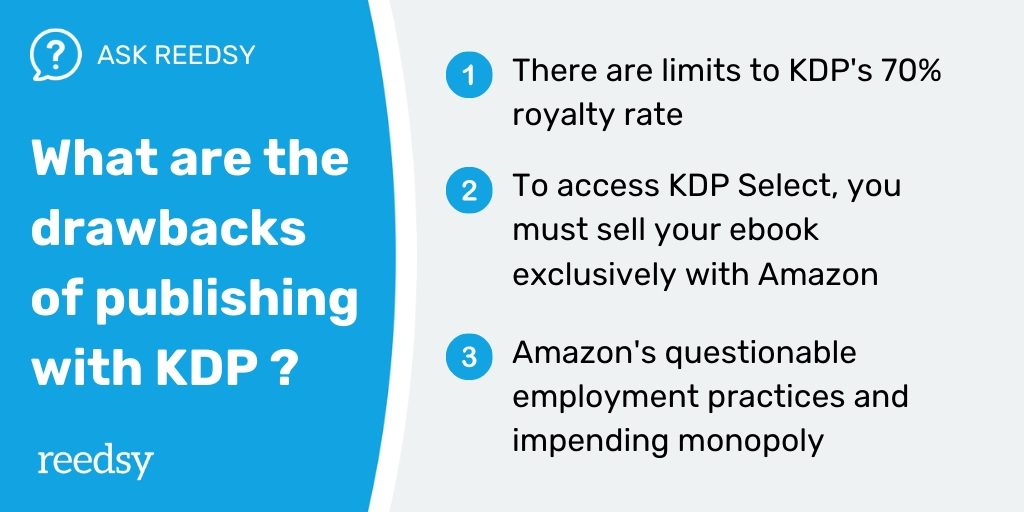 If everything was sunshine and rainbows with KDP, Amazon would have totally eradicated their competition by now. As it would happen, there are some drawbacks to Kindle Direct Publishing, which have led many authors to avoid putting all their eggs in the Amazon basket.
1. There are limits to KDP's 70% royalty rate
The biggest upside with self-publishing is the royalty rate. Compared to their traditionally published counterparts, indie authors keep significantly more of their book's cover price on each sale. Self-publishing authors expect royalties of around 70% for ebooks — though, on Amazon, there are limitations to that.
If you price your book above $9.99 on Kindle, your royalty rate will suddenly drop to 35%. This is fine for most authors (if your ebook costs more than $10, you might be doing something wrong), but if you're selling a box set — where you bundle multiple books into a single product — you'll be penalized. In contrast, Apple Books and Kobo have no such price ceiling.
2. To access KDP Select, you can't sell your ebook anywhere else
All those delicious marketing tools we mentioned in the last section (Countdown Deals, Kindle Unlimited) come with strings attached: to enroll in KDP Select, you must sell your ebook exclusively through Amazon.
This might sound like no big deal (after all, most books are sold on Amazon). However, in countries outside the US and the UK, Kindle's market share isn't as all-consuming. If your aim is to reach the broadest possible audience of readers, then being tied to Amazon — if only for the length of a promotion — might be less than ideal.
Once again, check out our other article for a more in-depth look at the pitfalls of KDP Select.
3. You might be hastening the Bezospocalyse
Monopolies are not a good thing for consumers. As Jeff Bezos's empire continues to absorb a greater market share of book sales, retail, web hosting services, logistics, streaming entertainment, and groceries, we should be concerned about feeding the Amazon beast. However, as people who have tried to buy exclusively from small businesses during the COVID pandemic (and waited two whole months to get a lousy hair clipper) can attest: using Amazon just makes things a lot easier.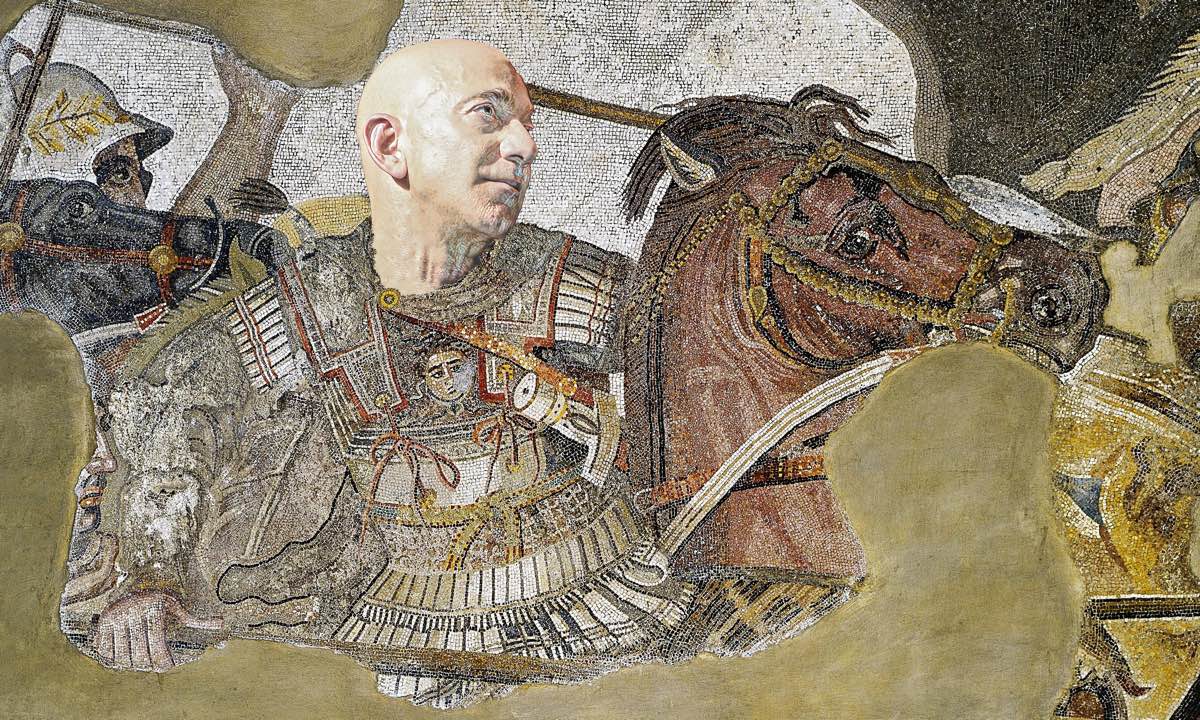 If you're concerned that by selling through the Kindle store you're contributing to the inevitable Amazon monopoly, you might be right. But you could also argue that there's no way to make a living as an author without them and that selling through Amazon is a compromise you need to make, or else struggle to make a profit. If it helps, focus on the fact that Amazon has created a platform that's disrupted publishing and tilted the balance of power away from 'gatekeepers' and towards the creatives.
For some, Amazon's patchy record of ethics might not be a dealbreaker — but it is something every author needs to consider at the very least.
Resources for publishing with KDP
If you're an author who's decided KDP will be your entryway to the exciting world of publishing, what's next? To help you along the way, here are a few resources you'll need:
Amazon Author Central: Step-by-step instructions for setting up an author page on KDP.
Reedsy Book Editor: A free tool to format your book and export them as files that are 100% compatible with Kindle's ebook and print-on-demand standards
---
If you're ready to take the plunge, head on to the next post in this guide, where we'll show you the nuts and bolts of publishing your book on Amazon KDP.