How to Write an Amazon Book Description That Sells
Selling books is a result of two factors: traffic and conversion. While the Amazon book description won't affect traffic (i.e., discoverability), it's one of the most important conversion factors (along with the cover, the reviews, and the "look-inside").
For example, author Alessandra Torre used Amazon self-publishing to release her first book in 2012, and for the first three months, she sold between five and fifteen copies a day. Then, on a whim, she changed the blurb on her Amazon page and saw her daily sales jump to 300 overnight. Her sales kept doubling to the point where she was selling 2,000 copies a day!
What does this tell us? That optimizing your book description for online retailers is critical if you want to actually move copies.
In this post on how to write a book description, we've condensed the process — for both fiction and non-fiction authors — into three steps:
1. The Headline: Hook readers in
Amazon only displays the first few lines of your product description, meaning you have very limited space to capture a reader's attention enough to click on your book and find out more. That's the role of the headline: if a reader's attention isn't grabbed straight off the bat, then you've already lost them.
Having an effusive and descriptive pull quote for your first line is really effective, and you'll see the technique used time and again by bestsellers and newcomers alike. Whether your reviews are editorial or reader reviews from Amazon or Goodreads, add them into your description. Word-of-mouth recommendations are great conversion tools.
However, if you don't have any suitable reviews or sales stats to speak of (yet), make sure that your first sentence features a snappy, irresistible hook. The key to a good headline is to include keywords that people on the hunt for their next read will immediately recognize. This could be:
Genre
Major themes
A series name
Awards
Brands or celebrities involved
TIPS FOR FICTION…
Here's an example of a self-publishing author using social validation to hook readers in. "The million-selling series starts here," it says, letting readers know that these books are really popular.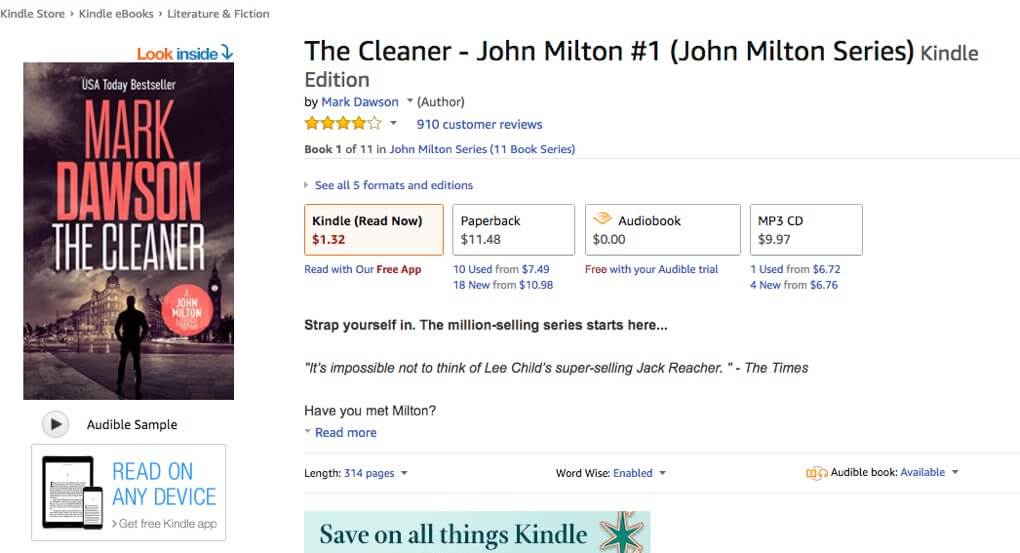 The next line is a double-whammy.
"It's impossible not to think of Lee Child's super-selling Jack Reacher" — The Times
Not only is it a quote from an internationally-renowned newspaper, it highlights Mark Dawson's central marketing message: "If you like Jack Reacher, you'll also like my John Milton books." Just look at Mark's cover designs and you'll see that this Reacher connection is no coincidence.
You might be thinking that as a budding author, you don't have a ton of accolades to start with. No problem! You can still give readers something to latch on to: perhaps an evocative tagline or a punchy story hook. Your aim is to appeal to fans of your genre, so browse through the bestselling books in your category and see how they go about capturing a reader's attention. Here's our own made-up headline:
A young woman finds herself lost in the plains of Arizona with nothing but her horse and a vague idea of the fabled town she's searching for — this debut novel puts a fresh spin on the classic Western with a female heroine and a mystery that needs cracking.
TIPS FOR NON-FICTION
As with fiction book descriptions, your headline needs to entice people to hit "Read More" with a motivating line or two. If you don't have a review or pull quote to start your description with, try leading with one of these options:
Tell us who you are. Are you an expert in your field? Have you been published multiple times regarding the subject of your book? Do you have singular insight into a topic no one else does? Tell us right away. For non-fiction, your author bio will determine if we'll trust what you'll have to say. For instance, Tyler Cowen's description for Average Is Over starts with: "Widely acclaimed as one of the world's most influential economists, Tyler Cowen returns with his groundbreaking follow-up to the New York Times bestseller The Great Stagnation."
Make us a proposition. Paint us a fast picture of what we might get out of your book. You need to ask a question that will resonate with your target audience — something that they need an answer for.
The Amazon page for The Power of Habit uses a headline that grabs readers with a proposition:

This introduction sounds almost like it's describing fiction, which is all the more exciting when we learn that these are factual events. By framing it in this story-like way, it prompts us to ask "how?" and then to read more so we can answer our own question.
Tip for optimizing your headline for Amazon: "Don't think that a book description has to be a few block paragraphs. Mix it up with different styles," suggests Ameesha Green. You can give your headline a bit of visual aid by using some of these formatting tips on Amazon:

Want to get the author PERFECT bio and book description?
Reedsy's book marketers can give you the professional edge and help you sell more books. Meet them today!
Learn how Reedsy can help you craft a beautiful book.
2. The Blurb: Tell readers what your book is about
Keywords are the breadcrumbs you leave that allow readers to find your book, and they play an especially important role in the blurb where you explain what your book is about.
Sticking with Mark Dawson's book descriptions as an example, here is part of a blurb from another one of his thrillers:

Even if the reader has never heard of this series before, they can quickly gather that it falls squarely into the realm of the modern action thriller. Keywords like 'murder' and 'former government assassin' let the reader know exactly what they're in for.
And it works! Just enter "British government assassin" into the Kindle store search box and see whose books turn up first.
TIPS FOR FICTION…
Tell readers what your book is about… but do not explain the whole plot to them. Because writers spend so much time creating all of the little details of their novel's world, they often fear leaving something out and end up giving the reader too many details.
When in doubt, include these three elements:
Lead with your protagonist.
The primary conflict.
The stakes.
Get a more in-depth look at these three elements and see examples from real Amazon book pages in our post on writing an irresistible blurb for your novel.
TIPS FOR NON-FICTION…
When it comes to telling readers what your non-fiction book is about, it's not the time for a bird's eye view; you want to identify exactly what your book is about, and why it's a worthwhile read. In this section, ensure you answer the following three questions:
What problem, challenge, or question does your book address?
How does it solve or answer this topic?
What exactly will readers take away from your book?
Many non-fiction descriptions do this by listing the topics covered with bullet points — such as the Amazon page for The 4-Hour Workweek by Timothy Ferriss. To learn more about writing a non-fiction blurb, check out our guide to creating the back of a book cover.
A quick note: Non-fiction writers often over-use  superlatives, which can come across as insincere and hyperbolic. If you say that your book is the greatest resource of all time on a subject, you better back that statement up with some hard evidence. Show your book's strength through its depth of content, not with flashy adjectives.
Tips for optimizing your blurb for Amazon: Repeating your Amazon keywords in your blurb is said to make your book rank higher for these keywords — unless you start keyword-stuffing, which is heavily penalized. If you browse long enough through Amazon, you will see cases where the title and description are packed with as many keywords as possible. It's most obvious when you see long titles like Killer Mystery: A thrilling adventure with a twist ending.
So long as your title and product description all remain relevant and natural to read, you should be in the clear.
3. The Wrap Up: Tell readers why your book is for them
Ideally, the end of your book description will prompt prospective readers into action: buying your book. If someone is reading the description on your Amazon page, it's likely because they're already looking for a book like yours. If they've made it to the end of your description, it means you've got their interest. All you have to do now is explain why your specific book is the one they should read next.
TIPS FOR FICTION...
Convince readers your novel is the right one for them by:
Pointing to similarities between your novel and well-known, comparable titles. If you go this route, ensure you strike a balance between drawing connections to popular books readers already know, AND pointing out how yours is unique.
Including strong, positive reviews.
Explaining who would enjoy this book. For instance: "This novel makes a great gift for YA readers who couldn't put down The Fault in Our Stars…"
TIPS FOR NON-FICTION…
Whereas with fiction readers form relationships with characters, with non-fiction we relate directly to the writer. Motivate readers to choose your book by planting the seeds of that connection right away.
Check out the closing of the description for Jen Sincero's You Are a Badass:

Sincero's description uses slightly more formal language for the previous sections of the Amazon page, while she's still laying the groundwork for acquiring reader trust. She closes the deal by speaking more directly and causally to the reader, and appealing to emotion. They reiterate what readers will get out of the book and invite you to dive in.
Tip for optimizing your wrap-up for Amazon: Don't wait for people to leave reviews on your Amazon page — put them right in the book description yourself. The wrap-up is a great place to include them, and if you already have a relationship with some of your reviewers, you can always ask them if you can amend their review slightly to include any keywords you haven't hit yet.
And there you have it! Work on your attention-grabbing headline, your enticing blurb, your final selling points and you've got yourself an ace book description in the making. It might take a few tries to get it right, but it's more than worth the investment.
Of course, if you find that your book is still underperforming even after revising your description, consider working with a professional who specializes in blurb and metadata optimization. These experts understand all the trends and techniques that go into a perfect description and can really help maximize your book's potential! When it comes to Amazon, your blurb and metadata are so important that you don't want to take a chance — so when in doubt, go pro.
---
Have you picked up any of your own tricks for an effective Amazon book description? Leave any questions or thoughts in the comments below!