7 Ways to Build a Rockin' Author Platform
A strong author platform is something every writer wants and needs: an ability to reach readers by virtue of their name, reputation, or connections. Without a platform, self-publishing authors will struggle to reach many readers — while those seeking a traditional book deal will face an uphill struggle, especially in nonfiction where platforms are king.
Now, you don't need to be a celebrity to launch a publishing career — most authors start small and grow their platform over time. Reedsy has helped thousands of first-time authors publish their books and in this article, we'll reveal seven tried-and-tested ways that any writer can use to grow their platform.
1. Create an author mailing list
A mailing list or newsletter is the #1 tool every author needs. It is a way for you to reach people who already know you or like your writing, and so it's a crucial aspect of book marketing that you should set up as early as possible, so you can start adding readers from day one. Reedsy co-founder and in-house marketing expert Ricardo Fayet explains that "your author mailing list is the one main tool you'll use to build a long-lasting relationship with your readers, turning them into repeat buyers and unconditional fans. Every sale you make while your mailing list is not in place is basically a lost opportunity." 
🎁 Want more advice from Ricardo? You can download his book, 'How to Market a Book: Overperform in a Crowded Market' for free.
In other words, to avoid watching your fans slipping through your fingers and into the abyss of the Internet, never to be seen again, you'll need a mailing list. Ricardo's course will walk you through the basic principles of mailing lists, as well as give you practical advice on how to set one up: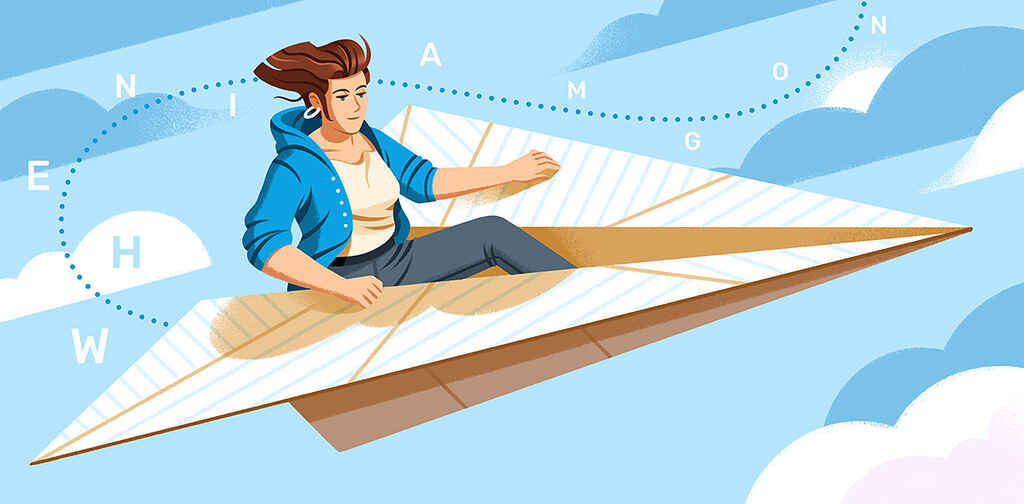 How to Build Your Author Mailing List
Learn how to connect with your audience and sell more books with email.
2. Set up a home on the web
It's crucial for potential readers to be able to find you if they Google your name, and ideally they'll land on a page you've curated to show off your work, like an author website or online profile. 
Create an author website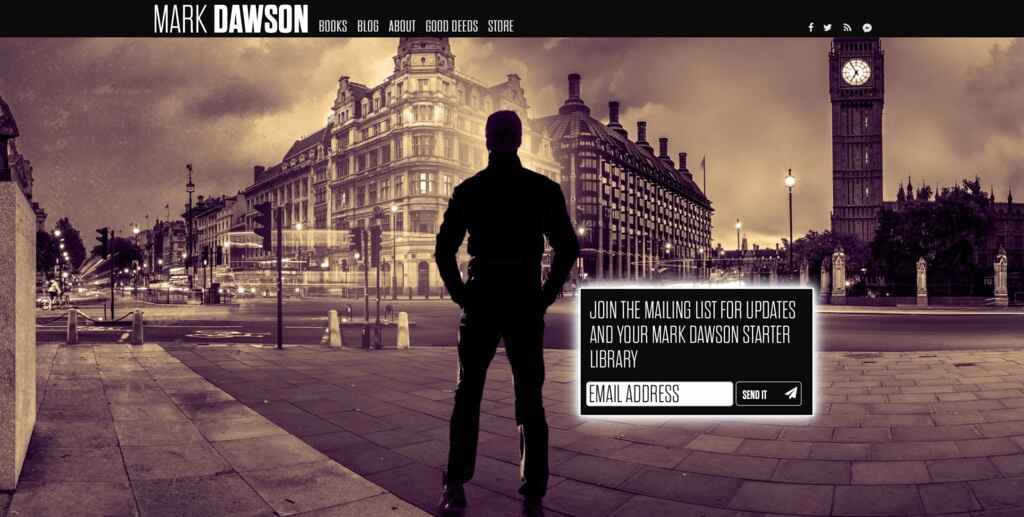 Having your own author website is imperative if you take your work seriously. Include an 'About' section with a short bio, contact information, links to social media and samples of your writing online, and a sign-up form for your personal mailing list. 
Attract new fans with a reader magnet
If the mailing list sign-up is the main thing you want people to complete when they arrive on your site, place it front and center with a 'reader magnet' (incentive to download) and even exit pop-ups. If the focus is that they buy your existing books, feature their covers prominently, and clearly signpost links to digital retailers. If this all sounds daunting, collaborating with a professional author website designer will make this process a lot easier. 
💡 Still confused? Check out our list of 13 author websites that get it right to see what we're talking about.
Create an author profile on Reedsy Discovery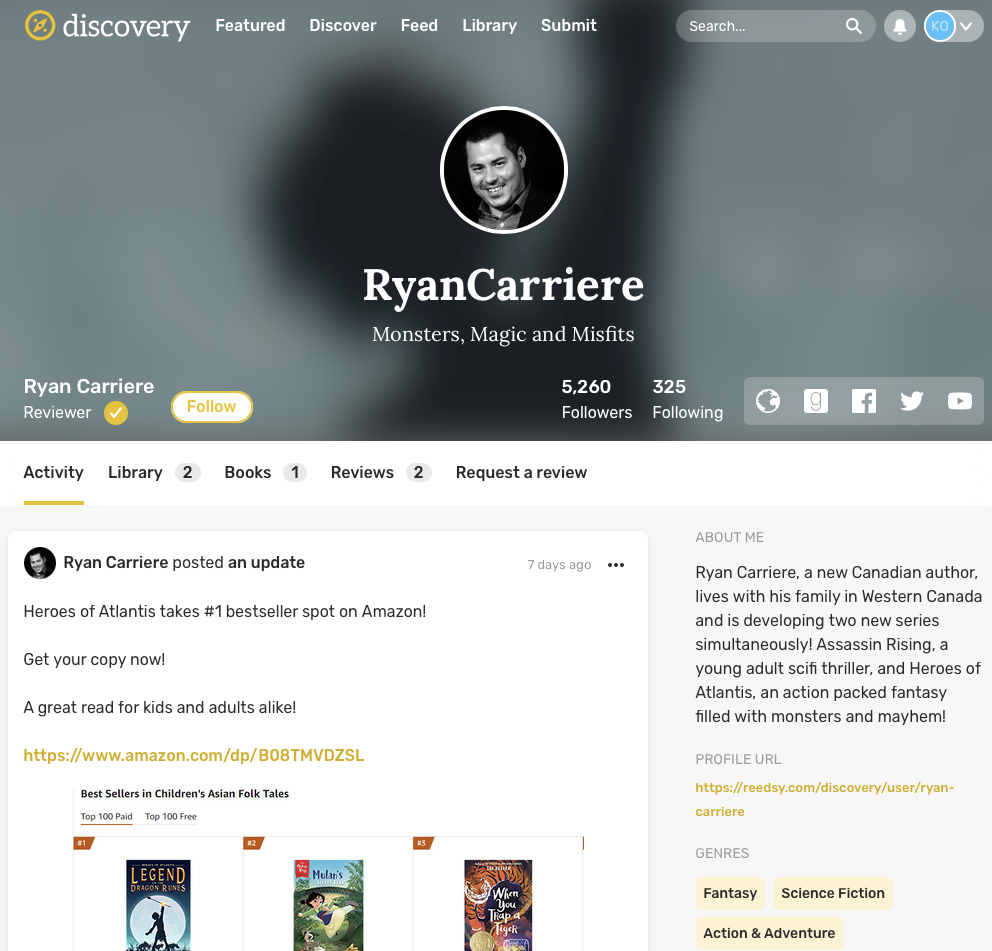 Another place where you can feature information about what you're working on, as well as amass followers and reviews, is Reedsy Discovery. We built this platform to help authors gain visibility in an increasingly competitive market, so Discovery profiles are professionally designed to show off your strengths. Complete with prominently displayed buttons leading to your own website and social media profiles, a Discovery profile serves as an excellent introduction for new fans.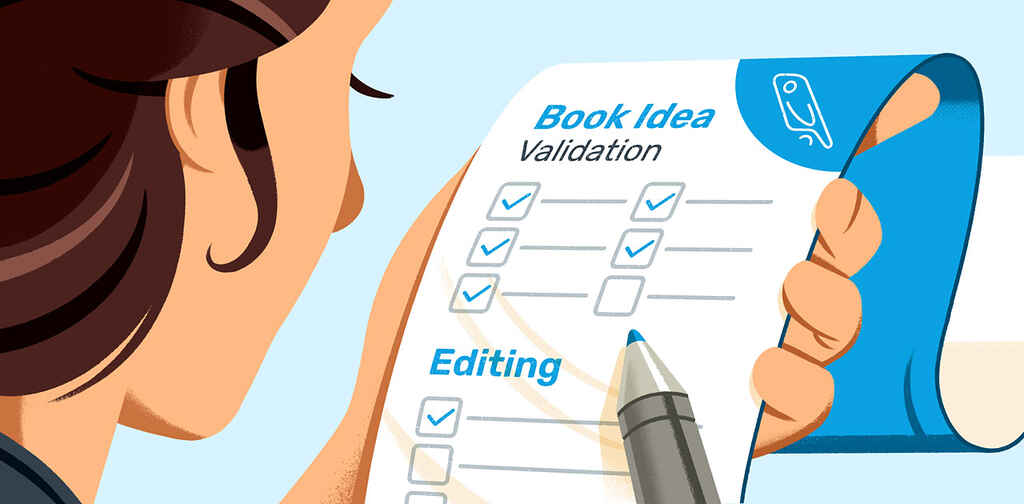 Reedsy's Book Marketing Checklist
Tick all the boxes, from ads to networking to social media and beyond.
3. Build your following on social media
Growing your fanbase on social media doesn't mean you have to humiliate yourself with TikTok dance challenges — in fact, you don't need to go viral to use social media effectively. Like any cost-effective piece of marketing, you should aim to appeal specifically to people who might be interested in what you're writing.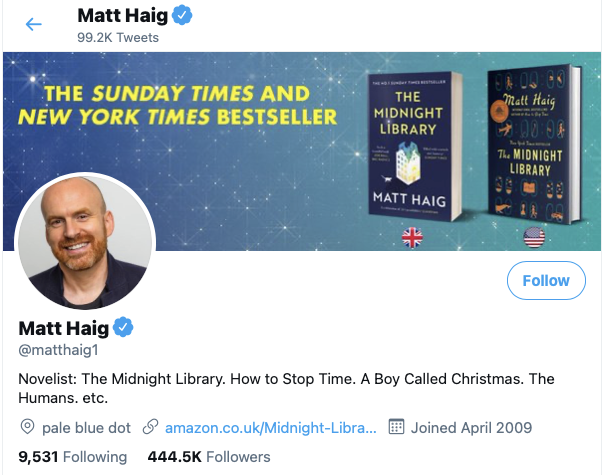 Pick your platforms carefully
Authors generally tend to congregate on Twitter, but Facebook groups/pages are far from dead, and Instagram is gaining more and more traction, especially for children's picture books. The important thing here is to use the medium you're most comfortable with, and to check that there's sufficient activity within your genre on that platform (you can test various platforms and digital communities and see which respond well). Connect with other authors and share updates about your work and your activities. Readings, book signings, online panel discussions, or new publications should all go on your feed so your fans can check it out!
All work and no play makes your social media dull
One more thing about social media: while it's important to share updates about your work, stick to one, maximum two reminders for upcoming events. Avoid repeatedly re-using the same posts, or your followers will feel spammed. Equally, make the most of these platforms and allow your readers to get to know you by sharing things you love: books, movies, TV shows, or online articles are all relevant to someone who's curious about your interests and inspirations. To be clear, social media is not an imperative if it's not your thing, but if you're comfortable with it, aim to be semi-consistent with your content as a minimum. Just bear in mind that doing social media badly can be worse than not doing it at all.
4. Establish your publication track record
As a debut author, you simply don't have the trump card of "I've already published 3 bestsellers" to convince a publisher to take you on. But books aren't the only publications that matter here! For both fiction and nonfiction, writing articles for newspapers or literary magazines is an excellent way to get your name out into the world. That includes book reviews, op-eds, personal essays, literary discussion pieces, book lists, and anything that relates to your field if you're writing nonfiction. 
Magazines could be your perfect launchpad
For poets, short story writers, or novelists who dabble in short fiction, this will mean placing pieces in magazines, in order to grow your author "CV". Literary agents often read literary magazines in search of new talent, so a well-received story could lead you to a book deal, as Kristen Roupenian's career shows. Whatever you do, make sure the author bio you provide links to your author website and social media accounts, so that people know where to find you if they like what they read.
📚 Recommended resources:
5. Book some speaking engagements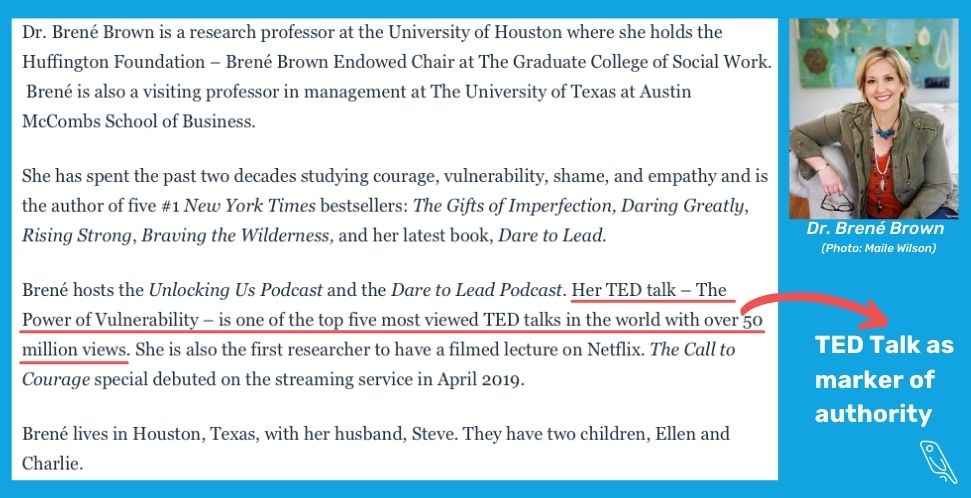 For nonfiction writers in particular, authority plays a very significant role in how well your book will sell, and how much people will trust what you're writing. Speaking engagements are a very important marker of social validation to include in your book proposal. In her Reedsy course on growing your influence as a nonfiction author, success coach Stacy Ennis advises that as a first step, you register with local and national speakers' bureaus. 
Grow your speaking and writing careers together
Stacy also stresses that you should be prepared to start small: "If you're new to public speaking, I suggest speaking for free to build your reputation and testimonials. Contact local companies and organizations and offer a specific workshop or talk that will be of benefit to their audience. Use your speaking engagements to form relationships and spread the word about your book, ideas, and story. Eventually, you might decide to build revenue as a speaker, but for now, it's likely smart for you to focus on building your platform." 
You can sign up to Stacy's free course below — she covers a lot of ground on author platforms, including how to step up your digital presence, network, and distil your core message as a writer.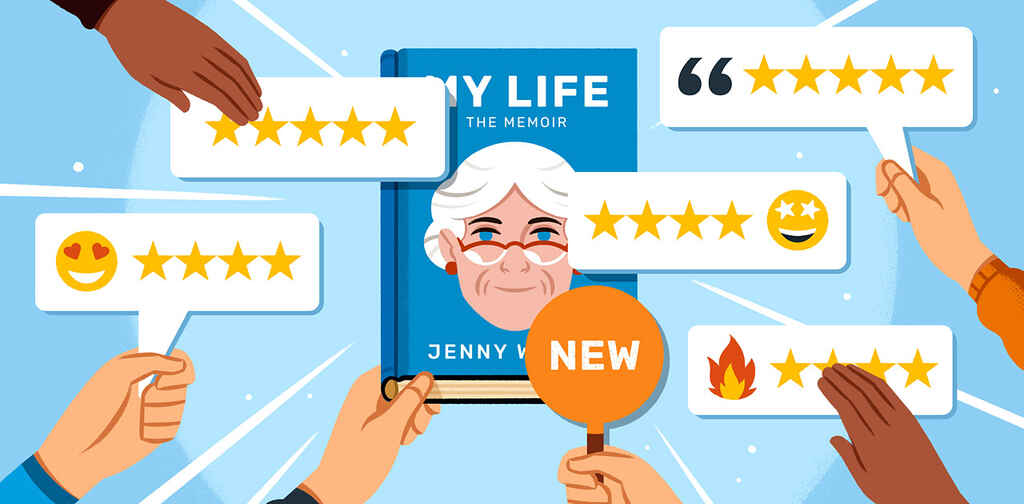 Book Marketing 101
Learn seven tried-and-true strategies for boosting book sales.
6. Chase after prizes and competitions
Brené Brown's career benefited greatly from media attention, and the same effect is seen when a writer's work is awarded or shortlisted for a prestigious literary award, like the Booker prize. (The 2020 Booker Prize, for example, catapulted four debut authors to literary fame.) What many people don't realize is that most of the time, one has to enter a literary competition. And while the Booker Prize requires that you have a publisher nominate you, plenty of writing contests and prizes only require a simple entry from you, often for free. 
Everybody loves a prizewinner
You aren't going to win any prizes if you never submit your work, so it's important to look into competitions or awards that are a good fit for what you have to offer and send in the best samples you have. If you haven't published a book yet, having a poem or short story distinguish itself in a competition or award is a fantastic boost to your author bio. Literary agents are known to scout talent from prestigious competitions, often approaching promising writers to offer them representation. 
🚨 Note: While our directory of writing contests only lists trusted, legitimate competitions, there are many scam contests and awards advertised online, so always do your research before you send your work anywhere.
7. Turbocharge your network
Friendships and connections are usually the sort of thing you just fall into if you go through life as a kind, friendly, and helpful person. So suggesting you take a very intentional approach  to friendships might sound like we're endorsing being calculating and manipulative, but we aren't. The truth is that expressing your appreciation for other people's good work, helping them promote their books, or just voicing your willingness to help out  all mean the world to fellow authors. 
Put out some good karma
So if you read another author's work and you love it, tell them! And tell your friends! Share the cheer. If you genuinely like other authors' books, be their champion. Go to their readings, offer to be their beta reader, share the details of their book launch on your social media.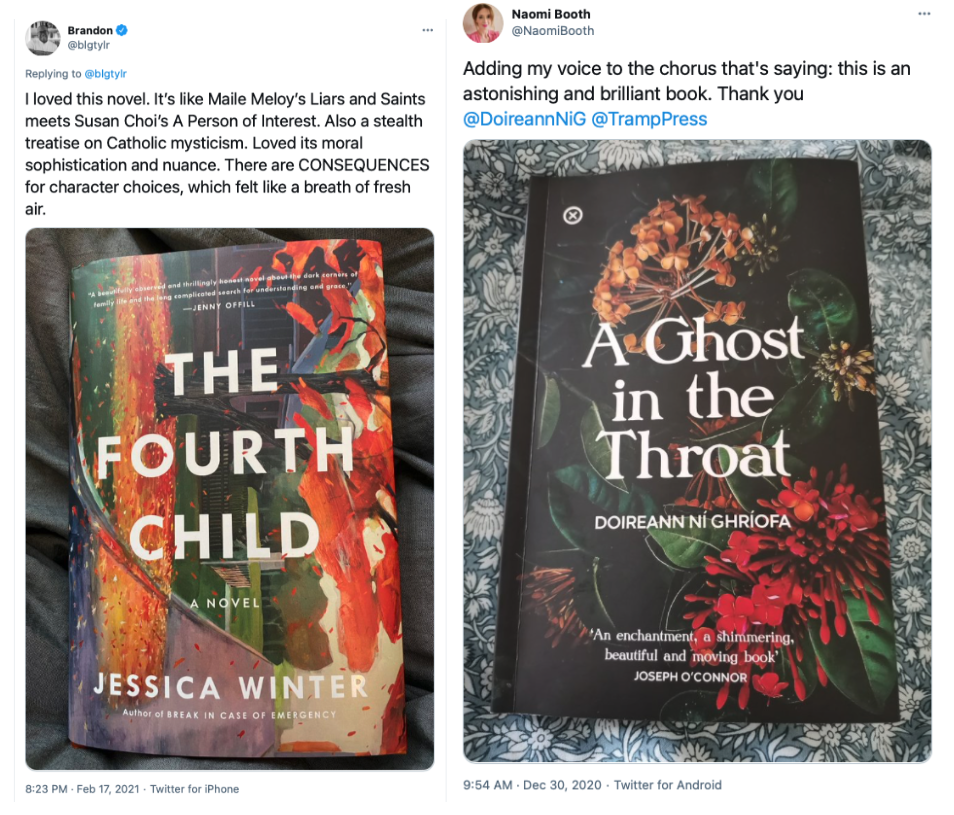 By building meaningful relationships with people in the  industry, you'll find yourself surrounded by friends whose advice and contacts will be invaluable to you later on.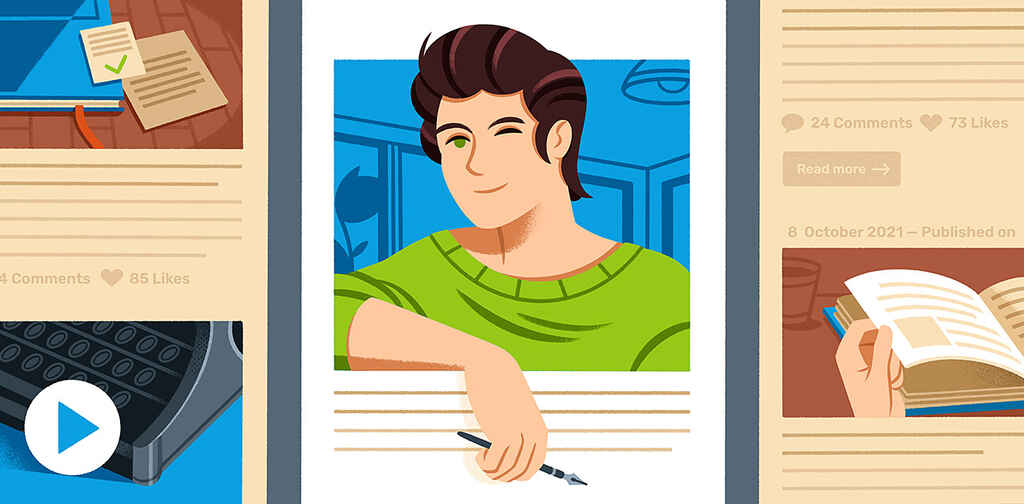 How to Build an Amazing Author Blog
10 lessons to help you start your blog and boost your book sales.
We realize this is a lot of information, so we'll end with a reminder not to let yourself be overwhelmed and subsequently paralyzed. After all, building an author platform is a process, so just begin by choosing one thing and working hard on it before turning your attention to the next. If you want to dig deeper first, you can check out our webinar on author platforms with book proposal specialist Sally Collings. In the meantime, the most important thing is that you set yourself in motion. Good luck!