Last updated on Feb 07, 2023
How to Publish (and Sell) on Apple Books in 2023
When it comes to selling ebooks, many view Apple Books as Amazon's main competitor. And that hunch is backed up by the numbers. A 2015 analysis by the (now defunct) Author Earnings website showed that Apple Books' market share in the US was bigger than that of Barnes & Noble, Kobo, and Google Play combined.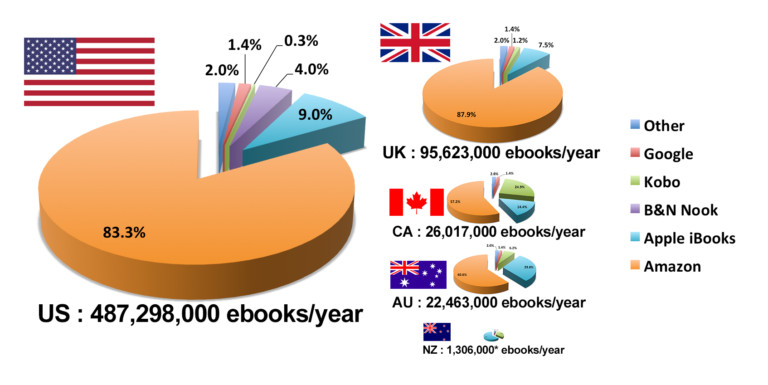 It's still under 10% of the total US ebook market, which feels small when compared to Amazon's +80%. But with the rise of Kindle Unlimited, which has lured many authors into Amazon exclusivity, it may be easier for authors to get a big chunk of Apple's 10% than a small chunk of Amazon's 83%.
That is, if you play your cards right. And that's exactly what we'll show you how to do in this post.
How to publish your book on Apple Books
The first thing to know about Apple Books is that they are "aggregator agnostic." What that means is that they really don't care whether you publish your book directly to Apple Books using their tools (and the steps below), or whether you send your book to them through an aggregator like Draft2Digital.
They also don't give authors any "direct" marketing privileges or options. So all in all, we recommend distributing to Apple Books through Draft2Digital to start with. This will make the whole process easier, and allow you to get your book on a bunch of other retailers and library distributors at the same time. 
That said, going through Draft2Digital will cost you a small percentage of royalties (15%). So if you're confident your book will sell a lot on Apple and want to avoid that aggregator fee, use these steps to publish your book to Apple Books directly!
Step 1: Create your iTunes Connect Account
To create your iTunes Connect account, head here: https://authors.apple.com/epub-upload and select "Create account." 
Note: if you already have an iTunes Connect account, head straight to step 3.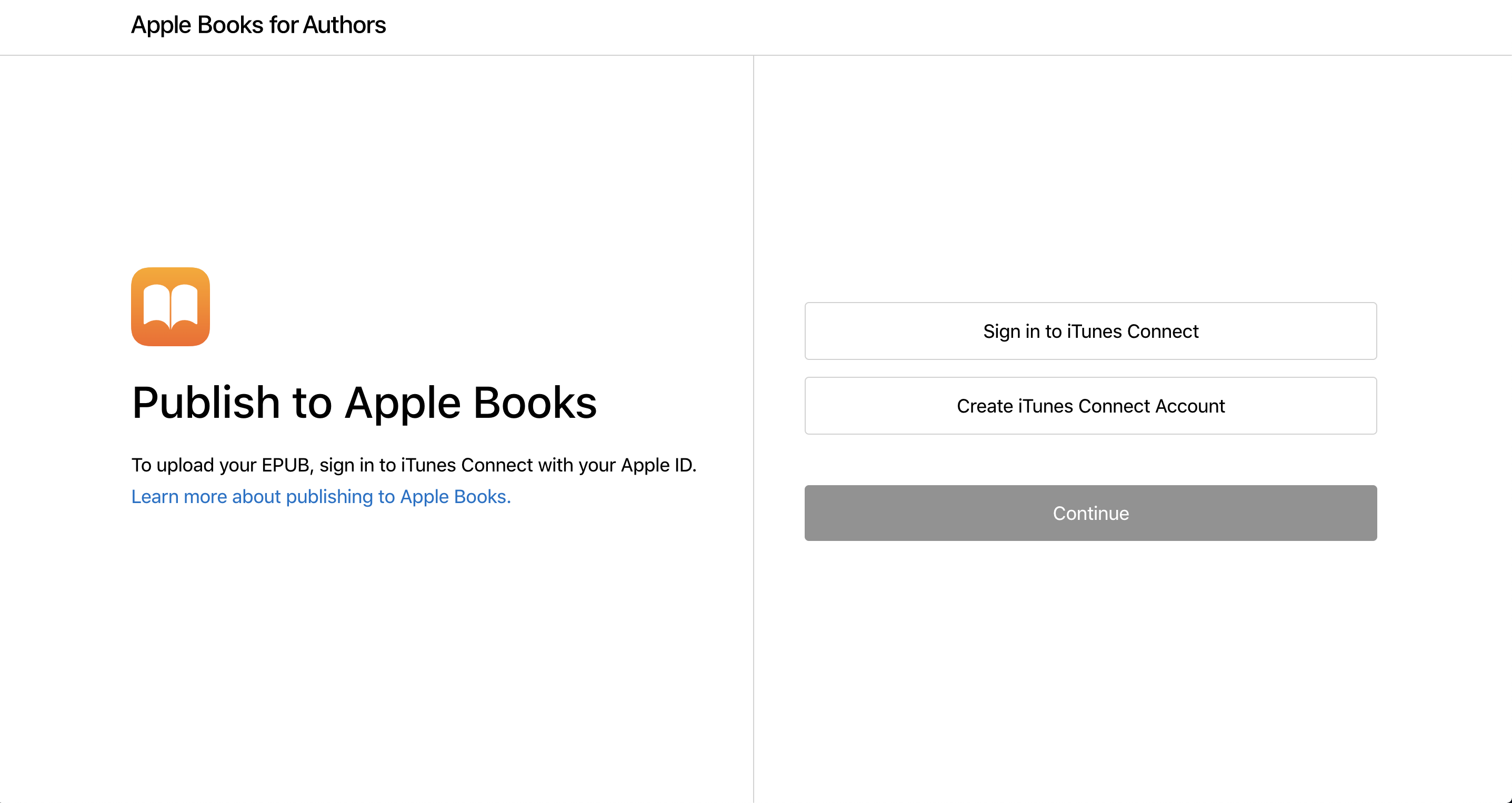 Now, Apple will ask you for an Apple ID. If you're an existing Apple customer, that's basically the email address and password you set up on your first purchase/registration.
If you're not an existing Apple customer, you'll have to create your Apple ID. To do so, just head here and fill in the form. Once registered, make sure to fill in the "Payment & Shipping" section, otherwise you won't be able to use that Apple ID to create your iTunes Connect account.
Once you've connected your Apple ID, you'll be prompted to accept iTunes Connect's terms and conditions. Apple lets you choose between "individual" and "organization" for the account. You should only select "individual" if you aren't registered as a company, or if you are a sole proprietor. 
iTunes Connect will send you an email to verify your address, and you'll finally be able to log in to your iTunes Connect account.
Step 2: Enter your banking and tax information
Now, iTunes Connect is not what you'll use to publish your books. Instead, it's where you'll provide all your business and tax information. To do so, click on "View & Agree to terms" and follow the steps. 

Next, set up your tax and banking information. Apple's interface for the banking information is a bit clunky, so make sure you enter your IBAN and other account numbers without spacing, otherwise you'll get an error.
More importantly, make sure you enter all your personal details as they appear on your tax records, as Apple will be checking that information with the IRS.
The process can take a couple of days, and you'll receive an email if you've been approved, or if Apple requires any additional information. You don't need to wait for that to continue the publishing process, though.
Step 3: Upload your book
For this, you'll need to quit iTunes Connect and instead go back to that initial URL: https://authors.apple.com/epub-upload, and this time, select the option to "Sign in to iTunes Connect." 
If you're setting up a pre-order, select that option and then upload:
Your cover file (JPEG or PNG). You can learn more about recommended cover dimensions here;
A sample file (EPUB). This is a sample of your book that will be made available to readers on the store (similar to the "look-inside" feature on Amazon).
If you're looking to publish the book right away (no pre-order), then you'll also need to upload the EPUB file for your full book.
If you don't have that EPUB file yet, you can create it easily (and for free!) using our Reedsy Book Editor. We've worked with Apple Books to make sure that all Reedsy-produced EPUB files are fully compatible with their publishing portal (and look great on Apple devices).
Step 4: Enter your metadata
This bit will be pretty easy if you're already published a book elsewhere. You'll have to enter:
The book's title, subtitle, and series title (where applicable);
The author's (and any other contributor's) name;
The blurb (or book description).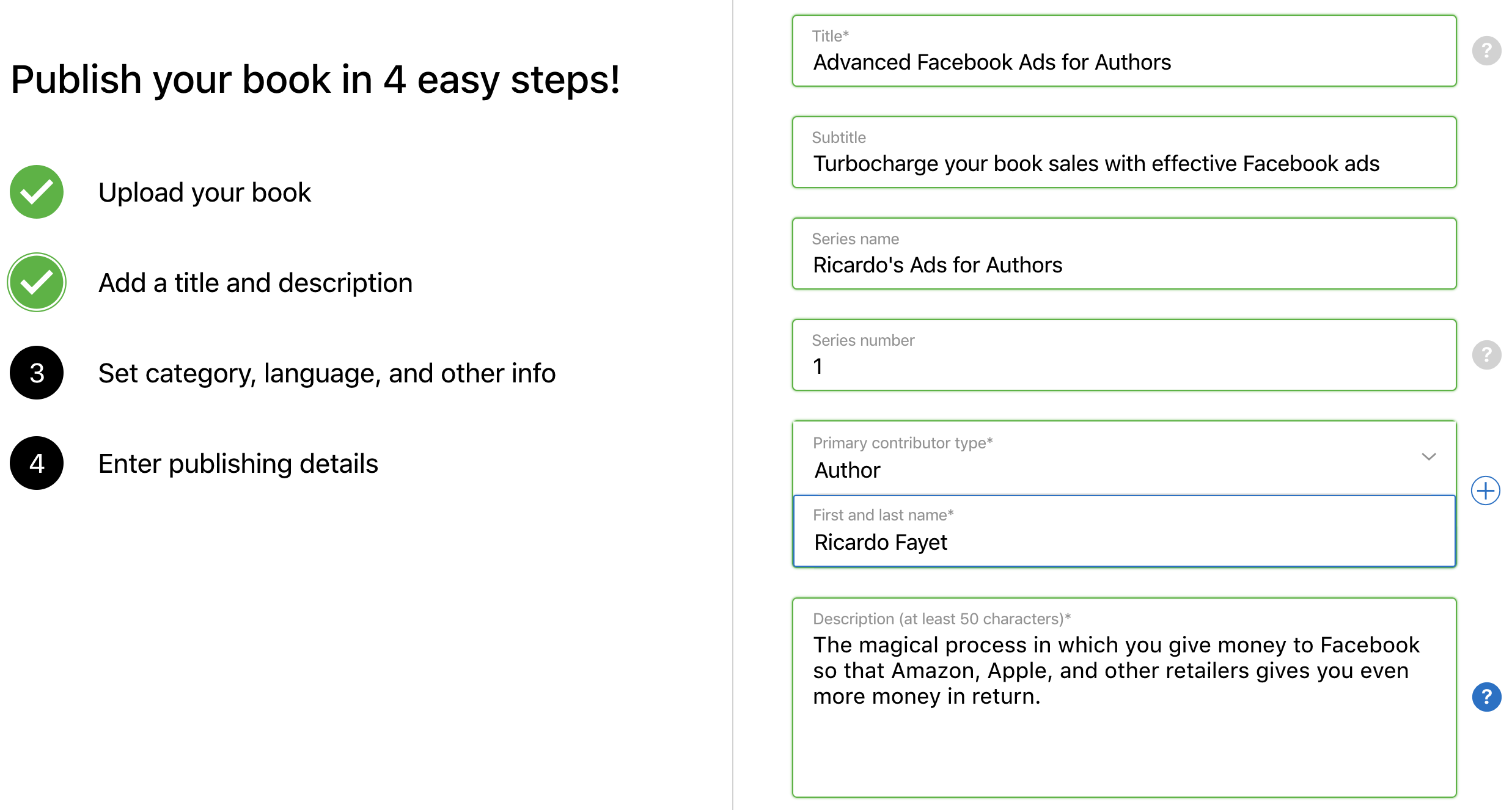 If you haven't written your blurb yet, you'll find some helpful tips in this article on Amazon book descriptions. The advice applies just as well to Apple Books, especially considering you can also use html formatting there.
Step 5: Choose your categories
While Amazon KDP only lets you choose two categories, you can select up to three when submitting your book on Apple Books. Apple will use these categories to know where to "place" your book on the store, so you'll want to make sure that:
You choose three distinct categories (to maximize your visibility);
You only pick categories that are fully relevant to your book. To double check, you can go to the Apple Books store (if you have an Apple device) and check each category you're considering, to see what kind of books are in there;
If relevant, try to have at least two different "Primary subject categories." If your book is in a subcategory, it'll automatically show up in the parent one. So by listing your book in two subcategories that have a different parent category, you'll be in four different categories (two sub and two parent).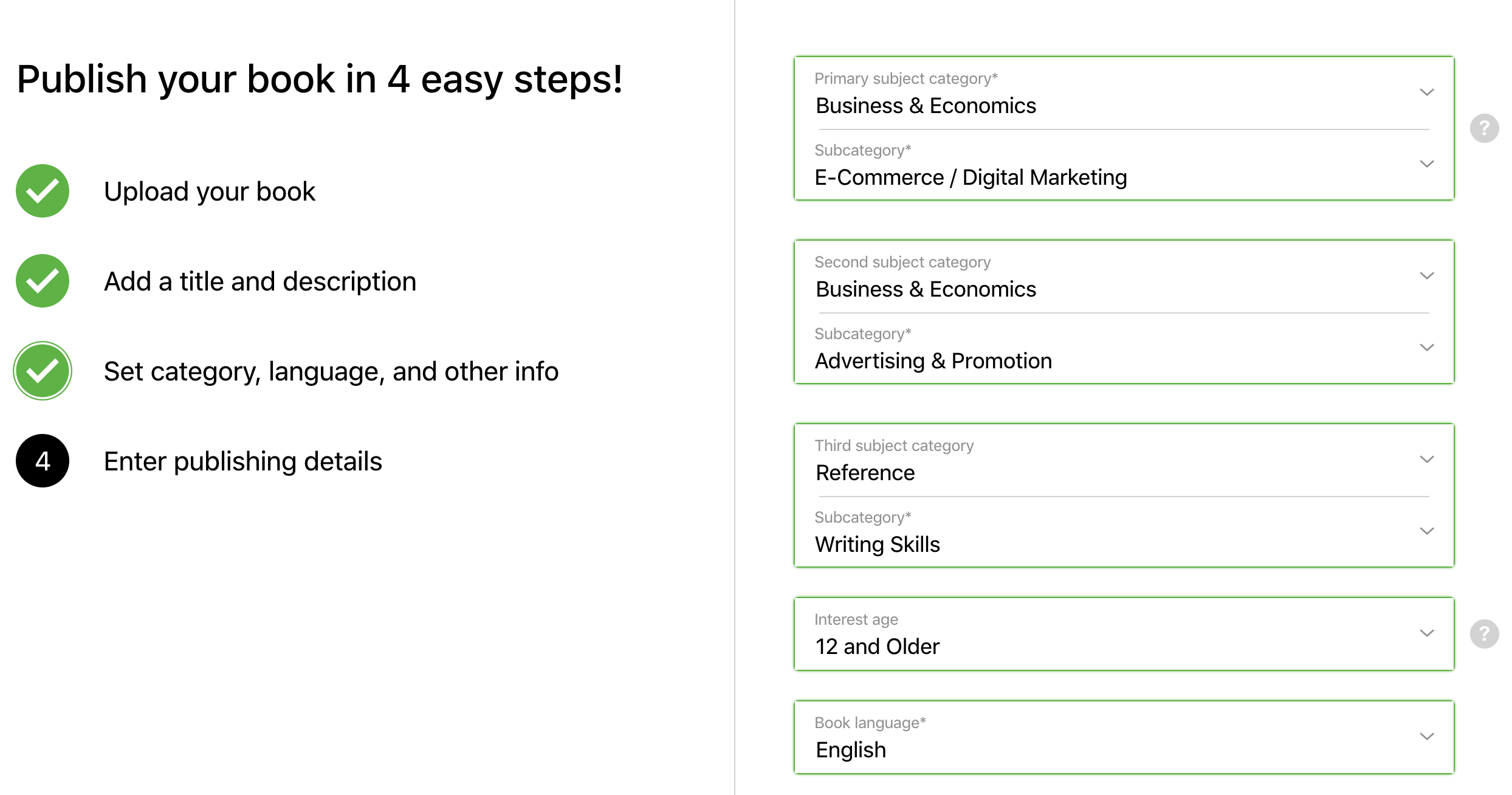 After that, you'll just have to enter the publisher name, enter the ISBN (optional), and the publication date, and you'll be able to upload your book to Apple Books.
Once that's done, you can leave the "publishing portal," but the full process is not quite finished yet.
Step 6: Set up your territorial pricing
To finish publishing your book on Apple Books, you'll have to go back to iTunes Connect. You should now see your book in the "My books" section there. If you don't, wait 24 hours and come back, as it can take up to a day for the book to be uploaded there.
Click on the book cover, then on "Rights & Pricing" and "Add New Countries or Regions." There, you'll be able to set up your book's price and customize it for each country. To do so:
Tick the DRM free box (DRM is useless);
Set your release date;
Choose your base currency;
Ignore the "list price";
Enter your price in the "suggested Apple Books price" field;
Select all the countries you want to publish your book in (you can use "select all").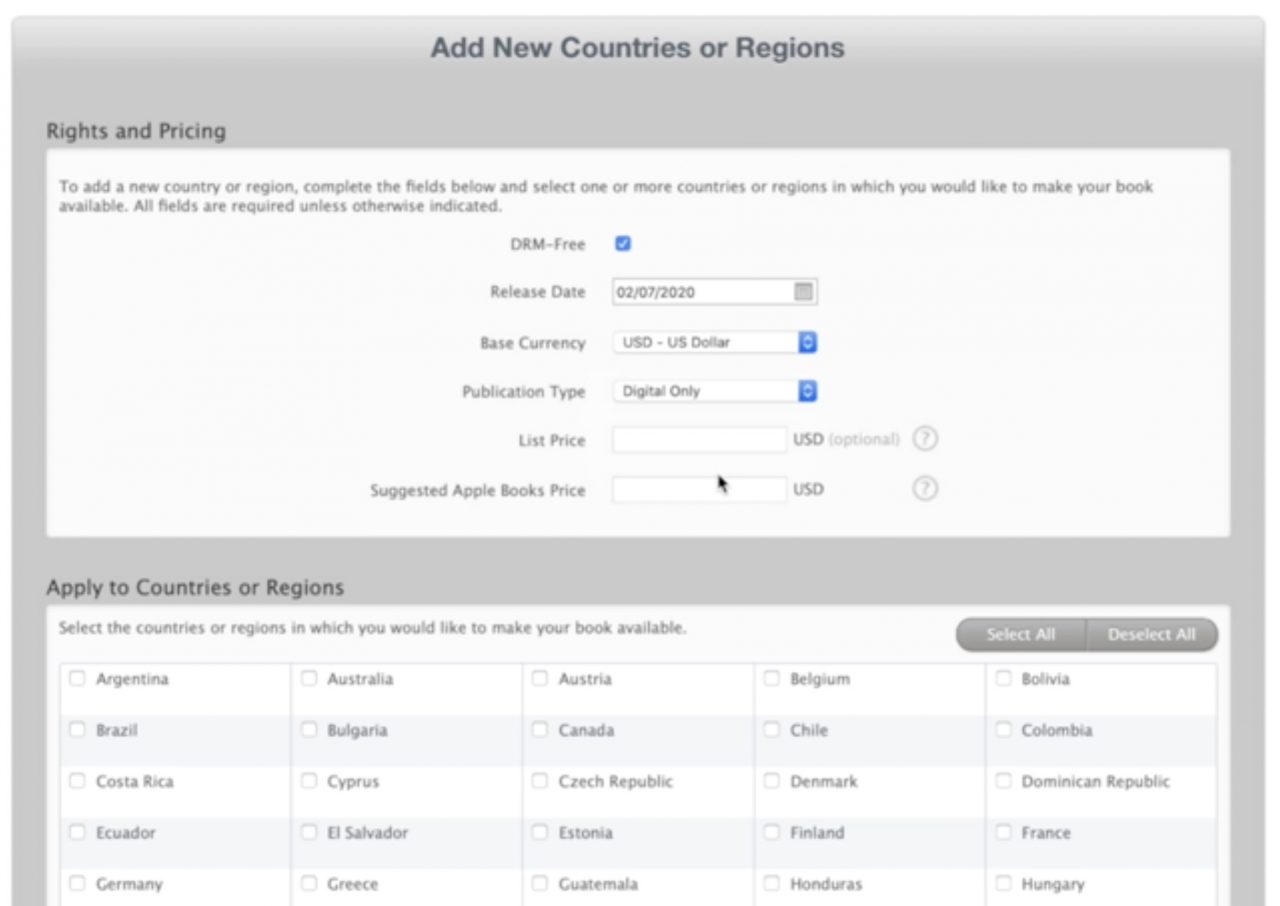 Apple will use your suggested price and base currency to auto-generate "attractive" prices for all countries and regions, based on their data. For example, if you select 4.99 USD, Apple will price your book at $4.99 in the US and most of South America, 6.99 CAD in Canada, £4.99 in the UK, and €5.99 in most of Europe.
That said, you can also customize the price for each country if you prefer.
Once that's done, your book will automatically go live in each country store you selected, at the price you selected, on your release date.
Of course, publishing the book on Apple Books is just the first, easy step. The hard part is getting it to sell. For that purpose, here are some essential marketing tips for selling more on Apple.
Marketing tips to sell more on Apple Books
Apple Books is probably the main non-Amazon retailer where you can make a lot of money if you manage to build a solid audience. We personally know several authors at Reedsy who earn a full-time living writing, and make most of their income from Apple Books. 
Just like all other "wide" retailers, though, it generally takes a lot more time to get established on Apple Books. So our first tip for marketing your ebook is to be patient! Don't jump into Amazon exclusivity after a few months because you're frustrated by your results on Apple. Most writers who build their careers on Apple Books do so over several years. 
That said, the Apple Books store has several specificities that make for great opportunities down the line. 
Try higher prices
While there's no official statistic to confirm this, it's common knowledge that Apple Books readers are less sensitive to price elasticity. After all, most Apple Books readers own Apple devices, and those aren't exactly cheap. Essentially, this means that you can get traction for a $5 or $6 book more easily on Apple than on Amazon. 
Even better, Apple is one of the only retailers who don't price-match. So while it's not super fair to their readers, you can try pricing your book a bit higher on Apple Books than you do on Amazon, Google Play, Kobo, or Barnes & Noble.
Leverage "free first-in-series"
Another tidbit of common knowledge: while permafree first-in-series don't work as well as they previously did on Amazon (due to Amazon splitting up their free and paid bestseller lists), they still work extremely well on Apple. If you have a series and you're using Apple Books, make sure to try making Book One free.
Note: this is a strategy that also works very well on Google Play.
Publish exclusive mega box sets
You probably know that Amazon only pays you 35% royalties on books priced above $9.99. Well, Apple doesn't have that upper limit: you still earn 70% royalties on sales at $10.99, $19.99, or even $24.99. This makes Apple Books a perfect place to sell exclusive box sets. 
You might not sell a lot of them, but each sale will be worth a good dinner. More importantly, the Apple Books team tends to reward exclusivity a lot: if they see that your box set is only available on Apple, and is doing well, they'll be all the more tempted to give it more visibility on the store.
Leverage pre orders
Perhaps the best advantage of Apple Books when compared to Amazon is this secret weapon: pre-orders. If you get a pre-order sale on Amazon, it counts (towards bestseller rankings and popularity lists) as one sale at the time of the preorder. Now, on Apple Books, it counts as one sale at the time of the pre-order — and then as another sale on launch day. 
This means that if you manage to get 500 pre-orders on Apple Books, your book will shoot to the top of the ranks on launch day (and attract the attention of the merchandising team).
Sign up to the Apple Books affiliate program
The first thing you should do if you're serious about driving sales to Apple Books is to sign up to the iTunes affiliate program. Apple Books allows authors to place affiliate codes anywhere, including on websites and within advertising spheres (while Amazon Affiliates doesn't allow you to use their links on ads). 
Using affiliate links in your communications and ads will allow you to:
Track your sales and conversion rates more effectively, and
Earn 7% more on your sales (that's the affiliate percentage). 
Send traffic through ads
The great thing about the iTunes affiliate program is that they're fine with you using affiliate links in online ads. So you should definitely take advantage of that, especially considering it's pretty easy to target Apple Books readers on Facebook and BookBub:
On Facebook, you can select "iBooks" as an "interest" — or "iPhone 6, 7 … X owners" as "behaviours." This way, you can narrow down your usual audience and reach readers who are more likely to buy on Apple Books.
On BookBub, you can simply enter your Apple Books affiliate link, and BookBub will automatically only target readers who they've identified as Apple Books buyers.
If you use these tips, you should be able to gradually build a fanbase on Apple Books — a fanbase ready to pay for higher-priced books, and which won't be lured away by free books or subscription programs. And if you want more marketing tips like these to grow your sales on all retailers, you can sign up to our weekly marketing newsletter here. The tips you'll find there are fully exclusive to its subscribers, so you won't find them anywhere else!