How to Build a Rocking Author Media Kit: a 7-Step Template
Picture this: you've just self-published a book and are gaining some traction in your publicity rounds. Then, out of the blue, a journalist asks you for a headshot, bio, and sell sheet.
Don't panic. By the time you're done with this post, you'll be ready to compile an all-purpose key to book publicity: your author media kit. A good media kit is one of the most straightforward ways to win over the press and everyone else who matters during your publicity rounds: book reviewers, bloggers, and indie bookstores.
So how can you build a kit that you can use in all aspects of your book marketing efforts? We spoke to our professional book publicists to answer all your questions about author media kit templates.
What is an author media kit?
In a nutshell, an author media kit is an assortment of information for anyone who wants easy access to further details about you and your book.
Think of an author media kit as a dynamic business card on your website. "Media kits indicate that you are a serious author with a book that deserves to be considered," says Hannah Hargrave, an award-winning book publicist. She's worked with celebrities like Goldie Hawn and has helped to launch the careers of first-time authors.
"Taking the time to collate all your resources — and formatting them in a useful, clear way — will make a journalist's life easier and get them on your side. It's also a lot simpler to send a link to your media kit than to attach several large documents to a pitch email," she says.
But its value doesn't just stop there. Bear in mind that there are plenty of important folks besides journalists who would want to see your author media kit:
Book reviewers. They're busy people who read thousands of books a year, so they'll value a media kit that summarizes your book in concise terms. Tip: Don't know where to find book review blogs in your genre? Head on over to our best book review blogs directory.
Bookstores. Going around to bookstores and peddling your book in person is a bit of an old-school tactic. That said, it remains a viable way to sell your book. If you're determined to get your book into indie bookstores, an author media kit will give you a professional air.
The days of printed author media kits are mostly behind us now. "The key to a superstar media kit that works is to keep it digital," says Dalyn Miller, director of a public relations and communications group that's placed its clients on People Magazine, New York Times, and more. "Link it on your website and use a popular platform such as Google, Box.com, or Dropbox — and keep its contents intuitive."
That brings us to the million-dollar question: what should you include in your author media kit? That's where an author media kit template comes into play.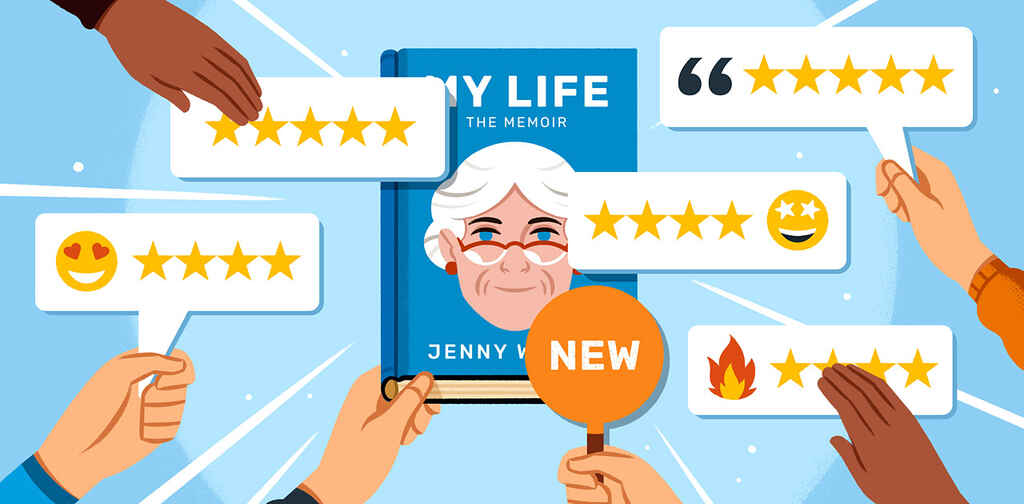 Book Marketing 101
Learn seven tried-and-true strategies for boosting book sales.
What's a typical author media kit template?
First things first: Hannah recommends using a media kit template and putting your author media kit together six months before publication, as you should start contacting journalists and bloggers three to four months before launch. "No one will consider your book if it's been in the shops for a while," she says. "If you prepare in advance, it gives you lots of time to get people interested in your book."
Now let's get to it!
1. Bio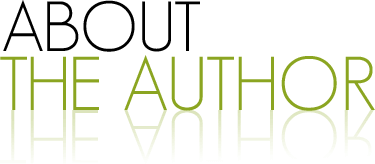 "An autobiography usually reveals nothing bad about its writer except their memory," Franklin P. Jones once said. In the same spirit, the author bio is your chance to present yourself the way you want to be seen.
Keep your bio concise and interesting. Aim for 100-200 words and try to give journalists an easy, clear angle with which to work. For example: "Shelley is a daytime blogger and nighttime chef." The information you include in your bio should be relevant to your book:
CAVEMAN AUTHOR was born in a cave in 10,000 BP. As there was nothing to do in this cave, he sang a lot to himself, which inspired A Song of Ice and Caves.
Note: This excellent bio landed Caveman Author an interview on the Reedsy Blog and a bestselling book deal. 
If appropriate, mention previous publications, past media coverage, and any other qualifications you bring with you. Add that you're open to interviews if you're available to speak with journalists. And, yes, always include a photograph of yourself. Don't be shy. Make sure that it's at a good resolution (300 DPI) and downloadable.
If you're struggling to write your bio, just pick a book up off the shelf and glance at the back of the jacket. Great examples of author bios are all around you!
2. Contact Information
Short and simple. If they're interested, media outlets will want to contact you directly. Boil it down for them by providing your:
Full name
E-mail address
Links to your professional online platforms (author website, Twitter, Facebook, Instagram)
If applicable, your agent's name or any other representatives
"Don't include anything that isn't aimed at readers," Hannah advises. "Journalists don't want to see pictures of your recent party — or children in the bath! Link them to the websites that you use to communicate important news about your books."
Tip: Be sure to set up your author website before your book release so that you have a ready-made spot on which to link your author media kit!
3. Sample Q&A / Tip Sheet
The secret behind good interviews? A lot of it is prepped before you sit down for it. Dawn Michelle Hardy, a publicist responsible for both fiction and non-fiction NYT bestsellers, recommends providing a tip sheet in your author media kit: a document that offers the media a variety of discussion topics. "Don't make producers figure out what the conversations should be," says Dawn. "The tip sheet tells them."
That's the idea behind the sample Q&A, as well. The cold truth is that journalists often don't read your book and book bloggers might not remember the next thing about it. Help them out by supplying them with 7-10 questions (and sample answers). Some common questions might be: Why did you choose to self-publish? Who are your favorite writers? Where do you get your ideas? You get the gist.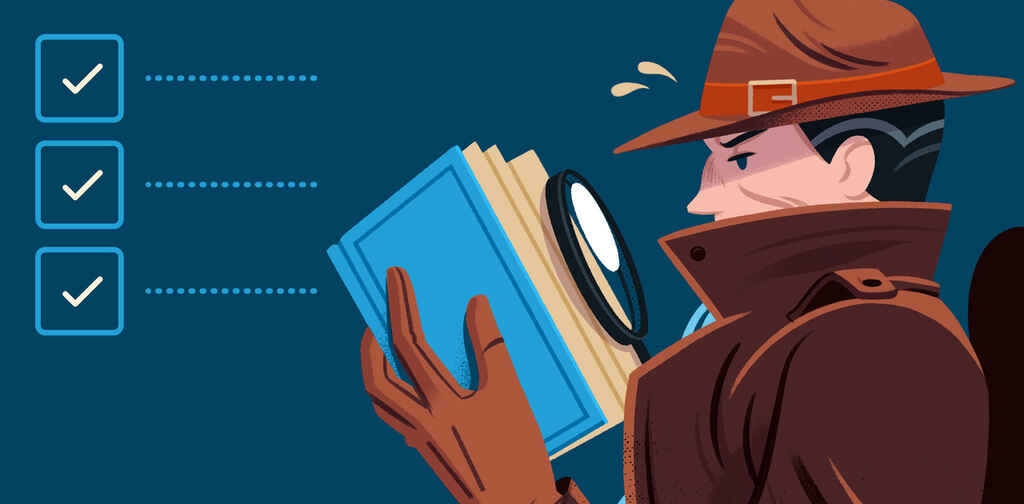 Market Research Checklist
Find your ultimate target audience with our checklist.
4. Press Release
Bad news: by itself, your book isn't really newsworthy. Tons of books are published every day.
The good news? You can angle it so that your book release becomes something the press wants to cover. Just be aware that the press release is the only time-sensitive thing in your author media kit — so we suggest including one only when you're releasing a book. (You should keep your author media kit up-to-date at all times, in any case, but more on that in a bit.)
To cook up a great press release, Hannah recommends these key ingredients:
A CATCHY HEADLINE.  "This sums up the message about the book that will appeal most to journalists. Make it as attention-grabbing, appealing, and thought-provoking as possible. If the headline doesn't grab a journalist, they won't read on."

SHORT SYNOPSIS. "Keep this concise, and only highlight the key points of the book. Make it clear why your book is unique and why it will appeal to your target audience. Also mention comparable authors (preferably bestsellers), and make your copy as interesting as possible. This is your chance to sell your book to the press."

CONTACT DETAILS."What does the journalist have to do to find out more or get a review copy?"

Other good things to include:

COVER IMAGE. "While we're told not to judge a book by its cover, sadly, we all do, and a well-designed cover will indicate that your book is one to be taken seriously."

FEATURES ANGLE. "Is your book based on an incredible true story? Or does it feature ground-breaking research not revealed before? If there is a great news hook or features angle, a journalist is more likely to see a reason why they should take a look at your book."

BOOK DETAILS. "Publication date, publisher, price. Journalists will want to run stories and reviews around the publication date (when it is new and fresh on the bookshelves). It's also a good idea to include a full book credit. The worst thing would be for a newspaper to run an amazing story about your book, but not mention when or where anyone can buy it! You need to make it as easy as possible for journalists — and your readers — to find and buy a copy."
Here are some examples of good press releases for books. You'll find that all of them are concise, easily quotable, and straight to the point.
5. Photographs
A media kit without media is like a ball pit without balls. "The press and the consumer live in an age of connectivity," says Dalyn. "They're going to want to know what you look like." He recommends including your images as standalone JPGs in the kit and making sure that you've included both hi- and lo-res images.
6. Sell Sheet
This one-page sheet is meant for retailers and book bloggers who want the details, no muss, no fuss. Here are the key details to include:
Title
Author
Genre / Price / # of pages
ISBN
Publication date
Synopsis
Formats available
Available on… (retailers)
Territories sold
Thumbnails of your book cover + author photo
Testimonials / reviews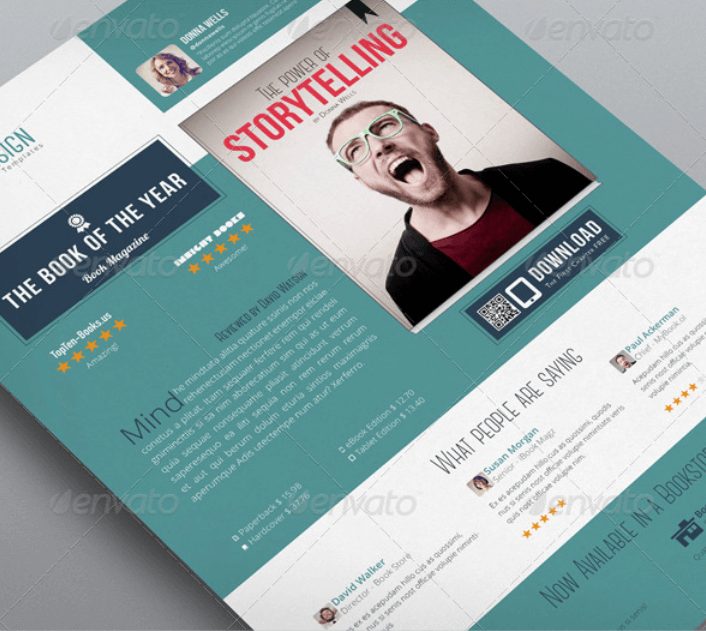 Keep it all on one page, and make it as polished as possible. Think of it as a slick resumé, but for your book.
Tip: For a professionally-designed sell sheet, consider reaching out to a designer for a quote.
7. Book Excerpt
One more chance to intrigue your audience. Hannah suggests not including the whole book. "I find it's best to include the first few pages, or the opening chapter," she says, since that should already be enough to draw in an audience.
Congrats! Now that you've finished your author media kit, you're probably wondering: what do I do with it?
What next?
First, make sure your kit looks professional and polished. People will take you only as seriously as you take yourself.
Then, put your author media kit up on your website. "Perhaps have a dedicated press page, or include it on your website's 'About Me' page for anyone who wants further information," Hannah recommends. "If you receive any queries from journalists, include a link to your media kit in any reply."
Here are three more tips for the road:
Label each of your files appropriately. "There's nothing more frustrating than to have to open a Word doc titled "media kit" and scroll through pages of content to find an excerpt or your talking points," says Dalyn.
Take a look at other authors' media kits. "Most have links on their websites," says Hannah. "This will give you a good idea of what authors with comparable titles useful. You'll also see how professional, clear, and concise the information included is, too."
Keep your kit up-to-date. If you publish another book, circle back to your kit and update it with all the new details.
If this seems like a lot of work to you, consider reaching out to a book publicist. There's no real replacement for their experience and insight: they're not only experts at creating a media kit, they'll also be instrumental in getting your kit — with a pitch and press release — to the right people and media outlets. Publicists also have access to a huge database of contacts and know how to speak to them. And, of course, it's entirely possible to go about it alone, as some self-published authors have successfully done. It might be a grind, but a great author media kit on your side will make it that much easier.
---
Have any more tips for building author media kits? We'd love to hear them. Leave any thoughts in the comments below!