What is BookBub: The Ultimate Guide for Authors
Whether you're working on your first book, or have published dozens of them already, our guess is: you've probably heard of BookBub. But are you familiar with all the features and services that the platform offers to authors?
In a publishing world increasingly dominated by Amazon, BookBub provides a solid marketing alternative for authors and publishers — and enables many of them to hit coveted bestseller lists through their Featured Deals and other promotional opportunities. If you want to know how best you can leverage BookBub's different tools to propel your own books in the rankings, then keep reading!
What is BookBub?
BookBub is a free service focused on helping readers discover new books. They're known mainly for their daily newsletters promoting a handpicked selection of "deals", i.e. books that are discounted (or free to read) for a limited time. With over 15 million readers signed up, these newsletters are a great way for authors to promote their book, as they generate hundreds or even thousands of sales for featured titles — and tens of thousands of downloads for free titles.
As well as their daily deals, BookBub offers authors a number of ways to grow and nurture their fanbase, all of which we'll cover in this comprehensive guide. But if you want to know how to market your book using a particular service, feel free to skip ahead!
BookBub Featured Deals
For each of their 42 genre categories, BookBub sends a daily newsletter to readers featuring discounted and/or free book deals. Securing a spot among these Featured Deals has, in recent years, become somewhat of a holy grail for independent authors.
Although it doesn't cost a penny to submit your book for a Featured Deal, if it's accepted, you'll have to pay BookBub for the feature (and fork out for a bottle of champagne to celebrate🍾). Prices will vary depending on the genre and your discount rate: the more popular a genre is, the pricier the featured deal. Similarly, a 99c book deal is cheaper to feature than a lucrative $2.49 deal. You can view a full table of prices here.
BookBub are highly selective about the books they promote to their mailing list, so it's important that your submission meets their official criteria. However, meeting these requirements certainly doesn't guarantee your title a spot in a newsletter — far from it. Which brings us to the million-dollar question…
How to get a BookBub Featured Deal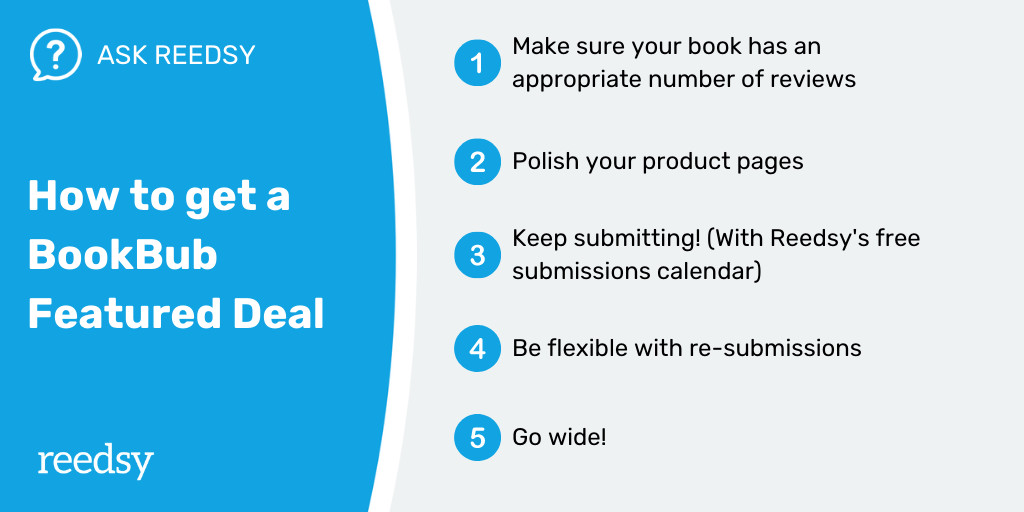 BookBub's selection process relies heavily on human curation. They have an editorial team for each genre that goes through submissions every day and handpicks the deals to feature.
In recent years, Featured Deals have become harder and harder for indie authors to bag. Some say that BookBub's editorial teams favor deals from traditional publishers — though this has been formally denied by the company. Regardless, one thing is for sure: BookBub bases its decisions on book performance data.
After years of serving deals to millions of readers, and watching their reactions, BookBub's editors have a pretty good idea of what appeals to their audience (and what doesn't). With that in mind, let's look at how you can boost your chances of getting that coveted Featured Deal.
Tip #1: Make sure your book has an appropriate number of reviews
Reader reviews are a crucial factor in the BookBub selection process, helping their editors get a sense of how readers have responded to a particular book.
To understand what the editorial team is looking for, browse through the books in your chosen genre and look for the average number of user reviews. There's no sense in applying for a Featured Deal until you can compete with this number. If you're light on write-ups, don't despair! Check out our guide on how to get book reviews, complete with advice from top Reedsy publicists.
It's highly unrealistic (read: a waste of time) to apply for a BookBub Featured Deal for a new release, as you won't have any reviews to show for it. If you want your book launch to go off with a bang, you could submit your book to Reedsy's reviewers and gain exposure to thousands of new readers, or you could try another one of their products: Featured New Releases.
Tip #2: Polish your product pages on all retailers
What else do BookBub's curators look at when evaluating a title? The same thing that readers do: the book's product pages. Their goal is the same as yours: to sell as many books as possible. So they want to make sure that the titles they feature are optimized to drive sales. In particular, this means:
The book description is written in a way that will hook and convert readers
The sales page features editorial reviews or accolades, ideally from well-known publications or influencers
The book cover design is professional and matches genre expectations
Genre expectations regarding covers can change quite drastically, so if you can't get a Featured Deal for a book published 3 or 4 years ago, consider rebranding. Not only will a new professional cover boost your chances of getting a Deal, it'll also snag you more clicks and potential sales.
Tip #3: Keep submitting (download our free BookBub calendar)
Even if you get everything right, and BookBub's editors think your book would make for a great deal, they may end up declining it in favor of other, more attractive deals submitted at the same time.
In other words, your chances of snagging that coveted Deal also depend on the competition. And the level of competition depends on timing.
What's the solution? Keep submitting! BookBub allows you to re-submit a book every 30 days. So if you have a long list of books, you can maximize your chances of landing a deal by continuously submitting your books on a 30-day rolling basis.
Now, if a Deal is accepted, BookBub won't feature the same indie author for another 30 days, or the same book for another 6 months. So keeping track of when you can and cannot submit each book can quickly become a headache. But don't worry! You can download our free BookBub submission calendar — originally created by indie author Nick Thacker — to help you get all your ducks in a row. 🦆 🦆 🦆
Enter your email address to download our free BookBub submissions calendar!
You'll get it in your email inbox right afterward.
Tip #4: Be flexible with your re-submissions
You know what they say about "doing things the same way and expecting different results". To hedge your bets a little, switch up your re-submissions.
The first thing to try is changing the price point. BookBub's goal is to offer the best possible deals to their audience. So the lower you can go in terms of price, the higher your chances of being accepted. If you've been trying to get a $0.99 Deal for months without success, try applying for a free deal.
Indicating your flexibility with your chosen discount dates also increases your chances of landing that deal. Do note, however, that BookBub only schedules Featured Deals up to 30 days in advance. So make sure you're ready to drop your price if you're accepted.
Finally, if all your attempts at landing a US deal fail, try for an international one. Although they're less powerful in terms of sales and ranking boosts, they are much easier to get and can be great for boosting your international reach and presence on non-Amazon retailers.
Going for free, international deals is a way to get your foot in the door. And once that door is open, it might lead to paid, US-only deals.
Tip #5: Go wide
If your book is on Kindle Unlimited (KU), we have some bad news: it'll be much, much harder to land a Featured Deal. This is because BookBub members opt into the retailers they want to see deals for. So if a book is available on all major retailers — rather than just KU — more readers will be able to snatch it up, which makes the book more appealing to the editors.
At Reedsy, we know authors who submitted KU books to BookBub over 50 times, without ever getting accepted. One of them, Craig Martelle, took one of his books wide, and finally managed to land a Featured Deal (albeit an international one). You can read his story on the 20Booksto50k Facebook group (well worth joining!).
Making the most of a BookBub Featured Deal
Hurrah! Thanks to our tips, you've managed to land a Featured Deal! First off, take a moment to celebrate — it's no small feat. But then, start planning your promo period to make the most of the deal.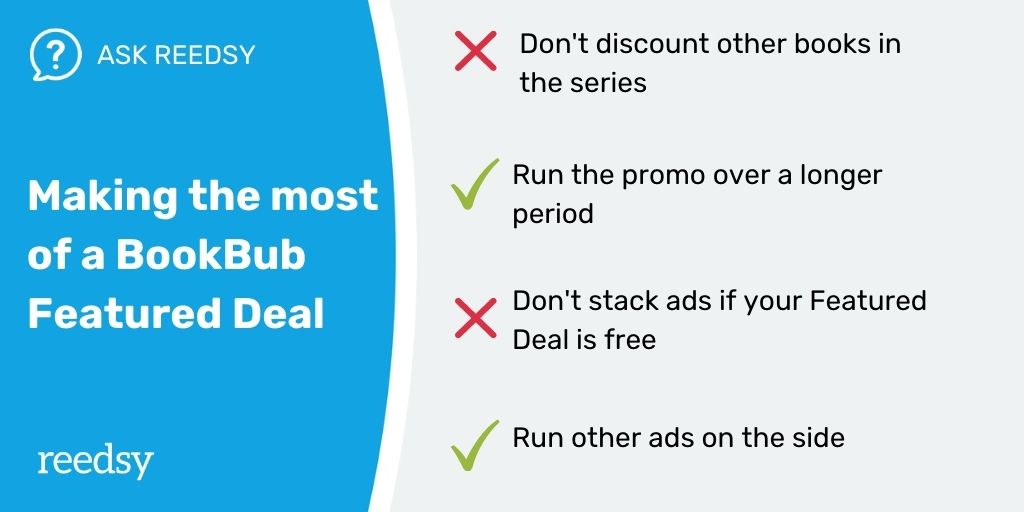 ❌   Don't discount the other books in the series
This is a mistake that lots of first-timers make. You want to encourage readers who find your book through the Deal to buy your other books, so you discount those as well…
Now, BookBub readers are deal seekers. So they see that the other books in the series are $0.99 as well, and they go ahead and buy them all. Great, right?
Well, not really. While you might be making an instant profit, you're effectively losing all the full-price sales you would have made when readers finished your discounted book and decided to buy the others. And yes, BookBub readers do buy books full-price — check the stats if you don't believe us.
✅   Run the promo over a longer period
Almost everyone who has run a Featured Deal agrees: you'll get better results if you run your discount for longer than the minimum days required. The reason being that Amazon's algorithms largely reward plateaus over spikes.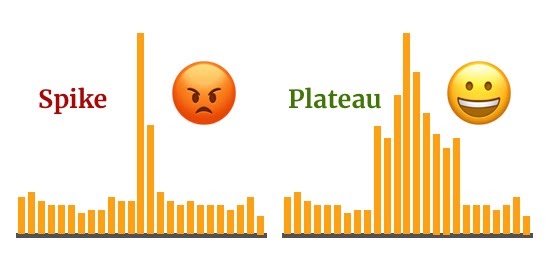 If you raise your price right after your BookBub Deal, your sales will abruptly stop. If you keep the discount, they'll still take a dip, but it won't be as bad. This will help you maintain a high ranking on bestseller lists, and Amazon will take over your marketing for you.
If you're on Kindle Unlimited and manage to get a Featured Deal (congrats, you're a unicorn 🦄), then running the discount for longer is all the more important to make sure you climb the popularity list and trigger a subsequent wave of page reads. You can learn how that works in this Reedsy Live with David Gaughran.
❓ To stack or not to stack?
The practice of "stacking" ads is that of buying several placements on other book promotion newsletters on top of your BookBub Feature. The goal here is the same: achieving a plateau rather than a spike.
There has been a lot of discussion on ad stacking around Featured Deals in the author community, and the consensus seems to be that while Ad stacking can work for paid Deals, it is a waste of money for free Deals.
This is because, readers on the hunt for free books will often sign up to as many promo sites as possible. So by advertising your free book on several newsletters, you're effectively paying more to reach the same audience.
✅   Run other ads on the side
While stacking newsletter ads might be a waste of money, this doesn't mean you shouldn't try to run ads on your own. Both Facebook and Amazon ads will earn you a lot more sales/downloads if your book is discounted/free.
You can learn how to create your first ads on Facebook and Amazon through our free Reedsy Learning courses:
But there's a third self-serve advertising platform that can work even better to move copies of your book. And surprise, surprise… it's BookBub's!
"Wait, what? Haven't I been reading about BookBub or the past 10 minutes?"
Yes. But there's more to it — so keep reading!
BookBub self-serve CPM/CPC ads
While it's getting more and more difficult for indie authors to get a Featured Deal, it's very easy to get your book in a newsletter. How? Through BookBub's self-serve ads.
A few years ago, the company launched "BookBub Ads," an advertising platform that lets authors and publishers place image ads in their newsletters (and on their website).
To give you a better idea of what that looks like, here's a typical BookBub newsletter.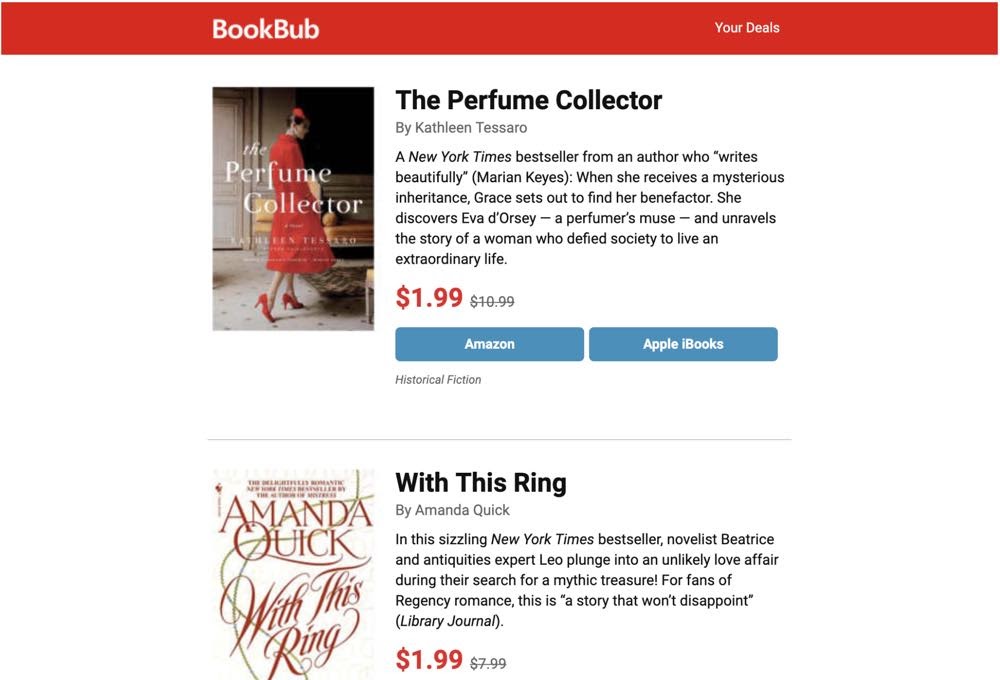 These books are Featured Deals, and there are generally three to five of them in every newsletter. Below these Featured Deals, is what you see at the bottom here: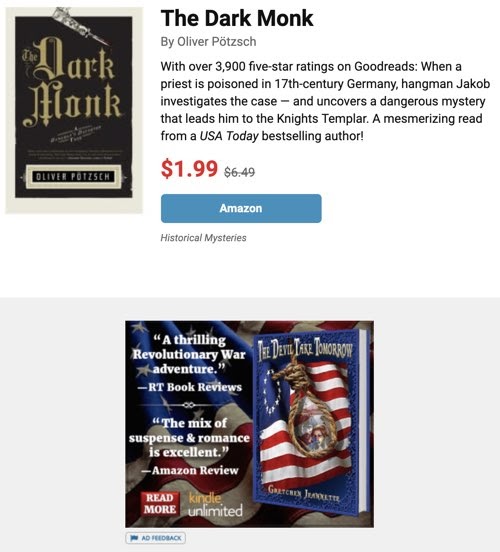 This star-spangled image is not a Featured Deal — it's an ad placed by an author (or their publisher). How do you create such an ad? Well, you just sign up for a BookBub Partners account, click on "create an ad" and follow the steps.
One very important thing to keep in mind is that the #1 reason readers sign up to BookBub's newsletters is to find free or cheap books. So while BookBub ads are a great book promotion service for a free or 99-cent ebook, they'll perform terribly if you use them to advertise your $9.99 masterpiece.
You can choose between CPM (cost per thousand impressions) and CPC (cost per click) bidding, target the followers of any other author or genre, aim your ads at specific bookstore buyers, and A/B test your images.
Now, there's one last thing you should really know about BookBub, which makes it all the more valuable to indie authors. And that is…
BookBub follow features and alerts
BookBub allows readers to "follow" the authors they like, and view all of their works on their author profiles. How do I create an author profile on BookBub?, we hear you ask.
It's easy (and completely free). Just head here, search for your name, and claim your author profile. You'll then be able to customize it and add all your books. Here's what a typical BookBub profile looks like.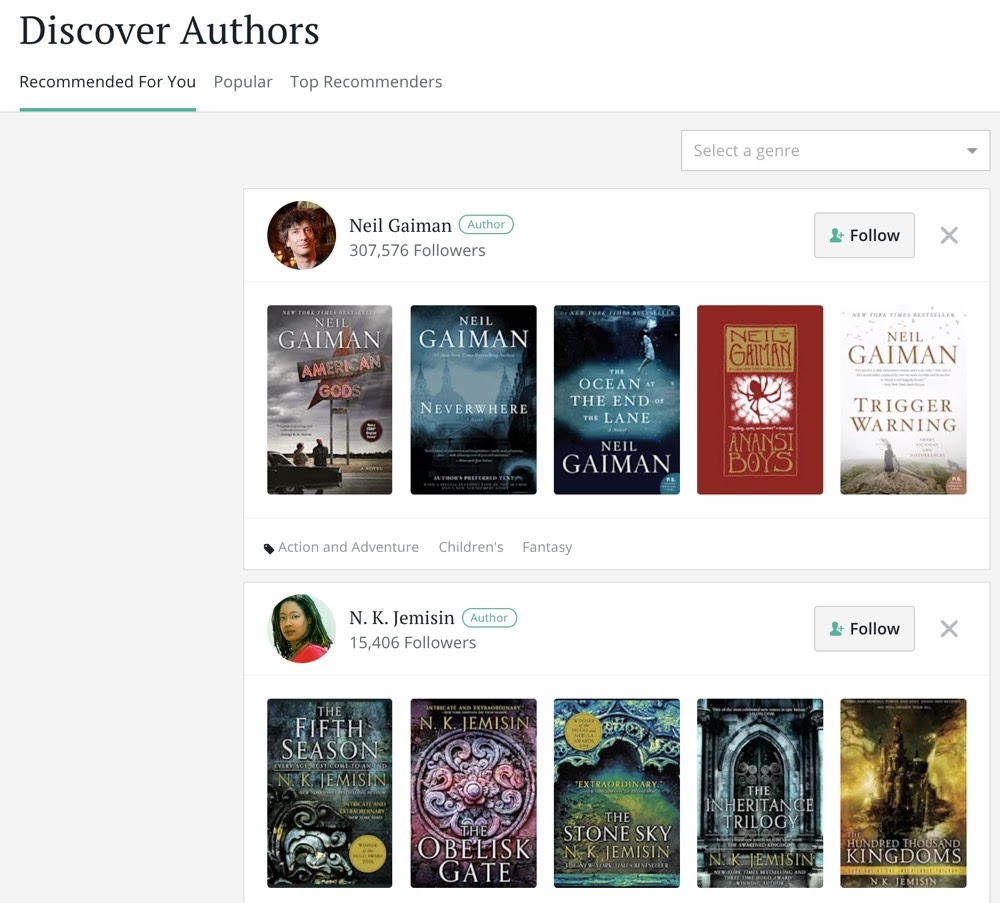 Notice that "follow" button? Readers who come across your books are prompted by BookBub to "follow" your profile. They'll also be able to find you in their "Discover" section.
The reason why followers are valuable is that BookBub sends an automatic "New Release Alert" to all your followers when you release a new book. So if you have 5,000 followers on there, that's 5,000 marketing emails that BookBub sends for you — for free!
And that's it! We've answered the question, What is BookBub?, and if you've read this far, you now know how to best use their different tools to send your books flying through the rankings!