If You Can't Find the Stories You Want to Read, Write Them Yourself
Shaz Kahng features in the first season of Reedsy's self-publishing podcast, Bestseller. She has worked as a research scientist, a global consulting partner, a builder of e-businesses, a brand strategist, and has led teams in several male-dominated industries. When she noticed that strong female business leaders were missing from both her career and modern fiction, she decided to fill the gap. In this article, she talks about the struggle to traditionally publish a novel deemed "market-unfriendly," and how self-publishing has given her control over her bad-ass female characters.
Something that was totally missing for me in modern fiction was a strong, smart female business leader that inspired others and was a positive role model. So I set out to create that and wrote The Closer. It's about the first female CEO of a sports company and the secret society of professional women who help her succeed (called The Ceiling Smashers). The tone is hopeful, positive, and collaborative, and the story drew from my own experience as a senior executive at Nike and the chief executive of Lucy Activewear.
I finished writing my debut novel in about ten months, followed by two and a half years of editing — all while I was still working. I was eager to get The Closer published and, following conventional advice, I started down the traditional publishing path. Turns out I ran into some bizarre twist and turns along the way. As a service to other authors, I'd like to share my journey and what I learned in the hopes that your path will be easier.
The pressure to conform to "women's fiction" norms
First, like many authors, I dutifully sent out query letters to a dozen or so literary agents and many requested the manuscript. Honestly, I was baffled by what followed. One agent, a male, asked if I would consider changing the main character to a man. Huh? The Closer is about women smashing the glass ceiling, so that request made no sense to me. Another agent asked if I could make it more of a romance novel. Other agents asked if I could make the protagonist desperate to get married, obsessed with shoes, a cat lover, you name it. Here I was, trying to present a fresh concept and a modern (and realistic) take on women in business, yet agents were asking me to change it to something that had already been done many times over.
A few agents told me that readers don't want to read about women leading businesses or about the challenges executive women face. Others said readers weren't craving a character that succeeded with brains, talent, and determination, and that female readers would only want heavily flawed characters. That did not ring true to me, especially after my beta readers (all female senior executives) raved about The Closer and said they hadn't read anything like it before.
In further discussions with some of the agents, I learned that my book could be "fast-tracked" with a publisher, which meant a very speedy time to market of… drum roll, please… three years. Double huh?  I thought: 1) that's not speedy, and 2) won't my concept be a bit stale by then? But I was told my book would have to be slotted into a publisher's queue, and that required waiting patiently.
What's an author to do at this point: give up? Change major aspects of your story just to get it published?
Looking to self-publishing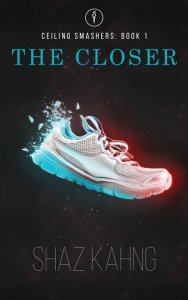 It just so happened that I was attending a CEO conference sponsored by a venture capital firm, and happened to meet the CEO of a publishing company. I shared my dilemma with him, and he said, "Why not self-publish? You've got a great concept, and with your work experience, you can market The Closer better than anyone you'd hire. You should just go for it." Great advice that I was so grateful to hear. The CEO also suggested that I check out Reedsy. That was the second great piece of advice.
I did look into Reedsy and learned it was a marketplace offering different talent and services needed by an author looking to self-publish. As it turned out, the editor I had already used for The Closer was also in Reedsy's network, so I knew the quality of their talent must be high. I hired a fantastic book cover and interior designer, Mark Thomas, and an eagle-eyed copy editor, Aja Pollock, and in a few short months, my book was ready to introduce to the world.
Break the mold: Lessons learned from my self-publishing journey
1) Follow your gut
You know your material and your target market better than anyone out there. If you believe there is an audience for your book, don't give up until you can deliver it to them.
2) Even "experts" can be wrong
To those people who said no one wanted to read this type of book, please check out the universal five-star ratings for The Closer on Amazon. The most rewarding comments to me are from readers who talk about how engrossing the book is and how it has inspired them.
3) That being said, remember the importance of professionals
A critical aspect of bringing my book to life was designing a compelling cover that would stand out. For that, I was fortunate enough to connect with Reedsy cover designer, Mark Thomas. I provided a design brief to Mark with the objective of having a visually striking but simple cover that conveyed the idea of the story. I did have an idea in my mind of what the cover might look like, but as we went through the design process, Mark offered up several intriguing concepts and we ended up with something far different and far better than I could have imagined. With Reedsy, I felt like I was building my own publishing team with great talents like Mark, and I absolutely enjoyed our collaboration.
4) Consider all the benefits of self-publishing
After speaking with other authors of self-published books (some of whom were traditionally published first), two main benefits were touted: control over your content and every aspect of how your book comes to market, and speed — it's certainly way faster than traditionally published books.
The Closer has only been out for about a month, but it has gotten stellar reviews from people who are not even related to me, and I'm happy to report that my book sales have been very strong. I'm optimistic about the novel's potential, but most importantly: I was able to bring it to the world in the way I wanted, allowing me to rebel against the traditional path and the suggestions that would have diminished the quality of my book. Self-publishing let me keep my vision intact, control my content and cover, and allowed me to get The Closer to market quickly.
---
The Closer is available in paperback and on Amazon Kindle.
Please share your thoughts, experiences, or any questions for Shaz Kahng in the comments below!