Ingramspark Review: Read This Before Using It! (PROMO CODE)
IngramSpark, KDP Print, Lulu, BookBaby — there is no shortage of companies out there promising to help you publish and sell your print books and ebooks. Luckily, if you're struggling over which platform to use, you're in the company of thousands of other authors who have been in your shoes and can provide some guidance.
That's exactly why we're here, to provide you with a breakdown, review, manual — and a promo code! — for one of the most popular platforms out there: IngramSpark.
What is IngramSpark?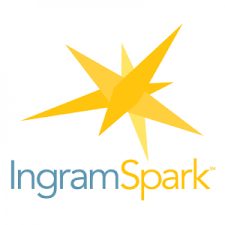 IngramSpark is a publishing platform that provides print on demand (POD) and ebook publishing services. One of the aspects that makes IngramSpark such a popular choice among indie authors is the fact that it also provides affordable access to Ingram Book Group's (IBG) global distribution network for print and ebooks — and at the moment, IBG is the largest book distributor and wholesaler in the United States. In other words, when it comes to selling your book across various retailers in the US, IngramSpark has got the hookups.
How much does IngramSpark cost?
There is a $49 setup fee for books. (However right now you can get 50% by entering in the promo code: EXPERT).
So if it's such a well-connected publishing resource, why don't all authors go with IngramSpark? Well, as with any decision, there are associated pros and cons. Let's take a quick look at those now.
Why use IngramSpark?
Yes, IngramSpark does offer authors the most avenues to sell their books in the US. But that doesn't mean you are guaranteed to sell your book through all those retailers — and there is such a thing as having your eggs in too many baskets. Breadth of distribution isn't the only factor to consider when choosing a POD company.
The two most important questions to ask yourself if you're considering IngramSpark are:
1. Are you planning to focus on sales outside of Amazon?
If most of your sales efforts will be focused on Amazon, then you are better off using KDP Print — Amazon's print on demand unit. As KDP Print distributes directly to Amazon, your distribution fees will be much lower.
However, if you're planning on distributing to stores other than Amazon, then IngramSpark can provide you with the most connections. In fact, most other POD services go through Ingram Book Group in order to access non-Amazon stores, so by using IngramSpark in the first place, you cut out the middleman — and the middleman's fees.
2. Are you hoping to sell through brick-and-mortar bookstores?
As with the above answer, IBG's large network, which includes physical bookstores, will be to your advantage here.
Using IngramSpark with KDP Print
Now, just because you answer yes to both of the above questions doesn't mean that IngramSpark is the only option for you. In fact, you might decide you want to work with a few different POD platforms — which you can definitely do!
The most popular option when it comes to mixing POD services is using IngramSpark and KDP Print. In order to do so, simply opt out of expanded distribution when you publish with KDP Print. Unfortunately, you can't opt out of selling to Amazon with IngramSpark. However, if you use the same ISBN at KDP Print and IngramSpark, Amazon will prioritize the KDP Print version when you make a sale — meaning you will likely avoid paying a double fee.
Options other than IngramSpark
As we mentioned, there are other POD platforms worth your consideration — such as KDP Print (good for Amazon distribution), Blurb (good for books with varied visual components), BookBaby (good for customer support), or Draft2Digital Print (still in beta but the rumors so far are promising). For a comprehensive breakdown of the top print on demand services for books — and to see actual print copies from each printer — check out this comprehensive POD post.
Alright, if you've decided that IngramSpark is the self-publishing platform you want to put a ring on, your next move will be, well, doing just that. Below is a simple yet thorough guide to publishing via IngramSpark.
How to use IngramSpark
If your first instinct when signing up for any kind of fee-based service is to scour the internet for discount coupons, then you're in luck — because we've got one for you! Just for reading this post, you get a 50% discount off IngramSpark's $49 print and ebook title setup fee. All you have to do is enter this case-sensitive IngramSpark promo code: EXPERT. (Don't worry, we'll post another reminder about this coupon a little further down).
Onto the publishing now. Below, we'll break down the seven steps to publishing with IngramSpark. These steps may vary for you based on whether you're going with print copies, ebooks, or both. In hopes of covering all the bases, we will outline the steps for an author who's publishing both print and ebook copies of their book.
Of course, the pre-first step is actually signing up for IngramSpark, which you can do here: https://myaccount.ingramspark.com/Account/Signup
Step 1: About Your Book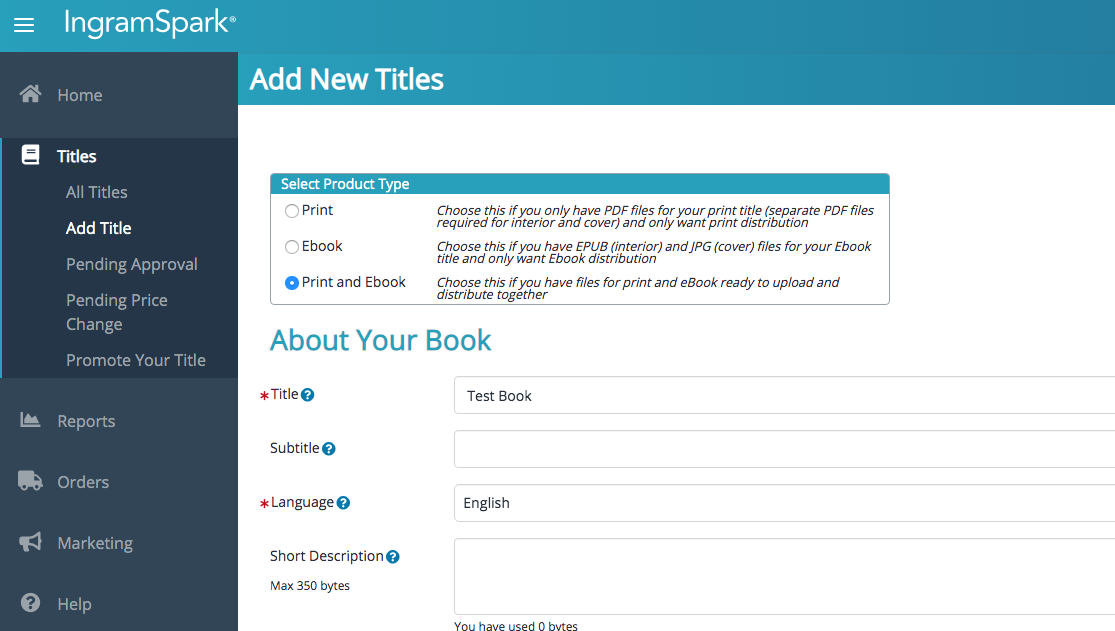 Here's a list of all the book details you should be ready to supply (each item with an asterisk next to it means that IngramSpark requires you to fill it in):
Title (and subtitle, if applicable)*
Language*
Short book description — this brief summary will appear in Ingram catalogs and some retailer sites. You only have 350 characters (including spaces), so think of this as your book's elevator pitch.
Book-related keywords — up to 7 terms that readers will use to look for books like yours. Keywords can relate to genre, themes, time periods, etc. For example: a mid-19th century coming of age story for teenage readers could use "Victorian," "coming of age," and "young adult."
Series name and number
Edition description
Full book description* — this is your book blurb, the kind that you see on Amazon book listings or on the back of print books. Learn more about writing a book blurb that sells here.
Step 2: About the Author/Contributors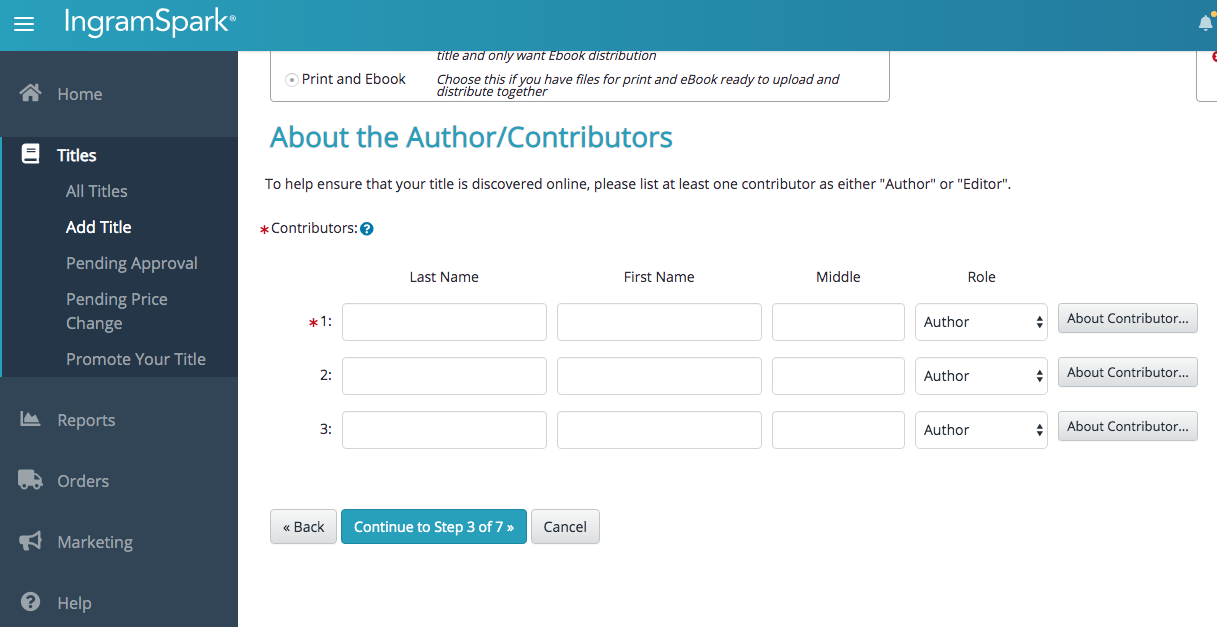 Here's where you get to ensure your name (or pen name!) is splashed proudly across the front of your book. You can add up to three contributors, and must enter the following information about each:
Last name*
First name*
Middle
Role* — there is an extensive list of options here, from "Concept provided by," to "Calligrapher," to "Afterword by." However, at least one of the contributors must be listed as either an "Author" or "Editor."
Step 3: Categorize Your Book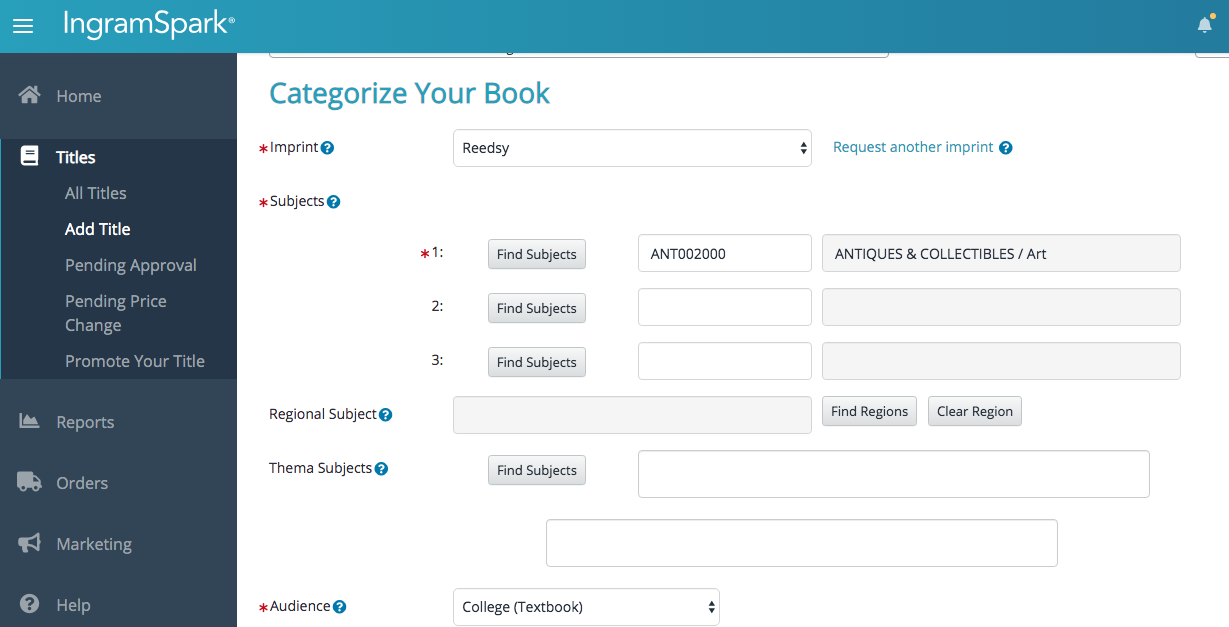 Building on the descriptions you provided in step 1, categorizing your book will further help you reach interested readers and retailers. It's one of the most crucial parts of marketing your book, as no one will buy it if they don't get an immediate sense of what it's all about. So take your time with this step, and make sure you represent your book as best you can!
Imprint*
Subjects* — you can pick up to three, but you must pick at least one.
Regional subjects — for instance, maybe your cookbook is specially about Finnish cuisine. Further distinguish your book by searching for "Finland" in the regional subject category.
Thema subjects — the major "area" your book falls under, so "Law," "History," "Technology," "The Arts," etc.
Audience* — the intended age range of your book.
Table of contents
Review quotes
Does your book have photographs or illustrations?
Part 4: Print Format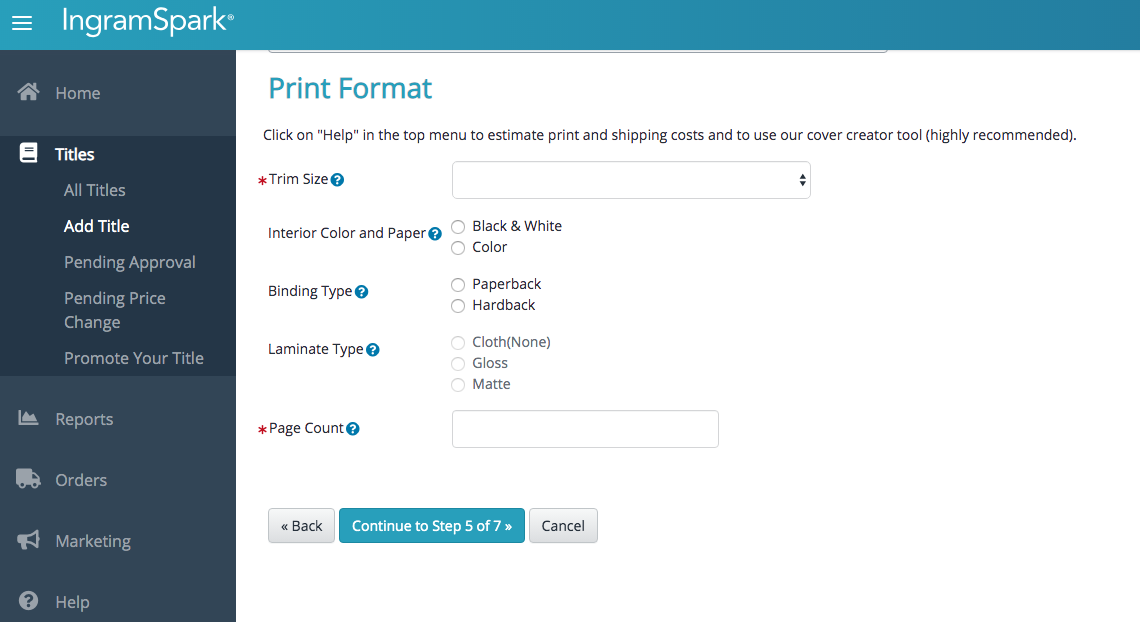 Of course, if you're only publishing an ebook you won't have to worry about this part. If you're also distributing print copies, this is where you get to make some fun — but important! — decisions about what you want your book to look like. Ensuring you have the correct dimensions when it comes to both your book cover and pages is crucial for a professional-looking book.
Trim size* — in other words, the size of your book. Check out this post for an overview of industry-standard trim sizes. For fiction, these are the general parameters: 5" x 8", 5.25" x 8", 5.5" x 8.5", 6" x 9"
Interior color and paper* — black and white or color.
Binding type — paperback or hardback.
Laminate type — cloth, gloss, or matte.
Page count* — including both printed and blank pages.
Part 5: Print Format (continued)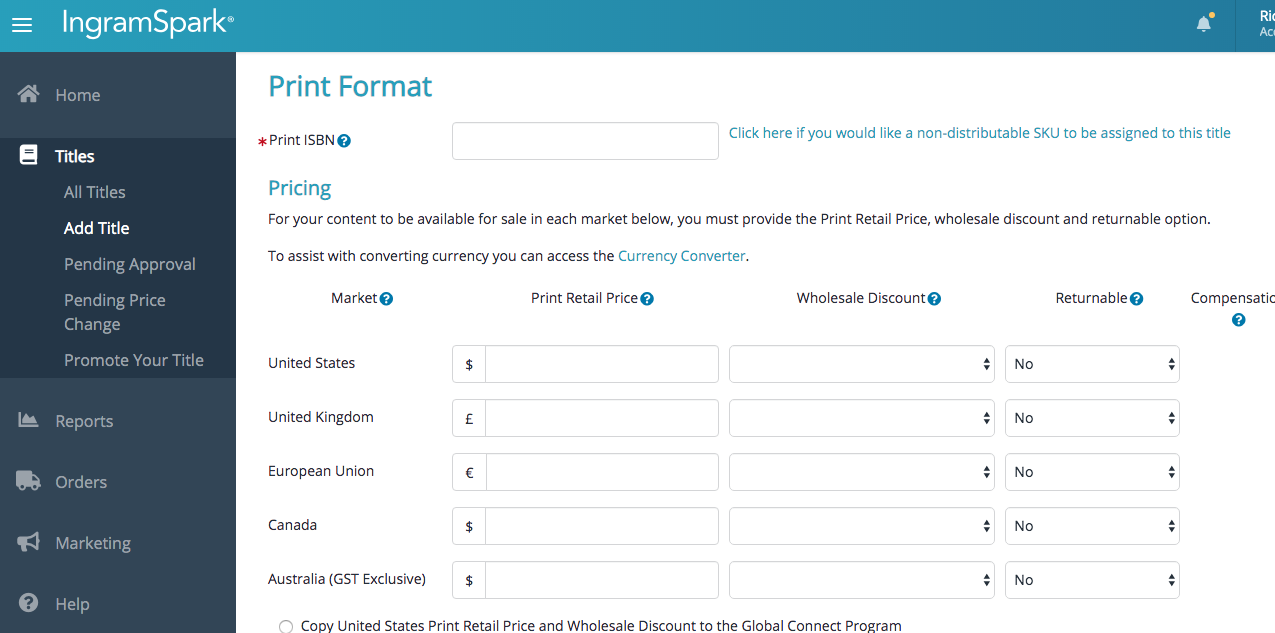 By this point in the process, you're probably thinking that this is all starting to feel very real. And that's because it is! You're now at the stage where you need to provide pricing information, in anticipation of all those sales your book might potentially make!
Print ISBN* — for more information on what an ISBN is and how to acquire one, head here.
IngramSpark distributes in the US, UK, EU, Canada, Australia — and elsewhere globally through their Global Connect program. So you will need to decide which of these areas you'd like to distribute to, if not all of them. For each market, you will need to provide:
Print retail price
Wholesale discount — learn more about how wholesale discounts work here.
Returnable — will you give customers the option to return your book? If you'd like to sell your book through physical bookstores, it's a good idea to select "yes." Learn why here.
Unsure of how to price your book? We've got a free ten-day course on that topic that will help you out.
Finally, you will need to provide your book's:
Publication date*
On sale date
Part 6: Ebook Format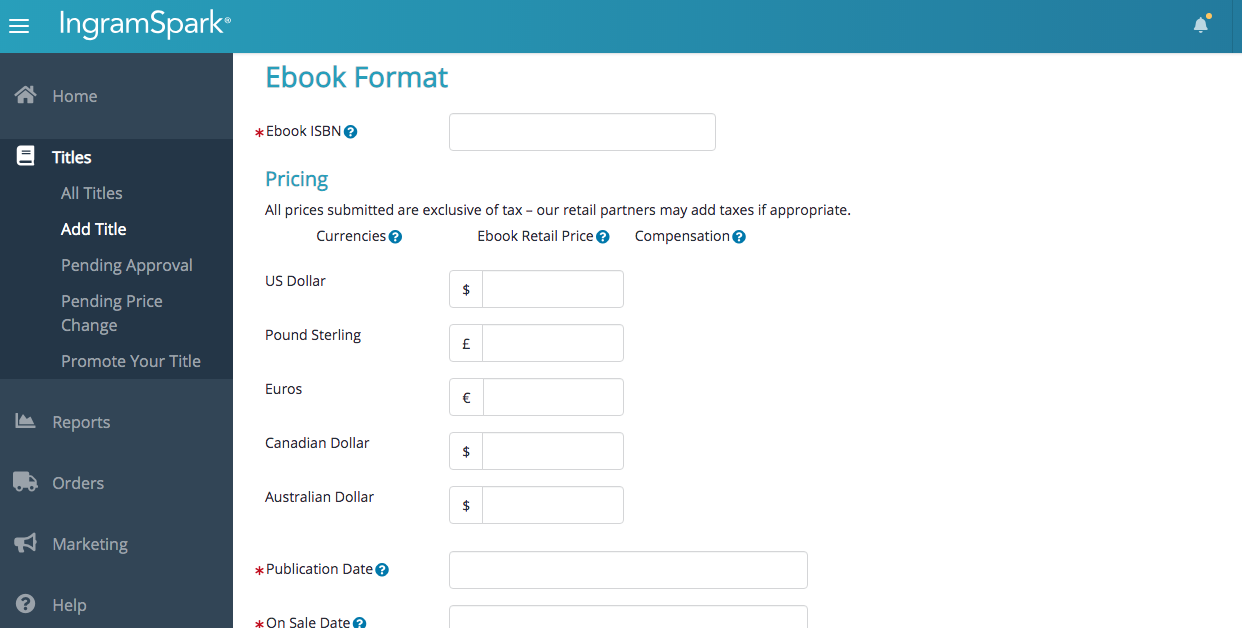 With your print book done and dusted, it's time to turn your attention to your ebook by providing its:
Ebook ISBN*
Pricing* — either US $, UK £, EU €, Canadian $, or Australian $
Publication date*
On sale date*
Page count*
Part 7: Uploading Your Files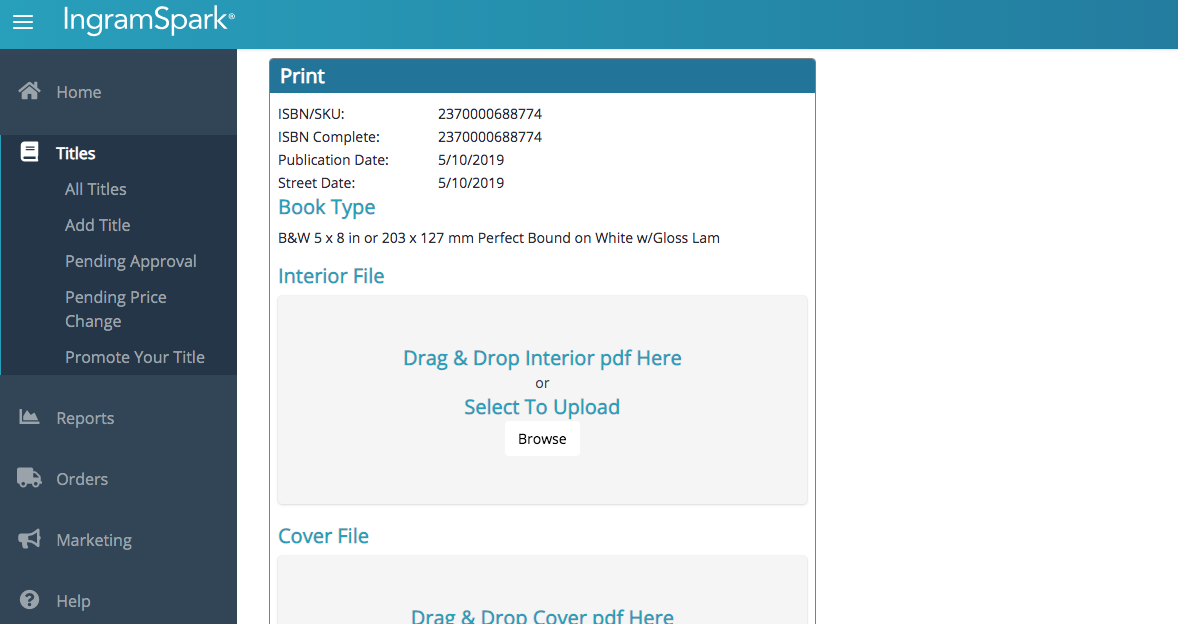 Next up, it's time to deliver the goods: the manuscript you've worked hard on perfecting and the book cover that will do that manuscript proud! Both must be uploaded as PDFs.
After you upload your files, IngramSpark will scan both the interior and exterior files for any errors. If it spots some, it will let you know and give you the choice to either a) fix the issues before you proceed with the process, or b) if you're confident with your files, ignore IngramSpark's alerts and continue as is.
And that's it! From here, you can decide how you want to market and sell your book. Our final recommendation is that, before distributing any print copies of your book, you first order a proof copy to ensure it looks good and there are no strange sizing inconsistencies.
IngramSpark Promo Code
Before we go, we wanted to quickly remind you about the IngramSpark promo code for Reedsy community members! When it comes time to pay your book's $49 setup fee, use the following code for a 50% discount: EXPERT — and yes, this code is case sensitive!