Last updated on Sep 21, 2021
IngramSpark Review: Read This Before Using It!
IngramSpark is a publishing platform that provides print-on-demand (POD) and ebook publishing services to independent authors. Perhaps their biggest selling point over Amazon is their global distribution network, which sells books and ebooks to over 40,000 outlets across countries. Though they won't necessarily appeal to everyone, IngramSpark should be on the radar of any self-publishing author.
Scroll on down, where we'll dig into IngramSpark's big features and check out their pricing plans.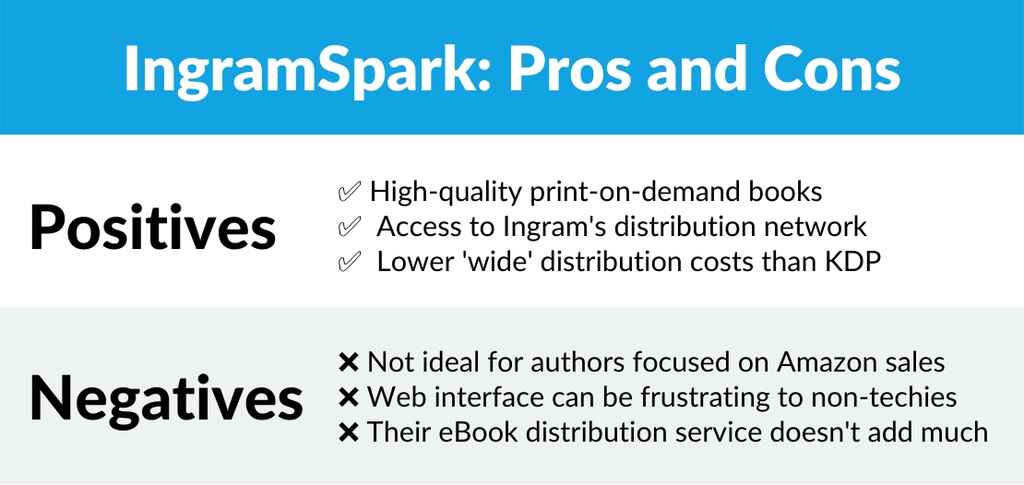 Feature Overview
While IngramSpark also offers ebook-only publishing as a service, it's really more of an afterthought. They've built their business on print-on-demand and print distribution, which is what we'll focus on in this review
Quality print-on-demand books
Print on demand is a system where you only print copies of your book as and when they're needed. These copies can be shipped directly to the author or customer, or delivered to one of IngramSpark's partnered retailers. In theory, a customer should be able to walk into any of their carriers and request a copy of your book.
While it may vary from one printing location to another, IngramSpark is one of the most reliable POD services when it comes to the actual product. You can trust that they'll turn out good quality, professional-looking books — assuming that your formatting and cover design have been executed to a professional standard. 
With dozens of trim sizes and paper options to choose from in soft and hardcover formats, IngramSpark's service works well for indie publishers of novels, nonfiction books, and memoirs.
Should you want to publish something a bit more specialized (like an art book or an intricate cookbook), you may wish to look for a more hands-on service like Blurb, who can help you ensure your final product looks just right.  
Steep learning curves for non-techies
The interface for IngramSpark is somewhat less intuitive than those of BookBaby or KDP Print. While their platform will flag up major issues when you're uploading your book file, it doesn't hold your hand through the formatting process or make any suggestions for improvement. For this reason, you'll want to make sure your formatting is immaculate before uploading.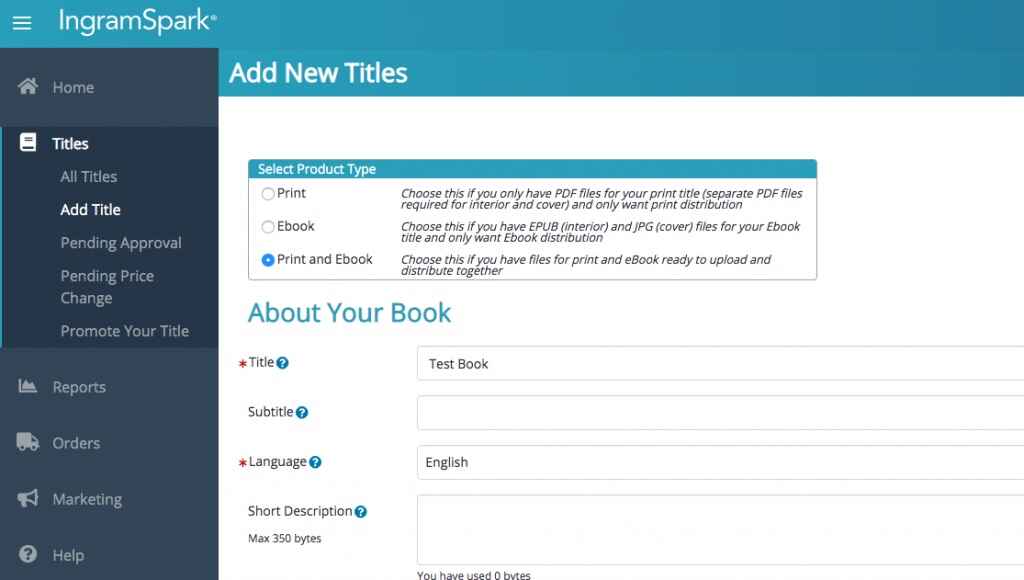 To create a flawless, compatible book file that's ready for distribution, try the Reedsy Book Editor. It's a free book formatting app that does the hard work for you and minimizes the risk of costly revisions down the line (more on that later).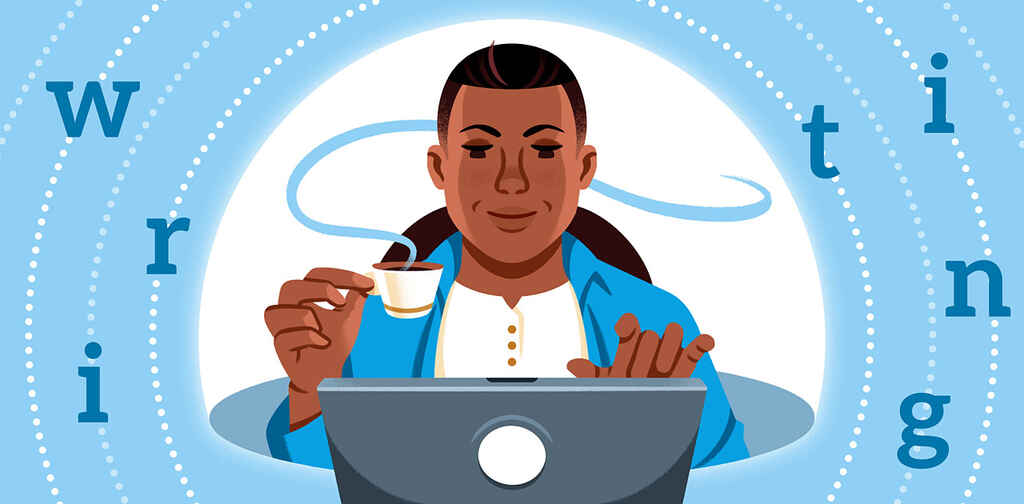 The Reedsy Book Editor
Format your manuscript for print or EPUB with a single click.
Even for tech-natives, IngramSpark's online platform is a little hard to use. While we quickly got to grips with its quirks, this may be an issue for authors who find self-publishing daunting enough as it is. But should you master Ingram's dashboard, a few big benefits are waiting for you.
Note: in addition to its lack of user-friendliness, IngramSpark's customer support is known to be very limited. We know of many authors who have tried (and failed) to contact their team to report issues with printed copies.
Access to the widest network of brick-and-mortar stores
The worldwide distribution network that indie authors can access via Ingram is unmatched by other POD services. Through Ingram Book Group (IBG), their titles are automatically made available to tens of thousands of retailers, including Barnes & Noble, Walmart, Target, and other well-known, independent wholesalers and retailers inside and outside the US. Your books can even be made available to schools and libraries. 
Fun fact: Most other POD services actually use the IBG's impressive network to distribute their books. To cut out the middleman (and excessive fees), you can go directly to the source with IngramSpark themselves.
Compared to KDP Print, IngramSpark offers a more appealing deal. While KDP will also sell paperbacks to booksellers and libraries via their 'Expanded Distribution' program, the low royalties and high distribution costs that Amazon charges for this "privilege" make this an unattractive proposition for indie authors.
Note: Distributors will only list your book for sale. It is still up to the publisher (i.e., you) to convince bookstores to stock your book — or to get your readers to go into bookstores and ask the friendly booksellers to order a copy for them.
A way to wean yourself off Amazon
There are a number of reasons an indie author might not want to rely on Amazon to publish their book. Firstly, KDP's hefty 'Expanded Distribution' charges make it hard for an author to turn a profit selling print copies. 
Then there's the ethical side: for many authors, the idea of giving more money to the world's largest corporation — one with a spotty worker's rights history, whose continued growth is choking both the high street and small businesses — is hard to reconcile.
Lastly, it's important to note that many bookshops don't order from Amazon — in particular, small independent bookstores (the kind most likely to stock small independent books). This is what author Mason Engel discovered when he went on a pan-American tour of indie bookstores and found that many booksellers weren't too impressed with his choice of distributor.
If any of these considerations make you think twice about focusing your marketing efforts on Amazon, then IngramSpark provides an alternative with an impressive breadth of distribution (the best of all of Amazon's competitors).
Top tip: To get the best of both worlds, buy your own ISBN numbers, then set up your book on KDP and IngramSpark separately, as if they were different titles (you could create two slightly different versions). Make sure you list your book on Amazon first, and that you do not select the Expanded Distribution option.
IngramSpark Service Costs
IngramSpark used to charge authors both to set up a title and to update their book's files. However, as of May 2023, you can list both print and ebook titles for free, as well as revise your files without charge for the first 60 days after your title has been approved. 
So, to calculate the service costs, you will also have to factor in the per-unit cost of printing and distributing your copies — which will be taken out of your royalties. These can vary depending on the print options you choose, as well as the number of units in your order. According to IngramSpark, price is dependent on:
Trim size;
Interior color and paper;
Binding type (paperback or hardback);
Laminate type (gloss, matte, or textured);
Page count;
Quantity; and
Ship-to address.
You'll also be setting your own wholesale discount for IngramSpark, and this level of flexibility can be a great bonus. While higher wholesale discounts will eat into your profit margin, they can serve as an incentive and attract retailers to buy and push your book. Around 55% is usually the sweet spot for wider retailers, while KDP Print set their own as 40% on-platform.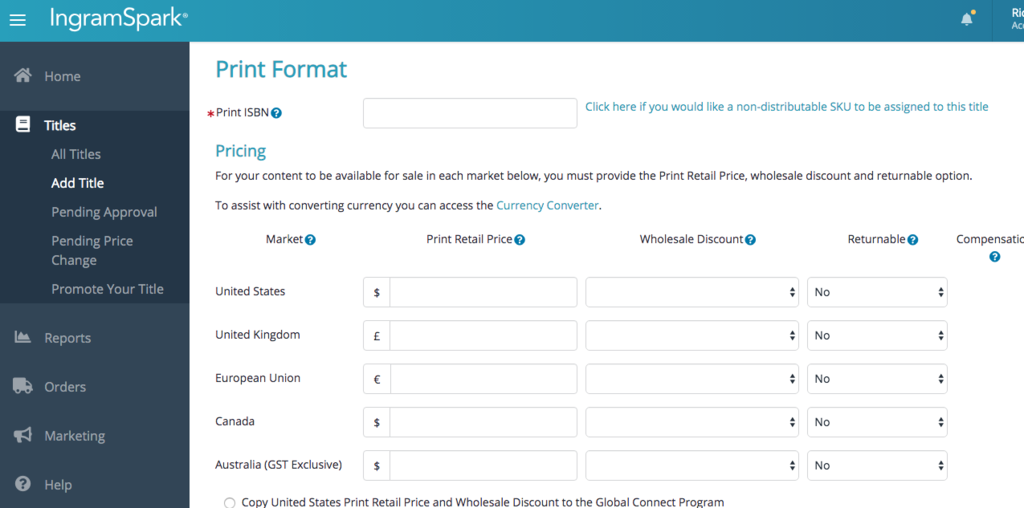 IngramSpark has a calculator which you can use to determine what you'd be paying them ahead of time (although, as they point out, this calculation doesn't include sales tax). For example, a standard 280-page black-and-white paperback printed to industry standard with a 50% wholesale discount would cost you $4.80 in printing fees. This leaves the publisher (you) with compensation of $1.20 per book — assuming that retailers are buying enough copies to get the wholesale discount.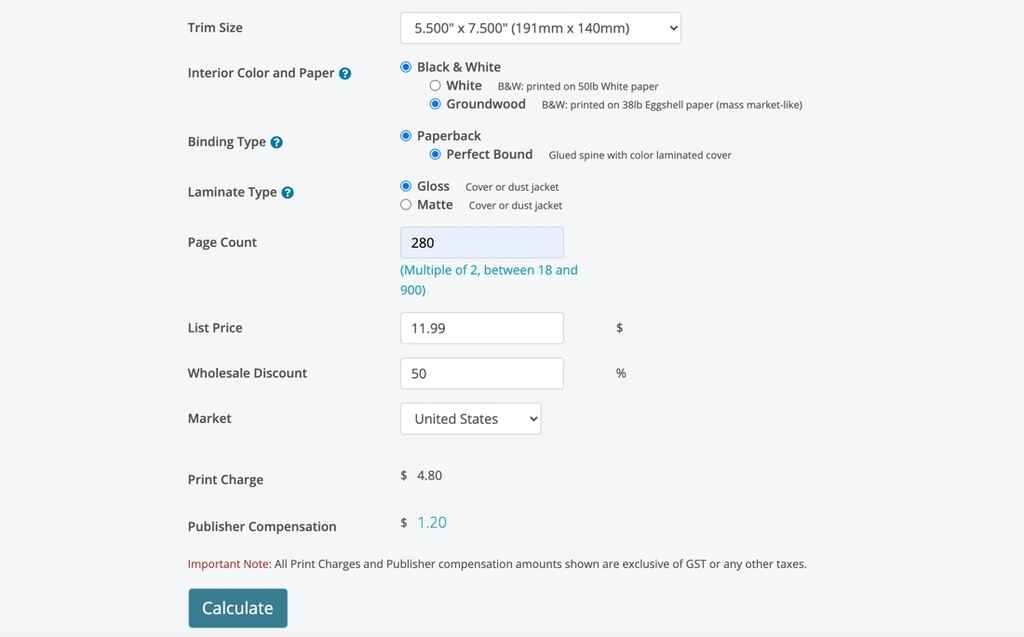 For a comparison of IngramSpark and its major competitors in terms of price, quality, and other features, head to our Print on Demand guide. 
Verdict: Is IngramSpark right for you?
Whether IngramSpark is the right choice for you depends largely on your publishing goals. However, here's a summary of reasons why you may wish to use this service.
If you want to have your book in real brick-and-mortar stores, and you don't mind spending some time learning the ropes of the interface.
You want to avoid the Amazon machine (or you think most of your sales will come through other channels).
You don't mind taking a hybrid approach that involves using KDP Print for Amazon and IngramSpark for all other retailers.
Reedsy rating: 3/5
---
To see your other options for creating hard copies, check out Reedsy's guide to Book Printing Services.