Last updated on Jan 20, 2023
Print on Demand Books: The 6 Best Services in 2023, Compared!
When it comes to picking a print-on-demand service, today's authors are spoiled for choice. In fact, it has never been easier and more affordable for indie authors to sell quality print versions of their work, closing the gap between the world of traditional and self-published books.
As opposed to offset printing, which involves printing books in bulk and upfront, print-on-demand (POD) allows you to print copies only after they are ordered without having to worry about warehousing them. To help you confidently decide which print-on-demand supplier to trust, we've gone out and tested some of the most popular services available on the market.
We needed a guinea pig for our test, so we went with How to Market a Book by Reedsy's very own Ricardo Fayet. Here's a quick overview:
| Service | On-site  Experience | Setup fee | Print cost* | Print quality | Distribution | Royalty |
| --- | --- | --- | --- | --- | --- | --- |
| KDP Print | 4/5 😊  | None | $4.9 | Good | Excellent for Amazon sales, poor expanded plan | 40-60% |
| IngramSpark | 2/5 😐 | None | $5.8 | Very Good | Excellent  | 45-70% |
| Draft2Digital | 5/5 😁 | None | $5.6 | Very Good | Uses Ingram | 45% |
| Blurb | 5/5 😁 | None | $10 | Great | Uses Ingram | 45-64% |
| Bookvault | 4/5 😊 | $23 | $4.3 | Very Good | Excellent for UK sales, recently entered the US market | 40-90% |
| BookBaby | 3/5 🙂 | $399 | $6.2 | Very Good | Uses Ingram + other retailers | 45% |
*Price for one trade book copy as of January 2023: 6"×9", 328 pages, softcover, black and white interior. Note that, aside from your book specifications, print costs may also vary by country and are subject to change due to inflation.
Here's what the copies looked like when they arrived in the mail: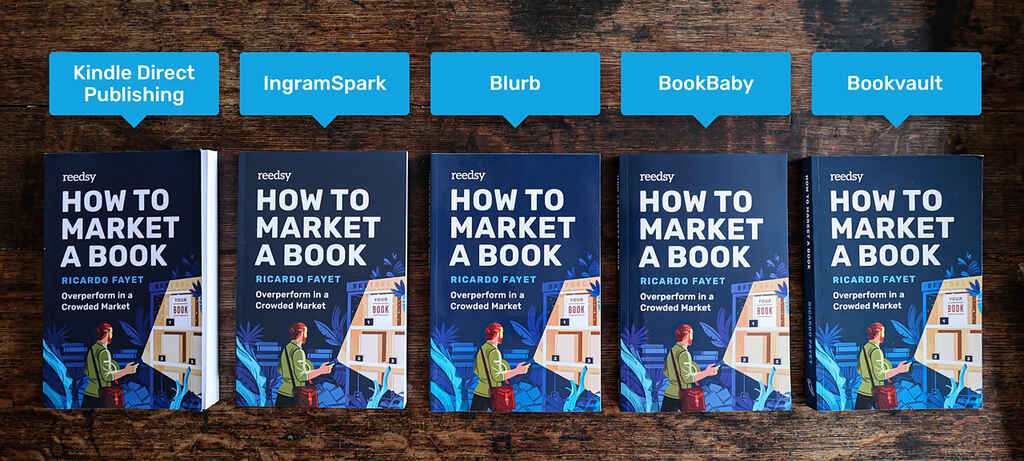 So far, so good! Now, let's take a closer look at what it's like to use all of these services.
1. KDP Print
KDP Print is Amazon's own print-on-demand service for indie authors, operating through its Kindle Direct Publishing platform. Printing a book on Amazon is straightforward, and since most authors opt to self-publish on Amazon through KDP anyway, it's pretty convenient to use the same platform.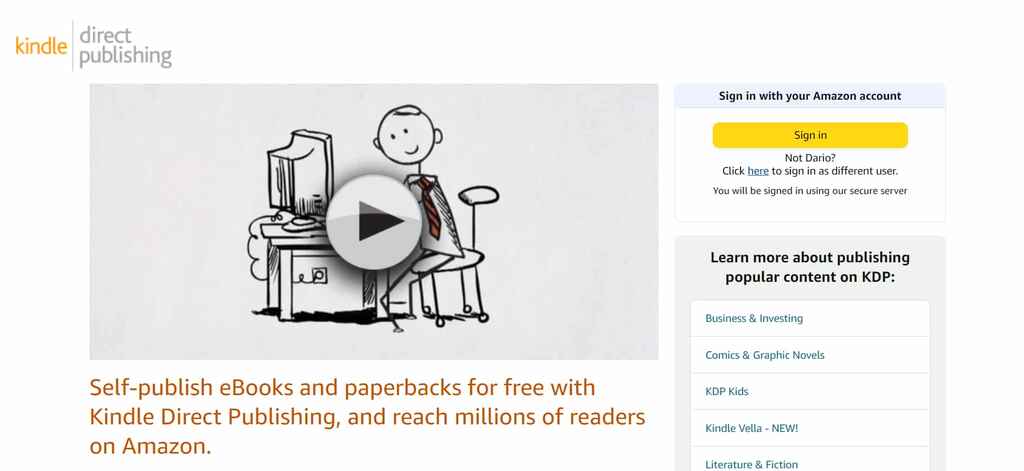 Setup
From your KDP 'Bookshelf,' you can start the process in a couple of clicks, filling in basic details about your book and choosing your printing specs. KDP print has by far the best visual representation of different types of paper quality and color options in this setup stage.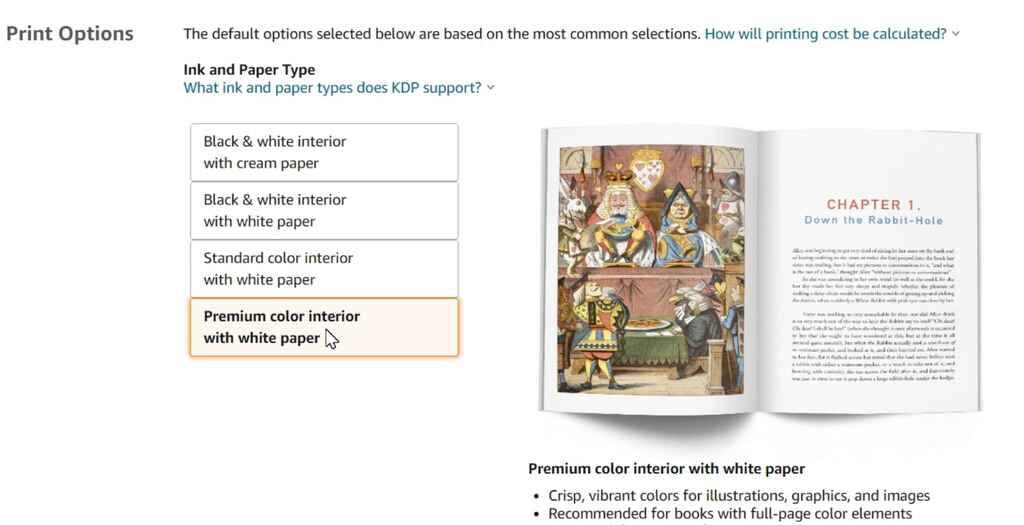 One thing to note is that the book cover file you upload must match the trim size you've selected perfectly, or else you won't be able to move forward. The best way to make sure of this is to use KDP print's book cover calculator and share the template with your book cover designer.   
💅Most readers judge books by their covers. Hiring a professional designer can help you sell significantly more books. Explore some of the most talented designers on our marketplace.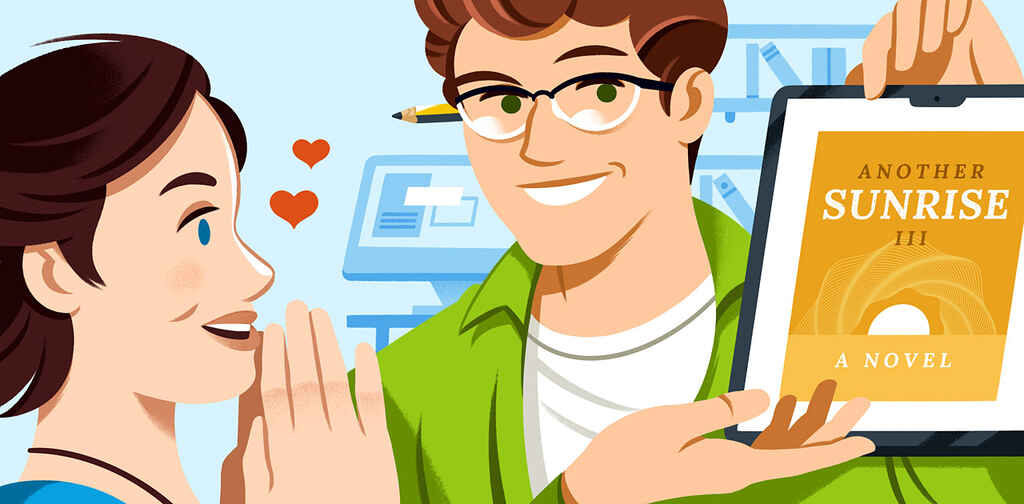 Get an amazing book cover
Let readers judge your book by its (professionally-designed) cover.
Print quality
In our comparison of the most popular POD services, there were very few differences in print quality. However, we did notice that our copies from KDP were slightly less polished than the rest. The black and white images within the chapters were slightly lower in contrast compared to others, and there was a small issue with the binding which meant the book didn't fully close when laid down flat.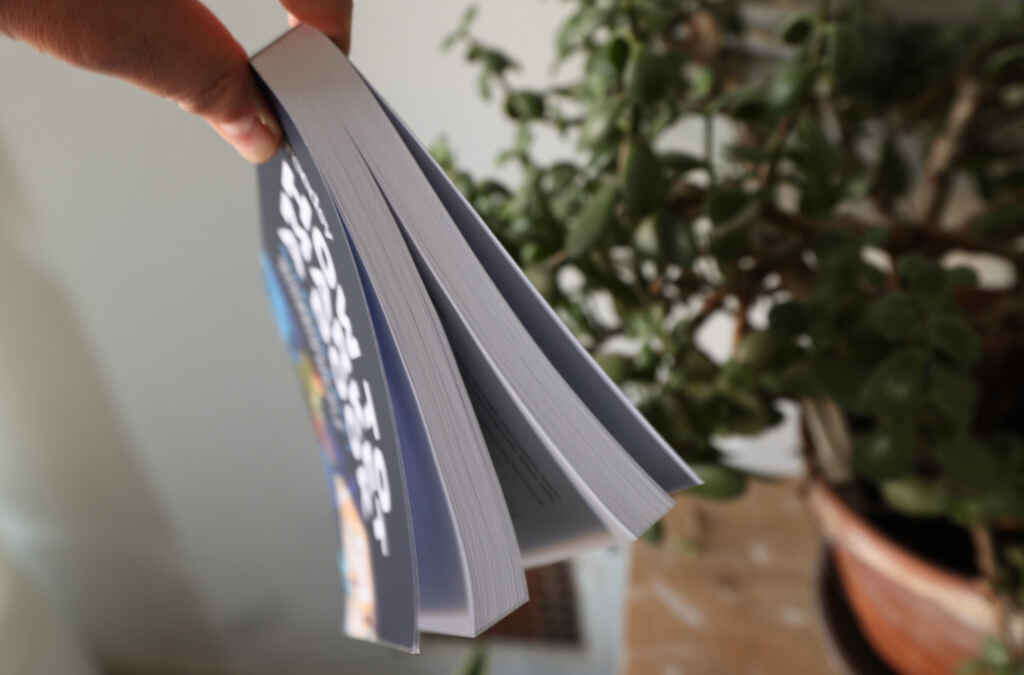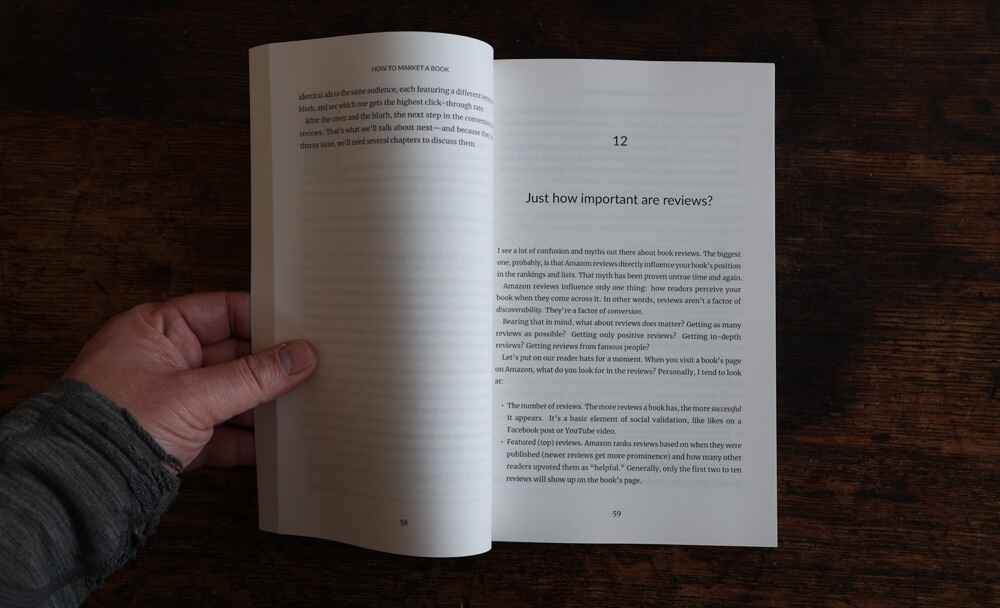 In terms of typesetting, the text was perfectly aligned on the page with good readability on both the white and cream paper versions. 
KDP Print users have historically reported variations in quality, often changing with the season and supply chains. We don't expect the issues we encountered with the binding and image quality to appear in all KDP paperbacks — it simply hammers home the fact that not every copy printed will be perfect. 
📘 A note on covers: for each of the suppliers in this review, we ordered both glossy and matte covers. Although the differences were marginal, the matte covers all had a certain gummy texture that may be due to the dark colors we've opted for on How to Market a Book.

Costs, distribution, and royalties
In terms of costs, KDP Print has no setup fee and some of the lowest printing costs on the market. At the time of print, an author copy of our 328-page book cost $4.94 to print and was shipped within 1-3 working days. Amazon offers a 60% royalty rate (minus printing costs) for paperbacks sold on its marketplace.
If you opt for Amazon's Expanded Distribution plan, which leverages Ingram's distribution, you'll get the same royalty for sales on Amazon, but only 40% (minus printing costs) for sales from outside retailers like Barnes & Noble.
On their site, you can calculate your estimated print royalties. Note that earnings might differ depending on which Amazon marketplace you sell from, but generally speaking, they are 2-3 times higher than other services (for copies sold on Amazon). 

The verdict
Amazon's KDP Print is a strong POD service, offering low costs, high royalties, and lightning-fast deliveries, so virtually every author should list their book on it. And in today's self-publishing scene, regardless of genre, most of your online print sales will most likely come through Amazon, so maximizing your royalties by using their dedicated POD service makes sense.
If you want to distribute your book via non-Amazon retailers or brick-and-mortar stores (and enjoy better royalties on those sales), you should use other services besides KDP print.
Remember that Amazon doesn't allow pre-orders for print books, but you could get around this by using IngramSpark or Draft2Digital for this purpose, as we'll explain in the next section. 
Need to format your manuscript for publication? Use our free book creation tool: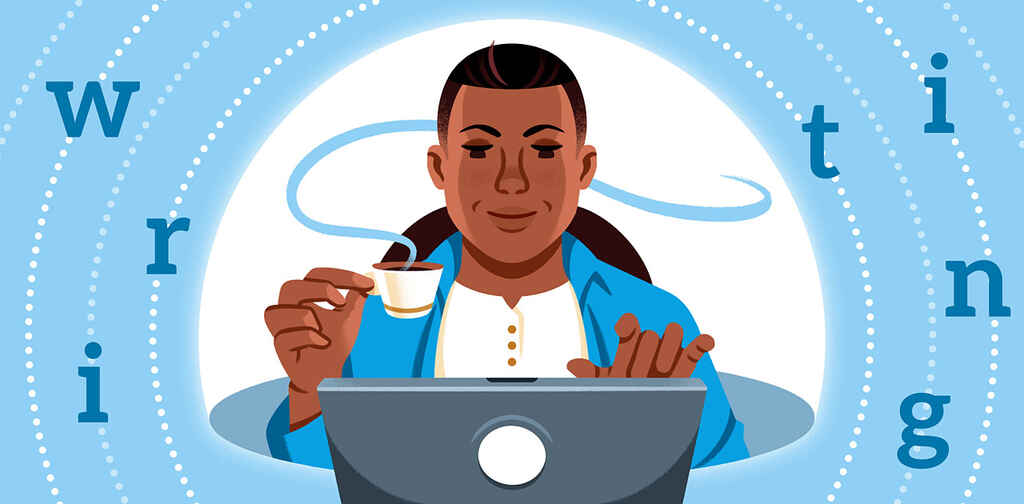 The Reedsy Book Editor
Format your manuscript for print or EPUB with a single click.
2. IngramSpark
IngramSpark is the premier POD platform for authors looking to distribute their books to the greatest range of brick-and-mortar stores. With a distribution network of over 40,000 retailers and libraries, this might be your best option if you're looking to stock your titles in all the traditional places readers get their books.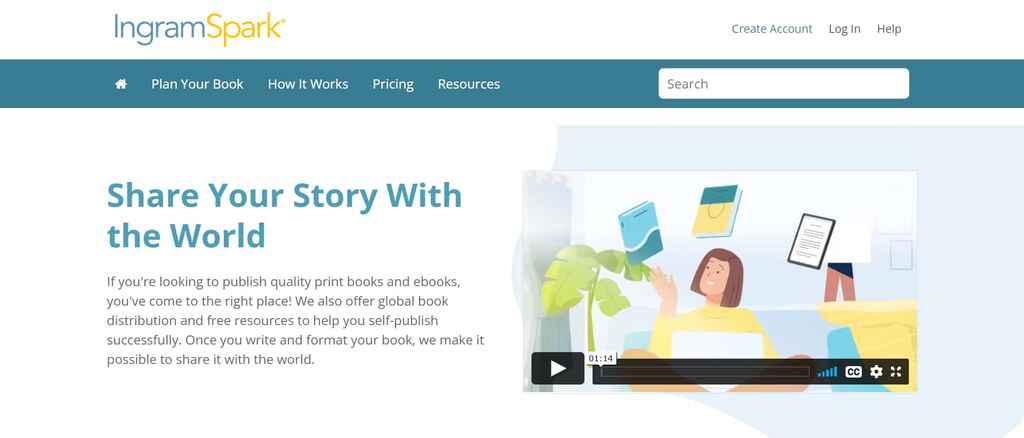 Setup
The one downside of IngramSpark is that the platform is a bit clunky and text-heavy, making it the least user-friendly option of the bunch. As a first time author, you'll likely go through IngramSpark's Book Building Tool and have to read through the long and wordy book cover specifications to upload your manuscript. It's easier if you have your files prepared, so make sure to use a professional writing app and collaborate with a book cover designer who is used to the industry book size standards.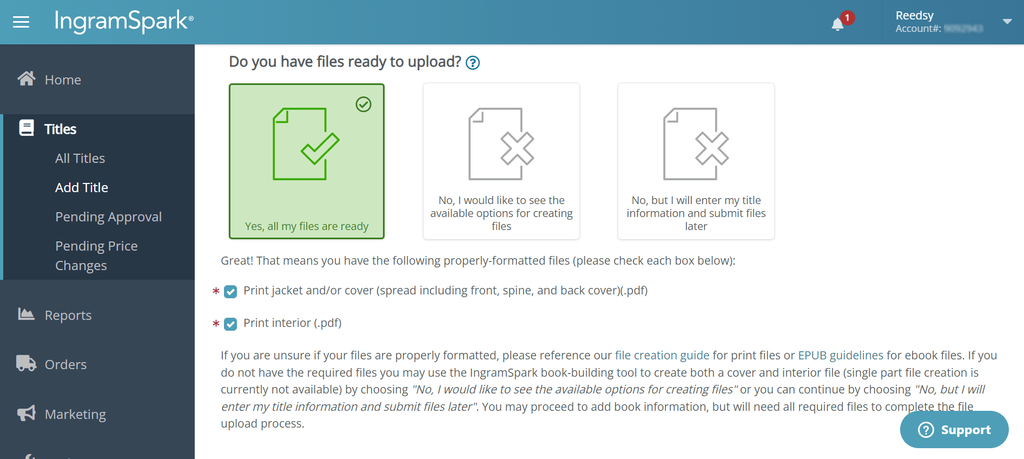 Once you manage to upload your title, your book will undergo an automated and manual file review which takes approximately five business days. All in all, it's a thorough but time-consuming process 一 not ideal for low-tech authors, especially given IngramSpark's minimal customer support. 
Furthermore, if for any reason you decide to change your printing specs, like paper type or cover finish, you'll have to wait for another 3-day review before you can distribute your title again. On a brighter note, they've improved their sales reporting dashboard, which you can now better read at a glance. 
🔍 For an insider look at this service, you can also check out our full IngramSpark review.
Print quality
As mentioned above, the print quality is pretty similar across all the major print-on-demand services, with perfectly aligned pages and a solid binding. For a result that feels closer to the paperback novels you'll find in bookstores, we'd certainly recommend the cream-colored stock over the white paper option.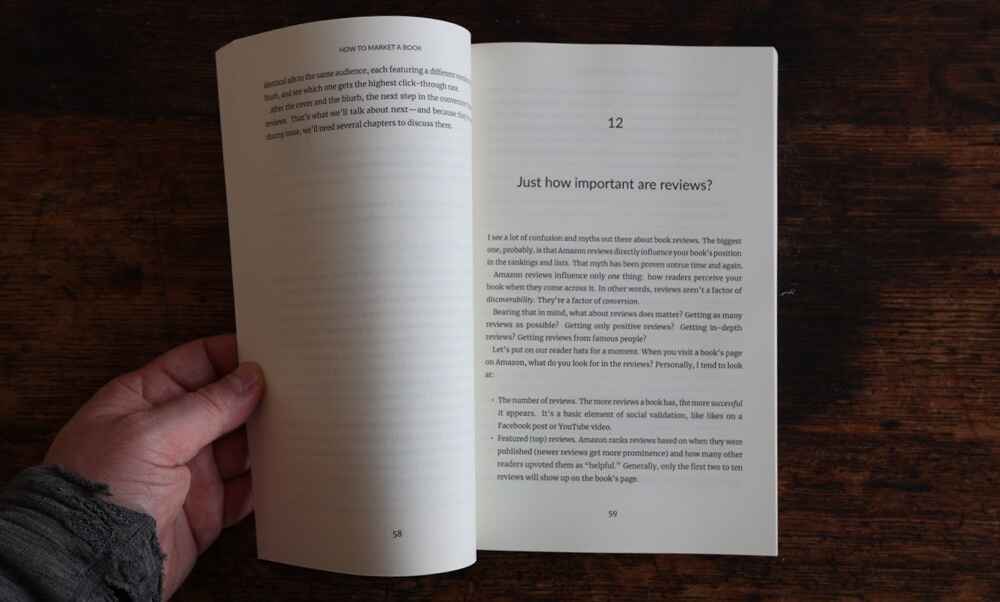 IngramSpark's glossy cover had a slight texture that made it feel a bit more premium and pleasant to hold compared to KPD and Blurb's equivalent covers. Again, very tiny differences but to some, this may be important.
Costs, distribution, and royalties
As of May 2023, you can set up print (and ebook) titles on IngramSpark free of charge. In addition, if you need to revise your files, you can upload them for free for 60 days after production approval. Their printing and shipping costs align with the market average — as their dispatching times. 
IngramSpark will grant you direct distribution to over 40,000 retailers in the US, from Barnes & Noble to your local bookstore. You'll also be connected to Ingram's global printing partners in countries like the UK, Australia, and China. Ingram's logistics network is so well-established that even other retailers like D2D and Blurb use it.
This means that if you directly choose IngramSpark, you avoid some of the middleman fees you'd have to pay with other distributors. However, as of July 2023, you'll have to pay a market access fee of 1% of your title's list price. So if you were selling your book for $10.00, you'd pay $0.10 cents. You'll be able to track your total fees paid in the compensation report under 'Global Distribution Fee'.
In terms of royalties, Ingram's wholesaler discount ranges between 30%-55%, but they recommend the latter for maximum distribution. With our book (6"×9", 328 pages, softcover, B&W interior), the printing cost came to $5.80, which means we'd have to price our book above $13 if we're hoping to make any profit (at the 55% discount). You can find out how much you'll make per book by using IngramSpark's pricing calculator.
Finally, you'll have to choose whether you want to make your book returnable or not. Many brick-and-mortar stores won't order books that can't be returned if they don't manage to sell them, but this option puts financial pressure on authors, who'll have to bear the printing cost and delivery fee of the returned copies ($3 per book in the US).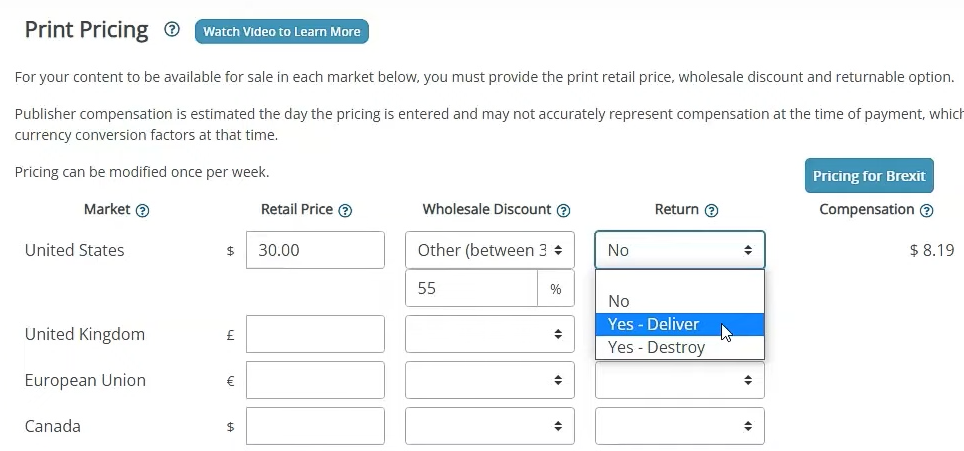 Due to the potentially high cost, perhaps even exceeding earnings, most authors are terrified of offering returns. But usually bookstores won't order your book unless they can see there's enough demand for it, or you actively ask them to do so (as a book promotion strategy), so the risk should be calculated. That said, you should be prepared to deal with the potential financial impact of returns, for example, by setting your book to be "destroyed" instead of delivered back, so you'd "only" pay for the print cost.   
The verdict
If you're looking to sell through major chain and indie stores, digital and brick-and-mortar alike, IngramSpark is by far the best option. The prices are cheap enough to make some profit, and its distribution reach is unparalleled. You'll only need to arm yourself with patience to deal with its slow interface and review process.
Of course, as we mentioned earlier, you can always combine KDP Print and IngramSpark to get the best of both worlds. To do that, buy your own ISBN number, then set up your book on KDP and IngramSpark separately, making sure you list your book on Amazon first and do not select the Expanded Distribution option.
As mentioned above, you can also use IngramSpark (or Draft2Digital) to set up pre-orders on Amazon. But since Amazon does not play too well with external vendors, you could encounter "inventory issues", shipping delays, or "out of stock" warnings on your Amazon listing. If you go down this route, one option is to create two slightly different versions of your book, assign them two different ISBN numbers (that you own), and list them separately on both platforms (e.g., Amazon and IngramSpark) 一 so that they'll be treated as different books. 
🤔 What are the minimum requirements to get stocked in bookstores?

⛔ Don't distribute with Amazon's expanded plan. Many bookstores are "at war" with Amazon and won't order from it. It's better to use platforms that  have a good relationship with bookstores, such as IngramSpark, for example. 
💸 Offer a 55% retail discount. This is the industry standard 一 physical bookstores, both big chains and indies, will not stock your book otherwise. 
🔁 Make your book returnable. Again, many bookstores will pass if it's not. 
3. Draft2Digital
Draft2Digital (D2D) has beta tested its print-on-demand service for years and while it hasn't officially launched out of beta, authors can already use it. D2D relies on Ingram both for printing and distribution, but its competitive advantage is in the user experience.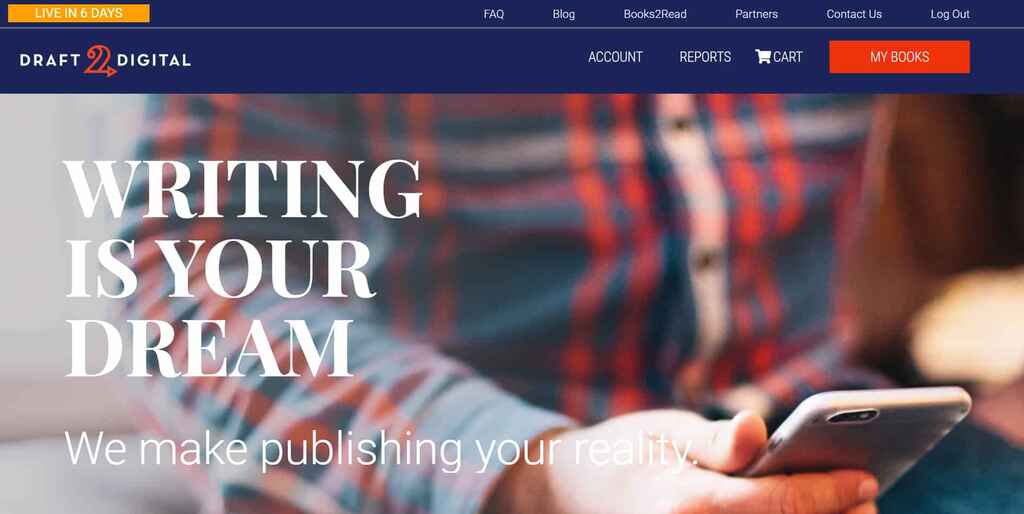 Setup
Draft2Digital's user interface is intuitive and clean, making it easy to upload files and information, as well as preview your book interior and cover crop lines.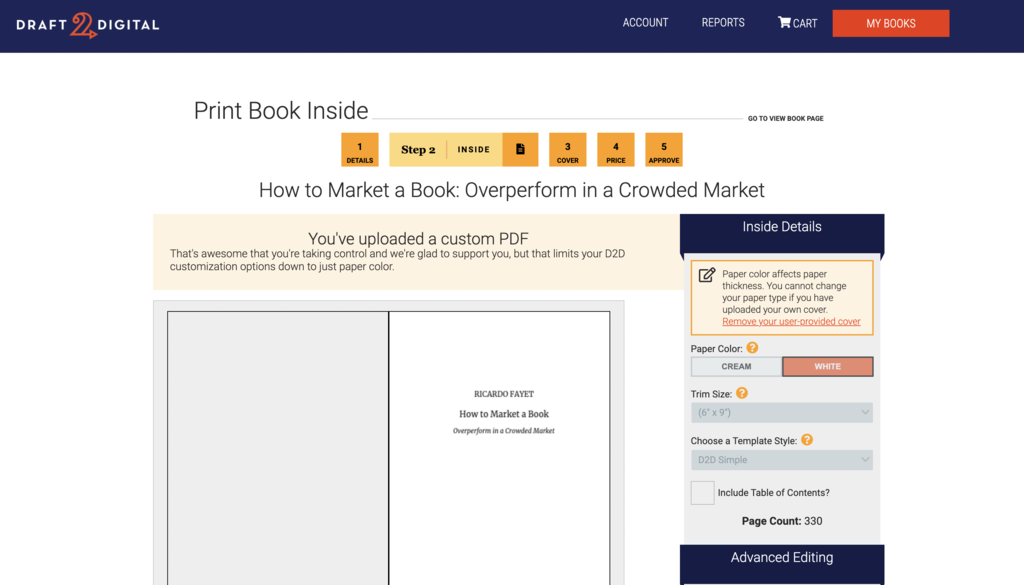 Moreover, if you run into trouble, their customer support is very helpful, and they also have a hotline you can call. 
Print quality
As mentioned, Draft2Digital relies on Ingram to fulfill their print orders, which means that your customers should receive similar quality copies no matter which of the two options you go for.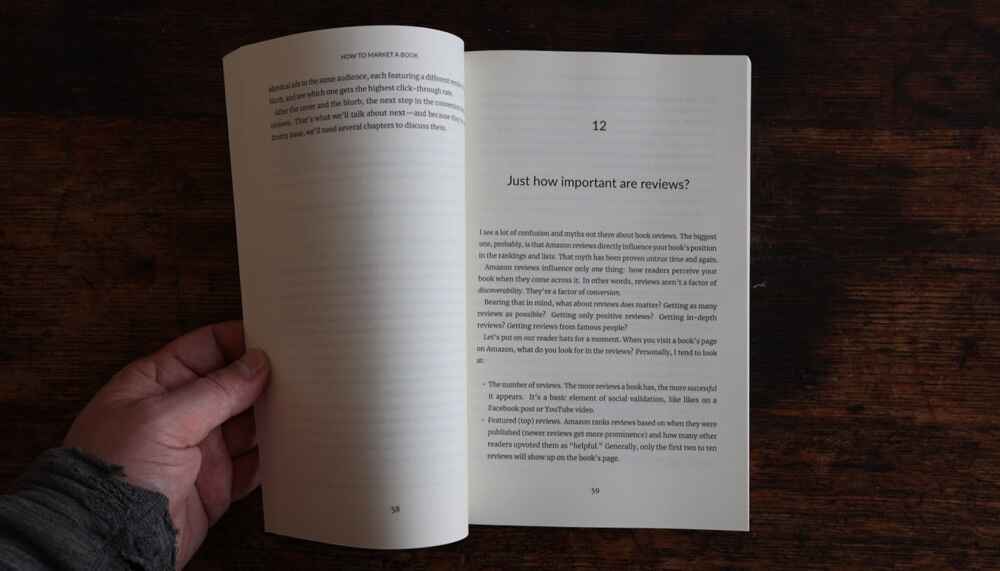 Our take? The print quality is good and should serve most authors well, so long as their book files are formatted correctly.
Costs, distribution, and royalties
There is no setup fee for uploading your title on D2D, and you can also modify your book's specs for free once every 90 days (since you last made a change,) or else pay $25 for a 'change token'.
As mentioned, D2D relies on the Ingram network for distribution, including major bookstores and indie shops. Unlike Ingram, which offers a 45-70% range of royalty, D2D has a flat (and standard) 45% royalty rate. You can easily calculate your profit per copy by entering your book's trim size, page number, word count, and sale price.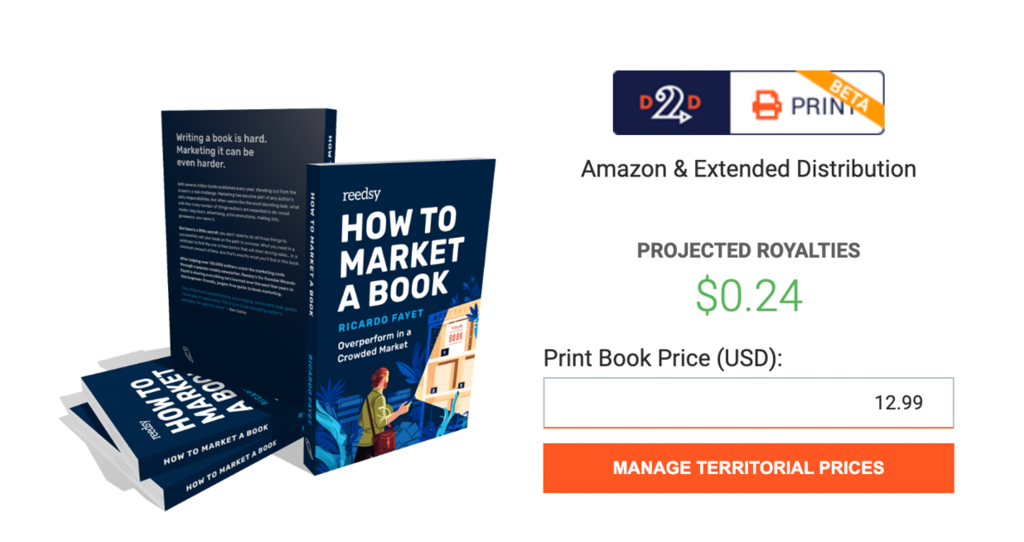 It's also important to note that D2D doesn't allow book returns, so if you want your book stocked on brick-and-mortar shelves, you should use IngramSpark instead.
The verdict
There's a lot to like about Draft2Digital's POD service 一 it leverages the printing and distribution capabilities of Ingram, but offers a much better user interface and solid customer support. Their heavy reliance on Ingram's networks could, however, cause problems that they can't directly and quickly fix, so keep that in mind.
🤔 Can self-published authors get their book into bookstores? 

Indie authors can find support from many book sellers if they meet the minimum requirements listed above and, as The Hot Sheet suggests, develop a relationship with them. To do that: 

participate in regional bookseller conferences, 
offer pre-orders exclusively to one store, 
organize live sign-ups and other special deals. 

Importantly, look to booksellers in your immediate community, where your book will be more likely to be sold.     
4. Blurb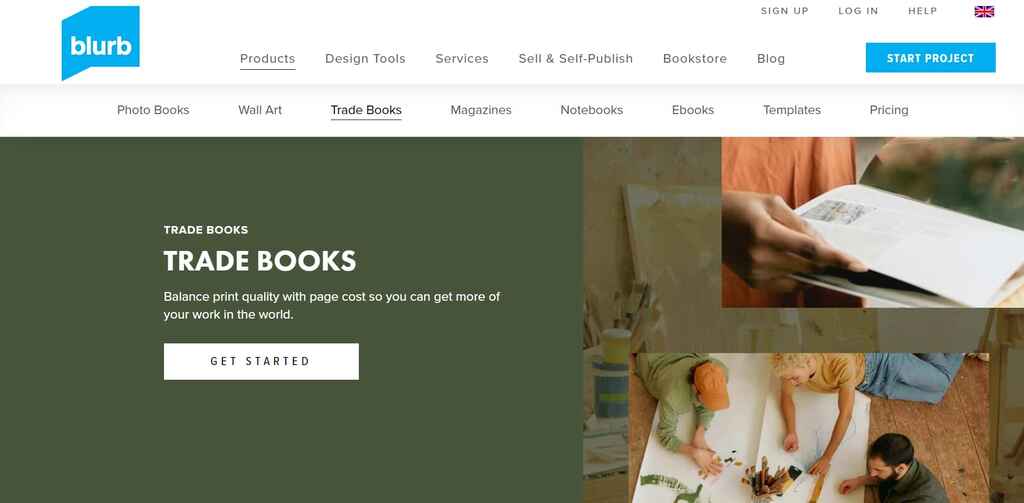 Blurb's print-on-demand service is certainly more expensive than the other options on display here, but they provide a great user experience and quality products. 
Setup
Blurb's platform is modern, fast, and intuitive, making for one of the smoothest upload experiences of the bunch. If your print files are ready, you can set up your book for sale in under 10 minutes. Their software automatically detects and corrects potential issues in your files, then clearly previews how they'll look on paper. And should issues arise, Blurb's customer support is stellar.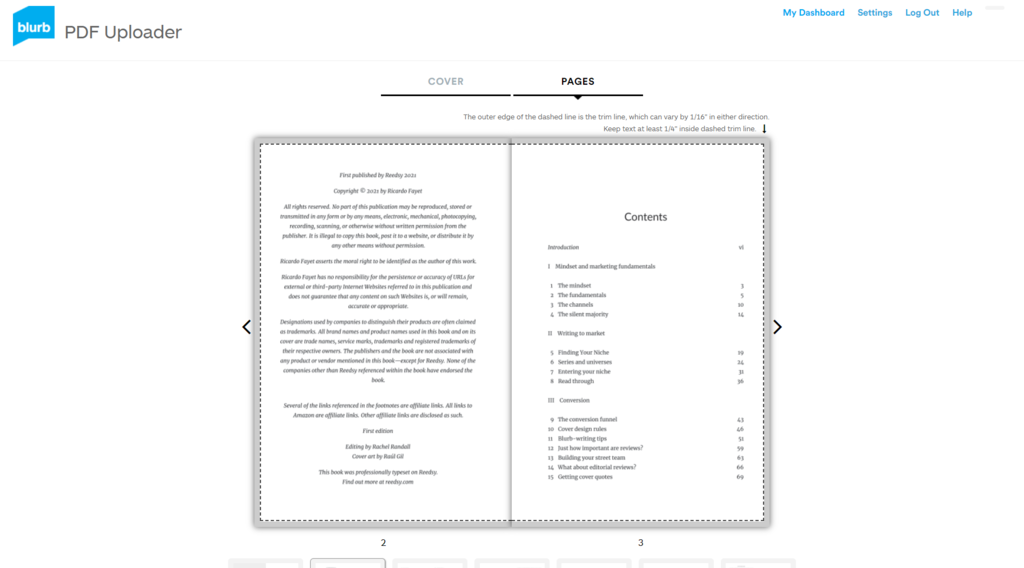 One minor difference, compared to other services, is that the matte cover finish is only available for hardcover, whereas the softcover can only be glossy. 
Print quality
Though we've mentioned before that most of the POD services offer similar print quality, it should be noted that the copy we received from Blurb did have a slight edge over the others. The colors on the cover design were the closest to the original files we uploaded, and the contrast of the print was stronger — making for an easier read and overall more professional feel.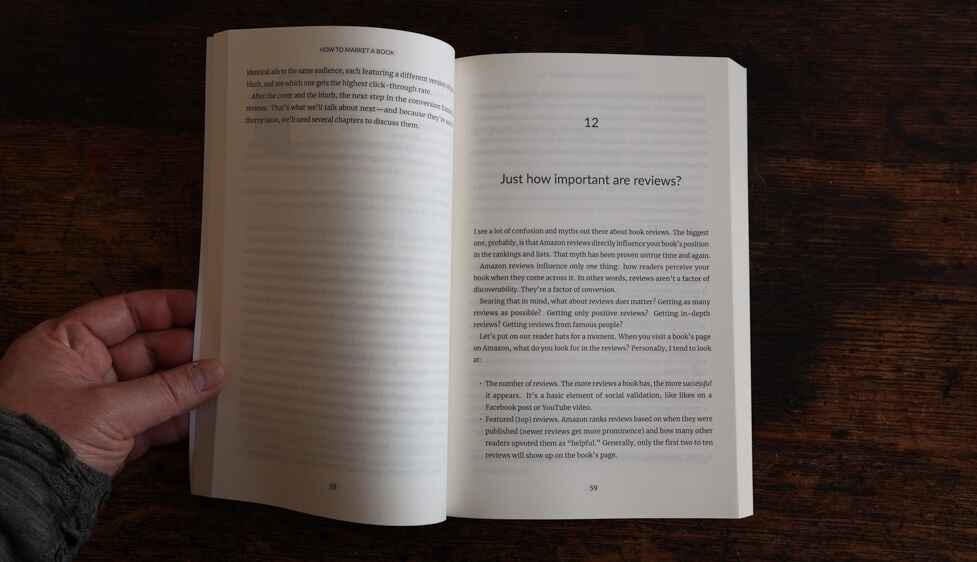 The attention to color and clear printing is not surprising when you consider that Blurb's strength lies outside just printing standard-sized trade paperbacks; they also offer a range of high-quality photo books (with landscape and portrait options), as well as magazine formats, giving you more choices for designing your product. There is, however, a cost trade-off, so if your book is mainly text-based and has very few to no images, Blurb may not be worth the extra pesos.
Costs, distribution, and royalties
A point in Blurb's favor is that there's no setup fee to list your title with them or to change your book specs (although you'll have to create a new title from scratch). But Blurb remains expensive: the printing cost per copy is approximately $10, which is twice as much as the other services. The reason is likely the slightly higher print quality, but that's hard to justify for most authors. Shipping-wise, we received our copy in just a few business days.  
As for distribution, there are two main options on Blurb: the Global Retail Network, which distributes through Ingram, and Blurb Direct Sales, which is Blurb's own bookstore. If you go with the latter, you'll lose significant discoverability, but will be able to make more profit per sale since there is no distribution fee. If you choose to go global instead, you can pick either a 36% or 55% wholesale discount, with the latter being the recommended choice.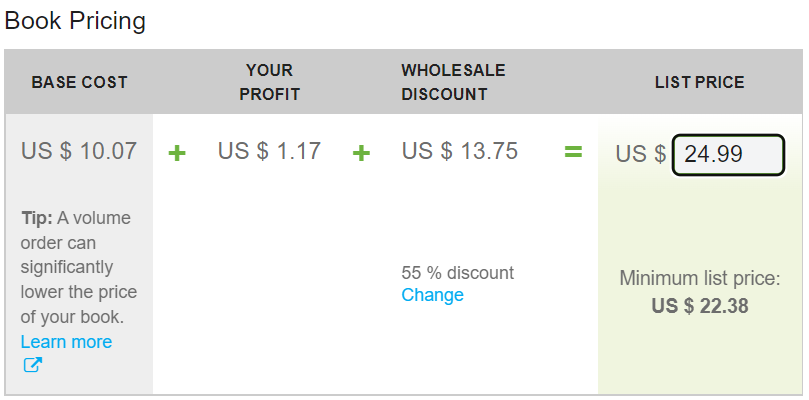 With our test book, we had a base cost of just over $10. To benefit from the widest discoverability, we'd have to set our wholesale discount at 55%, meaning that our retail price would have to be at least $22.38 if we wanted to make a single cent of profit. The price is almost certainly prohibitive for writers of fiction and memoir, whose readers are used to buying paperbacks for under $17. 
The verdict
Blurb is a well-rounded service that offers great print quality and distribution, but it's not for every author. We'd recommend it for writers who can support a 'premium' price (i.e. heavily illustrated or photo books), those who particularly care about print quality, or those whose top priority isn't turning a direct profit from book sales (if you are publishing a book for business leads or for family members, for example). 
🤝 We've partnered with Blurb to make it easier (and a bit more affordable) for authors to format and print their beautiful books. Find out more here.
5. Bookvault
Bookvault is a UK-based POD service that specializes in direct sales fulfillment. It integrates seamlessly with Shopify, WooCommerce, Thrivecart, Wix, and Payhip, allowing authors to sell print books directly through their author website, and have those print orders fulfilled by BookVault.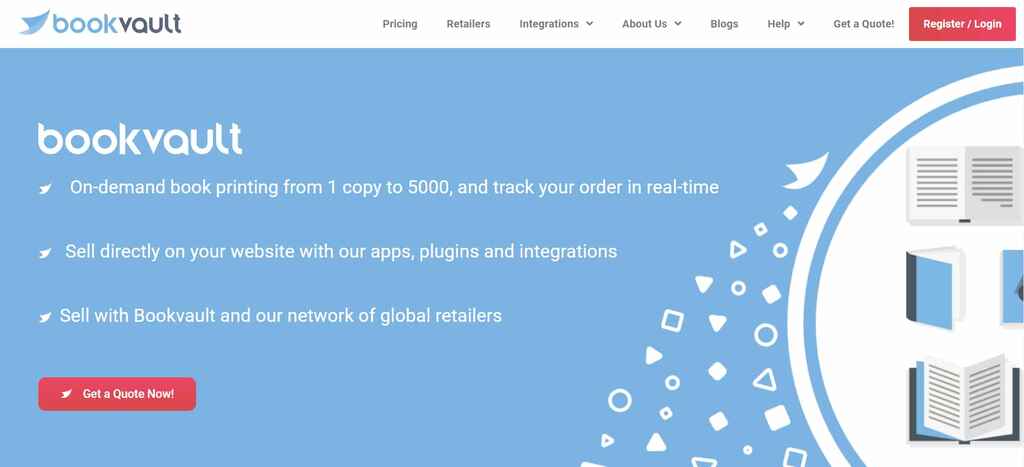 Setup
Modern and easy to navigate, Bookvault's app is solid, though the user experience still has room for improvement. Setting up a title is quick and straightforward, and it's fairly easy to order an author copy and manage distribution options.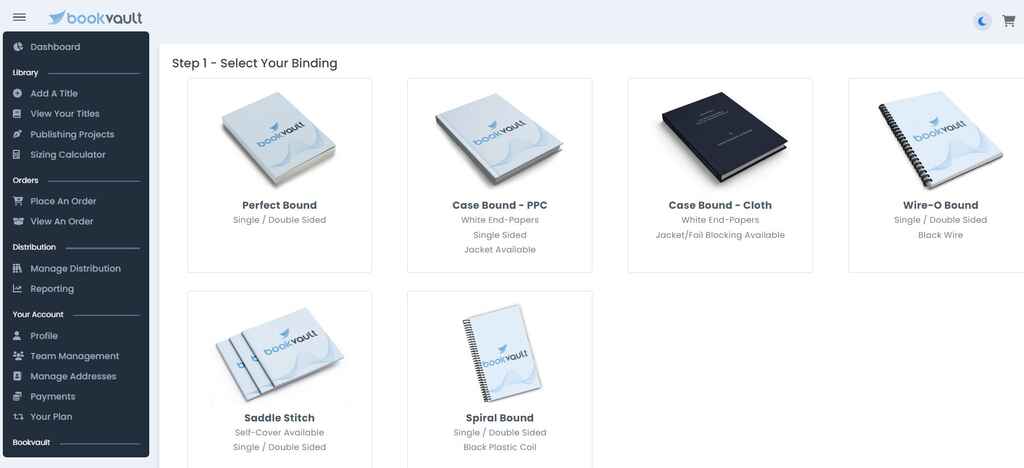 Based on our experience ordering test copies, we'd suggest that you double check your printing specs throughout the process. Early in the process, we accidentally chose a format size that wasn't compatible with our book file. The issue wasn't automatically flagged, which resulted in us receiving a test copy that was… a little off.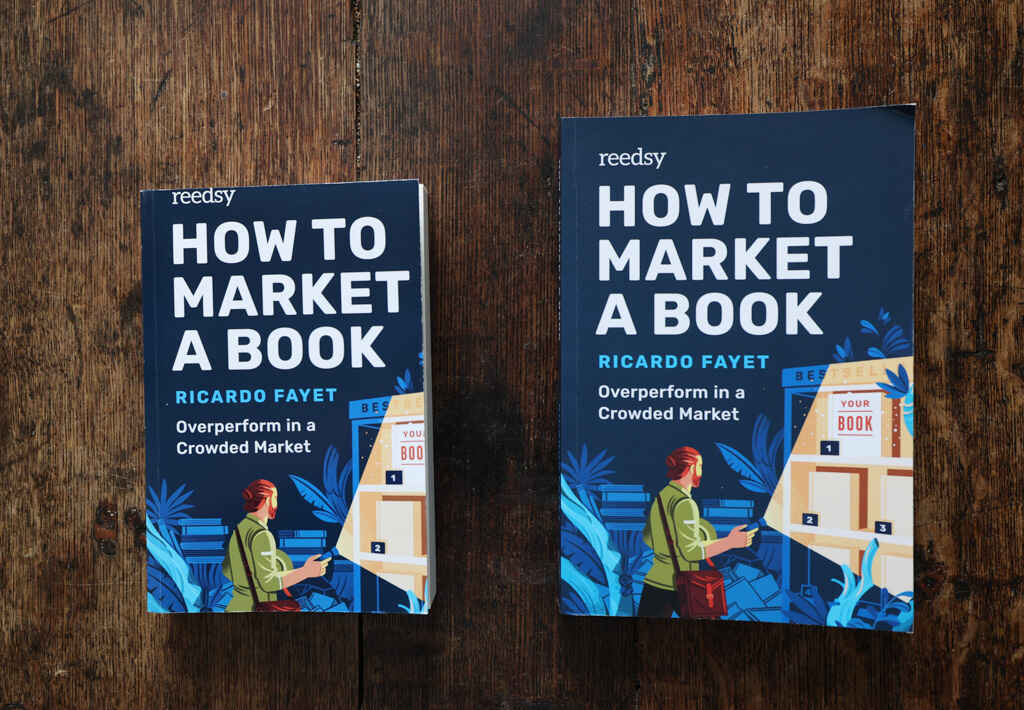 To their credit, Bookvault corrected the issue promptly and free of charge 一 which was nice on their behalf.  
Print quality
As expected, the quality of the final books we received from Bookvault was on par with IngramSpark. The colors on the cover design were reproduced faithfully, and nothing was out of place within the body of the book itself.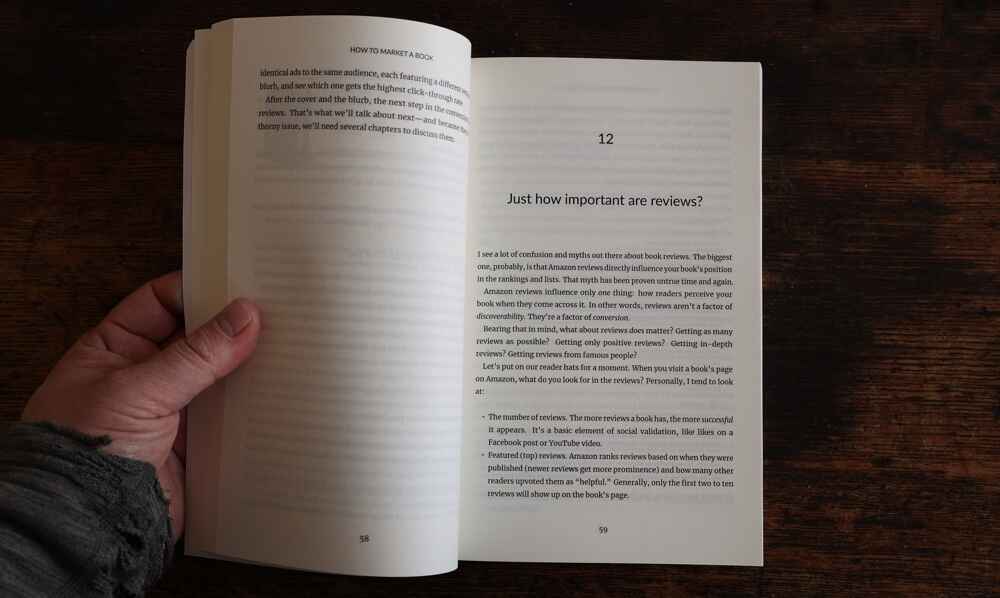 Costs, distribution, and royalties
There is a $23 fee to submit your title on Bookvault and access their retail network. We think it's a fair price, especially if you consider the low printing costs and generous royalty scheme.  Purchased in the UK, our test book (same specs as before) cost £4 ($4.85) to print and was delivered within 3-5 business days.
Bookvault distributes through The Great British Book Shop, which has its own retail network but can also list your book on channels like Amazon, Gardner, and Adlibris.
When you choose a retail price and play with the wholesaler discount, you'll see the estimated earnings after printing costs.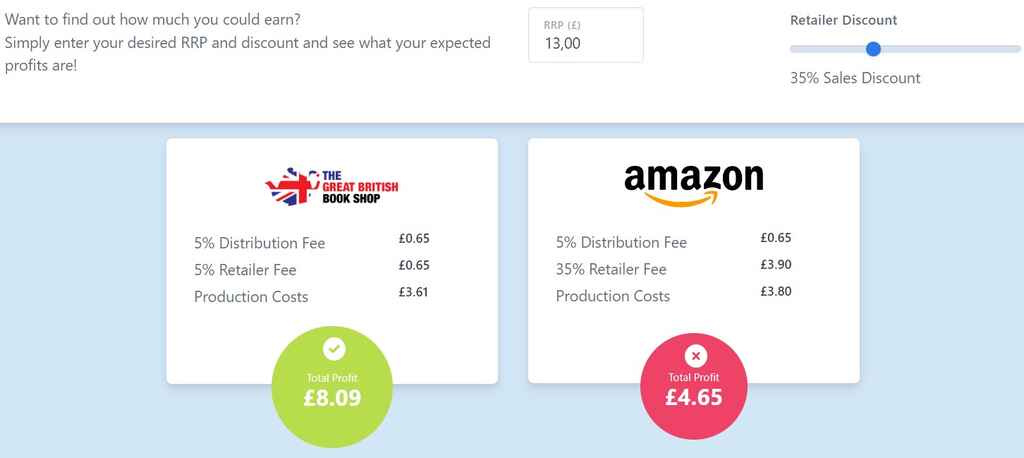 If you use one of their integrations, you can sell directly on your website, avoid paying retailer fees, and keep the earnings minus print costs. If you don't use ecommerce services, but you still want to sell "as directly as possible", you can point your readers to buy from The Great British Bookshop and enjoy a rather high royalty payout.
Historically, Bookvault's printing facilities were exclusively based in the UK, making worldwide shipping very expensive (ranging between $14 and $32 per book for US orders, for example). However, as of July 5th, 2023, Bookvault started collaborating with US partners in order to print and ship books locally, at a competitive price, making it an exciting new option for American authors. Currently, only specific bindings and paper stocks are available, but they plan to continue expanding their offer. 
💲Bookvault discount for Reedsy authors:

Use the code JP23-REEDSY to get 50% off your title setup or 5% off your production costs. You can use the code on both services, for a maximum of 5 times in total.  
The verdict
Overall, Bookvault is a perfect option for authors who can sell directly from their site, and sell mostly to readers in the UK and, now, in the US too (as long as your book printing specs are supported.) The company is striving to provide excellent service to independent authors by maintaining prices that are either comparable to or slightly lower than those of the competitors. 
Disclaimer: Reedsy used their services to print 200 hardcover copies for the SPS Live 2023 conference, and we plan to use them again for two additional book conferences in the United States.
 ☝️Make sure your book is typeset by a professional before you upload it for print. It will save you a lot of extra headaches!
6. BookBaby
BookBaby is a platform that provides a range of publishing-related services, as well as a print-on-demand option for authors. 

Setup
When you begin the setup process, you'll be asked how many copies of the book you want to print. This may be confusing, as POD entails printing only after you make a sale. The reason is that BookBaby uses a mix of POD and offset printing: first, you have to make a bulk order (between 25 and 2,000 copies), then your book will be made available for POD.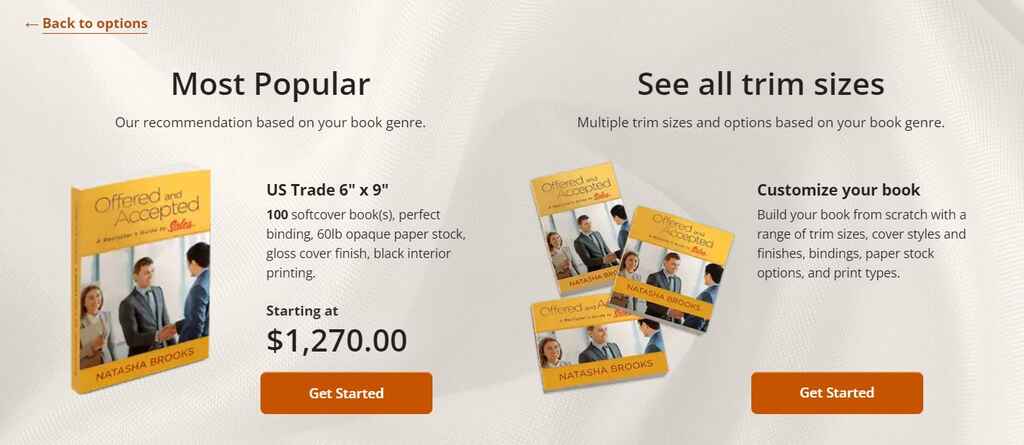 If you don't want to place a bulk order, you can print a single copy of your book, but it will be quite expensive compared to a bulk order, which comes at a discount. Overall, this is a great option for authors looking to order a bunch of physical copies for promotional purposes and in-person sales to begin with, but not for those looking to get a single author copy before distribution.
Setting up your book for printing is relatively easy and only takes a few minutes. The process, though, is not super intuitive: to choose your paper type or cover finish, for example, you need to first create a project, then "go back" and edit it. That said, if you have your files ready, the upload is fast, and you can quickly preview how they'll look.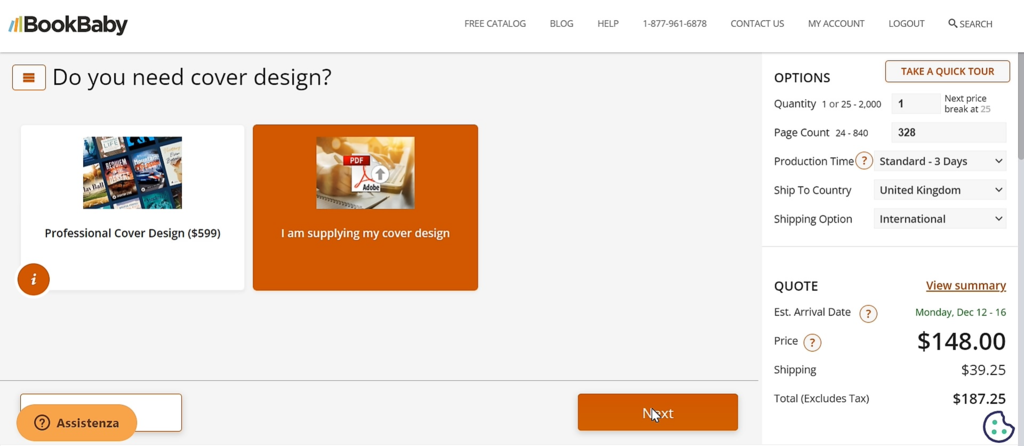 Print quality
The quality of the test copies we received from BookBaby was up to the standards set by their rivals over at IngramSpark and KDP, with perfect alignment and a solid finish on the cover. However, for the price that Bookbaby charges for their services, one would hope for a little bit more.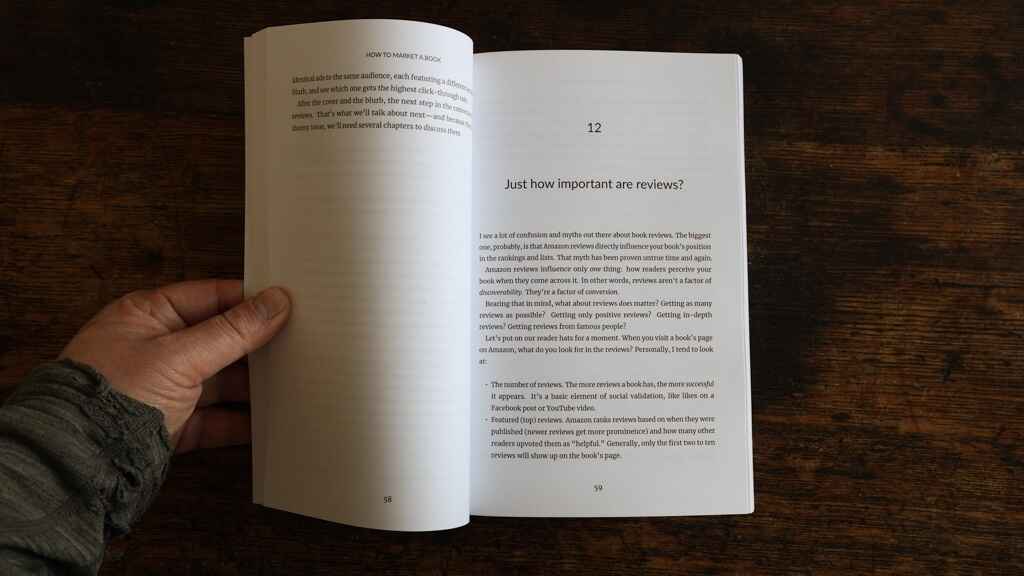 Costs, distribution, and royalties
To join BookBaby's POD program and distribute to Amazon, Ingram, and other major retailers, you'll need to pay a setup fee of $399. The price is high, especially when compared to other distribution networks like Ingram's, which costs a fraction of it. You could also choose to sell exclusively on their Bookshop for $149, but this would mean renouncing distribution to Amazon, Barnes & Noble, and all other major retailers. 
If you choose to "offset print" a single copy, for a 6"x9" trade book it will cost you $138 ($99 for the book, $38 for shipping), while a batch of 100 copies will cost you $1,430 ($1,270 for the books, $160 for shipping). This approach won't make sense for most self-publishing authors, unless they want to order a much bigger batch for marketing purposes and have a storage solution ready. 
Why is it so costly? BookBaby claims to offer a more professional service than their competitors. According to their marketing materials, a skilled staff member (as opposed to automated software) reviews your book project and identifies any issues, ensuring everything is okay. They do this within two business days and print it just as fast in their facilities. From our experience, BookBaby has excellent customer support, with helpful team members answering the phone when you call.
We chose BookBaby's expanded distribution plan for our book, which gave us a minimum retail price of $16.03. This covers the book's printing costs and the retailer's wholesale discount of 55%. When we did the math, each copy would cost us around $6.20 to print, which is more expensive than any other service except Blurb.
At an average retail price of $16.99 for a paperback, you'd be looking at a meager $1.39 profit on Amazon or B&N sales. Royalties are much higher in their Bookshop, but again, this is equivalent to selling directly.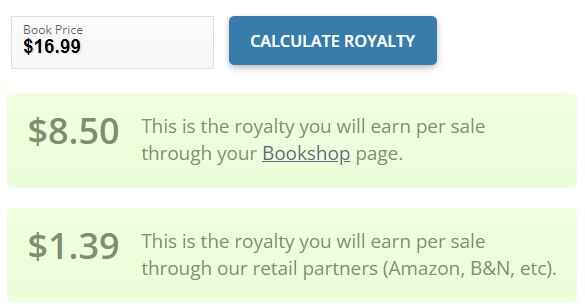 The verdict
BookBaby's offset printing discounts, and direct sales option through their Bookshop page might appeal to authors with a dedicated and hungry print readership. If you know you can sell thousands of copies at in-person events, then the $399 setup fee won't scare you that much. However, if that's not the case, you should be better off using some of the other cheaper services mentioned in this post.
---
Each print-on-demand book service has strengths and weaknesses, making it hard to pick a one-size-fits-all option. Hopefully, our review and analysis will give you a clearer picture and will allow you to make a more informed decision about what fits you best. It's time to place some orders — after all, nothing beats flipping the pages of a physical copy.