The 7 Best Proofreading Software to Level Up Your Writing
After spending hours writing an article or a novel, it's good practice to check for grammar, spelling, and punctuation mistakes in a process known as proofreading. Clean and accurate text immeasurably improves the reader's experience, making proofreading a fundamental type of editing. 
For many writers, re-reading their writing and searching for tiny errors can be tedious and time-consuming, especially since it's easy to become blind to one's own text. Fortunately, several pieces of proofreading software are available to help you catch major errors in record time. 
The 7 best proofreading software: 
Whether you're a student, an author, or a casual writer, these tools can help you polish your output, so let's dive in. 
1. Grammarly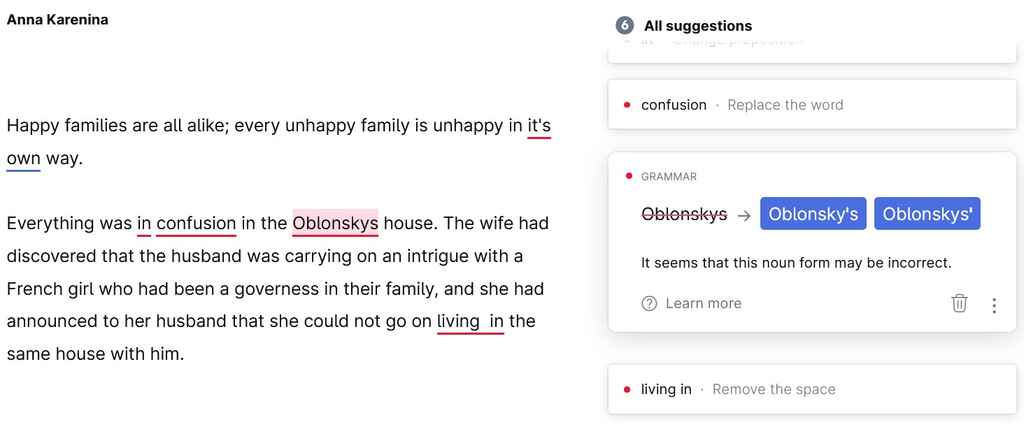 💰 Price: Free | Starts at $12/month.
✅ Best for: Students, casual writers.
🖇︎ Compatibility: macOS/Windows desktop app, web app, browser extension, mobile app.
Grammarly is probably the web's best-known proofreading tool, with a free plan that allows you to quickly correct mistakes and get tailored suggestions based on your goals (for instance, informal vs. formal tone, general vs. knowledgeable audience). That said, the tool is not foolproof and should not be fully trusted for major projects, like self-publishing a book, for example. 
Conveniently, Grammarly's browser extension is compatible with most writing and publishing apps, including the Reedsy Book Editor, which allows you to write, edit, proof, and publish in the same place.
🤓 For a more thorough analysis of the tool, check out our in-depth Grammarly review.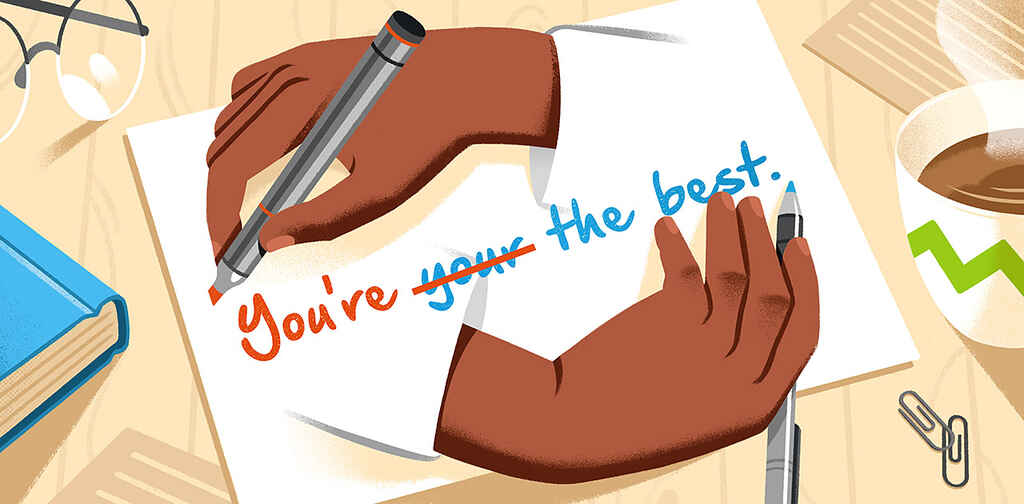 Get our Book Editing Checklist
Resolve every error, from plot holes to misplaced punctuation.
2. ProWritingAid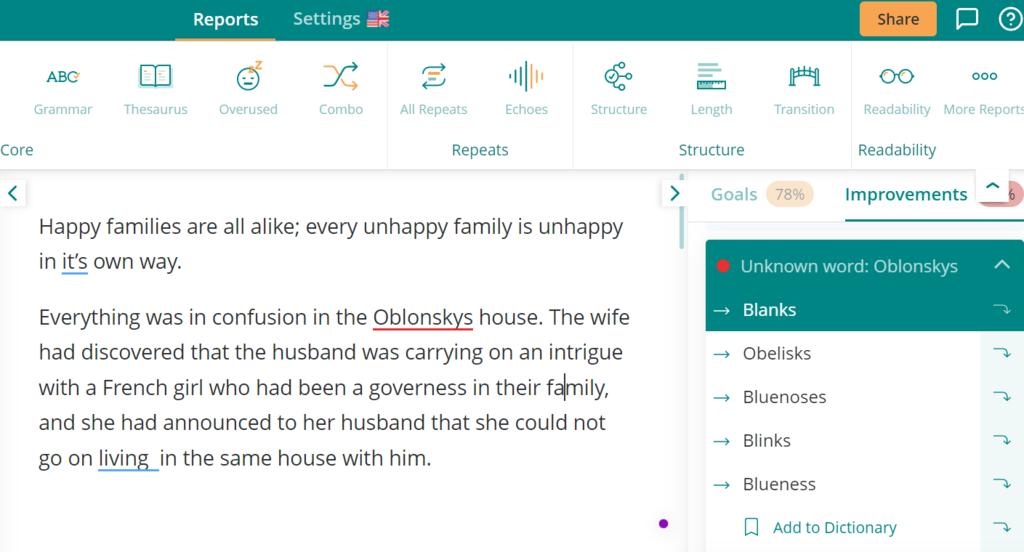 💰 Price: Free | Starts at $20/month.
✅ Best for: Students, authors.
🖇︎ Compatibility: macOS/Windows desktop app, web app, browser extension, Scrivener. No mobile app.
Perhaps Grammarly's closest competitor, ProWritingAid has a similarly accessible interface, and its free option also provides basic proofreading features. However, its premium version sets itself apart, which takes the editing a step further by offering tips for better story structure and suggestions for improving transitions, vocabulary, and overall readability. This makes it more suitable for fiction writers than Grammarly.
While more expensive on a monthly basis, ProWritingAid's yearly billing saves you 67% 一 making it a strong contender for "best value for money." Read our ProWritingAid review for a more detailed analysis (and a 20% discount!).
✋ While these tools are extremely helpful, they are no substitute for professional (human!) proofreaders, who have a more nuanced understanding and mastery of language. If you're aiming to write for professional purposes, consider hiring a proofreader 一 you can find many on Reedsy's marketplace.
Hire a professional to proof your work!
And make sure your book is ready to hit the presses.
Learn how Reedsy can help you craft a beautiful book.
3. Antidote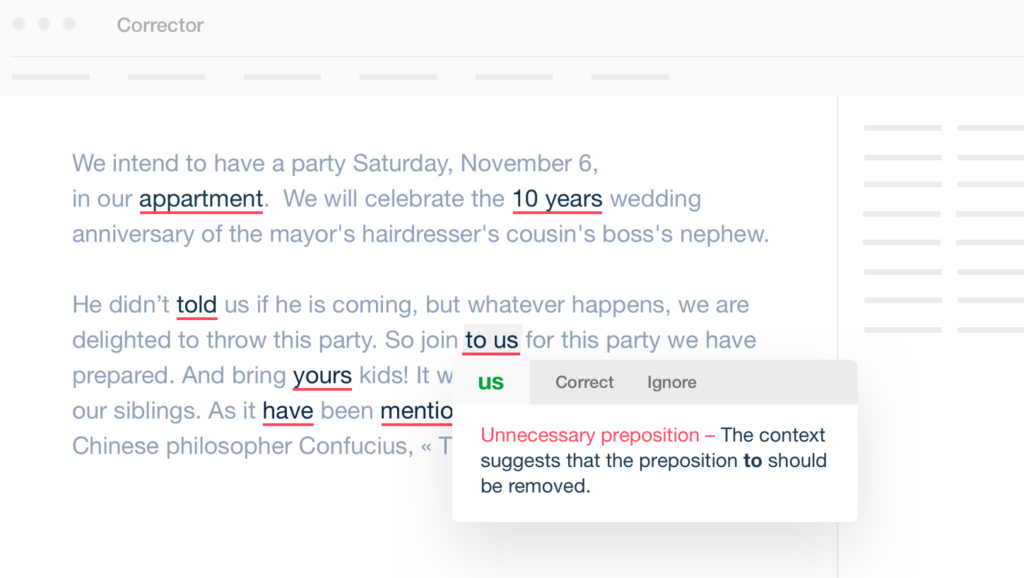 💰 Price: $59/year | $119 lifetime deal.
✅ Best for: Academics, authors.
🖇︎ Compatibility: macOS/Windows desktop app, web app, mobile app. 
Despite having been in the business for the past 25 years, Antidote has flown under the radar compared to some of the options we've already mentioned. Aimed more at professionals and academic writers, it does an excellent job of checking both grammatical and typographical errors while giving suggestions on style, vocabulary, readability, and even gender neutrality. Without a free trial, you sadly cannot take it for a spin before committing, but if you do, you'll find its annual subscription rate rather competitive. 
🖋️
What kind of editing does your book need?
Takes one minute!
4. LanguageTool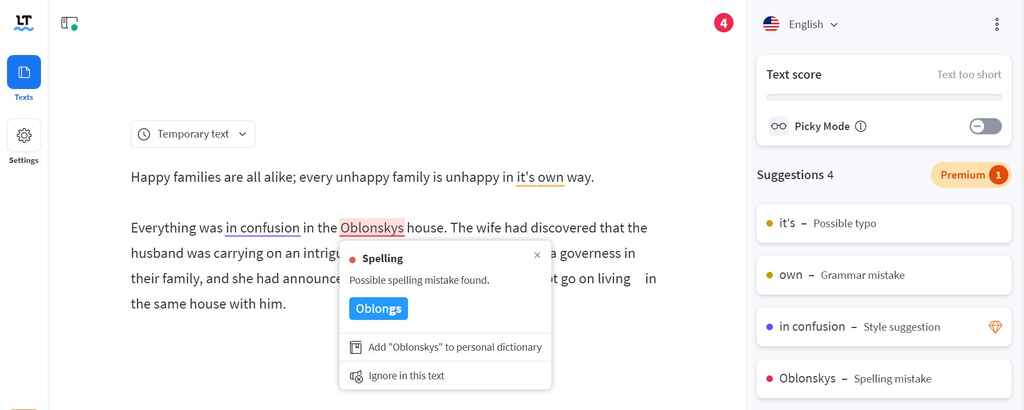 💰 Price: Free | Starts from $5/month.
✅ Best for: Students, casual writers.
🖇︎ Compatibility: macOS, Windows, all browser extensions, Google Docs/Word plugin.  
LanguageTool is a user-friendly proofreading tool that offers many of the same basic features as Grammarly and ProWritingAid, but at a fraction of the cost. With a focus on helping casual everyday writers, its premium editing suite can feel lacking compared to its rivals. But if you're not looking for too much guidance (or are simply looking to improve how you draft your emails and essays), you may appreciate LanguageTool's relatively lean subscription price.
5. Quillbot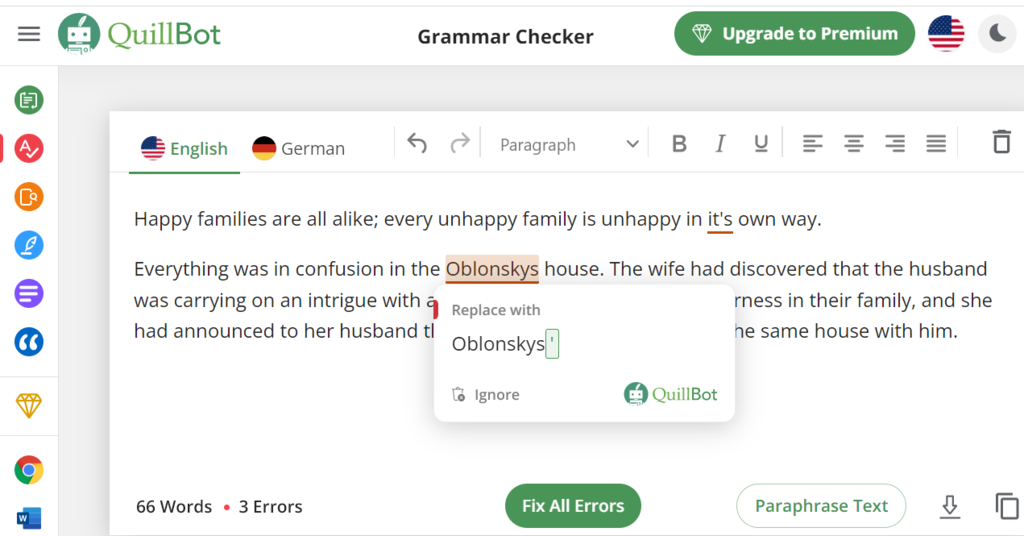 💰 Price: Free | $19.95/month.
✅ Best for: Any writer.
🖇︎ Compatibility: Web app, Chrome and Word extension. 
QuillBot is a sort of Swiss army knife for writers. It offers tools to help with paraphrasing, summarizing, generating citations (for nonfiction or academic work), and checking grammar. In this regard, its proofreading capabilities are on par with those of Grammarly and ProWritingAid. However, it offers significantly fewer features (like spotting overused or repeated words, for example). Overall, its free version (especially as a browser extension) can be helpful to any kind of writer and a great starting tool for proofreading.
🖥
Which writing app is right for you?
Takes one minute!
6. Scribens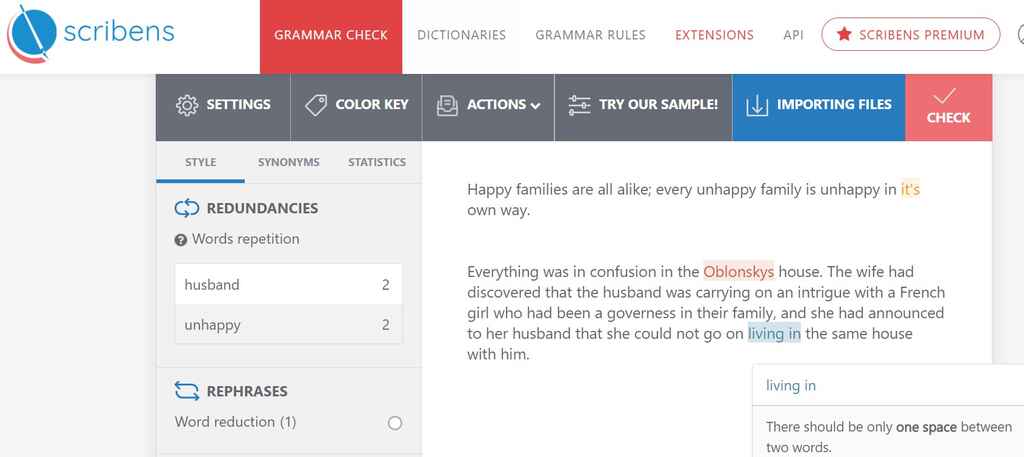 💰 Price: Free | Starts at $9.90/month.
✅ Best for: Students.
🖇︎ Compatibility: Web app, browser extension, Office, mobile app.
Scribens is a basic proofreading web app that does a good job of spotting grammatical and typographical errors and word repetition. Its free package and handy browser extension make it a nice proofreading option, especially for students, but the premium version might not be worth the bucks compared to more feature-rich options like Grammarly.   
7. Ginger 

💰 Price: Free | Starts at $13.99/month.
✅ Best for: Casual writers.
🖇︎ Compatibility: Desktop/web app on Windows, Chrome extension, mobile app.
Ginger is a basic spelling, translating, and rephrasing tool 一 with the latter being perhaps its strongest feature. As a proofreading tool, it's not the most thorough option, as it doesn't seem to spot simple mistakes like possessives or double spaces. However, you can still use it to correct some mistakes or rephrase poorly written sentences.
---
Whether you're a beginner or a seasoned author, this list should help you find the right proofreading software. But remember, while they're quite helpful in polishing your writing, they're not a substitute for professional proofreaders 一 so consider hiring one for your more ambitious projects.