How to Make a Great Audiobook as an Indie Author
Like a ticking clock when you're trying to sleep, or a work colleague who constantly taps their foot, listening to a poor-quality audiobook is absolutely insufferable. So when authors ask us, "how can I make my book into an audiobook?" our answer is almost always "hire a professional." 
As with most things, you can save a bit of money by making an audiobook yourself — and we'll show you how in the next post on recording your own audiobook. For your best chances of putting out a great product (that meets Audible's strict audio standards), you'll need a professional producer.
Fortunately, hiring a professional audiobook producer is a super straightforward process. Here's the simple step-by-step process on how to make an audiobook.
1. Do research on the audiobook production process
Audiobook production is the process of narrating and recording a book, then engineering the audio files. There are two options when it comes to audiobook production: 
working with a full-service production and distribution company, or 
hiring a freelancer (or two) who can narrate and engineer audio. 
With these options in mind, let's start our research with two of the most prominent full-service companies in the biz: ACX and Findaway Voices.
ACX: A solid option with strings attached
ACX is Audible's production and distribution arm. By posting your project on ACX, you can host auditions for producer-narrators, manage your project, and publish your audiobook to Amazon, Audible, and iTunes. 
When browsing for a producer, you'll need to know what kind of deal you're looking to strike. You have two options: pay them a reduced upfront cost and split the royalties 50/50, or pay the full upfront fee and keep 100% of your royalties.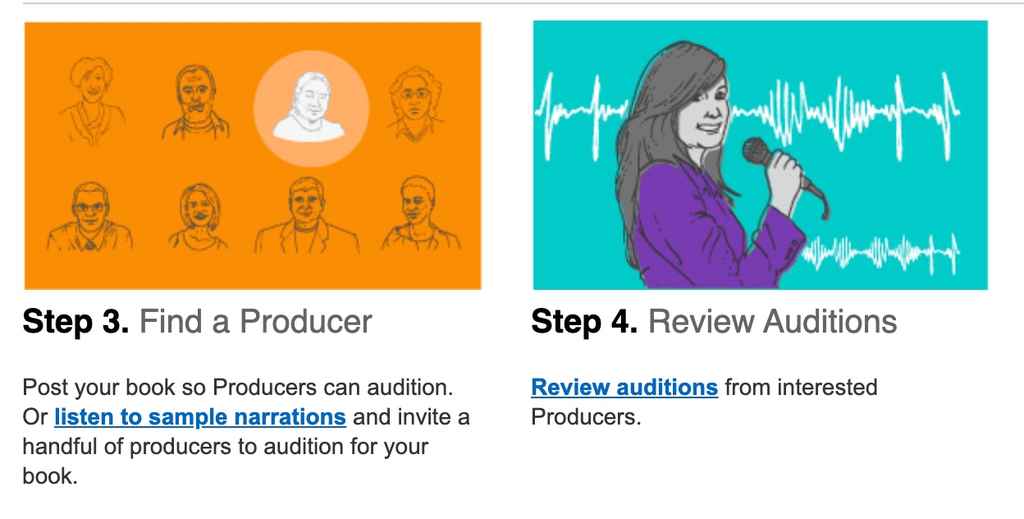 As always, Amazon is keen for you to put a ring on it — so you'll only have the option to split royalties if you choose to sign an exclusivity contract, which naturally has its limitations. To find out more about the pros and cons of being exclusive vs. 'going wide,' head to our post on audiobook distribution.
Note: ACX is currently only available in the UK, US, Canada, and Ireland.
Findaway Voices: More freedom at a small cost
In their fight against Amazon domination, Findaway Voices champions the mantra "take back your freedom" by making it easy for authors to sell their audiobooks through more than 20 sellers across retail, library, and school markets. In return for their robust, global distribution network and total control over your pricing (unlike ACX), they will take 20% of your retail royalties.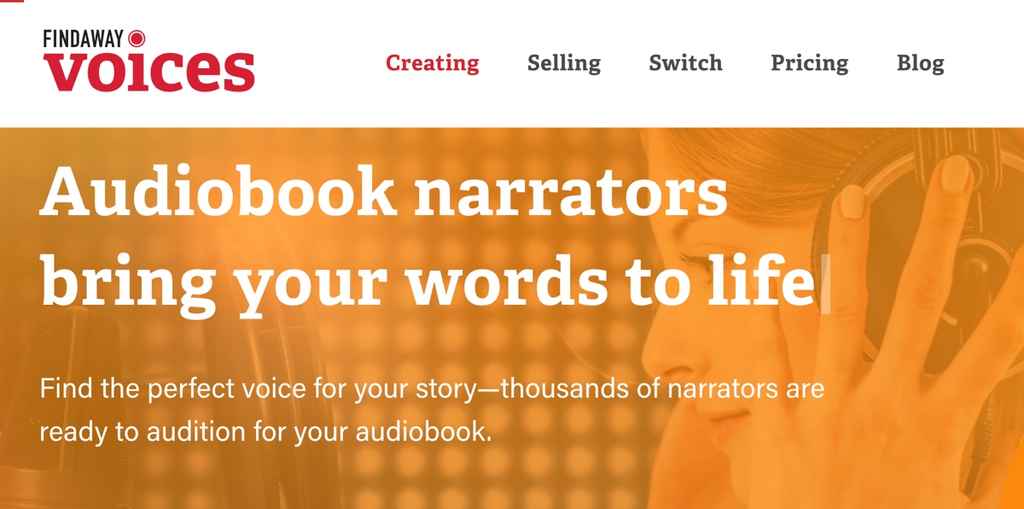 You can use Findaway Voices exclusively for distribution, or you can manage everything in one place by letting them match you with audiobook producers from their handpicked casting lists. Once again, you can pay your producer via royalty shares, or you can pay an upfront fee per finished hour. If you like the sound of their narrators but don't want to 'go wide,' that's okay, too: creating an audiobook with Findaway Voices doesn't oblige you to use their distribution services. 
A freelancer marketplace: Assemble your own A-Team
If you'd rather manage each stage of audiobook production in isolation — and with complete control over the process — then you might prefer to hire an audiobook narrator from a freelancer website such as Voices, Upwork, or Fiverr. 
Some freelance narrators only provide narration — in which case, you'd also need to hire a sound engineer to master the raw files — but most offer a start-to-finish service. That means you send them a manuscript, and they'll return an audiobook that's ready to publish. 
It's worth noting that because the producers on these platforms have not been vetted by a production company, they'll have varying levels of experience — so you must know how to sort the wheat from the chaff (more on this later). 
For now, whether you're paying a production company to manage your entire project or hiring freelance professionals and managing things yourself, here's what you can expect from a professional-grade production process, starting right at the beginning of pre-production.
2. Finish your book
Usually, an author looking to make an audiobook will have already published the print or ebook version — in which case, the manuscript should have been thoroughly edited and proofread. If you haven't yet had a professional editor go through your book, you'll need to arrange this before preparing your transcript for narration: making changes to the text after recording is a real pain.
Polish your book with a professional
Meet Neil Gaiman's, George R. R. Martin's, and George W. Bush's proofreaders at Reedsy
Learn how Reedsy can help you craft a beautiful book.
Got a polished manuscript? Great, you're ready to start preparing your audiobook. The idea isn't to mark up a script with notes telling the producer how specific passages should be delivered. Leave all that to the professionals: just make sure the text is only the text you want to record. So, what does this mean, in a practical sense?
Abridged vs. unabridged
An abridged audiobook is a shortened, audio version of the original book. The main storylines, themes, and plot points are intact, but the less important details are omitted. An unabridged audiobook is the complete, original, printed book in audio form.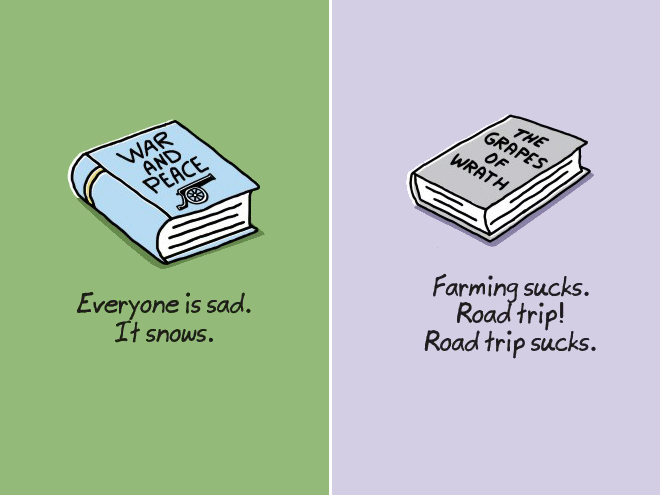 In the nineties and noughties, abridged audiobooks were all the rage. Still, as audiobooks experienced a massive rise in popularity, more and more people opted for the unabridged versions: listeners still wanted to 'read' the whole book. Now, the audiobook industry almost exclusively publishes unabridged audiobooks. 
That said, if you're an indie author, chances are you're looking for the most cost-effective way to create an audiobook. And the longer your book, the more hours your producer is going to have to put in, and the more it's going to cost you. So if you've written a 150,000-word novel, it might be worth considering an abridged version. 
If you go for the abridged route, the goal is to shorten your manuscript by at least 30%. For fiction, the easiest thing to remove is backstory, but you can also condense descriptions or scenes that don't advance the narrative. You can shorten a nonfiction book by removing references, examples, or extra information that support your claims. 
Once you've condensed your manuscript, however, it's a good idea to send it to an editor with the intended cuts clearly marked to ensure that it still reads well. So honestly, with this added cost, you might be better off finding savings elsewhere and putting out an unabridged audiobook — especially if you've only lost 30% of your book.  
Remove any visuals
Some of the most popular genres in the audiobook world are nonfiction genres, such as self-help, spirituality, history, business, and biographies. 
It's pretty normal for these sorts of books to have a smattering of images throughout — but sadly, they'll have to go when you prepare your transcript for narration. 
Don't forget to also remove any text that references those images! 
Look out for unrelated text
As well as references to images that listeners can't see, you'll also need to remove captions, hyperlinks, footnotes, resources, and anything else that might interrupt the flow of the narrative and ruin the listening experience. Again, comb the text for references like "you can find more data in the Appendix at the back of the book."
If any of your visual materials or resources are absolutely essential, you can put together a PDF companion document and let listeners know where to find them. Then, that sentence about the Appendix could be rewritten as: "You can find more data on this in the companion document on our website www.website.com/companion-document."
Note: It's worth keeping in mind that some books don't translate well into audiobooks. Interior design or home and garden books, travel guides, reference books, and picture books, for example, are usually too image or citation heavy.
Send your narrator only what they need
Most narrators like to receive manuscripts as Word documents. Nothing fancy, just a standard manuscript, double-spaced, 12 pt Times New Roman, with the first line of each paragraph indented. 
Their second request is that you don't mark anything up. For many voice actors, annotating their script is a crucial part of their process, and the reason is two-fold. First, by marking their own script with notes on emphasis, pace, and pronunciation, they know what they've marked up and why. Second, it provides them with an excellent opportunity to read through the entire script before recording.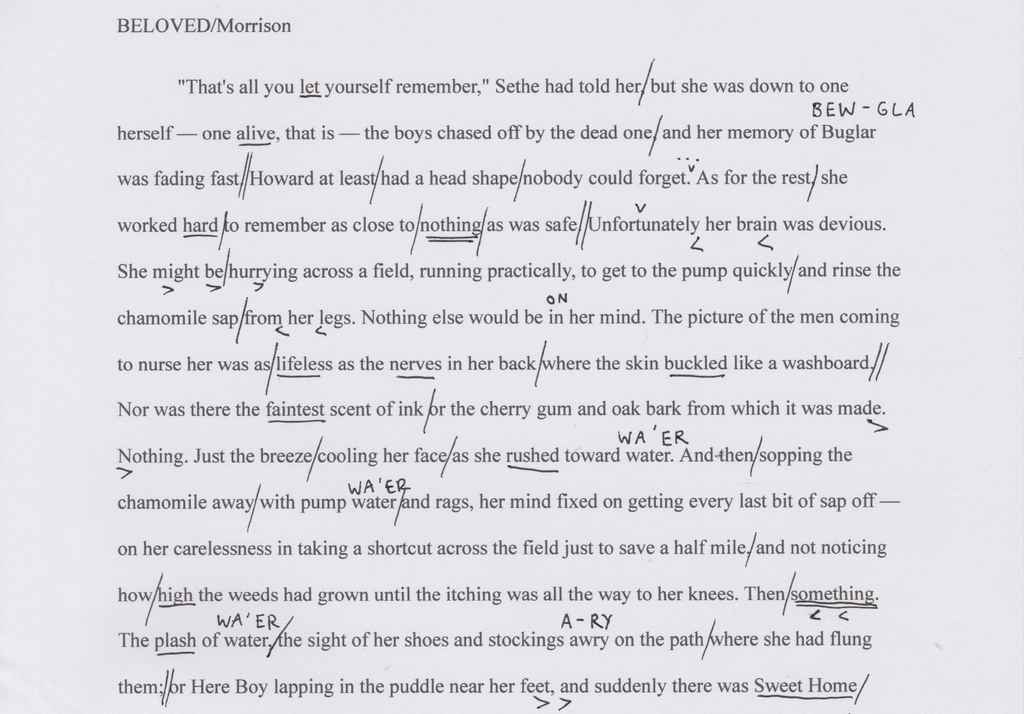 One thing your narrator will thank you for is a cheat sheet flagging up any words that are hard to pronounce (or have alternative pronunciations). This might include:
made-up words; 
proper nouns;
regional pronunciations that are integral to the setting or a character's background; 
words in another language; and,
technical jargon. 
The best way to pick up on these awkward words is to read your book aloud. Or even better, have a very kind friend read it to you. Their stumbles will highlight any potential for trouble. 
3. Decide on a narration style 
To keep audiences engaged for the length of an audiobook, some producers create a theatrical experience rather than taking the pared-back approach. This doesn't suit every book, nor is it the preference of every listener — so we recommend researching popular audiobooks in your niche to help you decide what makes sense for your listeners and for your book. Your production company might also advise you on this, but it helps to be familiar with your options. 
A single narrator
For some authors, it feels most natural to have a single narrator, as this more closely resembles the internal voice that readers develop when reading to themselves. 
This mirrors our experience of stories as children — when read to by a teacher or a parent. There's something quite comforting about that, which can be replicated in the experience of a traditional audiobook. 
In terms of the story itself, if a book is written from one character's viewpoint (whether first or third person), a single narrator is generally seen as the way to go. As long as they know their trade, their natural variation in tone, inflection, volume, and intensity will help listeners distinguish between characters and stay engaged in the story. 
Ensemble cast narration
We do hear you, millennials, shouting from the back about our old-fashioned tastes. And it's true, the audiobook industry has really grown in order to appeal to younger generations who are used to dynamic digital media. Combining sound effects, music, and a wide cast of characters creates a dramatic, theatrical experience that's more akin to those podcasts and Netflix shows we love so much. With that in mind, remember to take into account your book's readership when deciding on a production style.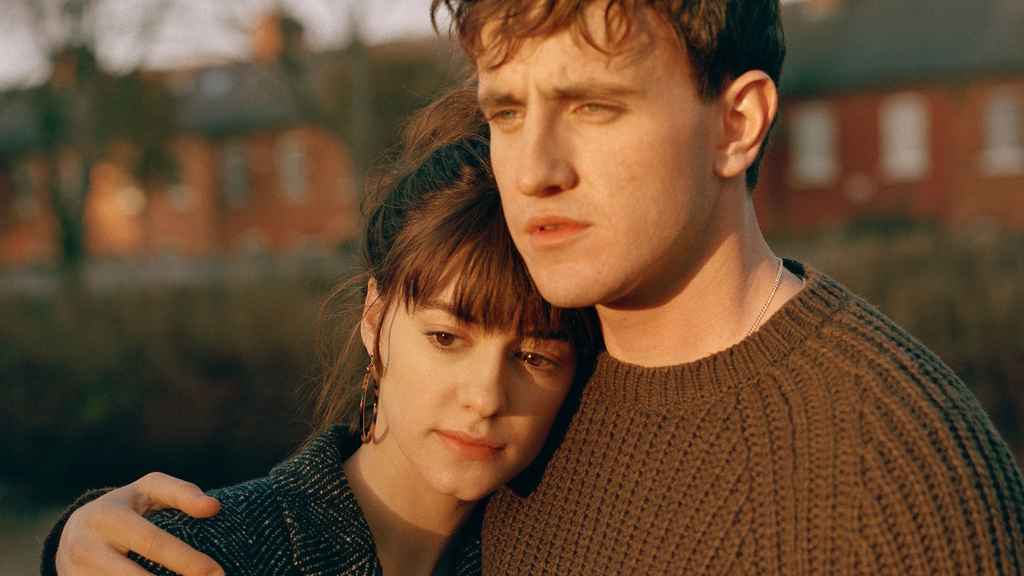 Even if you don't buy into full-scale theatrics, a small cast in a simple narrative style can work nicely for a book that uses multiple points of view or asks readers to invest in more than one character. A contemporary romance steered by two characters — one male and one female, as is the case with Sally Rooney's Normal People — could sound more authentic with two narrators. 
However, if you're an indie author looking at getting the best value for money, you're likely looking at a single-narrator production.
4. Hire a narrator
The high level of skill and stamina required to deliver a compelling, consistent, and professional read for the entirety of an audiobook means that the task of bringing your book to life is best left to a trained voice actor. Not just any old voice actor, either — find the perfect person for the job by knowing precisely what to look for…
Not convinced by the difference a professional can make? Take a listen to some of the amateur audiobooks on Librivox. Classic titles like Far From the Madding Crowd are particularly quirky 😄
Know what to look for
To search for a narrator, whether it's through a production company or an online marketplace, you'll need to provide anyone interested with a few pages of your audiobook transcript so they can audition with a sample recording. Make sure you hear them read your work before you fully commit; their narration needs to match your branding and the tone of your characters. 
Most production companies will match you with a selection of narrators that suit your project — and, of course, they will have all been vetted for quality. So essentially, it's about finding the voice that feels like the right fit for you and your book. 
If you're searching for narrators on freelance websites where the quality varies, you'll need to be more scrupulous in your assessment of their narration. Here are a few things to look out for:
Voice variation: There's no need to go wild, but there should be enough variation in the narrator's voice for listeners to distinguish between characters during dialogue.


Authentic gender voicing: They should be able to narrate both male and female voices. That said, voice actors who alter their voices too much can end up sounding unintentionally comic, which you probably don't want.


Authentic accents: If your story has characters with accents, your narrator must be able to pull these off authentically. Stereotypes need to be avoided!


Articulation: Generally, you want to find a narrator who neither over nor under-articulates — unless you have a character with a distinct way of speaking. 


Pacing: A good narrator will have intuitive pacing when reading: they'll know when to slow down, when to speed up, and when to pause. 


Enjoyment and passion: Finally, a narrator should sound like they're hooked on every line of a story. Whether it's sad, romantic, scary, or funny, they need to commit to the mood with everything they've got. If they sound bored, the reader will be bored, too. 
Know what you're getting
Once you've found a voice you like, audiobook production companies will handle the rest. You can sign a contract and know that your audiobook is in safe hands until it's returned to you as a finished product.
If you've taken the freelancer route, it's time to find out more about what your producer will deliver. Make sure you're totally clear about what you're getting by asking the right questions: 
Do they provide raw audio files, or can they mix and master them ready for publishing?
If you'd like music or sound effects, can they provide this?
Will they write the intro credits themselves?
Do they have a home studio and professional equipment, or will they have to hire a recording space?
What can they do post-production (e.g., cover image, distribution, etc.)?
What is their availability?
What does their usual timeline look like?
You'll also want to read as many author reviews as you can, making sure they have sufficient experience. And if they have a portfolio, follow any Audible links to listen to more samples, check that they're actually credited, and read even more reviews — because why not?
Know what you're giving
Though we all wish we could shell out thousands of dollars for the vocal stylings of Jim Dale or Julia Whelan, realistically, getting a narrator at a reasonable price will be a driving factor in almost every indie author's decision.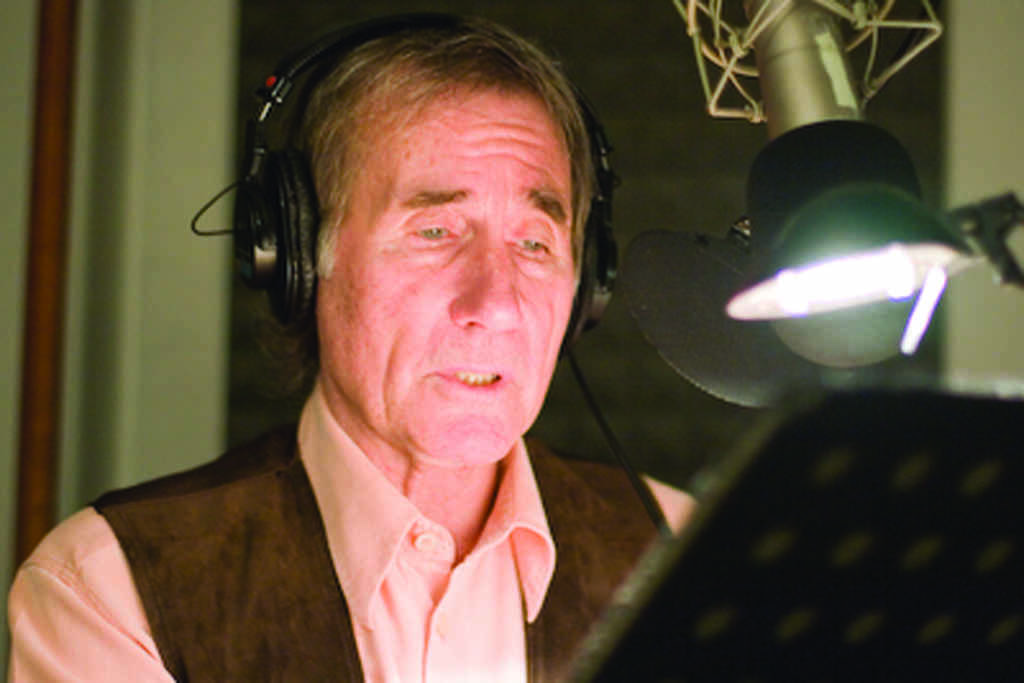 The time to agree on a price is when you make your offer. You may find that producers on freelance websites are more open to negotiation, but the amount you can expect to pay is pretty standard across the board. So how much is that exactly?
Most indie audiobook producers will charge per finished hour — usually around $200 to $400. If we put on our mathematical hats for a minute, we can work out what that means for a completed audiobook:
On average, a narrator reads around 8,000 words an hour. 
For a 40,000 word book, that's 5 hours of narration. 
At $200 to $400 an hour, you're looking at a total cost of $1,000 to $2,000. 
Not bad for the amount of work that goes in!
If you don't want to pay this sort of money upfront, you can ask your producer whether they'd be interested in taking a percentage of the royalties. But be careful: for a book that sells well, this can add up to a lot of moolah, so make sure you understand every inch of the deal you make. 
5. Record the audiobook
Before they get to work, you should speak with your narrator to discuss your book and your preferences for pacing, tone, pronunciation, and so on. Then, you'll check back in once they've recorded the first fifteen or so minutes to make sure there weren't any crossed wires (literally or metaphorically). 
Authors who work with a production company can then take a back seat until they're presented with the finished product, mixed and mastered. However, those working with freelance narrators often give feedback once the audio has been recorded — before sound engineering begins. 
Set aside the time to play the audio files all the way through. Some things to listen out for are pronunciation mistakes, inconsistencies in the way characters talk, a lack of clarity, and sudden background noises. If you hear a mistake, jot down a time reference and what you'd like fixed, then send your feedback to your narrator. Once they've made the corrections, use your time references to go back and listen again, so you can confirm that everything is good to go.
6. Review the audio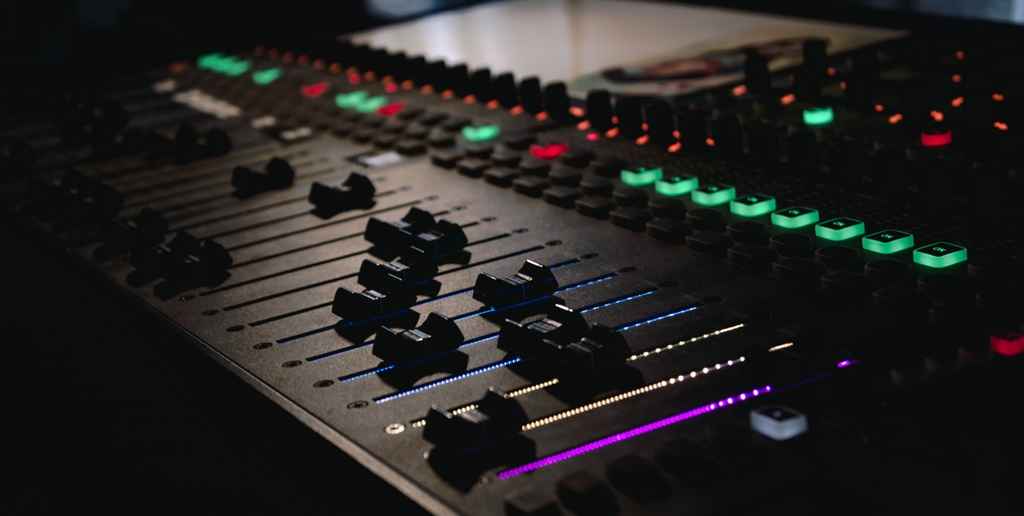 When the audio's been recorded and perfected, it's time for the sound files to be engineered. As well as editing together a final, smooth cut, this process can involve mixing music, mastering the voice, and just generally refining the sound into a finished product. 
Again, if you're working with a production company or a freelance producer (who narrates and engineers audio), you don't need to lift a finger. Otherwise, it's time to head back to those freelance websites and find yourself an experienced audiobook engineer. 
Find a sound engineer
The most important thing to remember when considering a sound engineer's portfolio is that audiobooks are unique: the files are long, have a specific structure, and need to meet the standards set by distributors. Anyone you hire should have particular experience mixing audiobooks. 
When you find an engineer with a portfolio of audiobook projects, take your time screening them. Listen to their samples through the best headphones you have — so you can detect problems such as background noise — then find the final books on Audible and listen to those samples, too. Make sure the right engineer is given credit. 
Price will also be a consideration here, as you'll find there's a wide range. A sound engineer doing a thorough job will spend around three hours on each finished hour of your audiobook, so you should expect to pay at least $75 per finished hour for an experienced engineer. 
If they claim to put in much longer than 3 hours of work per finished hour, then they might not be so experienced, especially if you've made sure that the raw audio file that the narrator has left you with contains very few mistakes. 
7. Upload your audiobook to ACX or a similar platform
Almost there, just a few final steps before your audiobook is ready to be released into the wild! 
First, you'll need to run a quality control pass over the finished product to approve the final cut and check that the audio meets the submission requirements of your distributor. If you worked with a producer and didn't provide feedback after the narration, this is your last chance to suggest any bits that require re-recording. 
Then it's time to sort your audiobook cover and select a retail sample clip. A handful of producers will manage these aspects of post-production for you (that's something you can ask when you make your offer), but regardless, it's good to know what's expected so you can be sure you're putting your best foot forward. 
Meeting the audio submission requirements
It's standard for audiobook files to be stored as uncompressed WAV files during mastering, as this format is easier for audio engineers to break down. But once mastered, they should be converted into FLAC or MP3 files ready for uploading. 
Both ACX and Findaway Voices ask that audio files follow specific standards: bit rates of 192kbps or higher, sample rates of 44.1 kHz, RMS values between -23dB, and -18dB, and so on. If that doesn't mean much to you (and we wouldn't blame you), just have a chat with your audio engineer or producer to ensure everything is as it should be. 
Laying out your audiobook cover
Never forget your audiobook's cover art. As always, having a great cover design is an invaluable element of your promotion strategy: it'll do most of the leg work to make your audiobook stand out and entice listeners to preview your sample. 
Your audiobook cover should mirror the cover of your paperback but should be laid out in a way that better suits the thumbnail dimensions used by audiobook platforms. You can see what we mean by comparing the two covers of Brit Bennett's The Vanishing Half below.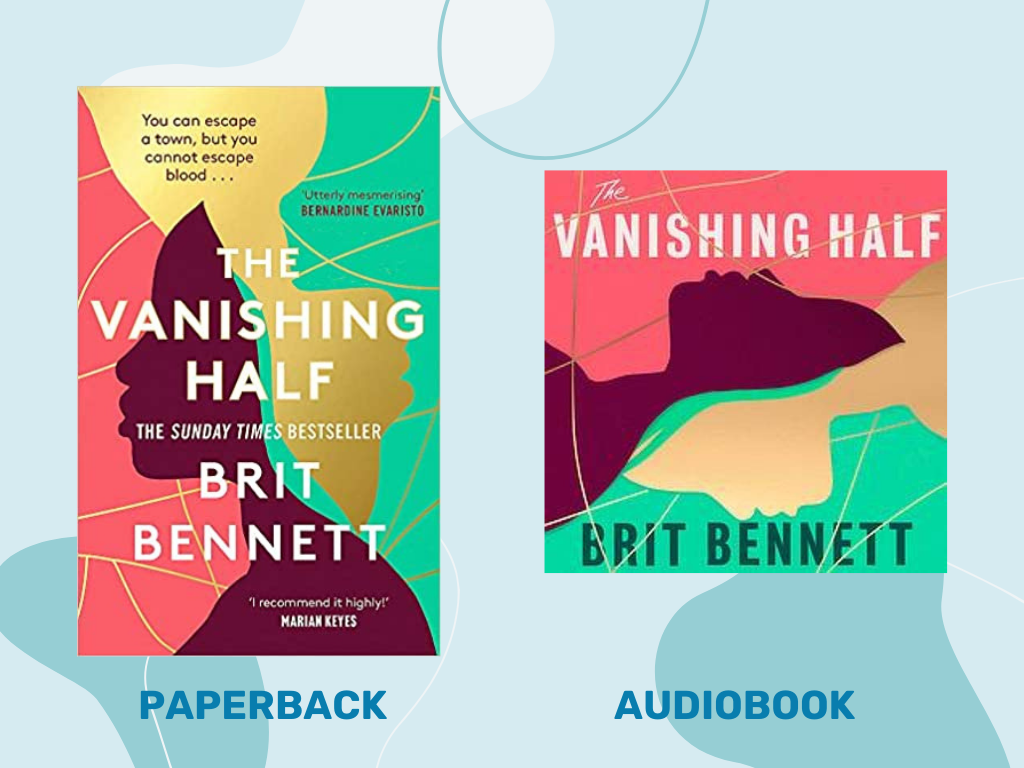 You can have this image laid out for you by your book cover designer when they create the cover for your print book. 
Selecting a retail sample
Your retail sample will be used by audiobook platforms to provide potential listeners with a short preview of your book. It probably goes without saying that this is your time to shine — to give them a taste of something they can't miss, so they hit that 'buy now' button. 
Here are a few tips to help you out: 
Start your sample with narration, not music or credits. 
Use something compelling. Often the beginning of a book is the best way to intrigue a listener, but if your opening pages don't do the trick, try the inciting incident. 
Teasing readers with a sample from the end of the book, which doesn't make sense, will not work. 
Showcase your book's genre, so you don't lose the interest of highly relevant readers who will love your book (and leave good reviews).
Don't fill time for the sake of it. Your sample can be anywhere from one to five minutes long, so cut your excerpt off at the most natural point. 
Bear in mind that retailers will also have a couple of standard rules (i.e., no explicit or erotic material), so make sure you're aware of those before selecting your sample. But otherwise, just have fun showing readers what you've produced!
Hopefully, this guide has shown you how to make a high-quality audiobook that you'll be proud to show off. All it takes is a basic knowledge of the process and the assistance of experienced professionals. 
We'll just mention one more time how worthwhile and cost-efficient it is to hire a professional voice actor before pointing you in the direction of the next post in this guide: How to record your own audiobook. If any of the following statements are true, only then might it be sensible to become your own narrator:
You are trained in voice acting.
You've written a memoir that requires your own voice. 
You're a celebrity, thought leader, or public figure, or you have a large following in your niche, and you've written a nonfiction title. 
---
If your interest is piqued and you'd like to know what goes into recording an audiobook by yourself, check out our next post.