How to Get an ISBN in 10 Minutes (2021 Update)
When it comes to discussions around books and publishing, we all know the most exciting topic at the table: how to get an ISBN.
We know not everyone is thrilled by the idea of obtaining a serial number but, just like editing and design, they're a pretty critical part of self-publishing. Luckily, we're here to answer all of your questions on the subject.
What is an ISBN number?
An International Standard Book Number, or ISBN, is a 13-digit code used as a unique identifier for books. An ISBN is assigned to each edition of a publication, enabling publishers, bookstores, libraries, and readers to quickly find titles.
An ISBN number never expires. Even very old numbers with only 10 digits can be converted into a 13-digit code with this conversion tool from Bowker.
How to read an ISBN
All standard ISBNs comprise of five parts that tell us the following:
The number 978 or 979 indicates that the digits are a book code
The country or language group of the publication
The publisher
The title of the publication
The check digit — which, in a non-technical nutshell, indicates that the number has been verified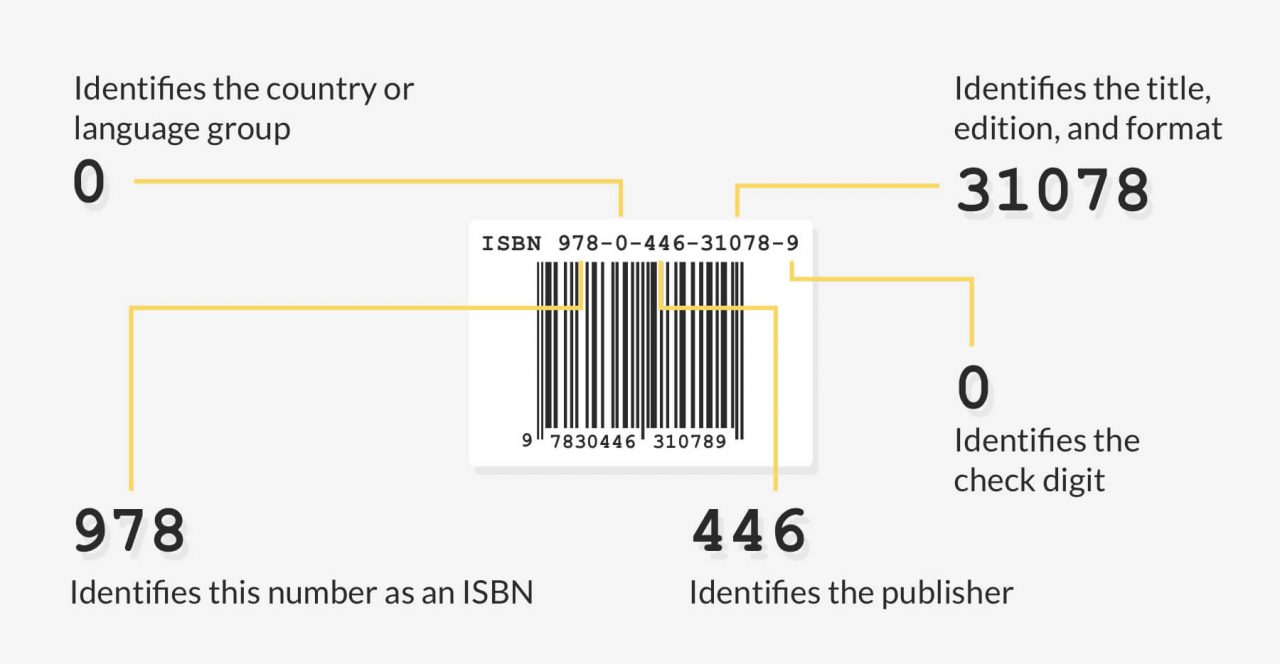 ISBNs are fixed and non-transferable, which basically means that if you publish both a paperback and ebook version of the same book, you will need separate numbers for each format. If you then decide to publish the ebook in a different language, you'll need a new ID for that version as well — so on and so forth.
Take a look at this post to learn more about the latest developments in ebook file formats. 
How to get an ISBN number
Go to myidentifiers.com. This is the official Bowker site for ISBN numbers in the U.S.
Pick the number of ISBNs you need, noting that costs will vary depending on your selection.
Add to cart.
Note that Bowker is the official administrator for only the United States. In the United Kingdom, authors can buy a number through Nielsen. In many places, such as Canada, the government provides these numbers for free. To find out if this is the case in your country (and for instructions on requesting a number), look up your local agency here.
Regardless of where you live, once you have received your number, you should register it at Bowkerlink. This will automatically add your title to Bowker's Books In Print: a bibliographic database that libraries around the world consult to source titles. It currently hosts about 7.5 million US book, audiobook, and movie titles, as well as 12 million international titles.
Getting an ISBN outside of Bowker
Even in the US and UK, there are other means — free ones, at that — for securing a book number. Many on-demand publishing companies will assign indie authors an ID at a discounted rate or for free, such as:
But — you probably knew there was a "but" coming — here's the catch: when you register for a free or discounted ISBN number through an aggregator such as the ones listed above, you are limited to the retail channels of that publisher alone. This is due to regulations enforced by Bowker.
Not all authors will take issue with this. For instance, you might be selling your ebook through KDP, and then decide to also sell through Draft2Digital. The former will provide you with a free ASIN and the latter with a free ISBN. Piece of cake.
But then let's say that sales aren't what you want them to be and you decide you'd like to access the distribution channels of BookBaby or Smashwords. You'll need to register for separate numbers from each of those publishers as well.
This can snowball into you having several numbers and several different publishers all listed for the same book. This looks unprofessional and can harm your chances to get stocked in libraries and brick-and-mortar bookstores.
This brings us to our next point: whether or not you need an ISBN depends on what kind of book you intend to publish. And whether or not you should buy one depends on your publishing goals. Let's elaborate...
For more information, check out our guide to ebook distribution.
Need to find editors, designers and book marketers you can trust?
Reedsy is home to over 3,000 vetted publishing professionals. Sign up to meet them today!
Learn how Reedsy can help you craft a beautiful book.
Do all self-publishing authors need an ISBN number?
The short answer is no. Authors must obtain one in order to...
Publish their book as a paperback, hardcover, or an audiobook.
Sell their book to brick-and-mortar stores or libraries.
Authors are not required to obtain one if they only…
Sell their book in an ebook format.
Sell via online retailers such as Amazon.
Note: despite a common misconception, obtaining an ISBN does not automatically mean that your copyright is registered. To learn more about copyright, head to this post.
Who doesn't need to get an ISBN?
Authors who only plan to publish and sell an e-book don't need an ISBN, and there's no shortage of reasons for them to avoid buying one. Here are a few:
They aren't cheap (more on that later). Indie authors don't typically have overflowing publishing budgets.
There is no proof that it increases or sales. If you're using an online retailer, your goal is to be as visible as possible to potential readers, and you'd be hard-pressed to find a reader who searches using numbers rather than keywords.
It doesn't affect your chances of hitting a bestsellers list. If landing a spot on one of those is part of the dream, a glorified serial number won't help you get there. Regardless of what identifier is attached to your book, sales are reported based on the title and the author's name. So even if your book has 25 different IDs, it won't affect the way your overall sales are collected.
The largest ebook retailers don't require you to have one. The most popular online book retailers are Amazon, Apple, Barnes & Noble, and Kobo — all of which assign you their own identifier when you upload your book to their store.
Some vendors impose restrictions when you "bring your own number." For example, KDP Print prohibits books that already have an ISBN from accessing some of their expanded distribution channels, such as their Libraries and Academic Institutions channel.
The current system is often quoted as being outdated. An ISBN is a great tool for tracking the sales of a book. But the rise of self-publishing and (as we mentioned above) ebook retailers' own inventory systems have made these numbers a fairly inaccurate data collector.
Who should get an ISBN?
But before you make up your mind, let's quickly cover why there might be value in this 13-digit ID.
Your long-term publishing goals should contribute to your decision to/not to buy an ISBN. If your plan is to publish multiple novels and to brand yourself as a legitimate publisher, buying your own identifiers is a good idea for administrative and professional purposes — when you own your own number, you get to choose what name appears as the publisher.
It will also allow you to keep your sales options open. While indie authors should absolutely offer their publications as ebooks, and listing your book on the top 4 retailers is a no-brainer, there are many other avenues to consider — such as brick-and-mortar bookstores, and libraries. Without an ISBN, you rope yourself off from those avenues and their valuable potential for sales.
A quick word about libraries: They may not be the first thing that jumps to an indie author's mind when they think of viable places for their book, but in the United States, libraries spend over $3 billion annually on reading materials. So you shouldn't discount them. Their biggest supplier is OverDrive, who circulated more than 105 million e-books to libraries in 2015. They also supply to retailers. But to get in on this action, your book requires an ISBN.
Lastly, you've probably never thought of buying a book and then changed your mind because you noticed it didn't have one of these numbers. That's because readers don't really care about them. However, to just get your book in front of readers means competing with traditional publishers — and in this competitive arena, we generally adhere to the notion that every bit helps. If you want your book to look as professional as possible, you might want to consider getting an ISBN so you have the power to determine who is listed as the publisher of record.
Another large point of consideration for indie authors is the cost. And on that note…
How much does an ISBN cost?
Of course, this depends on where you live. In the US, here are the Bowker costs.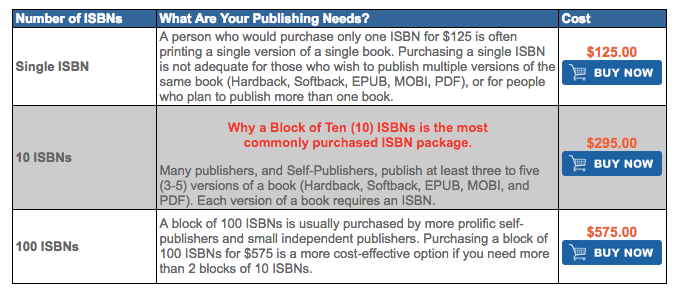 Here are the costs of purchasing ISBNs from Nielsen in the UK.

So, while it's not likely to be the largest item on your self-publishing budget, it's not anything to laugh at either. In most cases, the most economical option is to purchase ISBNs in bulk if you are planning to publish more than one format of one book.
How to find the ISBN of a book
You can find the ISBN number of a book by simply visiting that book's Amazon page. Another way is to use the official page: ISBN Search. Just plug in the author name or title of the book and you'll receive a list of all the books that match up — as well as the 13- or 10-digit code.
Is an ISBN the same as a barcode?
While you might find both the number and the barcode in roughly the same spot on the back of a book cover, they fulfill different purposes.
Just to throw more fun acronyms into the mix, a standard barcode is known as a European Article Number (EAN). A barcode is also a unique series of digits that uniquely identifies a book — however, it provides information such as the price of a publication and the currency in which it's being sold. Unlike ISBNs, a barcode can change based on the cost of the book.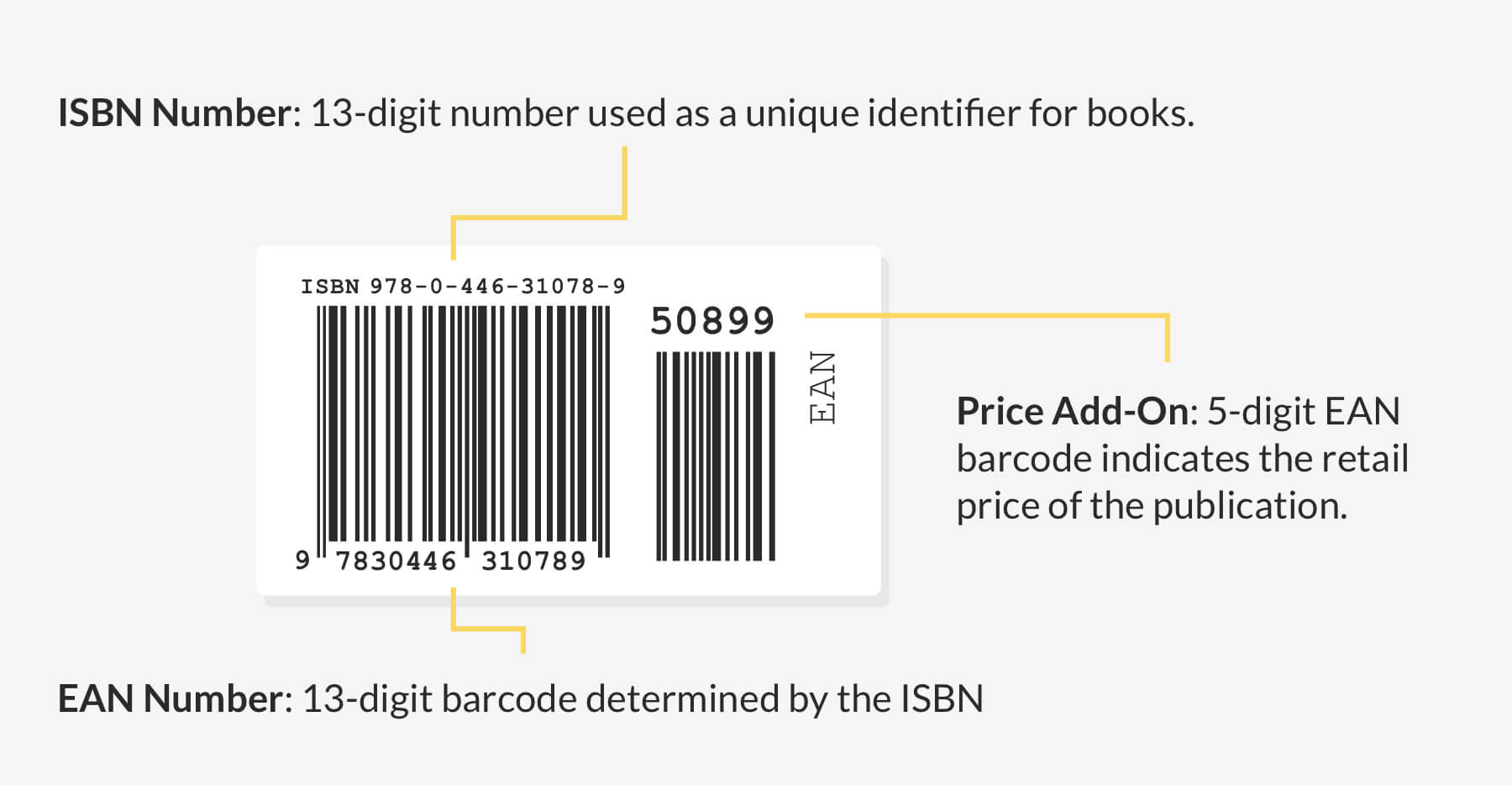 As they are used by retailers for inventory reasons, only authors who are planning to print and distribute hard copies of their titles need to obtain a barcode.
Is it the same as an ASIN number?
It's similar, but not the exact same. ASIN number are 10-digit codes generated by Amazon to identify the products on their page — so it's similar to an ISBN in that respect. However, while ISBNs can be used across various bookstores, ASINs on apply on the Amazon store.
Additional ISBN resources
For more information regarding the topics covered, here are some links to check out:
There's no wrong or right answer provided that you think ahead. If you have a lightbulb moment one day and decide to write and publish a book as a passion project, you can probably eschew this whole process and rest easy. If you're looking to start your own publishing business, then carefully weigh your options. Investing in an ISBN might be the smart bet or an unnecessary one, depending on your goals.