Last updated on Aug 08, 2022
How to Format a Book (the Free and Easy Way)
So, you've finished writing your book, and your editor has whipped your story and prose into shape. Now it's time to format that manuscript into a beautiful book that readers will want to devour from cover to cover.
In this post, we'll show you how to use Reedsy's free Book Editor tool to prepare your book for publication. So – here's how you can format a book in six steps:
Sign up to the Reedsy Book Editor here to unlock it, and then let's get to it!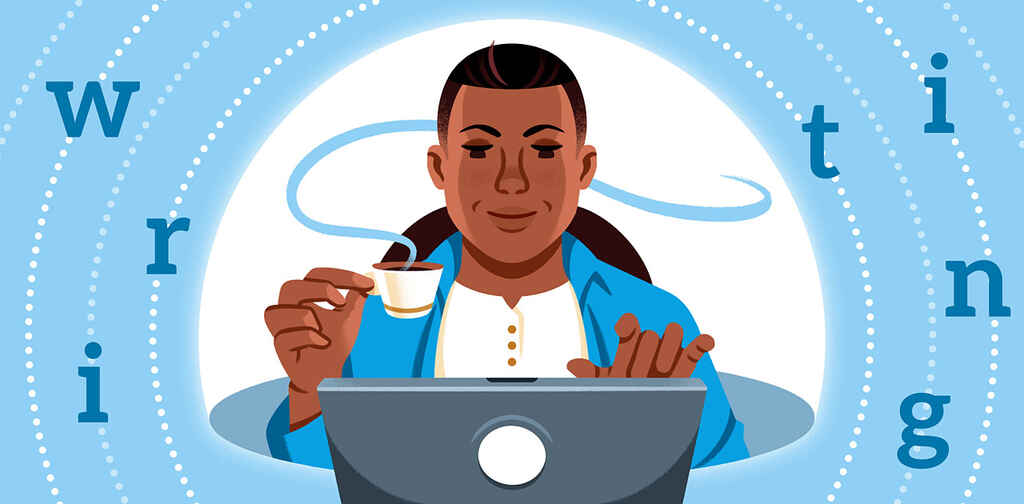 The Reedsy Book Editor
Format your manuscript for print or EPUB with a single click.
1. Import your fully-edited manuscript
Regardless of the writing software you've been using, you can use the .docx import function on the Reedsy Book Editor to continue working on manuscripts you started on any major word processor. To keep all your chapter breaks and headings, be sure to: 
Use "styles" for each chapter title and heading; or
Use "chapter …" at the beginning of every chapter. 
Another option is to copy-paste your book in the Reedsy Book Editor and then use our "chapter break" feature to split it into chapters. Throughout this process, you should note that Reedsy respects the existing formatting of your manuscript, which means that our software will retain elements like headings, links, and inline styles (italic/bold). Here's what it looks like: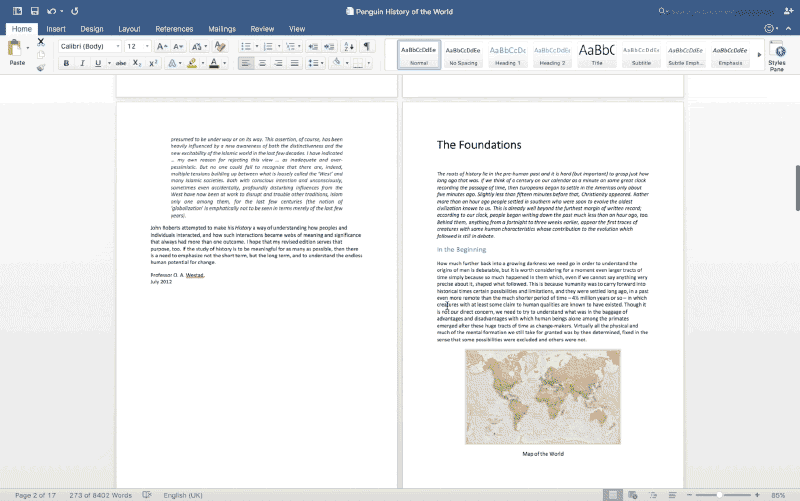 Once your manuscript is nestled comfortably into the editor, the formatting can begin!
2. Format your chapter titles and paragraphs
One feature that makes our book production tool smart is the formatting bar: simply select the type of paragraph or character style you want to use, and the formatting will be applied.
The paragraph styling options are:
Default paragraph: your standard styling
Three levels of headings to structure your content (mainly for non-fiction books)
Two types of lists: bullet points and numbers
Quotations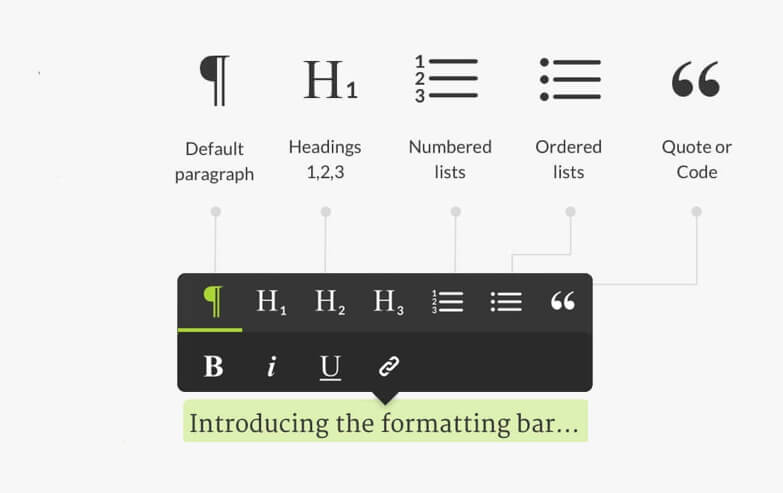 Once you've defined your paragraphs' styling, you can customize your font styling with the following options:
Bold
Italic
Underline
Link and cross-references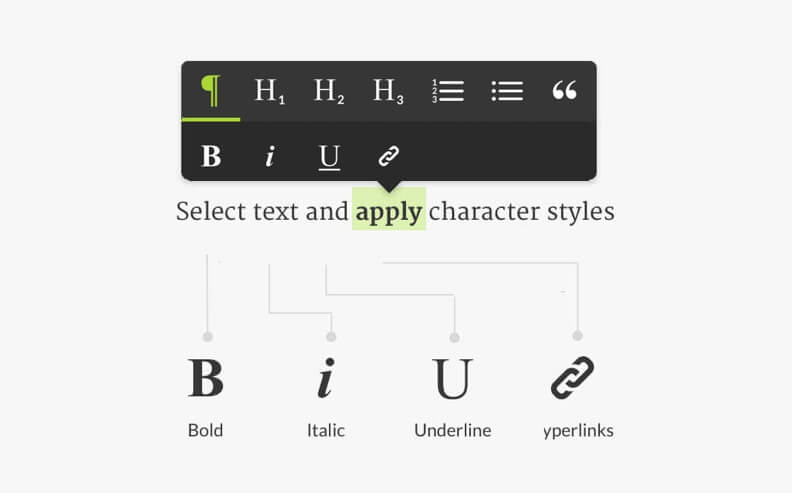 You may also want to be aware of the existence of widows and orphans. No, not the Oliver Twist ones of the Dickens variety! In publishing speak, a widow is a word (or small group of words) that sits by itself at the bottom of a paragraph or page, and orphans are words leftover from a paragraph on the previous page. 

Format fact: The most common font size for books is 12-pt. However, ebook readers can customize their devices to display whatever size they find most comfortable.
You've mastered this step and are ready to get a little fancy. On to step 3...
3. Add images, endnotes, and page breaks
Books that meet industry standards but are also unique and personal? Brilliant! The next step is to enrich your existing content with:
Images and captions
Endnotes
Scene breaks (for fiction)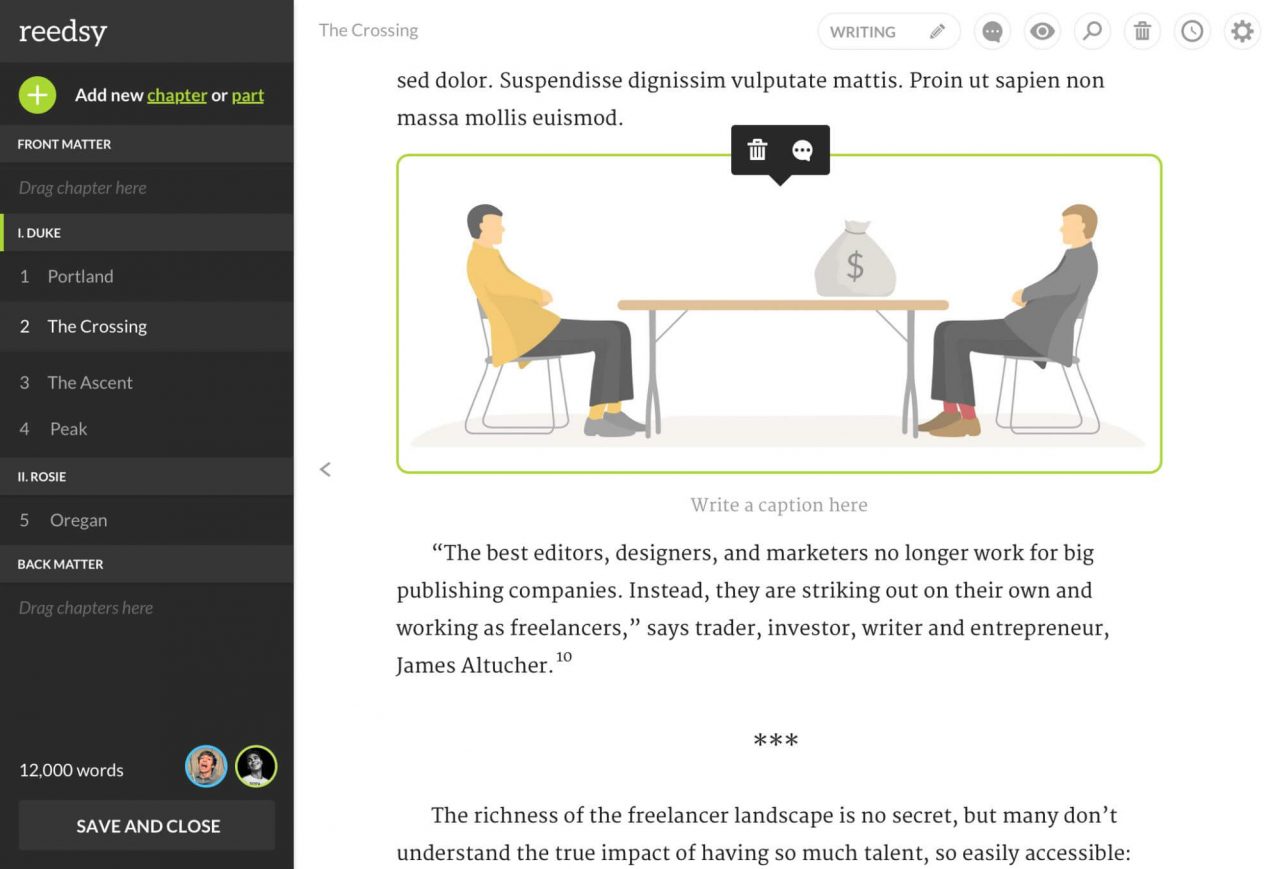 You will find your endnotes in a dedicated chapter at the end of your book for reference: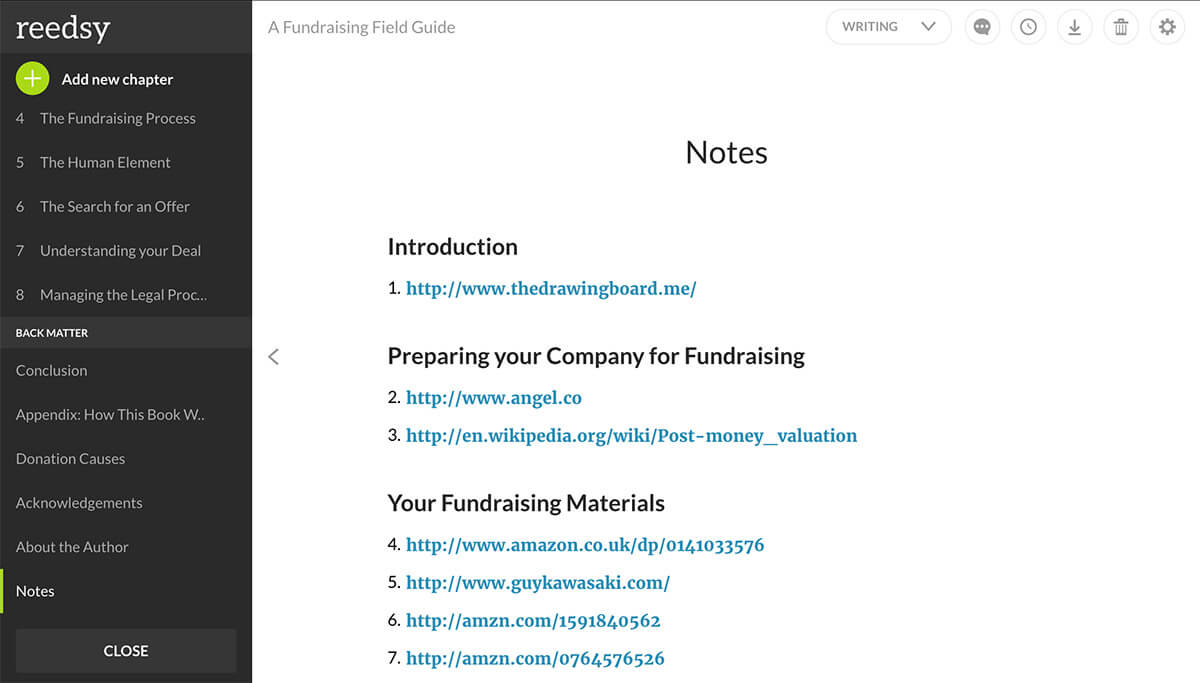 At this point, your manuscript's interior is taken care of, and it's time to focus on its exterior.
Note: the Reedsy book editor will take care of your page numbering — so no need to worry there!
4. Upload your book cover in the correct size
You can now click on the Export icon, which will lead you to our Export page — where most of the magic happens.
The first thing you should do here is to upload your cover. Make sure you upload an image following the requirements of the ebook stores you use for distribution. For best results, we recommend your cover image use a ratio of 1:1.6 and measure at least 2500px on the longest side. But if unsure, check out our handy guide on choosing the right book cover dimensions.
Note that POD services will require a PDF with the full jacket and a separate PDF for the book's interior for physical books. For the book's jacket, we recommend working with a designer from the Reedsy marketplace who knows the requirements of different POD services and will be able to provide you with the right file.
Format fact: The most common paperback size in the US is 6"x9" — also known as a trade. Check out our post on standard book sizes to find out more.
5. Set your table of contents and copyright page
"Front matter" refers to the parts of your manuscript that come before the actual content begins. This also applies to ebooks. With the Editor, you can manage your book's front matter elements in two sections: the Copyright Page and Table of Contents.
Copyright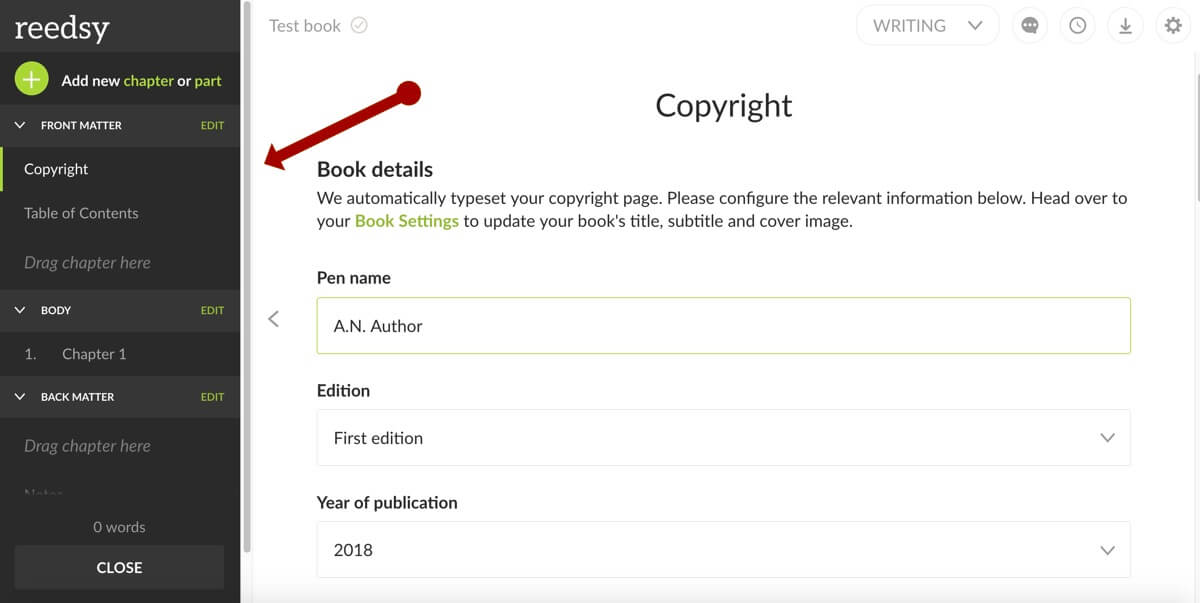 On this page, you can manage your:
Title
Subtitle
Pen name
Edition number
Year of publication
Collaborators
Publisher name and logo (if any)
Copyright clauses
ISBN number(s)
Note that you won't need an ISBN for most ebook retailers, as they have their own identifying number. For instance, Amazon uses the Amazon Standard Identification Number (ASIN) and creates a new one for free every time you publish with Kindle Direct Publishing (KDP). Similarly, Apple iBooks no longer requires an ISBN.
There's currently a debate about whether or not ISBNs still make sense, and you can read more about it here. For now, you'll need an ISBN if you're planning on printing POD versions, and most POD services will provide you with one for free.
Once your ISBN has been added, you can turn your attention to your table of contents.
Table of Contents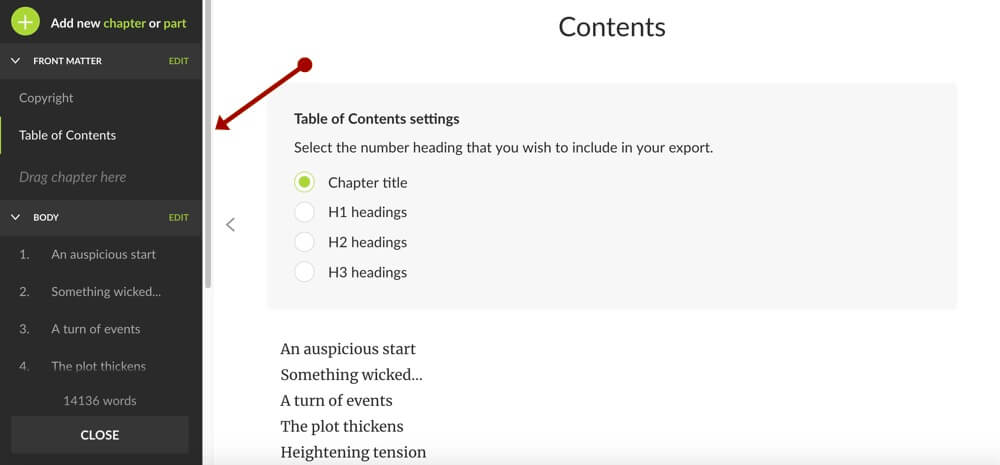 This is where you can choose how detailed your table of contents will be. If you're writing a novel, you may only want to list the chapter titles in the table of contents (above). However, you can also choose to list your sub-headings as well (below).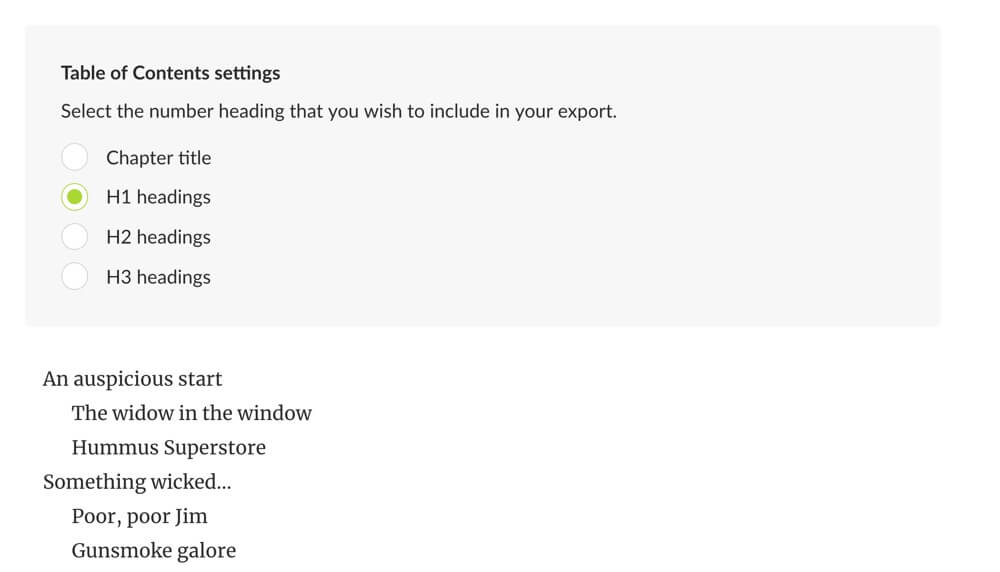 And once you're done with configuring your copyright page and table of contents, you're just about ready to export your book.
6. Finally, export your print and ebook files
We're getting closer! It's now time to decide whether you want to create an ebook, print copies, or both. This will also determine whether you need an EPUB, or PDF file. Check out our guide to publishing file formats to learn more about these formats.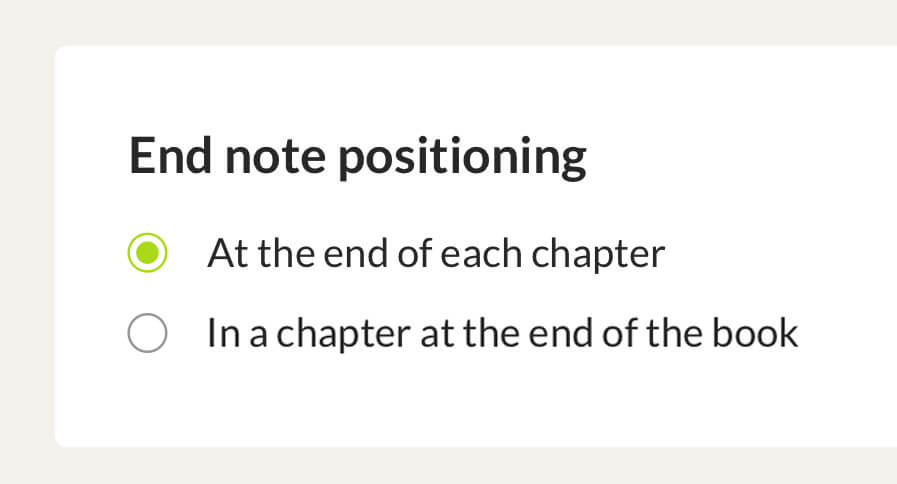 For ebooks: download an EPUB file
EPUB files are compatible with the Kindle Store, Apple's iBookstore, the Kobo Store, Nook Press, Google Play, and NetGalley.
Next, decide how you'd like to organize your endnotes (if applicable). You can position them at the end of every chapter or all together at the end of the book.
For print copies: download a PDF file
The files created are currently compatible with most POD services (Lulu, KDP Print, IngramSpark, CPI, etc.). Again, the first step is to position your endnotes. For physical copies, you can decide whether you'd like them to be footnotes at the bottom of a page or actual endnotes at the end of your book.
Unlike ebooks, your physical copy needs to be set to a trim size ready for printing. Reedsy currently offers a few different options, based on popular industry standard sizes:
Pocket 4.25 x 6.87 in (10.80 x 17.45 cm)
Reedsy 5 x 8 in (12.7 x 20.32 cm)
Digest 5.5 x 8.5 in (13.97 x 21.59 cm)
Trade 6 x 9 in (15.24 x 22.86 cm)
Which trim size should you pick? There's no clear-cut answer. Your choice depends on a few factors: the genre and audience of your book, the length of the manuscript, and, of course, your personal preference. To make a decision here, we recommend that you spend some time in a bookstore with a ruler to determine what makes the most sense for your future bestseller.
Here are a few pictures to give you a sense of what those different sizes look like: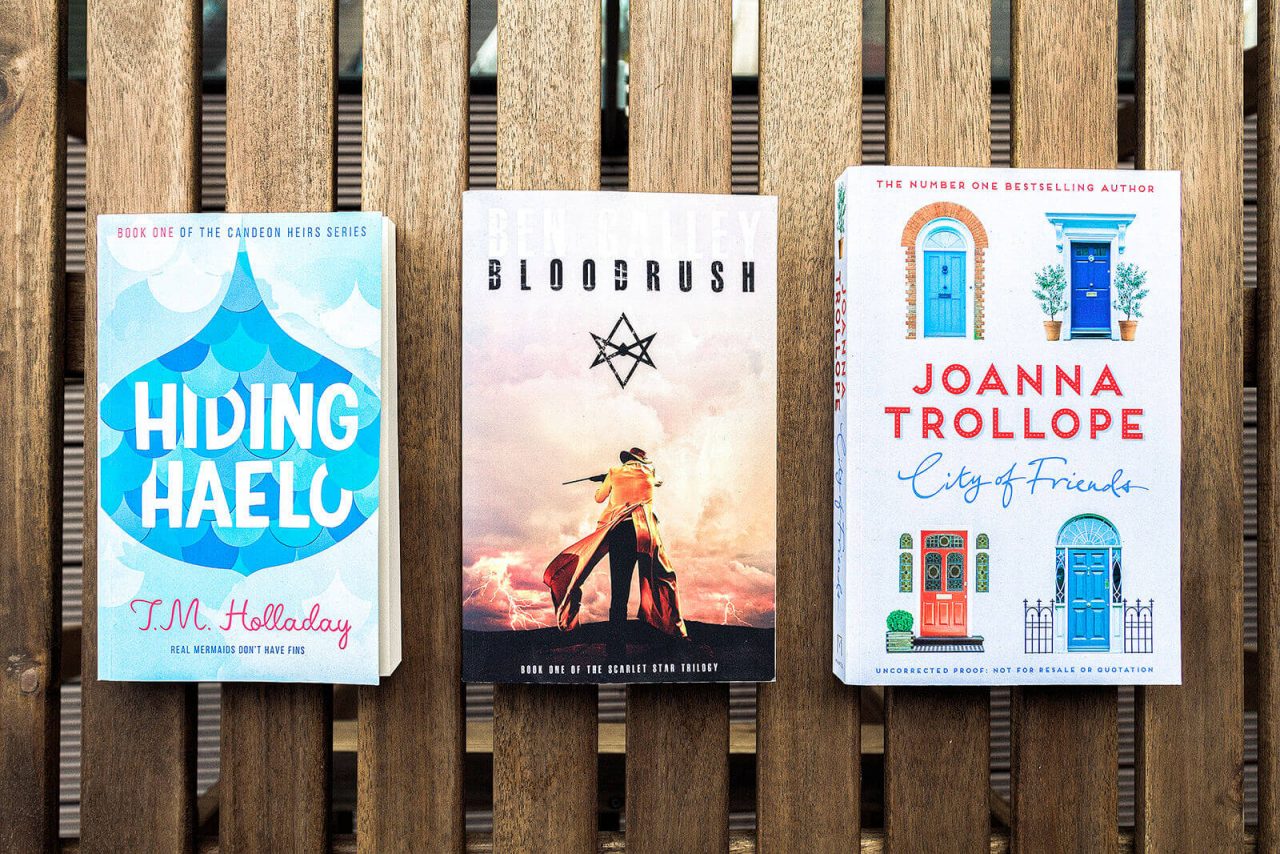 Once you've selected your trim size, simply pick a template and hit the download button. Your moment of glory is only seconds away as the editor typesets your book and gets it ready to be downloaded!
As a bonus, we have a short video tutorial for formatting your manuscript in the Reedsy Book Editor.
---
Head to our Reedsy Book Editor and format your book for free in just a few seconds.