How to Format a Book (the Free and Easy Way)
If you are a self-publishing author who wants to know how to typeset a book, there are plenty of tools and resources available to you. Many writers use MS Word for ebook formatting — but this shouldn't be your choice by default. Ensure you take the time to explore the different options available for formatting your manuscript because a clean design is a vital part of publishing success.
In this step-by-guide, we're going to give you tips for producing a professional-looking final product, whether that's an ebook, a printed book, or both. We'll also explain how our very own free tool — the Reedsy Book Editor — can make the job simple for you.
What does it mean to format a book?
The readability of a book depends entirely on how your manuscript is formatted. Something with poor readability probably won't sell. So if you want to go toe-to-toe with traditionally published titles, your product needs to look its best, inside and out. While cover design is critical for a reader's first impression, interior design and typesetting shouldn't be overlooked. For more information, check out our guide to book layout design.
The art of typesetting is not new. In fact, manuscripts produced during the medieval era conformed to a well-defined set of rules that publishers today are still following. The canons of page construction, for example, describe how a manuscript's proportions, margins, and type areas (print spaces) should be constructed.
But we know that learning the technicalities of making a book can't be learned overnight and that hiring a professional interior designer for your manuscript might not be in every author's budget. So let's get on to your DIY guide on book formatting.
🖋️
Which writing app is right for you?
Find out here! Takes 30 seconds
Book Format vs. Manuscript Format
First off — we need to clear up what we mean when we say "formatting your book."
This post is all about the format of the actual print or ebook that the final readers will read. It's the part of the process traditionally handled by a professional designer, which can now be handled by self-publishing authors by themselves. Thanks, technology!
Manuscript formatting, on the other hand, is about presenting your book in a way that's pleasing to agents, editors, and early readers. It involves getting the right:
typeface and font size;
line spacing;
page numbering;
margins and breaks;
presentation of each chapter title;
and more...
For detailed tips on formatting writing to industry standards, take a look at our detailed guide (which comes with a downloadable manuscript format template).
With that cleared out of the way, let's look at how you can format your book for print and ebook production.
✅
Are you ready to self-publish your book?
Find out here! Takes one minute.
What software can I use to format my book?
There are many apps available on the market that will let authors typeset their books for printing or digital distribution. Some are more sophisticated than others, they vary in their ease of use, and range in price from free to eye-wateringly expensive. In this section, we look at some of the most popular book formatting apps:
InDesign
This app from Adobe (the makers of Photoshop) is the industry standard for professional typesetters. It's by far the most powerful tool with the highest number of features — but it is also the most expensive and hard to use. Many an author has driven themselves mad trying to master InDesign, and it should only really be considered by those with a design background.
Scrivener
This app is popular amongst writers, primarily for its organizational functions allowing authors to keep track of notes, structure, research, and more. The latest version of Scrivener introduces the "linguistic focus" mode, which lets you home in on elements such as direct speech, nouns, verbs, and pronouns so you can isolate your writing tics. Digital book formatting is just one of the functions it offers, so if your only concern is formatting, then you may wish to try out a free option first.
Vellum
A Mac-only app, Vellum is named after the calfskin material used by writers in days of yore. With an intuitive interface, it has a much smaller learning curve than some of its competitors. The software also comes with several handsome formatting options that should meet the needs of most authors. The major downsides? There's no PC version, it's not cheap, and if you want to export a printable book format, then you have to pay an extra $50.
Microsoft Word
MS Word is a pretty decent word processor, but it should not be used for book formatting. Still, this hasn't stopped it from becoming one of the most commonly used tools in self-publishing — and the reason why a lot of indie books look terrible. Word doesn't export EPUB files (the most common ebook format), but most digital publishers will allow you to upload .doc files, which they will then convert automatically. For print books, it's entirely unadvisable to use MS Word.
Reedsy Book Editor
With the input of experts in book design, Reedsy's product team designed a book production tool that allows authors to create manuscripts that meet the high standards set by the industry. Whether you want ebook formatting, or to produce physical copies, there are many reasons to turn to the Editor:
No previous design knowledge required,
Your work is securely stored in the cloud and accessible for any device,
There's no need to install any software
Professionally designed templates, compatible with a variety of distribution platforms,
Unlimited exports,
...and more.
It's also fast. We tested the app with an author's 80,000-word manuscript and were able to typeset it in under 10 minutes.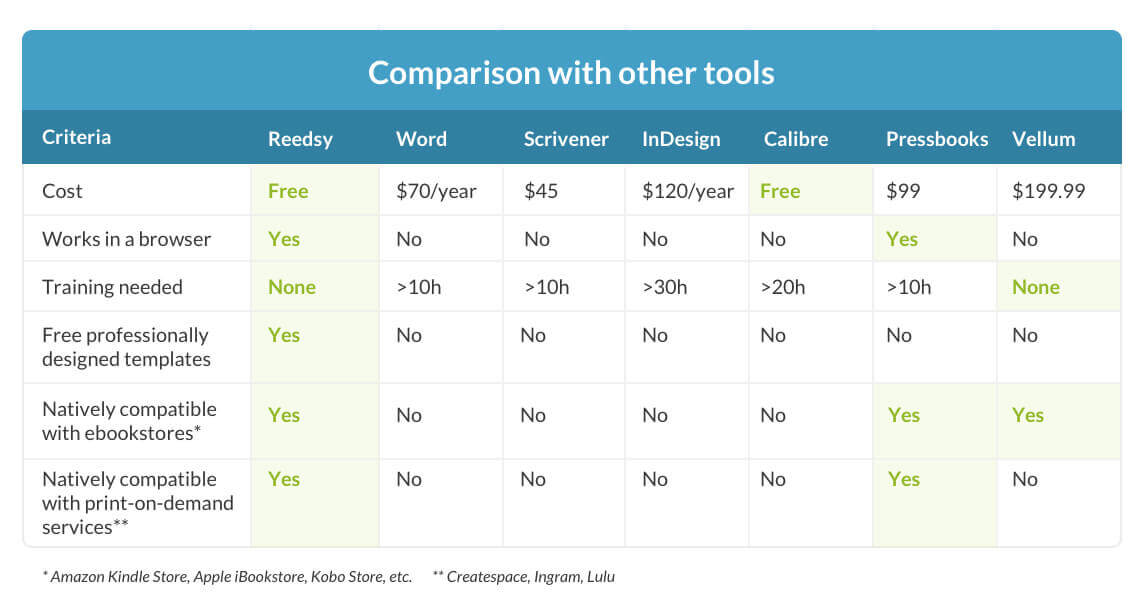 Looking for a professional formatting tool?
Sign up for free to start using the Reedsy Book Editor within seconds.
Learn how Reedsy can help you craft a beautiful book.
5 Crucial Book Formatting Tips
Beyond the basics of proper grammar and punctuation, you'll need a few book format basics to get you started.
Tip #1. Get your front and back matter right
Books are like human bodies: they're all unique in how they look and behave but, underneath it all, they have virtually the same skeleton. There's no benefit to getting creative with the front matter of your book: you need to make sure your copyright pages, title pages, and dedication pages are in the right order and on the right side of the paper. And with a non-fiction title, you will also need to get a usable index. All this is especially important for selling print books to libraries and bricks-and-mortar bookstores, so make sure you're familiar with the anatomy of a book.
Take a look at our guide for a crash course in front and back matter.
Tip #2. Mind your spaces and rags
A danger of using non-specialised software is the way that most word processors handle the spacing between words. By default, Microsoft word will use 'justification' which stretches the spaces between words so that the lines are all flush to the left and right margins. This results in hard-to-read text that will quickly annoy readers:

You can't solve this problem just by aligning the text to the left — as that will result in 'rags' along the right side of each page.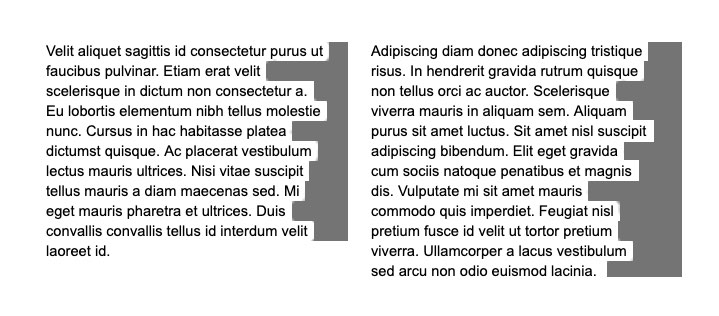 Specialist publishing software will automatically fix this issue for you by adding hyphenation to break up long words and keeping the 'ragging' to a minimum.
Tip #3. Avoid widows and orphans
Typesetters have a bleak sense of humor. Widows and orphans describe stray words and sentences on a page that publishers try to avoid where possible. A widow is a word (or small group of words) that sits by itself at the bottom of a paragraph or page. They are seen as undesirable because they result in a lot of negative space at the end of a page.
Orphans, on the other hand, are words leftover from a paragraph on the previous page. It can be a bit jarring to absorb most of a sentence, only to find yourself having to turn the page to see the final few words. For this reason, they should also be avoided where possible.

With ebooks, widows and orphans are not something you can really control — as the individual reader's device will reformat the text to fit the device. But if you're using MS Word or InDesign to assemble your print format, you can manually adjust the bottom margin or make minute changes to letter spacing of individual pages to try "cheat" the orphans back onto the previous page.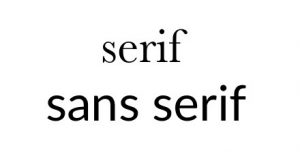 Tip #4. Don't get too excited by fun fonts
The standard in publishing is to use serif fonts. Those are typefaces with curly embellishments that make the words more comfortable to read (theoretically).
Most of the apps mentioned above will have templates that come with pre-loaded fonts. If you have to pick one, err on the side of caution and use something non-offensive like Garamond or Baskerville.
Tip #5. Don't fully indent each new paragraph
In fiction, each new paragraph is indented — it's a stylistic choice that should make it easier to move from one paragraph to another. But that doesn't mean you should hit TAB after every time you hit the ENTER key — that will usually result in indents that are too large. On standard word processor, you should set your first line indentation to 0.5" to counter this problem.
Most problems mentioned in this list can be solved by using a specialist app. And because we're not above a bit of blatant promotion, it should be mentioned that the Reedsy Book Editor is an excellent first option. We're saying that not only because it's easy-to-use and powerful, but it's also completely free.
Formatting a Book with the Reedsy Book Editor
In this section, we'll show you the easiest way to get professional results using Reedsy's free online formatting tool.
Step 1. Import your book into the Reedsy Book Editor
Regardless of the writing software you've been using (Word, Pages, Google Docs, Scrivener, etc.), your first step is to import the manuscript into the Editor using our .docx import function. To make sure the Editor automatically recognizes your chapters and headings, you should make sure that you're either:
Using "styles" for each chapter title and heading; or
Using "chapter …" at the beginning of every chapter.
Another option is to copy-paste your book in the Reedsy Book Editor and then use our "chapter break" feature to split it into chapters. Throughout this process, you should note that Reedsy respects the existing formatting of your manuscript, which means that our software will retain elements like headings, links, and inline styles (italic/bold). Here's what it looks like: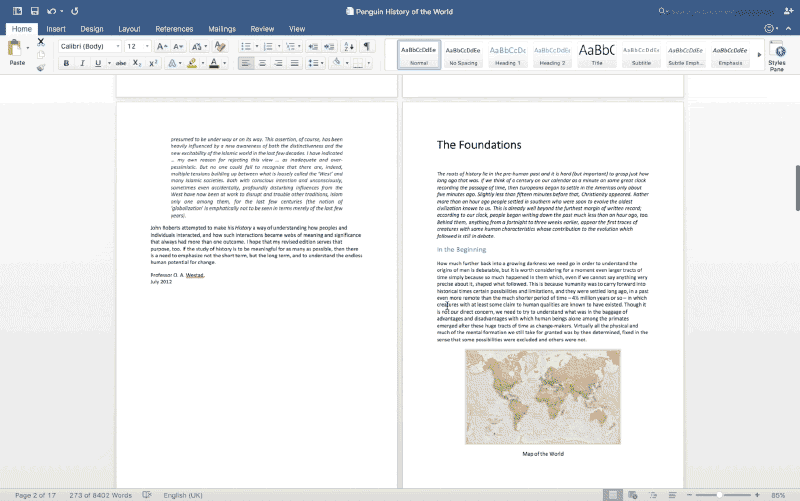 Once your manuscript is nestled comfortably into the editor, the formatting can begin!
Step 2. Style your content
One feature that makes our book production tool really smart is the formatting bar: simply select the type of paragraph or character style you want to use, and the formatting will be applied.
The paragraph styling options are:
Default paragraph: your standard styling
Three levels of headings to structure your content (mainly for non-fiction books)
Two types of lists: bullet points and numbers
Quotations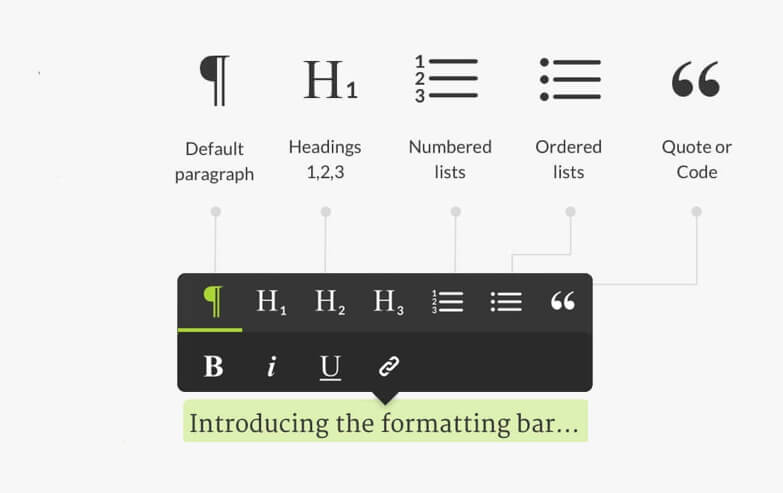 Once you've defined your paragraphs' styling, you can customize your font styling with the following options:
Bold
Italic
Underline
Link and cross-references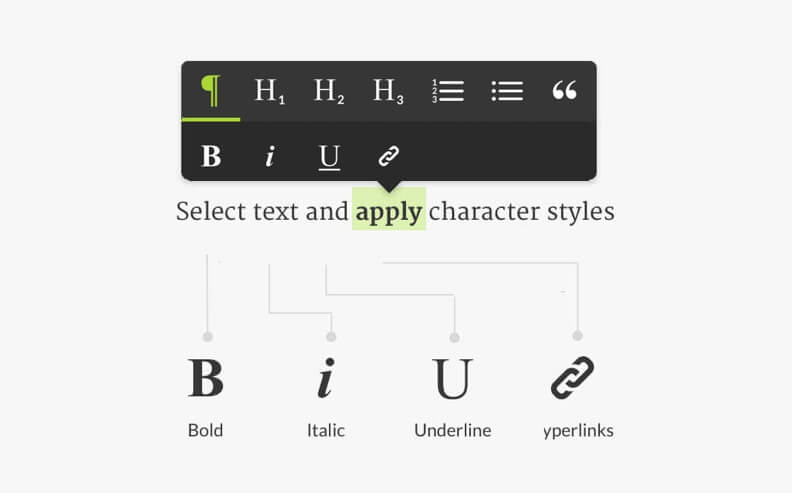 You've mastered this step and are ready to get a little fancy. On to step 3...
Check out our review of Vellum book formatting software!
Step 3. Add images, endnotes, and scene breaks
Books that meet industry standards but are also unique and personal? Brilliant! The next step is to enrich your existing content with:
Images and captions
Endnotes
Scene breaks (for fiction)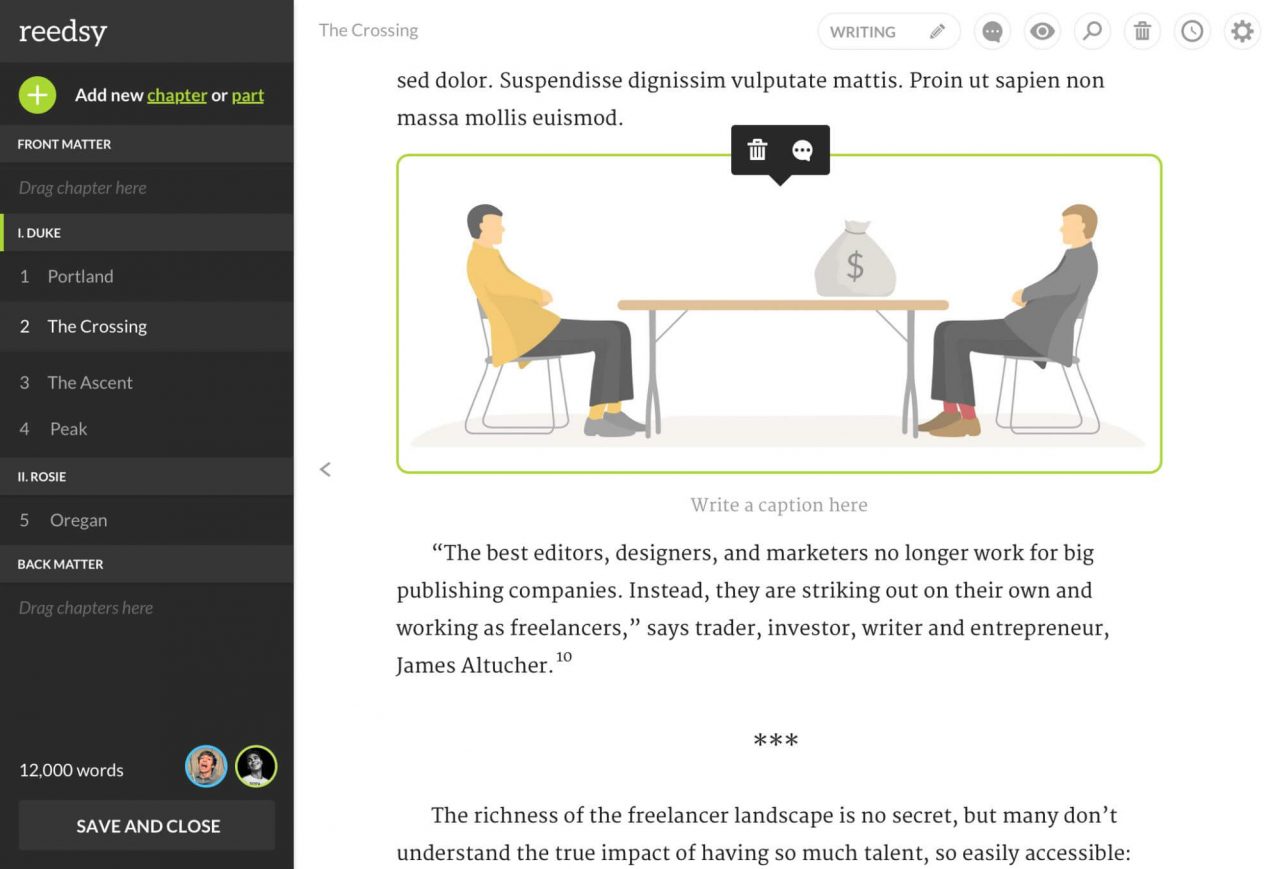 You will find your endnotes in a dedicated chapter at the end of your book for reference: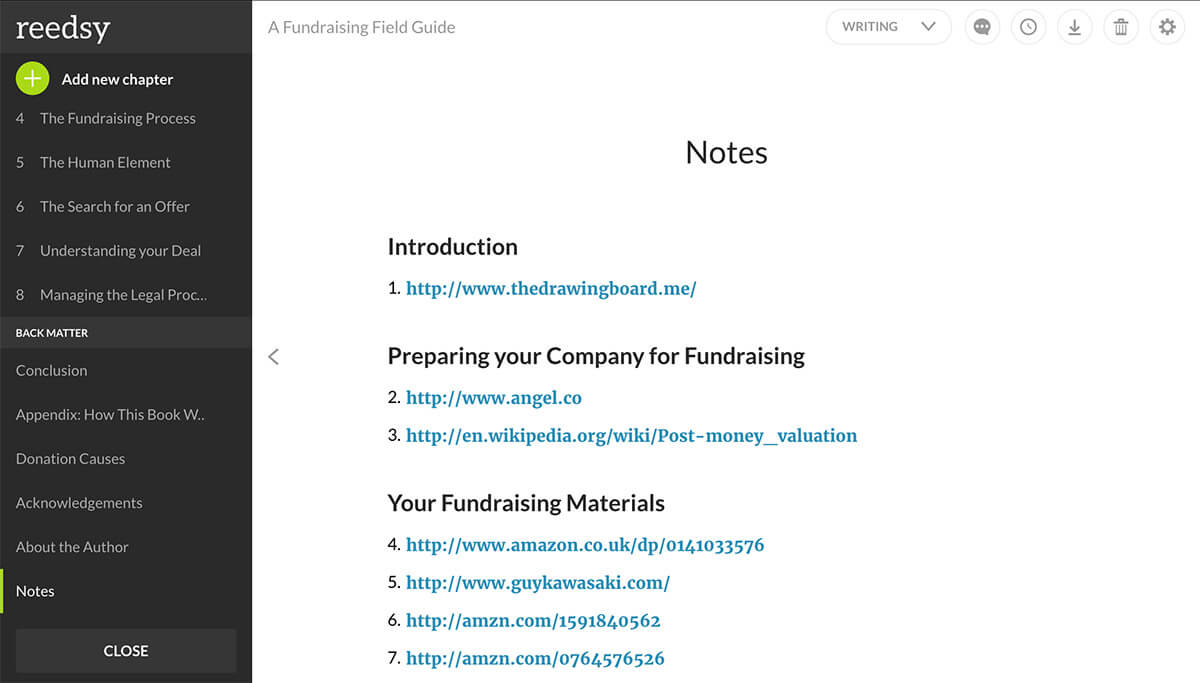 At this point, your manuscript's interior is taken care of, and it's time to focus on its exterior.
Step 4. Add a book cover
You can now click on the Export icon, which will lead you to our Export page — where most of the magic happens.
The first thing you should do here is to upload your cover. Make sure you upload an image that follows the requirements of the ebook stores you are using for distribution. For best results, we recommend your cover image use a ratio of 1:1.6 and measure at least 2500px on the longest side. But if you're not sure, check out our handy guide on how to choose the right book cover dimensions.
Note that for physical books, POD services will require both a PDF with the full jacket and a separate PDF for the book's interior. For the book's jacket, we recommend working with a designer from the Reedsy marketplace who knows the requirements of different POD services and will be able to provide you with the right file.
Step 5. Configure your book's front matter
"Front matter" refers to the parts of your manuscript that come before the actual content begins. This also applies to ebooks. With the Editor, you can manage your book's front matter elements in two sections: the Copyright Page and Table of Contents.
Copyright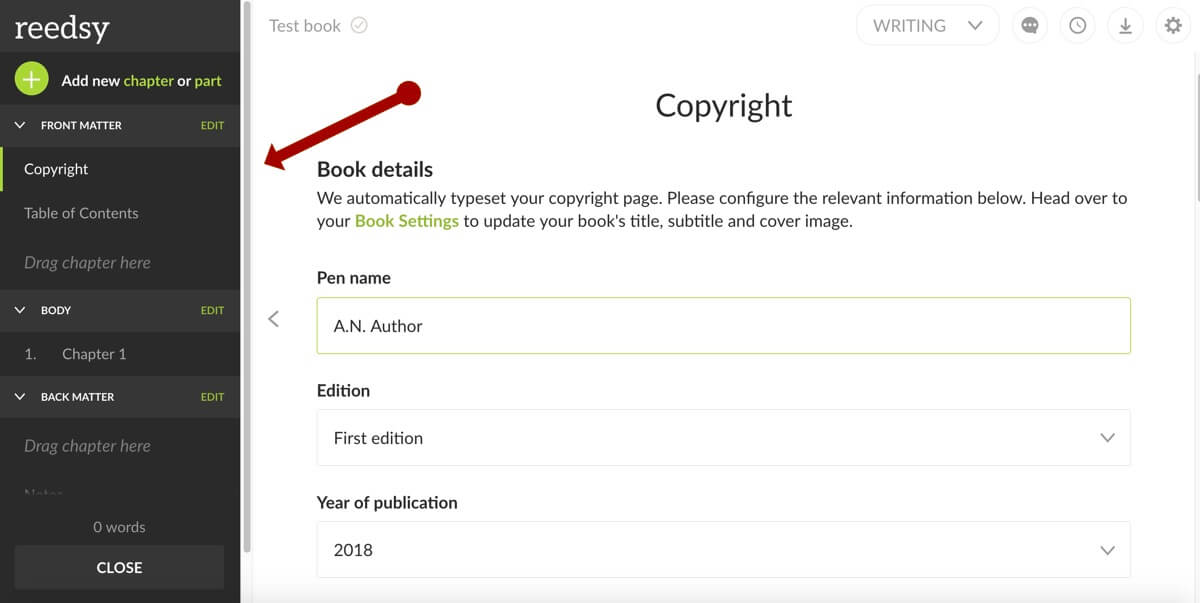 On this page, you can manage your:
Title
Subtitle
Pen name
Edition number
Year of publication
Collaborators
Publisher name and logo (if any)
Copyright clauses
ISBN number(s)
Note that you won't need an ISBN for most ebook retailers, as they have their own identifying number. For instance, Amazon uses the Amazon Standard Identification Number (ASIN) and creates a new one for free every time you publish with Kindle Direct Publishing (KDP). Similarly, Apple iBooks no longer requires an ISBN.
There's currently a debate about whether or not ISBNs still make sense, and you can read more about it here. For now, you'll need an ISBN if you're planning on printing POD versions, and most POD services will provide you with one for free.
Once your ISBN has been added, you can turn your attention to your table of contents.
Table of Contents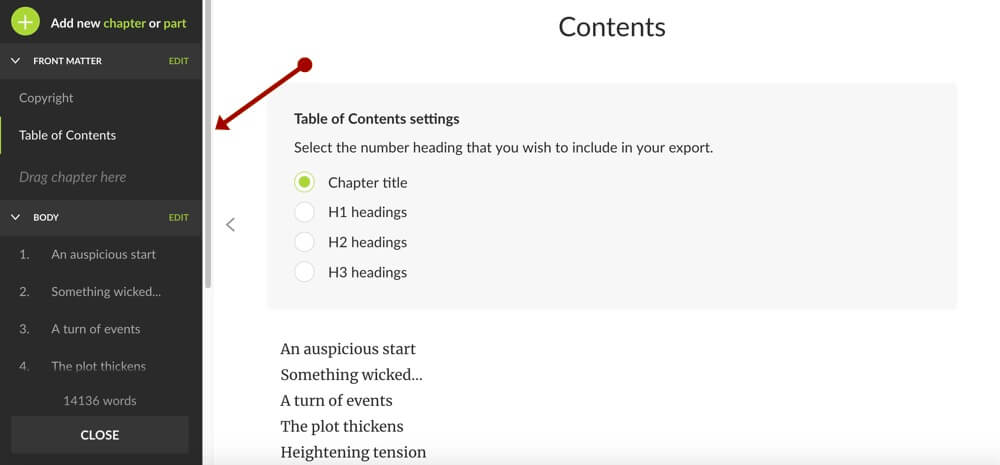 This is where you can choose how detailed your table of contents will be. If you're writing a novel, you may only want to list the chapter titles in the table of contents (above). However, you can also choose to list your sub-headings as well (below).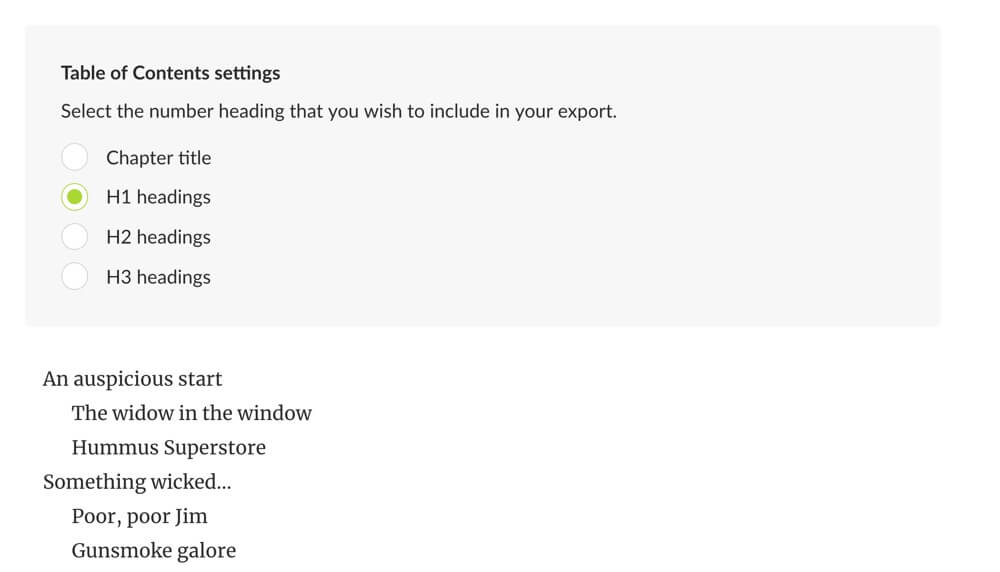 And once you're done with configuring your copyright page and table of contents, you're just about ready to export your book.
Step 6. Select the file you need: EPUB to create an ebook or PDF for print-on-demand (POD)
We're getting closer! It's now time to decide whether you want to create an ebook, print copies, or both. This will also determine whether you need an EPUB, or PDF file. Check out our guide to publishing file formats to learn more about these formats.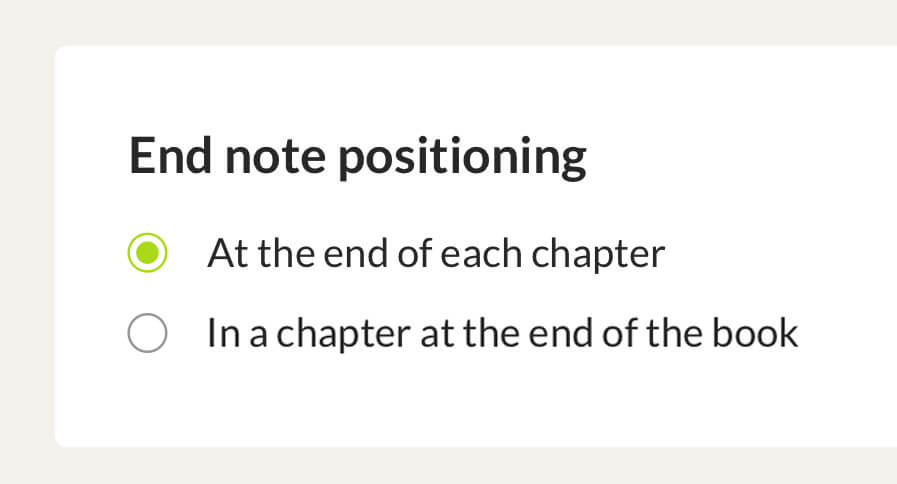 How to create an ebook: download an EPUB file
EPUB files are compatible with the Kindle Store, Apple's iBookstore, the Kobo Store, Nook Press, Google Play, and NetGalley.
Next, decide how you'd like to organize your endnotes (if applicable). You can position them at the end of every chapter or all together at the end of the book.
For print copies: download a PDF file
The files created are currently compatible with most POD services (Lulu, KDP Print, IngramSpark, CPI, etc.). Again, the first step is to position your endnotes. For physical copies, you can decide whether you'd like them to be footnotes at the bottom of a page or actual endnotes at the end of your book.
Unlike ebooks, your physical copy needs to be set to a trim size ready for printing. Reedsy currently offers a few different options, based on popular industry standard sizes:
Pocket 4.25 x 6.87 in (10.80 x 17.45 cm)
Reedsy 5 x 8 in (12.7 x 20.32 cm)
Digest 5.5 x 8.5 in (13.97 x 21.59 cm)
Trade 6 x 9 in (15.24 x 22.86 cm)
Which trim size should you pick? There's no clear-cut answer. Your choice depends on a few factors: the genre and audience of your book, the length of the manuscript, and, of course, your personal preference. To make a decision here, we recommend that you spend some time in a bookstore with a ruler to determine what makes the most sense for your future bestseller.
Here are a few pictures to give you a sense of what those different sizes look like: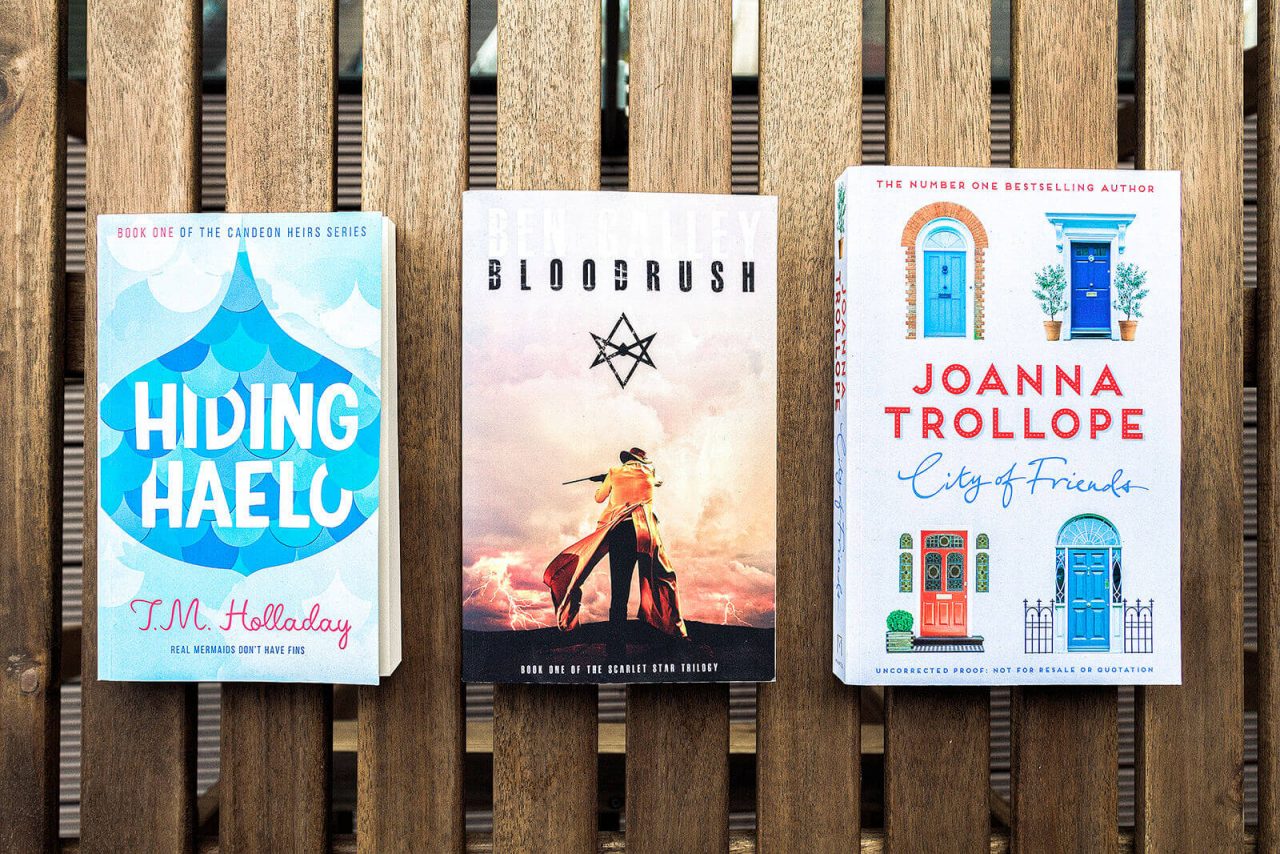 Once you've selected your trim size, simply pick a template and hit the download button. Your moment of glory is only seconds away as the editor typesets your book and gets it ready to be downloaded!
As a bonus, we have a short video tutorial for formatting your manuscript in the Reedsy Book Editor.
---
Head to our Reedsy Book Editor and format your book for free, in just a few seconds. And if you have any questions or feedback, feel free to let us know in the comments below.