Last updated on Sep 27, 2023
The 6 Best Book Cover Templates, Reviewed
If you feel your manuscript is nearing publication, you might want to give it a front cover that will make your target readers look twice.
While most successful authors (both self- and traditionally published) avoid putting out a book without a professionally-made design, this may not be an option for first-timers on a really tight budget. In these cases, ready-made book cover templates offer a practical and inexpensive solution. 
With the help of cover templates, you can create nice-looking results without the need to master complex book cover design software — so long as you don't mind your cover looking a little generic and similar to other titles on the market.
In this post, we'll share the 6 best templates you can find online. 
🎨
Which book cover design software option is right for you?
Takes 30 seconds!
1. Adobe Express
Cost: Free or $9.99/mo
A free online tool that helps you create different types of graphics, Adobe Express's pre-made templates can be used for a wide range of content, from flyers to social media banners to posters. Type in "book cover" in the Templates section to browse and edit the available templates, and make sure to specify your genre to get more specific results (e.g. "memoir book cover".)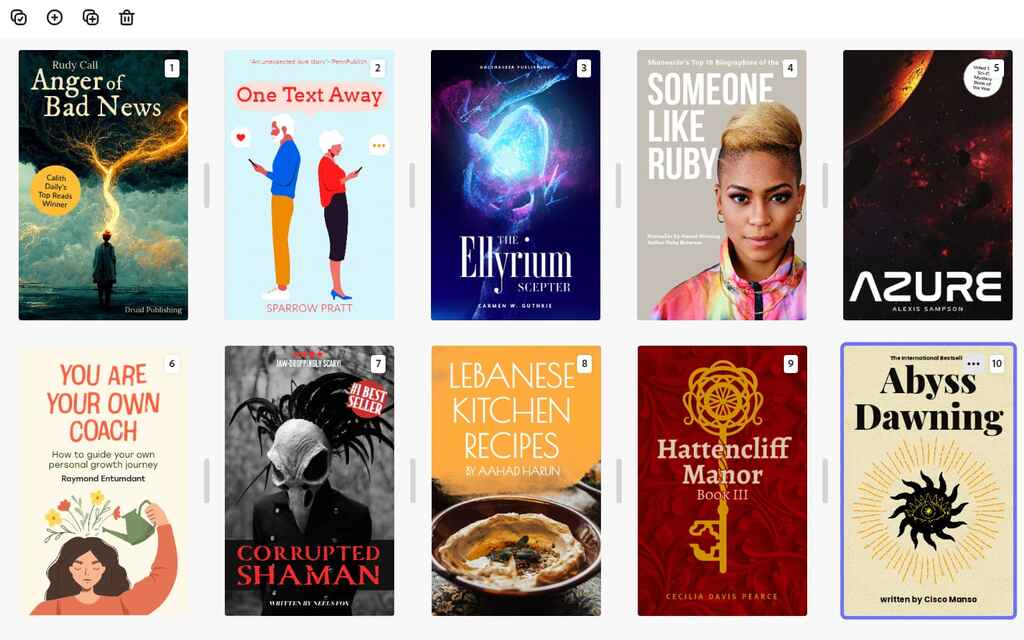 You can pick a template you like and start editing each aspect of it, from the photography to the font type and so on. The interface is intuitive and fun to play with, though as with any of these tools, it's easy to mess up the layout once you start to move things around. 
💡To make your cover more original and connected to your story, check out professionally designed covers for inspiration, noting any elements or features you'd like to include in your own cover.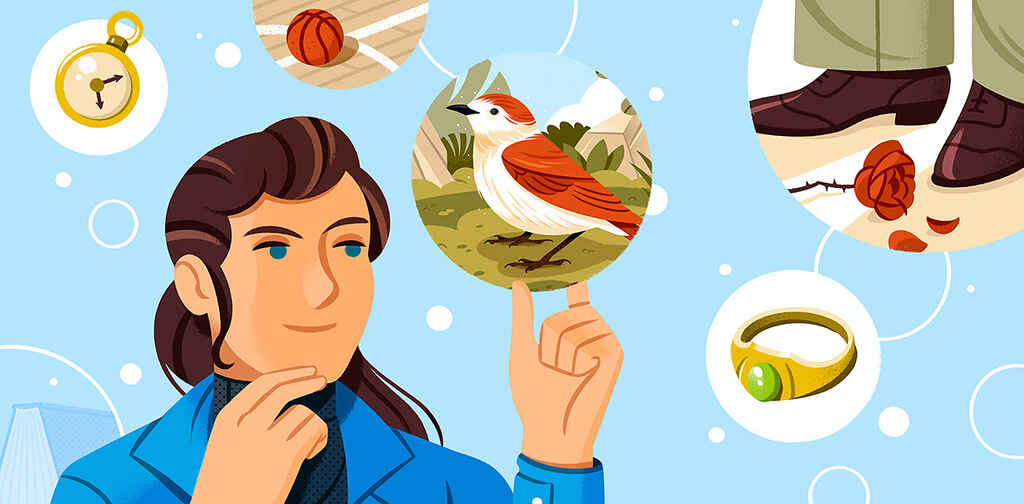 Book Cover Concept Worksheet
Use our step-by-step template to create a strong cover concept.
One downside: in terms of file export, Adobe Express provides a default size of 1410 x 2250 pixels, which is not what most retailers recommend. You can modify this size, but only if you get the Premium subscription, which some users can find frustrating.
Keep in mind that book cover templates are primarily designed for the front cover of ebooks. To create a full cover for a paperback or hardback book without the help of a pro, you'll need to learn more about book cover elements, including the spine, back cover, and flaps, and book cover dimensions, such as trim size, spine width, bleeds, and more.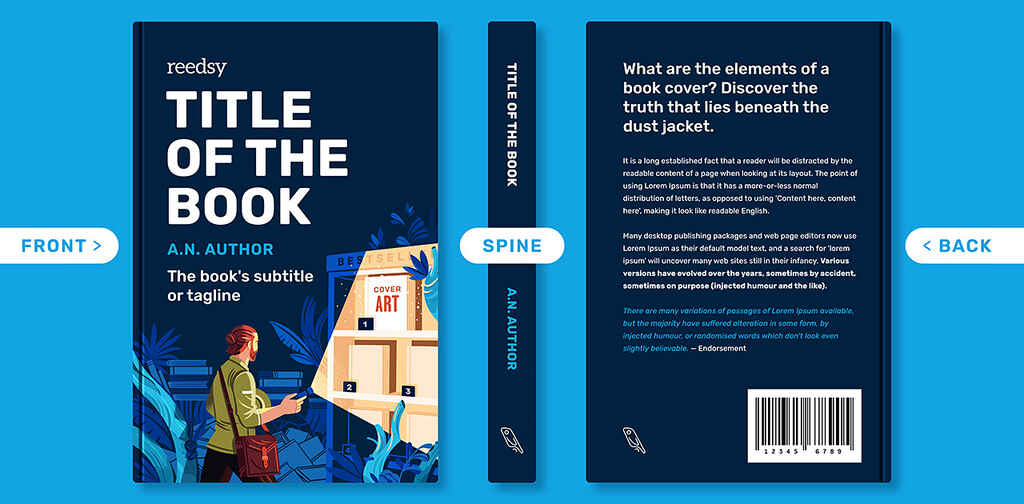 Overall, considering Adobe's status in the design industry, the selection of templates and export options are quite limited, but hopefully they'll expand them in future releases.
2. Canva
Cost: Free or $14.99/mo
Perhaps the most popular online tool for creating book covers, Canva offers an extensive library of stock photos, illustrations, and fonts, and, more importantly, almost 5,000 fully customizable templates across various literary genres. Some templates are made in collaboration with talented creatives, which is reflected by fresh and modern designs. For some of them, you'll even have the option to create and edit the back cover.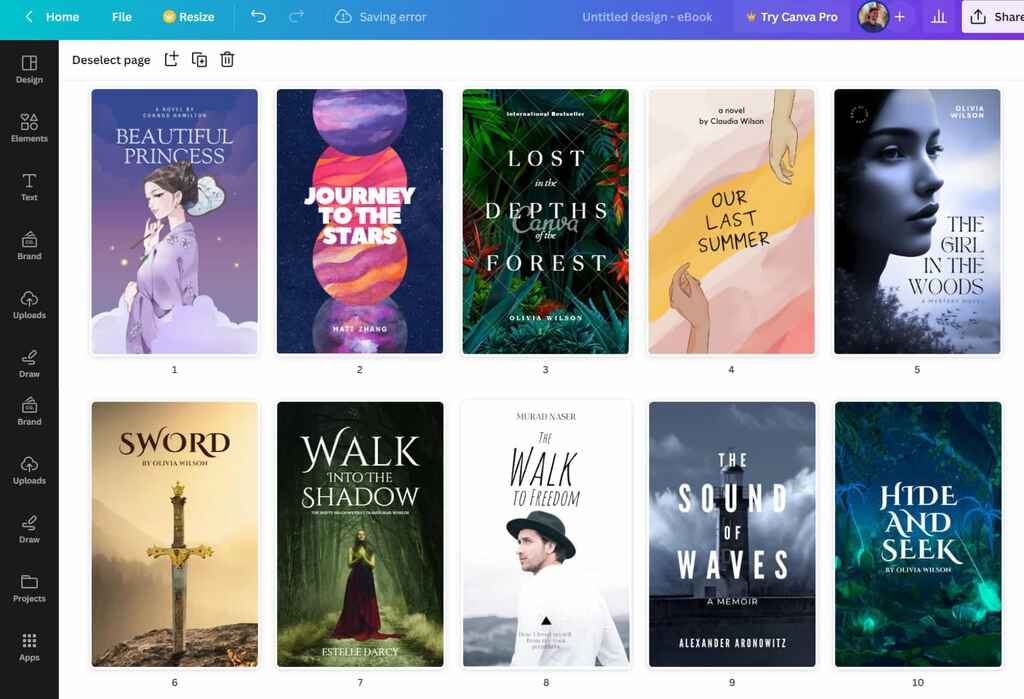 Although Canva's templates are a great place to start, once you start moving things around, it can be difficult to achieve a balance between the title, author name, tagline, and testimonials. Remember to think in terms of visual hierarchy, and how your cover will look as a thumbnail.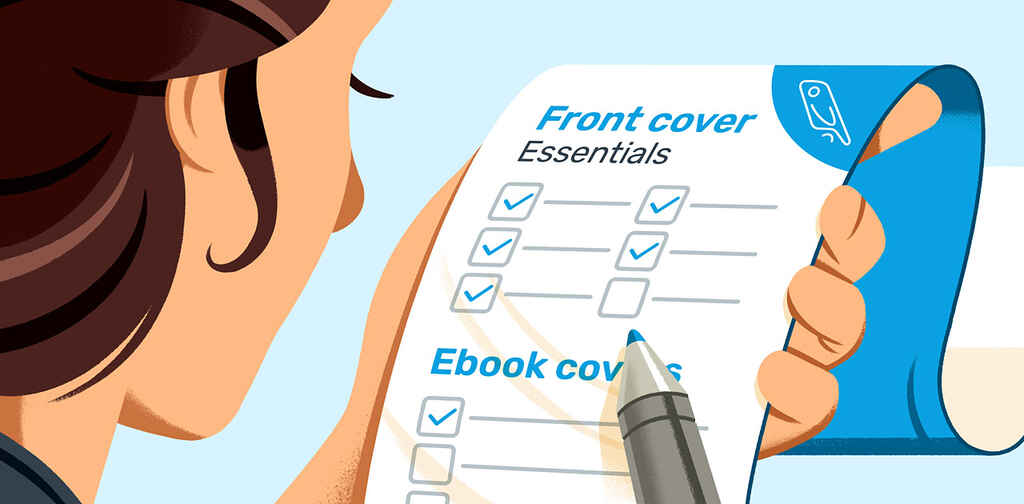 Cover Design Checklist
Make sure your book cover ticks all the boxes with our handy guide.
One of the best things about Canva is that they offer a range of cover template sizes in portrait, landscape, and square formats. From these, you can choose the one that best suits your particular genre, like memoir, photography, or children's books. 
👦 Want to work with seasoned children's book designers? On Reedsy, you'll find professionals who have worked with clients like Disney, Scholastic, and Warner Bros, among others.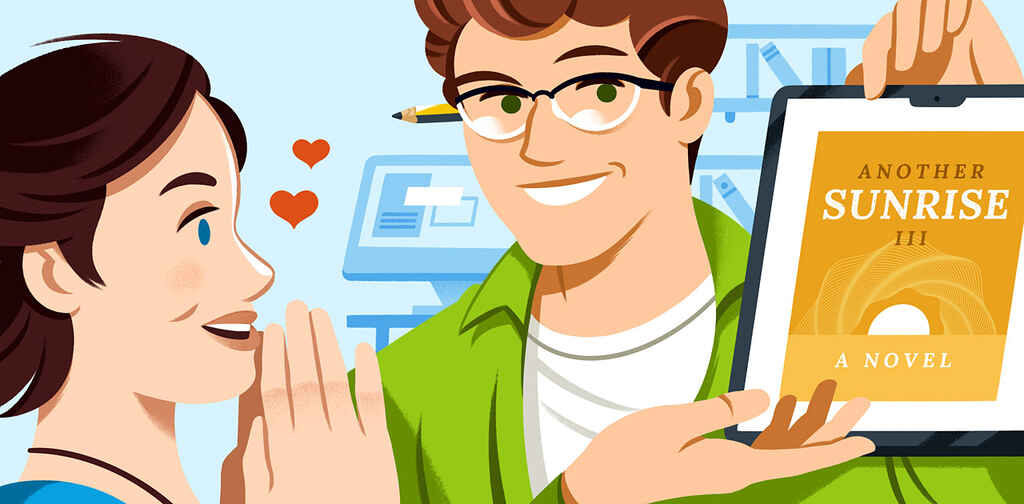 Get an amazing book cover
Let readers judge your book by its (professionally-designed) cover.
3. KDP Cover Creator
Cost: Free
Amazon KDP has its very own cover creator. It's by far the worst of the bunch, but since you'll likely encounter it when you self-publish your book on Amazon, let's take a look at it.  
You'll find Amazon's templates in the Bookshelf of your KDP account. In the Kindle eBook Content section, you'll be asked to either provide a cover or create one, which is how you can access the cover editor. 
As you'll soon realize, not only does KDP offer a very limited range of designs, but they all seem to have arrived through a time portal from the 1980s.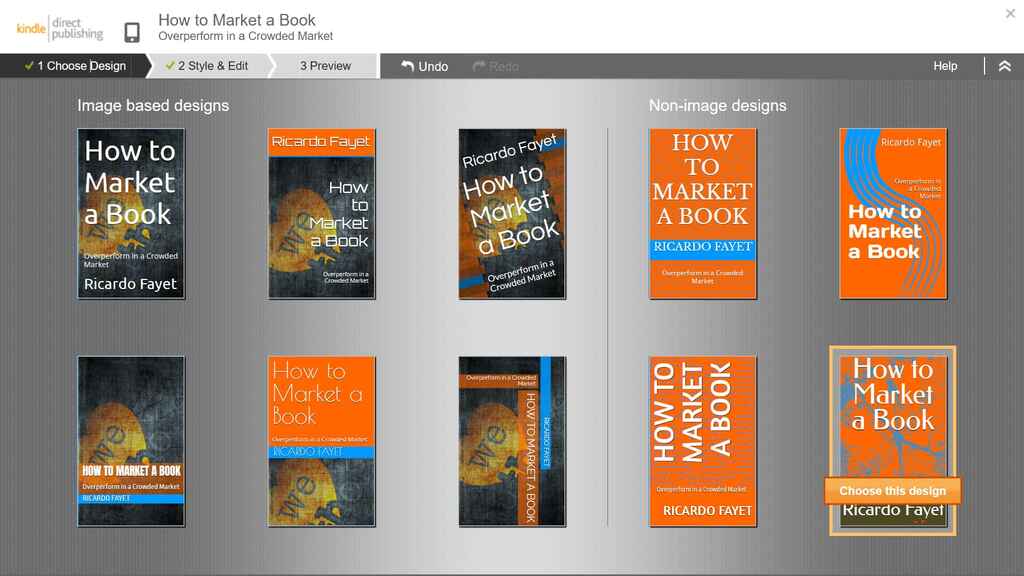 This tool has disappointed many users, especially those who remember Amazon's defunct (and apparently superior) cover creation tool. As one commenter on KDP's forum put it: "Words cannot express the drop in quality from the Createspace Cover Creator to the KDP cover creator (but I'll certainly try). 
"It's like they rounded up a bunch of second semester undergrad graphic designers, got them tripping on mushrooms and told them they needed to create a cover design platform in six hours."
So while KDP's cover creator is a free option available to you, common sense suggests you'll be better off investigating some other solutions. 
🎨 Learn more about how to develop a unique cover, from start to finish, in 6 steps. 
4. PosterMyWall
Cost: Free or $9.95/mo
PosterMyWall offers a vast collection of Kindle ebook cover templates, nicely categorized by genre. But while you can stumble upon a few good options, most of the templates are poorly designed. In terms of user-friendliness, their interface shares similarities with Adobe Express and Canva, but we found it less intuitive and straightforward to navigate.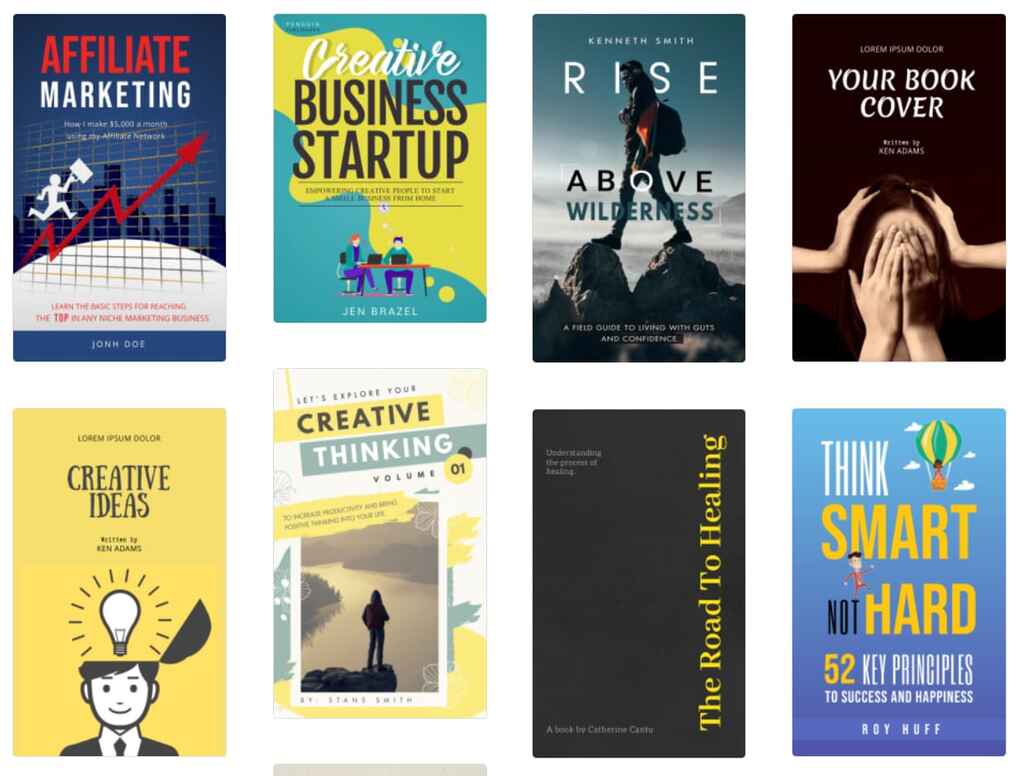 The app is unique in that it's connected to Getty Images and Storyblocks, unlike other services that primarily use royalty-free stock image sites like Pixabay, Pexels, and Unsplash. This allows for more creative flexibility if you're planning a photography-based cover. Just make sure to check the terms and conditions of using the licensed assets. For example, you can only use Getty images for commercial purposes up to 10,000 units.
One positive thing is that PosterMyWall exports the cover in the standard Kindle size of 2560 x 1600px, which is what most authors using these types of services are looking for. Free downloads are available, but in a lower resolution with watermarks. For a one-off high-quality version, you can pay $3-8, which might make a monthly subscription a better choice since you'll get unlimited high-res image downloads.
5. Placeit
Cost: Pay per design or $9.99/mo
Placeit is primarily a tool for creating mockups and logos, although they do provide a modest assortment of book cover templates, with a focus on cookbooks, fantasy, and horror genres.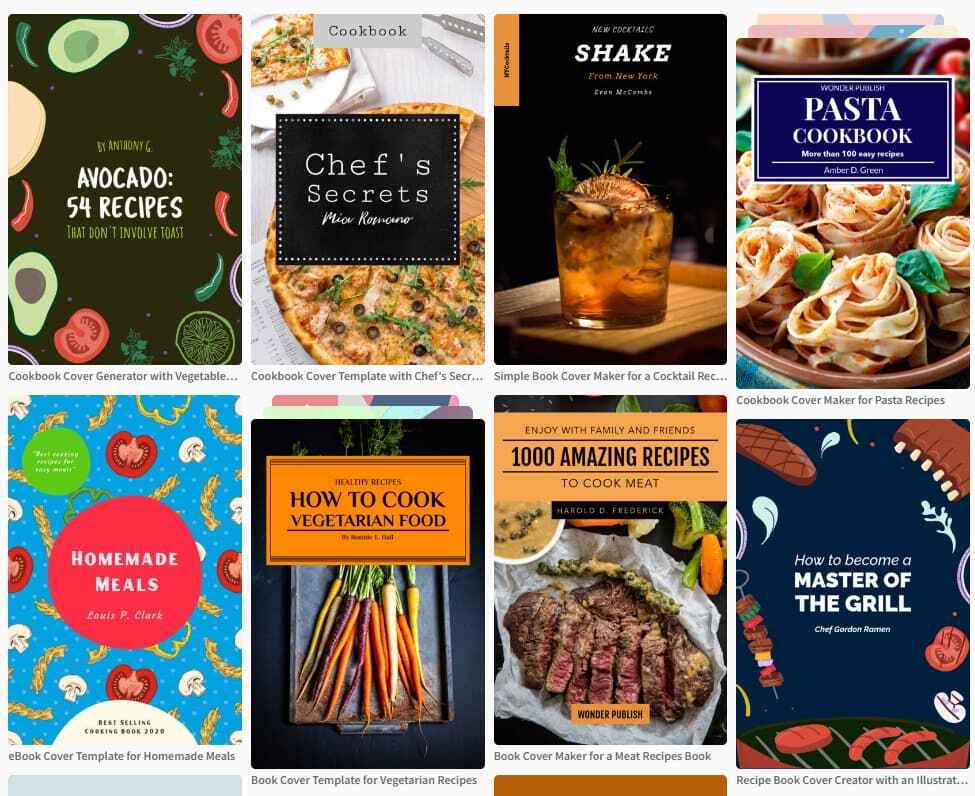 Unfortunately, the designs tend to be overcrowded and hard to "read at a glance," and the cover editor is not the most user-friendly. Also, you won't be able to customize the dimensions of the cover, though they offer several formats that you can export all at once. Overall, you'll be better off creating the cover with other tools and use Placeit to generate book mockups for promotional purposes instead.
6. Visme
Cost: Starts at $12.25/mo
Another all-in-one platform, Visme helps people create presentations, social media content, and, among other things, book covers. However, publishing is not the main focus of the platform 一 at the time of writing, there are only 25 templates available to edit, most of which are somewhat basic.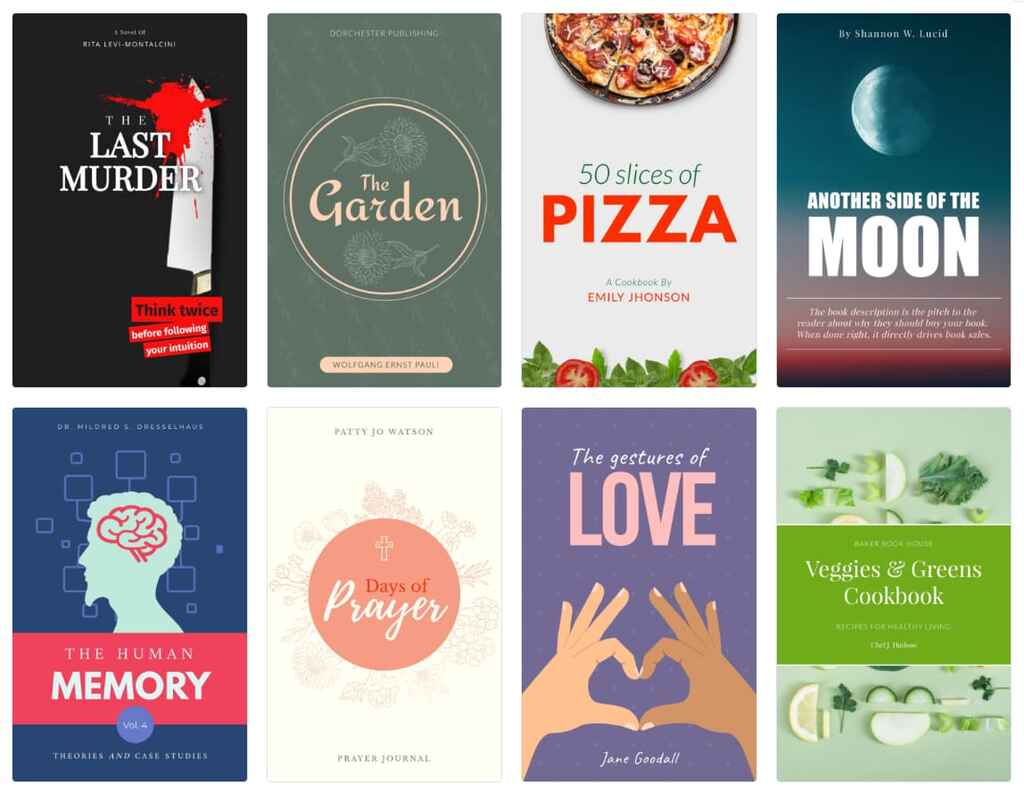 Visme's platform feels modern and intuitive, though less practical than other tools (e.g. Canva.) They have integrated artificial intelligence in their editor, which allows you to generate either images or text for your cover. But the results are rather bleak, so it's better to stick to the regular stock photos and design elements.
One perk is that you can download your cover file as a PDF with bleed marks that show the area that will be trimmed. But to download any type of file (with or without marks) you need to have either the Starter or Premium subscription. 
---
This concludes our mini guide on how to use free (or inexpensive) templates to give your book's interior and exterior a professional look. Though these templates are a great place to start, remember that when it comes to cover design, paying for unique artwork that communicates your book's content and genre in an original manner usually results in more clicks and sales. Regardless, we wish you the best in your self-publishing journey!