Last updated on Dec 31, 2021
How Much Does It Cost to Self-Publish a Book in 2022?
Writing and publishing a book is one of the most rewarding things you can do in life. As an author, you create something beautiful and unique that readers will cherish forever. But once you finish writing, you might be curious how to get your book out into the world — and perhaps more importantly, how much will it cost to publish?
Luckily, this post is dedicated to answering that very query. Here we've broken down the cost of self-publishing by type and quality of service, so you can know exactly what you're getting for your money.
Feel free to jump ahead using the table of contents to your left (we even have a handy-dandy quiz that you can take if you want to get a personalized cost estimate upfront). Otherwise, let's start with the million-dollar question itself. 🤑
How much does it cost to publish a book?
The cost to publish a book depends on a) the length of the book and b) the level of quality you want. Most authors spend $2,000-$4,000 to self-publish their books — this includes editing, cover design, formatting, and marketing services.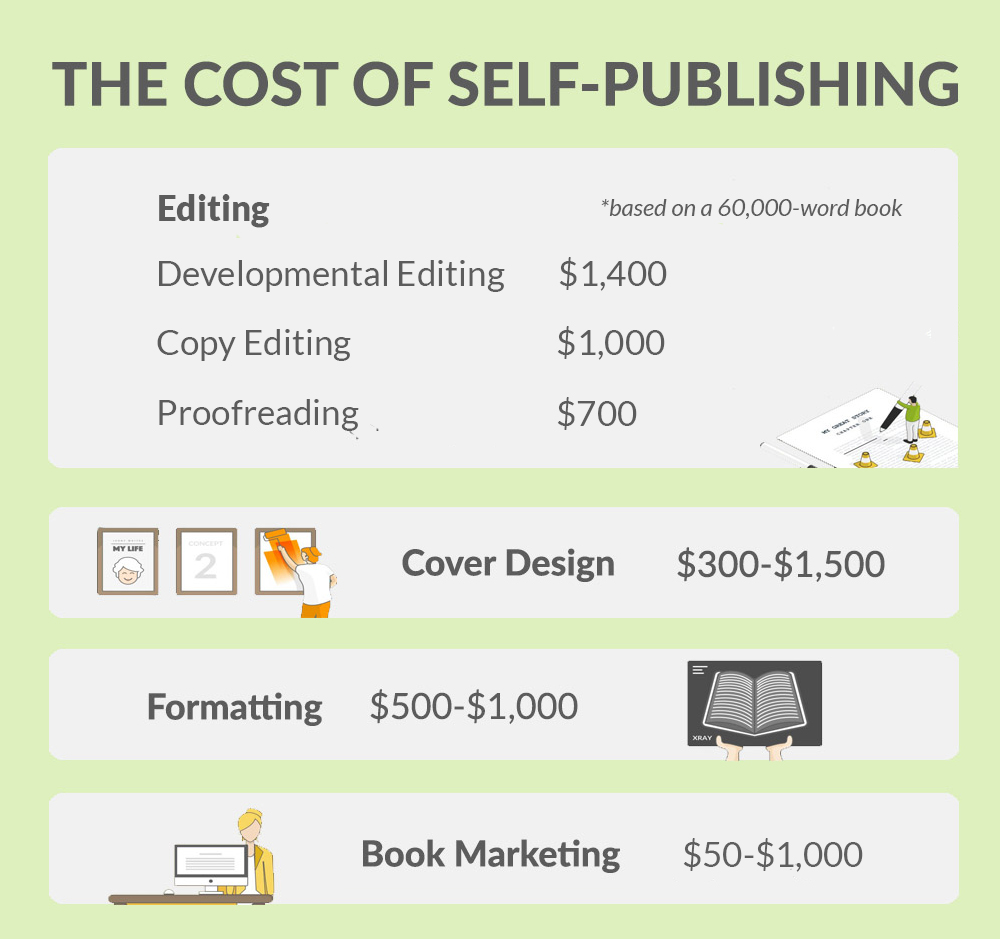 Please note: These averages do not include picture books and graphic novels, which, due to their low word-count, will naturally have a much higher per-word editing rate.  
Of course, if you just want to get your book out there, you can always format it for free and use Amazon's self-publishing platform to make it available within 72 hours! For many people, writing the book is the greatest reward, and publishing is more of a formality.
But if you want to actually sell your book, you'll need to invest in some high-quality services — otherwise, you have no chance of competing with traditionally published books. Yes, you can pick and choose which services to splurge on, but you can't deny that certain things (like a strong cover design) are absolutely essential to book sales.
The rest of this post assumes that your goal is to create a beautiful, successful book with the help of qualified professionals. Now let's see how much those professionals are going to cost, along with the possible price ranges for each.
Editing costs
There are a few different types of professional editing you can have done — namely developmental editing, copy editing, and proofreading. If your book isn't quite ready for these steps, you can get an editorial assessment to figure out where you need to improve!
Average editing costs based on a 60,000-word manuscript:
Developmental editing — $1,400 (or about $7 per page)
Copy editing — $1,000 (or about $5 per page)
Proofreading — $700 (or about $3 per page)
A developmental editor will charge you the most because they take an in-depth look at every part of your story. Copy editing is moderately expensive, examining the mechanics of your writing. Proofreading is the least-expensive final-check stage of the process. (Copy editing and proofreading may also be combined at a discount rate.)
The genre of your book can also impact editing costs — which may surprise you, but it makes sense! For example, historical fiction and non-fiction have the highest editing costs, because they often require fact-checking or academic background. Similarly, editors for comics and children's books (genres with a much lower word count) will have a much higher per word rate. After all, a picture book might be 1,000 words long — and an editor cannot pay the rent if they charge just 1/80 the amount that they would for an 80,000-word novel.
To give you a better idea of how much you can expect to pay for editing, use the calculator below.
Pricing calculator
Calculate the average cost of editing services for your genre.
Editorial Assessment
Developmental Editing
Copy Editing
Proofreading
Copy Editing + Proofreading
What else affects editing costs?
The infographic above should give you a pretty accurate sense of what you'll spend on editing. However, here are a couple more factors to consider:
1. How "advanced" your manuscript is. Are you handing in a super-rough draft that you haven't even checked for typos? Or has it gone through multiple rounds of self-editing based on other people's feedback? The former will obviously cost more than the latter.
2. The density of your text. This typically coincides with your genre. However, if your book is unusual in that sense (e.g. a literary novel with fairly simple prose), you should adjust your expectations accordingly. The denser the text, the pricier the edit.
3. What level of experience you want. An editor with years of experience (especially with a major publisher) will cost much more than a total newbie. You'll probably look for someone in between — a happy medium.
And where's the best place to look? Reedsy, of course.
Over 2,000 of the best editors are on Reedsy. Sign up to meet them within seconds!
Learn how Reedsy can help you craft a beautiful book.
Indexing costs
If you're publishing non-fiction, you may also need professional indexing to help readers navigate your book by topic. Indexes are only required for print editions but are completely essential if you want to sell your title to bookstores and libraries. 
Based on quotes issued by Reedsy indexers in 2020, the average cost of indexing a 60,000-word book ranges between $450 and $825 (or $7.15 and $13.75 per 1,000 words).
As with editors, many factors will affect an indexer's quote, including their level of experience, the density of your text, and whether your book is highly technical (therefore requiring extra attention and research). Some indexers have charged as much as $18 per thousand words — but in those cases, their client feedback has always been glowing. As they say: quality doesn't come cheap.
Why should you get an index? Let one of Reedsy's top professionals reveal the value of a professional indexer.
Cover design costs
While you do have the option to create your own book cover, we strongly recommend hiring a pro designer. Why? Because, again, you want to actually make book sales — and very few people buy books with amateur covers. In that sense, getting an experienced designer is perhaps the most important part of this process.
Cover design costs based on relative experience:
Novice designer — $300-$500
Experienced designer (2+ years) — $500-$800
Veteran designer (10+ years) — $800-$1,500
The longer a designer has been working and the more skills they've acquired, the more expensive they will be to hire. Of course, you might luck out and find a talented beginner who doesn't charge much! But most authors end up paying at least $500 for a high-quality book cover design.
What else affects cover design costs?
1. The style and complexity of the design. For example, an elaborate illustrated cover would cost more than a simple photo-based one.
2. The number of "rounds" your designer does. If their first iteration of your cover looks good, then you're all set! But you may end up asking for a few tweaks or even an entirely different design, which will obviously raise the cost.
3. Whether it's an ebook or print cover. Print book covers require attention to dimensions, as well as a spine and back cover design, which can really add up in terms of cost. Ebook covers, meanwhile, need to make sense as thumbnails.
Formatting costs
By "formatting costs," we mean the costs of interior design and typesetting. However, these terms are pretty interchangeable: it's the process of setting text onto a page. And once again, there are multiple factors that affect the cost (which we'll cover in a second).
Formatting costs based on data from Reedsy projects:
48% of people pay less than $500 for book formatting
30% of people pay $500-$1,000 for book formatting
10% of people pay $1,000-$1,500 for book formatting
12% of people pay $1,500+ for book formatting
Exactly what are you paying for here, you may ask? The factors are similar to those previously mentioned:
1. Level of experience. Though not as crucial as with cover design, you'll want your interior layout designer to have worked on a few books before yours. But no need to hire an expensive formatter with decades of experience unless you have the budget for it.
2. Manuscript length. Longer books take more time to format — not just applying the design to the text, but also double-checking for widows, orphans, and other aesthetically unpleasing elements on each page.
3. How "graphically intense" the project is. A novel, for example, is much simpler to format than a cookbook, which will have many images and unusually formatted text.
Ultimately, you can expect to spend at least $500 on a professional formatting job, the same as cover design. But unlike with cover design, an amateur typesetting job won't ruin your chances of selling books!
On that note, if you're on a tight budget, why not take the Reedsy Book Editor for a spin? It's completely free to use, so you may as well try it before committing one way or the other. Check out the video tutorial below on how to use the RBE.
Marketing costs
Once you've self-published a book, you usually have to market it to get the word out — but that doesn't mean it needs to be expensive! Most authors spend between $50-$200 on their marketing campaigns, which is a pretty reasonable range for first-timers.
Here's a selection of book marketing techniques and how much they cost, so you can decide which path(s) to take. You can also hire a marketing professional to do all this for you if you'd prefer to focus on writing, which will cost around $1,000. However, keep in mind that such marketing experts often pay for themselves, as they maximize your ROI and book sales.
5 low-cost marketing tactics
1. Promote on social media. Advertise your book on Twitter, Instagram, and any other social accounts you may have. This is particularly effective if you already have a large following! Use plenty of hashtags and try to get other "bookfluencers" to promote you. 💰Cost: free!
2. Market through your blog and mailing list. Similarly, if you have readership on your blog or through a mailing list, you can promote your book there too. The costs are more variable here, depending on your platforms, but we'll give you some ballpark lower-end numbers. 💰Cost: $50/year for a website on Squarespace or Wix, $9.99/month for a Mailchimp subscription.
3. Facebook advertising. You can run targeted ads on Facebook to people who have indicated an interest in your subject matter. Be warned, however, that the expenses can really rack up. 💰Cost: at least $5/day.
4. Price promotions on Amazon. Many self-publishing authors go through Amazon KDP, and if you enroll in KDP Select, you can do price promotions on your book to attract readers! 💰Cost: free, but your ebook must be Amazon-exclusive for 90 days.
5. Other third-party promotions. Contact book review blogs and promotional services to get other people to spread the word! Book review blogs take free submissions, but most book promotion websites involve some sort of fee. 💰Cost: $0 for a review, $5-$50 for a promotional listing.
For more low-cost ways to market your book, check out these lesser-known book promotion hacks.
Additional costs
Depending on which route you go down, you may also have to pay for ebook distribution. The act of publishing your own book on Amazon, Apple Books, Kobo, etc. is free, but if you're using multiple platforms, it'll be helpful to have an aggregator
Some of these aggregators, like Draft2Digital and Smashwords, are free except for the royalty percentage they take. Others, like BookBaby, require a "flat fee" — which isn't worth it for most people, so try to avoid paying for ebook distribution if you can.
Print books are another story. Luckily, print-on-demand services make it easy for authors to only print the books they need and not accrue any extra costs or surplus copies. Check out that post for more info on POD services like IngramSpark and KDP Print.
QUIZ: How much will it cost to self-publish your book?
To sum it all up for you, we built this quiz to help calculate your total self-publishing costs. It takes just 30 seconds to take and find out how much it will cost to self-publish your book! All of our data is based on real quotes and collaborations directly from Reedsy's marketplace.
💸
How much will it cost you to self-publish?
Find out here! Takes 30 seconds.
5 ways to save on publishing costs
Yes, some paid services are indispensable to publishing. But that doesn't mean you can't save money while also getting what you need! In this section, we'll reveal five tips that could save you thousands without sacrificing an ounce of quality in your book.
1. Scout for talented but less-experienced professionals
There are tons of pros out there who are great at what they do but don't have much experience (for example, if they've only just graduated or changed careers). This makes them WAY more affordable than their "ten years with a Big 5 publisher" counterparts! So try and seek out editors and designers who have just a few projects under their belt — enough to prove their competence and abilities, but not so many that you'll be faced with an exorbitant price tag.
2. Self-edit extensively before hiring an editor
Another major cost-saving measure is to self-edit your manuscript before submitting it to editors. This is especially important for those hoping to get a developmental edit! If you haven't rewritten your manuscript as much as possible before submitting it, you'll end up paying them to tell you things you already know. Self-editing can help with copy editing costs, too; the smoother your word usage and descriptions, the less your copy editor will have to change.
3. Request a photo-based cover design
This one may be hard to hear, but if you really want to cut design costs, go with a photo-based cover rather than an illustrated one. The trick is to get a designer who can make it look classy and professional, not like something you made in MS Word. With a little bit of searching, you're sure to find someone who can achieve that perfect balance for a reasonable price.
If you're curious what a great photo-based cover looks like, check out our book cover art gallery! The cover of Damaged Joy, designed by Vanessa Mendozzi, is a perfect example of a simple photo design that's nonetheless eye-catching and appealing.
4. Grow your following before you publish
We've covered how to save on editing and design costs, but what about marketing costs? The best way to minimize your spending here is to establish a following early on — ideally, months to years before you even publish your book. That way, once you have published, you'll already have a built-in street team to support you.
Of course, building a following is much easier said than done, especially from the ground-up. An easy way "in" is to simply become more active on social media, where you can interact with others and construct your authorial image. You might also consider starting a blog if you don't already have one, so you can reach a consistent audience on your very own platform.
Focus first on providing valuable content and maintaining genuine relationships, rather than promoting your work. Eventually, you'll be able to snowball these relationships into a full-fledged community — and from there, convert them into customers and start making money as an author.
5. Choose professionals who've worked in your niche
Finally, make sure that the professionals you hire have worked in your genre or subject before. This may not seem like a big deal, but trust us: while a memoir editor might SAY she can edit a literary novel, they're two completely different beasts. Stay in your lane so as not to waste time or money on people who don't know how to deal with your text.
INFOGRAPHIC: The Cost of Self-Publishing
And now, without further ado: here we have all of Reedsy's self-publishing data presented in a single infographic. If you wanted all the juicy details on the REAL cost to publish a book, you've come to the right place.
---
Got any more questions about the cost of self-publishing? Feel free to leave them in the comments below!