How to Get an ISBN Number as a Self-Published Author
As a self-publishing author, you can get an ISBN barcode for your book by purchasing it from an ISBN agency like Bowker for $125, or for free from other publishers and distributors, like Draft2Digital. Keep in mind you'll need an ISBN number for each version of your title (e.g. print or ebook). 
1. Choose between free and paid ISBNs
There are a handful of big ISBN vendors, like Bowker and Nielsen, who are a lot of authors' go-to sources for ISBNs. However, depending on your publishing aims, it's also possible to also use cheap or free ISBNs. 
Where to get free ISBN numbers
In the US and UK, many aggregators (companies that distribute your book to multiple retailers) will assign indie authors an ISBN for free, or at a discount. These aggregators include:
| | |
| --- | --- |
| Aggregator | Cost to assign an ISBN |
| Draft2Digital | Free |
| IngramSpark | Free |
| BookBaby | Discounted ($49 each) |
| eBookPartnership | Free |
Some government territories, such as Canada, provide free ISBN numbers (lucky you)! You can get more information about your regional providers in the second step of this how-to.
A note on ASINs
While we're talking about free ISBNs, it's worth mentioning an alternative: the ASIN. The ASIN functions similarly to the ISBN, but is only used within Amazon — and you're given one for free whenever you publish a book on Amazon. 
So why would you need both? Basically, while you cannot rely on a book's ASIN to find it outside of Amazon, you can always count on an ISBN.  For that reason, if you plan to "go wide" on other sites — or have distribution in brick-and-mortar stores — you'll need an ISBN in addition to an ASIN. If you plan to self-publish on Amazon exclusively, you can, by all means, forego the ISBN costs and stick to the free ASIN. 
👀
Do you need an ISBN number?
It'll only take a minute!
Why you might want to buy an ISBN anyway
So you can get an ISBN for free or at a discounted price, or if you're only publishing digitally on Amazon, you don't need an ISBN at all. So why would anyone ever pay for an ISBN? 
Aha! Here's the catch: when you register for an ISBN number through an aggregator like the ones we listed above, industry regulations mean that you are limited to the retail channels of that company alone, whereas simply buying an ISBN from the start means you can expand wherever you see fit. 
To show you what we mean: maybe you're selling your book on Amazon (an individual platform), and then decide to go wider through Draft2Digital (an aggregator). The former provides you with a free ASIN and the latter with a free ISBN. 
But let's say your sales aren't too strong, and you want to make your book available on other distribution channels, like BookBaby and eBookPartnership. If you don't have an independently-bought ISBN, you'll need to register for separate numbers from each of those publishing companies as well. This can snowball into you having several ISBNs and different publishers all listed for the same book, which looks seriously unprofessional and may harm your book's chances of getting stocked in brick-and-mortar bookstores and libraries.
Ultimately, it's up to you whether you want to keep your ISBN consistent between aggregators, or if you're happy with a mix. And if you aren't sure which decision is in your best interests, perhaps consider working with a professional book marketer to ensure you maximize your own chances of success.
Ready to publish your book?
Work with a professional marketer to make your launch a success.
Learn how Reedsy can help you craft a beautiful book.
2. Identify providers in your region 
Each country or territory has its own regional provider of ISBNs. Perhaps the best-known ISBN provider is Bowker, the official administrator for the United States. In the United Kingdom, authors can buy a number through Nielsen. 
To find out whether ISBNs are free in your country (and for instructions on requesting a number), you can look up your local agency here.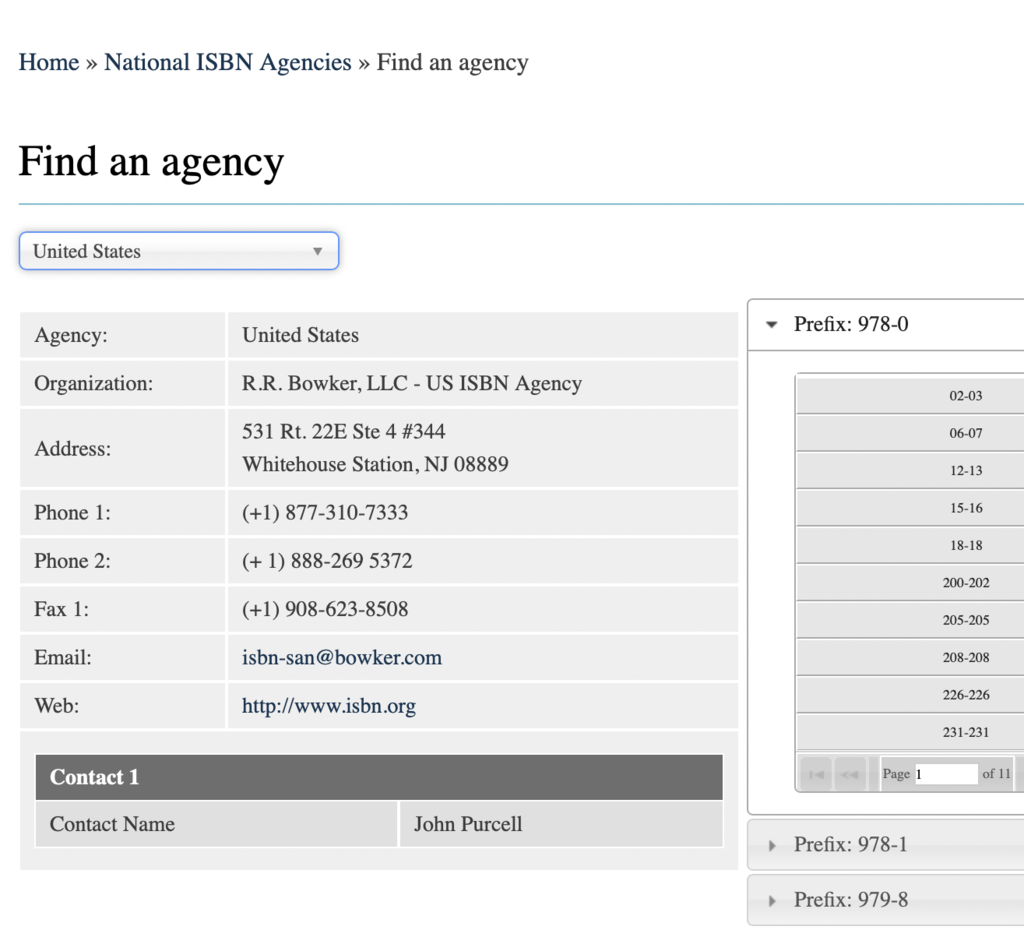 Once you've identified your local provider, you're ready to buy!
3. Buy ISBNs in bulk for the best value
One book, one ISBN needed, right? Not so fast.
Not only do ISBNs have a heavy discount on bulk purchases, but a single ISBN is rarely enough. Say you're publishing a paperback. If you ever want to revise or release that paperback in a new edition, you'll need a new ISBN. You'll also need another ISBN for a future hardcover edition, and the same applies to releasing an audiobook. If you make all those single purchases via Bowker, you're looking at $500 for 4 ISBNs, while a bulk purchase of 10 ISBNs will only set you back $295. 
Even if you're only working on one book at the moment, 10 ISBNs are a sensible investment when you're starting out. 
Bonus tip: Register your ISBN with Bowkerlink
Regardless of where you live or who provided your ISBN, once you have received your number, you should register it at Bowkerlink. This will automatically add your title to Bowker's Books In Print: a bibliographic database consulted by libraries around the world. Books In Print currently hosts about 7.5 million US book, audiobook, and movie titles, as well as 12 million international titles — and yours is about to be one of them!
Free course: How to Get Your Book into Libraries
Tap into a world of new readers by getting your book into national libraries. Get started now.
Now you've sorted out all the practicalities and your book is ready for sale, why not check out more of our resources on what to do next. If you haven't yet got a plan in place for promoting your book, our guide on that is a good place to start!