Last updated on Mar 17, 2023
How to Design a Book Cover That Stands Out In 6 Steps
If you want your book to stand out among other titles in your genre, you'll need a world-class cover design. There's a delicate art to designing a book cover that is beautiful, eye-catching, and marketable at the same time — which is why almost every successful author (even self-published ones) collaborates with professional designers to bring their book to life. 
In this guide, we'll teach you how to create a wonderful cover that readers can proudly display on their shelves. Here's how to design a book cover in six steps: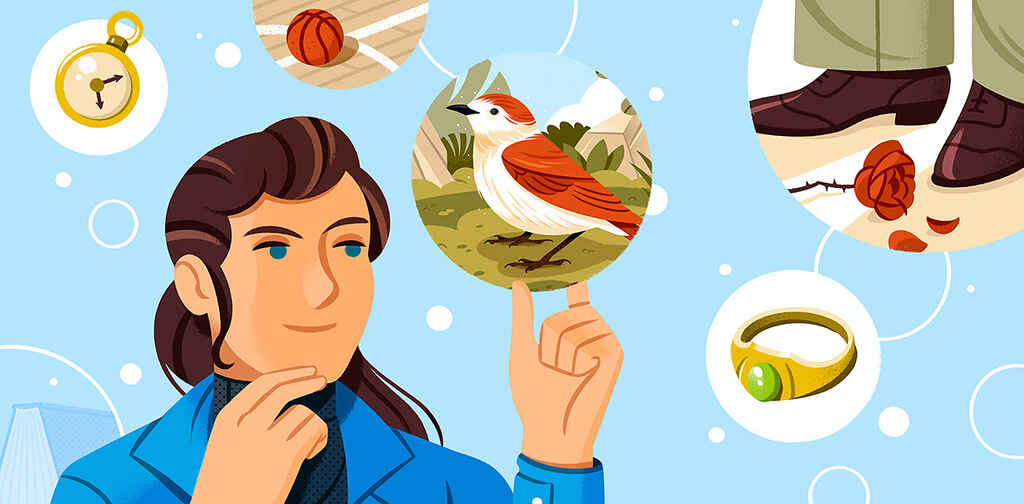 Book Cover Concept Worksheet
Use our step-by-step template to create a strong cover concept.
1. Gather book covers you like
The best way to start the process is by collecting ideas and inspiration from images, illustrations, and other book covers you like. Designers appreciate it when a client gives them a creative direction while still leaving room for them to bring their talent to the table. 
Besides your own bookshelves, there are several places you can look for inspiration, such as: 
Bookstores. There's nothing quite like entering a bookstore and getting lost amongst the shelves, seeing which book covers naturally draw you in.  You may roam the shopfloor and see the range of what's on offer, but pay particular attention to the section where your book would be shelved (based on your genre or category). The books there are both your inspiration and your competition. 
Amazon. Browse Amazon's book page to find books categorized by genre, bestsellers, "best of the month", and so on. Take note of covers that stand out based solely on the thumbnail cover, as a big portion of your book sales will likely come from Amazon and other online retailers. 
Online galleries. Other wells of inspiration include the Book Cover Archive, Reedsy's book cover gallery, and Dribbble, where you can search for designs using the book cover tag.
Social media. You can lose yourself for hours, blissfully browsing through Instagram accounts like booksandlala or Astrid Ortiz's collection on Pinterest, where book fans can collect their favorite jacket designs.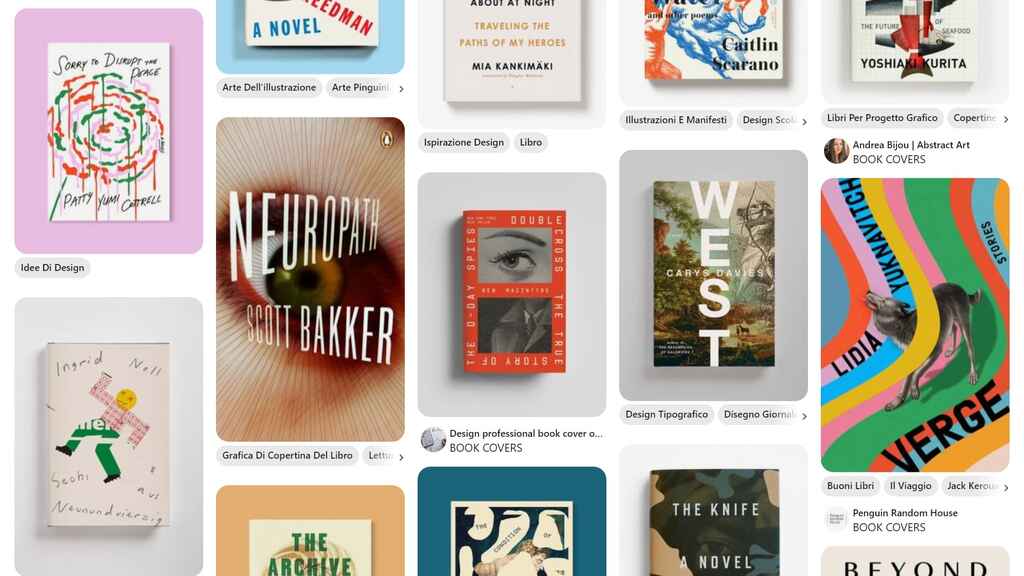 Take note of the types of covers that capture your attention, as well as photos and illustrations that you think may fit your title nicely. You can take screenshots, save the titles in an Amazon list, or create a collage using tools like Milanote. 
As mentioned earlier, it's important to watch for designs in your book's genre to try to spot common tropes. 
Pay attention to your genre's tropes
You don't just want your cover to look pretty; you also want it to be well-positioned for market success. That often means it needs to feature some of the visual cues your readers expect to see in your genre. For example, at the time of publishing, a common motif on the covers of crime novels is a dark house with a lit window and a blue and yellow color scheme. This is what we call a genre indicator.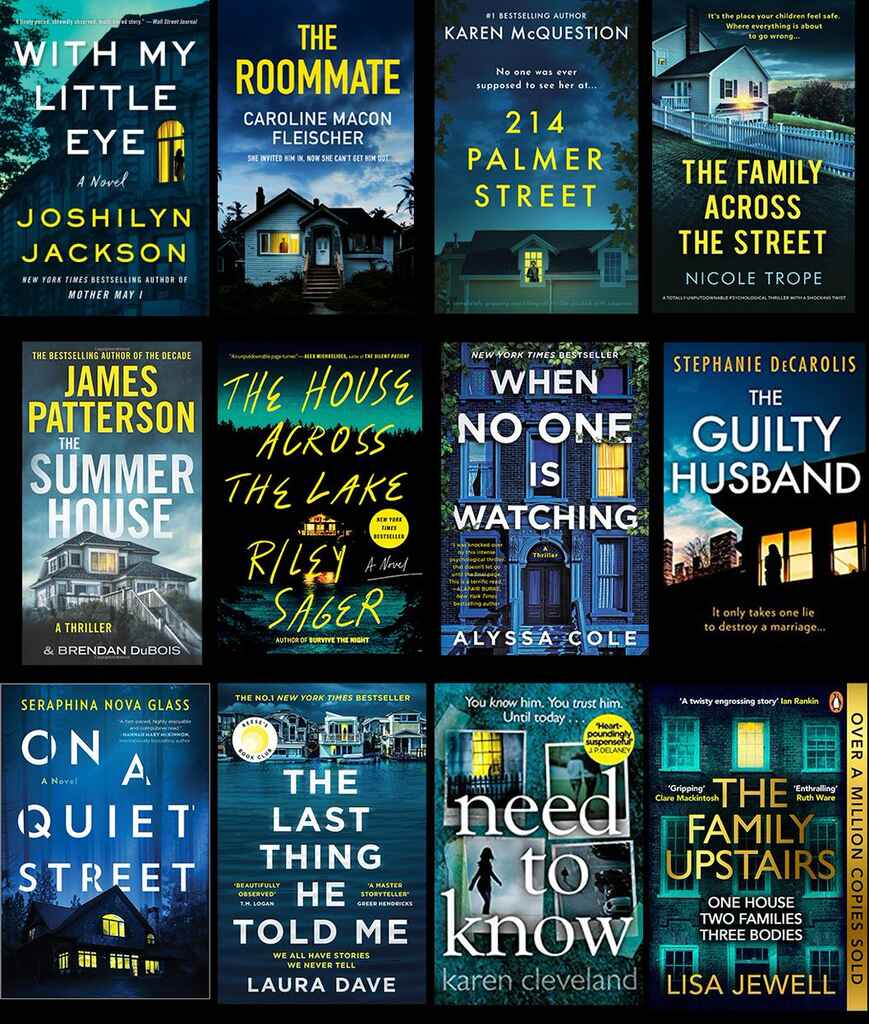 There are tropes for almost every genre. For example, romance and cozy mystery often feature illustrated designs, while it's standard for paranormal fantasy novels to include a realistic character on the cover. While you shouldn't blindly follow these trends for your own cover (as you might run the risk of blending in too much and going unnoticed), it's good to have a sense of what they are. 
Overall, it can be tough to stay on top of book cover trends and know how to wield them in your favor, while also coming up with an original concept, which is why you may want to work with an experienced, professional designer who can take your ideas and run with them.
2. Search for experienced cover designers
With the help of free design tools like Canva and Adobe Express, it's now easier than ever for self-publishing authors to create their own covers. By the same token, heart patients can 3D-print their own pacemakers these days, but it's highly inadvisable. If you want a world-class cover that gives your book a real chance to compete on the market, there's no way around hiring a professional designer.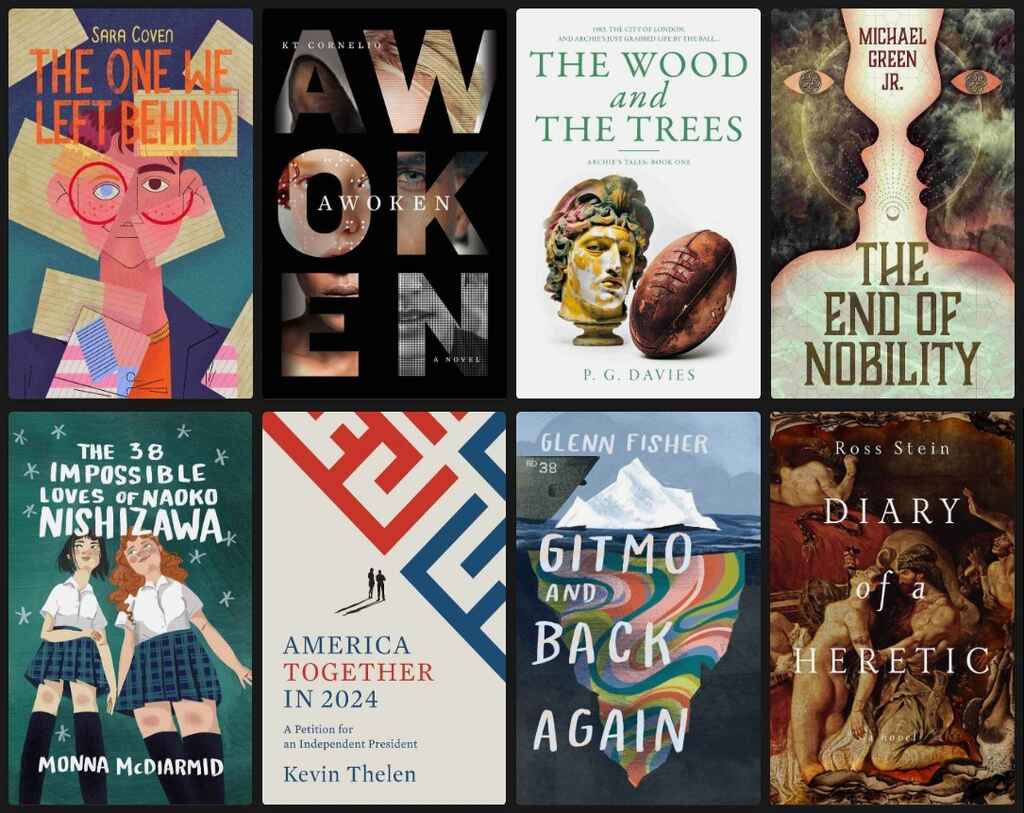 For the best results, you'll want to seek out someone with professional experience and a proven track record in the industry. Someone who can balance unique concepts with all-important genre indicators, and who can design a cover that communicates, at a glance, what your book is about.
💰Do professionally designed book covers actually drive more clicks and sales? We ran a test, and found that, on average, they lead to a 35% increase in book marketability.
You can find designers and illustrators for hire on marketplaces like Fiverr and Upwork 一 but if you're looking for specialists with decades-long careers and experience at major publishing houses, look no further than Reedsy's marketplace.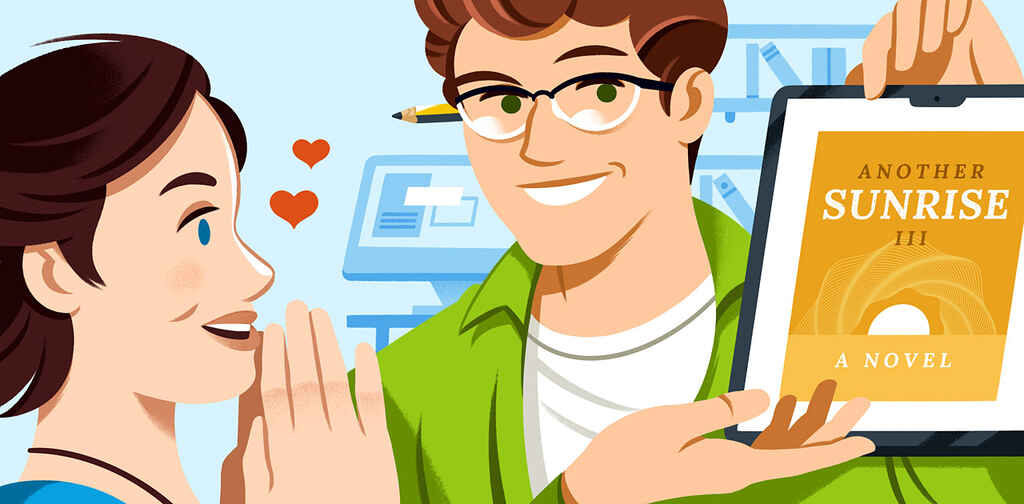 Get an amazing book cover
Let readers judge your book by its (professionally-designed) cover.
Someone whose aesthetic you love
Wherever you hire your designer, you should be able to check out their portfolios to gauge their styles. Start shortlisting professionals whose artwork you'd be proud to feature on your cover, keeping a focus on selecting those familiar with your genre.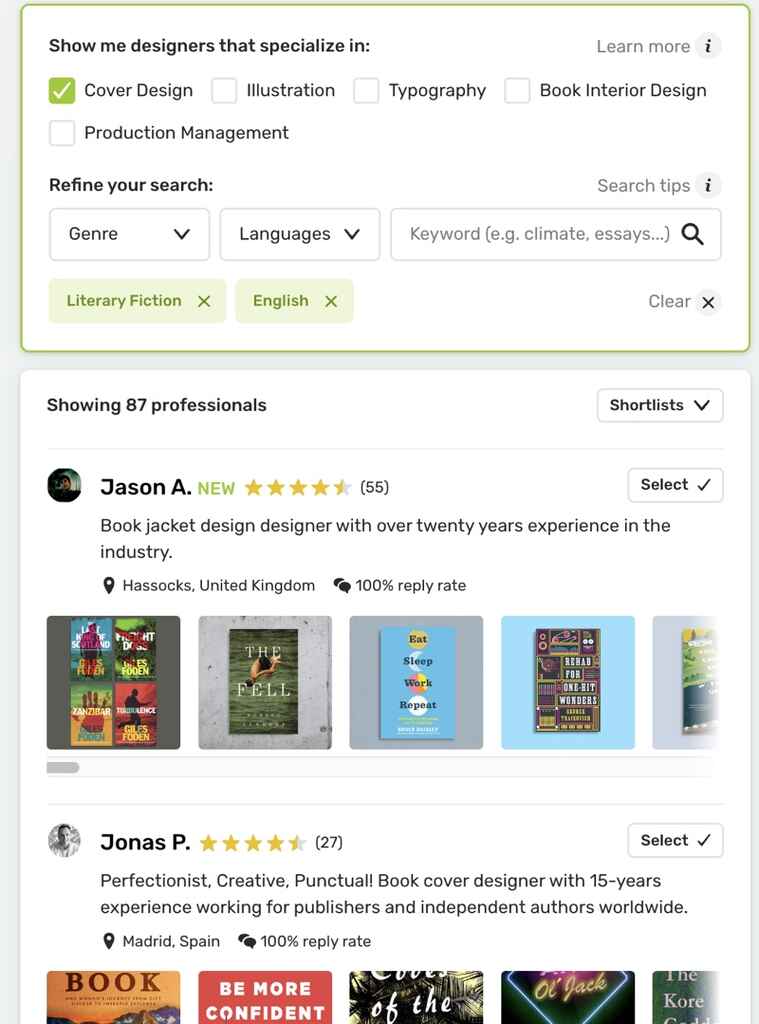 Once you've found a few suitable candidates, reach out to them to make a connection. If they are available and open to collaborating, you'll need to figure out the details of the project, like budget, timelines, deliverables, and more. 
3. Share your book details in a brief
To communicate to the designer what your book is about and other basic information, you'll need to fill out a cover design brief. The brief can vary, but to avoid any miscommunication, you should aim to provide the following information: 
Target market. First, you'll need to specify what genre your book falls into, and define your target audience's demographics (e.g. women between 25-45 years old, or teenagers between 13-18 years old). 
Book synopsis. Then, send them a book synopsis 一 a summary that allows them to understand the story arc and the main motifs of the book 一 since it's unlikely that they'll find the time to read it in full.
Main characters. You'll also need to provide some background information about the main protagonists of the story, emphasizing their most important external and internal traits.
Cover elements. You may also want to communicate what kind of cover elements you'd like to include, such as the book size, title, tagline, reviews, or other details.  
Design inspiration. Finally, you should link to the 5-10 book cover designs you collected in the first step of the process, as well as share additional mood boards or image folders you've put together for inspiration.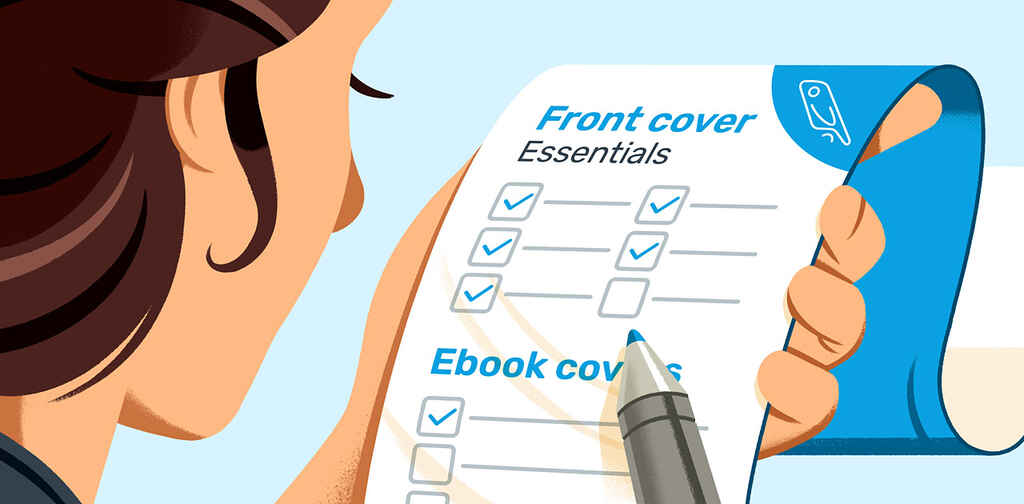 Cover Design Checklist
Make sure your book cover ticks all the boxes with our handy guide.
Take some time to fill out the design brief with all the information you deem relevant 一 it will serve as a roadmap for the designer to accurately capture the book's essence.
⏳Top tip: On Reedsy's marketplace, you can save time and get a range of quotes by submitting your brief to up to five designers at a time.
After you submit your brief, you'll receive a range of quotes that will depend on variables like the designer's experience, the complexity of the design, the number of "design rounds" you'll ask for, and so on. You can learn more about the average cost of hiring a pro designer in our guide on the cost of self-publishing, or by taking our quiz below.  
💸
What will it cost you to get a professional book cover?
Find out here! Takes 30 seconds.
Once you've evaluated the various collaboration offers and chosen the professional who best fits your project, it's finally time to get the creative process going, starting with identifying the main focus of the cover. 
4. Nail down the cover's main concept
Going from a brief to a beautiful, unique, and polished artwork is not a linear process 一 it's a creative effort that requires a synergetic collaboration between you and your designer. 
The first objective is to figure out the cover's basic concept, or, as the designer might ask: What's the feeling you want someone to have when they first see your book? To arrive at an answer, you may be asked what emotions best describe your story (e.g., mysterious, hopeful, dark) or what are some key elements of your story (e.g., a location, or a symbol).
For example, author Susanna Oreskovic worked with Reedsy designer Sarah Lahay for the cover of her memoir Expedition to Mystery Mountain 一 an adventure story in which she and five fellow climbers re-enact a 1926 expedition, right down to the vintage gear.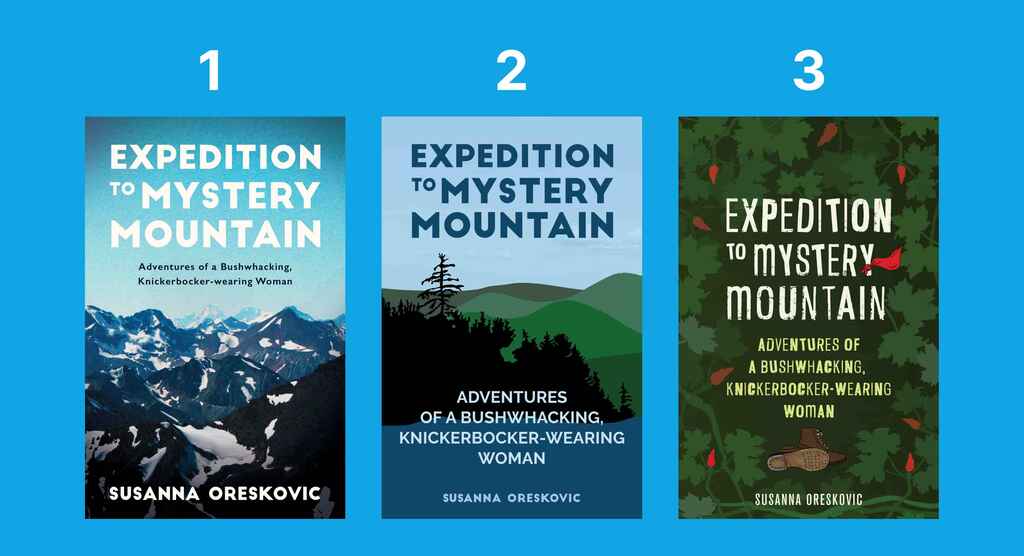 The first cover iteration is inspired by the expansive feeling of exploration, represented by the view from the top of the mountain. The second one brings the focus "closer to the ground" by shifting the perspective and including an outline of the wilderness, and highlights some of the keywords that came up in the design process, such as "camping", "bushwhacking", and "down-to-earth". The third iteration delves even deeper into the narrator's perspective: straight into the bushes and trekking through the valley (represented by the silhouette of the Devil's club leaves, the predominant plant in the location where the story is set). It also includes some iconic clothing, like vintage boots and a red scarf. 
Each concept captures the story from a different perspective. Ultimately, the author chose the third design direction because it better matched and sold the book's story, which is one of hardship and perseverance in the thick of the forest. 
While each designer will have their own way of working, you'll likely go through a similar process. Once the main focus of the cover is settled, the next step is to refine it in search of the perfect cover version. 
5. Experiment with typefaces and color schemes
There are many ways of representing a cover concept: from the illustration or image you work with, to the color scheme, typography, and layout you choose 一 the possibilities are endless. So, at this stage, the designer will play around with the main concept you've settled on together to develop it in different and interesting ways. Then, they'll present you with a few cover versions to ask what you'd like to keep, change, or tweak. 
To build on the previous example, in the image below you'll find two more iterations of the concept the author chose to proceed with. The first one features a slightly different color palette, but retains the silhouette of the plant leaves, and the scarf detail. The second one has a minimal design: a compass in the middle of two Devil's club branches. The color scheme is also much lighter, with vintage tones.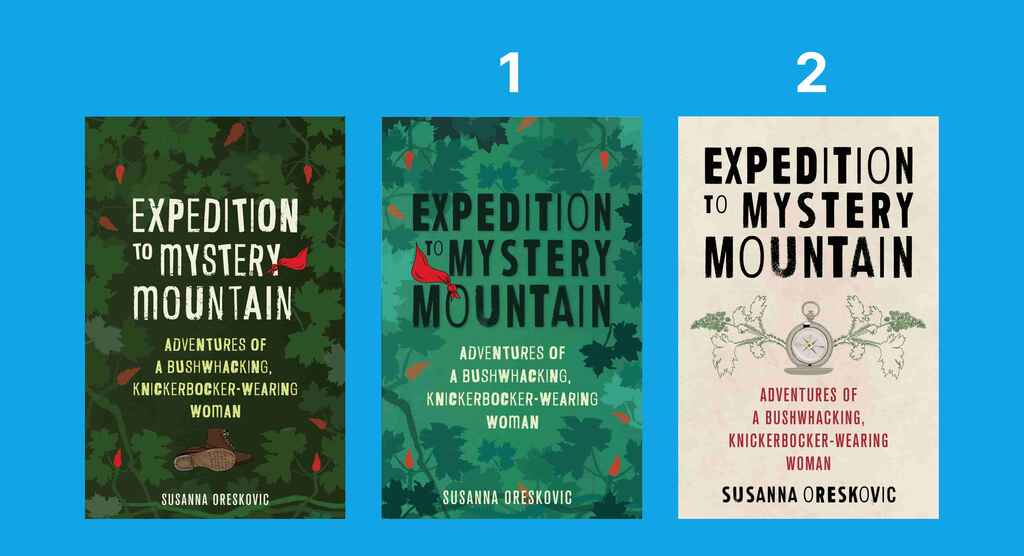 Ultimately, as you can see below, the author opted for a mix of the two, tying together the elements she loved the most: the vintage color scheme, an iconic piece of her uniform, and the down-to-earth feeling of the Devil's club leaves. She also picked a slightly more rounded font type, in a color combination that better matches the final design.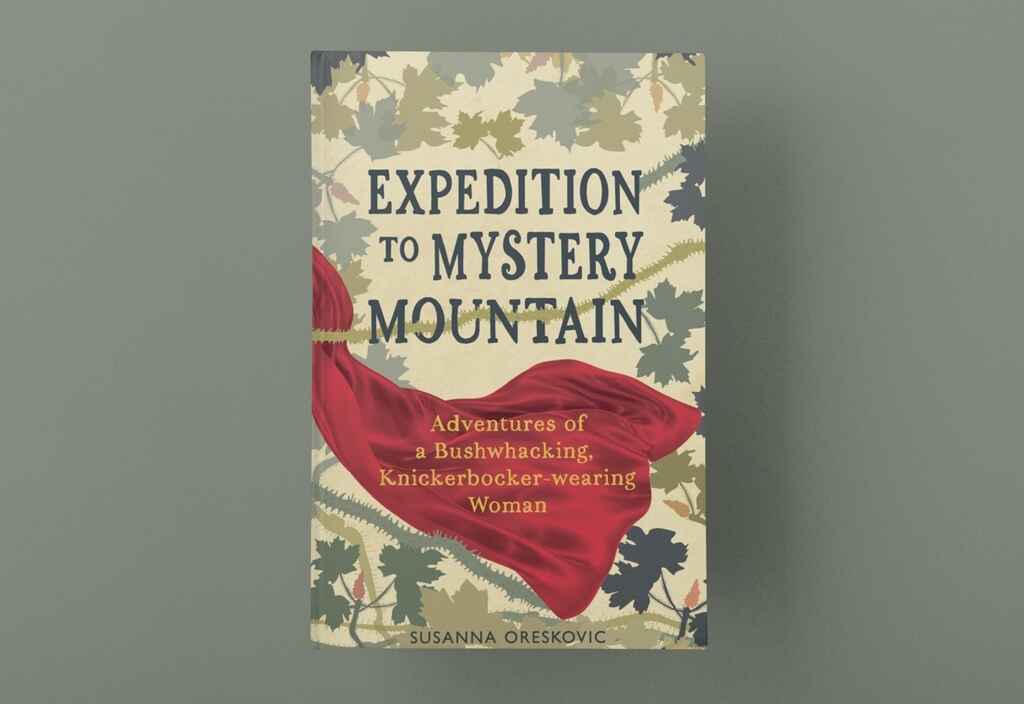 Again, settling on the final design will take some time and a few revisions, but you'll be amazed at the final result, and how it makes your book come to life. 
Get the rights for licenced images
The majority of book covers use licensed images from sites like Getty Images, iStock, and Shutterstock, which the designer then manipulates by adding or removing elements to create a unique piece of art. This is especially true for covers based on photography, as opposed to illustrated ones, which are often created from scratch. 
If your cover design includes licensed images, it's at this stage that you'll have to purchase the rights to use them. In fact, designers usually use watermarked and low-resolution images in their initial concepts until you approve the final (truly final) version. 
©️ Pro tip: As the designer usually licenses the images, you should always negotiate and confirm the license terms (and limits). If possible, try to purchase the license yourself, so that you'll always retain the right to use the images in your published work.
Once you're satisfied with the end result — and have a design ready to take the publishing world by storm — it's just a matter of putting on the final touches and generating your print-ready cover files. 
6. Finalize the printing requirement
As you may have already guessed, a book cover is more than just the front cover. Before you publish, the designer will need to put on the finishing touches. In most cases, they will need to create a back cover, spine, and perhaps even flaps, to make sure it fits your intended print formats. 
Refine other cover details 
At this point, there are a few more critical decisions to make. For example, if you have a one-line review from another author or an authoritative profile, you can include that on the front or back cover. On the latter, you may also add a blurb, your author bio, logo, and leave some space for the ISBN barcode.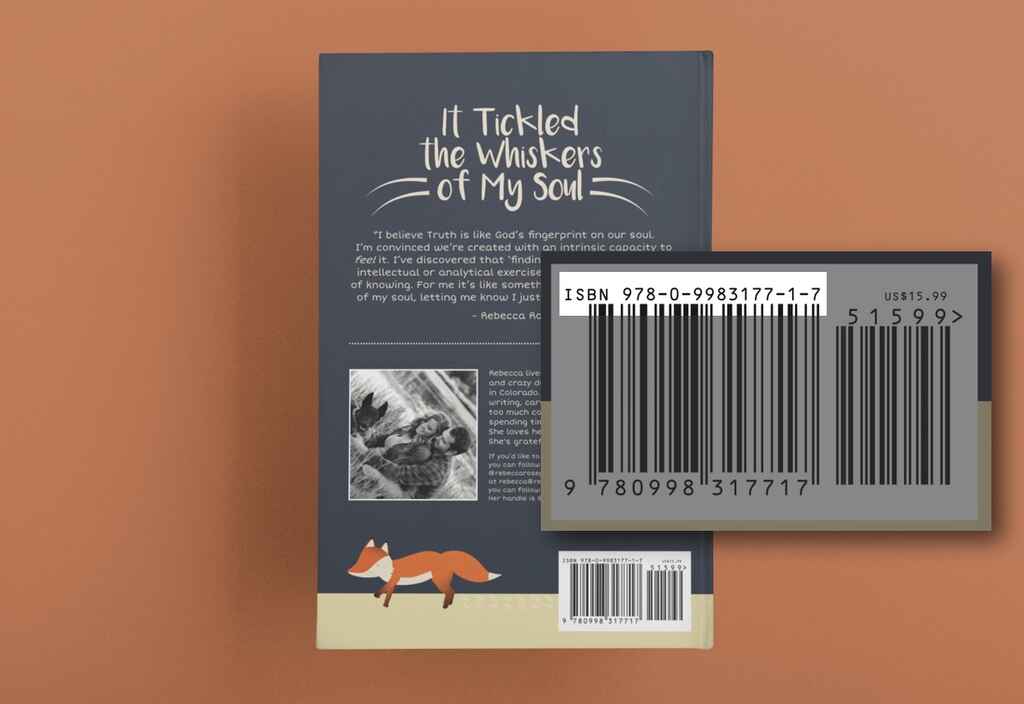 If you're not sure what to include, learn more about back cover design and ask for advice from your designer 一 they'll have plenty of tips to guide you. Once you've squared every corner of your cover, it's time to finalize the files for upload and print. 
Get the correct cover dimensions
Regardless of whether you're doing an offset print, list the title for print-on-demand, or make it available digital-only, you need to get your cover dimensions right. 
Ebooks
For ebooks, the standard front cover size on KDP is 2560 x 1600px, while other retailers, like Apple Books, Barnes and Noble, and Kobo, each have slightly different requirements. Ebook covers should be in PNG or JPEG format, and compressed as little as possible to avoid quality loss. 
Print books
If you're publishing a physical edition, you'll also need to consider the requirements for the back cover, spine, and even the flaps (for hardcovers). In particular, it can be tricky to get the spine right, since it depends on the book format, binding type, paper stock, and page count you choose.
Luckily, every major digital and print provider will provide authors with a way to calculate their book cover dimensions (also referred to as trim size). These online tools will either generate a template that the designer can upload to their design software, or provide the right specifications to ensure everything is pixel-perfect. 
Here's where you can find those requirements for some of the biggest print-on-demand providers: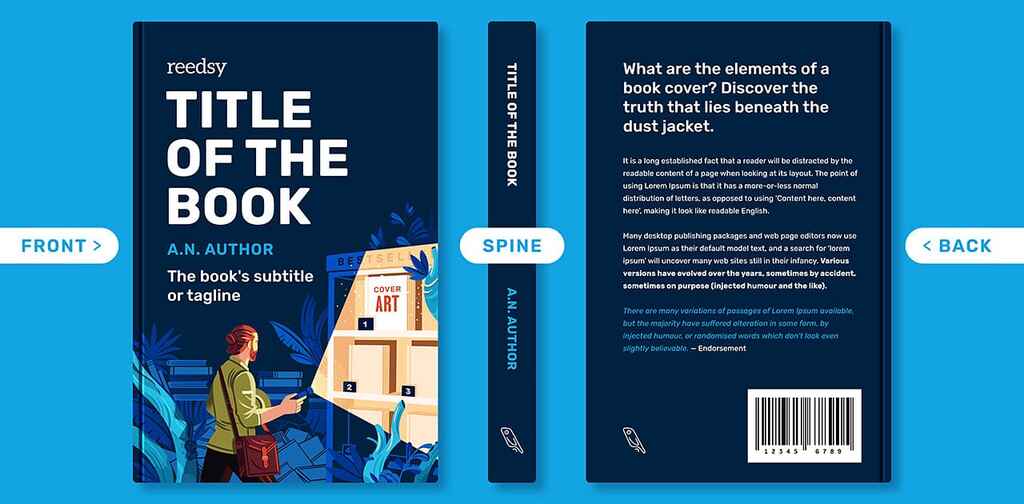 Once you've checked your required cover dimensions, the designer will create and send you the print-ready PDF files to upload on your selected print or distribution service's platform. 
Export your book cover files
You finally have it: a shiny, brand-new book cover you can use to represent your book on the shelves and across all marketing channels. Depending on what you've agreed on, the designer might also send you a variety of 3D mockup images to use on digital ads, social media cover photos, or on your author's website.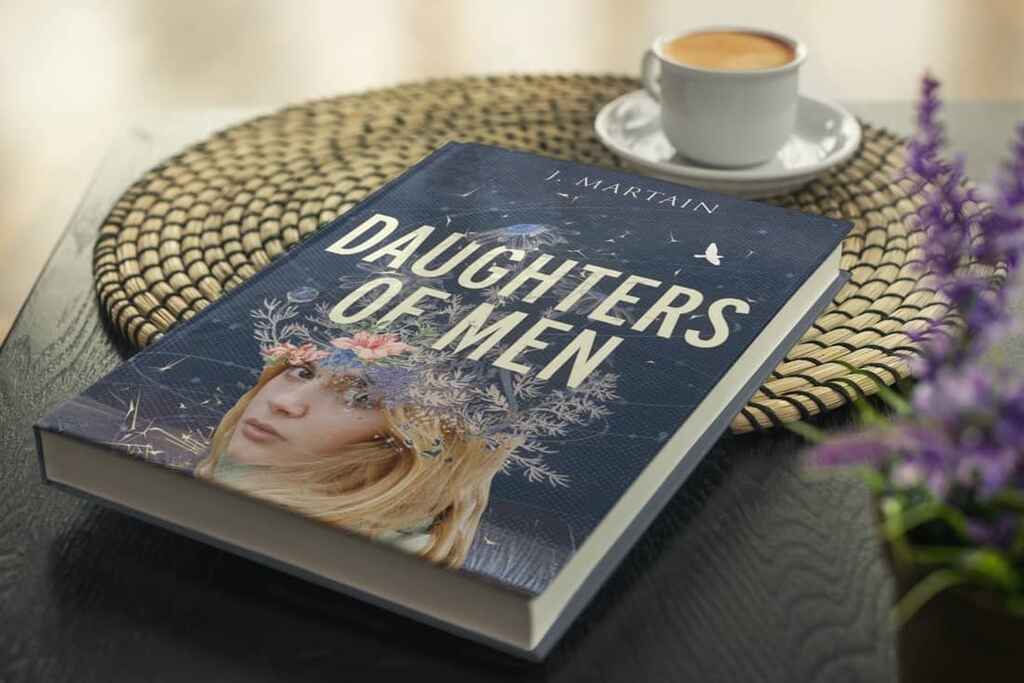 And this is how you design a cover from start to finish, going from a rough idea to an artwork that will attract readers' eyes, help you sell copies, and establish your brand as an author. One that, simply, you'll be proud (oh, so proud!) to show your friends and family.