Audiobooks: Your Guide to the Fastest Growing Format
The audiobook boom has taken the publishing industry by storm in recent years. In 2020, US audiobooks sales eclipsed eBook sales for the first time, reaching an impressive $1.2 billion, and the market is expected to reach $3.26 billion globally in the coming year. Many authors and publishing companies have capitalized on this increased consumer demand for audio content by adapting their books so people can listen to them at the press of a button — whenever they want and wherever they are.
This series of posts will take you through how to produce, record, distribute and market your audiobook. But first, let's take a look at the medium and why authors and readers alike are hopping on the bandwagon. All aboard!
A brief history of audiobooks
An audiobook is a narrated recording of a book, often produced as a downloadable sound file. They are typically purchased from audiobook sites or subscription services and streamed from portable devices, like phones. If you're in any way tuned in to the internet, that probably isn't news to you.
You might, however, be surprised to hear that audiobooks can be traced back as far as 1932. First conceived to help visually impaired people access and enjoy great storytelling, The American Association of the Blind released 15-minute versions of popular tales.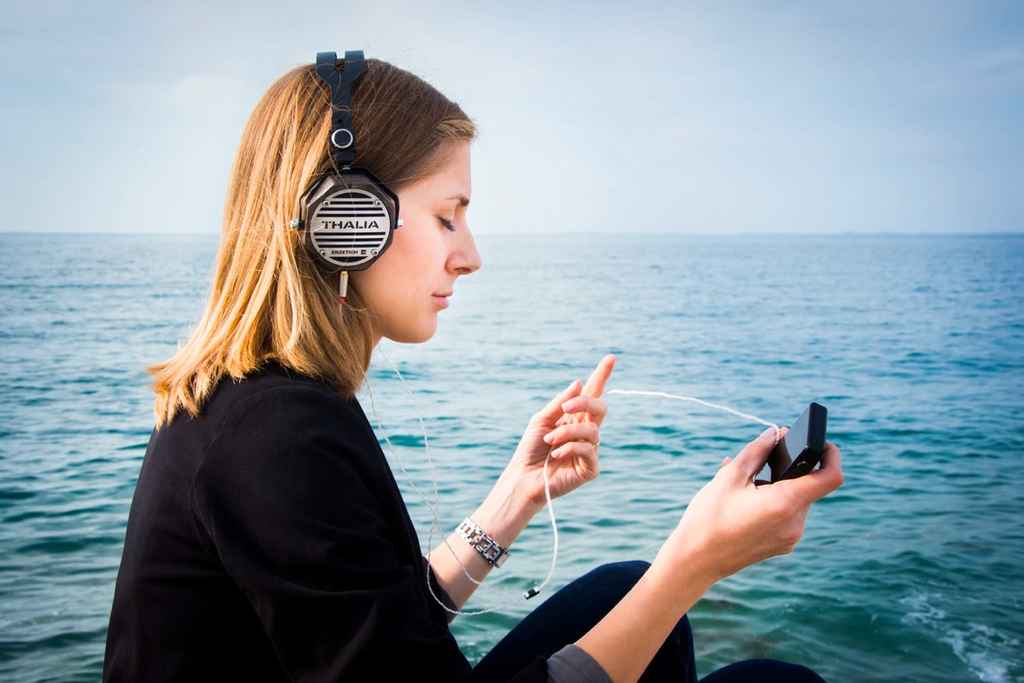 In more recent times, the invention of new listening modes like cassette tapes, CDs, and portable media players allowed audiobooks to hit the mainstream — you might even remember a time when listening to books on tape in the car was all the rage! In the late 2000s, the advent of digital downloading caused a mass migration away from physical books to sound files, as phones became a means to access various media, including audiobooks. 
This shift to the digital sphere has lowered the costs for creators and consumers alike, allowing more and more people to catch the audiobook bug: the medium reported 21.5% growth from 2016 to 2018, and sales of $2.5bn, which is certainly nothing to sniff at. It's also becoming more and more pertinent to sales and marketing strategies for publishers to issue audio editions. 
The audiobook community
An audiobook, if narrated and produced well, can really enrich the story experience. Paid-up audiobook aficionados develop preferences for certain narrators, depending on their personal tastes and when they listen to audiobooks. Some narrators have become celebrities of sorts, with listeners actively seeking out titles they narrate. 
These so-called "celebrity" narrators can attract a following for a variety of reasons. Julia Whelan, for example — the narrator of Gone Girl, The Conspiracy of Us, and numerous other bestsellers — is known for her soothing and engaging voice. 
There's also the likes of Jim Dale, who created 134 voices for his narration of all seven of the Harry Potter series. Having amassed a passionate following for narrating classics like Peter Pan, Around the World in Eighty Days, and A Christmas Carol, Dale has even won Grammy awards for his work!
The leading audiobook retailers
The audiobook boom in recent years has seen several companies offer narrated recordings alongside physical copies and ebooks. The two most popular models are pay-per-download and subscription services.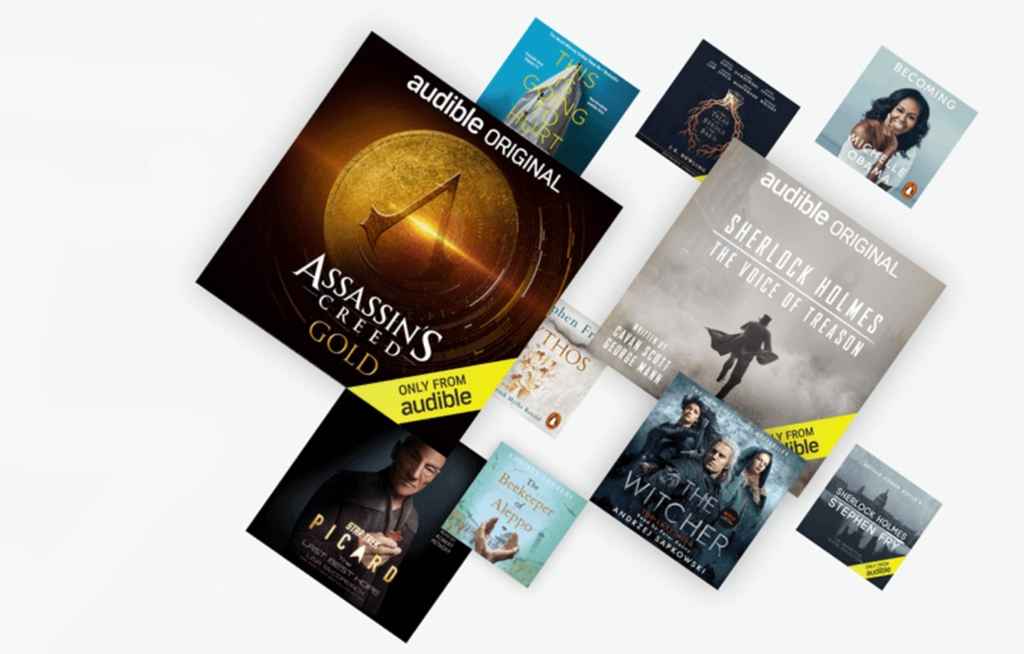 Though one-time downloading accounted for the largest market share of these models in 2019 (around 55%), companies are increasingly shifting to subscription packages. These offer unlimited access to audiobooks at competitive prices, following in the footsteps of all-you-can-eat content providers like Netflix and Amazon Prime.
Of course, Amazon is not the only platform with skin in the audiobook game. Below are some sites vying for the attention of readers: 
Audible: an Amazon subsidiary that boasts a mammoth selection of over 11,000 books with all the new releases and best sellers in toe. For users, it costs $7.95/$14.95 a month, depending on the subscription option chosen. Hosting frequent sales, Audible is the go-to for more than half of audiobook sellers on the market.
Apple Books: Apple's offering to the audiobooks market is a strictly à la carte affair — users make one-off payments and 'own' their audiobook downloads. It's on the more expensive side but remains popular because of its integration with Apple's suite of products.
Audiobooks.com: for those who wish to avoid forking out money to the world's largest corporations. For $14.95 a month, it offers readers two titles a month: one from its 'premium' tier and another from its 'VIP' (read: new releases) list. It also offers plenty of free audiobooks and podcasts, as well as a niche selection of indie and self-published titles.
Scribd: provides unlimited access to a variety of books beyond the bestseller list for $8.99 a month —  many of which are interesting, lesser-known works by indie authors. It operates as a rental service, so users cannot keep their books as local files when their subscription has ended.
Libby: registered library users can gain access to thousands of audiobooks at no cost at all. The app keeps track of loans, notes, bookmarks, and reading progress and can be synced across your devices.
💡Attention, authors! Audible's production platform ACX is where you can put your audiobook up for sale. They provide a service that gives lone authors access to sound engineers and other audiobook professionals. It's not perfect software, but it's extremely popular — we'll talk more about it in the how-to portions of this series of posts.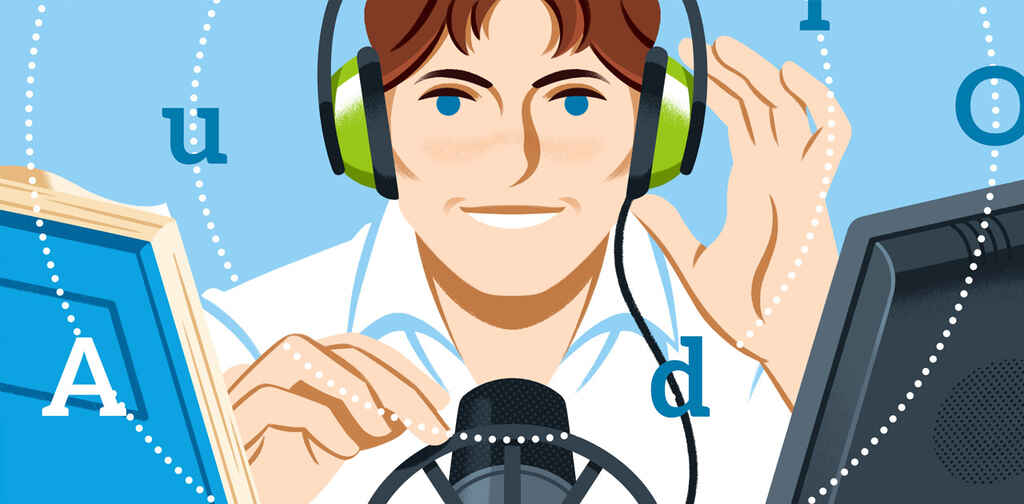 Audiobook 101
Learn to create a professional audiobook and stand out in a growing market.
Why readers are falling in love with audiobooks
Despite the common-held belief that social media has eviscerated our collective attention span, people are actually consuming more long-form media than ever before — whether this is in the form of serialized TV shows, podcasts, or hours-long twitch streams. Audiobooks are another entertaining and accessible option: they can give us fulfillment, delight (or dismay) us, and can be enjoyed while accomplishing other tasks — working out, cooking, commuting, or falling asleep. 
A richer experience
Firstly and foremostly, more booklovers are getting on board with audiobooks because the interpretation of a narrator can add something to the experience of reading a book overall.
A good narrator injects dynamism, emotion, and energy into the storytelling, making even the driest of classic texts an enjoyable and stimulating listen. It's for this reason that lots of people opt for audiobooks, whether you're a student that's been assigned a hefty text for school or someone that just prefers to have a story recounted for you, rather than reading the physical copy yourself.
More convenient than lugging around a paperback
Even with the best intentions to make the most of our commute or time spent waiting for an appointment, sometimes you just have to leave a book at home instead of trying to squeeze it into your tote bag.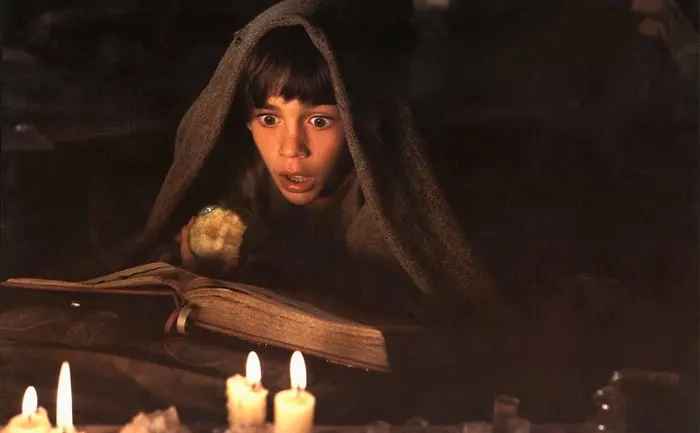 Many readers might also struggle to read while in motion, for instance, if they get carsick. Audiobooks, therefore, allow us to polish off TBR lists (or complete reading challenges) in locations where cracking out a hardback just isn't practical.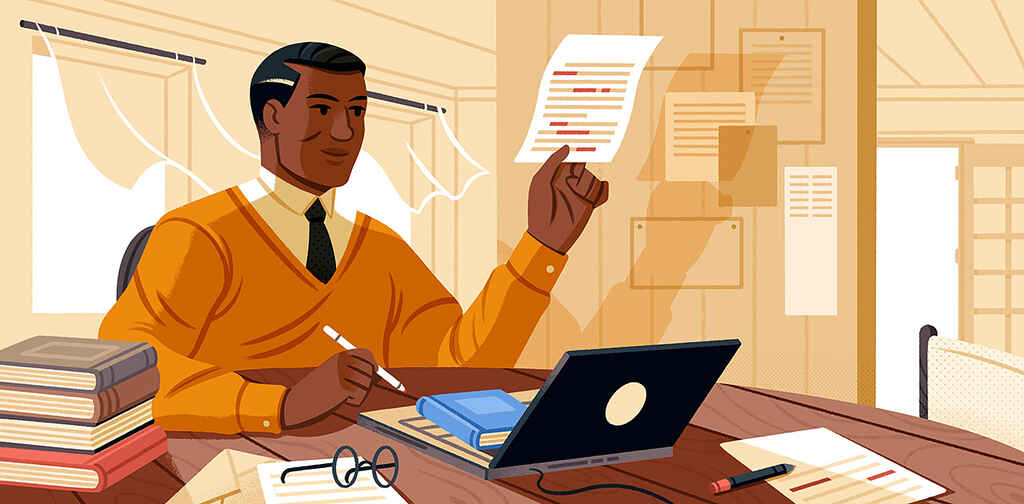 Polish your book with expert help
Sign up, meet 1500+ experienced editors, and find your perfect match.
Saving the trees
Printed book sales amounted to an eye-watering 750.89 million units in 2020. Though this is stating the obvious, audiobooks tend to contribute a lot less to deforestation.. According to Reedsy's Ricardo Fayet, author of How To Market a Book, the global audiobooks market is expected to grow at a compound annual growth rate of 24.4 percent from 2020 to 2027 — which looks to help the publishing industry reduce its reliance on paper.
Fantastically accessible
For visually impaired people and those with mobility issues who can't pick up a physical book, audiobooks are a brilliant and accessible alternative. Those with dyslexia will also often prefer audiobooks to written texts.
Audiobooks don't just increase inclusivity for disabled people. Some are more audibly-minded and might avoid burnout by listening to their books. Others might not have enough space to store all the books they buy — we can't all be lucky enough to have an at-home library!
Why authors should get on board with audiobooks
These days, recording an audiobook is part and parcel of publishing a book, which goes for self-publishing authors. Here are some reasons why.
Access to a broader audience of readers
It's not difficult to see how selling a title in several different formats can equal more books flying off (proverbial) shelves — many authors who take the plunge do end up making their money back. Provided you're not spending astronomical amounts on the process, the provision of an audiobook can allow you to efficiently tap into new readership pools and generate extra revenue streams. Your slice of the pie will vary — for example, Audible allows you to keep 40% of royalties (though this drops to 25% if you also sell through other retailers). You might also be splitting royalties with sound engineers and narrators too, depending on the agreement you draw up with your collaborators.
It's a book marketing asset
Despite this sector's growth, the extra expense of creating an audiobook has kept many authors from pursuing this option. This means that the market is not as flooded as the print/ebook market, and so it'll be easier to make your book stand out from the crowd.
Should you publicize the release of your audiobook in the same way as you publicize the release of your print edition, it will hopefully gain traction. You could do this with a newsletter release or embed the audible URL on your website (to give a couple of examples). In other words, marketing an audiobook probably won't be as taxing as promoting a written one, and you can even make more use of the platform you've already built!
💡
Which book marketing service do you need?
Find out here! Takes 30 seconds.
An audiobook can also be a great marketing tool for an author who wants to strengthen and use their personal brand. You can self-narrate your book, especially if it's a personal piece, like a memoir, and emphasize the personal touch when promoting it to your followers or subscribers. If you're a nonfiction author looking to influence your readers, then conveying your ideas with your own voice can be a pretty effective way to get your argument across, too! This all being said, some authors may still prefer a professional narrator, which, in itself, can also be a slick, well-produced accompaniment to a physical book.
---
If this post has piqued your interest, good news: The following sections in this guide get into the nuts and bolts of the production process. First up: how to make a great audiobook with the help of professionals.