Amazon Self-Publishing Made Easy: An Author Walks You Through It
Learning how to self-publish on Amazon can be intimidating, especially when you start out. Much of the advice available online is so riddled with jargon, rules, and exceptions that we wouldn't blame you for throwing your hands up in the air.
But believe it or not, it's actually really easy to put your book on Amazon — once you know what you're doing.
Jenn Gott is the author of six books, including the superpowered Hopefuls series. Over the past four years, she and the rest of the team at Reedsy have helped 100,000 writers publish their books. In this post, Jenn will show you how to set up and publish your books through Amazon's Kindle Direct Publishing. No jargon, no confusion. Only clarity.
✋ Before we get started: do you have a KDP account? Hop over to Kindle Direct Publishing and set one up simply by logging into your Amazon account — or creating a new one. You'll need to fill out some personal details, including a bank account where they can send your sweet royalties. Done? Perfect, you're good to go!
Step 1: Create a new title
The fun begins! Welcome to your KDP dashboard. After you've set up your personal information, you'll see right away that the dashboard has a section called (appropriately) "Create a new title," with two options underneath it: Kindle eBook, or Paperback.
For purposes of this tutorial, I'm only going to cover setting up an ebook, though the process is pretty similar for paperbacks. (We have a whole other post on publishing your books through print on demand services.)
Once you select what type of book you're creating, you'll be brought to a page with three separate tabs for all of your book's details. We'll get into all the tabs soon, but for now, put your book's language and title in the first two fields, and you're on your way!
Step 2: Enter your book description
The rest of this tab is all information about your book. This will include, among other details:
if it's part of a series;
recommended age range of your readers, and
any additional contributors who worked on your book, such if you hired an illustrator.
But the most important thing you'll need to add next is your description.

Amazon book descriptions are pretty much what you'd find if you flip over a paperback. I won't get into the art of crafting a description here (we have a whole post on that!), but once you know what you want to say, take a moment to dress it up: Amazon allows you to use bold and italics to make your description visually appealing, so take advantage of that. A bold headline statement, hook, or social validation is a common approach used by bestselling traditionally published books — there's no reason not to imitate them.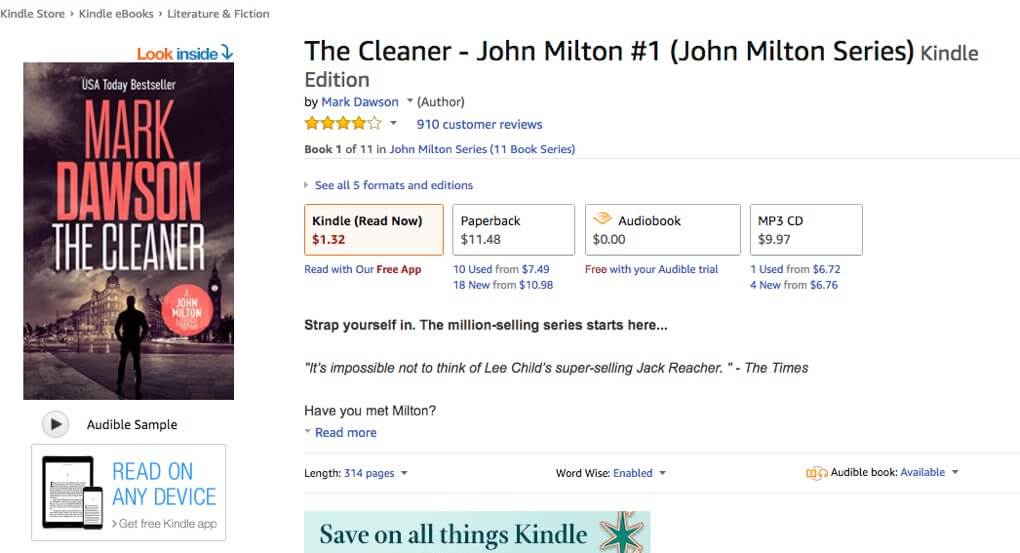 Step 3: Set up your keywords and categories
Setting up your keywords and categories is super-easy on KDP — once you've figured out which ones to pick. In fact, this is the part that gave me the most trouble when I first started out.
As a debut author, I knew that figuring out the right keywords and categories would be crucial to readers finding my books. Those days, nobody (outside my family) would go to Amazon and type my name into the search box. The only way anyone would discover me was if they were looking for an unconventional fantasy book like the one I'd written. It was fantasy, but it wasn't swords-and-sorcery. It had ghosts, but it wasn't a ghost story. It was vaguely steampunk, but not enough that I felt I could market it that way. I was lost.
In the end, I did a lot of research and testing by hand. Typing different searches into Amazon and seeing what books came up, digging into the data on those books and seeing what they were categorized under, browsing categories until I found niches that felt like a perfect fit.
Simplify your keyword search
These days, there are resources that make that process a lot easier: Publisher Rocket makes it easy to research keywords, K-Lytics puts out reports on how different genres and categories perform, and our very own Reedsy Learning has a course on understanding Amazon's Algorithms to compliment the guide to algorithms that made marketing my later books so much smoother.
However you go about finding your keywords and categories, actually entering them into Amazon is simple. KDP lets you select two categories for your book, and enter in up to seven keywords. Select the ones that best encompass your book — and remember, you can change these later, so don't be afraid to experiment.
Free course: Amazon Algorithms
Send your book to the top of its category by using Amazon's recommendation system to your advantage. Get started now.
Step 4: Upload an epub file of your book
The next tab you'll reach is where you actually put your book into your KDP account!
To get started, simply click the friendly yellow "Upload ebook manuscript" button. Select the final copy of your epub file and click "OK."
Tip: Amazon will accept a range of file formats, but I strongly recommend having your file formatted as an epub. I know a lot of authors who've just slapped a Word document in and let Amazon do the rest and… it never works out well. Readers can tell who's professionally formatted their book, and who hasn't — and cutting corners will come back to bite you. If you're an author on a tight budget, you can use a free tool like the Reedsy Book Editor to export a beautifully formatted ebook, but saving to hire a professional formatter will definitely pay for itself over time.
Once you've selected your manuscript, you'll see a message pop up saying that it's processing your book. Do not refresh or click off of this page! It can take a few minutes for Amazon to upload your book and verify it.
I always find this wait a bit agonizing, but don't worry: if you've formatted your book well, you'll soon see a little green message saying that your manuscript has uploaded successfully.
Take a moment to celebrate, but don't get too distracted — there's still a few very important steps to go.
Step 5: Upload a 1,000 x 625 jpeg or tiff for your cover
A book won't sell without an attractive cover. Your cover designer should have provided you with a jpeg or tiff version of your cover, sized appropriately. To add it to Amazon, simply select the option to use a preexisting cover, and click the "Upload your cover file" button. Select your cover file — if you're publishing both an ebook and a paperback, you'll need to make sure you're uploading the ebook version here.
Like when you upload your book itself, this process can take a minute. When it's done, you'll get another green notification.

After you've uploaded your ebook and cover, you can use the "Ebook Preview" tool to see how it will look. Take a minute to ensure that everything is correct: that the cover shows up (I once had a cover upload with part of the title missing!), that the interior looks the way it does when you open the file on your computer, etc. If anything is wrong, go back and double-check your files, then upload again.
After that, it's on to the final tab.
Step 6: Set a price between $2.99 and $9.99
The first thing to know when deciding what price to sell your book: Amazon offers a 70% royalty rate on ebook priced between $2.99 and $9.99, and 35% on anything outside that range.
There will, of course, be times when you want to sell a book outside this price range, such as if you're offering your first book at a lower price to drive sales of the series. But as a general rule, it's best to stick to something that will get you that sweet 70%.
As you set your price, Amazon calculates your estimated royalties. It deducts a small "delivery rate" based on the file size of your book, and then shows you how much you'll make per sale.

You can also expand the pricing section to set your prices individually for each country you want to sell in. If you genuinely don't care about international sales, you can just set it to auto. But you'll get much better results if you manually price the book to each country (you won't end up with funky looking numbers or a price that's way out of whack with local prices).
Depending on your book and marketing plan, selling internationally can really help boost your sales. I didn't start out targeting an international audience, until I realized that my fantasy series was developing a small but steady fanbase in Germany. Once I did, I was able to adjust my German pricing to help it along. Now I always look for international sales trends, and nurture the ones that develop organically.
Free course: International book pricing
Selling your book in multiple countries? Maximize your international profits with this 10-day online course. Get started now.
Now that all the information for your book is in place, it's time to consider a few important programs that may help your book reach an even wider audience.
Step 7: Enroll in KDP Select (or don't)
When you're setting up your price, you'll be asked if you want to include your book in a few extra programs that Amazon offers.
KDP Select
We have a whole post on KDP Select, so I won't repeat too much here. It offers two main benefits to self-published authors:
Inclusion in Kindle Unlimited; and
The ability to run free book promotions, and Kindle Countdown deals to help market your ebook
Whether you choose to enroll will depend on your goals as an author and what kind of business plan you have for your work. For example, are selling box sets through Apple Books or Google Play a big part of your marketing strategy? Or do you want to take advantage of regular price promotions (and even the occasional "free" weekend for your book)? The KDP Select post above will help you weigh your options — and then from here, it's just a matter of checking or ignoring the "Enroll my book in KDP Select" box.
Kindle Book Lending
There's one other program you can choose to enroll in: Kindle Book Lending. This is pretty much what it sounds like: it allows people to lend your book to other readers for 14 days. It's a mandatory feature with KDP Select, but authors who sell "wide" can choose if they want to participate.
In my view, there's no reason for most books not to enroll in the Book Lending program. There's no strong downsides, and you may get yourself some new loyal fans. After all, word of mouth is the best sales tool there is.
Step 8: Hit that Publish Button
This is the moment you've been waiting for!
At this point, I'd recommend taking a moment to click back through the previous tabs and make sure everything is set up exactly the way you want it. Although you can correct a mistake after you've published it, it's better to ensure your information is right before you hit that button.
If you're not quite ready, there's a "Save as Draft" button that will allow you to come back and finish later.
If, however, everything looks good, there's nothing left to do but hit "Publish your Kindle ebook"! Congratulations, you did it!
How long will it take my book to show up for sale on Amazon?

It can take Amazon 24-72 hours to approve your book and make it available for sale. However, if you make sure to follow the steps correctly, the process can get much quicker. I've also found that the first book usually takes the longest to approve — these days, my books can sometimes show up within an hour.
There you have it! As you can see, publishing a book on Amazon isn't nearly as scary as you may have feared. And just so you don't run into any surprises in your self-publishing journey, here's a few additional resources to help you along the way:
1. If you're just getting started and want to know the basics:
How to Publish a Book: Self-Publishing for Beginners
2. If you want to know how much it costs to self-publish, start to finish:
How Much Does It Cost to Self-Publish a Book in 2021?
3. If you'd like to hire a third-party service to advertise your price promotion:
Free and Paid Book Promotion Services in 2021
4. If you're curious about Amazon Publishing (their book publishing unit that functions like a traditional publisher):
Amazon Publishing: What is it Like to Get Signed by Them?
5. If you just want to make sure you haven't missed anything:
The World's Most Essential Self-Publishing Checklist
[Updated 11/17/2020 UTC]