Last updated on Jun 08, 2023
Amazon Royalties: What's Your Share of the KDP Pie?
So, this is the question on every self-publishing author's lips: how much will I get paid?
If you're publishing with Kindle Direct Publishing, a few factors will determine your Amazon royalties. In this part of our guide, we'll reveal how much KDP authors get paid and how often that sweet book moolah will drop into their bank accounts.
For a look at how much KDP deducts from your royalties, skip to the next part of our guide that deals with the cost of publishing on Amazon.
Ebooks: Up to 70%
Amazon offers two ebook royalty plans: the 70% option and the 35% option. In both plans, your royalty cut is calculated as a percentage of your list price, minus VAT. To be eligible for the 70% plan, you'll need to do all of the following:
Publish something that's not in the public domain.
Price your ebook between $2.99 and $9.99. This price must also be at least 20% lower than the lowest list price for a print version.
Pay for file delivery. This doesn't require extra effort — the delivery fees are automatically deducted from your royalty payments.
So, for this plan, here's how you'd calculate royalties:
Royalty Rate x (Amazon price - Taxes - Delivery Costs) = Royalty
Remember, only books sold in certain countries are eligible for the 70% plan. Fortunately, these territories include all the big Anglophone markets — the US, UK, Canada, Australia, and New Zealand — and several others, primarily in the EU. If you enroll in KDP Select, this list expands to include Brazil, India, Japan, and Mexico.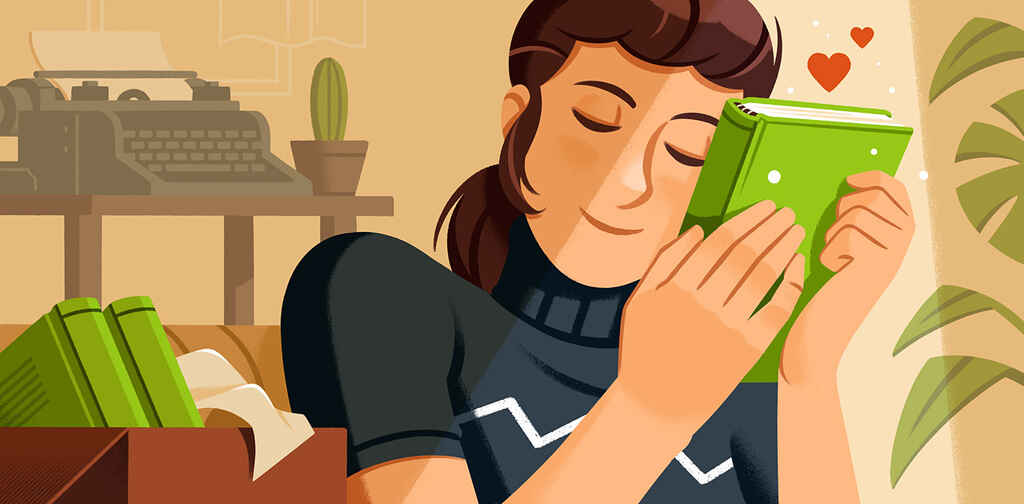 How to Self-Publish a Book
Learn to set yourself up for success as an indie author.
35% for certain territories, prices, and books
Any books that fall outside the criteria for 70% royalties (for example, more expensive books, or copies sold outside of the specified territories) will fall under the 35% royalty plan. This plan doesn't ask the seller to cover delivery costs, so your calculation for royalties would be:
Royalty Rate x (List Price – applicable VAT) = Royalty
Check our handy table below for a quick guide to the two royalty plans.
| | |
| --- | --- |
| 35% Royalty Option  | 70% Royalty Option |
| Any ebook | Must not be in the public domain |
| Any price | Must be between $2.99 and $9.99 |
| Free file delivery | Delivery fee deducted from royalties |
| Available in all territories | Available in 39 territories |
Kindle Unlimited payouts based on the KDP Global Fund 
Authors who have signed up for KDP Select are eligible for royalties on Kindle Unlimited ebook pages read — specifically, pages read by an individual customer for the first time. KDP Select authors receive a monthly payout for these page reads, no matter how long it takes for a reader to get through their book.
How much is a unique page read worth? Well, that's a little complicated. The page rate is based on something called the KDP Select Global Fund, a fund that varies month on month. This is the pot of cash that Kindle sets aside to pay their KDP Select authors. Your royalty rate varies not only month-to-month due to fluctuations in the Global Fund, but also from country to country based on various factors — exchange rates, local subscription pricing, and what Amazon refer to, somewhat mysteriously, as "customer reading behavior".
Overall, royalty payouts are calculated by that author's share of total pages read, up to 3,000 pages per customer per title. While this is a little complicated, Amazon does provide a Prior Month's Royalty Report to break down their calculations.
One more note: if your ebook is formatted in a way that your pages are tightly packed, or have more content than an average page (aka your readers are going to be slower getting through pages), Kindle accounts for that by normalizing page count between books and genres, and you won't be penalized. And on the flip side, there's no benefit to putting one word per page to encourage readers to flick through ultra-fast!
Print Books: Up to 60%
For those thinking about self-publishing a print book, Amazon offers two distribution tiers for self-published paperbacks. Each comes with its own royalty structure, and in both cases, the cost of printing the book is deducted from royalty payments. The formula is:
(Royalty rate x list price) – printing costs = royalty
The percentage of royalties you receive is largely based on your book's type (hardcover versus paperback), and how widely you choose to distribute your book (e.g., selling only through Amazon, versus selling through Amazon plus other retailers through their Expanded Distribution plan).

If you go through the regular Amazon-only distribution channels, you can expect 60% of the list price for every paperback or hardcover sold (minus those costs we mentioned).
On this plan, if you sold a 300-page, standard black-and-white print paperback at a list price of $9.99, once costs are subtracted you can expect a royalty payout of $1.54 per book.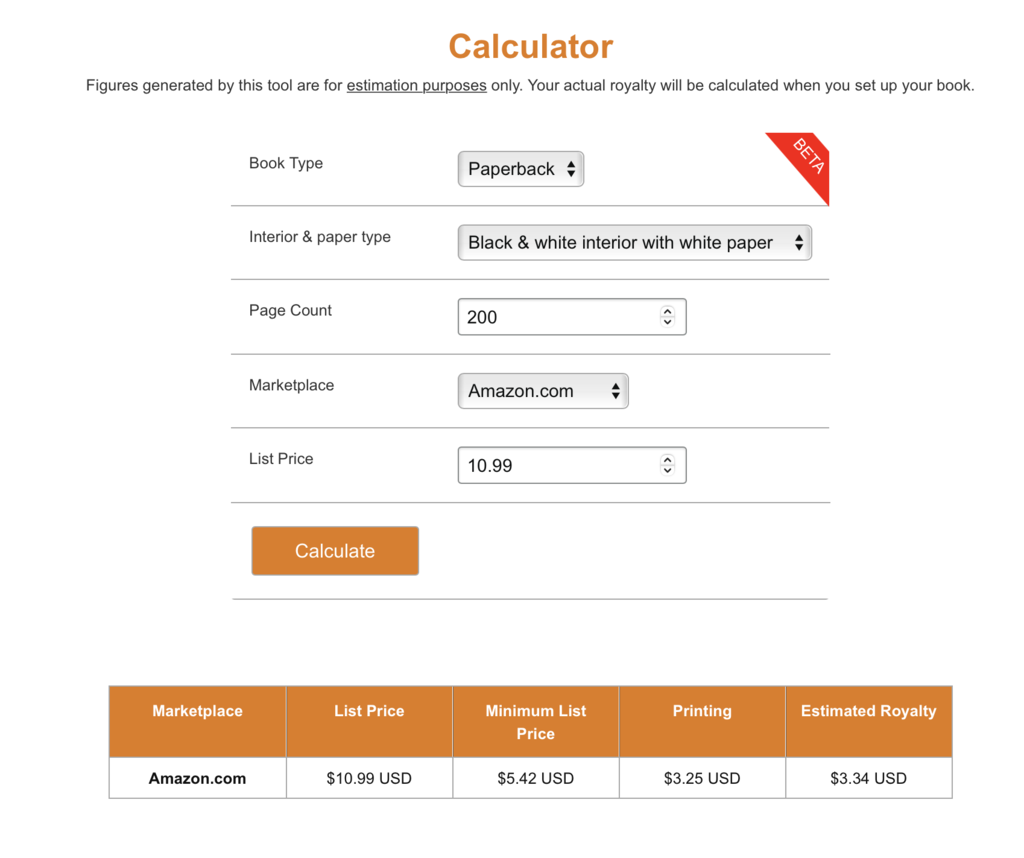 Print distribution outside Amazon: 40%
If you distribute your book through Amazon's Expanded Distribution plan to non-Amazon retailers, like Barnes & Noble and Books-a-Million, you'll be looking at a 40% royalty instead. (In lieu of opting into this plan, we recommend using IngramSpark for expanded distribution. You can read more about why here.)
If we return to our 300-page book from earlier, the lower royalty split for expanded distribution wouldn't cover the cost of printing, and so the book would need to be priced higher to generate any take-home profit for our author. If the book were listed at $12.99, the royalty left over after costs would be $0.75 — a significant dip compared to the payout for exclusive distribution.
Note that expanded distribution isn't an option for hardcover authors, and is also limited to distribution via the US and UK (albeit booksellers and libraries from outside of those territories could theoretically buy copies from one of these middle-man retailers).
Check out the table below to see what rate you can expect:
| | |
| --- | --- |
| Amazon Distribution | Expanded Distribution |
| Sales through Amazon channels | Sales to booksellers and libraries  |
| 60% royalty rate | 40% royalty rate |
| Paperback and Hardcover | Paperback only |
| Available in all Amazon territories | Only distributes from the UK and US |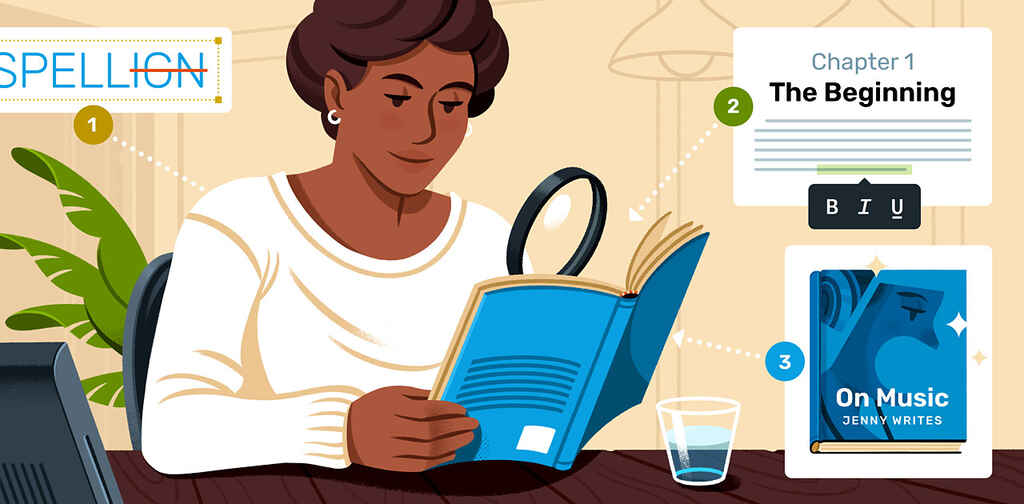 The Cost of Self-Publishing in 2023
Get an inside look at 2023 rates for professional self-publishing services.
Audiobooks: Up to 40%
Much like the print and ebook options, royalties for your audiobooks depend partly on which distribution option an author chooses. Amazon favors ACX, their own self-service audiobook production and distribution company. This company exclusively distributes to three (admittedly huge) audiobook retailers: Amazon, Audible, and iTunes. If you choose to distribute your audiobook exclusively via these three channels and their retail partners, you can expect 40% royalties on your sales.
However, if you choose to distribute your audiobook non-exclusively and retain your right to distribute your recording elsewhere, your royalty rate will be 25%.
Authors are also able to produce their audiobook under a royalty share model, where they split their royalties 50:50 with their narrator in return for zero or minimal up-front production costs. In this scenario, non-exclusive distribution is your only option, so you can expect 20% royalties.
Monthly payments by EFT, Check, or Wire
Amazon pays royalties 60 days after the first sale is made, with subsequent monthly payments. Depending on where you do your banking, you can choose to be paid through direct deposit (also known as Electronic Fund Transfer (EFT)), wire transfer, or check. Regardless of which avenue you go down, there's no way to receive your royalties any sooner than 60 days. So, if you have bills to pay, never count on your royalties coming in immediately.
When deciding which payment method is best for you, you should know there's no direct deposit payment threshold. For check and wire payments, you'll be paid only after you make a certain amount in royalties (for instance, $100 in USD and CAD and £100 in the UK). See the full list of payment thresholds here.
Amazon royalties are complicated, and there are many variables to consider when trying to estimate what you'll earn. However, we hope this guide has given you a better understanding of them, and the smartest choices you can make to maximize your royalties. 
Of course, choosing the right distribution options to increase royalty share per unit won't be enough; if you really want to start earning, you'll also need to focus your efforts on marketing to increase the number of units you're selling To make your life easier navigating this maze, get help from the best in the industry.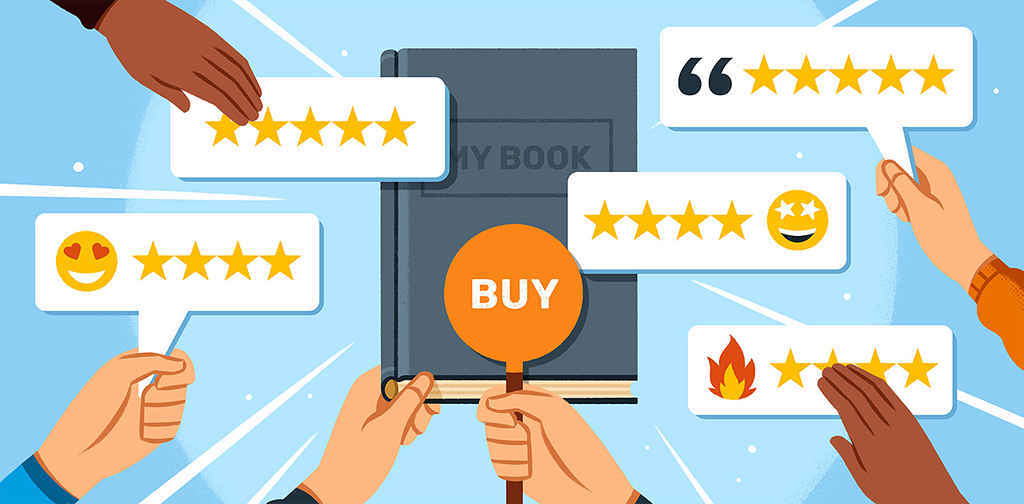 Meet marketing wizards
Boost book sales with ads, social media strategy, and other marketing magic.
---
In the next part of this guide, we'll look at the extra costs you can expect to pay Amazon when you publish a book on KDP.