Last updated on Feb 25, 2022
What is an ISBN Number? A Look at Publishing's ID System
An International Standard Book Number, or ISBN, is a 13-digit code used as a unique identifier for books. An ISBN is assigned to each edition of a book, helping publishers, bookstores, and libraries keep track of their stock and sales. Meanwhile readers can use them to look up specific editions online.
A way to organize a world of books
ISBNs are fixed and non-transferable, so if you publish a print and an ebook version of the same book, you'll need two different numbers. If you then publish that ebook in a different language, you'll need a new ISBN for that as well — and so on.
👀
Do you need an ISBN number?
It'll only take a minute!
Note: ISBNs suffer from "ATM machine" syndrome, so they're known as both "ISBNs" and "ISBN numbers," even though the latter technically repeats "number". We're not too fussy, and we'll be using both — but if you hate tautologies, stick to "ISBN".
Its 13 digits all mean something
ISBNs consist of five parts, appearing in the following order:
The numbers 978 or 979, indicating that this product is a book;
A single digit to indicate the country or language group of the publication (all English-language books are 0 or 1);
A three-digit code for the publisher;
A five-digit code for the title, edition, and format of the book; and
The final "check" digit indicates that the ISBN has been verified.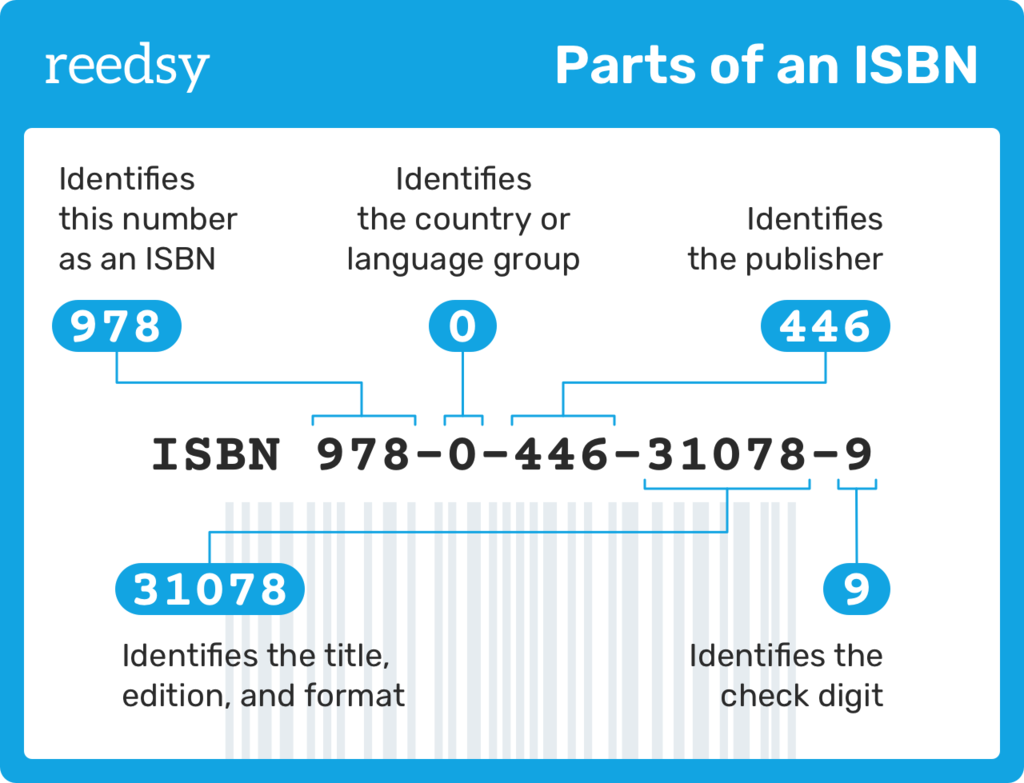 Did you know? ISBNs were 10 digits long until January 2007, when they changed to 13. But ISBNs never expire, and even old, 10-digit numbers can be converted into 13-digit codes with Bowker's conversion tool.
Is an ISBN the same as a barcode?
Not quite. Though they're both numbers that appear on the back of a book cover, a barcode provides purely sales-related information: the price of a book and the currency it's sold in. ISBNs are clearly labeled, only include numbers, and are consistent between stores, unlike barcodes.
You may notice other numbers around the barcode, such as an IAN or EAN (International or European Article Number). These also provide retailer-specific information about the price of the book — but as an author, all you need to worry about is the ISBN.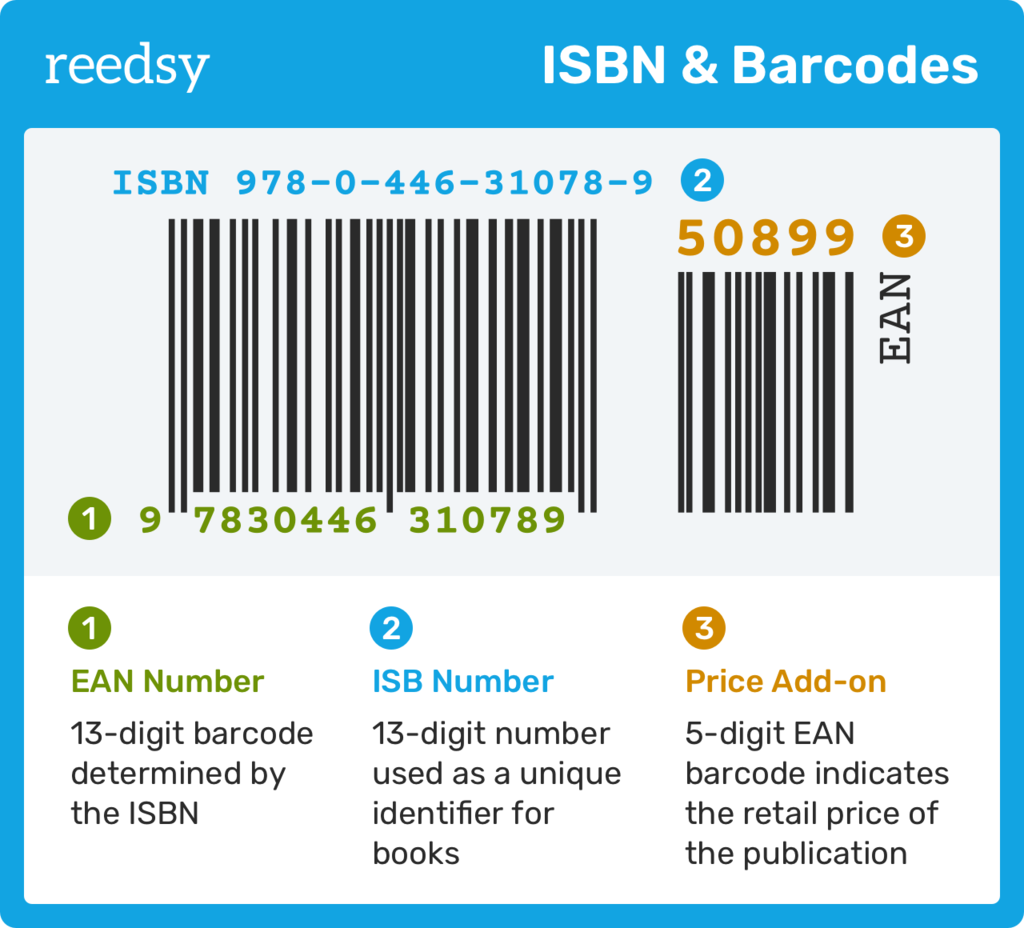 Now we've covered what an ISBN is, let's tackle the next big question — do you need one?
ISBNs are necessary for selling print books…
To distribute books in print or in audiobook format, you will need ISBNs. They're used by bookstores, libraries, and everyone in the book supply chain to identify and organize their stock. If your print book has no ISBN, it can't be sold — simple as that.
A bonus of having an ISBN number is that your book gains access to libraries, which can seriously boost your book. US libraries spend over $3 billion annually on reading materials, and they're also a great source of organic book reviews. If you want to get your book in libraries, we have a free course to show you how. 
Free course: How to Get Your Book into Libraries
Tap into a world of new readers by getting your book into national libraries. Get started now.
Also, if you plan to publish multiple novels and set up your own imprint, buying your own ISBNs is a good idea for administrative and professional purposes — when you've paid for your own number(s), you get to choose what name appears as the publisher.
Remember that obtaining an ISBN number does not mean that your copyright is automatically registered. Learn more about copyright here.
But ebooks often don't need them
If you're self-publishing an ebook, an ISBN isn't strictly essential. You can upload and publish your ebook via the most popular online publishing platforms (Amazon, Apple Books, Barnes & Noble, and Kobo) without an ISBN, as all of these assign you their own identifier when you upload your book. 
ISBNs don't improve your book's visibility, as most readers don't search using numerical trade codes — so don't buy an ISBN just to boost your visibility.
There's also the cost of ISBN numbers to consider — there are both free and paid options, which we'll cover in the next post in this guide, but if you're on a tight budget and only publishing ebooks, you can forego the extra cost. Just understand that it will always look more professional to get an all-encompassing ISBN than to have different serial numbers on each retail site. 
You can buy them individually or in bulk
An ISBN number costs $125 through Bowker. (Anyone offering an ISBN for more than that is trying to push you into a publishing scam.) You can also bundle your ISBN purchases and get 10 ISBNs for $295, 100 ISBNs for $575, or 1,000 ISBNs for $1,500. Needless to say, unless you're a publisher, you'll only need to buy 1-10 ISBNs at a time.
We've broken down these Bowker costs for US authors and publishers, as well as the Nielsen costs for those in the UK, in the table below: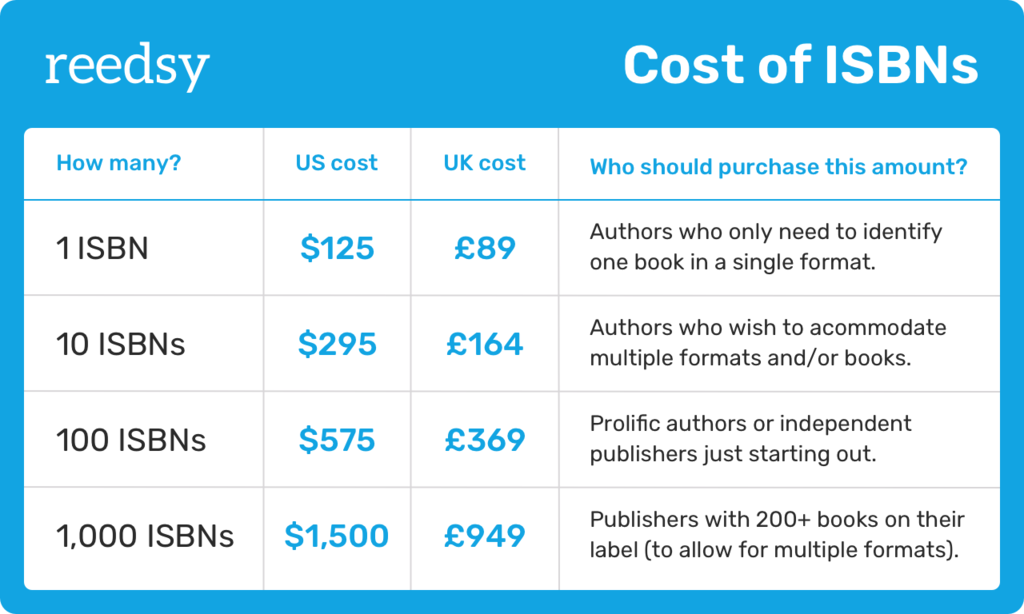 An ISBN won't be the most expensive item on your self-publishing shopping list, but to minimize costs, your best option is to buy a package of 10 for $295 (which works out to just under $30/ISBN). That way, you can distribute your ebook and print book with separate ISBNs, as needed, and still have a few numbers left over for the next time you publish.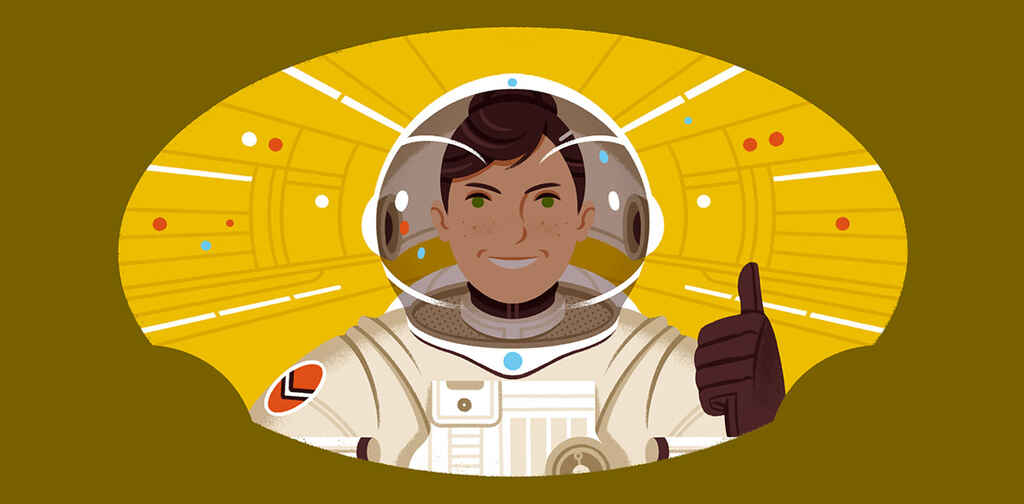 Reedsy's Book Launch Checklist
Launch your book successfully with our tried-and-true strategies.
On a tight budget but still want an ISBN? Learn about discounted and free ISBN options (and their drawbacks), as well as how to go about getting yourself an ISBN number in the next post in this guide.