How I Self-Published My First Novel at the Age of 50
Andy Emery writes fast-paced thrillers set in 19th Century London. Lucas Gedge, the protagonist of Blood Tribute, had to wait till Andy turned 50 before he could go out into the world. In this guest post, Andy reveals what finally made him take the leap and self-publish his debut novel.
An appealing aspect of the self-publishing revolution is that it allows the budding older writer, who may have spent many decades in work for which they were never really suited, to test out the new possibilities, build up their knowledge, and finally publish their first book. They can do this while carrying on with the day job. And rather than the agent or publisher's "no" threatening to render all their creative work a waste of time, it's the market itself that will decide the success of their book.
I am that writer, and it's taken me until the age of fifty to write and publish my first novel.
At junior school and before, I spent all my time writing stories and drawing pictures. I was constantly read to by my parents and encouraged to read for myself. But I never even considered the possibility of making a living as a "creative."
Life before writing
I became interested in geology, studying it at university, then spent a dozen years in the oil industry. I was never a good fit. I got itchy feet, moving companies more frequently than was good for me. I was eventually made redundant in one of the periodic downturns and ended up in a completely different line of work.
But I now believe the story bug was still bubbling away within me, buried deep beneath the surface. After redundancy, and having plenty of time on my hands, I started writing a detective novel. It amounted to just a few paragraphs before I decided I was wasting my time and stopped. I recently found that page and a half of text, and for a few moments I didn't realise that I was the author. The words were strung together quite well! Murder on an oil rig: I was obviously trying to write what I knew.
Part of the reason for abandoning that book was my dad's experience of writing manuscripts, sending them to agents, getting rejected and giving up. I didn't want to go through the same agonising process.
The self-publishing adventure
Then, a few years ago, I happened upon Joanna Penn's website, which became the portal into a new and exciting world. It started me on my adventure in independent publishing. 
Initially, I wanted to write about a Victorian plant hunter who somehow got involved in criminal goings-on while going about his business in far-flung parts of the world (my day job is horticulture, so it was again a case of incorporating what I knew into the writing). But I wanted to write a series, if not several series, set in a unified world, and the plant-hunter idea didn't seem to have the legs. So, while staying in Victorian times, I changed tack and started working out the background of an ex-army loner who'd been a secret agent at the height of the British Empire.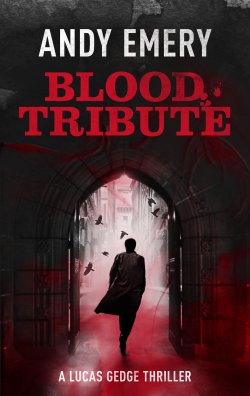 My life underwent a spasm in late 2013 when my mum died. Following the upheaval of that and moving house a year later, I decided to knuckle down and start work on a novel, Blood Tribute. I embarked on the first draft in September 2015.
One of the things I've learnt is that I'm a plotter, not a pantser. I did some planning for Blood Tribute, but not enough. I'd got to 60,0000 words when I decided that some of the writing just didn't work, and I jettisoned a third of those words and re-worked them. Not only that, but I changed my writing software, from the widely recommended Scrivener to the newer Ulysses.
And that's something else that's become apparent: although I'm a creative at heart, I also have an analytical side: I like to be proficient at software, and to be able to understand the numbers (weirdly, in my day job I'm considered something of a computer whizz). That combination is a pretty good one for an independent author these days. 
Working with Reedsy
It was evident from the beginning that I would need to hire professional help for two important tasks: designing the cover of my book, and editing. I got the cover sorted out early on, but what to do about the editing?
I first heard of Reedsy through a webinar run by Nick Stephenson. The fact that I could tap into a large number of potential editors, all vetted by Reedsy and offering services from structural editing through to proofreading, and communicate with them before making a choice, sounded good to me. Using the Reedsy Marketplace is very straightforward. I determined that I would need content and copy editing followed by proofreading. Then I went through all the professionals who seemed to conform to my requirements and requested quotes from five of them.
I plumped for Andrew Lowe to do my content and copy editing, mostly because I liked the way he described himself, his relaxed style, and let's face it, the fact that his fees were not exorbitant. As a first-time novelist, I was apprehensive about the editing process. But early in our first chat on Skype, Andrew put me at ease. He seemed to 'get it', regarding what I was trying to achieve, and his approach, using Skype sessions and informal email contacts, was very effective. He explained his suggested changes in a constructive and friendly way.
After implementing Andrew's changes, I went straight on to repeat the process for proofreading, and this time chose Katherine Stephen, who again provided a very proficient and professional service.
After formatting the book, it was ready to go, and it was published on Amazon on July 12th, 2016. It remains to be seen how it will do commercially, but I'm in it for the long haul, and I'm already working on the second book in the series. It's been a very satisfying process, and Reedsy's editors have been a vital part of that.
---
Blood Tribute is available on Amazon, get your copy here!
Could your day job also inspire a fantastic thriller? Head to the comments section below and tell us your profession, as well an idea for a gripping story based on that job.