Francesca Catlow saw her publishing dreams go up in smoke after working with a vanity press. Determined to give it a second go, she relaunched her novel with a powerful new cover.
While caring for a newborn baby, a chronically ill husband, and an injured mother over the COVID lockdowns, Francesca announced to her family that she was going to write a novel.
"It wasn't the first time I'd made such a bold statement; but as I wasn't able to work, it seemed like as good a time to write as any. I fantasized about escaping to Corfu, so, while breastfeeding my baby at 4am, I started writing The Little Blue Door and set the story there. I didn't stop for four weeks until the first draft was complete."
After six months of writing and revising, changing nappies and tending to her mum, Francesca was ready to put The Little Blue Door out into the world.
The unfortunate brush with vanity publishing
Francesca soon realized she was too impatient for the often drawn-out process of traditional publishing. Unfortunately, she didn't have the time or the energy to research and work out a proper plan, and she ended up delivering her manuscript into the hands of a vanity press.
"I was shocked when they took all of my savings, did a dreadful job, and then told me they hadn't realized I wanted to earn a living as an author."
The icing on the cake? The vanity publisher got her cover completely wrong, as if they didn't know the market or hadn't even bothered to read the story.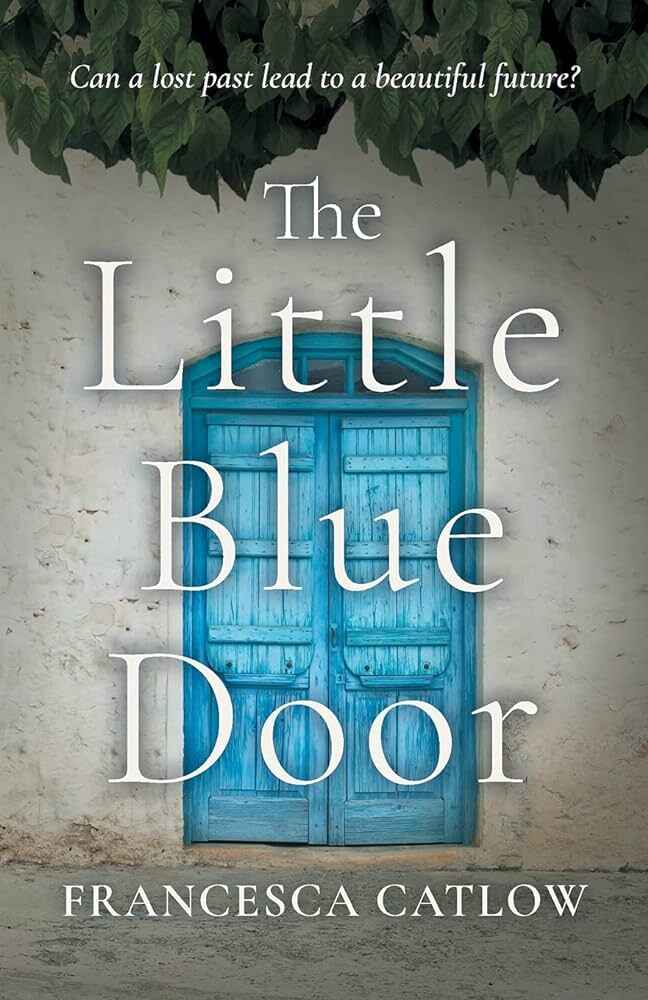 But there was still hope: after some back and forth, Francesca got the rights to her manuscript back.
"This would be the point where any normal person would give up. I did cry a fair amount, but it takes a lot to get me to stop when I believe in something — and at least I had a good case to get my manuscript back!"
A designer who could be trusted
After a false start working with the vanity press, Francesca was back at the beginning — ready to start a new chapter. The first order of business was the cover, which the vanity press had gotten entirely wrong by completely ignoring how she described the tone of her book.
"There was no way I wanted it done poorly twice, and I had no idea about book design. I needed someone I could trust. Someone who I knew would do a perfectly professional job from a website I could trust. I needed a new designer to draw people into this updated edition of The Little Blue Door."
What Francesca didn't know was that her luck was about to turn. Talking to her mum about hiring a designer, she sent her a beautiful cover she had seen scrolling on Instagram.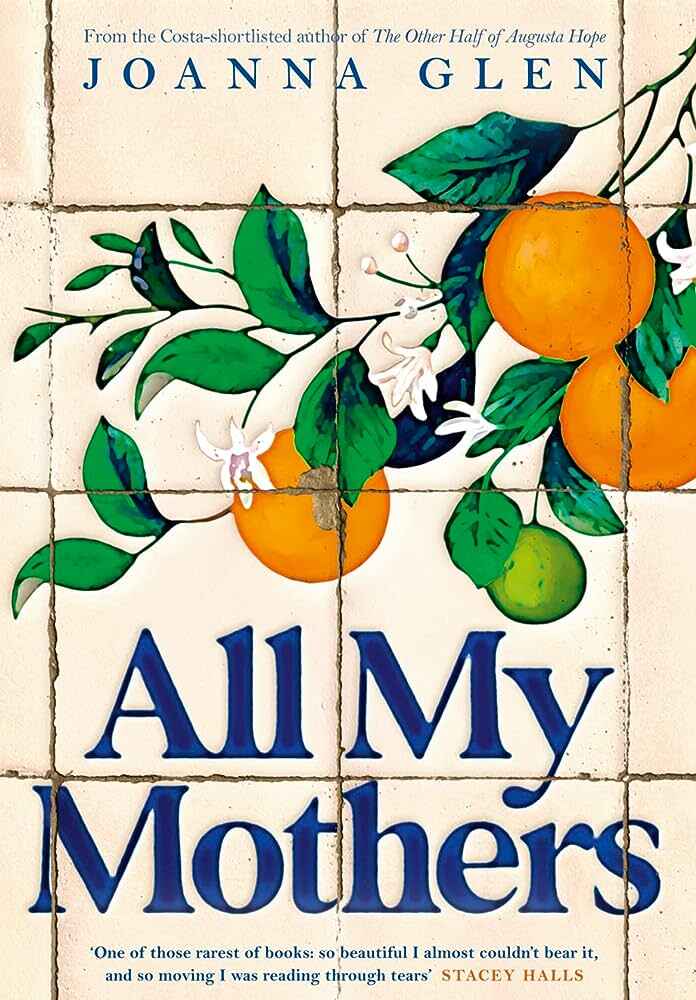 "I need something like that," she told her. A cover that was contemporary and fresh while foregrounding the story's setting and communicating the genre. And when she looked for cover designers on Reedsy the next day, she was in for a very pleasant surprise.
"I couldn't believe my luck to find the designer for that book on Reedsy! I thought there was no way that I could have access to the same designers as traditional publishers. There were positive reviews from other Reedsy users too, which gave me the security to move forward and contact him."
Knowing that Andrew Davis created the cover of All My Mothers and many other successfully published books gave Francesca confidence. He was vetted by Reedsy and came highly recommended by her peers. She contacted him to get a sense of who he was, and they immediately hit it off. She had found her dream designer.
Being in charge of your own cover
Francesca has a strong vision for everything she does, so when Andrew asked about her vision for the cover, she already had a few things in mind:
"In my original message I informed [Andrew] I wanted a traditional Greek blue door incorporated, [...] and I wanted it to convey the love and romance in the story, as well as the darkness and unexpected twists. Which I was aware was a big ask – please bring me the beautiful heart of Greece, but show everyone that it's not a lighthearted romcom."
It was a complicated brief, but Andrew rose to the challenge: he probed deeper, asking her about the setting and the story's darker twists and turns. As they discussed the image options, Andrew's idea of a close-up blue door quickly became their winning concept. The focus on the door would make the cover pop and also establish a visual motif which could be revisited for any successive covers in the series: a zoomed-in arch of sorts, be it a door, a window, or an entrance. Having gained a good understanding of the book's tone and Francesca's preferences, Andrew quickly went to work.
"When Andrew sent me six designs for me to choose from, I loved elements of them all. In fact, I could've picked any and used them as they were, and I'd still have a gorgeous cover."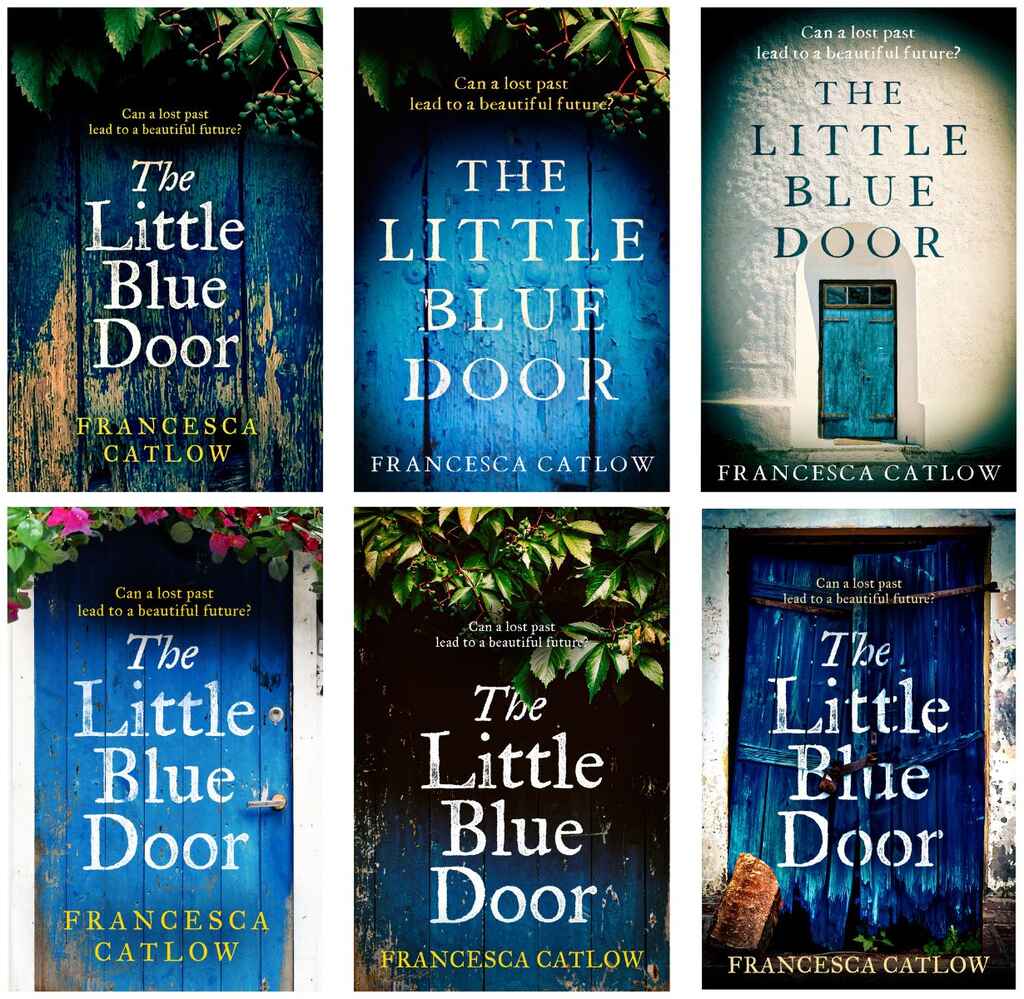 "Having said that, the great thing about working so closely with a designer is that it gives you the freedom to pick the best bits for you."
Unlike when Francesca worked with the vanity press, with Andrew she was able to mix and match her favorite elements of his concepts: she liked the font integration of one, the door of another, and the yellow author name in another.
When she wasn't quite convinced by the choice of foliage that frames the top of the door, Andrew provided more options, determined to get it right. Francesca suggested bougainvillaea leaves, and they adjusted their size and shape a couple of times until they were both happy with it.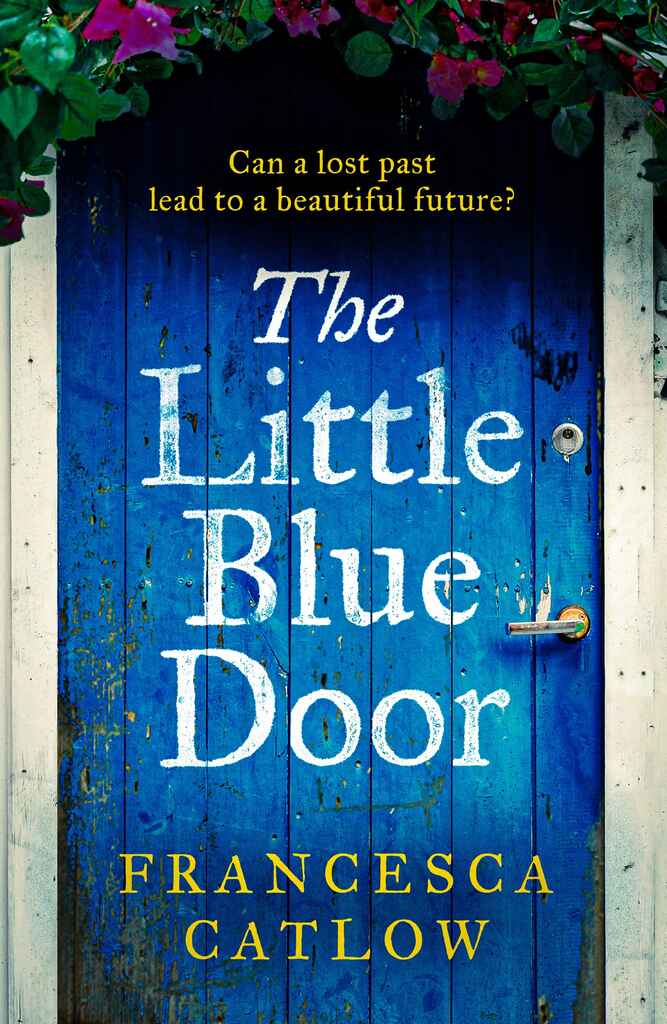 When the final cover was ready, Francesca couldn't believe how easy it had been. Andrew came up with the ideas and seamlessly incorporated any direction from her. Amazing!
Selling thousands of copies with a new cover
"I adore Andrew's design! Everyone loves the cover. I know people have purchased the book just on the cover without even reading the blurb — they've told me as much!"
Having a beautiful new look gave Francesca's book the push it really needed to get noticed. She went from selling a few hundred books in the early days to thousands of copies with her new cover and marketing plan.
She's now also stocked by more than a few booksellers and has been invited for signings at Waterstones and indie bookshops.
"Choosing Andrew to design The Little Blue Door was the best decision I made in those early days of publishing. Andrew has gone on to design two more of my books, Behind the Olive Trees and Chasing Greek Dreams. All have had their time on Amazon bestseller lists and are stocked in bookshops across the UK."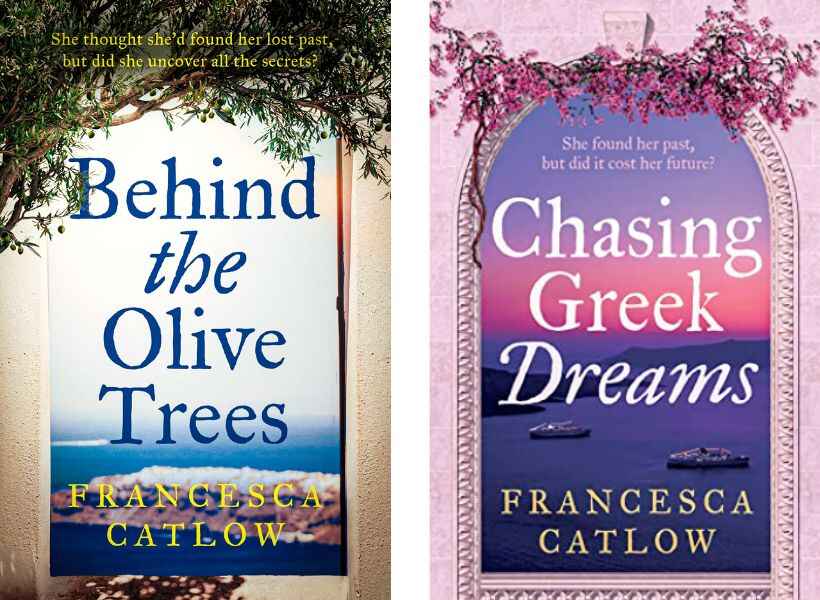 "In the past two years of publishing books, my life has completely changed. I'm in love with the whole process and it all started to take off when I found Reedsy and made my own journey with handpicked professionals ready to turn my books into a success."