Last updated on Nov 23, 2022
How to Publish a Stellar Ebook [9-Step Method]
In January of 2020 alone, US readers spent a collective $75 million on ebooks. And that was for traditionally published titles alone: add in indie ebooks, and you're likely to see that figure double. Then, throw in social distancing to rocket up demand even further. In short, ebook publishing shows no signs of slowing down. Want to take advantage of the boom? 
Here's how to publish an ebook in 9 simple steps:
Hold up! Not actually finished the writing yet? Check out our guide on how to write an ebook first.
1. Edit the manuscript 
Readers might be hungrier for ebooks than ever before, but their appetites aren't indiscriminate. If you want to entice them into reading your work, you'll have to serve up something mouthwatering — prose that's good down to the last drop.
Okay, enough culinary metaphors. The point is, whether you're self-publishing a fantasy novel or an actual cookbook, quality matters. Before you even think about publishing your ebook, you'll want to make sure there's not a comma out of place.
A word of warning here: self-publishing an ebook is fast — so fast it can be dangerous. An impatient writer can turn a draft into a bona fide ebook in under an hour and see it go up for sale the next day. This greased-lightning pace is exactly why so many indie authors prefer digital releases. But the convenience of ebook publishing has a downside: it's all too easy to send your work out into the world before it's ready.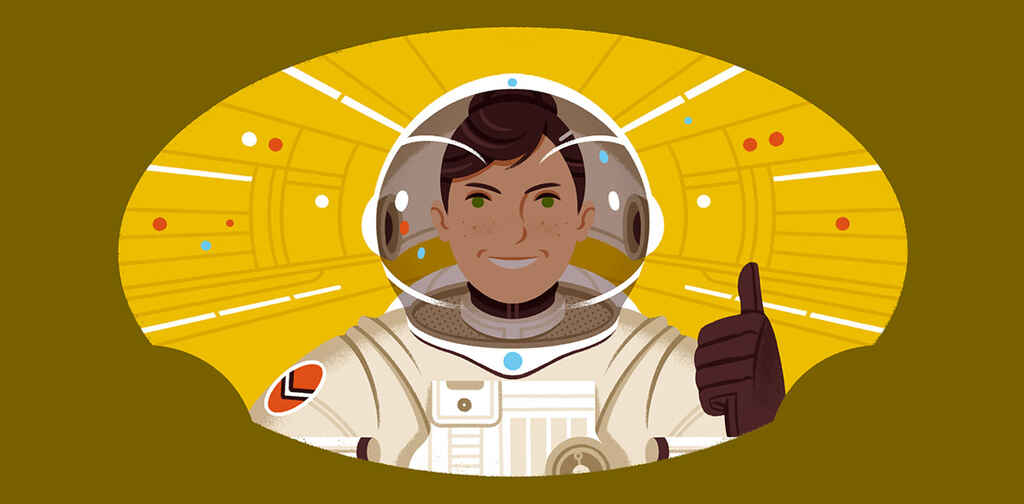 Reedsy's Book Launch Checklist
Launch your book successfully with our tried-and-true strategies.
Don't jump the gun and publish as soon as you type out the last sentence, or even as soon as you finish a thorough round of edits. Instead, put your manuscript away for a while, so you can come back refreshed enough to spot mistakes you missed on the last pass. Then bring in another pair of eyes — ideally, a trained editor who will leave your manuscript spotless.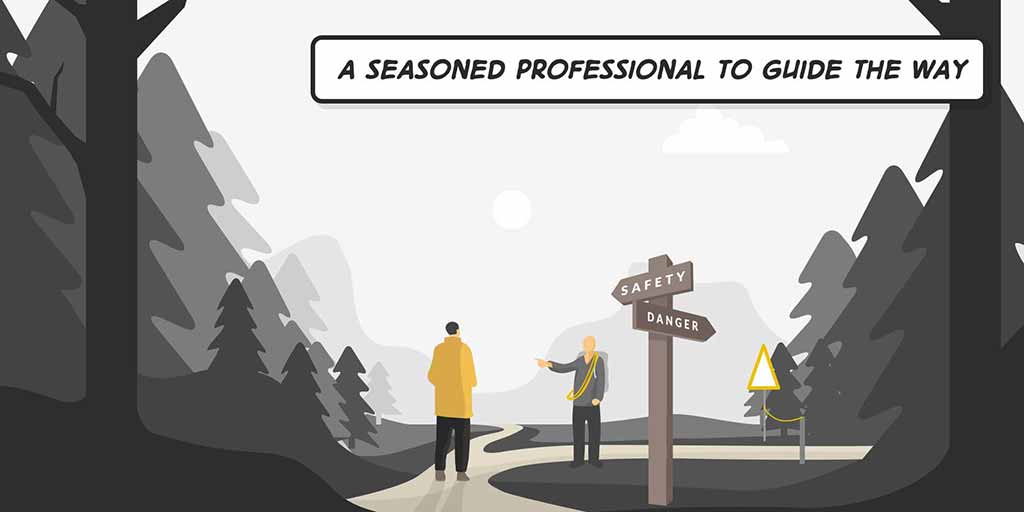 To learn more about hiring a professional to edit your text, read this post.
2. Design a book cover for your eBook
Once you've fine-tuned the text of your ebook, it's time to package it with an equally polished cover.
Remember, your cover is your ebook's first and best marketing asset. It should look great in ads, draw likes on social media, and, above all, grab attention on crowded online marketplaces. Whether you attempt to DIY or hand a professional designer the reins (which we recommend), it's important to use cover art to do your book justice. Phoning it in with a hastily produced, clip art-heavy image would be like shoving a priceless gem into a burlap sack.
Give your ebook the cover it deserves
The best designers are on Reedsy. Sign up for free and meet them.
Learn how Reedsy can help you craft a beautiful book.
If you want a deep dive into the world of book cover design in general, we've got a post that covers it (pun absolutely intended). But here's one crucial, ebook-specific consideration to keep in mind. Unlike a print cover in brick and mortar bookstores, your cover needs to look good — and make sense — at full scale and in miniature. 
You might find some inspiration from the best book covers of 2020!
Ebook publishing platforms require you to upload large, high-resolution JPG images for your cover. If you outsource your cover art to a professional, your designer will send you an image of appropriate size and quality. But if you're going it alone, consult this guide to make sure your homemade image has the right dimensions.
Now, your cover image may be big, but on retail platforms like the Amazon Kindle Store, potential buyers will first encounter it as a tiny thumbnail — often no more than 100 px wide. This fateful glimpse can turn a virtual window-shopper into a devoted new fan.
A cover that's gorgeous at full scale but a meaningless blur in miniature won't do you any favors in the sales department — so make sure you invest in art that shines at any size.
3. Learn the pros and cons of Amazon KDP for authors
With your pixel-perfect cover and immaculate text, you've reached a fork in the road of your ebook publishing journey. The two divergent paths before you: Amazon exclusivity or "going wide." Which will you choose?
For most authors, the phrase "ebook publishing" automatically conjures up Kindle Direct Publishing, Amazon's digital self-publishing platform. With 67% of the global ebook market share, Amazon is certainly worth publishing on — you should release through KDP no matter what else you do. But if you choose to go wide, you can also publish your ebook through platforms outside of Amazon.
Sticking with Amazon alone will give you certain marketing perks through their KDP Select. This program lets you promote your ebook through price promotions and Kindle Unlimited, a popular subscription service for ebook lovers.
On the other hand, diversifying through other platforms can help you reach readers who don't frequent the e-commerce giant. This can be especially helpful if you plan to sell in countries like Germany or Canada, where Amazon commands a slimmer share of the ebook market than in the US and UK.
Not sure whether to be exclusive to Amazon? Take our 1-minute quiz below!
✅
Wondering whether you should give all your ebook distribution rights to Amazon?
Answer these 5 questions to find out!
We also have a detailed post that'll walk you through the debate between Amazon exclusivity and going wide. Check it out here!
4. Choose your eBook publishing platforms
If you opt for Amazon exclusivity, you can skip to the next step — this one's for the indie authors going wide! Now that you're set on diversifying your ebook publishing, you can choose from any number of publishing platforms, including:
But having made one major ebook publishing decision, but you've got another right in your path. Will you publish directly through all your chosen platforms, or will you streamline the process with an aggregator (for a price)?
An aggregator can be a solution for authors who balk at the thought of publishing their ebooks over and over again. These services allow you to upload your ebook and associated info just once and submit it to several retail platforms on your behalf. The major aggregators dominating ebook publishing are:
In addition to saving you time, an aggregator can also help you cheat the technical restrictions imposed by certain self-publishing platforms. For example, you can only publish an iBook directly on an Apple device. Aggregators, however, allow Android-toting PC users to join the fray.
Of course, no aggregator offers its services for free. Some charge a flat fee for each title you publish through their system, while others take a cut of the list price for every copy you sell. Pricing varies, and so does coverage — not every aggregator distributes to every ebook publisher. You may want to combine several aggregators' reach to get on all the platforms you have on your list. Or perhaps you can use an aggregator that reaches most of your target retailers and publish directly on the rest.
Feeling overwhelmed? Take a look at this post on the best self-publishing companies for reviews of the major aggregators (and a few less prominent ones too). You can also check out this infographic, which lays out our recommended setup and reveals how aggregators can give your ebook as much reach as possible.
5. Write the metadata for readers
Once you know where you'll be publishing your ebook, it's time to go to your chosen platforms (and/or aggregators) and create your accounts. Some retailers like Barnes & Noble Press will let you upload your manuscript as soon as your account activates. Others, like KDP, will present you with several fields to fill out first. But either way, it's best to have all your book information prepared beforehand.
Your title, your book description, the categories that delineate your genre and niche: all of this counts as metadata, the information that makes your ebook discoverable on retail platforms. All publishing platforms and aggregators will ask you to fill in these three fields, and some may ask for additional forms of metadata, such as keywords that describe your ebook or an age range for your target audience.
Pro-tip: Want to write a book description that sells? Download this free book description template to get a headstart.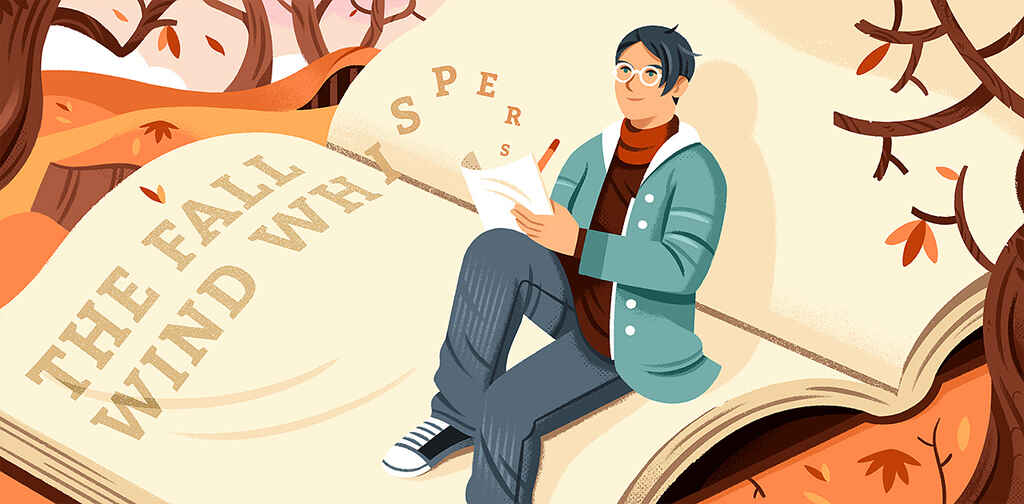 Book Description Template
Learn to write a book description that will make readers click "buy."
Getting your metadata right means more traffic to your product page — and more sales for your book. To make the process a little smoother, we've gathered some resources to help you craft your book description and pick your categories. Check them out below: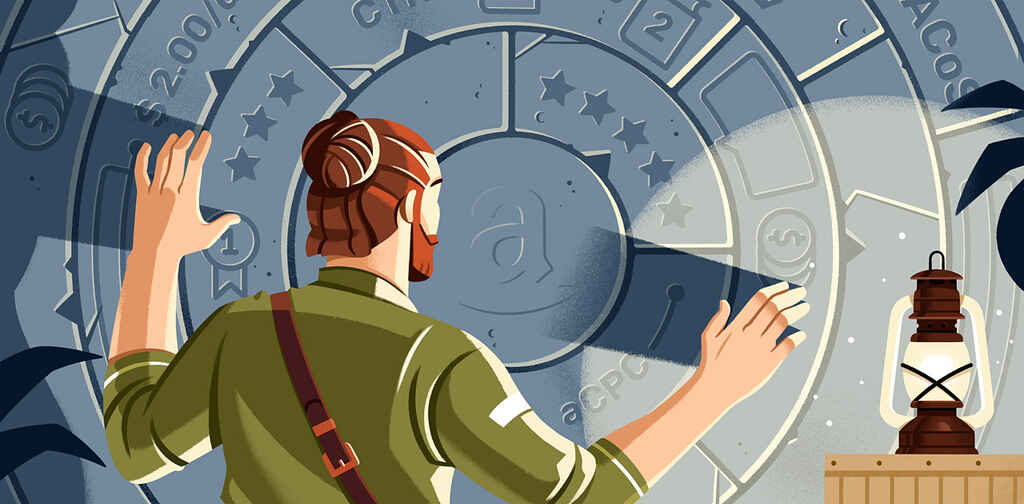 Amazon Algorithms for Authors
Learn to optimize your book description, pick categories, and sell more books.
6. Format your eBook for publication
We're getting close to the finish line! Your job now is getting your ebook into its final form, so you can finally hit that "publish" button.
You made your manuscript "word-perfect" way back in step 1. Now it's time to take that flawless text and convert it into an EPUB, the file format used by ebook publishers.
To be clear, platforms like Amazon will often allow you to upload a file in a different format, such as .docx or PDF. But when they convert your file into their preferred file type, you could end up with line break issues, spacing strangeness, and other visual quirks. That's why we recommend getting your ebook into your publishing platform's preferred format before you upload it.
For ebooks in most genres, you can format for free directly in the Reedsy Book Editor. However, if you need more features, you can opt for paid software like Vellum. For truly finicky, image-intensive titles, you may even want to hire a designer — someone who can lay out your ebook and give it to you in the right file format.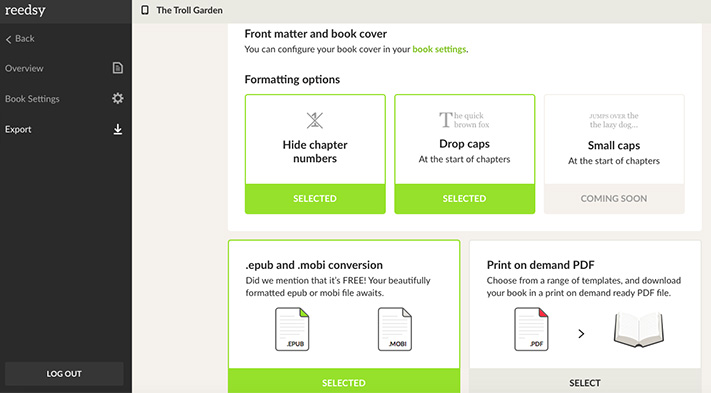 Want to learn more about the Reedsy Book Editor and other ebook formatting options? Check out this guide.
7. Upload your eBook files
Now you're ready to take your beautifully formatted ebook and upload it, along with your cover image, on whichever aggregator or platform(s) you've chosen! Your files may take a couple of minutes to show up — make sure not to navigate away from the page while you wait. And don't worry: you'll be able to preview your ebook to make sure everything looks pixel-perfect.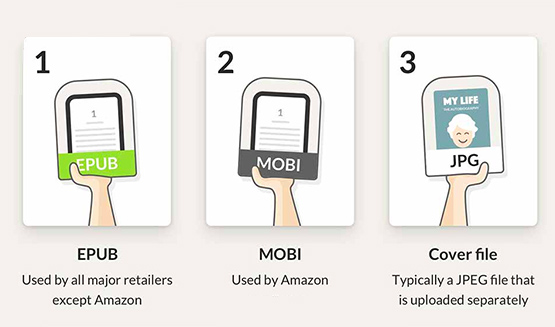 At this stage, your ebook publishing platform will likely offer you the option to enable Digital Rights Management (DRM). This feature locks your ebook to the device on which it was purchased. While it theoretically exists to prevent piracy, DRM is easily sidestepped in practice. It also stops readers who purchased your ebook legitimately from reading it on multiple devices — two reasons we recommend against it.  
If you decide to enable DRM, make sure that's a choice you're prepared to stick with. Unlike your book description or even your cover image, your DRM setting can't be changed later.
8. Set a price with royalties in mind
Once your ebook is uploaded, it's time to decide how much it will sell for! Keep in mind that your royalty rates will change on some platforms depending on your ebook price. Amazon self-publishing royalties for titles costing between $2.99-$9.99 are usually 70%. Prices falling outside this range will net you only 35% royalties.
Pricing is one of the book details you can always change. This flexibility allows you to offer discounts (and even free giveaways) to entice more readers into clicking "Buy." Price promotions are especially powerful during a book's launch — try to take advantage of them if you can! If you'd like to learn more about price promotions (or the science of ebook pricing in general), you can check out the free course below:
Free course: How to Run a Price Promotion
Acquire more readers, sell more books, and make more money with this online course. Get started today.
9. Publish your eBook
From the final proof to the debut price, you've shepherded your ebook through quite the journey. There's only one step left: finally hitting that "publish" button. Congratulations — your ebook is live and ready to turn curious readers into diehard fans!
---
Thinking about publishing an ebook? We hope this guide was helpful. Of course, setting your ebook live is only one part of the self-publishing process. Now you have to make sure it sells! To help your ebook get the hype — and the buyers — it deserves, check out our guide to book marketing.