How to Make an Ebook in 5 Steps (for Free!)
Creating an ebook might seem daunting, but with the right tool, it can be easy and fun! If you're looking for a stress-free (and cost-free) way to make an ebook, please allow us to introduce your new favorite app.
The Reedsy Book Editor (or the RBE, as we call it) is a powerful tool for writing, formatting, and converting ebooks. Tens of thousands of authors have used it to create beautiful books without spending a cent — and in this post, we'll show you how to do the same.
Using the Reedsy Book Editor, here's how to make an ebook in five steps:
1. Create or import your content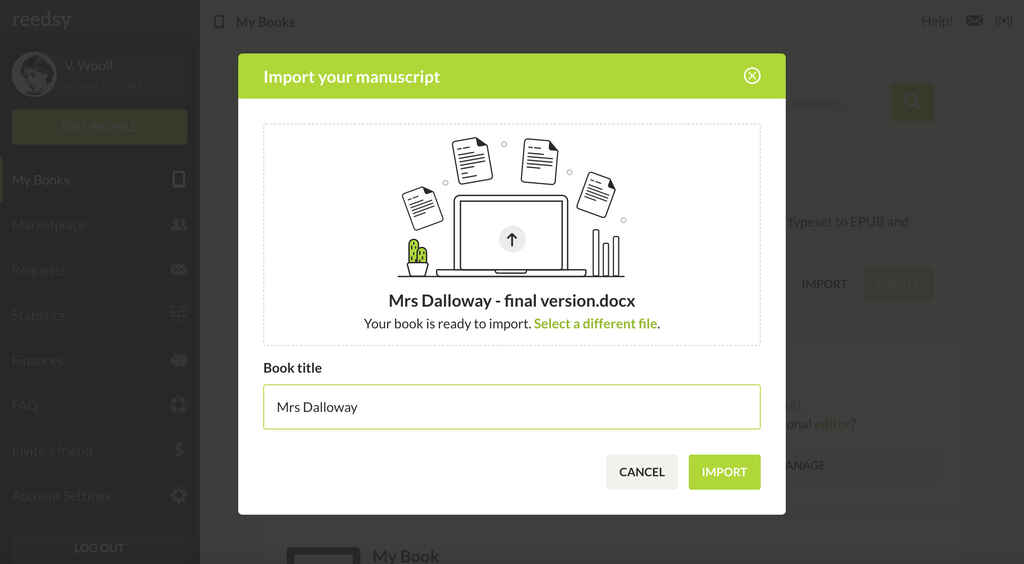 First off, let's talk raw content. There are three ways to get your text (and images, if you have them) into the RBE:
Import a .docx or .odt file;
Copy/paste each individual chapter; or
Write your book in the RBE itself.
Tips for importing your file
If you're importing, make sure your chapters are labeled "Chapter 1", "Chapter 2", etc. so they're automatically divided into the correct sections. You can also apply "heading" formatting (like Heading 1 and Heading 2) to mark your chapter titles. Don't worry about other formatting, as the RBE copies over bold/italicized/underlined text, hyperlinks, and so on.
Writing with the Reedsy Book Editor
If you haven't quite finished writing your ebook, the RBE is also a stellar word processor — simply add a new chapter and start writing. You can format your text as well as insert images, scene breaks, and endnotes directly in the app. For a little extra motivation, you can even create word count goals and set reminders to help you reach them!
Finally, whether you're importing your manuscript or writing directly in the RBE, you'll definitely want to edit your text before prepping your ebook file. If you're burnt out on revising, consider having a professional editor take a look! You can export your work and share it with them that way, or look out for in-app collaborative editing (coming soon).
Perfect your book with a professional edit
The best editors are already on Reedsy. Sign up to meet them today!
Learn how Reedsy can help you craft a beautiful book.
2. Manage your front and back matter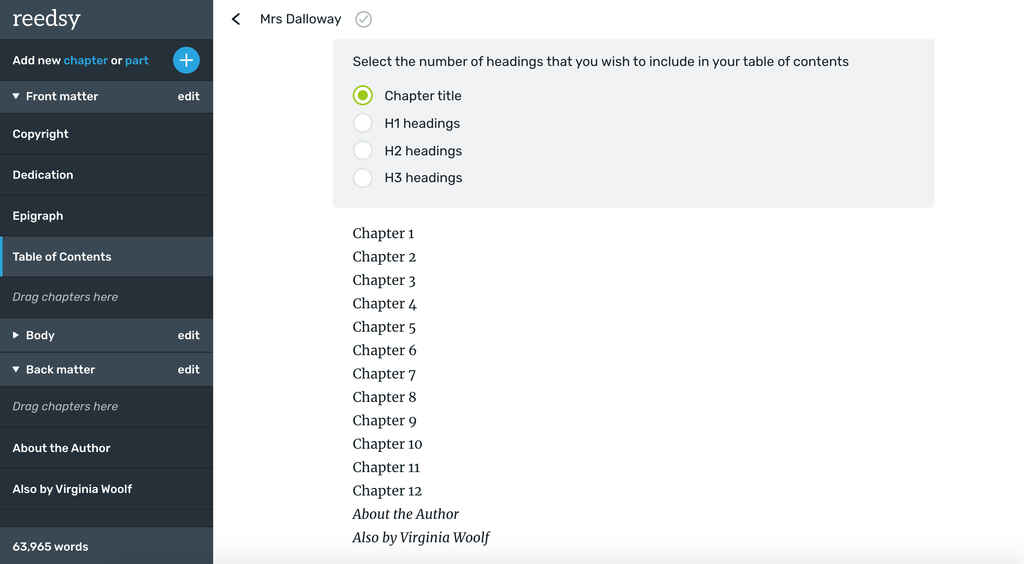 Once your body text is polished and divided up correctly, you can turn your attention to more "exciting" sections of your ebook — specifically, the front and back matter. These sections are pretty much what they sound like: the parts of a book that come before and after the main text.
The front matter includes your copyright, dedication, table of contents, and acknowledgments. (This last one would normally appear at the back of a physical book, but many ebooks have them in the front matter.) When creating an ebook in the RBE, you can also include an epigraph, preface, or foreword to introduce your book.
Don't forget the copyright page
In terms of front matter, the only element you cannot disregard is the copyright page, for which you'll receive a template in the RBE. We also highly recommend including a table of contents — in an ebook, this table will be hyperlinked, making it much easier for readers to navigate your book.
The back matter, meanwhile, consists of just two sections in the RBE: your author bio and a list of other books you've written. You'll get templates for these too, with spaces to add images, descriptions, and even your newsletter signup and purchase links for the additional books.
Once everything's filled in, skim through your front and back matter once more, making sure nothing's out of place. Then you can move on to something even more fun…
3. Upload a bespoke book cover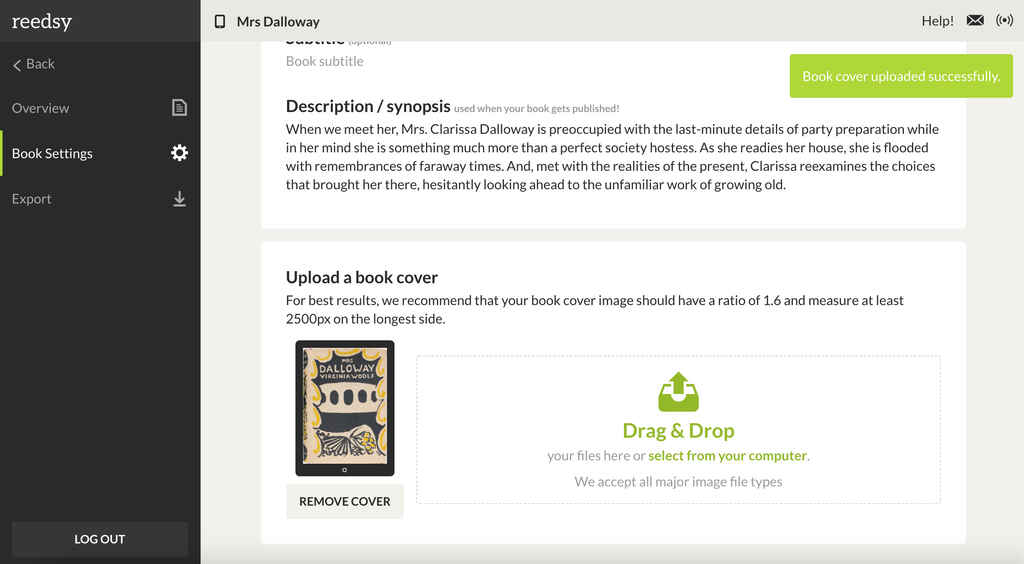 Though ebook retailers typically require you to upload your cover separately, it's still nice to have it embedded in your original file so that you can send ARCs to readers and reviewers. As such, go ahead and upload your cover to the RBE once it's ready! You can do this via your Book Settings — just return to the My Books page and click the tablet icon next to your title.
Of course, the importance of this step isn't really in the uploading, but in ensuring that your book cover design is appealing, genre-friendly, and correctly sized. That blog post goes into more detail about the full cover design process, but here's a quick checklist for just before you upload:
✅ Is your cover the correct file type and size for your platform(s) of choice? Amazon KDP, for example, requires .jpg or .tiff files for book covers, with optimal dimensions of 2,560 pixels tall x 1,600 pixels wide.
✅ Does your cover look good in thumbnail form? Most readers will judge your book based on the thumbnail, so make sure it looks decent. When sized down to roughly 200 pixels tall, your cover should still be eye-catching and the title legible.
✅ Are you 100% happy with this cover? Even if the dimensions are correct and the thumbnail seems fine, there might still be something nagging at you. While it's true you can always update your cover after publishing, it's better to address these doubts upfront — you only get one chance to launch your book with the perfect cover!
Speaking of the perfect launch, if you're less-than-confident in your design skills, we strongly recommend hiring a professional book cover designer to give your ebook the best possible shot at success. Remember: your cover is the first thing readers will see of your book, and you can't put a price on a good first impression.
Or can you? If you're still feeling dubious about the importance of cover design, check out this case study showing the exact market value of a professionally designed cover.
4. Customize the final layout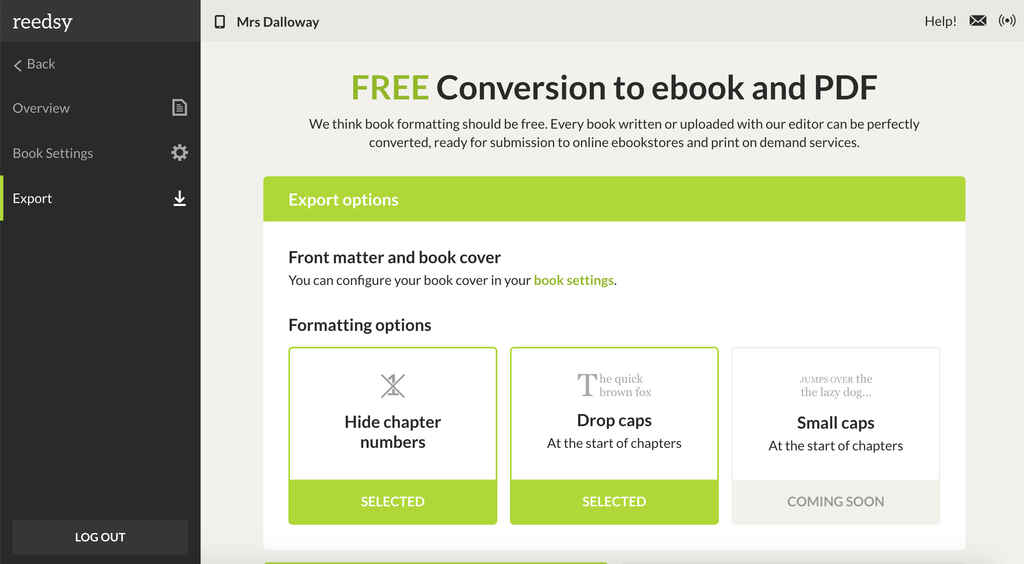 For those who love the beauty of intricate typesetting but are tired just thinking about all the nitty-gritty formatting, worry not: you can give your book its signature look with just a few simple clicks! To start customizing your layout, click the Export icon in the right-hand sidebar, which will take you to the page shown above.
Choose your ideal theme
With the RBE, you can choose among three different themes — Reedsy, Romance, and Classic — to suit your needs. Think about your target audience and what sort of impression, however subtle, you want to give them. Is this a lighthearted book where readers might appreciate a little design flourish in the chapter headings, or is it a no-nonsense work where even the font choices must convey serious business?
Add bells and whistles
Once you've chosen your theme, you can adjust a few more elements to make it your own. These include drop caps, or small caps if you prefer, at the start of each chapter. You can also hide chapter numbers if you don't want them in your final headings — for example, if you've written a book with multiple POVs and you want each heading to display the name of that chapter's POV character rather than its number.
Finally, with these features in place, go back through your book, your Overview, and your Book Settings. Proofread absolutely everything, even your book description, because you can never be too careful.
Having confirmed that everything looks flawless, you can scroll down and, at long last… 
5. Export your beautiful ebook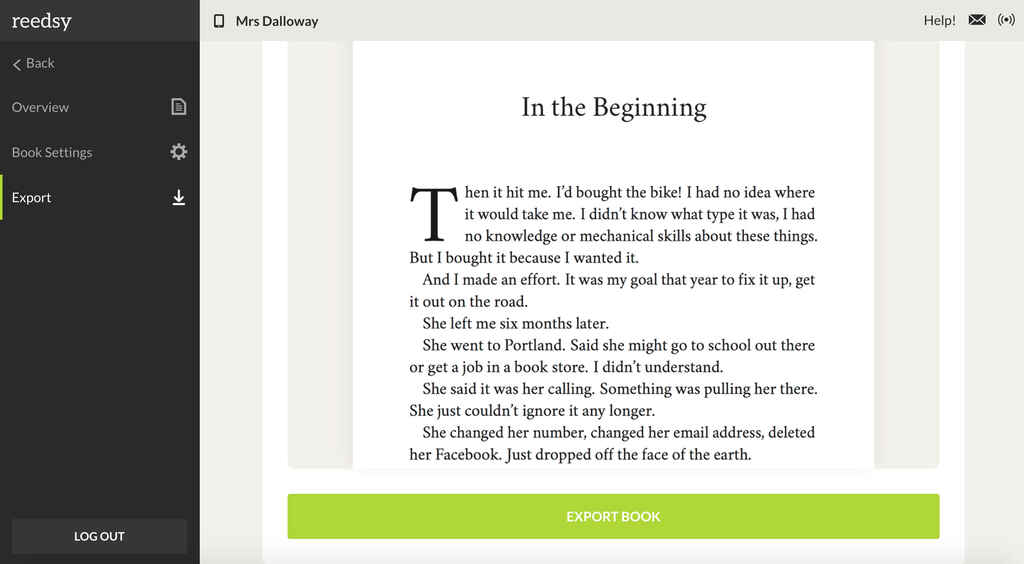 Just click that green button to export your ebook, and it should be ready in 30 seconds or less. The final ebook will be delivered to your inbox as a downloadable EPUB — the ebook file format of choice these days for most online retailers.
Check, check, check again
Before you upload your ebook to these retailers, however, take one last careful look over the EPUB. This post might sound like a broken record when it comes to checking your work, but better safe than sorry! At a minimum, click on each chapter title in your table of contents to ensure it links to the right section, and skim the first few sentences of every chapter to make sure nothing has warped in the conversion process.
And if all this still leaves you wanting more, here are a few bonus resources with more info on the RBE, plus layout and cover design inspiration:
---
Now, with your beautiful, reflowable ebook in hand (or onscreen), you're ready for the next part of this guide: publishing your ebook! You'll also find valuable tips for ebook distribution and marketing in the parts to follow.