Last updated on Nov 08, 2023
Children's Book Template: Create a Perfect Layout (+ Download)
You've penned a children's book and you need illustrations to bring scenes and characters to life. If you've successfully pitched your manuscript to traditional publishers, they'll take care of everything. But if you're publishing solo, you'll need to brainstorm how your words and illustrations will complement each other on the page. 
Crafting a storyboard, often called a dummy book, allows you to map out your story page-by-page, giving a tangible glimpse of the final illustrated product. Importantly, using a template will help you think about story pacing, giving you a sense of where your story is strong or falls short. 
In this post, we'll offer a downloadable template you can edit, and guide you through the process of laying out your book.  
How to lay out a children's book: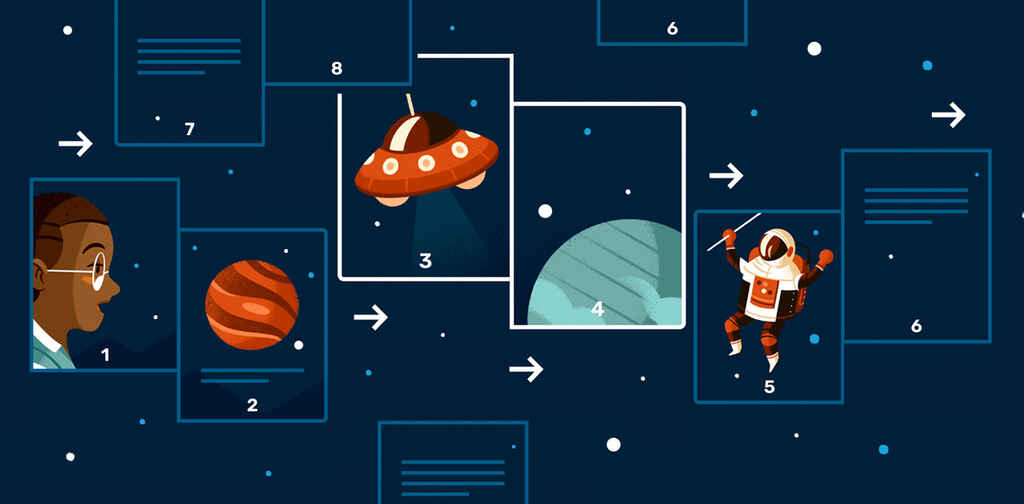 Children's Book Storyboard Template
Bring your picture book to life with our 32-page planning template.
1. Polish your story beforehand
When editing the template, it's best to work with the final version of your manuscript. This means that you've gone through a few rounds of copy and developmental editing to refine aspects like vocabulary, dialogue, and rhyming; as well as theme, characters, and structure. Without a polished story you might find yourself oscillating between story layout and revisions, which can muddle the process.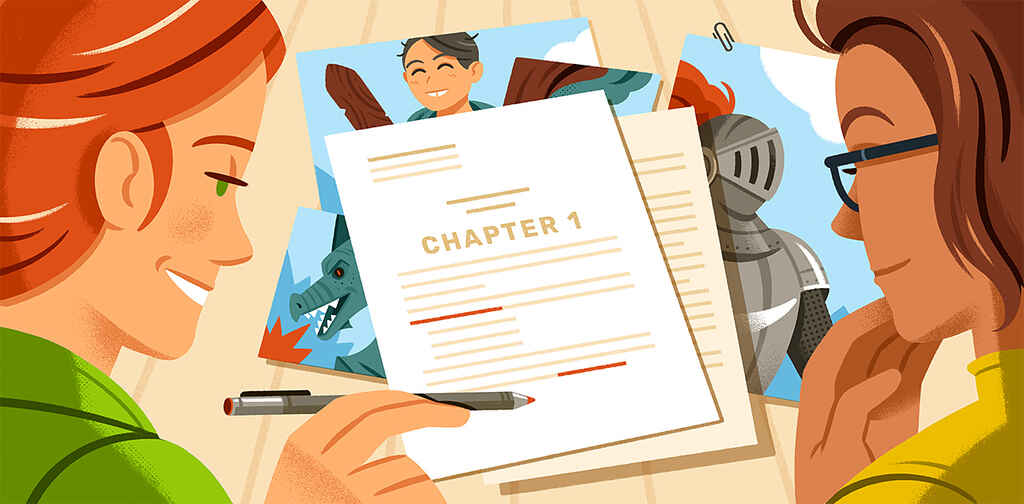 Make your story sing
Work with a professional children's book editor to take your book to the next level.
If your manuscript is ready, set up your template based on your book's length and preferred layout. 
2. Define your book's length 
As with all forms of art that are intended for a mass audience, picture books must often conform to established printing and publishing rules, particularly concerning length.
A standard picture book typically ranges from 400 to 800 words and is usually 32 pages long, though you'll find variants of 24, 40, or 48 pages. When in doubt, sticking to the industry standard is the best course. 
Self-publishing and print-on-demand services offer greater flexibility, though you'll need to research the specific printing options of the platform you choose. For instance, IngramSpark mandates a minimum of 16 pages, whereas Amazon KDP sets its minimum at 24 pages for paperbacks and 75 for hardcovers.
Consider the front and back matter
Regardless of your total page count, remember it should include both front and back matters, which are integral parts of every book. If you're working towards a 32-page book, you'll actually only have 30 pages or less to tell your story.
The front matter typically includes elements like the title page, copyright information, and a book dedication, while the back matter is often reserved for a short author bio.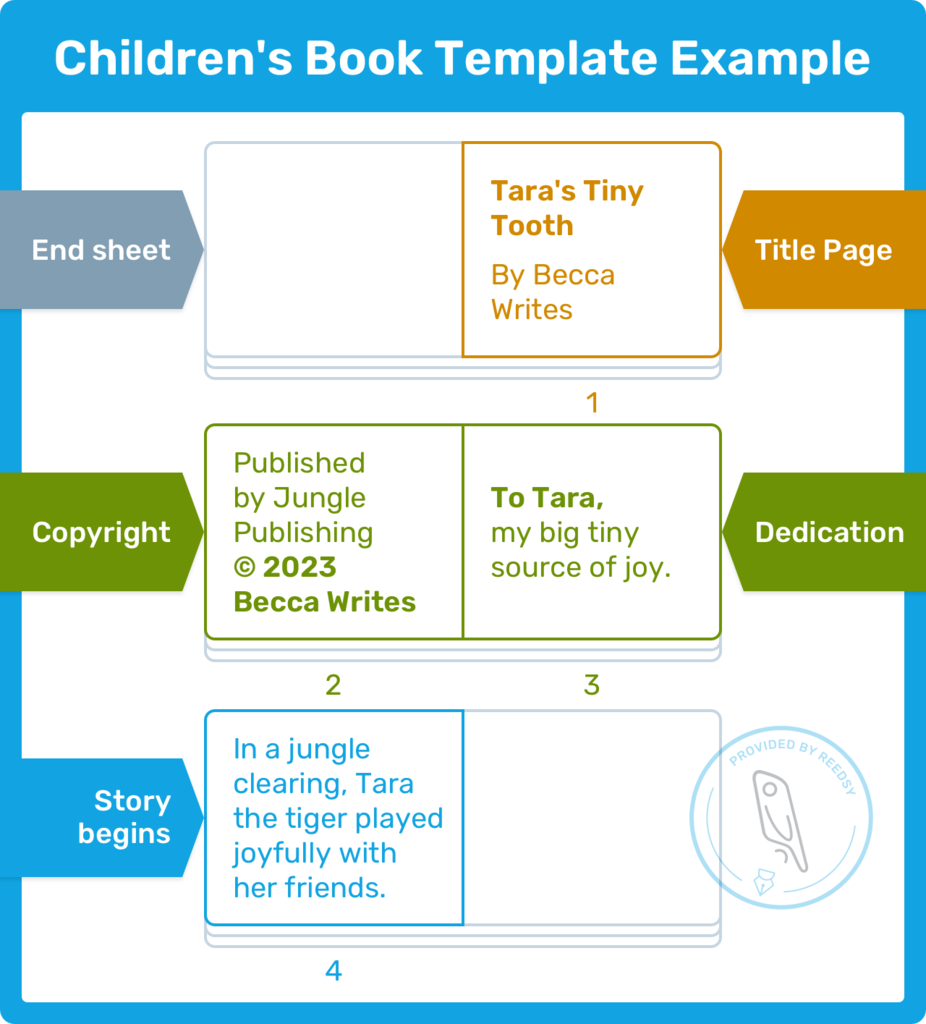 ⚡ Pro tip. Create your copyright page in less than 5 minutes using the free Reedsy Book Editor.
Your choice about the front matter will determine whether your story starts on a single page or on a two-page spread, so consider what's best for your narrative. Does your first scene stand on its own? Or does it need a full spread to get the story going? 
Depending on your needs, adjust the template to have more or fewer pages. Then you can focus on the story. 
3. Mark the spreads and page turns 
Like any other narrative, a children's book follows a story arc, starting with some expository scenes, rising action, a climax, and a resolution. You'll want to think about the significance of each scene in your story and determine how many pages it should occupy.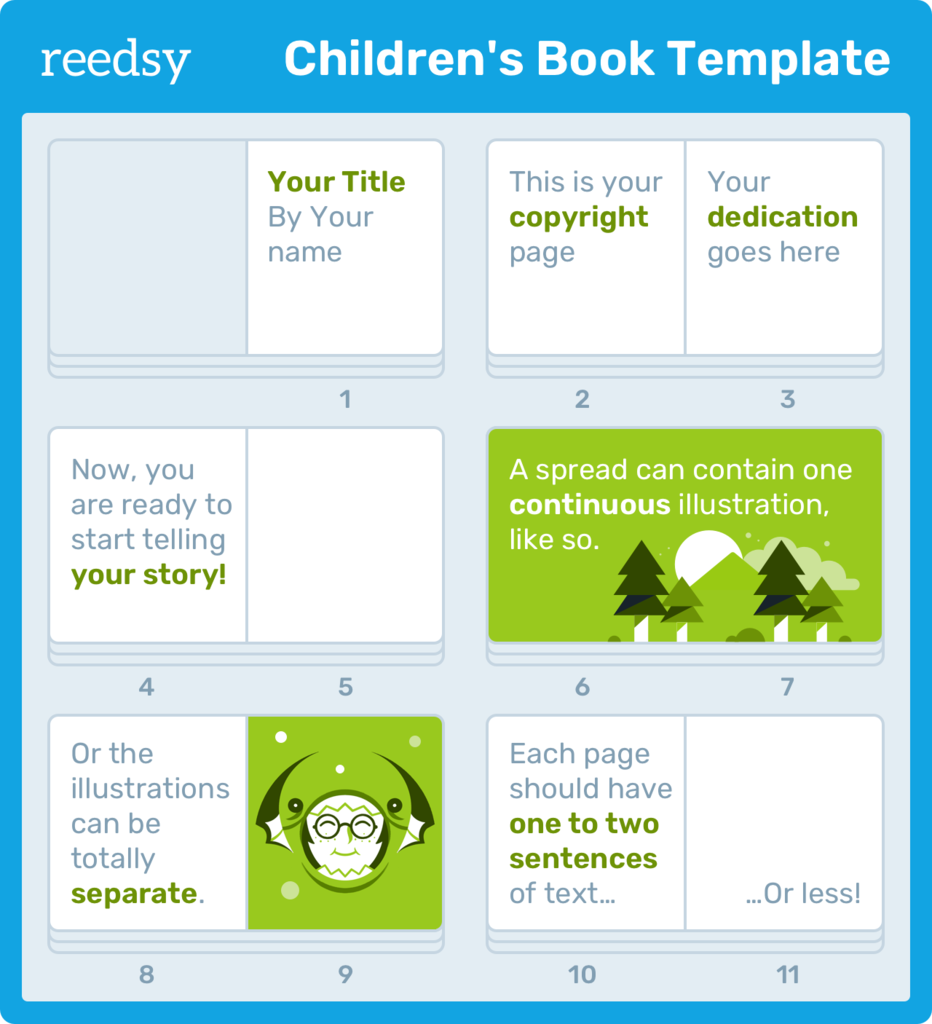 Insert your text into our children's book template. If it helps, add sketches, photos, or simple text to represent the illustrations you envision. Gauge if the layout reflects their importance. 
As an example, consider this story about Tara, a baby tiger navigating the rite of passage of losing her first tooth. You might establish the story with two separate scenes 一 one which describes her everyday life in the jungle, and another in which she feels a wobbly tooth, the hook that sets the story in motion.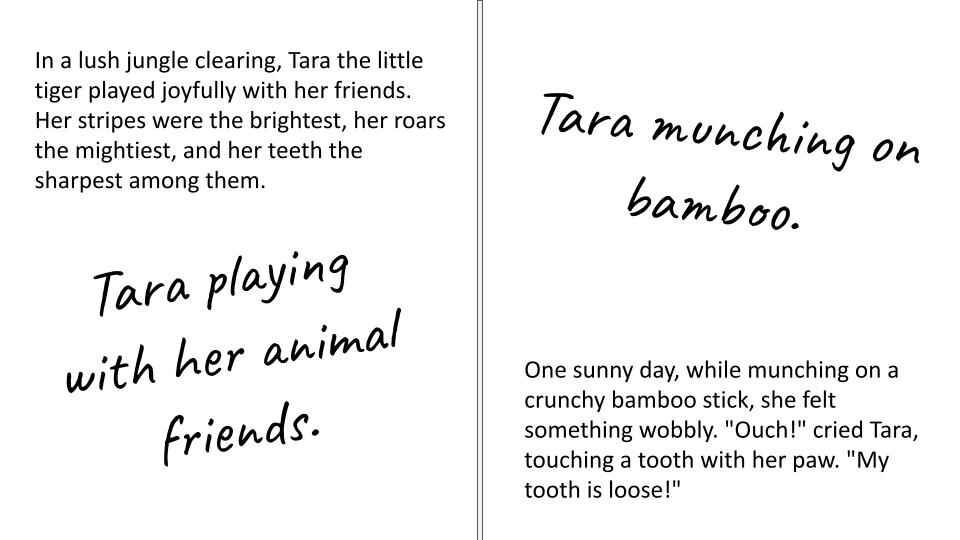 Save double-page spreads for your big moments
Later in the story, Tara loses her tooth. She's concerned, but also hopeful noticing the new one peeking through. All her friends gather to celebrate the important milestone. It's a special moment about friendship and growth which you might want to highlight with a full spread.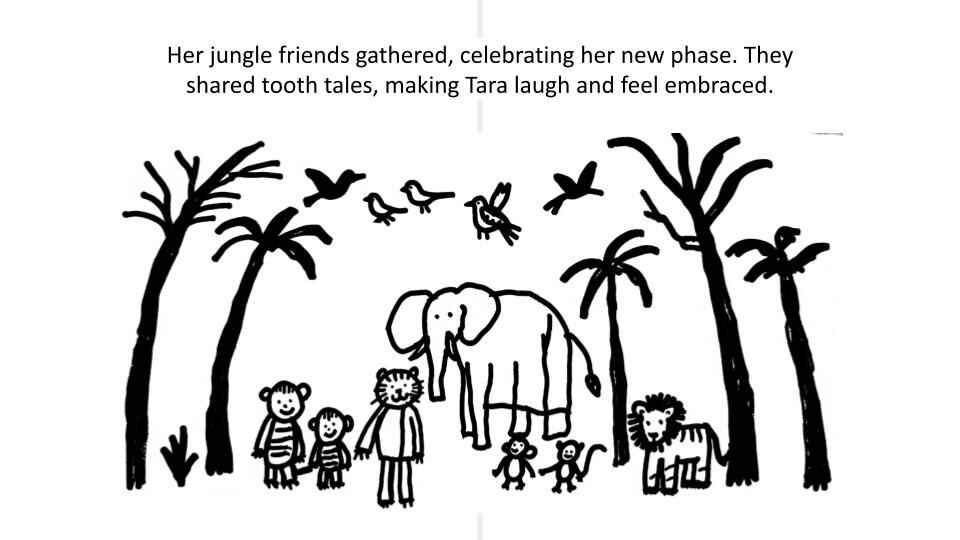 Next, think critically about page turns and pacing. Given the short attention span of 4-6 years old children, each page or two-page spread should be strong on its own and serve as a hook for the following one. Also, as a rule of thumb the word count should not exceed 30 words per page.
Tweak the layout until each page and spread feels right. Then you can start thinking about actually creating the illustrations. 
4. Finalize your illustrations
Unless you're a designer, the final illustrations for your book will be done by a professional you choose to collaborate with. But before you hire someone, it's ideal to create art notes detailing the number and type of illustrations you want. This will serve as a starting point, the illustrator will then infuse their expertise and creativity into your ideas.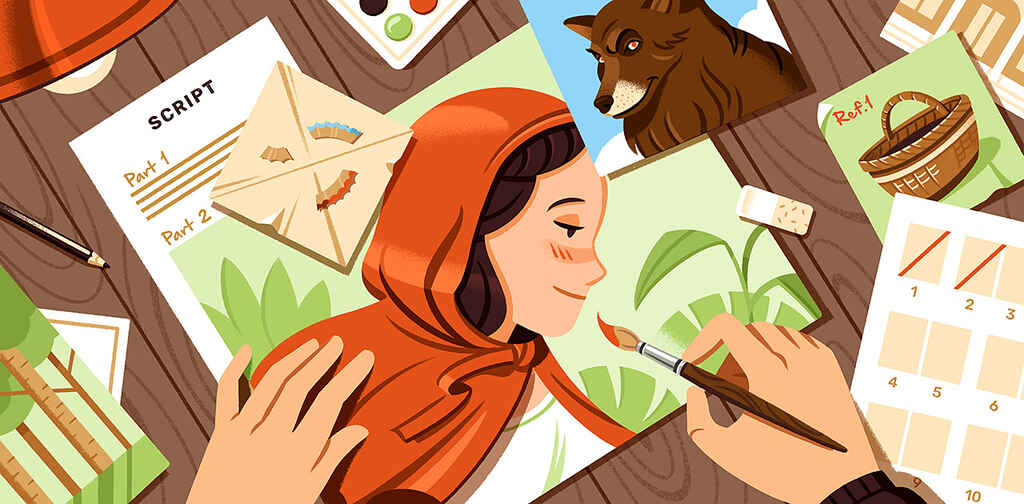 Bring your children's book to life
The best children's book illustrators are on Reedsy. Sign up to meet them.
Create your art notes
Review your children's book template and tally the number of illustrations required. Each illustration should feel unique, necessary, and sized to match the importance of the plot point.  For each, provide a description of what you envision 一 a sentence or two should be enough, but don't be afraid to go more in detail. 
As children's book illustrator Sara Kuba points out, art notes can be very helpful. "It's great when authors have a clear vision for their book. It also saves time, as there's less guesswork to do when sketching pages and designing characters."  
🎨 The advantage of self-publishing is the extent of creative control it affords. In contrast, when pursuing traditional publishing, it's advisable to minimize art notes. Illustrators at publishing houses have more autonomy in steering the book's creative vision.
There are different types of illustrations for picture books, from vignettes to full-page images. Different scenes of your story may require a different style, which you can specify in the art notes too. 
Find an illustrator whose work you love
The illustration style will largely depend on the children's book illustrator you select. Every artist possesses a unique flair — from simplistic sketches to watercolor images to Pixar-esque renderings, you should choose someone whose art resonates with your vision for the book. 
As Sara Kuba suggests, if you're unsure what art style will look good on your book, you can ask the illustrator for an art test (like designing a character, or doing a spot illustration.) This will help you both visualize the story, and get a feel for how it's like to collaborate with them.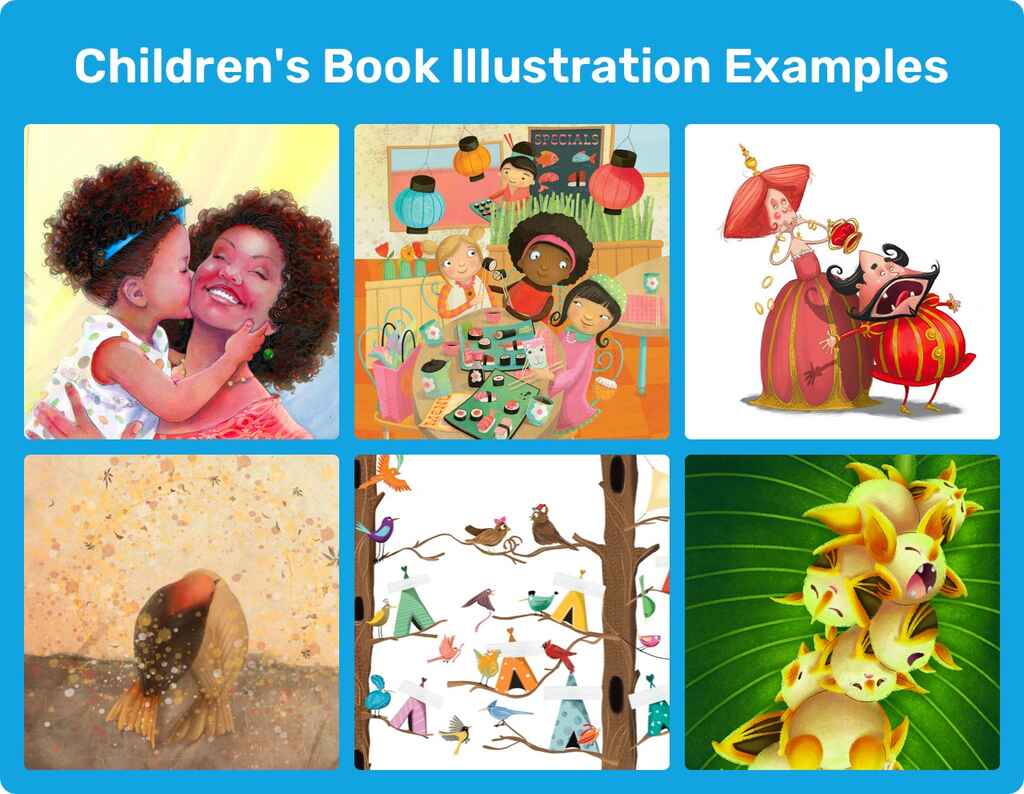 🎨
Which children's book illustrator is the best fit for your book?
It'll only take a minute!
Choose a book size
Do you prefer a square, portrait, or landscape layout for your book? The trim size you choose will influence the illustration design. This is not so essential when creating your storyboard, which you can do using simple slides like with our template. But when you collaborate with an illustrator, you'll need to express your preference 一 ideally before they start working on any art.  
With your input and vision, the illustrator will take care of illustrations, text, page layout, etc., delivering a PDF file that can be uploaded and printed through the major POD platforms. But before you do that, you'll need to wrap things up with a beautiful cover.
5. Get a cover design that sells
The final touch to your layout will be designing the front and back cover. You may be tempted to design it yourself, perhaps taking one of the illustrations and sticking the title and author name on top of them. But just like for the illustrations, it's better to hire a professional designer to do it. 
Consider the story of K.A. Leigh and Derek Roberts, the creators of Brudders Learns How to Make Friends. Even though Derek illustrated the book himself, it was only by consulting with designer David Miles that they were able to turn their DIY cover into a professional-grade product. 
The new design better conveyed Brudders' personality, the message of the story, and the book's adventurous nature. In addition, it featured elements that the authors could use for future books in the series, like the wavy banner.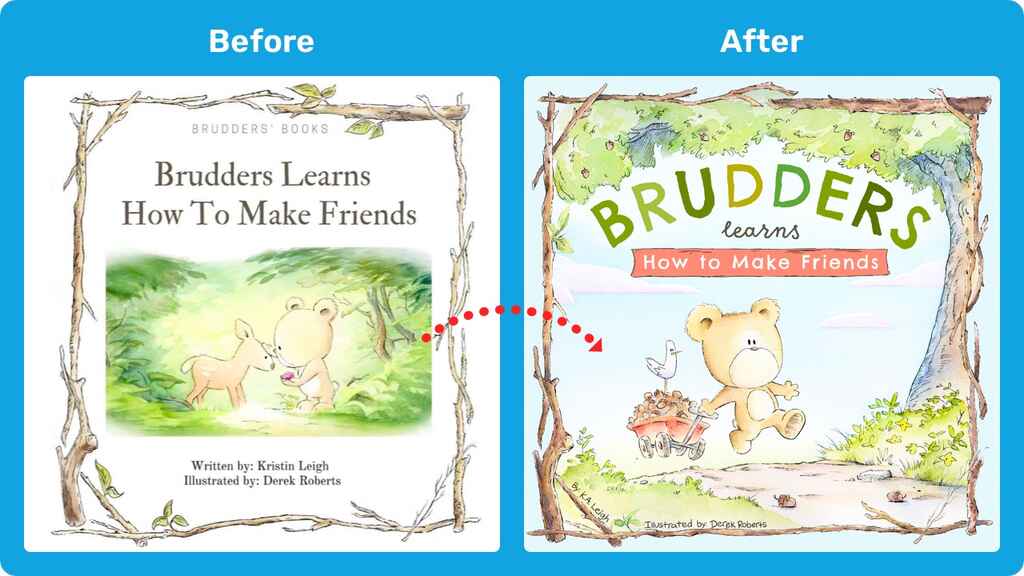 As Derek reflected afterwards, "Your book can have many wonderful, well-intentioned selling points, but the cover is the first and sometimes only thing people will actually see. They will make up their minds instantly (even if they didn't mean to), so our advice is to make your cover a priority as early as possible in your self-publishing journey."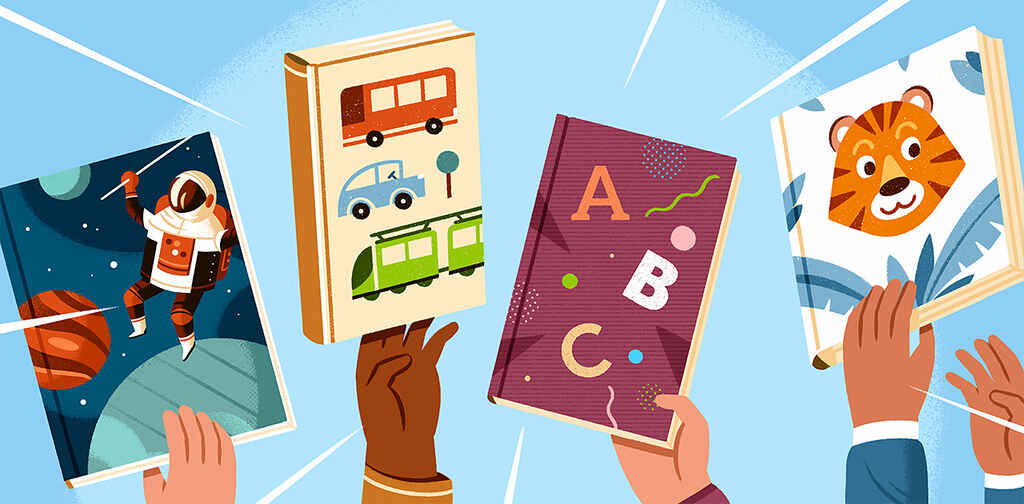 Dazzle children with design
Enchant kids and their caregivers with a professionally designed book.
We hope this post and our free template will help you map out your children's book page-by-page before you add illustrations, and help you get closer to the dream of self-publishing your picture book.
In the next post of our guide, we look more in detail at how to find an illustrator to bring your book to life.