Book Cover Design Software: The Best Paid and Free DIY Apps
If you're on the hunt for book cover design software, you're probably looking to DIY the cover for your book. But before we get into our recommendations, we'll start with a caveat: don't make your own book cover if you can avoid it, unless you're a professional designer already.
Cover designer Ninai Freitas urges authors to think of covers for books as a long-term investment: "It is better to have a well-designed cover that can help increase sales. You can have the best tools — such as Photoshop, Illustrator, or InDesign — but these programs don't automatically make a book cover. What counts is the person using them."
Budget naturally plays a role in an indie author's publishing decisions. On our marketplace, professional designers charge, on average, $650 to design a book cover. However, roughly 20% of the designers we polled will charge under $400 — and if you manage to find a super-talented newbie who can do a simple design, it might be even less.
But we get it: a couple hundred dollars is still a pretty penny. So if you're set on designing your own cover and you're willing to put in the effort to learn a new skill, here are some options for book cover design software that won't break the bank — and even some you can use for free.
As a publishing network that has helped authors release over 10,000 books, Reedsy is in a unique position to compare how each piece of book cover design software meets the needs of authors in today's publishing environment.
| Software | Price | Templates | Runs in |
| --- | --- | --- | --- |
| Adobe InDesign | $20.99/month | Yes, included | Windows, Mac |
| Adobe Spark | $9.99/month | Yes, included | Browser |
| Book Brush | $99 - $246/year | Yes, free | Browser |
| PosterMyWall | Free - $319.95/year | Yes, paid | Browser |
| Placeit | $89.69/year | Yes, paid | Browser |
| Canva | Free | Yes, free | Browser |
| Blurb BookWright | Free | Yes, free | Windows, Mac |
| Visme | Free | Yes, free | Windows, Mac |
| GIMP | Free | No | Windows, Mac |
Not sure what you want your cover to look like? Check out this book cover art gallery for inspiration! 🎨
Paid cover design apps that are worth the price tag
1. Adobe InDesign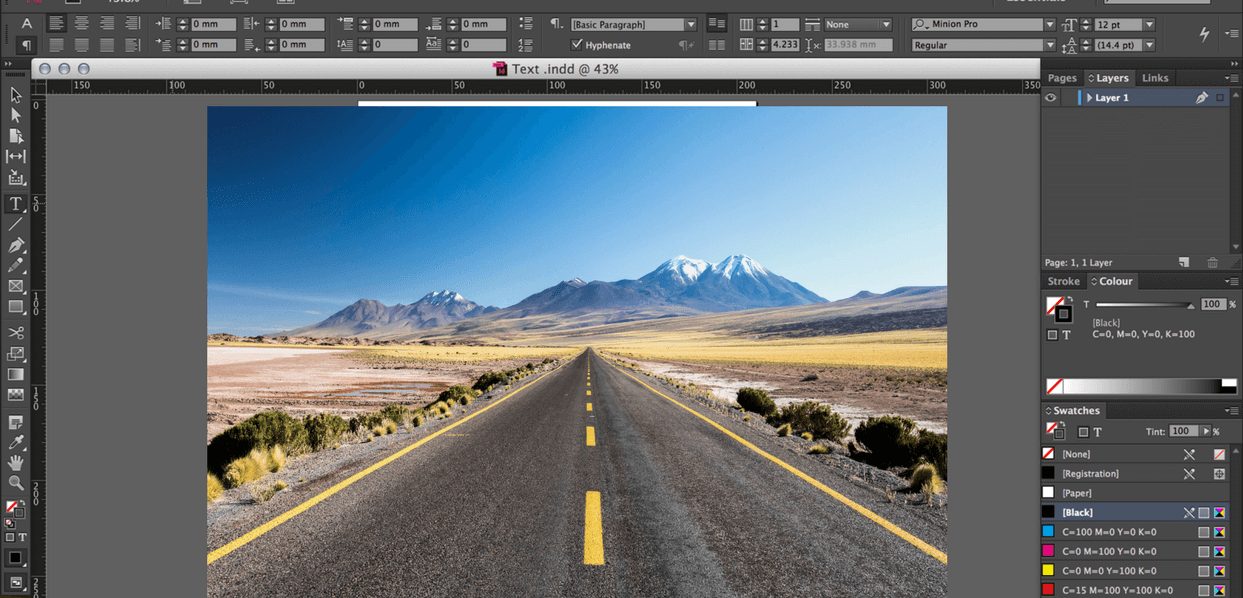 (Free trial, $19.99/month)
Gear up and buckle down if you're planning to learn Adobe InDesign. It's an excellent program that can produce beautiful designs, but it's a tool for professionals, intended for people who know book design inside and out. That also means it's powerful enough to create professional-looking covers — but learning how to do this won't be easy. You'll want to go through some tutorials to get your head around this software.
Luckily for you, Adobe has created a thorough step-by-step guide to creating an eye-catching book cover right here. And if you're really committed to learning about book design, this software is also a favorite for interior book formatting — not to mention creating other graphics.
✅ Pro: There's nothing like slicing and dicing in the kitchen with an uber-sharp chef's knife. Expertly crafted tools can give expert results, and mastering InDesign is the next best thing to getting your book cover designed by a professional.
❌ Con: The steep learning curve and price tag — InDesign will set you back $19.99 a month on the basic plan.
✨ Best for: Authors who are serious graphic designers, and want to lay out their books interiors to match.
Pro tip: "Go to a bookshop and just spend a couple of hours looking at as many book covers as you can. See what jumps out at you. In your opinion, what doesn't work? Use all these examples to inspire you with your design." – Talitha Shipman, award-winning illustrator
2. Adobe Spark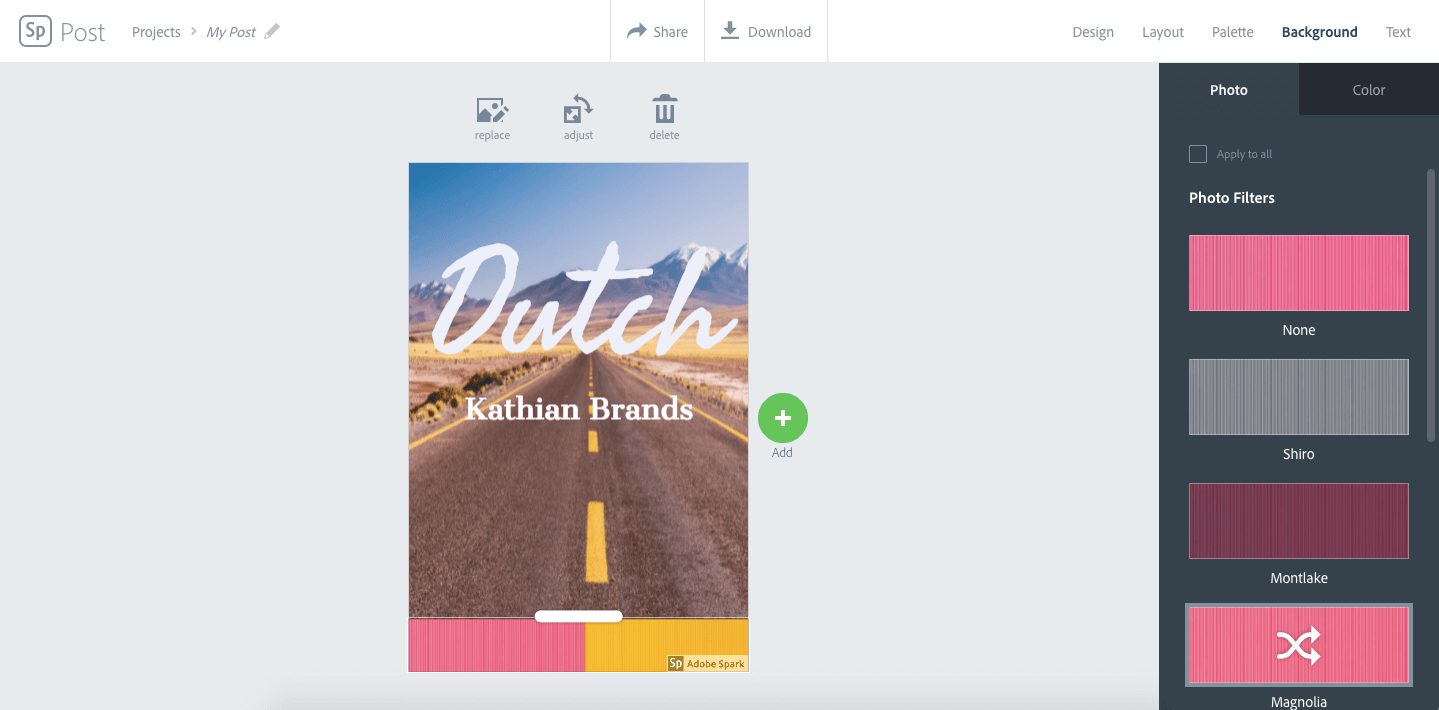 (Free trial, $9.99 month)
Cheaper book cover design software by Adobe? Score! Well… maybe. If you don't know a lick about design, Adobe is certainly a good place to start. They've got a wealth of resources, from how-to guides to blog posts packed with design inspiration.
And Adobe Spark's book cover design software and templates offer a reliable and less expensive option than Adobe InDesign. However, if you go with the free plan, you'll be left with the "Adobe Spark" logo on your finished product.
The premium plan is $9.99/month. However, unless you're planning to use it to create promotional materials for your book (like images to post on social media), you're better off sticking to one of the free options listed below.
✅ Pro: Adobe offers plenty of resources to the people who use their products.
❌ Con: Free version doesn't beat other free options out there.
✨ Best for: Authors who want a more powerful tool, but aren't serious design professionals.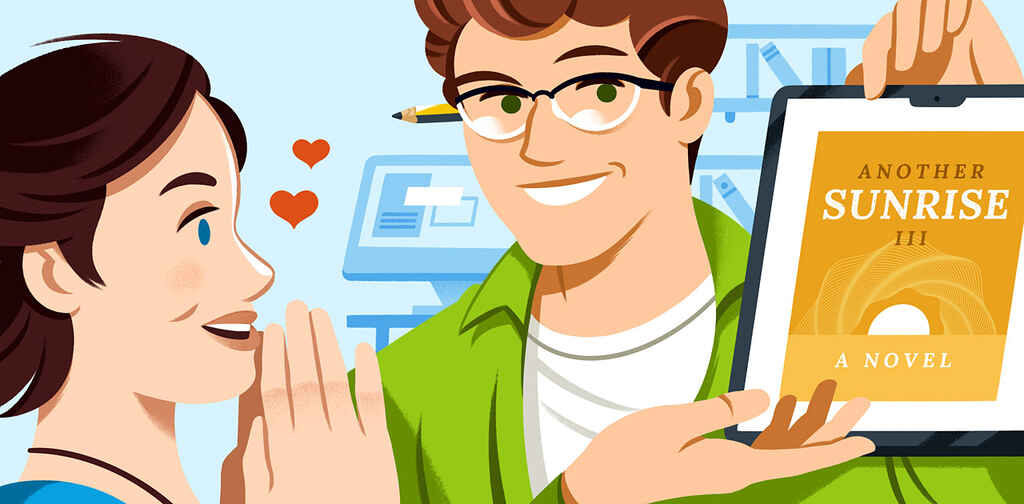 Get an amazing book cover
Let readers judge your book by its (professionally-designed) cover.
3. Book Brush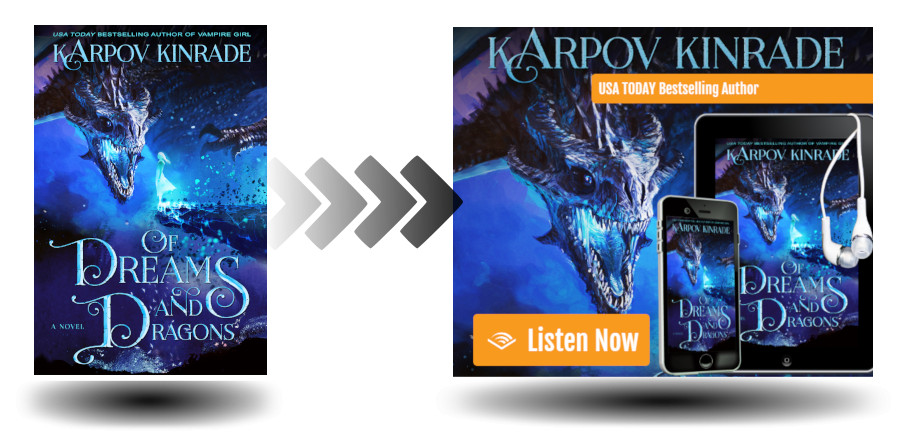 (Free ad design options, $99 - $246/year for covers)
Book Brush made a splash when it entered the scene a few years ago: as an easy-to-use design tool, it helped solve many authors' design-related headaches, from ads to book covers. Unlike Canva and a lot of other DIY design programs, Book Brush was created specifically with authors in mind. And a few minutes on the platform makes it readily clear that they put a lot of thought into making graphic design as intuitive as possible for authors.
In terms of cover design, Book Brush has three cover creation tools: its 3D Cover Creator, Box Set Cover Creator, and Cover Creator standalone tool. It also has 500+ pre-made templates for authors to swap out, in case they don't want to start from scratch.
✅ Pro: Easy-to-use and customizable, Book Brush offers an impressive array of design options for audiobooks, print and ebooks, box sets, and 3D images to start you off.
❌ Con: Its pricing plan is tiered — so the more design freedom you want, the more expensive the plan is going to get.
✨ Best for: Authors who want a full suite of advertising designs in addition to covers.
4. PosterMyWall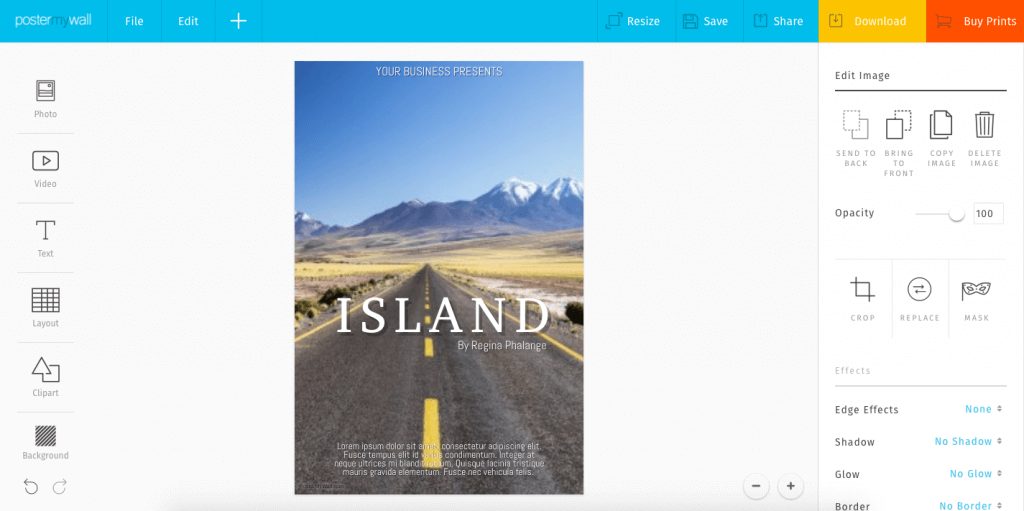 (Limited free option, up to $319.95/year for top tier)
PosterMyWall features another library of book cover templates that you can easily customize to your liking. The most exciting part of this cover design app is that it's connected to Getty Images, Pixabay, and Flickr! So countless free images of a sunset, a silhouetted figure, or iconic locations from around the world are no more than a click away: just hit "photo" and plug in the right search term.
You'll also see any terms or conditions for using the image, so you know straight off the bat if there are limitations. Free downloads come in a small resolution, or you can pay $2-5 for a high-quality version.
✅ Pro: No learning curve, so designing a book cover here is an easy and intuitive process.
❌ Con: PosterMyWall allows people to create book cover templates for others to use, so the quality varies. You may have to sift through quite a few amateur designs — and be careful not to end up with a template by someone who knows less about book cover design than you do.
✨ Best for: Authors who need a bit more customization, but still want an easy learning curve.
Note: When using templates to create covers, take extra care to ensure that you use book cover dimensions appropriate to your genre.
5. Placeit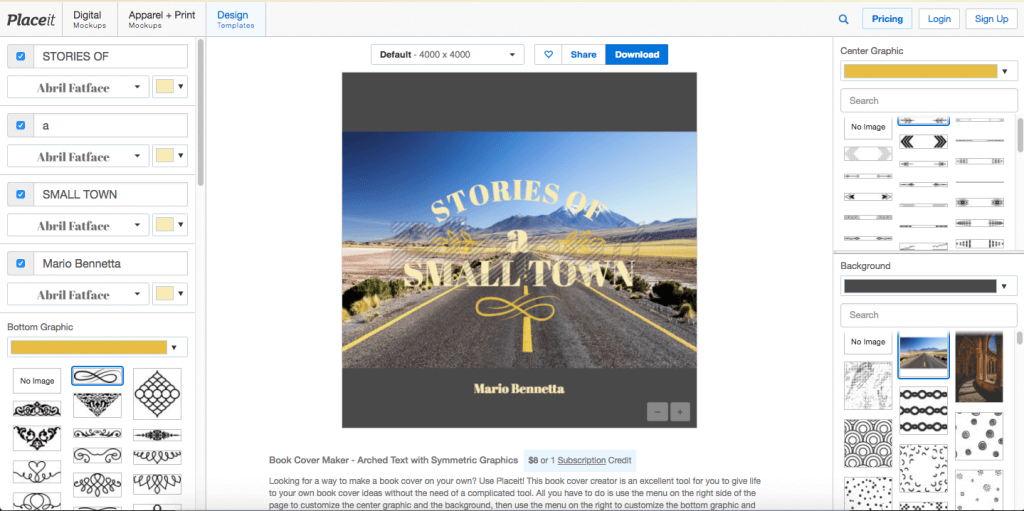 (Limited free option, up to $89.60/year for top tier)
Placeit offers a variety of cover template options with customizable tools that let it stand on its own. This book cover design software's best feature is that you can select your template based on the genre of your book, which is an excellent way to make your cover a more viable marketing tool!
Placeit also has a library of prefabricated photos, graphics, and illustrations so you can find an image for your cover without digging around off-site. There are quite a few to choose from — and even a library of textures for further customization.
✅ Pro: You can also download 3D cover mockups, which are useful for promoting your book.
❌ Con: There is a small fee — these covers will cost $8 to download.
✨ Best for: Author who need a bit more help identifying genre trends.
Pro tip: "Whether it's a seductive figure, an antique key, or a barren countryside, be sure that the imagery you choose is in-line with the target market/genre, and that the imagery will portray the correct mood, symbolism, and plot." – Hampton Lamoureux, digital artist, and book cover designer.
Free book cover design apps
6. Canva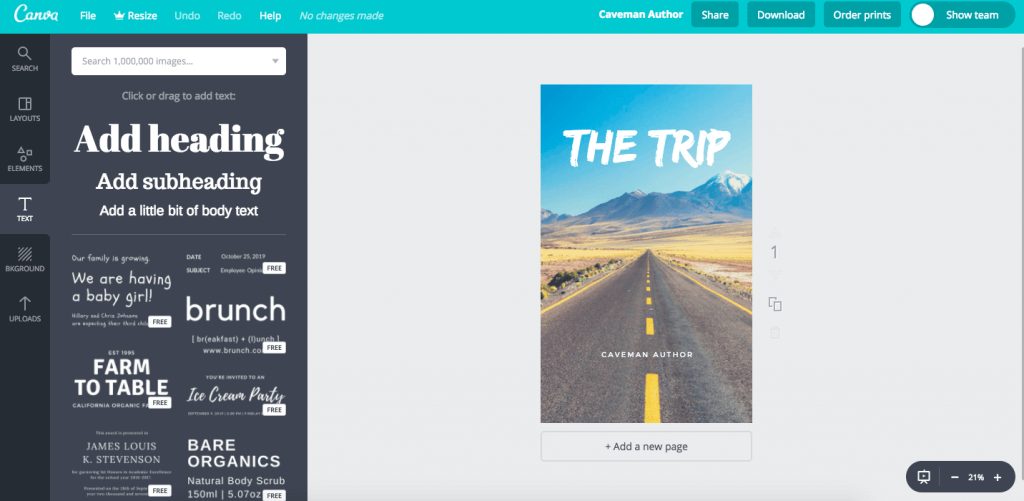 While this list is not in order of preference, we do feel that Canva is the #1 free book cover design software out there. This web-based app caters extremely well to its users in terms of both accessibility and variety — after all, most authors hunting for a DIY cover design tool won't have super-advanced design skills, so it's crucial to find a program that advances them.
Canva offers tons of cover template options and stock photos, each of which can be applied with the click of a button. Writers can then customize each book cover template with their own pictures, fonts, and other assets.
The best part? Canva's options are contemporary in feel and will let you create a book cover that's modern and fresh — unlike many cover creators with dated stock photos and fonts that make your novel look more like a 1970s textbook.
✅ Pro: Canva does a lot of hand-holding, which is a great option for authors who want to DIY on the fly.
❌ Con: If you use a ready-made book cover template, you risk ending up with a generic book cover that resembles a lot of other covers out there. So make sure you don't use the templates totally "as is."
✨ Best for: Authors who want to jump right in.
Pro tip: If you're not going to work with a professional, you should at least try to emulate one. In a recent post, we feature 68 jackets and break down why they work so you can take away your own book cover design ideas!
7. Blurb BookWright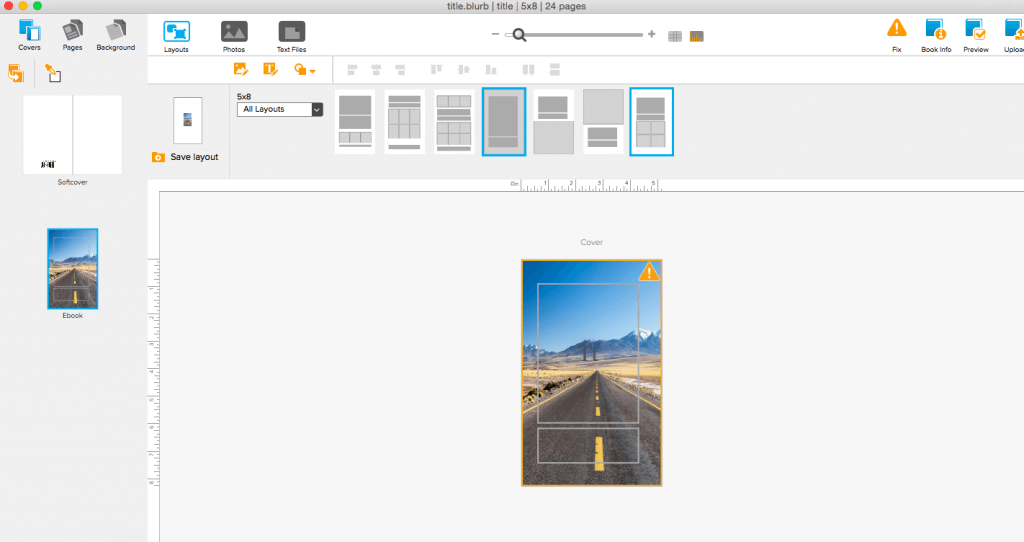 There's something just slightly off about using design software that isn't designed in an aesthetically pleasing way. Luckily, you don't have to worry about it with Blurb BookWright! This cover design app is a pleasure to work on and to look at.
Blurb BookWright is free to download and has valuable learning resources built-in. It's a bit of a cross between a template-based design program and a Photoshop-type program, and easier to use than you might expect.
Most people turn to Blurb when they're looking to design their book's interior as well as its cover. This tool is especially useful for image-heavy genres, like cookbooks and coffee-table photography books. But it's an inexpensive option for formatting trade novels too, and it works well as book cover design software.
✅ Pro: This is an easy-to-use, inexpensive option for putting together your whole book — you can even use it to assign an ISBN.
❌ Con: If you're just looking to make a simple cover and leave it at that, look elsewhere.
✨ Best for: Authors who want to design their book layout to match the cover.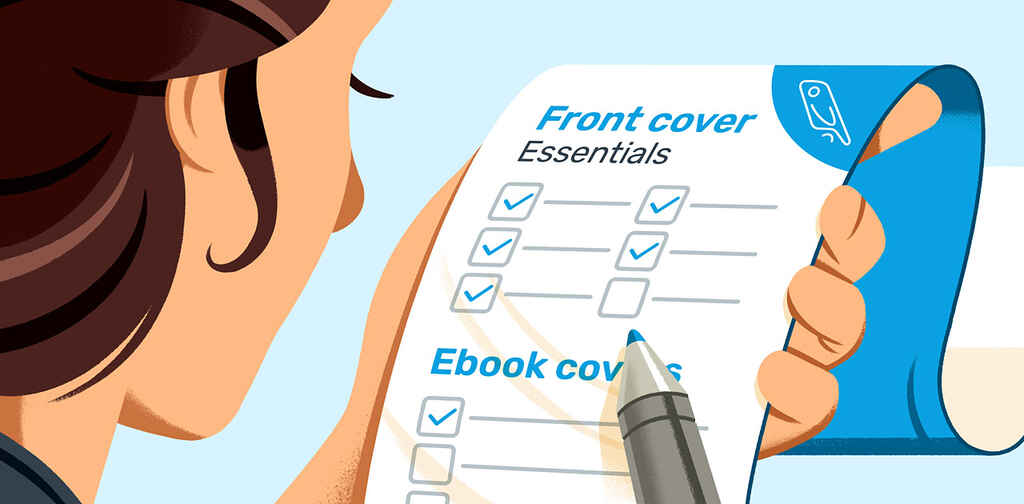 Cover Design Checklist
Make sure your book cover ticks all the boxes with our handy guide.
8. Visme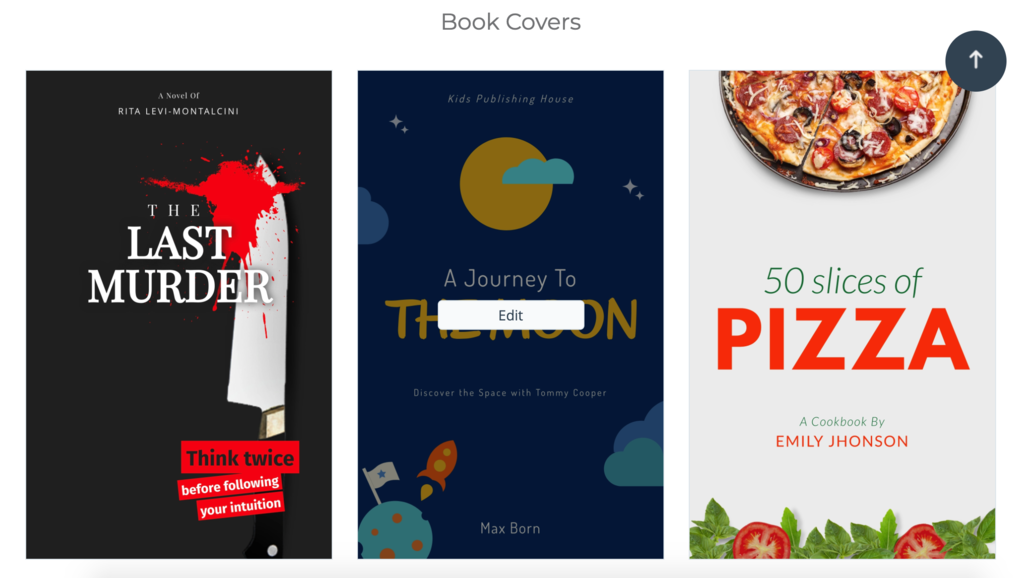 Visme's book cover maker allows you to easily create a completely unique book cover for your next publication. There are tons of available assets to choose from, or you can upload your own fonts and photos.
To customize your ebook cover with this tool, simply select your color palette or use the image extractor to pull in colors from a photo or graphic. Experiment with the shapes available to create your own icons and illustrations. Though there are plenty of design options, this book cover maker is surprisingly easy to use — no design experience needed! — roughly on par with Canva and Blurb.
✅ Pro: Again, very user-friendly and easy to access online.
❌ Con: It's tough to get a sense of the full range of features just from viewing the templates, so make sure you try them out extensively before settling on one.
✨ Best for: Authors who want lots of free template options.
9. GIMP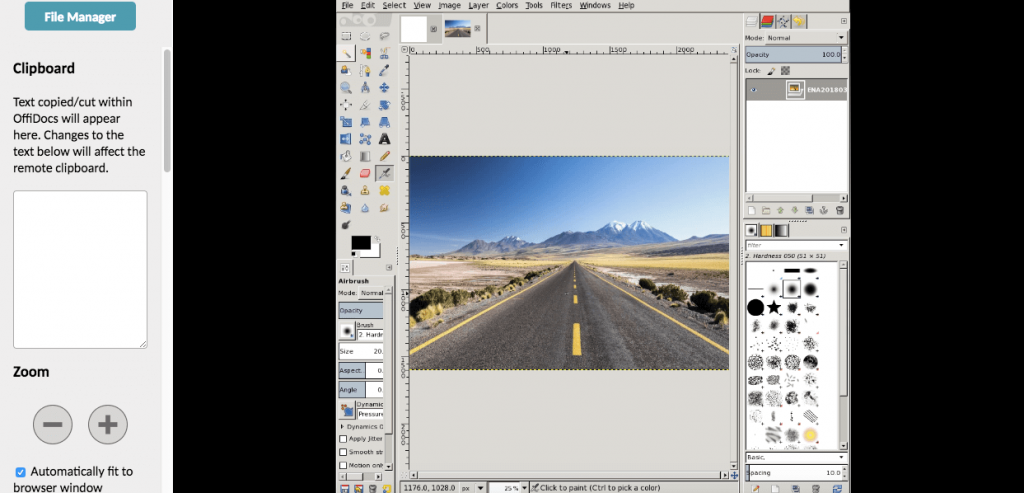 The nice thing about GIMP is that it's totally free! No hidden costs for image access, even high-resolution ones, or to download your final cover.
Still, there's no such thing as a free lunch — and with GIMP, what you'll end up spending on it is your time. That said, any Photoshop-type software will have a learning curve that requires dedication! GIMP's nonexistent price tag offers authors a little more flexibility while they get comfortable with advanced downloadable design programs.
Once you do get a grasp of GIMP, you can design more freely than with template-based book cover design software. However, unlike the basic web apps, it doesn't come with built-in image assets to choose from. You'll have to find your own — but then again, that can be part of the fun.
✅ Pro: Has features similar to Adobe Photoshop, such as clone stamping, custom brushes, and layering.
❌ Con: The learning curve.
✨ Best for: Authors who are serious graphic designers.
Pro tip: To learn more about typography and book design, check out our monthly Cover Critiques on Reedsy Live.
Verdict: the best book cover software for you
So out of all these options, how do you choose? Largely, it's going to come down to:
How much experience you have as a designer, and;
How big your budget is.
To find out which book cover software is specifically right for you, we recommend taking this 30-second quiz:
🎨
Which book cover design software option is right for you?
Takes 30 seconds!
If you're an experienced artist looking to get into book design on the cheap, GIMP is your best bet by far. The power and flexibility it offers is hard to beat, and you cannot top the price — or lack thereof.
For everyone else, it's worth testing out a few of the more user-friendly options and seeing which interface, pricing tier, and template selection best suits your specific needs. For instance, BookBrush is great for authors who are looking to create additional marketing material based on their cover designs; Placeit is useful if you're not sure what aesthetic works best for your genre; and Blurb BookWrite is perfect for the slightly more advanced author who's looking to create paperbacks to go along with their ebooks. You could even combine a few, choosing different tools to help you at each step of the process.
Whichever you chose, be sure to check out our comprehensive guide to book cover design before you get started. Remember, the best covers are marketing tools as well as works of art — so be sure to invest your time (and money) wisely!