Evernote's Beat Buhlmann: "How I became the CEO of my own life"
Beat Buhlmann is the General Manager of Evernote EMEA. With ten years of life management coaching under his belt, he decided to write a book about personal development planning and how it can help people manage their work goals and personal lives simultaneously. His book, Become the CEO of Your Own Life, was published earlier this year, an achievement that Beat credits in part to two time-saving friends to authors: Evernote and Reedsy. Read on to learn how these two tools came into play during the writing process, and to learn more about Beat's strategies for taking control of personal and career development.
How did you get started on writing your new book, Become the CEO of Your Own Life?
Working so intensively in the field of life management coaching was not my plan when I set out to start my career after graduation. As I began working, I quickly realized the importance of distinguishing between people management and business management. I also realized the importance of allowing and encouraging individuals to accomplish goals not only professionally, but also in their personal lives — both parts are important if you want to create an environment of trust in the workplace.
However, in today's rapidly changing and hectic workplace laden with distractions and constant overload, managing one's own life can be a challenge. To this end, I created a personal development plan (PDP) called the Swiss PDP Approach®. For several years, I coached companies such as Dell, Google, and Evernote implement the Swiss PDP Approach® to support their teams' efforts to combine and align private and business life in an effective and meaningful manner. 
The Swiss PDP Approach® is a simple approach but it works well, and I was getting increasingly more requests from Google managers around the world to hold people development training sessions for their teams. However, there came a point when I could no longer keep up with the demand — I still had a full-time job. I ended up having to to say "no, sorry" to many people, which was a difficult task, as turning down meaningful opportunities went against my inner beliefs. The first person whose request I declined was Matt Brittin, EMEA President at Google. It was Matt who encouraged me to write a book to share and spread my Swiss PDP Approach®. So I did.
What is the Swiss PDP Approach® and how can it be applied to writers?
One of the key elements of the Swiss PDP Approach® is its non-silo approach. Far too often, people raise a wall between their private life and their work life (creating two silos). However, that does not make sense — what happens in your private life has an impact on your work life and vice versa. Therefore, I suggest a holistic, integrated view, as you can see in the following diagram: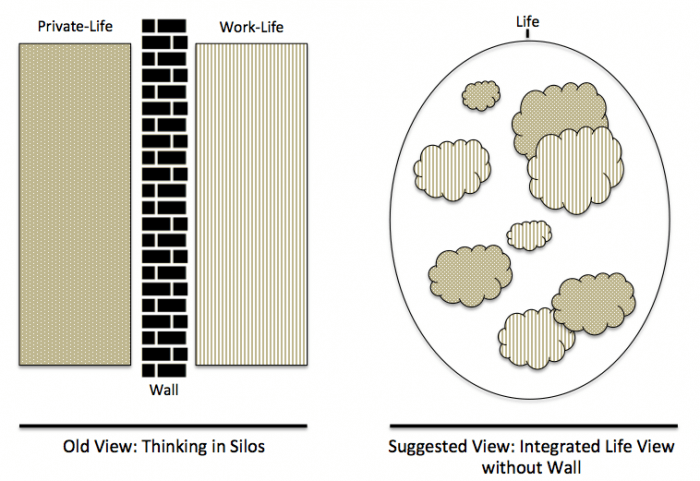 One of the main parts of the Swiss PDP Approach® is about getting to know yourself, and I believe this is a vital step for any author looking to write a book, whether fiction or nonfiction. The following image shows you the three steps of the Swiss PDP Approach®, the objective of each step, and who should support you: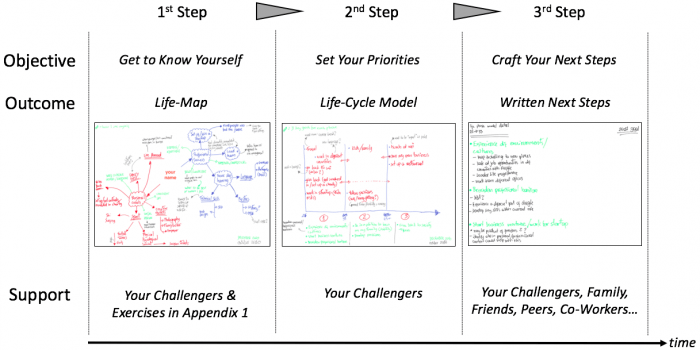 How did writing your book in Evernote affect your writing process?
How do you write a book nowadays? How do you manage the vast amount of resources, literature, ideas, chapters, etc.? I can truly see the difference in the writing process between my first book, published 12 years ago, and my current one: Evernote. Evernote has been a game changer for me — it's saved me so much time. Every idea, article, book, video, and audio recording is kept in Evernote and synchronized across all my devices. Having everything in one place allowed me to write whenever and wherever I wanted, whether it be commuting on the train, waiting at the airport, or during a flight.
As the biggest challenge I faced while writing was finding the time, Evernote helped me jump a huge hurdle. I have a full-time job, I have a family, and I am a part-time EMBA professor at various universities. Finding the time to write was not easy, but thanks to Evernote, I could write during every opportunity I had: no matter where or when, my book draft was always with me.
How did using Reedsy impact your book?
When I was contacted by Reedsy about a potential partnership, I first wanted to get to know the product better. As I was in the process of writing my second book, I started by using the Reedsy Book Editor to finish writing my manuscript. I took a liking to its simple user interface and its marketplace for finding professional editors and designers.
As my book is a practitioner's book, I needed editors who could not only check for grammar and spelling errors, but also make sure that the book was clear and easy to understand. Being a non-native English speaker, it was important for me to not work with an editor who would simply rewrite everything. Yes, a native English speaker might formulate a sentence differently than me, but so what? I wanted the book to be authentic and to sound like me. I stand for 100% quality and it is important to me that I write the books myself. Finding editors who ensured quality while maintaining my voice as an author was a great experience. 
I believe that everyone should do a PDP from time to time. If not, you run the risk of always going with the flow and being influenced or distracted by what is currently "cool." Becoming the CEO of your own life requires you to invest time, and to engage in deep thinking and self-reflection. Try to enjoy the process, and remember that when it comes to your personal development, the results are in your hands!