18 Pieces of Publishing Advice From Our Authors
For the past two years, this blog has been home to the From Our Authors series: articles penned by authors on the Reedsy Network. They've kindly shared their publishing experiences with their fellow writers, filling us all in on what has worked (and not worked) for them. Straight from this well of knowledge, we've handpicked the 18 best pieces of advice from our authors.
Thoughts on Writing
1) Amanda Wills: There are two types of writers — Plotters and Pantsers
"If you plan your novel to the nth degree before you type a single word, you're a Plotter; if you sit at your computer, take a deep breath and fly by the seat of your pants, you're a Pantser. There are pros and cons to both: Knowing exactly what's coming next means that Plotters are less likely to suffer from writer's block. Pantsers, on the other hand, have the freedom to let their characters take control, which can be both terrifying and exciting at the same time. However, be warned, Pantsers: editing will be especially important for you in order to spot plot continuity problems."
2) Frank Warsh: How reading comic books can enhance your storytelling skills
"Maybe the goal of the story is plot-driven — setting up a story arc of Batman coming into conflict with the police and justice system. Maybe the goal is character-driven, and Batman's increasing violence is a sign of repressed childhood memories. Maybe it's both. The point is that comic books provide a ready-made template for breaking down your story into well-circumscribed chapters or "beats."
3) Amy Arden: In historical fiction, accurate details can make or break the authenticity of a time and place
"Misplaced or inaccurate details may pose at best a distraction and at worst a reason for a reader to abandon a book. A distracted reader may quickly become a frustrated reader. Frustrated readers stop reading. As a novelist, my job is to build a world that immerses the reader in a way that feels rich, deep, and most of all, true."
4) JD Shiner: Everyone needs to develop their own personal novel-writing tips
"Here are my tips for writing a novel: (1) Have a budget for how much you are willing to spend and stick to it. (2) Have a specific goal for the number of words written daily. (3) Write in a private place with a door you can shut. (4) Make time for physical activity to help recharge the cerebral energy you use while writing. (5) Never give up. Read a lot. Write a lot."
5) Dom Cutrupi: Write with honesty
"We tend to follow the artists we love and recreate their style. But those artists weren't copying other people; they were inspired by others, but created their own stories. Once you let yourself go and write what you really love on paper, you'll see a different story, the real one you want to tell, and you'll enjoy the process like you never have before."
Suggestions for Marketing
6) Brent Jones: Try a Goodreads giveaway
"There's no better advertising for my book than allowing customers to sample my product for free. In the end, 685 people entered my Goodreads giveaway, but more importantly, 300+ users added my book to their to-read shelf. And when a user adds a book to one of his or her shelves, it appears as an update in their feed, meaning their friends on Goodreads can see that they have added my book! Giveaways are also a good way to accrue reader reviews."
7) Melodee Elliott: When categorizing your book on Amazon, specificity is your friend
"Since we authors want a wide audience, we can have the impulse to go broad in category. But when you go too broad in number or too generic in concept, it usually means you don't really know your audience. Be specific with your category: In my book's case, the Cyberpunk category on Amazon worked wonders for ranking. I put my book in the right environment to be found by those who have an interest in the relevant subject matter and who are most likely to leave reviews."
8) Fiona MacBain: If you're writing what you know, market your book at people also in the know with targeted Facebook ads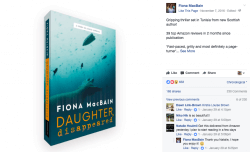 "Having written a book about inspired by my experiences living in Tunisia, one of the Facebook ads for my published novel was targeted at women across the UK with an interest in Tunisia. The results were phenomenal; I was inundated with comments and messages from women who, like me, had a connection with the country. In the first 5 weeks I sold over 500 copies."
9) Tuire Siiriainen: If you run a Kickstarter campaign, give it a strong start
"The start of a Kickstarter campaign is the most crucial moment for success. When the pledged sum is already $100, new visitors are more likely to join in and donate than if you have $0 pledged so far. Also, consider offering interesting rewards — it's fun if you can offer something more than just a book, especially when it's a children's book. An easy example would be black and white coloring sheets of the illustrations."
10) Natalie Barelli: Experiment with Amazon ads
"Once my Kindle Countdown was over and the price went back up, I know that sales would dwindle. So I scheduled AMS ads every day once the promotion had ended. When the ads worked, resulting in clicks and sales, my novel would begin to appear in the 'also bought' section of books on its own due to its rising popularity. At that point, I would remove the ad and wait until sales dwindled again before scheduling a new one."
Advice on Editing
11) GD Leon: All authors should work with beta-readers
"The difference between beta and alpha readers is that, while alpha readers read a novel in its first draft, beta readers are meant to read your revised manuscript; they represent the experience of your potential readers. Their feedback helped me tremendously in detecting and eliminating my 'Germanisms' that had frequented to snuck in."
12) Leslie Heath: A good author-editor relationship relies on the ability to accept constructive criticism
"It is astounding how many authors ask for input, then get offended and angry when the editor or reader finds an error or suggests a change. I didn't agree with every suggestion my editor made, but I used them as jumping-off points where I could improve my story. Instead of getting upset at her feedback, I saw it as an arrow pointing to a problem."
Tips for Design
13) Christina Hamlett: Always have your book cover designed by a professional
"Far too many indie authors seem to feel that the investment in a professional designer isn't worth the money, that what's on the inside will be so mind-numbingly fabulous that readers will forgive an amateurish-looking cover. But if you've taken the time to write a book, (and especially if you plan to one day write books full-time), why wouldn't you want it to look like a professional product?"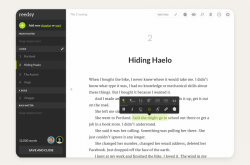 14) Tara Holladay: If the interior of your book is fairly basic, use the Reedsy Book Editor
"Ladies and gentlemen, unless you have custom artistic requirements that require the services of a human professional, the Reedsy Book Editor is an ideal formatting tool. I have quite the list of indie publishing must-haves, and the Editor is one of my favorites. The final product is something to be tremendously proud of. Even for a perfectionist."
15) Ben Galley: When it comes to formatting an ebook, professionals are important
"With eBook formatting, there are a few more aspects to consider compared to typesetting. There are two major eBook formats, multiple types of eReaders, screen sizes and even orientations to bear in mind. The reading experience is very important indeed, and you want to get it spot-on for your esteemed readers."
Perspectives on Self-Publishing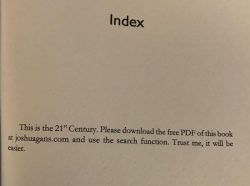 16) Josh Gans: Take advantage of the freedom that comes with self-publishing and innovate
"Traditional publishers expect authors to create an index for their book — which can be a bit of a chore. For my self-published book, I didn't do an index. I replaced what would have been the index with this…"
17) Michael Doane: The true cost of self-publishing is time
"Writing, editing, learning how to publish, working with various editors and beta readers, having your work torn down by editors so you can build it back up. Patience and effort. This is the true cost of self-publishing. But if you're up to learning new processes and working with a team of skilled professionals, the costs certainly are worth it. Just know that it's a long road if you're going to do it right — and come into it with an entrepreneur's perspective, because you need to invest money if you want to create a beautiful product that will earn you money in return."
18) Greg White: To debut indie authors just getting started — ask for help
"Take advantage of the vast resources for authors. Through those, build your marketing platform with equal energy (and at the same time) that you're writing your book. Conquer both the creative and business sides. Relish in the support and camaraderie of other authors — we are a community."
We couldn't be more proud of, and grateful for, this community of authors who are always willing to share their knowledge, tips, mistakes and encouragements.
---
Are you a Reedsy author that has a story to share or advice to spread? Get in touch! Email success@reedsy.com and maybe our next round-up will feature nuggets of wisdom from you!