25 Creative Writing Jobs to Put Your Eloquence to Use
Being passionate about creative writing hasn't always been associated with a stable career path, to many writers' disappointment. But worry not — securing those coveted creative writing jobs won't just be a dream anymore, because we've compiled a list of 25 opportunities that can let you pay the bill and utilize your skills with a quill! Read on to discover what they are.
Publishing
Book publishing is probably the first industry that comes to the mind of anyone who loves creative writing. Perhaps you've taken a writing class before, perhaps you're considering one — either way, you can take a chance at writing, ghostwriting, or editing books.
Now, becoming a author is an obvious option, but it does require a lot of investment from the get-go. On top of that, the returns of publishing a book will trickle in more slowly. If you're looking for something that pays faster, consider working as a book editor or ghost with freelance writing jobs.
1. Reedsy
Reedsy is a marketplace that connects authors with ghostwriters, editors, and other publishing experts who can help them produce stellar books. The mechanics of using it is simple: you join our community, create a profile that states what services you want to provide, and we'll use that information to bring you to suitable authors. Users can also search for your name, view your Reedsy portfolio, and send a request if they're interested. You'll decide which project you want to work on and send a quote, so you can work part-time or full-time on Reedsy.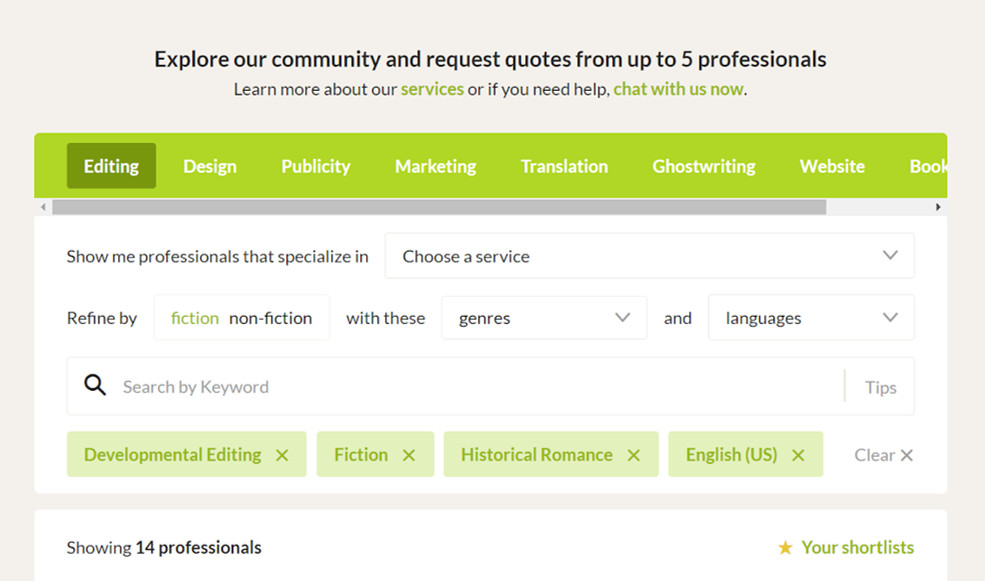 With over 500,000 authors on the site, there are plenty of opportunities for you to land your next creative writing job.
Create your Reedsy freelancer account
We have some great projects already lined up for you to work on.
2. Publishers Marketplace
Another place to find creative writing jobs is to visit Publishers Marketplace. Just from the site's name, you know that this is a no-nonsense place that gathers the latest job postings in the industry. One thing to note is that they tend to list vacancies at publishing houses, so qualifications such as an MFA or editing certificates are often (though not always) a requirement.
3. Poets & Writers
Poets & Writers collects another wide range of job opportunities for writers who want to enter the publishing industry. From editorial positions to teaching jobs, the organization curates openings that allow you to really use your knowledge in the art of writing, if you have some of that to share. Another nice thing about P&W is that the site also lists a lot of openings for indie publishers and magazines.
4. Quill and Quire
For those based in Canada, Quill and Quire has a job board you should not overlook. The magazine posts full-time, part-time, freelance, and remote positions in publishing houses big and small. You can also subscribe to their newsletter for the latest publishing news in the region.
Other than publishing marketplaces, you can also directly find creative writing jobs at some publishing houses. You'll no doubt have heard of the Big 5, and there are also a lot of independent publishers to keep an eye on. While publishing internships tend to be unpaid and come with only a stipend, some do offer fellowships that prepare you for the industry while also paying you. Below are a handful companies you may find useful.
5. Graywolf Press
Graywolf Press consistently put out dozens of titles every year, fiction and nonfiction, that amplify the voices of underrepresented groups. The company offers seasonal paid internship opportunities and an annual fellowship, which you can read about here. Both positions are part-time.
6. The Coffee House Press
While it started out small, The Coffee House Press has grown into a boundary-pushing company that brings out thoughtful and award-winning titles. You might want to keep an eye on this publication if you wish to work with exciting new books. Find out more about the internship and job opportunities available here.
7. House of Anansi
Having published Margaret Atwood, House of Anansi is a well-known small press. Focusing on the art of writing, its titles are often soulful pieces of prose, poetic memoirs, or thoughtful overviews of Canadian literature. If you're a lover of the written word, this might provide the perfect freelance writing job for you.
8. Milkweed Editions
Milkweed Editions stands out for its experimental prose and poetry books, and what's more, the company offers two-year fellowships with paid salaries. Beyond a strong interest in literature, the editorial board is also looking for someone who can bring a new perspective, whether it is about race, gender, or culture, to the table.
9. Soho Press
Based in New York, Soho Press is at the heart of the publishing world, and can provide exciting opportunities for someone who wants to work with creative writing. The company is recognized for its mystery-specific imprint, and it offers seasonal paid internships, both on- and offline, for those who are interested.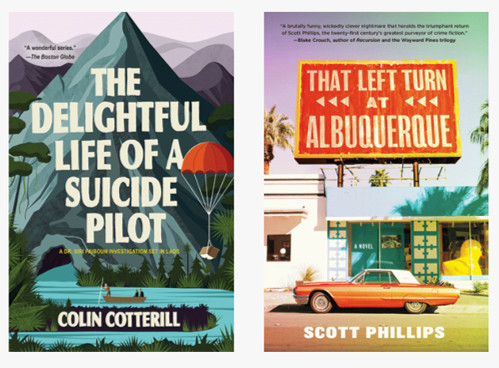 10. Tachyon Publications
If you love sci-fi, fantasy, and office pets, then look no further, Tachyon Publications is just the place to go to to find a creative writing job. Tachyon is constantly expanding their editorial team to help them release new exciting titles and join their staff (which currently includes three cats and a dog!). 🐱🐶
11. Chicken Soup
Remember those soulful short story collections that took the world by storm in the early 2000s? Though this is technically not a publisher, the original authors have been self-publishing these compilations throughout the years, and they are looking for fresh new stories. For each story (which are capped at 1,200 words), the contributor gets paid $200.
Media and culture
Another path you can go down, especially if you have a strong interest in pop culture, literature, and all the latest trends, is to work for magazines and newspapers. Commenting on movies, reviewing new book releases, or even writing short stories for literary magazines — there are plenty of outlets that you can reach out to and find creative writing jobs.
12. MediaBistro
For those eager to dive into multimedia production, there isn't a more comprehensive job hub than MediaBistro. On this site, you can find a wide variety of jobs from magazines, television companies, movie producers — the list goes on. While this selection does include more administrative positions, they provide great inroads to creative industries.
13. Journalism Jobs
Another option for you is Journalism Jobs, where you can find all kinds of job related to the media world. You can try your hand at op-ed and article writing, or you can start editing for newspapers. The work is fast-pace and fact-based, but it doesn't mean that you cannot be out of the box about it. (Hint: creative nonfiction is increasingly popular among readers!)
If you're not looking for job sites but are hoping to become paid contributors at some publications, here are some names to consider.
14. Catapult
Catapult is a media company dedicated to helping emerging writers. The company offers classes, runs a magazine, and publishes nonfiction and fiction titles, so there are several ways you can engage with them. If you want to put pen to paper, you'll be glad to know that the magazine's always looking for new columnists. You can submit your freelance writing pitch here.
15. The Atavist Magazine
The Atavist takes creative nonfiction to another level — they publish monthly long-form stories about real people. Rather than looking for popular profiles, they want you to delve into a character-driven recount of lived experiences, which is perfect for creative writers. Their articles are 8,000 to 30,000 words long, so it's more like writing a novelette or a novella. Find out more about pitching to them here.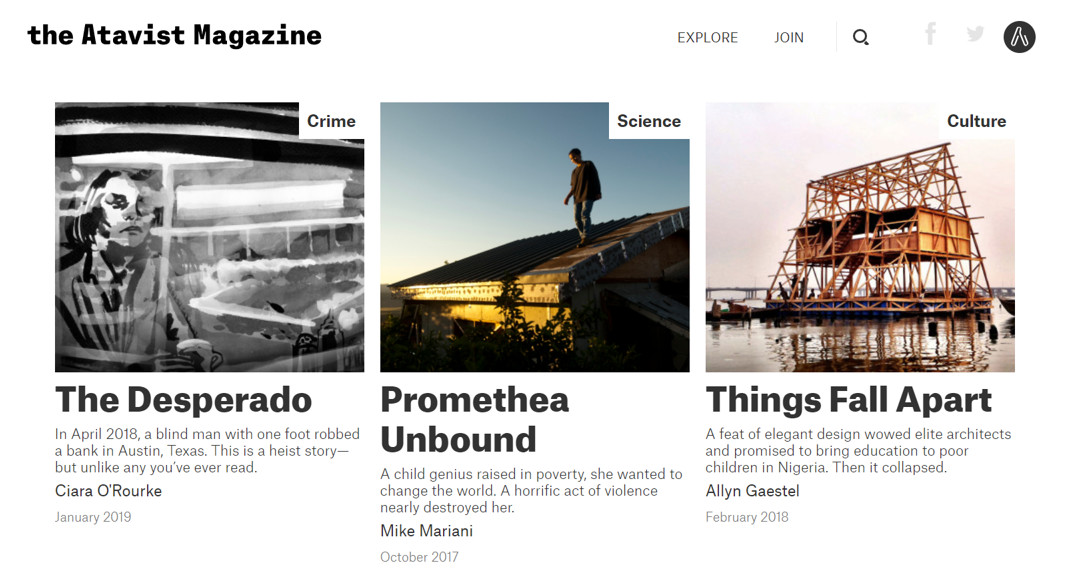 16. Narratively
Another story-based nonfiction magazine, Narratively is an alternative for those who love finding hidden stories in life but would prefer something a bit shorter than Atavist pieces. Again, the agenda here is for unique stories with a clear arc that engages the reader, so some creative writing skills are crucial.
17. Vox Media
If you want to go for full-time positions at a news outlet, check out Vox Media. With many branches of publication, from Eater, the culinary magazine, to consumer culture papers like The Verge and Strategist, there are plenty of vacancies to be filled. There's a mix of entry and senior level positions, many of which are available remotely.
18. Longreads
Whether you have a reading list or a unique story to share, Longreads is the place to go. The editors are looking for some short reading lists or extensive features, and you can pitch to them according to the guidelines here. The rates are competitive, and they encourage you to keep sending them pitches even if they didn't accept you the first time around.
19. Hyperallergic
Do you adore the arts and spend plenty of time perusing exhibitions? Have you got some strong and well-informed opinions about the industry? If you do, you may want to become a freelance writer for Hyperallergic. The editors welcome writers from all walks of life — here's their guidelines.
20. LitHub
LitHub is a literary magazine that discusses the writing craft, books, and the importance of literature in our lives. They're open to pitches about these topics and as well as pieces on upcoming nonfiction books that address a cultural issue. You can read all about their requests here.
21. Electric Literature
You might've heard of Electric Literature before — it's a non-profit organization that publishes journals and weekly magazines that cater to readers. There's a journal dedicated to publishing novel excerpts and longer stories, and there's another specializing in flash fiction and poetry. You can contribute by writing articles about literature and reading, or you can submit short stories and poetry, usually for $100.
If you're hoping to earn money through writing prose or poetry, why not enter a writing contest and get the chance to win cash prizes?
General job boards to follow
Other than the specific sites listed here, you can always be on the lookout for sites that constantly promote new vacancies from businesses and clients as they come along.
22. LinkedIn
LinkedIn, if you don't know about it yet, is like Facebook for professionals. Instead of sharing personal status updates, users share their work and experiences, impart advice, and connect with other professionals. Companies and publishers also maintain profiles on there, too, and they'll post job opportunities when there are some.
Follow Reedsy on LinkedIn for regular advice for professionals in the literary market!
So head on over to LinkedIn, create an account, and start following publishers and literary magazines that you'd love to work for. You can also turn the Job Alert on for keywords like "creative writing" and "editorial assistant" keywords to get weekly (or even daily) emails about the latest vacancies.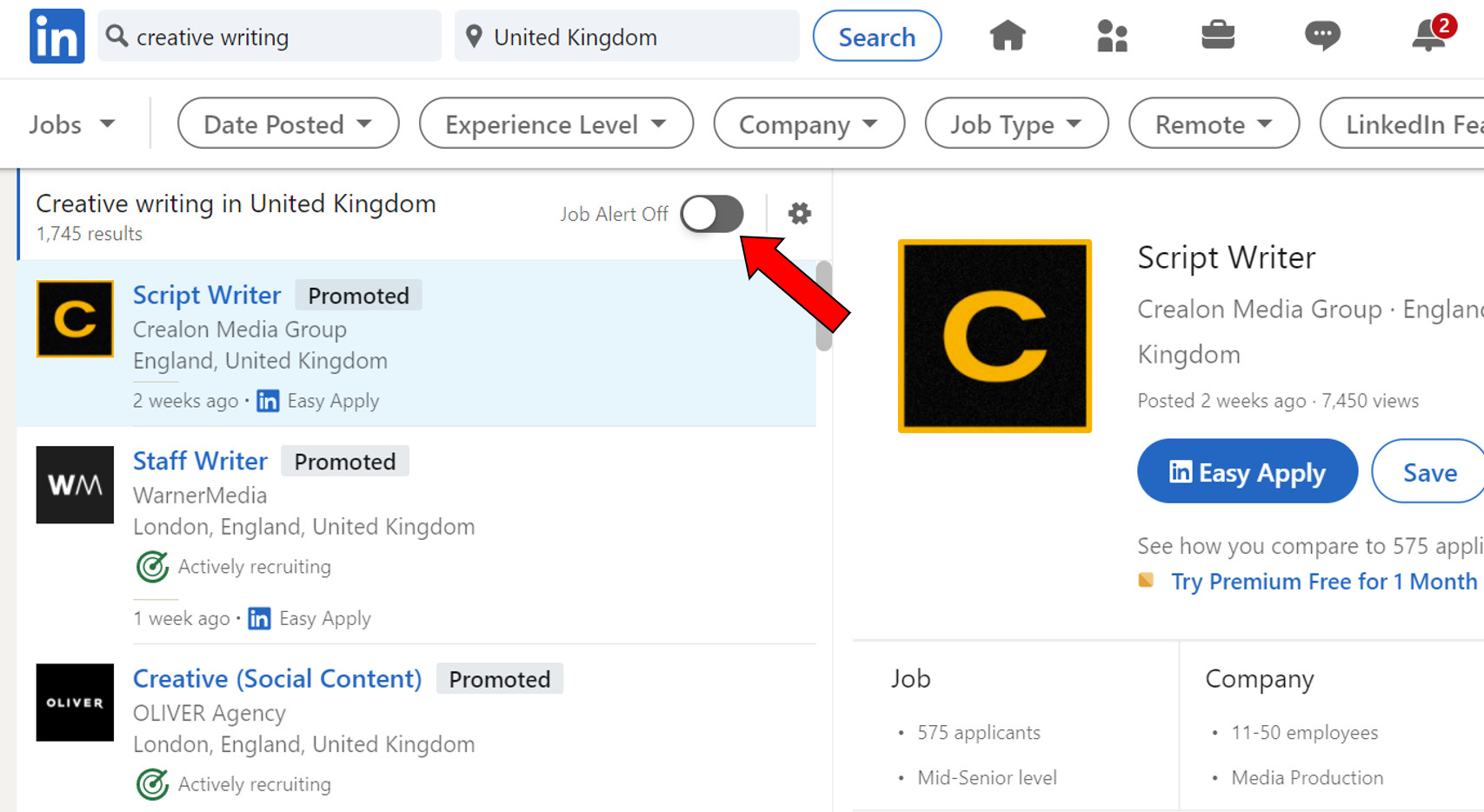 23. Problogger
Focusing on helping bloggers earn more income, Problogger shares ghostwriting (usually short-form), content writing, and even copy editing jobs without asking you to sign up or create an account with them. Similar to LinkedIn, you can pick a keyword you're interested in and sign up for an email alert for it in order to keep up to date with new postings.
24. Freelancer
Alternatively, if you're sure that you want to work independent gigs, you can check out Freelancer.com. This page lets you bid on different jobs that are posted by interested clients, the most suitable of which will be chosen for the project.
❗ Note: Most projects here lean towards marketing and content creation.
The problem with a site like this is knowing how much you should bid for gig, balancing the competitiveness of your price with the value of your work. (Since anyone can create an account and start bidding on Freelancer, competitiveness will be an important factor.) Doing some research on how much freelance ghostwriters charge beforehand will be necessary if you don't have a lot of experience in this sector.
25. Upwork
Another freelancer site you probably already know about is Upwork. While it uses the same mechanism as Freelancer, Upwork is a little more selective about its freelancers. They vet all applications, which means that you will have less people to compete with. Keep in mind that it's still a general freelancing site; creative writing jobs will only come in every now and then.
And that's it, those are 25 places where you can find some rewarding creative writing jobs and pursue your storytelling dreams. With a strong writing portfolio, we're sure you'll be able to find something for yourself. Good luck!