Last updated on Aug 13, 2021
20 Creative Writing Jobs for Graduates (+ Entry-Level Positions)
Being passionate about creative writing hasn't always been associated with a stable career path, but that's not to say that there aren't any opportunities out there to bring well-written stories into your job. In fact, we're here to talk about 20 different creative writing jobs — 20 professions that let the storyteller in you shine! We'll discuss the industries, entry level jobs, and potential income for each job below. 
Publishing
When it comes to creative writing, the first thing that pops up in our mind is books! While writing is the obvious option (and we'll cover that later on in the post), most writers choose to work in one of the following positions in the publishing industry to gain financial stability first. 
❗ Note: The "per book" rates below are made with 50,000-60,000 word manuscripts in mind. 
1. Ghostwriter 
👨🏽‍💼 Entry level positions: freelance writer, ghostwriter, editorial assistant 
💰 Potential beginner's earning: $2,000-$9,000 per book or $0.10-$0.15 per word
If you're all about creative writing but you'd prefer an upfront payment for your words, then ghostwriting is the job for you! Here's how it works: an author hires you to help them write their story. It could (and usually is) a memoir or an autobiography which the author doesn't have the time or skills to write themselves. Fiction authors also sometimes use ghostwriters to help them write sequels and satisfy popular demands. 
Ghostwriters are freelancers, so you can start by getting some freelance writing gigs. As a beginner, you might start with short-form projects like articles, white papers, website content. Here are some resources, complete with tips from experienced professionals, that might be helpful:
2. Editor
👩🏻‍💼 Entry level positions: editorial assistant
💰 Potential beginner's earning: $25,000-$30,000 per year or $800-$1,000 per book
Writing is actually not all there is to creative writing jobs — if you really love stories and are always finding ways to make a story better, then editing is a suitable profession for you. There are many types of editors: some (like development editors) work more on the plot and theme of the book, and others (like copy editors) specialize on its language and style. 
Editorial assistant jobs are the common first steps to this career path. Entry-level positions are quite competitive in publishing, so you'll likely need a relevant degree (English Literature, MFA, etc.) to get the job. 
Freelancing, as always, is an option, but it can be quite difficult to get clients if you start without any editing experience. Oftentimes, editors start working in-house and later transition to freelance. 
Below are some more resources for you if you want to pursue this career path: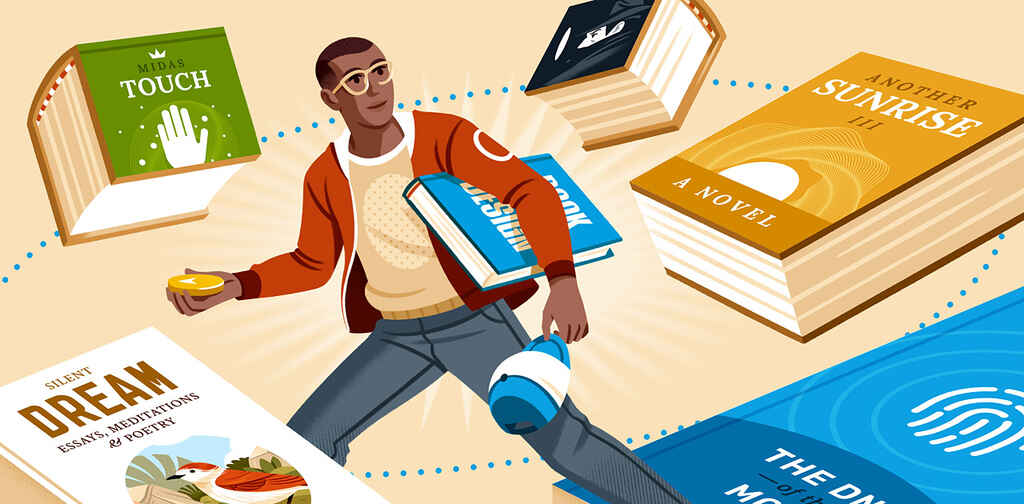 Find exciting new projects
We connect publishing professionals with our community of 1,500,000 authors.
3. Proofreader
👨🏼‍💼 Entry level positions: freelance proofreader
💰 Potential beginner's earning: $20-$30 per hour or $550-$650 per book 
Proofreading comes after editing — the proofreader reads the manuscript one final time, after all the revisions are made, to see if any spelling and grammatical errors are missed out. They're incredibly crucial to the production of a spotless book, so there's never a shortage of proofreading jobs. 
This task is often done on a freelance basis, either by full-time freelancers or by editors who want to take on side jobs. You can specialize in proofreading alone, though most professionals will combine editing and proofreading crafts for better income. As a beginner, opportunities for short-form projects will often be more accessible — stay open-minded about taking them up, but also do some proofreading training to prepare for more exciting gigs. 
We've also got some resources for this topic for you to check out:
Journalism
There's more to journalism than just breaking news on CNN, which means there's plenty of space for the creative writer in you to flourish in this industry! Let's take a look at a couple of options you can consider. 
4. Columnist 
👩🏽‍💼 Entry level positions: fellowships, junior writer/columnist, freelance writer
💰 Potential beginner's earning: $25,000-$35,000 per year or $100-$300 per piece 
If you like creative nonfiction, you probably have already considered becoming a columnist. In fact, you can even be a books columnist! Job options range from book-specific sites like Electric Literature or Literary Hub, to prestigious newspapers like The Guardian or The New Yorker. But that's not necessarily the only thing you can write about! You can become a columnist in just about any topic, from social issues to entertainment, as long as you're interested in the niche. 
Look out for fellowships and junior writing jobs in newspapers and magazines and get ready to apply! A degree in relevant subjects like Journalism or English Literature is a great advantage, though your ability to follow up on leads, conduct thorough research, and keep up with the latest trends in a certain niche will be carefully assessed. You can also be a contributing writer first to forge a relationship with the editors before going after a full-time position. 
5. Critic 
👨🏻‍💼 Entry level positions: junior writer, freelance writer
💰 Potential beginner's earning: $25,000-$35,000 per year or $100-$300 per piece 
There's a fine line between a critic and a columnist: critics are usually more academically inclined, and they often work more on the arts than columnists. Columnists cover social issues, sports, entertainment in their more general sense, while critics while home in on a particular piece of art, literature, theatre, or movie to offer expert assessment of it. 
Similar to the columnists, you can begin with junior writing positions and freelance gigs, in which you build up a writing portfolio of relevant work. Ideally, critics will be more savvy to the technicalities of whatever subject you critique — be it filmography or literature. In other words, formal training like a bachelor's degree is a good launch pad. 
6. News journalist 
👩🏼‍💼 Entry level positions: staff writer/journalist
💰 Potential beginner's earning: $30,000-$35,000 per year 
Writing news articles is different from the writing column pieces: a journalist must maintain an impartial voice and be succinct. Moreover, you're always looking out for the latest story, whether on social media or on the street (which is where your love for creative writing can come in). 
The most common way to get into news journalism is to get a salaried position. You can also apply to internships as well, and there are compensated ones to look out for. What you will need is a degree and some journalist training so that you can use shorthand, know what makes a good story, and know what sources to chase, among other things. 
7. Investigative journalist 
👨🏽‍💼 Entry level positions: staff writer/journalist
💰 Potential beginner's earning: $30,000-$35,000 per year 
And what if you're a fan of true crime? You might find yourself drawn to investigative journalism! You can chase the tail of anything under the sun, from kidnappings to factory production, from local to international events, so long as there's an uncovered story there. The topic will often be assigned to you by an editor, and you'll be given some time to collect information and write the article. It's a slower pace than daily news, but it's thrilling nonetheless. 
Similar to the news path, you'll likely start off with an internship or a junior writing position. With this job opportunity, you can build a portfolio that demonstrates your ability to peel back the layers of the onion to reveal new insights to a matter. Again, a degree and training in journalism are essential. 
Copywriting
Copywriting is writing to sell a product or service, and it could be anything from newsletter emails to slogans to even commercial scripts! There's definitely a creative element to it, as you're always looking for a unique and memorable way to capture the attention of consumers. And since it's so rooted in consumption culture, copywriting is definitely a writing career that's in demand!
Below are several types of copywriting jobs you can go into. 
8. Technical copywriter
👩🏻‍💼 Entry level positions: technical writer, freelance writer
💰 Potential beginner's earning: $32,000-$38,000 per year 
A technical writer works on instructional materials for manuals, white papers, and other informative pieces of writing. A technical copywriter combines that level of specialty with marketing tactics, thereby focusing on promoting products and services that are a bit more, well, technical. Think electronic companies, software developers, repair and maintenance services. 
Ideally, you'd have some education or experience in technical sectors (i.e. IT, engineering, finance). That way, you won't take too much time to familiarize yourself with the jargon, and employers are more likely to hire you. You can also begin with technical writing, if you don't mind working on material that's a bit less creative. 
9. Advertising copywriter
👨🏼‍💼 Entry level positions: junior copywriter, communications copywriter
💰 Potential beginner's earning: $30,000-$35,000 per year 
For a more creative writing job, you can go for advertising. This often involves a lot of brainstorming with the creative team of your agency to come up with advertisement campaigns that will leave a mark. When working on this you can write all kinds of content, from slogans to image copies to web content. 
Having a bachelor's degree in marketing or an essay-based discipline is usually beneficial if you're looking for this kind of job. You can work for a big brand, which will constantly be needing new content, or you can work for a marketing agency, tailoring your work to every client. 
10. PR copywriter
👩🏽‍💼 Entry level positions: junior copywriter
💰 Potential beginner's earning: $30,000-$35,000 per year 
Public relations (PR) is, simply put, the art of building a good reputation, whether that's for an individual or a brand. You'll work on press releases, report and presentation writing, material for internal and external communications to present your client's motivation and direction. 
For this kind of job, the precision of your language and your ability to stay up to date with the competitors will be important. A degree in communications or business administration are a plus point. And as is often the case in most writing jobs, the ability to find the human story behind everything will be your best tool. 
Content Marketing
Nowadays, traditional marketing on TV, billboards, and posters are only a part of the industry, the other is all about online content. And with so many things zooming about on the Internet, every company will be looking for the most creative person to help them stand out. Which means you get plenty of opportunities to be imaginative, working on website content, blog posts, social media posts, and even videos.
11. Social media manager 
👨🏻‍💼 Entry level positions: assistant/junior/freelance social media specialist
💰 Potential beginner's earning: $20-$30 per hour or $30,000-$35,000 per year 
With our evermore online world, social media-related jobs definitely is a writing career that's in demand. So many things can happen on social media — you might very well go viral overnight! The challenge is getting there. As a social media manager, you get to be the voice of the company, interacting with customers in a friendly, casual way, while also learning their habits and preferences so that you and others on your team can better engage with them. 
This is a relatively hands-on job, so experience running a public social media account is the best thing you can have on your CV. A degree in communications can be beneficial, though many job postings don't require anything specific.
12. Blogger
👩🏼‍💼 Entry level positions: blogger, freelance writer
💰 Potential beginner's earning: $0.10-$0.15 per word
Blogging is probably something you're familiar with as a writer — but do you know it can earn you a good penny? By focusing on a specific subject (it can be books, technology, fashion, the freelance life, etc.), you can attract companies who are looking to strengthen their brand awareness and will sponsor you. It'll take time to build an attractive platform, but it's definitely possible. 
Beyond that, you can write for others as well. There are plenty of websites that promote creative writing jobs all over, so you can sift through them for the suitable ones. No degree requirements for this job, just your skill with a (proverbial) quill! 
13. Content creator 
👨🏽‍💼 Entry level positions: content marketer
💰 Potential beginner's earning: $27,000-$34,000 per year 
If you're happy to do a bit of everything, then apply to become a content creator. You'll also get to collaborate with a team to come up with an overall strategy in this position.
You can work for all kinds of companies in this career. A bachelor's degree in Marketing, English, Communications are highly relevant, though adjacent, essay-based subjects tend to do the job, too. Brushing up on search engine optimization (SEO) is also wise. 
Media
Pop culture, the latest rumors and gossip, interesting observations served on a pretty platter — if any of that sounds interesting to you, you can jump into the media industry. Here are some job options if you want to take this route. 
14. Screenwriter
👩🏻‍💼 Entry level positions: assistant/associate writer
💰 Potential beginner's earning: $20-$30 per hour or $9,000-$15,000 per project 
Everyone of us has probably at one point or another thought about entering the film and TV industry, and that career goal is definitely achievable, if you know where to look. A lot of people start with assistant positions to learn the ropes and get an opportunity to work on bigger productions. If you prefer to write from the get-go, you can go for lower-budget projects. 
To get one of the assistant positions and put yourself out there, touch up on craft skills like plotting, story structures, character-building to be prepared. No qualifications are specified in most cases. 
15. Broadcast journalist 
👨🏼‍💼 Entry level positions: staff writer
💰 Potential beginner's earning: $30,000-$35,000 per year 
We've covered written news — now comes broadcast news. From televised reports to radio sessions, you can be the writer behind the words that reporters or presenters read out. It's a fast-paced job that deals with the latest real-life stories, which can be incredibly rewarding, even if it's not explicitly creative. 
Many broadcast journalists work project by project (unless it's periodical news), almost like a freelancer. You'll still need to have all the skills necessary to put together a good news story, so some journalist training will be beneficial. 
16. Podcaster 
👩🏻‍💼 Entry level positions: assistant/associate writer or producer 
💰 Potential beginner's earning: $18-$25 per hour, or $26,000-$32,000 per year 
Along the same lines as a broadcast journalist is the job of a podcaster. This is a bit more topical than journalism, and you can really home into certain fields and explore it in depth. Another special thing about podcasters is they usually host the shows, too! So if you're confident about your voice, and about interviewing others, there's no reason not to try this out. 
As with screenwriting, the route to get into this sector can be a little bit challenging, since it's often a case of catching an opportunity from the right people at the right time. Which is why assistant jobs are a strong start. 
Authoring
And finally, we arrive at the section that hopeful writers often dream about more than anything else. Publishing a book is not easy, it requires not just time and effort but also finances, if only to keep you afloat while completing the manuscript. That said, it's possible to do it on the side with another full-time job, as is the case for most published writers. 
The cool thing about this career is that you are your own boss — i.e. there are no entry level positions. You are an author the day you call yourself one. 
17. Short story writer
Short stories are charming in their own right, and with the booming literary magazine sphere, there's no shortage of space to get your words out there into the world. Publishing an anthology with a publisher is also an option but it's harder — you often need to have an established career first. 
In any case, most magazines aim to have enough funds to pay their contributors. Small ones can pay $15-$20 per story, bigger ones $100-$200. You can also enter writing contests to win higher prizes.
18. Novelist 
Being a novelist comes with the difficulty of having the time and finances to write a full draft before you can propose it to publishers, or even publish it yourself. It's a long commitment, and it doesn't guarantee a payoff. If it does get printed, a book deal can get you an advance in the $5,000-$15,000 range. If you self-publish, what you get depends on how well you market your books — emphasis on the plural noun!
That said, it's not impossible. We've got a whole post on how to become a novelist here if you want some pointers from famous writers like Anne Lamott and Zadie Smith! 
19. Nonfiction author 
Who says creative writing jobs have to be all about fiction? Creative nonfiction is a growing field that's always welcoming new stories. From memoirs and biographies to true crime, from self-help to essay collections, you can focus on many different topics with this option. 
The nice thing about it all is that unlike fiction writers, you can pitch your book proposal to publishers before you complete a whole manuscript for nonfiction titles, meaning you can be guaranteed some kind of results before you start writing. The advance amount is similar to that for novels.
20. Poet 
And last but not least, you can become a poet! Poets tell stories with rhythm and rich imagery, and not just on paper but also with their voice. Performing poetry is one of the special advantages that comes with this form of writing. Not only does it let you and the audience experience in a new way, it's also a great opportunity to grow as an artist. 
On top of that, you can also dabble in other industries (advertising, music producers…) as a lyricist. As it's a gig-based employment, you probably want to diversify your work portfolio to make sure there's always something you can work on. The rates are usually similar to that of a ghostwriter.
And voila, that's the end to our master list of creative writing jobs! Hopefully, there's something to help you passion live on among this many options.