Last updated on Oct 18, 2021
Remote Proofreading Jobs and 26 Places to Find Them
With working from home becoming more common than ever before, remote proofreading jobs are gaining a lot of traction. Amongst the online jobs you can do, checking grammatical and spelling mistakes sounds like one of the easiest ones to pick up. But what exactly does this kind of work entail, how much would it earn, and most importantly, how do you search for legitimate as well as rewarding proofreader jobs? These are all valid questions, the answers to which you can find right here.
What is proofreading?
To proofread is to go over a document's final draft with a fine-tooth comb, searching for grammatical, spelling, punctuation, and formatting errors. Unlike the job of a copy editor, you don't have to concern yourself with language style or voice. It may seem simple, but it requires a thorough understanding of not just the English language but also the appropriate manuscript formatting styles.
Web content, academic papers, and many other types of writing — To proofread and correct each of these kinds of content requires a thorough understanding of its preferred language and formats.
Because of their project-by-project nature, it is common for the gigs you get in this sector to be online, freelance proofreading jobs.
Becoming a proofreader and securing remote jobs
Luckily, you don't have to go through intensive training or education to become a proofreader. Preferably, you'd have a bachelor's degree in English, Journalism, or a field relevant to the kind of content your hope of proofread. (To proofread for a medical company, you'd need background in medicine, for example.) Other than that, a certificate of completion for a proofreading course can make your profile much more appealing to potential clients. To get started on the right foot, consider:
🎓 Taking a training course via societies such as the Editorial Freelancers Association;
📝 Brushing up on style guides (APA, Chicago, and AP Styles);
💻 Creating a profile and following relevant groups/hashtags (this may include creating your own website, a LinkedIn, or a professional Twitter account);
✅ Being flexible about the kind of job you take on (work from different industries, projects involving copy editing).
You can get more tips in our comprehensive guide on how to become a proofreader. If you're all clear about the set up, let's discover all the places that you can find remote jobs for proofreaders.
26 places to find remote proofreading jobs
Below are all the sites that offer legitimate freelance proofreading jobs. We've divided the list into two parts: one for those with experience and qualifications, and one for those without.
If you're going into proofreading with certificates, graduate qualifications, or expert experience, here are the sites that you should check out. 
1. ProofreadingPal
Specializing in academic proofreading, ProofreadingPal prides itself on having a highly experienced staff. Because its scholarly projects, the editing skills required by this site are very advanced and specific. To secure a remote proofreading job on this site, you need to be a postgraduate student with a minimum GPA of 3.5 or have a graduate degree along with minimum five years of experience.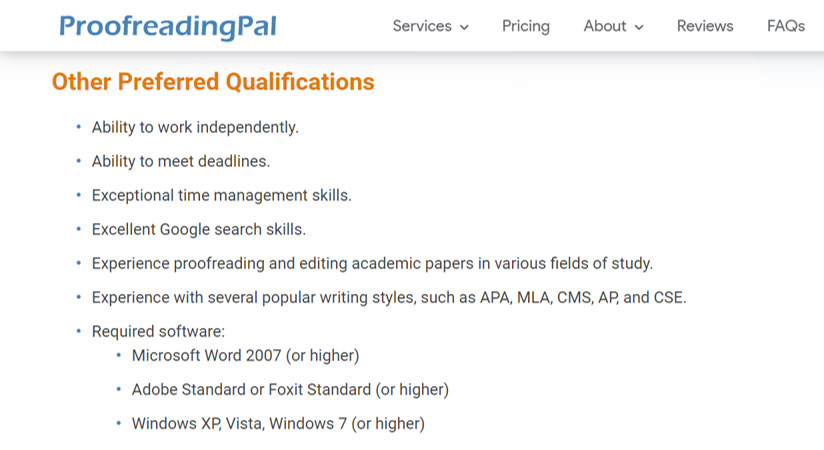 2. Edit911
If you have a PhD in a writing-intensive discipline, Edit911 is a good candidate for some remote work. Its proofreading services also tend toward high-level academic editing, so experience is crucial. And as it caters to a worldwide audience, having a strong grasp of a few manuscript styles will be plus.
3. WordsRU
WordsRU is great for those who work from home, because it welcomes job applicants from all over the world, as long as they have at least a Master's degree or higher. It offers a wider range of services for customers, including fiction manuscripts and web content, so its proofreaders receive a variety of projects.
4. American Journal Experts
Similar to WordsRU, AJE offers online proofreading jobs for those who have been or are currently enrolled in higher education at universities approved by the Carnegie Classification. And as the name suggests, this online proofreading opportunity is more suitable for those based in America.
5. Reedsy
You may or may not have a PhD or a Master's degree, but if you do have a strong track record in book editing and proofreading, Reedsy is the place to be. Our marketplace connects thousands of indie authors with publishing experts (like you!) who can help them produce high quality titles. On average, our professionals set a proofreading rate of around $600-$750 per manuscript, though each project varies. (Note that you can set your rates per hour, per word, or per project.)
Create your Reedsy freelancer account
We have some great projects already lined up for you to work on.
6. Polished Paper
Focusing on business and academic editing, Polished Paper's proofreader jobs are also suitable for experienced professionals. Instead of proving their qualifications, applicants are asked to complete a 35-question test to demonstrate their editing skills before getting accepted.
7. Managed Editing
Having worked mainly with non-profit organizations and prestigious institutes, Managed Editing chooses its freelance proofreaders carefully. A successful applicant will have at least five years of experience and a Bachelor's degree, although most of its editors and proofreaders have higher qualifications.
8. Wordvice
Apply to Wordvice for a more international experience: the company offers editing and proofreading services on essays and business documents for second-language English users. You must have a minimum of two years of experience and a graduate degree to join this team of freelancers. (And needless to say, the remote jobs they have are available to proofreaders across the world!)
9. Start your own freelance business
This basically means creating your own website (don't forget to have a contact section with your email address in it!) along with a LinkedIn, Twitter, or Facebook account to spread the word about it. As you are your own boss, you can work from home, a coffee shop, or wherever else you want! Use your credentials and professional connections to attract customers. Combine that with impeccable proofreading services and you'll grow your freelance business in no time.
If you're just starting out or don't have higher education qualifications — don't worry, there are plenty of beginner-friendly sites where you can find proofreading gigs and begin amassing professional experience. 
10. Scribendi
If you do have some experience in content production, i.e. you've been a copywriter or have edited your university newspaper, you can apply to Scribendi. Its online proofreading jobs are focused on academic writing from high school to university level, so having a Bachelor's degree is a must.
11. Scribbr
Scribbr's services are tailored to a younger academic audience, and while it doesn't ask for specific qualifications, applicants do go through a thorough vetting process. To become a remote proofreader at Scribbr, you have to pass a language test and complete several assignments for evaluation (for which you will receive feedback). If you've taken an editing course, you should be able to do well.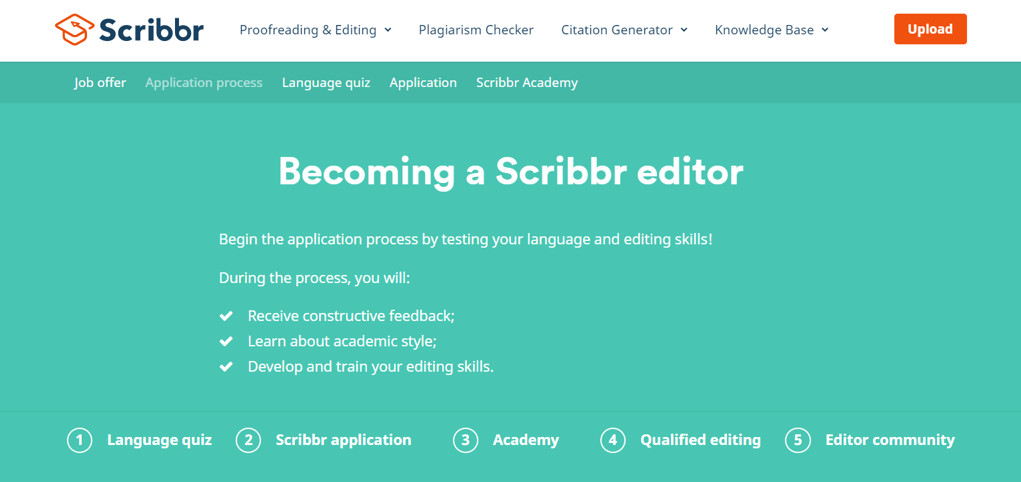 12. Proofreading Services
Every remote proofreading job available here focuses on academic and business writing. Prospective proofreaders can join the staff part-time or full-time by getting at least 95% on the site's 20-minute test, which mainly focuses on grammar and spelling.
13. CACTUS
As an education-oriented publication, CACTUS Communications is constantly on the lookout for academic editors who can help it produce clear, engaging content. It does require at least a Bachelor's degree in a relevant discipline, but you don't need any prior work experience in editing and proofreading to find exciting opportunities.
14. Writer's Relief
A resourceful website for authors, Writer's Relief also provides book editing and publishing services which you as a remote proofreader can get involved in. Since they have copy editors going over everything beforehand, you'll just have to focus on catching the little mistakes that slipped through.
15. Prompt
Prompt provides coaching services for college applicants, helping them with personal statements and essays. You will need to have been a university student yourself, and as the coach you're expected to give more feedback than just online proofreading. It's a good opportunity if you want to start with academic editing.
16. OneSpace Freelancers
OneSpace is a site made for new freelancers. There aren't as many job postings on this site as on other proofreading services, but you do get support and feedback from their staff. They provide advice on how you can work better as a freelancer and build your business. So while you would't necessarily find remote work on this space, it's a good way to learn the craft of maintaining your freelance proofreading business in the long run.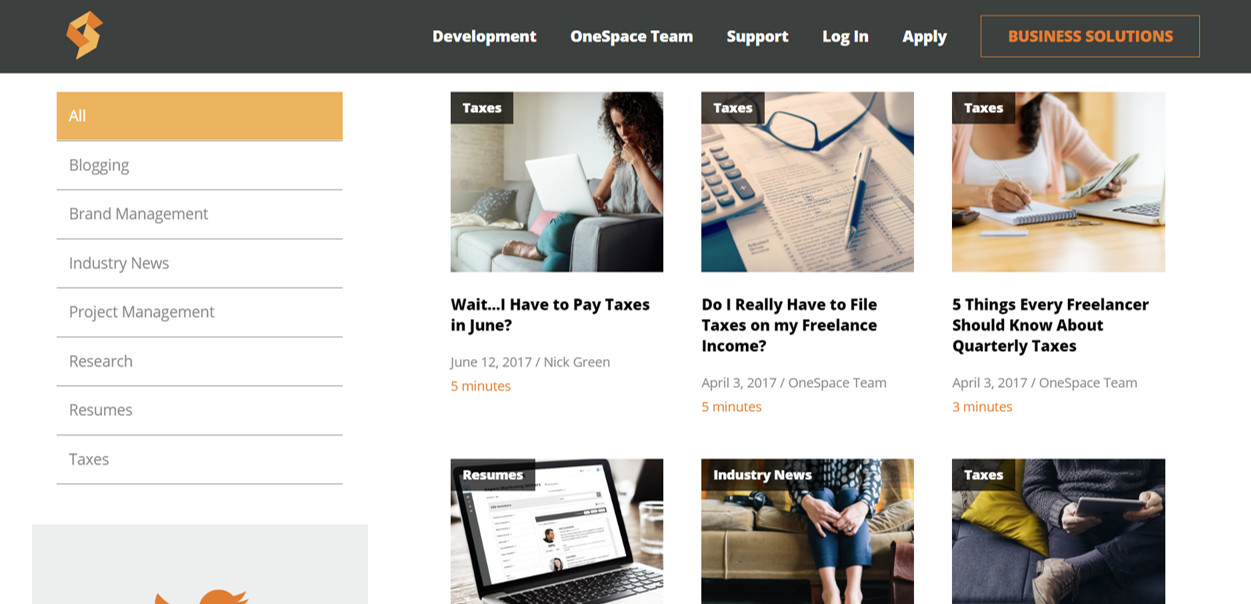 17. Gramlee
From their tagline ("You write, we edti edit.") and service email address, you can already get a sense of how laid-back the staff at Gramlee would be. They welcome proofreaders with no qualifications, as long as they work hard to learn and fulfill the team's guarantee of 24-hour turnover.
18. Upwork
Upwork is one of the biggest marketplaces for freelancers, and the remote jobs for editors and proofreaders you can find on here are often for technical and copy writing. Projects are usually on the smaller side, which means there isn't always demand for highly experienced workers. Still, it's a good place to get started on your online proofreading career.
19. Flexjobs
Short for flexible jobs, this job board only posts work that you can do from home, so you don't have to narrow the search yourself. There are plenty of proofreading jobs across many industries and countries for you to choose from, some of which are even full-time collaborations.
20. Indeed
Indeed's interface is probably a familiar sight if you've looked for work before — it's a platform that has everything from full-time positions to freelance gigs in all kinds of industries. Though it might take some digging, there are good remote jobs proofreaders can discover.
21. MediaBistro
MediaBistro is a job board made specific for media-related jobs. You can filter your search to show only remote entry-level editing jobs to see if there's anything available. Signing up also gets you a job alert round-up when new relevant jobs are posted.
22. Get Editing Jobs
Here's another editing-focused job posting site. You can search for remote proofreading jobs and it will automatically show you recent postings that fit the bill. You'll then have to apply to the jobs on your own.
23. Domainite
Domainite provides digital marketing services, from web designing to content writing and editing to its clients. You can easily sign up by filling in its form and sending in a writing sample. The scope of the work might go a little beyond the proofreading job, though you will acquire more skills that way!
Are you interested in marketing books? Visit our post on where to find book marketing jobs. 
24. Freelancer
This site allows you to bid on a proofreading opportunity you can do remotely, and try to win the client over. There are a lot of projects available, so if you lose out on a bid for one, you can always find another!
❗ Note: Some of the rates you see here are much lower than the average as freelancers try to undercut to appeal to clients. Keep that in mind in formulating your own freelance quote.
25. Lionbridge
Lionbridge is an international platform that offers marketing and business content creation services for firms across the globe. Specifically, its freelancers "test out" firms' content — giving them feedback, not just on a linguistic point of view but also user experience and SEO. It's a bit of technical proofreading, if you're interested.

26. Fiverr
Though it does not provide the highest paying remote proofreading jobs, Fiverr is still a good opportunity for new freelancers to start their careers. It's relatively easy to sign up to and create a profile that will attract customers, most of whom will be searching for competent beginners rather than experienced experts.
Hopefully this list will help you find your next remote job and kickstart your career, whether you're a full-timer looking for side jobs or an aspiring freelancer. Remember to do your research and know what your proofreading service is worth to avoid being undercharged. With that, and a wish of good luck, we'll send you into the world of freelance proofreading!