Last updated on Dec 01, 2021
How to Choose Your Proofreading Rates: A Freelancer's Guide
Many freelance proofreaders struggle to develop clear pricing structures, especially when they just start down their career path. On the one hand, you want to charge enough so that you can pay the bills and remain competitive in a crowded market. On the other hand, you also want to ensure that you're not making clients pay more than they should.
This post will show you what we believe to be average freelance proofreading rates in the publishing industry based on data from more than 2,000 quotes from experienced editors and proofreaders on the Reedsy Marketplace. 
Recommended freelance proofreading rates
Many proofreaders turn to the world's most notable associations for reference, especially when they start with their work. Here are a few data points worth checking out:
Some proofreaders recommend adding around 30 percent to the hourly rates mentioned above because a freelancer effectively runs a business with operational cost that should be accounted for.
Statistics from the US Labor Department's Bureau of Labor Statistics show us that in 2020, the mean hourly wage of employed proofreaders was around $21.50. Proofreaders in business support services, newspapers, and publishing earn a little bit over $19/hour. Their colleagues in advertising and public relations, earning over $26; legal services is the top paying industry with around $28/hour.
Here at Reedsy, we did our own research and created a rate calculator based on our professionals' average quotes — which you can use to get quick approximates. For the logical behind the numbers, take a look at the rest of this post. 
Proofread indie books via Reedsy
Connect with 500,000+ authors who need help perfecting their manuscript.
Proofreading rates: hourly, per word, or per page?
Ah, choice paralysis! As a freelance proofreader (or someone who's learning how to become a proofreader), you're expected to quote a rate fairly early on in any conversation with prospective clients. But what's the best way to express this rate?
This section will outline the three main options in setting rates for you to consider. 
Proofreading rates per hour
Novice proofreaders will sometimes start their careers by offering their services per hour. If you aggregate the proposed rates from the three associations mentioned above, you get an average rate per hour of around $34.
In an industry such as editing, hourly rates are not necessarily the best choice for newbies. For one, you are not yet able to accurately estimate how long it would take for you to work on a project, so it's difficult to come up with a fair rate. In other words, it's easy to end up over-invoicing the client or not getting paid enough for yout work.
You can consult the rates charged by experienced editors but keep in mind that they might work faster due to their experience. Better yet, start time-tracking yourself to better gauge your speed and formulate a more suitable proofreading rate. 
That being said, hourly rates are often used for short manuscripts, which are not very complex. You should get a hand of how to estimate your work-time after several of these short proofreading gigs. 
Proofreading rates per page
Manuscript pages are usually quite standardized, which is why you can set your rate per page. An average page of a well-formatted manuscript should be: 
In 12 point Times New Roman font;
Double spaces with one-inch margins; and
Around 300 words long.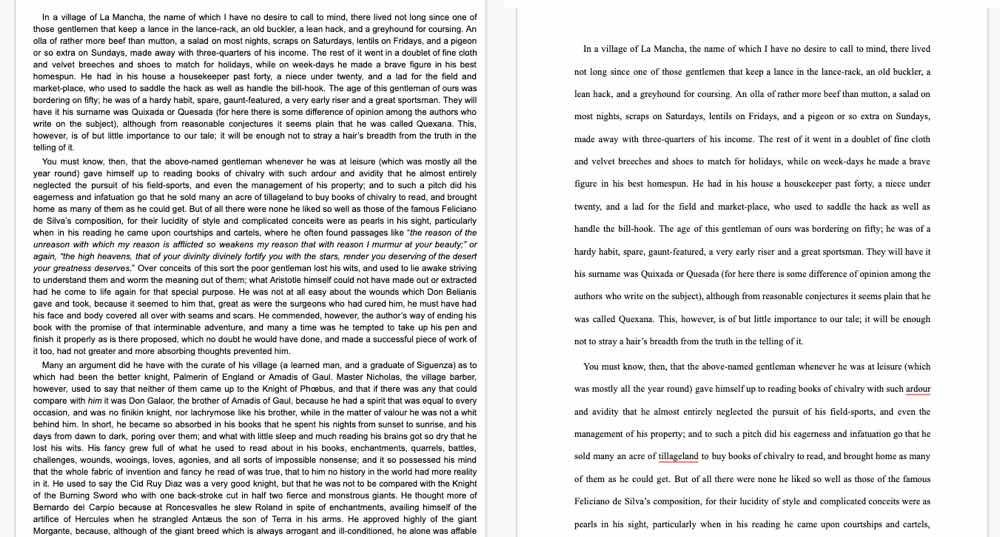 As such, you can work out the number of pages (if it's not already provided) by asking the author for the full word count and divide it by 300. You can also think about how long it takes for you to proofread a page, so setting your rate per page is usually a derivation of other kinds of rate-setters.
The big difference comes when you have a children's book author or a graphic novel, which doesn't quite match the per page word count. From our data, should you want to charge by page, the average rate is $3.2
Proofreading rates per word
Among proofreaders, the most popular charging method is per word. The benefit for proofreaders and their clients is that it's the most accurate and up-front pricing model. While most professionals base their prices on single words, it's common to quote per 1,000 words as it's less confusing for clients.
Bear in mind that average proofreading rates per word will vary depending on the type of project you're dealing with. In book publishing, things can vary by the genre. The table below is the average per word rate among proofreaders on Reedsy.
Genre

Average Proofreading Cost per Word

Romance

$0.01

Thriller, Crime, Mystery

$0.01

Sci-Fi and Fantasy

$0.01

YA

$0.0095

Historical Fiction

$0.011

Literary Fiction

$0.011

Children's Middle Grade

$0.01

Memoir

$0.012

Business, Self-Help

$0.0125

 
Factors that will affect your base rate
The following are average quotes given by experienced proofreaders for a 60,000-word book of a few different genres:
Young Adult: $570
Historical Fiction: $660
Memoir: $720
Non-fiction: $750
As a rule of thumb, proofreading rates for science, medical, and technical materials are higher than anything else in the mainstream publishing sector. This is because the former sectors require more specific knowledge. 
Though the number fluctuates with genres, this is not the only factor at play here. Apart from a project's category or genre, what other reason would you have to deviate from your base rate?
Are you working with a publisher or author?
If you're hired by a publishing house, expect more rigidity in negotiations. Publishing houses have notoriously low standard rates that they apply to all their proofreaders, of whom there are many. The in-house editors who commission you — and who you're actually in contact with — are oftentimes not in a position to change this rate, so negotations are highly unlikely. 
On the other hand, when you work with an individual author who's in charge of their own budget, you get to set your rate outright. The author may negotiate their point and try to find a middle ground, but you're in far better control of what you earn than if you were to work with traditional publishers. 
How "good" is the source material?
Not all manuscripts are created equal, which is why it's always important to get an accurate overview of the project you are about to start on. You'll always get a sample from manuscript before you have to send a freelance quote — use that to estimate how much work needs to be done. 
Proofreader Leonora Bulbeck bases her rates on a sample proofread her clients send in their Reedsy brief:
"I set each sample file to the same font and font size (Times New Roman, 12pt), double spaced. If possible, I do three pages, and then I look at how many amendments I have done (this is easy using Track Changes in Word or Pages). I divide this number by three to get the average number of edits per page. This average is then my key number for setting my rate for that particular client."
Even the best proofreader might make a small mistake when judging the sample. If you do notice along the way that you need to put more effort into the proofreading than you originally thought, it is always a good idea to let the client know. At that point, you can come to an agreement on whether the original proofreading rates have to be updated to reflect the newly-made assessment.
How quickly do they want it?
Choosing the appropriate turnaround time for a project is one of the biggest hurdles of a young professional. As we mentioned before, the more proofreading jobs you take on, the easier it will get to come up with the correct time frame.
As a rule of thumb: projects with around 10,000 words should be done within five days.
But what about urgent work that gains priority above everything else? Simply put, urgent work can be tackled first, but not without a premium. Make it clear that there is an added fee for projects with a short turnaround time on top of your standard proofreading rates.
The same goes for projects that have to be delivered on weekends or that involve weekend work. This is your personal time — you should be compensated for it in addition to the price of your service! 
What level of experience can you offer?
As a proofreader, you have to create the image of a professional who knows exactly what they can do and what to charge for their services. The way a proofreader advertises themselves and charge for their services will change along their career path as they get more experience, credentials, and clients.
In the beginning, it might be a good idea to point out your editing internships and degrees if you want to work in a specific category. Once you have your first clients, start adding their testimonials to your freelancer profile and use them as a basis to justify higher rates.
How much should you charge for proofreading?
There is no definitive answer to proofreading rates as it depends on many different factors, including negotiation. Testing your pricing structure is key. Nonetheless, we hope the average rates and insights we've provided here gives you a good basis to go forward and charge what you're worth! 
---
Follow us on LinkedIn to get more tips on how to become a successful freelancer in the publishing world!