Copyediting Certificates: Do You Need One and Where to Get It?
A lot of industries require some sort of accreditation of certification in order to join them. These are often meant to ensure that new employees are up-to-date with the industry standards and know what the job requires from them. Additionally, it's a great way for current and prospective employees to acquire new skills and broaden their professional scope.
With that in mind, let's explore copyediting certificates, where to get them, and whether they are truly necessary to enter the industry.
Do you need a copyediting certificate to become a copyeditor?
The short answer is not necessarily. The long answer is that it depends on your previous work experience, education, and professional relationships.
"I don't think a certificate is necessarily required, but it certainly makes things easier than muddling through by oneself," says editor Kelsy Thompson. "Authors tend to favor certified copy editors over non-certified — rightfully so. And I think the certification programs are very helpful and a very efficient way to learn how to become a copyeditor."
On the other hand, editor Maggie Lyons says: "None of my clients has ever asked if I have certification. Many prospective clients ask me to provide a sample of my work or take their editing test as all the proof they need of my competence. Other clients are happy to hire my services on the strength of a colleague's referral."
If you are an absolute beginner in the industry, then copyediting certificates might be a good way to get acquainted with the job and the day-to-day tasks. But if you've already been introduced to the industry — perhaps you were the editor at your school's paper or through some classes in school — then honing your abilities through hand-won experience might be more productive.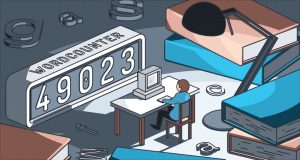 What are the benefits of being a certified copywriter?
While they may not be required, they can be very valuable assets, especially if you have never worked in the industry. Here are just a few ways in which they can be beneficial to you:
Improve or gain new skills
If you are just starting out, a certificate will give you the necessary tools to begin a career in copyediting. This is a great way to sharpen your skills and learn exactly what's needed to succeed in the industry.
Mary-Theresa Hussey, certified copyeditor and acquisition editor at Harlequin, explains that "it was useful at the time to reinforce grammar, style, how to make changes and the differences in the roles that the line and copy-editor fulfill."
Give you a leg up
If you don't have experience working as a copyeditor, getting a certificate might be the favorable tipping point potential clients need when it comes to deciding whether to hire you or not. Even if you've never had a professional collaboration, having a certificate can let potential clients know that you know what to do and how to get the job done.
Editor Amanda Rutter says that "it can provide a springboard to open doors to publishers that you may not have worked with previously. If you are "cold calling" a publisher, in order to try to make new contacts and obtain further freelancing roles, having some form of certification will definitely make them look over your proposal for work more carefully than if you were just someone who has read and enjoyed a lot of novels."
Create your Reedsy freelancer account
We have some great projects already lined up for you to work on.
What resources are out there?
There are a lot of courses and certificates out there (because they're so easy to create), so it's important to make sure you join one that has in-depth resources. Amanda Rutter shares that "any course that is directly recommended or provided by official bodies would carry a lot more weight than those by smaller companies that aren't as familiar."
Where to get a copyediting certificate
Keeping all of this in mind, here is a — non-exhaustive — list of places that offer copyediting certificates or courses to give you a headstart.
University certificates
University certificates are great for getting started from ground level, but they often have a more rigid schedule and require students to finish all the classes within a specific period of time.
Professional Association certificates
Certificates through professional associations offer a wide range of options and often offer single courses, which are great if you are only looking for one or two courses in a specific topic.
What to look for in a copyediting course?
When deciding which program is the best you, keep the following things in mind:
Cost
How much are you willing to pay for a certificate?
While universities often have a higher upfront cost, other programs often charge per course. This is a great option if you're looking into taking just a few classes on a specific topic, but if you are looking for something more comprehensive, paying per-course adds up quite quickly.
Length
How long are you willing to study for a certificate?
Keep in mind that however long a certification takes to complete, it's also time when you will have a very limited work availability — plus your free time will be practically non-existent. The flexibility of online programs helps a lot with this, but you need to look at the total length of the program — aka, how long before you can start working in the industry — to make the best decision.
In person or online
What is your preferred learning style?
There are a lot of certificate programs out there that are taught completely online, which helps in having a somewhat more balanced work-study-family life. However, if you know that the best way you learn is through in-person instruction, then looking for a program near you will be your best bet.
Scope
What topics are you looking to cover?
If you are an absolute beginner to copyediting, you might need a program that starts from the basics. But if you have some experience and are looking for something specific, then single-course topics will be more advantageous for you.
Courses
What kind of topics do they cover?
You might find that one program offers more classes in your niche than others, making it a better choice for you.
Alternatives to certificate courses
A certificate is not the only way to get experience in copyediting. If you decide that getting one is not for you, here are some alternatives that can still help you sharpen your skills and gain the knowledge you need to succeed in your career:
Books
There are a great number of useful books on editing, which include:
Basic Editing: A Practical Course by Nicola Harris
Basic Editing: Exercises: A Practical Course by Nicola Harris
Grammar Desk Reference: The Definitive Source for Clear and Correct Writing by Gary Lutz & Diane Stevenson
The Copyeditor's Handbook by Amy Einsohn
Butcher's Copy-editing by Judith Butcher
The Subversive Copy Editor by Carol Saller
Copyediting, A Practical Guide by Karen Judd
Mentorships and Internships
Editor Michael McConnell says: "I have never taken a copyediting course. I do not have a certificate. I had the good fortune to work with an editor/proofreader named Kathleen Finneran. She taught me about type sizes, fonts, specs, page layout, and editing."
For some people, nothing compares to getting on-the-job experience. If you prefer hands-on experience, then look for mentorship or internship opportunities either online or in your area. Forums or industry-specific job websites are great places to start.
While copyediting certificates may not be the best option for everyone, there are definite benefits to obtaining one. However, keep in mind your level of experience and what your career goals are, as there might be other solutions that can offer you more advantages in the long run.
---
Looking to supercharge your freelance business and explore new opportunities? Sign up to become an editor on Reedsy.