Last updated on Jun 27, 2022
How to Become a Ghostwriter in 8 Steps (Pro-Level Advice)
Becoming a ghostwriter might not be every writer's dream, but it's certainly a noble one. Whether you're writing novels or business books, you'll be helping someone tell their story without expecting any credit — though of course, you can also make a pretty penny as a ghostwriter. 
We've seen our fair share of successful ghosts here on Reedsy, and we've asked some of them to share their tips in this post. There are eight steps in total to learn how to become a ghostwriter, so buckle up and let's go.
1. Start by understanding what a ghostwriter does
Understanding the job description is the first step to doing anything well. In this case: a ghostwriter is someone who works on a manuscript or piece of text that will be credited to someone else. This may be an entire book or just parts of it, but either way, the "ghost" generally won't receive public credit (unlike a listed co-author).
Usually, the ideas and knowledge contained in the text come from the publicly named author — it's the ghost's job to put those ideas into words. As such, being a ghostwriter means you'll have to work very closely with each author, noting down their detailed thoughts and overall style so that you can convey them seamlessly in the finished product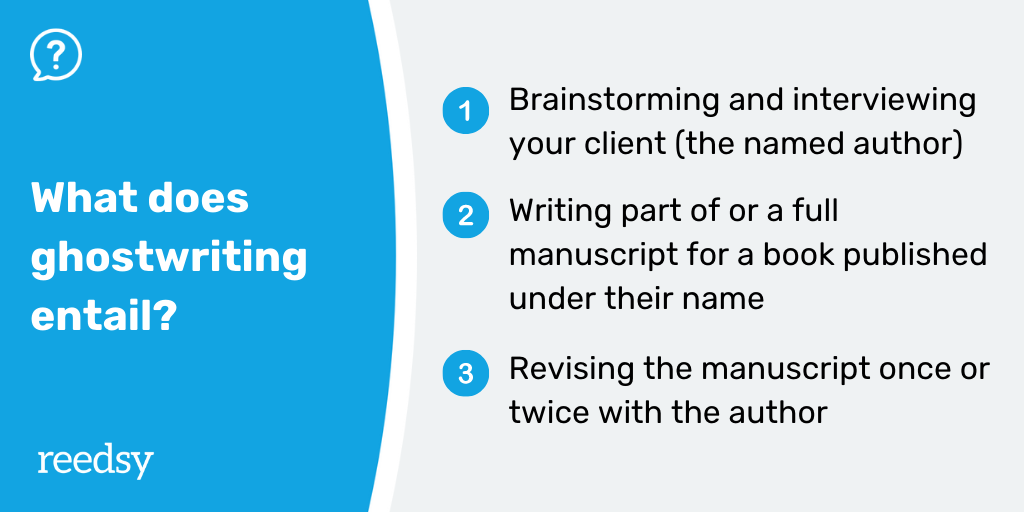 Learn more: What is a ghostwriter and what types of ghostwriting can you do? 
Is ghostwriting legal?
Ghostwriting is very much legal, so long as the idea behind the book is the author's. You're essentially offering a service, like an editor of sorts, to realize that vision. 
In some cases, like The Autobiography of Malcolm X, the ghost may even be credited on the cover. If the author agrees to share the credit, your name will often follow the phrase "as told to" on the cover or front matter. Otherwise, the author might also name you in the acknowledgements. Don't be perturbed if you don't receive any public credit, however; it's par for the course if you're hired as a ghostwriter, and perfectly legal so long as you still get paid.
How much do ghostwriters make?
From the data we've gathered from the hundreds of collaborations on Reedsy, a ghostwriting project can earn you anywhere from $2,000 to $60,000. And if you're writing for a celebrity or a high-profile author, you can expect a six-figure payment for a book! 
A number of factors contribute to how much ghostwriters make, but the general rule is: the more experience you have, the better your income will be. If you're just starting out, you might want to prioritize experience over money, if you have the opportunity to do so. Freelance ghostwriter Toni Robino suggests viewing the early phases of your career as a "breaking in" period:
"There are lots of things you'll need to learn about how to conceptualize, structure, and ghostwrite a full-length book. For that reason, you'll have a much better chance of getting hired if the fee you set is lower than the fees set by experienced ghostwriters with established track records."
That said, you should never undersell yourself or fall into the trap of freelancer scams. The absolute minimum you should accept for ghostwriting a book is $2,000 — of course, with every new skill and project you add to your resume, you should gradually raise your rates. 
Enter your email address for Reedsy's 2022 Cost of Self-Publishing Report!
You'll get it in your inbox right afterward.
2. Read often and widely 
Future clients will be looking for ghosts who understand their vision, regardless of the field they specialize in. That means every successful ghost needs to be familiar with a variety of tones and styles, have a strong grasp of the components of good storytelling, and know the structural requirements of different types of text. 
One of the best ways to prepare yourself for this is simple: read a lot, and read widely. Read everything you can get your hands on — from instruction manuals to posters at the dentist office to the latest thriller releases, the more widely read you are, the better you'll be able to meet your future clients' wishes. 
Whether it's a particularly comical Tinder bio or a striking yet sober newspaper article, a ghostwriter is a master at understanding the requirements of the occasion, so make sure you stay active and take plenty of notes as you read along. You can use this as inspiration later when it comes to your own writing — you never know what may come in handy in the future! 
3. Practice writing different styles and voices
With plenty of exposure to various forms and styles of writing, it's time to put your own pen to paper. And without the pressure of a deadline or the need to perform for a paying client just yet, there's no better time to experiment than now. So don't limit yourself to just one or two categories of writing — spread your wings and let your quill loose! 
Ghostwriter Hannah Sandoval, who's worked on over two dozen manuscripts, emphasizes the importance of making the final product capture your client's voice, energy, and vision:
"The hallmark of a great ghost is the ability to make the final product sound like your client, to capture their energy and their vision. The only way to get good at this is to force yourself to write outside of your usual voice and your genre comfort zone. Try mimicking the styles of some of your favorite authors in short exercises in your spare time."
And though coming up with new ways to practice can take a bit of creativity, you'll find variations on the written word everywhere once you start looking. Why not hone your skills by writing that email your friend has been worried about sending to their boss, or their blog update about their latest trip? Just remember that it should sound like your friend wrote it, and not like you did. 
Stuck trying to find good ways to practice? Take a look at these creative writing exercises and come up with new scenarios and authorial voices to try out for each one.
Become an expert interviewer 
Award-winning ghostwriter Jon Reiner says that a successful ghostwriter is "first a good listener, and then a good writer." Listening to your future clients, asking them the right questions, and noticing their habits, manner of speech, and their individual perceptions will all help as you proceed to construct their voice on paper (or, rather, on your choice of writing app). 
Just how important is this? British ghostwriter Johnny Acton suggests thinking of it in terms of voice; always paying attention to ensure your writing actually sounds like the client. "If you write the football player Wayne Rooney saying something like 'I was the most precocious of my numerous siblings,'" Acton notes, "then something has obviously gone wrong." 
4. Create a portfolio through freelance writing
Most clients will need to get a general idea of your grasp of authorial voices and range of knowledge, to determine if you're compatible with their book idea. This is why having some previous, credited work to demonstrate your talents is absolutely crucial — and why we recommend you start with freelance writing before taking on your first ghostwriting gigs. 
Start with short-form content
Getting some credited short-form content under your belt is a fun and effective way to quickly build a portfolio where you can show off a variety of voices and styles. Be open to different types of projects in the beginning, as this is an opportunity to develop a wide repertoire. Send pitches to magazines, blogs, and newspapers; write op-eds, listicles, and even short stories.
One of Reedsy's most popular ghostwriters, Sally Collings, encourages you to find opportunities to use your skills even in the most unexpected places: 
"Find individuals or organizations who need help writing the 'About' section for their websites. Most people just don't know how to make their own story shine, and it can be very helpful for them to draw on your storytelling skills."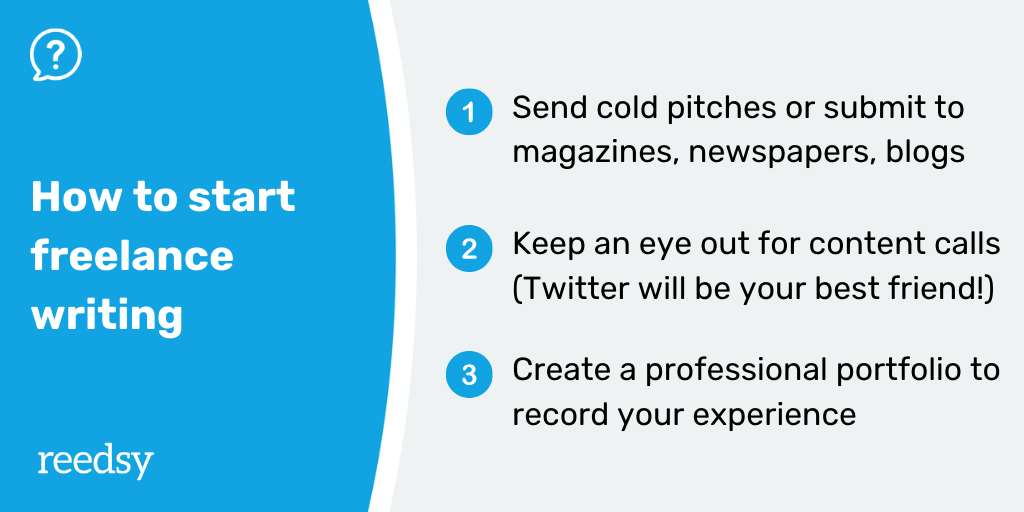 Gain experience with long-form projects
If your ambition is to ghostwrite novels, memoirs, or any other types of long-form content, it's good to get some experience writing longer pieces. Submit your novellas and longer essays to literary magazines or look for freelance copywriting projects that will allow you to work on longer, credited texts. Whichever format of long-form writing you choose to practice, be mindful that you tailor it to the type of ghostwriting you want to do. If you hope to become a fiction ghostwriter, make sure you're not just focusing on non-fiction pieces, but are also adding some fiction creds to your portfolio.
Alternatively, you can also act as an editor, assisting authors with manuscripts by refining their structure or voice. "This will give you real-world experience collaborating with clients and shaping a manuscript — without tackling the heavy-lifting of concept development," Collings shared. 
Pick a field of expertise 
Once you have a decent idea of what you really like and excel at writing, then you can home in on that skill. It's important to keep writing on a variety of topics — but it's also crucial to write regularly in the field that interests you. According to Stacy Ennis, "one of the best ways to be seen as an authority in an industry is to be the most consistent person talking about it."
Since your portfolio already contains proof of your ability to write in a variety of voices and styles, there's no harm in putting more effort into one or two fields that you find extra intriguing — after all, this will hopefully lead you to the type of clients you'd be keen to work with in the future, allowing you to establish a network of contacts in your field of interest.
5. Write your own book 
On the topic of becoming an expert, you wouldn't expect a dabbling songwriter to write a hit album without a little bit of practice — and neither should you expect to write a bestseller without having written a full-length manuscript before. So if your ambition is to ghostwrite books, you'll probably need to sharpen your book-writing abilities before you offer to write one for someone else. This is exactly what Mike Towle advises as a ghostwriter of over 25 years: 
"How can you write a book for someone else, in their voice, when you've never written one yourself? So write your own book first — better yet, write two or three. Shoot for at least 50,000 words each so that you get a feeling for writing something that long: dealing with the nuances of voice, narrative, flow, etc."
Feeling intimidated by the prospect of transitioning from short-form to long-form works? Don't worry, we've got you covered with some handy resources about writing a book.
6. Start ghostwriting content for people in your network
Having leveled up your skill with a quill through various smaller projects and possibly your own book, it's time to look for your first official ghostwriting jobs and more substantial work from your clients. The good news is that through your freelance work, you've created a network and a reputation that can help you advance in this next step of becoming a ghostwriter.
As New York Times bestselling ghostwriter Susy Flory puts it: "Everyone has a potential book in them, so have your antennae out." Many of your previous clients probably already have interesting stories in them, so don't hesitate to let them know you're available as a ghostwriter.
That said, don't just indiscriminately take on new books to write — hold out for real passion projects for which you are uniquely qualified. "Your first couple of collaborative projects will likely come from your gut feeling that a particular book needs to be born and that you are the one to help make it happen," Flory adds. In summary: cast a wide net, but only reel in the fish that look genuinely good to you.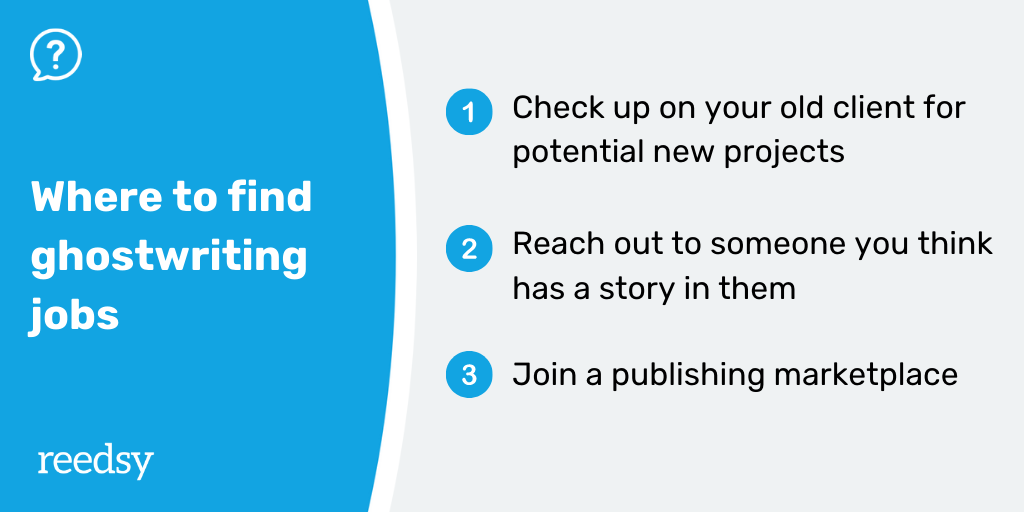 7. Grow your ghostwriting business
If you can't find any more ghostwriting projects within your network or if you simply want to expand your horizons, then it's time to grow your ghostly business and make your presence known on a larger scale. Here are a couple of things Reedsy's ghostwriters emphasize you should keep in mind as you expand:
Join a marketplace 
Struggling to make any headway with your previous clients? It might be time to broaden your network by joining a marketplace. There are various freelancing sites for writing jobs that you can join, but publishing-specific ones like Reedsy are more likely to bring you serious requests and lucrative collaborations. To learn about our publishing marketplace, head over to this guide or sign up below:
Find exciting new projects
We connect publishing professionals with our community of 1,500,000 authors.
💼
Wondering if you're ready to sign up to Reedsy?
Find out here! Takes 1 minute
Establish a professional presence
As your writing portfolio grows, Sally Collings advises that you build your online and offline presences: 
"Create a website and professional email address. Order business cards. Start professional social media accounts. Update your LinkedIn profile with the title 'ghostwriter.' Begin calling yourself a ghostwriter when you meet people. Basically, treat it like a business and be prepared when it comes time to offer your services." 
And with plenty of solid freelance work under your belt, you should be well-prepared for this next step!
💡 Hungry for more tips? See what ghostwriter David Congreave has to say about landing constant new ghostwriting jobs. 
Write clear proposals and contracts
It's always important to start off on the right foot with each client and one of the most important ways of doing that is to create good freelance proposals that not only cover the contract terms, but also answer any questions that might arise from someone who's never hired a ghost before. A sound contract clearly states the responsibilities the ghostwriter has, how many interviews or brainstorm sessions there might be, how many rounds of revision you would go through, and terms of payment. 
Alice Sullivan, the ghost behind 11 New York Times bestsellers, says that when preparing a ghostwriting contract, you should absorb all the information you can on both business and creative matters. The creative part is usually a given, but on the business side: "It's in your best interest to research everything you can about pricing, contracts, and administrative tasks (like taxes)." Remember, you're basically running your own small business as a ghostwriter, so make sure your contracts are thorough and professional enough to reflect that.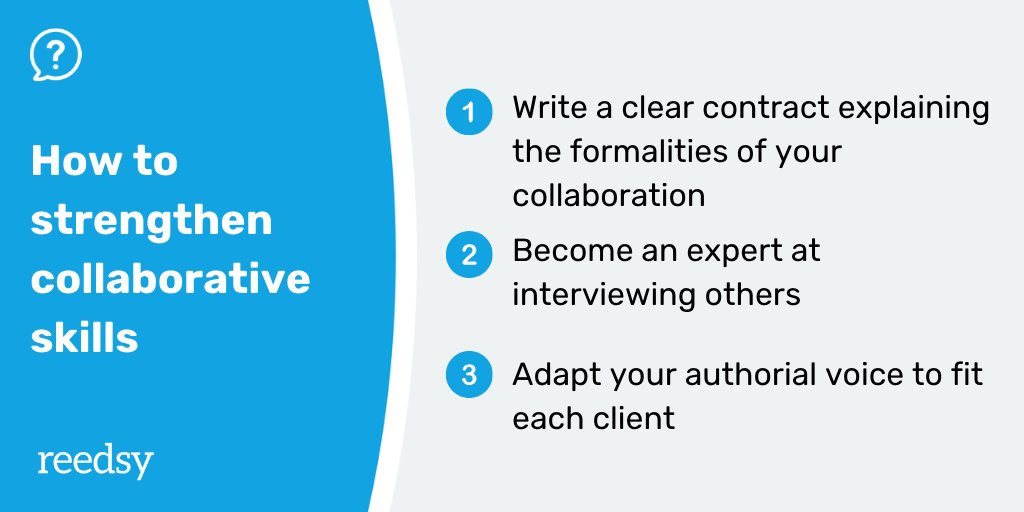 8. Maintain strong relationships with your clients
Ghostwriting is very much a team effort, so you need to be able to work and communicate with your clients effectively in order to succeed. Once you're a smooth and skilled collaborator, you should have no trouble picking up new clients — but you also want to set up and maintain good relationships with the clients you already have! This starts with establishing realistic expectations between the two of you, and continues with relatively frequent, informative communication about your progress.
"Be prepared to educate your clients," advises freelance ghostwriter Doug Wagner.  "One of the most common problems I've encountered with clients is unrealistic expectations — especially with regards to voice. Clients need to understand that no writer nails someone else's voice on the first try, and shouldn't be expected to. That's inevitably a product of a back-and-forth … Ensure you communicate this with clients before you begin so they're as prepared for the process as possible."
And don't forget to regularly ask for feedback along the way. As freelance ghostwriter Nick Brown points out, starting out small can be a great way to pick up some bona fides as a writer. "Establish a strong record with your own work first. If you can point to good reviews, you will appeal to potential clients."
And with that, we've covered the basics of how to become a ghostwriter. As with any freelancing trade, it involves a lot of networking, and the beginning can be a bit of an uphill climb. Make sure to check out some ghostwriting tips on how to improve your craft, and keep at it, and you'll get to see your writing sitting on the shelves some day!