The Complete Guide to Writing a Book Proposal
Have you got a nonfiction book idea and dream of securing a million-dollar deal — all before writing the book itself?
Well, we've got two words for that: book proposal. In the nonfiction world, publishers will ask an author to submit this vital document (and not the entire book). However, if you want it to emerge unscathed from the slush pile, your proposal must be clear, thoroughly researched, and ironclad. To sculpt your proposal into its best self, we've recruited the aid of the top developmental editors on our marketplace —  and provided a book proposal template for you!
Now, this guide and the book proposal template complement one another, so you've got two ways to go about this. If you'd like to refer back to the template as you read this guide, you can go ahead and download it in the Book Proposal Template section. Or you can go top to bottom to absorb all of the information before getting to the template.
If you've already written a proposal and want to know how to submit it, check out this three-step guide. And, before you get too far, it's worth knowing that writing a book proposal is not the same as a query letter — which is what you would write to attract a literary agent's attention.
What is a book proposal?
The book proposal is a 15-50 (or so) page manuscript that a writer uses to pitch a nonfiction book to publishers. Though it's written in place of an actual book, it should build a complete argument for the book idea. Chiefly, a good proposal will cover:
what the book is about,
why you're the perfect person to write this book,
who will buy the book, and
how you are going to convey the message.
If you successfully execute this, the sum of the proposal's parts will convince a publisher to invest in you and your goal: a published book.
Here's another way to think about it. You're convinced that your book idea is a diamond in the rough, right? Well, you've first got to refine it to the point that its cut catches the eye of even the most cynical publisher. Now, the book proposal is going to be the dais on which you display your diamond so that it glows.
What must a book proposal show a publisher?
Publishers read thousands of proposals a week. (We say this without exaggeration.) They're forgoing tea parties to read your proposal. That means that they want to see the potential in your nonfiction book — and that they will be wondering one thing more than anything else. Can this book make us money?
Say, "Hello," to the prism through which a publisher views everything! But don't be intimidated. You needn't go splashing a "$" sign on every page of your proposal now. Instead, this insider's tip is much plainer than that: your proposal must plainly show an evidence of need for the book. In other words: why is your premise unique? How will it benefit people who read it? This is very important. If you can convince the publisher that readers will care enough about your book to buy it, you're that much closer to securing a book deal.
This brings us to our (potentially) million-dollar question: How do you write a book proposal?
How to write a book proposal
Put simply, you need to:
Identify the research that's yet to be done. This includes the target audience, competitive titles, and the selling points of your book.
Build a strong author platform.
Propose a chapter-by-chapter plan with a beginning, middle, and end.
Sum up everything in the book proposal.
Sound tough? Don't worry, we broke the proposal down into its most common components below.
The Overview
Target Audience
About the Author
Marketing Plan
Competitive Titles
Chapter Outline
Sample Chapter(s)
If you'd prefer video, check out the replay of a Reedsy Live webinar, as ghostwriter Barry Fox explains one way to create a killer book proposal.
1. Overview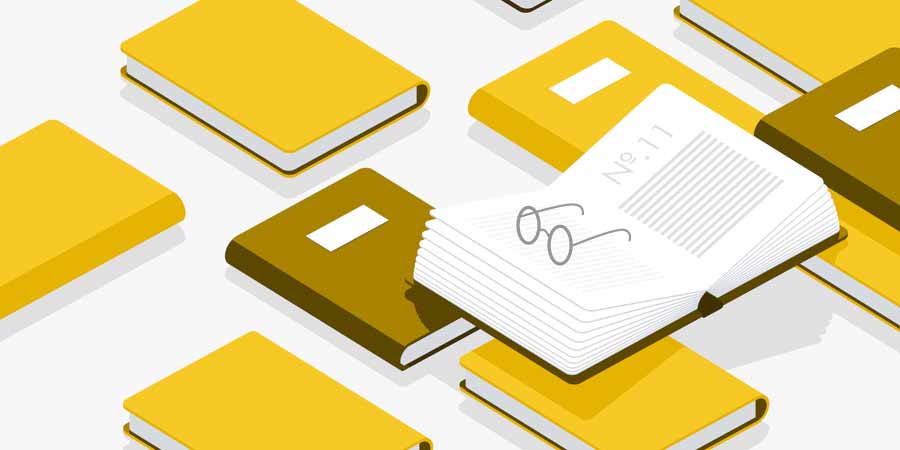 The Overview is just that: it's the introductory section that gives the bird's-eye view (or big picture) of your book. Don't make this section a magnum opus. To give you an idea of its ideal concision, imagine that you've only got a 30-second elevator ride to convince the publisher to publish your book. For developmental editor Elizabeth Evans, that's exactly what makes the Overview so important:
Write your Overview as though you're writing the copy of your book jacket. The Overview should employ the same combination of vivid description, charm, and salesmanship the publisher will eventually use to woo book buyers.
You should prepare the content of the Overview with two things in mind. First, you must establish what your book will be about. This means that you need to briefly put down the major W's that will guide the rest of your proposal: the what, who, and why of your book.
Second, you need to catch the publisher's eye. The Overview is your chance to make them think, Ah, finally a great proposal! So you can't really just sit back and go, "The greatness of my book speaks for itself. Everyone will want to read about this big boy."
Instead, it's the "Hook" that will draw readers — which is why we wanted to show you a real-life example of it.
Case Study: The "Hook"
Let's see one from an actual proposal:
This is the shocking and inspirational memoir of a boy who survived the Rwandan genocide. When he was seven years old, Hyppolite lost eighty members of his extended family and witnessed the murder of his beloved father.

Born in a mud hut without shoes, water, or power, he struggled after the genocide to gain an education and to learn to forgive the killers.

By the age of thirty, he had graduated from university in Rwanda and worked as a journalist and radio presenter, a playwright, and a theatre director.
It does two things of note:
It distills the essence of the memoir into one easy-to-digest sentence. This is the shocking and inspirational memoir of a boy who survived the Rwandan genocide.
It then goes on to reel the reader in through a double-punch of drama and mystery.
Andrew Crofts, the ghostwriter behind this particular proposal, explains: "The opening sentences should be the 'elevator pitch,' making readers want to find out more."
Or, as one of marketing's greatest salesmen, Elmer Wheeler, puts it: "The sizzle's sold more steaks than the cow ever sold, although the cow is, of course, mighty important."
It's this "sizzle" that will spice the proposal and keep people reading. Think of the strategies that journalists employ to grab readers' attention in the first paragraph of a magazine article —  an individual's personal story or a succinct piece of worldbuilding, for example. Try to capture that effect to make the subject of your book sound new (or intriguing) in your Overview.
Hot Tip: "The end of the Overview is also extremely important. In the final paragraph or two, sum up the project and end with something that will stick with readers. A note about the significance and reach of your subject matter is usually a good fit." — Jaimee Garbacik, Developmental Editor
2. Target audience
Perhaps your book idea is brilliant. That's great. Here's the bad news: that won't matter a jot to a publisher if there's no market for it. Unfortunately, an audience of twelve — you and your extended family members — won't move the needle much!
To paint a portrait of your target audience, think as a marketer might, instead. Editor Patrick Price suggests asking:
Whose needs do you meet? Women? Men?
What's the age range of the audience?
Urban or rural?
People who enjoyed [insert another book]?
Where would your book be placed in a bookstore?
The more precise your brushstrokes, the better. What else should you keep in mind to attain precision? Let's find out.
Do quantify the market
Once you figure out your audience, you need to clarify in your proposal whether there are 5 or 50,000 people in it. Stick to verifiable numbers. For instance, if you're writing a book on Bigfoot, you might notice that 3,800 people subscribe to the BigfootCommunity on Facebook. Or that 11,000 Bigfooters attended the online Sasquatch Summit in 2017. These are all digital footprints (pun intended) that you can chase.
Don't say, "But my audience is everyone!"
Spoiler: "everyone" is not going to cut it. That makes the publisher think that you either: 1) don't possess a target audience, or 2) didn't do your research. (Both aren't great takeaways.) Let's do a thought experiment and say that you're writing a book that's titled How to Prepare for a Zombie Apocalypse, for instance. If so, you might want to research the market of people who believe in zombies and apocalypses. Your rationale shouldn't be: "Well, everyone doesn't want to die. So 100% of the population will be interested in my book."
3. About the author
We know. You might be shy. (Don't be.) In this section, you need to shelve your modesty and come out sounding confident in your own ability to write this nonfiction book.
Keep the Author Bio short and sweet. Exclude all sorts of irrelevant information (your eye color, the number of times you won Candy Crush, etc). Just remember that your objective is to make a publisher and go, "THIS is the person that we need for this project."
So that includes your:
author platform
past awards and recognition
previous publications
media appearances
previous speaking engagements
connections to VIPs in the industry
press
author photo
In other words: what about your background, experience, and platform makes you the perfect person to write this book? It doesn't matter if you write this section in either third- or first-person. But you do need to be succinct. There are more opportunities for you to elaborate on your author platform in the promotion section of your proposal. Speaking of which...
Hot Tip: "Think of your Author Bio as a two-part argument for your stamp on the book. The first part details what makes you the authority on your subject, and the second elaborates on the size of your reach. A bulletproof platform combines expertise with a robust built-in readership." — Elizabeth Evans, Developmental Editor
Need help writing a book proposal?
The best ghostwriters and editors are on Reedsy. Sign up to meet them within seconds!
Learn how Reedsy can help you craft a beautiful book.
4. Marketing plan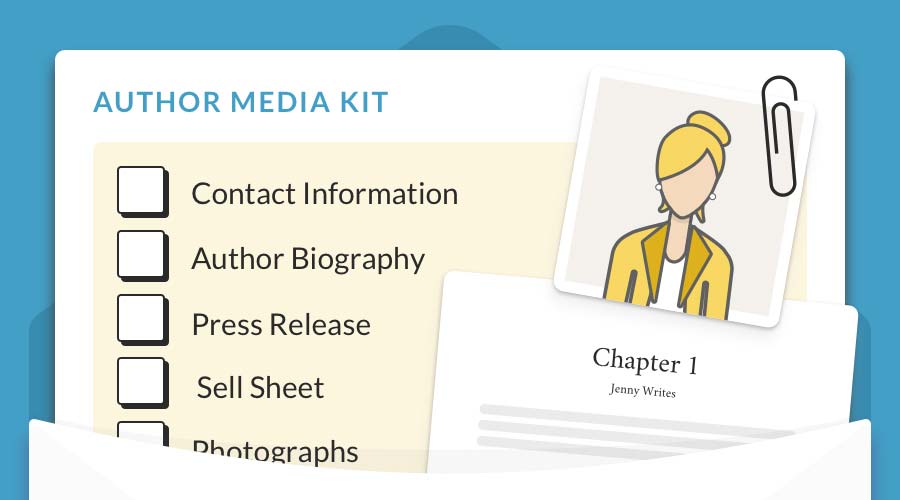 If a publisher asks to see a marketing plan, you should know that they're not saying, "Tell me what to do in order to sell your book." Instead, they want to see that you are currently able to reach your target market via your resources.
This isn't a great example of a marketing plan, for instance: "I will create a website for the book." Really? When would you launch this totally hypothetical website? More importantly, if you thought to mention it in your proposal — why isn't it already done?
As you might've guessed, the Golden Rule of this section is to concentrate on the steps you can take to market your book right now.
Don't be self-effacing. Definitely don't be ambiguous. Stand up right on the platform that you introduced in your Author Bio — and show that you can add value to the publisher's marketing efforts.
This means:
Have you spoken as an expert at conferences before? Are you in contact with organizers to speak again?
If you know VIPs in the field, can you get a blurb from them?
How about that essay that you previously wrote for The Guardian? Could you secure another post with them?
Have you got 10,000 subscribers to your newsletter? How will you use that built-in audience?
Hot Tip: If you're a first-time author without a platform — don't worry! Start now. Contact nearby media, try out guest-blogging, and reach out to peers in your industry. There's nothing wrong with small steps. Jody Rein and Michael Larsen in How to Write a Book Proposal bring up the story of aspiring author Trisha Pritikin, who was finding it tough to build a brand. To overcome that, she created a website and wrote posts about the toll of nuclear radiation poisoning. This brought nation-wide publicity and eventually got a reputable publisher to knock on Trisha's door.
5. Competitive titles
Consider this a friendly reminder that every publisher who reads your proposal is going to be picturing a packed bookshelf and thinking: is there really space for your book? Don't be afraid. They're open to being proven wrong. The point of this section is to dispel any doubts from their minds.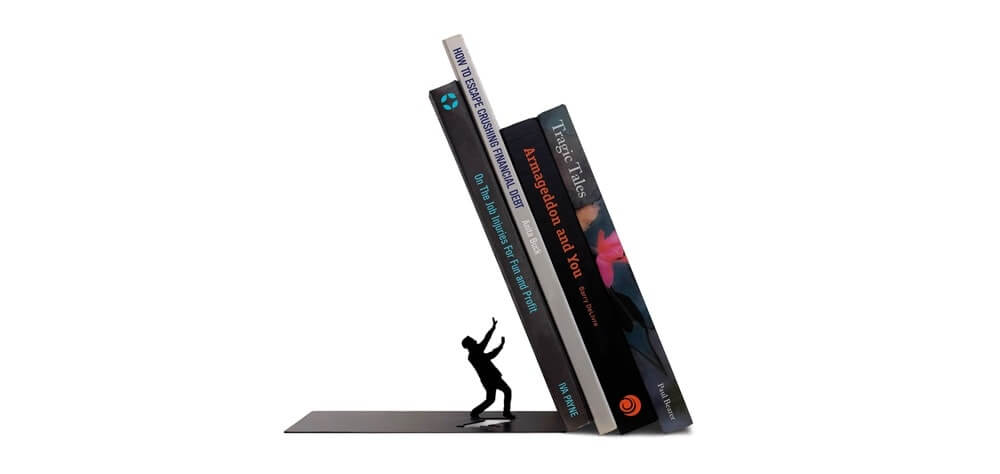 Stage 1: The Search
Where exactly can you find your competition? An actual bookshelf would be a good place to start, for one. Visit the nearest brick-and-mortar bookstore. Figure out where your book would sit, and check out the titles there. Then go onto Amazon.com and search for books in the category that you just identified. Scroll down for the "Frequently Bought Together" and "Customers Who Bought This Book Also Bought" titles. This should give you a treasure trove of comparative books. You should now be noting down these things:
Author
Title
Publisher
Publication date
# of pages
Price and format
Then you need to carefully study the qualitative elements. Who provided blurbs? What can the reviews of each comparative book tell you about the book's strengths and faults? Is it a bestselling title? If so, why? What features made it stand out? How does your book compare and contrast?
Hot Tip: "The bestselling comp titles might not always be the best picks for your proposal. If you're writing a business book without a platform, it'd be a bit of a stretch to say your book is comparable to the work of famed author and consultant Jim Collins, for instance. If your book is truly comparable, it's fine to use it. But be sure to also include others by not-as-famous authors." — Geoffrey Stone, Developmental Editor
Stage 2: The Analysis
Don't pick books that are:
out-of-print
published more than five years ago
Otherwise, you should choose 4-8 comparative titles to analyze. Keep it to a paragraph or so for each analysis.
Then comes the centerpiece of this section: for each competing title, explain how your book challenges it, updates it, or enhances its ideas. You're aiming to show that your book is uniquely positioned in the existing market, so be clear about the ways in which your book is different.
Hot Tip: "Don't shy away from describing other books' shortcomings, but be respectful. Odds are that you'll be submitting your proposal to the publishers of many of these competitive titles, after all." — Jeff Shreve, Developmental Editor
6. Chapter outline
Time to put on a FitBit and walk the publisher through your book! The chapter outline is the section in which you provide a brief summary of (yep) each of your chapters. Extra emphasis on "brief": keep these summaries to 1-2 paragraphs.
First and foremost, the job of the chapter outline is to show your method of approach. To this end, keep the progression of your chapters clear and purposeful. You really don't want the publisher to read your chapter outline and think, "Who cares?"
Then you'll want to watch out for a tricky minefield: industry-specific jargon. Avoid this! Why? Well, publishers acquire a bunch of books in a number of fields, which means that they're probably not going to be experts in your particular industry. So don't be shocked if the sentence, "This chapter will examine MSCI's adjusted EBITDA, EPS, and beta of 1.5 in the context of its 2016 non-GAAP measures," only gets you glazed eyes in return.
7. Sample chapter(s)
Can you execute on what you promised the publisher? That's what you should set out to prove in your sample chapter(s).
Did you say that your book would be funny? Choose a sample chapter that's gut-bustingly funny.
Did you mention that the ideas that you present in the book are ground-breaking? Then you want to give the publisher a taste of that.
It's up to you to pick which exact chapters to include (though the Introduction is generally not recommended, as it's too prefatory). But remember: if your sample chapter makes the publisher want to read more, you're on the right track.
Hot Tip: "I like to leave this to the very end of the proposal-writing process. Once you have the full chapter outline and the overview nailed down, it will become much clearer which chapter you should highlight as the sample chapter. Avoid any duplicate material from the Overview." — Jeff Shreve, Developmental Editor
Note: unless the publisher specifies otherwise, submit your sample chapter as a MS-Word document. No need to crack out any specialist writing software just yet.
Download: Book Proposal Template
As a parting gift, we created this book proposal template so that you can visualize it. Since this guide and the book proposal template were meant to be complementary, we recommend perusing them side-by-side, or one after the other.
Bear in mind that this template is only a general guide: in truth, there isn't a one-size-fit-all for a proposal. So this book proposal template is meant to give you a bird-eye's view of the process. For full (and real) sample proposals, we recommend checking out: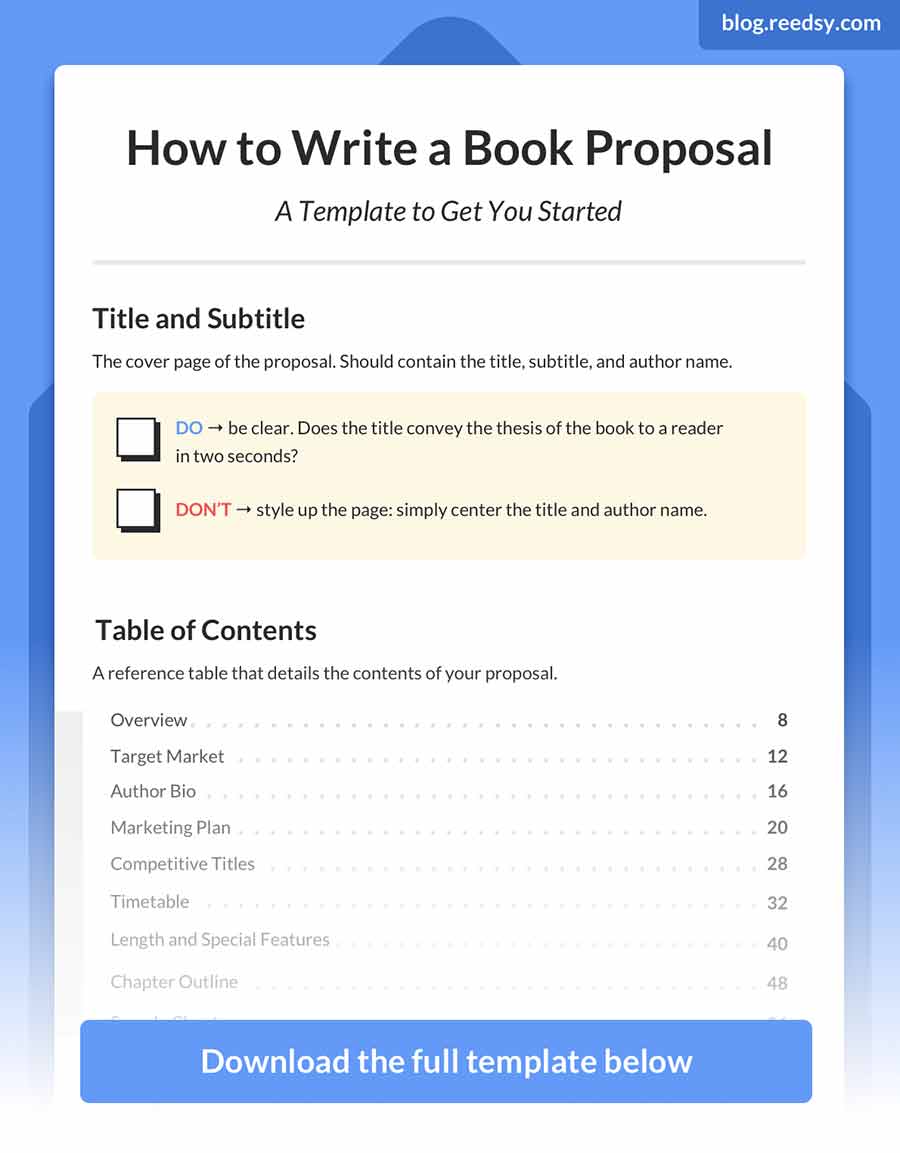 Enter your email address to download the full Book Proposal Template!
You'll get it in your email inbox right afterward.
What's next?
Even if you've got a complete book proposal, your work isn't done yet. Now it's time to research publishers and submit your proposal: a procedure that you can discover in this post.
Here are some additional resources for you as you continue to nail down your proposal:
Now that you've got a better idea of the most common sections in a proposal, you can venture out to investigate publishers yourself and see what their specific submission guidelines are. Here are some examples below:
And if you're feeling overwhelmed by the whole process? Don't sweat! Depending on your circumstances, you've got a couple of choices. Have you:
Already written a book proposal that you now want to perfect? Consider working with a professional developmental editor to make every component of your book proposal airtight and cogent. They charge between $500 and $2,000.
Not started writing your book proposal yet? Consider taking on an experienced ghostwriter to write the whole proposal for you. They charge between $2,000 and $20,000.
"Proposals can range anywhere from a few thousand dollars up to $20,000. It all depends on the amount of idea developing and writing that's needed." — Stacy Ennis, Ghostwriter
Publishing professionals possess decades of experience reading, editing, and re-tuning book proposals. There's no real replacement for their insight and training. It's a worthwhile investment, especially for anyone who wants to hear those magic words, "Let's get you on a book deal."
---
What's your experience writing proposals been like? Do you have any additional questions about the book proposal template? Leave your thoughts in the comments below!
Huge thanks to editors Jeff Shreve, Geoffrey Stone, Patrick Price, Jennifer Barclay, Fran Lebowitz, Elizabeth Evans, Laura Yorke, Katharine Sands, and Jaimee Garbacik as well as ghostwriters Andrew Crofts and Stacy Ennis for their input and suggestions!