Last updated on Aug 27, 2021
How to Write a Book Proposal that Seals the Book Deal (with Template)
In the nonfiction world, when you want to get a million-dollar deal, you don't send publishers a full manuscript. Instead, you send them a book proposal, which pitches your book idea to potential publishers. This is your chance to convince the publisher that your book is worth investing in — which is why it's important that you know how to write a good book proposal.
A proposal is around 15-50 pages long and includes an overview of your book, your author bio, competitive titles, potential marketing strategies, a chapter outline, as well as some sample chapters.
It might seem overwhelming, but that's why this post is here to guide you through it all. If you follow the next nine steps (complete with tips from publishing experts), you'll have an attention-grabbing, publisher-ready proposal by the end of it all. 
We recommend that you download our free book proposal template to follow along as you read this post. And now, without further ado, let's get started!
Enter your email address to download the full Book Proposal Template!
You'll get it in your email inbox right afterward.
1. Hook the publisher in with an overview 
Every proposal begins with the all-important overview of the book you're planning to write. The overview covers what (or who) the book is about, so that the acquisition editor has a clear idea of your proposed topic and the commercial appeal of the book. 
Developmental editor and former literary agent Elizabeth Evans advises you to "write your overview as though you're writing the copy of your book jacket. Employ the same combination of vivid description, charm, and salesmanship the publisher will eventually use to woo book buyers." In other words, start selling your book from the get-go! 
Andrew Crofts, a ghostwriter who's worked on multiple proposals before, shares his pro-tip for hooking editors in: "The opening sentences should be the 'elevator pitch,' making readers want to find out more."
Perfect your book proposal with a ghostwriter
Connect with hundreds of experienced ghostwriters on Reedsy
Learn how Reedsy can help you craft a beautiful book.
For a better idea of what an overview should be, take a look at this example from an actual proposal:
This is the shocking and inspirational memoir of a boy who survived the Rwandan genocide. When he was seven years old, Hyppolite lost eighty members of his extended family and witnessed the murder of his beloved father.

Born in a mud hut without shoes, water, or power, he struggled after the genocide to gain an education and to learn to forgive the killers.

By the age of thirty, he had graduated from university in Rwanda and worked as a journalist and radio presenter, a playwright, and a theatre director.
That's the key to an eye-catching overview: the short opening sentence successfully describes the book's genre while intriguing the reader. Then the next sentences unpack the main themes and story that will be explored in the book. 
Remember to keep to the essentials all the way through! Once the main message is covered, editor Jaimee Garbacik recommends wrapping up with "a note about the significance and reach of your subject matter."
2. Identify (and quantify) your target audience 
So you've ended your overview on a strong note and successfully hooked the reader. Great! Now, you want to elaborate on why your book is important — a.k.a. why it will sell. 
To do this, you need to identify your target audience, or the people who will be interested in buying your book. Spoiler alert: no, you can't say, "My book is for everyone!" A teenager and a working parent simply do not share the same reading interests. 
Instead, you need to be as specific as possible. You can get a headstart on that by answering these question, suggested by editor Patrick Price:
Whose needs do you meet? 
What's the age range of the audience?
Where do they live? What's their lifestyle like?
What other, similar books do they enjoy?
With this in mind, you can search for social media groups where your audience may unite, or survey previously published books on similar topics to see how popular they are. This will give you a better idea of the number of people who may be interested in your book.
As ghostwriter Barry Fox will remind you, you are the expert about this specific market. If you're a historian, you have a better idea than the publisher of the number of students who are interested in your research area. If you're a doctor, you know your clients' worries better than anyone else. Lean into that special insight when you research and write this part of your proposal: let publishers know that there's demand for a book like yours. 
3. Prepare a short and sweet author bio 
As we mentioned, your position in the field is the card up your sleeve when it comes to your proposal. Beyond the market insights, your experience also makes up your credentials — giving your readers (and the publisher) the reason they need to trust that you can deliver the answer to what they're wondering about. 
Your author bio should make all of this clear. According to editor Elizabeth Evans, it should thus be thought of as a stone that can hit two birds: "First, it details what makes you the authority on your subject; and second, it elaborates on the size of your reach." 
To that end, you can write a strong author bio by including information on your:
Qualifications (and any seminar you teach);
Past awards and recognition;
Previous publications (books and articles);
Media appearances (e.g. lectures, speeches, interviews…);
Connections to VIPs in the industry; 
Your personal media contacts;
An author photo.
Keep it short, and don't try to oversell by spinning irrelevant experiences a certain way (the way one might do in a CV). Be honest and purposeful in this section, highlighting your assets above all. For the nitty-gritty of how to organize your bio, follow this free template! 
Enter your email address to download the full Author Bio Template!
You'll get it in your email inbox right afterward.
4. Reveal your marketing ideas
Since you should already have an established reach in your field, you're expected to be a large part of the nonfiction book marketing effort. Which is why a prospective publisher will want to know what plans you have in mind to spread the word about your book. 
That's what you'll want to explain in the section on marketing strategies of your book proposal. Again, the key is to be exact and specific — don't just outline generic actions like creating a website. Consider these questions:
Are there VIPs in the field you can ask for a blurb from?
Have you guest spoken anywhere before and can reach out to the organizers for a future event?
How about columns or articles — have you written some before and can you secure another one when the book comes out? What about an interview?
Have you got a strong subscriber base to your newsletter? 
Do you have connections with bookstores or libraries who can distribute your book, like those of your alma mater's, for instance?
You can find more marketing ideas in Barry Fox's Reedsy Live webinar on book proposals, but the goal is to make use of all the assets you've listed in your Author Bio. That way, you can show that you can contribute to the overall marketing efforts. 
5. Pick your comparable titles 
Given all that information, the next question the acquisition editor will ask is whether there's space on bookshelves for your title. Surely, there are others who have already written books on your topic  — so what else can you offer? 
To prove to the publisher that your book indeed deserves a place on the shelf, you need to know your predecessors and your competition. 
Dig into less high-profile titles
Think about other books on the topic — you've probably read some yourself — and then dig deeper. Editor Geoffrey Stone warns you (especially if you're a new author) not to compare yourself to well-established authors, since their platform is far bigger than yours. Instead, search their books up on Amazon and see what else is suggested in the "Customers who bought this also bought" section. (And for timeliness's sake, keep to more recent releases!)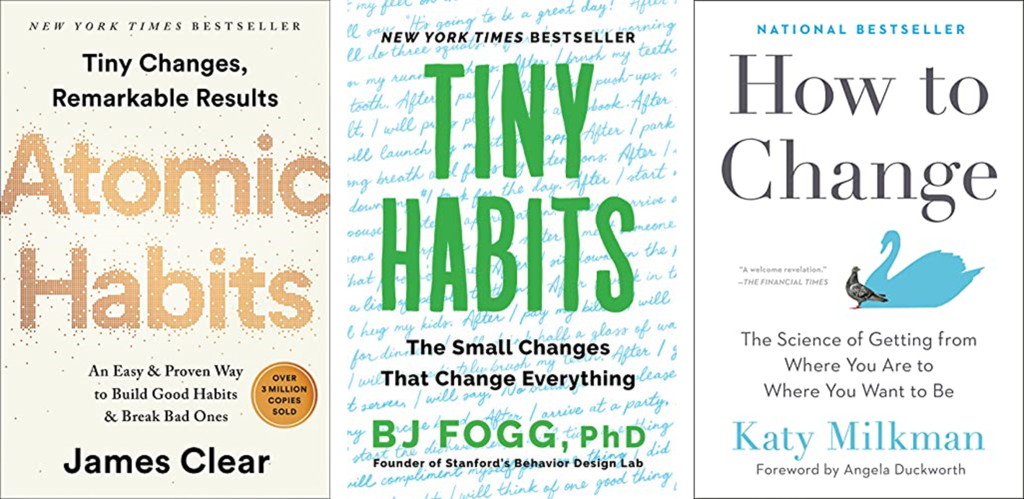 Identify the gap in the market
After your research, you'll end up with a list of comp titles. Next, you want to narrow it down to 5-8 books, and talk about how your book compares with each of them. Explain how your book challenges, updates, or enhances each of the comp titles chosen. The point of this exercise is to show the publisher how your book is uniquely positioned in the existing market.
Just one other reminder from editor Jeff Shreve: "Don't shy away from describing other books' shortcomings, but be respectful. Odds are that you'll be submitting your proposal to the publishers of many of these competitive titles, after all."
6. Break down your chapters
Now that all market-related issues are covered, you're ready to finally elaborate on your actual book! By this point, the publisher's hopefully already eager to offer you the deal — they just need to know that your plans for actually writing the book are viable. 
Show that a full manuscript is right down the road by providing a chapter-by-chapter sketch of your book (just 1-2 paragraphs per chapter will do). If you don't have a clear idea about where to begin yet, perhaps this guide on how to outline a nonfiction book can be of some use. 
7. Show off your skills with a sample chapter
While you don't need to provide a full manuscript yet, publishers will expect a sample chapter or two, which will demonstrate to them that you don't just have the ideas — you also have the skills needed to put them into writing. 
In that spirit, you want to pick a chapter that best shows the essence of your book. Remember the hook at the beginning? What chapter exemplifies the selling point you promoted? Our Rwandan author from the example earlier might find the first harrowing chapter about the genocide an impactful sample. Or if you're writing a business book, you might find that a later chapter about how your business took off after some experimentation in strategy could better show your potential. 
Because you want the sample to strengthen other elements of your proposal, Jeff Shreve says that he likes to leave this to the very end of the proposal-writing process: "Once you have the full chapter outline and the overview nailed down, it will become much clearer which chapter you should highlight. And this can help you avoid duplicating the overview." 
8. Outline your timetable and special features
At this point, you can zero in on the logistics of writing your book. Let the publisher know:
How long you might take to write the book;
What range the word count might fall in; and 
Whether you need any assistance throughout your process. 
Assistance can mean photographic material, special designing needs for tables and graphs, or perhaps even a research assistant. 
Of course, these are open to discussion once you get that sweet offer, but publishers will appreciate the heads-up!
9. Give your proposal a professional edge 
Finally, if you really want to make sure you're hitting the nail right on the head, you can enlist professional assistance. There are plenty of professional editors and ghostwriters ready to review your proposal before you submit it to make sure it's in fighting shape, or even write it with you. (Many are also former literary agents armed with plenty of knowledge on editors' preferences!) 
And if you're taking on this task yourself, you don't have to be completely alone — our book proposal template is here to help you!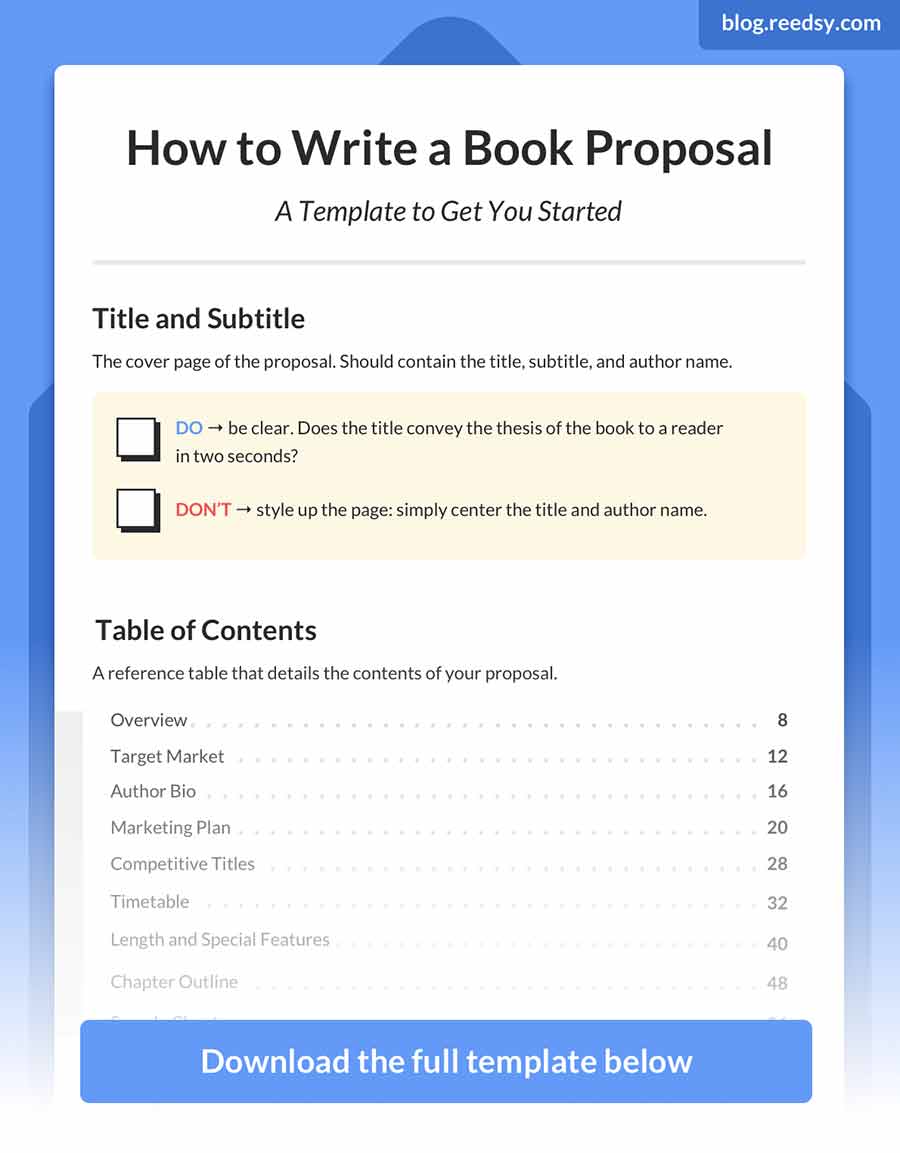 Enter your email address to download the full Book Proposal Template!
You'll get it in your email inbox right afterward.
We hope you've found all the tools and assistance you need to write a book proposal that will help you secure that million-dollar deal. And if you've written a pitch that ticks all the boxes, there's nothing left to do but to submit your proposal to publishers.