Writing Portfolio 101: How to Impress Clients in 5 Steps
For a writer — be it a ghostwriter, freelance writer, or a journalist — a good writing portfolio is the culmination of a lot of things. It represents the result of your hard work, your pride and joy, and, perhaps most importantly, it's how you get more writing jobs. Recommendations, word of mouth, pitches — all of these will direct potential clients to your writer website, where the proof of your good freelance writing work will lie.
So what is a portfolio, what shape and form does it take, and how can you create one that will wow clients into working with you? This post will walk you through everything you need to know about building your own impressive writing portfolio.
Step 1: Identify the purpose of your portfolio
The first step to writing a portfolio is to understand what it is, and what purposes it serves.
What is a writing portfolio?
A writing portfolio is a writer website or a profile on a host platform which showcases your best work, introduces you to clients, and encourages them to work with you. Previous works are usually listed in an online portfolio as hyperlinks and PDF attachments, rather than whole excerpts of your writing. (Keep in mind though that some authors also have a page for constantly updated blog posts.) In other words, you can think of this portfolio as a hub that can redirect curious customers to the best samples of your writing.
Now that you know what a general portfolio does, let's think about what your portfolio should be about.
What kind of work are you looking for?
As a freelance writer, there are plenty of routes that you can pursue. Some career paths include, for instance:
Copywriting and content marketing
Book ghostwriting jobs
Journalism
Writing articles and columns
Technical writing
This is important to bear in mind when creating a writing portfolio website. Each line of work would call for a different range of samples, and even different ways of displaying your work. Which takes us right to the next step…
Step 2: Collect relevant writing samples
With the purpose of your online portfolio in mind, it's time to pick your samples. Now, you may have an array of work covering different topics and forms. It goes without saying that you should select your best work. But rather than including everything, you want to ask yourself whether each writing portfolio example you pick can best demonstrate relevant skills. For instance, if you're hoping to ghostwrite memoirs, it would be wise to select interviews or personal essays to show your experience working with memories and reflection. Amusing listicles about the many ways cats are mythologized and similar trivia can wait for another occasion.
Divide your samples into sections
To get started, here's what you may want to do to as you start selecting your writing samples:
Collecting all of your work in a spreadsheet. (We advise you to keep this updated throughout your career.)
Dividing them according to their nature (e.g. blog content, articles, technical writing...).
Within those sections, categorizing your work per topic (e.g. politics, food, movies...).
Highlighting the all the best works in this collection.
Aim to narrow your writing oeuvre down to 10 to 30 of the best pieces in total: you don't want to overwhelm your potential clients with too many articles! Remember that clients are going through multiple portfolios in search of the perfect writer, so keep the process as simple for them as possible by showing only the crème de la crème of your work.
If you don't want to limit yourself to a specific kind of work, you're most welcome to display a range of samples. Just remember to organize them into their respective categories so that the right clients can easily find what they need. For example, Reedsy's ghostwriter Lori DeBoer makes her portfolio navigable by dividing her content up into four clear sections: Science & Technical Writing, News & Magazine Articles, Essays, and Short Stories.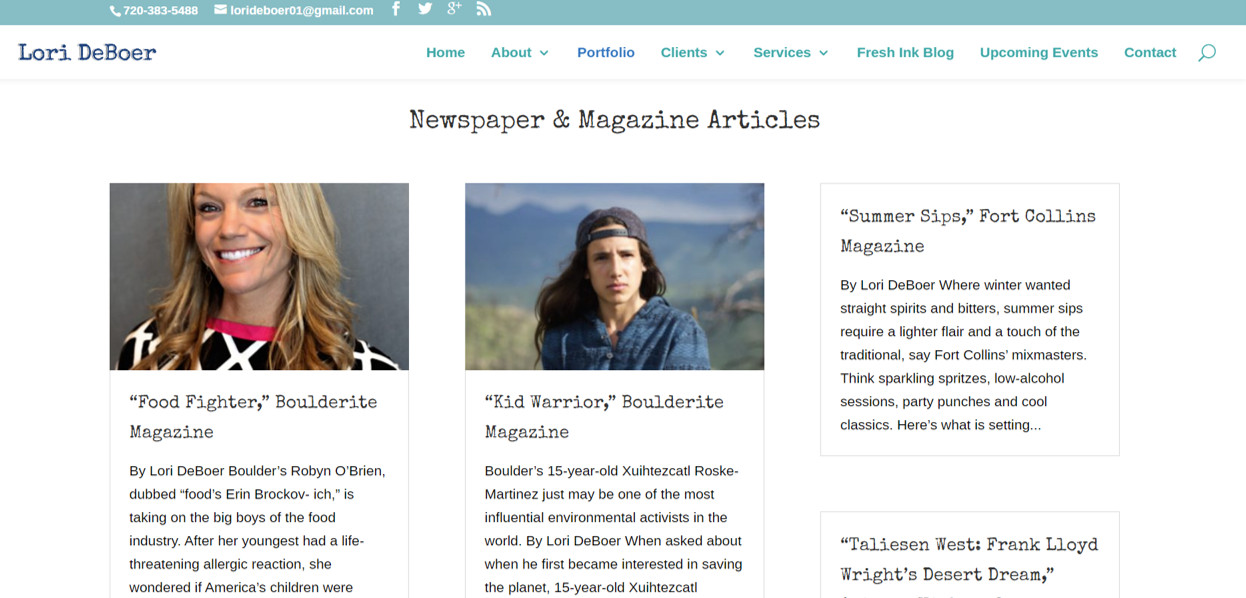 Create your Reedsy freelancer account
Show your experience and we'll bring the client to you.
Step 3: Pick a place to host your portfolio
Now that you've nailed the bulk of your content that will round out your portfolio, you have to decide where to display this collection of work. You get two broad options when it comes to this: you can build a website, or you can choose a portfolio host.
Creating your own website
This option gives you more creative control over the presentation of your writing portfolio, which makes it a great choice if you want to concentrate on brand image. (Hint: it's perfect for content and copywriters who specialize in marketing!) And while it might sound daunting to design a website, platforms like Squarespace, Wix, and Wordpress make it fairly easy by providing templates and click-and-drag features that anyone can master.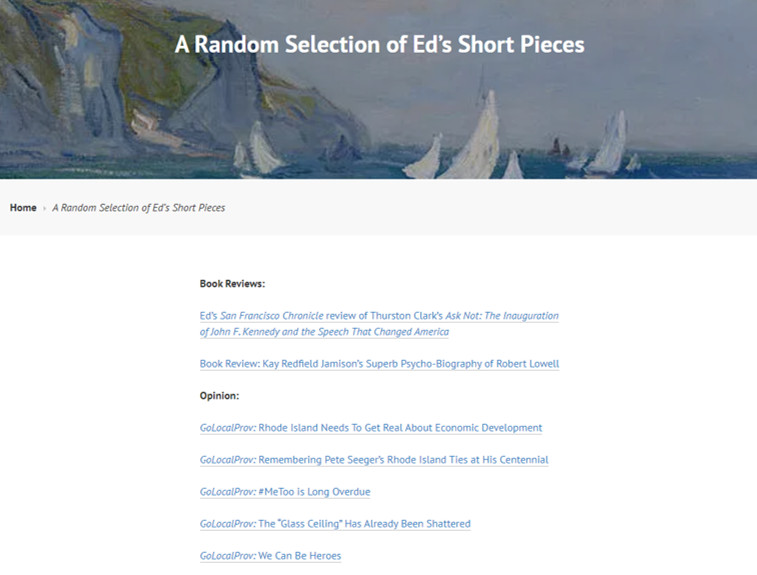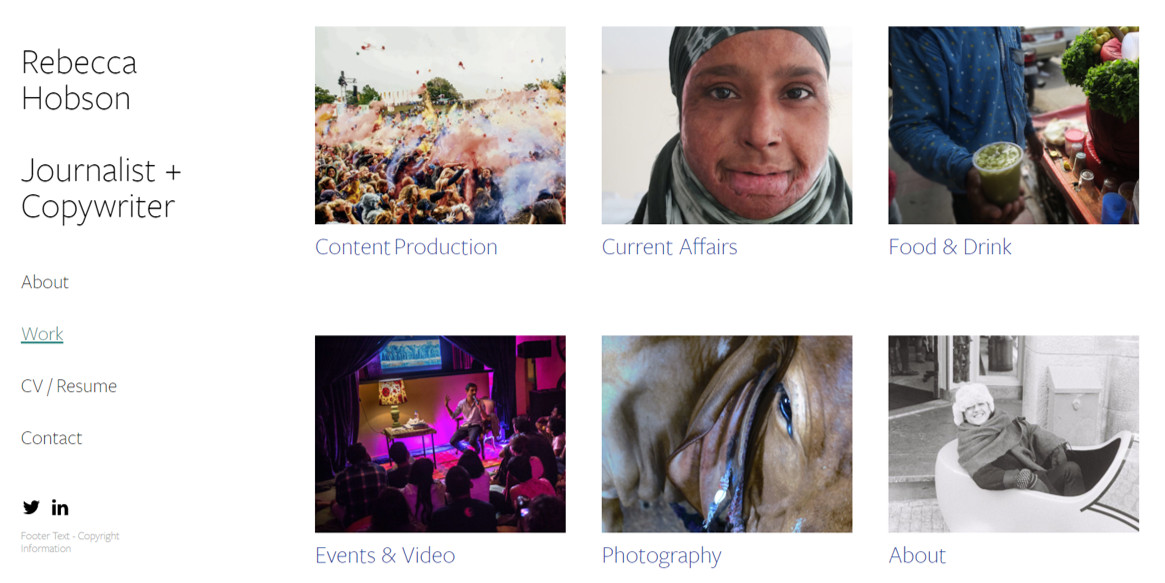 If this is the route you pick, keep in mind that a custom domain is always more professional.  While Wordpress's and Wix's free plans are very tempting, they only come with URLs such as yourname.wordpress.com and yourname.wix.com, which look a lot more like casual, personal blogs than work websites. So don't hesitate to loosen your purse strings a little and pay for a plan with your own domain.
Choosing a portfolio site
If you don't want to spend too much time on designing your portfolio, there are always trusted portfolio sites for you to turn to. Think of these sites as LinkedIn accounts for your portfolio: all you need to do is create an account with them, and then fill in the information fields that they'll ask of you.
Some popular options include:
MuckRack: a popular platform for journalists and PR professionals
Contently: a useful site for content writers
Journo Portfolio: a newer website for every kind of freelance writer
Clippings.me: provides a clean cut design for all kinds of writer
The good news? All of these portfolio sites have a free account option. But the bad news is that a free account will often limit the number of articles you can display (usually to around 10). If you want to display more work than that, you'll have to pay for a bigger plan.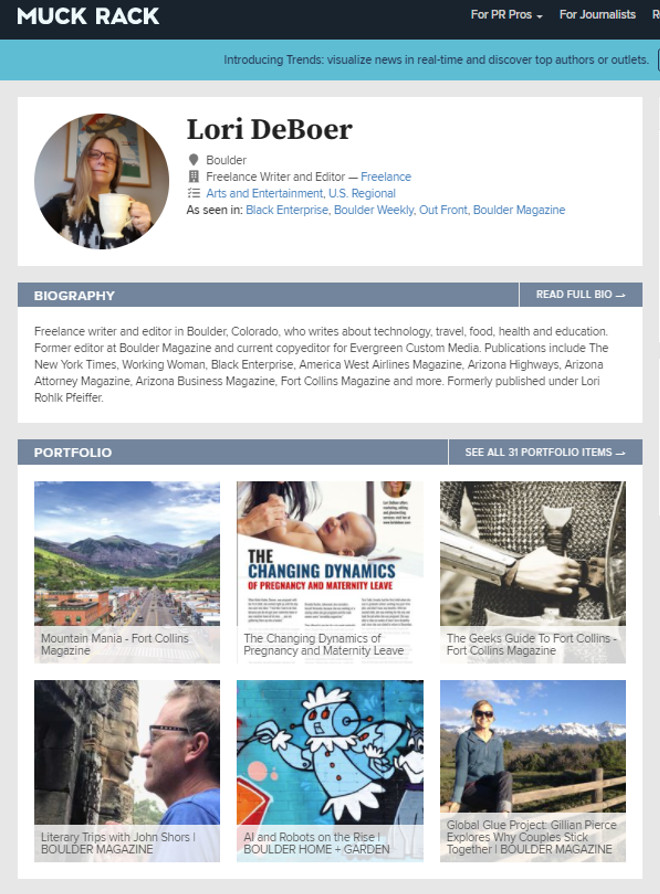 Step 4: Nail the design and organization of information
You've got all the components and tools that you need — now it's time for the assembly! Putting things together will be relatively simple when you're using a host site. All you have to do is type in your details, add in the links, and perhaps upload some photos.
When designing your own website, you can select a ready made theme and start creating pages. (Of course, if you'd like to dabble in HTML and customize your site, you can put in some time and be more creative.) Ideally, you want to have at least three main components: a landing page for a brief introduction, a portfolio page that showcases your work, and a contact page which provides your email address or a contact form.
While designing your online writing portfolio, here's what to pay attention to.
When in doubt, go simple
Simplicity and concision is the name of the game here. What you don't want to do is overcrowd your portfolio with long excerpts or excessive images. Most of the time, a simple hyperlinked headline will be enough to intrigue clients and encourage them to click through.
That said, if you're displaying news articles and columns, feel free to add a header image or a little tagline summarizing the work. For marketing content, it's also recommended to add a quick sentence or two explaining the project and highlighting its results to impress clients.
If you're designing your own website, choose a simple theme and color scheme to avoid straining the eye. You also want to minimize the amount of scrolling or clicking (e.g. to the next page on of your list of articles) so as to keep viewers from losing interest.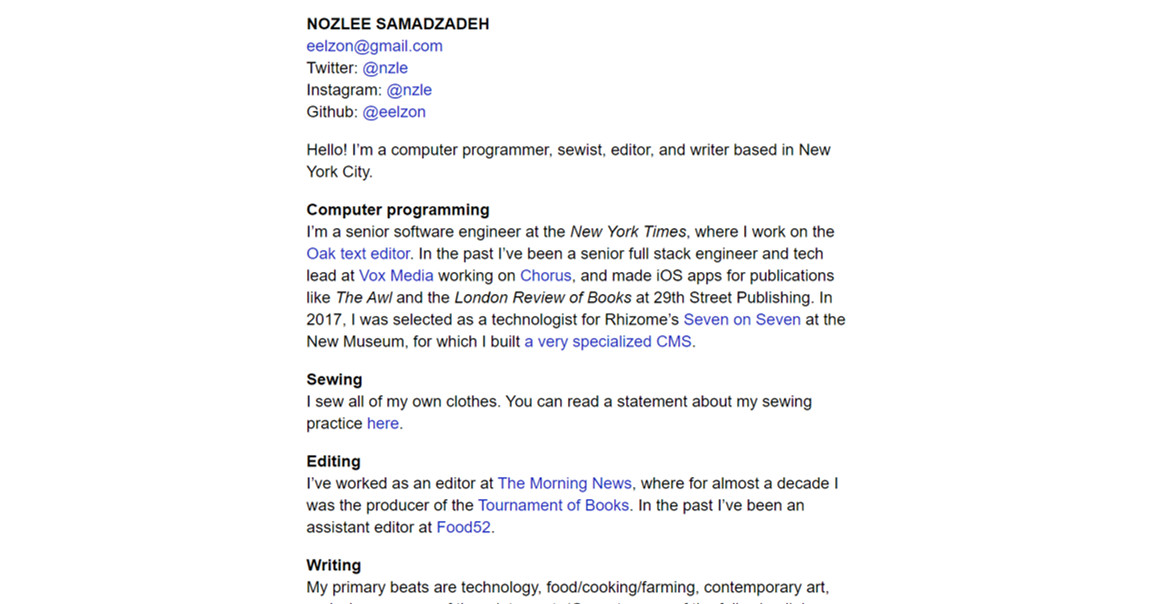 Below, we'll share some content you might want to include in your online writing portfolio.
Save space for a little bio
When creating a writing portfolio on a hosting platform, don't skip out on the bio. This is your chance to introduce your voice, your profession (that's right, assert yourself!), and your credentials. While potential clients won't want to know all about your journey as a writer, they will want to know that there really is a person behind everything. After all, you are going to become collaborators — or partners, if you may!
Add a call to action (CTA)
This point is crucial for website builders. For a bit of marketing lingo, as to build your portfolio is to conduct content marketing, CTA is short for "call to action," meaning something that prompts viewers to act immediately on your marketing message. In a portfolio for writers, the CTA is usually a "Contact me" button.
Note that portfolio hosts will usually include a section for contact details at the top of your portfolio page, but that this "Contact me" component is not a given when you're creating a site from scratch. Remember to add it to your portfolio (possibly one on the top of the page and one at the bottom).
Alice Sullivan, a ghostwriter at Reedsy, really make use of call to action on her website.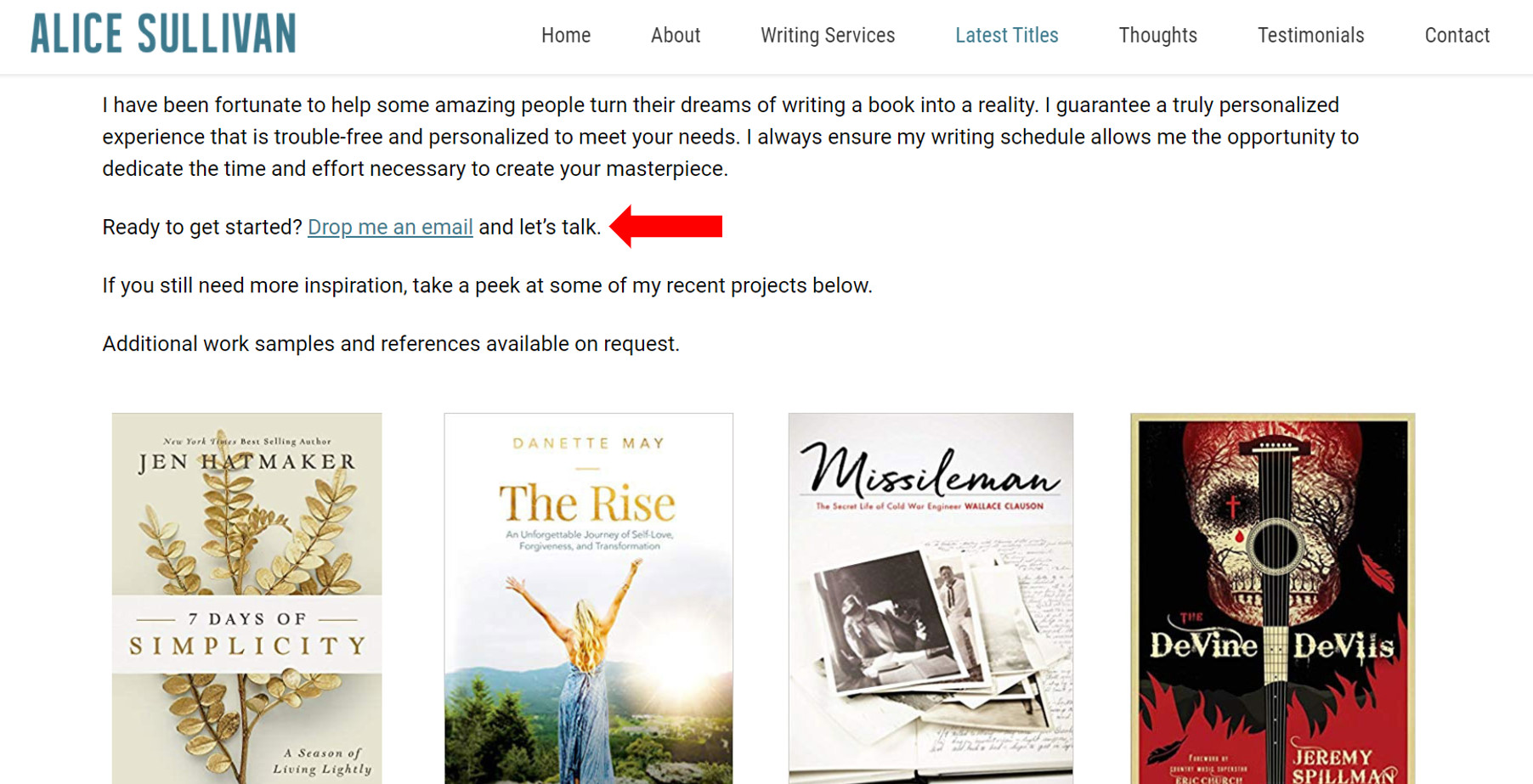 Add social proof
Another thing to include in your writer website are testimonials or customer reviews. For writers, there's nothing more impressive than saying that you've written award-winning articles, or that you've helped certain well-known authors ghostwrite their book. Of course, the latter comes with the issue of whether you get ghostwriting credit or not.
Nonetheless, it's good to ask clients to leave a review once your collaboration is completed so that you can add it to your writer website.
Step 5: Update your writing portfolio regularly
And voila! Upon completing the previous step, you're basically done everything needed to build your portfolio. But as you develop your career and write more, you will have new samples and articles that better represent your skills and work style. Naturally, you'll want to switch out the old articles for newer, better ones so that your portfolio is up-to-date and fresh for clients. You may even want to maintain a constant schedule of blog posts, if you want to strengthen your online presence.
On top of that, online links often change — or articles might be removed altogether. You don't want your clients to find dead or incorrect links on your portfolio, so going through and checking them every few months is a must.
Other than that, just remember to share your portfolio on social profiles and LinkedIn, and you're golden. Building an online writing portfolio may seem like a bothersome task, but just follow these five easy steps, you'll have a quality profile that potential clients can't overlook in no time.