Last updated on Sep 07, 2023
4 Free Book Templates: Which Is Right For You?
So you finished your manuscript but you aren't sure how to turn your draft into a print-ready file? To refine your book for publication, you'll need to take care of its interior design (also known as typesetting) so that each page is professionally formatted. 
For authors on a budget, using book templates available online can be a practical and easy solution — though for graphically complex projects, you should ideally hire a typesetter.
In this post, we'll share four services offering free book templates, and help you decide which one is the right one for you. 
1. Reedsy Templates
Most of the sites we mention in this guide offer downloadable templates you can edit, but it's actually easier to copy paste and edit your manuscript into a free book formatting app 一 the Reedsy Book Editor (RBE) 一 and then download a print-ready file.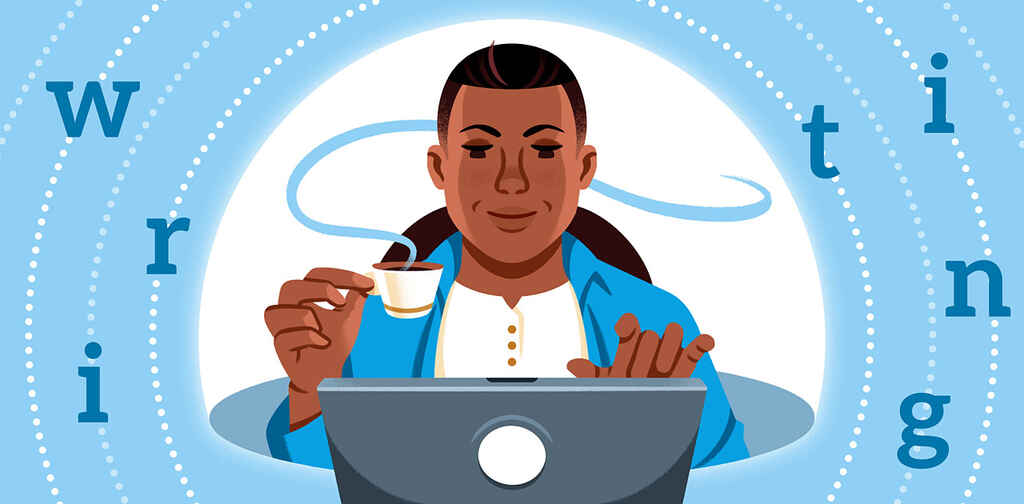 The Reedsy Book Editor
Format your manuscript for print or EPUB with a single click.
To get started, log in into Reedsy and click on the 'Book' section. There, you can either create a new project, copying your text directly into the editor, or import your existing manuscript from any writing software. 
The formatting in the original manuscript will carry over, and your book will be ready to export in just a few minutes, complete with a title page, chapter headings, page numbers, and so on. 
You'll also be able to add photos and images, as well as endnotes and scene breaks.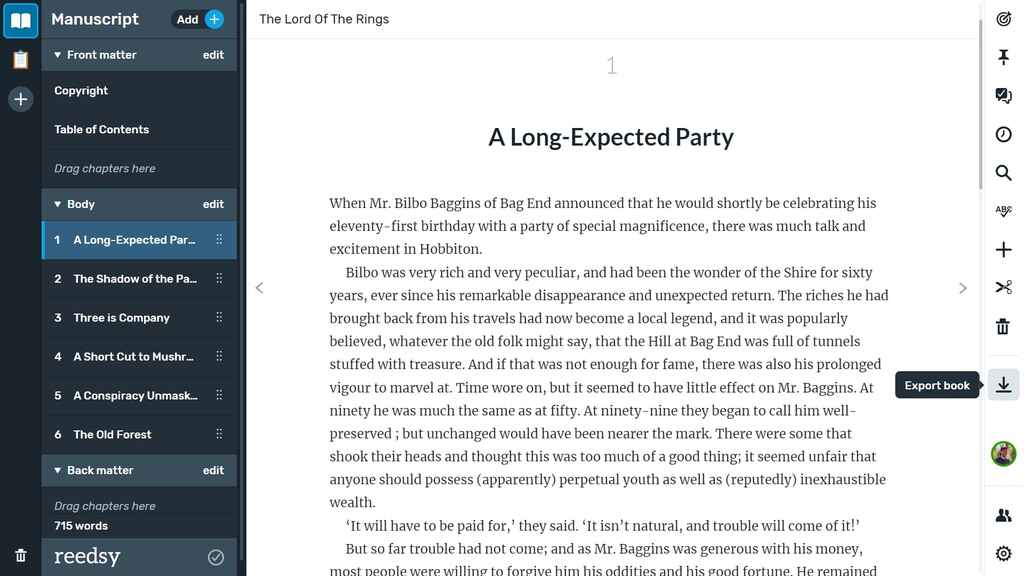 The left menu allows you to edit your copyright page, adding information such as the year of publication, the ISBN number, and collaborators, as well as adding clauses that help protect you and your book. The page will be automatically generated once you export the book, alongside with a table of contents that you can also edit from the left menu. 
When you're ready to download the file, click on 'Export book' on the right sidebar. This is where you'll be able to choose your preferred book template. The RBE offers three free templates 一 Classic, Romance, and Reedsy 一 which differ in font type and page layout, and are typeset to industry standards size.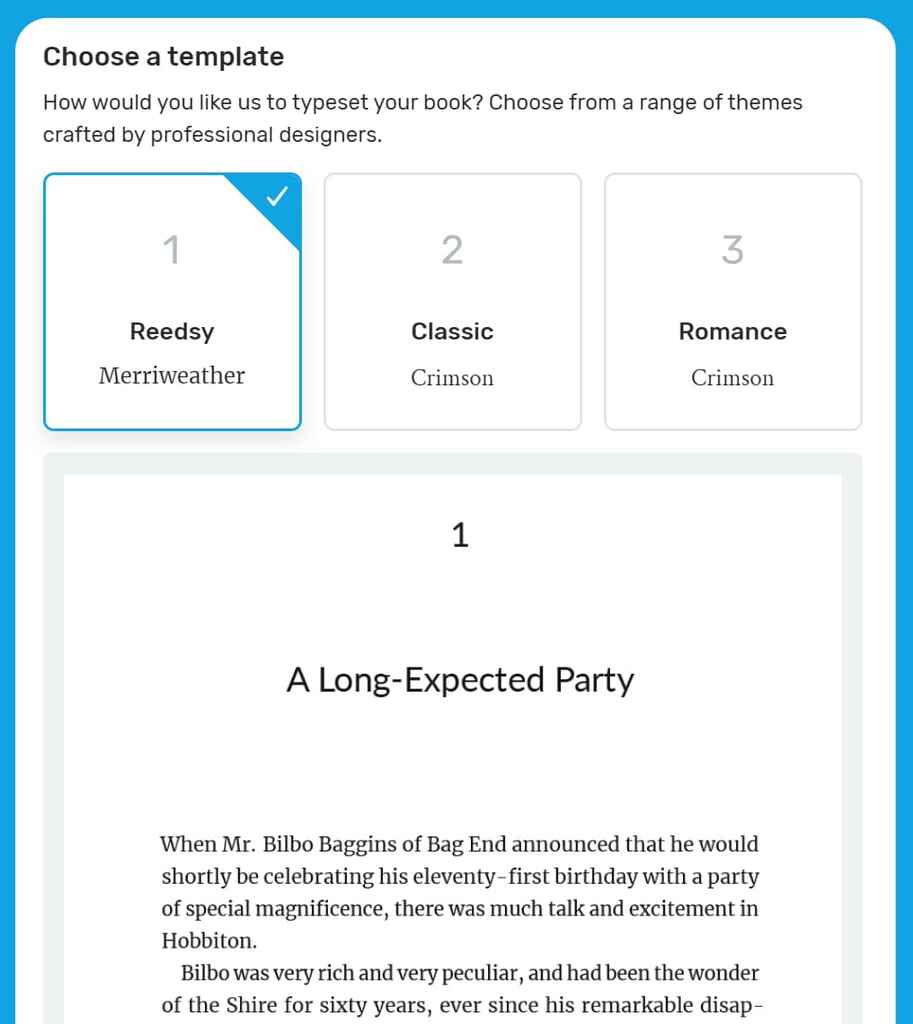 The Reedsy template features sans-serif headings and is suitable for all genres, though is particularly suitable for nonfiction. The Classic template sports serif headings and works well with many genres, especially fiction or narrative nonfiction. The Romance template is slightly more elaborate and specifically developed for romance titles, or for writers who want something a bit more embellished. 
Before downloading the template, you can choose your preferred trim size among the 4 most popular ones in the US.
Trade (6" x 9")
Digest (5.5" x 8.5")
Reedsy Standard (5" x 8")
Pocket (4.25" x 6.87")
Then hit 'Export book' and you'll get a perfectly reflowable ebook version as well as a print-ready PDF file which you can use with any print-on-demand or offset printing service. And if you need an editable version of your book as a backup, you can also export a .docx version of your manuscript.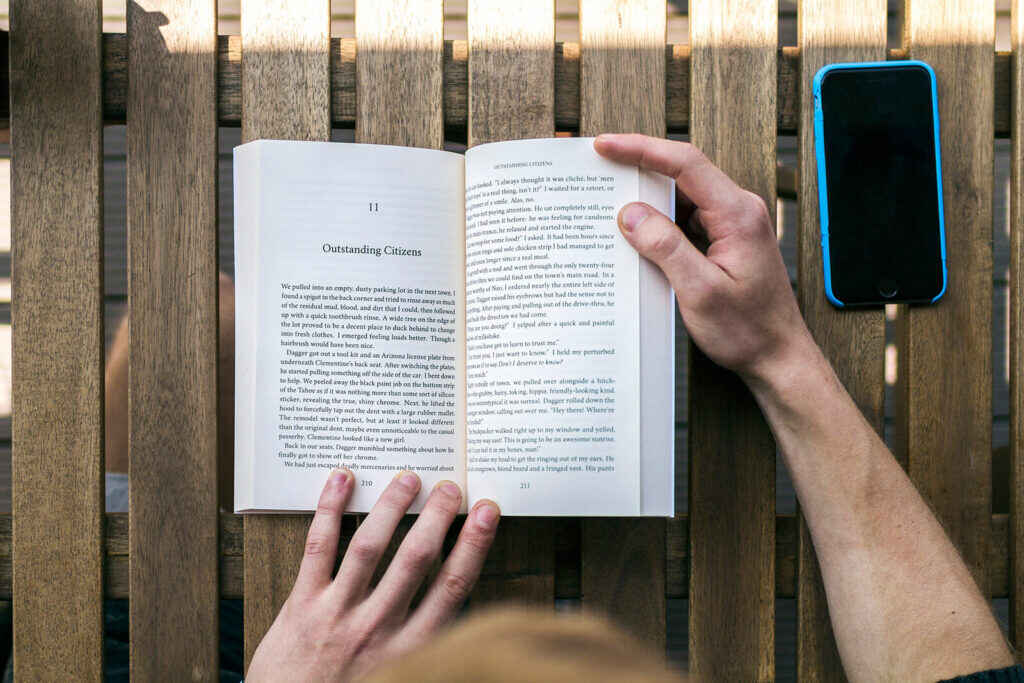 Without taking a crash-course in typesetting, or learning how to format your manuscript, the Reedsy Book Editor will make sure your margins are sharp and your text is resting against the perfect gridline. 
2. Amazon KDP Templates
Amazon KDP is the go-to publishing platform for indie authors to reach readers worldwide, so it's no surprise that it also offers paperback and hardcover free manuscript templates. 
On their site, you can download either a blank template or one with sample content to edit (which we'd recommend.) The templates are available in 7 different languages: German, English, Spanish, French, Italian, Dutch, and Portuguese. In each folder you'll find 17 .docx files with different trim sizes you can pick and edit.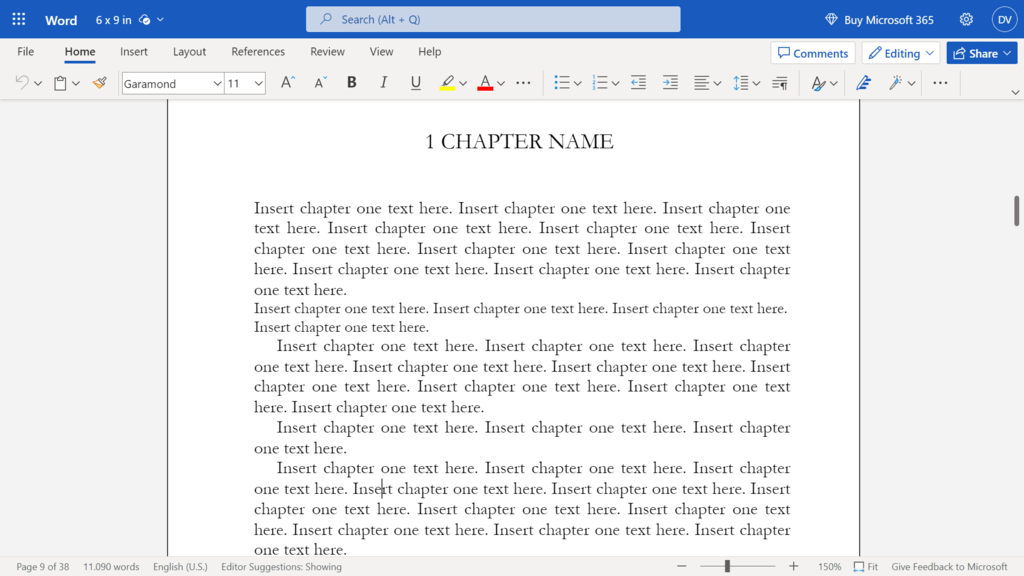 Open the docx file and edit the placeholder text. You'll find all the sections you might need to prepare your book for publication, like the list of chapters, the copyright, dedication, and acknowledgments page, an author bio section, and, last but not least, some sample chapters to fill in.  
If you're going to publish your book on Amazon and you have your heart set on editing your manuscript with MS Word, this is one of the best templates you can use. But it's a bit basic and there's still quite a lot of manual tweaking to do. 
3. 48 Hour Books
48 Hour Books is a book printing service based in Ohio that serves American and Canadian self-publishing authors, though their free book templates are open to everyone. Specifically, they provide .dotx files that you can open with word processing tools, like Microsoft Word, Open Office, or Pages, for 4 of the most popular book types.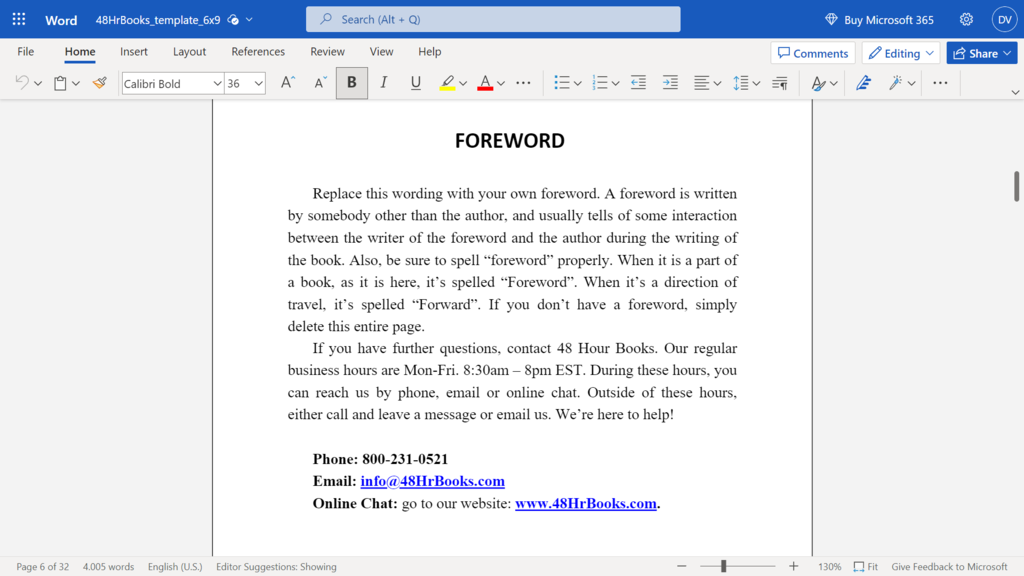 The template is well formatted and also includes various sections before the book's content, like foreward, preface, and introduction. However, it promotes the company's printing services on every other page, which is annoying since you'll need to carefully edit that out. 
On their site, they also offer book cover templates for the same book sizes, with different files depending on your book's word count, which can be edited in Photoshop and inDesign. Again, they offer to put together the cover with your manuscript and "add a spine" at no cost 一 that is, if you print with them. Unless you want to do that, we wouldn't recommend using this template, as there are simpler and better solutions, like those mentioned above.  
4. BookBaby
Finally, BookBaby also offers free book templates among its publishing and printing-related services. They offer 13 different templates for different trim sizes, from the classic novel book format, to comic books, to picture books and many others. 
However, there is a caveat: their template is actually just a page of instructions on how to set up the page layout and margin for your chosen format. For example, they write "Click the Paper tab to adjust your page size. Enter in 6.25" for the width and 9.25" for the height. Your book will be trimmed to 6" x 9" when finished."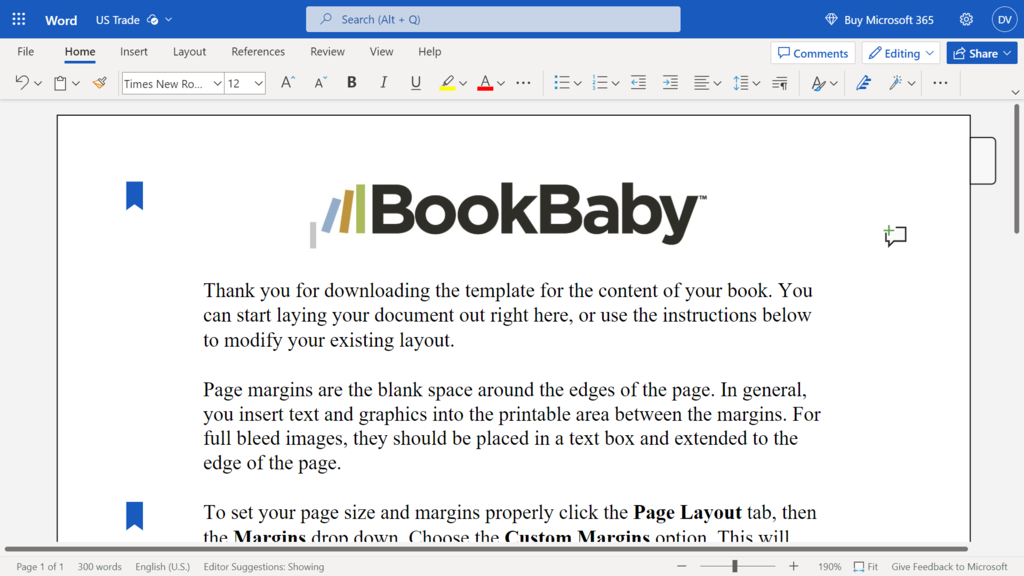 Since there are plenty of resources to learn how to format your book layout, and most authors are looking to simply replace the placeholder text with their manuscript, this is probably the least useful of the bunch, because it involves the most work. 
In most cases, you should be able to typeset your novel with one of the other free templates mentioned above. That said, some projects have a slightly more intricate interior design, and require the help of experienced typesetters.   
If that's you, reach out to professional typesetter 一 they will help you meticulously prepare your book, guaranteeing that every aspect meets the highest standards.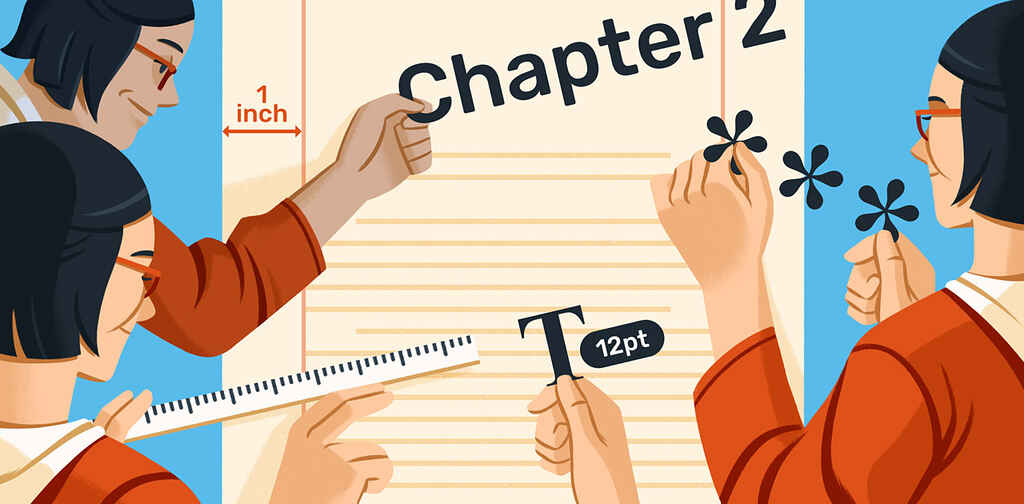 Get a professional book interior design
From typography to layout, make sure your book is easy on the eyes.
Hopefully the resources shared in this post will help you create a stunning and professional-looking book and get you closer to the dream of publishing it. And if you're looking to dress your book with a nice cover, read the next post in our guide.