Last updated on Feb 07, 2023
The Best Novel Writing Software of 2023 (+ 5 Free Programs)
So, you've just started writing a novel — which means you're figuring things out as you go. You probably have a flock of Google Docs to wrangle, you're always scribbling on napkins, and you have no idea where anything is. Know what you need? Some good ol' fashioned (well, more like new-fashioned) novel writing software.
Luckily for you, we've come up with this list of the best, most affordable pieces of novel writing software in 2023. All of these will help you stay organized and inspire you to keep writing until the very last page! You can jump to each review using the ToC on your left, but here's a quick rundown of these writing programs and how much they cost:
Reedsy Book Editor (word processor, formatting, and conversion) — free
FastPencil (word processor and exporter) — free
Bibisco (story planning and word processor) — free
Evernote (word processor and organizational tool) — free
FocusWriter (writing productivity tool) — free
Freedom (site blocker and time management tool) — $6.99/month
Scrivener (story planning and word processor) — $44.99
Milanote (story planning and organizational tool) — $12.50/month
Novlr (word processor and grammar/style editor) — $10/month
WriteItNow (chapter planning and word processor) — $59.95
AutoCrit (advanced editing program) —$10/month
Ulysses (story planning and word processor) — $5.99/month
If you want to cut straight to the chase and find out which is the right writing app for you, we recommend taking this quick 30-second quiz.
🖋️
Which writing app is right for you?
Find out here! Takes 30 seconds
Otherwise, let's head for the reviews! In the spirit of thriftiness, we're starting with your free options.
Reedsy Book Editor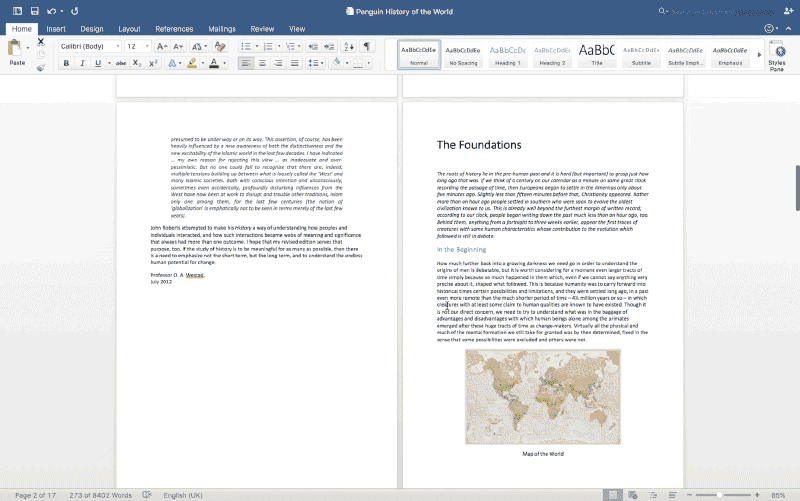 💰 Price tag: Free software
✅ Features: Format as you write, track changes, export files that are ready for instant distribution, choose between "classic" and "romance" themes
Though modesty should forbid us from crowing about the Reedsy Book Editor (RBE), we've seen first-hand how this writing app has totally changed how many authors write and publish their novels. While some writers like programs brimming with bells and whistles (tools to research, structure, and outline your book) and others prefer software that's free from those distractions, the Reedsy Book Editor offers a happy medium between these poles.
Definitely more than a blank piece of paper, the RBE's functions are super user-friendly and geared toward a single goal: creating a beautiful book. This is a production tool that typesets as you write, turning your manuscript into a fully-formatted book or ebook that can compete with traditionally published, professionally formatted books.
In "Writing Mode," you can insert chapter breaks, scene breaks, images, and endnotes. It comes with a spell-checker that offers an automatic proof as you write — and a goal reminder system that you can toggle on if you find that you're falling behind on your writing schedule! You can view previous versions of your manuscript, in case you removed a passage you now want to re-add. When you've completed your book on the RBE (congratulations!), you can export a distribution-ready EPUB or PDF file.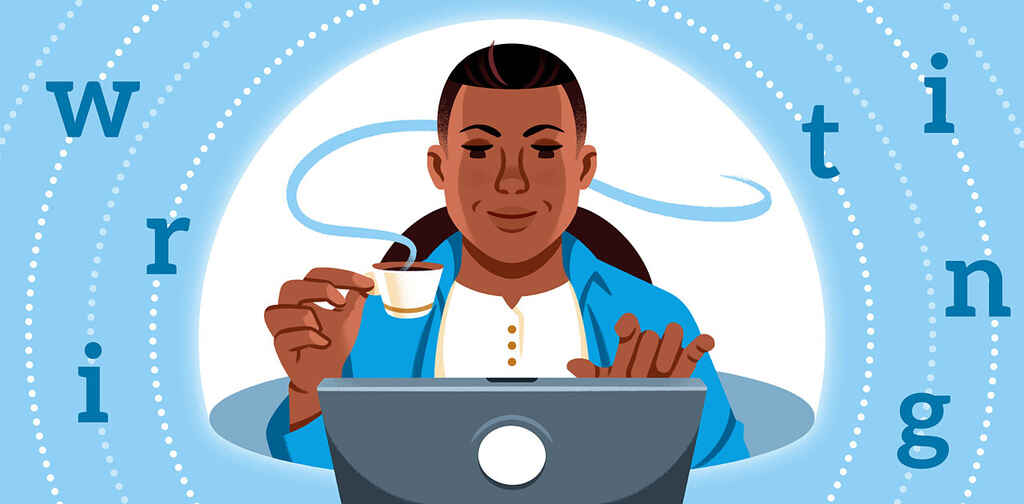 The Reedsy Book Editor
Set goals, track progress, and establish your writing routine in our free app.
Learn more about using the Reedsy Book Editor 📖
FastPencil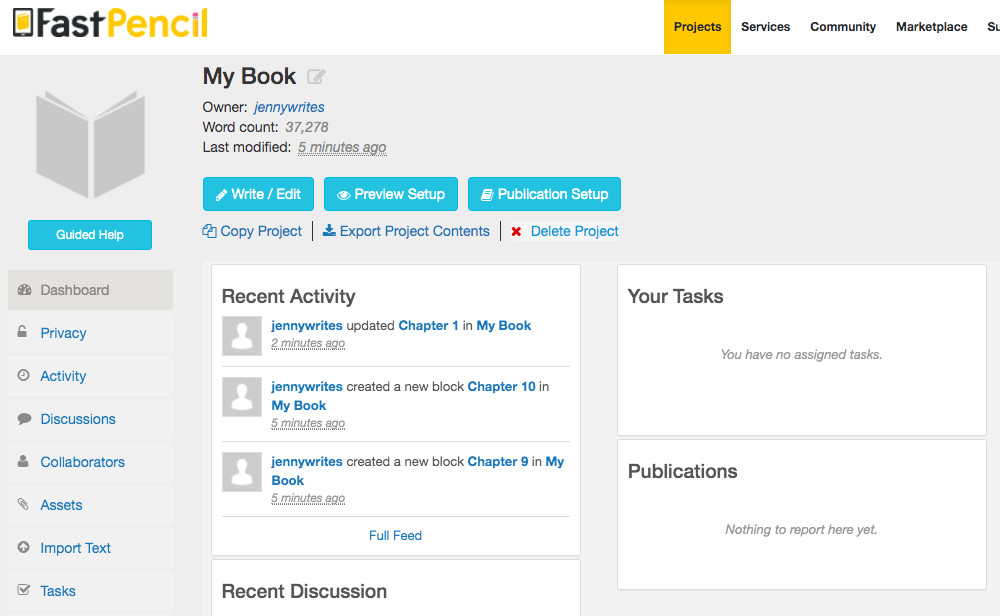 💰 Price tag: Free software
✅ Features: Easily navigable dashboard, drag-and-drop chapters, collaborative editing, multiple layout preview options, publication setup
FastPencil is essentially Google Docs for the professional (or aspiring) author. This online platform cannot be downloaded and is therefore only usable if you have WiFi. However, its nonexistent price tag more-or-less makes up for the inconvenience of not being able to work on planes, outdoors, etc.
FastPencil's simple, streamlined interface allows users to set up a writing project, invite collaborators, and communicate entirely through the app if they wish. Two people can also upload mutually accessible "Assets" for reference during the writing process, and devise "Tasks" for each other to complete. Remember PalmPilots and other personal digital assistants? FastPencil is like a 21st-century, writing-oriented version of that.
Once your book is done, you can preview it with distinct layout templates for different genres — such as "Business," "Memoir," and "Dragon" (designed for YA fiction). These templates are pretty basic, but they'll give you a solid idea of what your published book will look like.
Finally, you can export your manuscript under "Publication Setup."
Looking for the perfect playlist to get you in the writing mood? Tell us about your book, and we'll give you a made-for-you writing playlist.
🎵
Tell us about your book, and we'll give you a writing playlist
It'll only take a minute!
Bibisco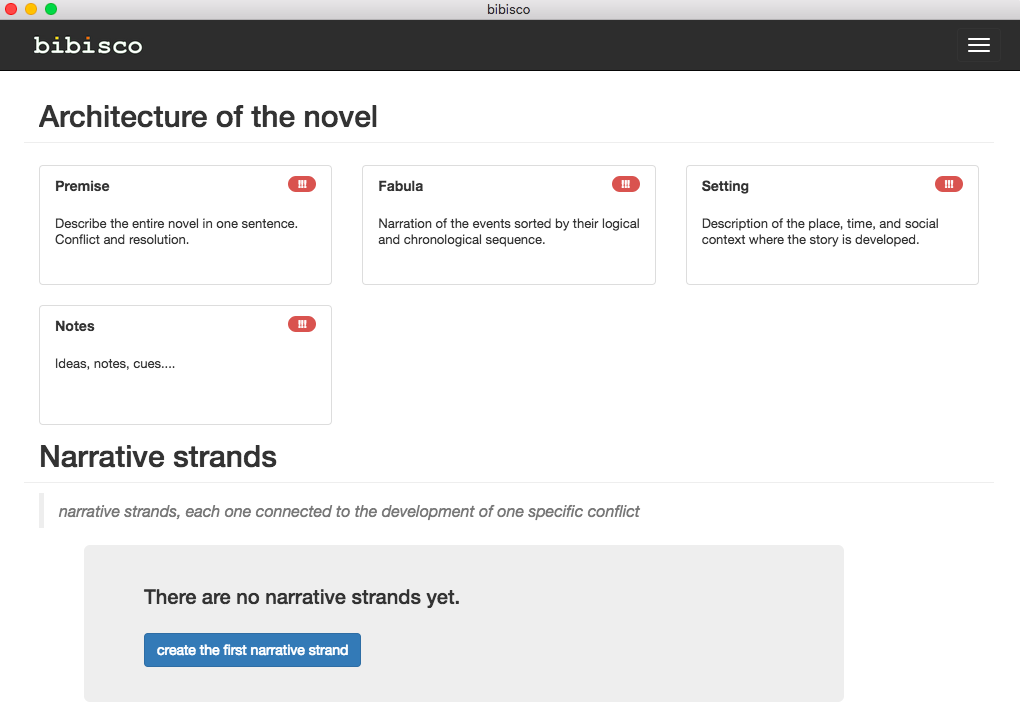 💰 Price tag: Free software (Community Edition)
✅ Features: Overview screen for story "architecture," separate section to construct characters, scene-by-scene word processing, distribution analysis for each story element
If you find most desktop writing programs unwieldy and overwhelming, then the minimalist interface of Bibisco might just solve all your problems. This is especially true if you're a plotter rather than a pantser, as Bibisco is that rare breed of free story planning software, with plenty of virtual outlines and notecards to help you out.
With the free "Community" version of Bibisco, you can navigate among six different screens to organize and expand upon the elements of your novel. The architecture screen (above) is perhaps the most unique part of this software, with notecards for your premise, setting, and fabula. Here you can create narrative threads and articulate how they connect to one another, then flesh them out using your "scene" notecards.
Indeed, the name of Bibisco's game is breaking down your work into bite-sized, manageable pieces. Of course, this approach may make it difficult to envision your manuscript as a whole, especially as you can only write scene-by-scene — a feature which may frustrate users who are accustomed to writing in one long, all-inclusive document.
Still, Bibisco is a good choice for any author who's tired of busy interfaces and wants to prioritize productivity. And if that sounds like you, don't miss out on this next piece of book writing software... 
Evernote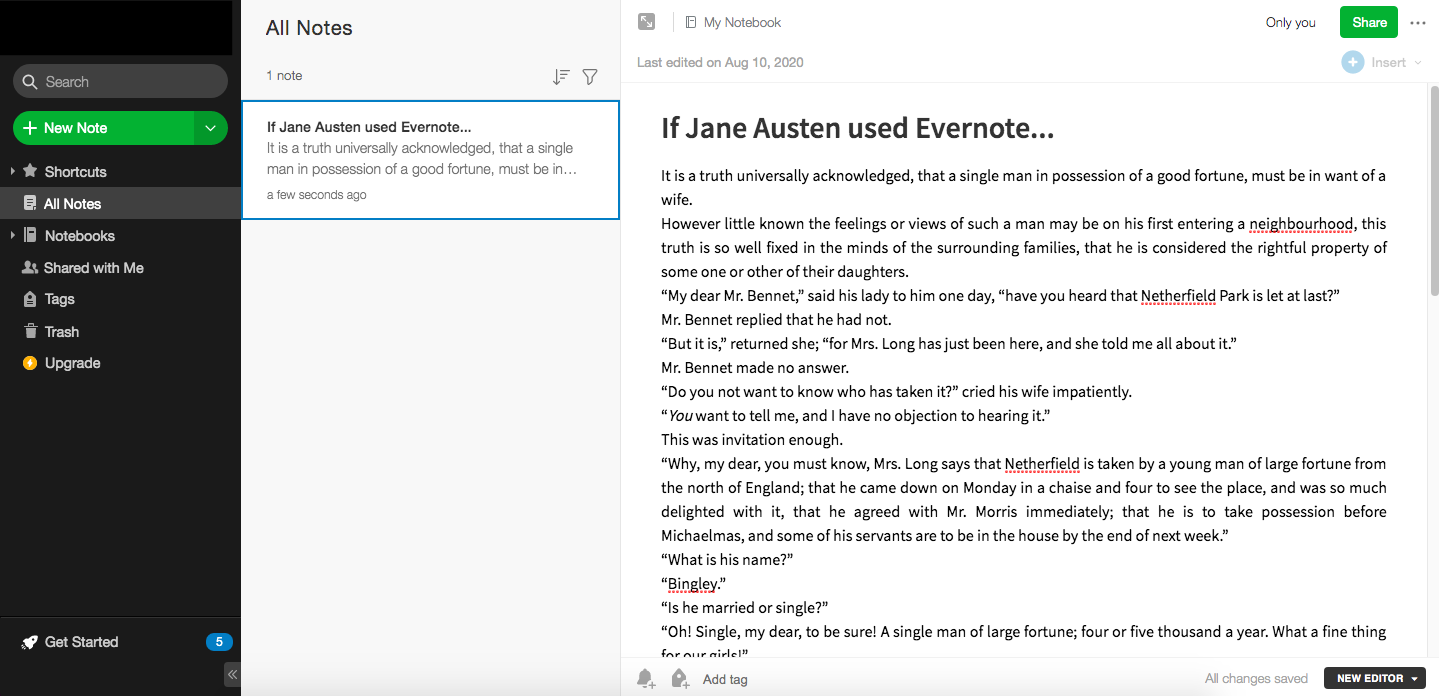 💰 Price tag:  free "basic" plan, $9.99/month for "premium," $14.99/month for "business"
✅ Features: writing templates, web clipper function for easily storing research, the ability to sync across multiple devices
If only the process of writing a book involved just sitting down and going. Although sure, to an extent, this may be true. But most of us need to find the right way to capture and organize our ideas before our fingers start flying over the keyboard — or risk running out of steam. Evernote is great for the writer who needs to declutter a space (or their mind) before they can make real headway on a project.
Some of their great organizational features include their writing templates — some of which are user-created, and others are created by Evernote themselves. If you spot a chapter outline, a storyboard template, or character development profile you enjoy, you can save it and come back to it each time. The web clipper function is also popular amongst writers — especially for genres like sci-fi or historical — as you can use the clipper to save pertinent facts or articles you come across online, and save them right into your Evernote folders. 
At its core, Evernote excels as a brainstorming tool. This is why its syncing ability is also key — if you're out and about, you can drop ideas into your Evernote app and continue working on them at a later point.
---
If you struggle to write consistently, sign up for our How to Write a Novel course to finish a novel in just 3 months.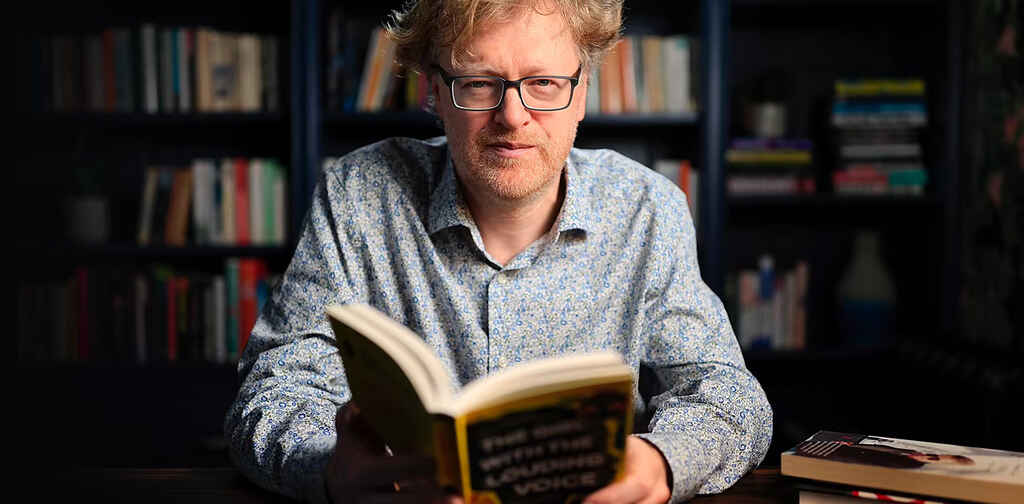 How to Write a Novel
Enroll in our course and become an author in three months.
---
FocusWriter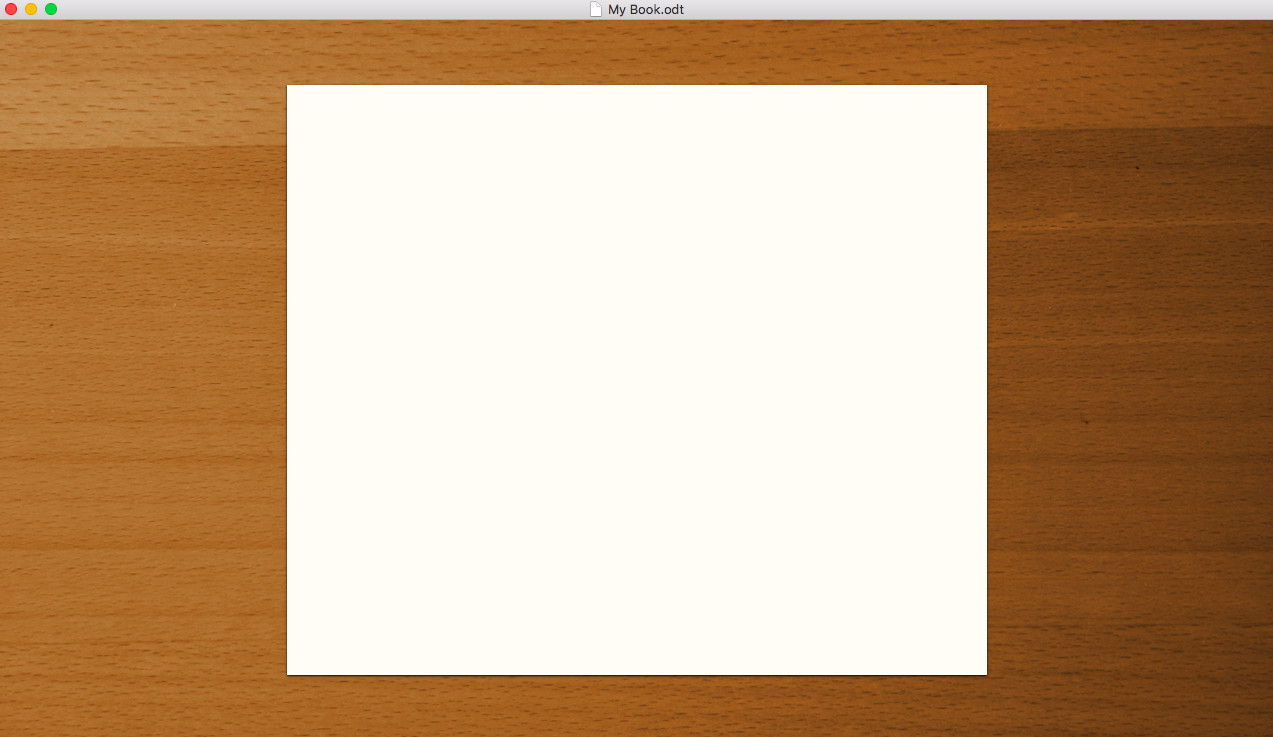 💰 Price tag: Free software (you can tip, though!)
✅ Features: A beautiful blank page for you to write your novel
FocusWriter isn't novel-specific software per se, but it will help you rocket-boost your productivity. And of course, it's completely, permanently free — no limited-time trial, no payment with a warranty, no "premium upgrade" — so you may as well try it out!
This software is exactly what it sounds like: it helps you laser-focus your efforts onto writing, and nothing else. You can still format your manuscript and check your word count and daily writing goals via offscreen tools, but the default state is simply a blank page. You can also use full-screen mode so the only thing you see is the page in front of you — just like writing IRL.
For authors who struggle to concentrate on their work more than anything else, FocusWriter is a dream come true. You might also consider combining it with app-blocking software, like the next entry on this list, to achieve maximum productivity.
And that rounds off our section on free writing software! Now let's get into your options for paid programs.
Freedom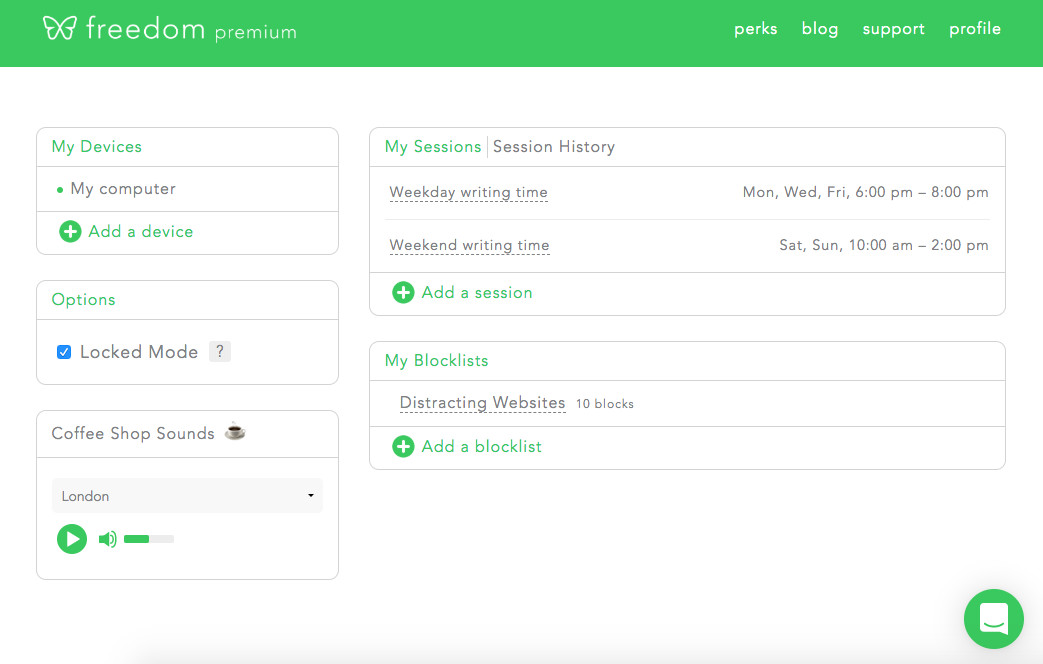 💰 Price tag: $6.99/month or $20/year, free 7-session trial
✅ Features: Website and app blocking, advance block scheduling, customizable block lists and whitelisting, optional "Locked Mode," session history, syncing across devices
Writers who procrastinate uncontrollably, get ready for a game-changer: Freedom. This is by far our favorite time management software due to the crisp user interface, the thoughtfully designed features, and the crucial fact that it works — unlike that fickle mistress, human willpower.
Freedom allows you to block specific apps, sites, or the entire Web for any amount of time. You can schedule your blocks in advance and sync across all your devices, so you can't have a last-minute, Netflix-based change of heart. And if you're prone to mid-work moments of weakness, simply put Freedom in Locked Mode! This completely prevents you from disabling it until that time is up.
Yes, Freedom might be a difficult adjustment for someone unaccustomed to any kind of discipline, self-imposed or otherwise — but hey, we're writers. We all need a little tough love sometimes to get us going. In that sense, there's no novel writing software more effective than Freedom.
Scrivener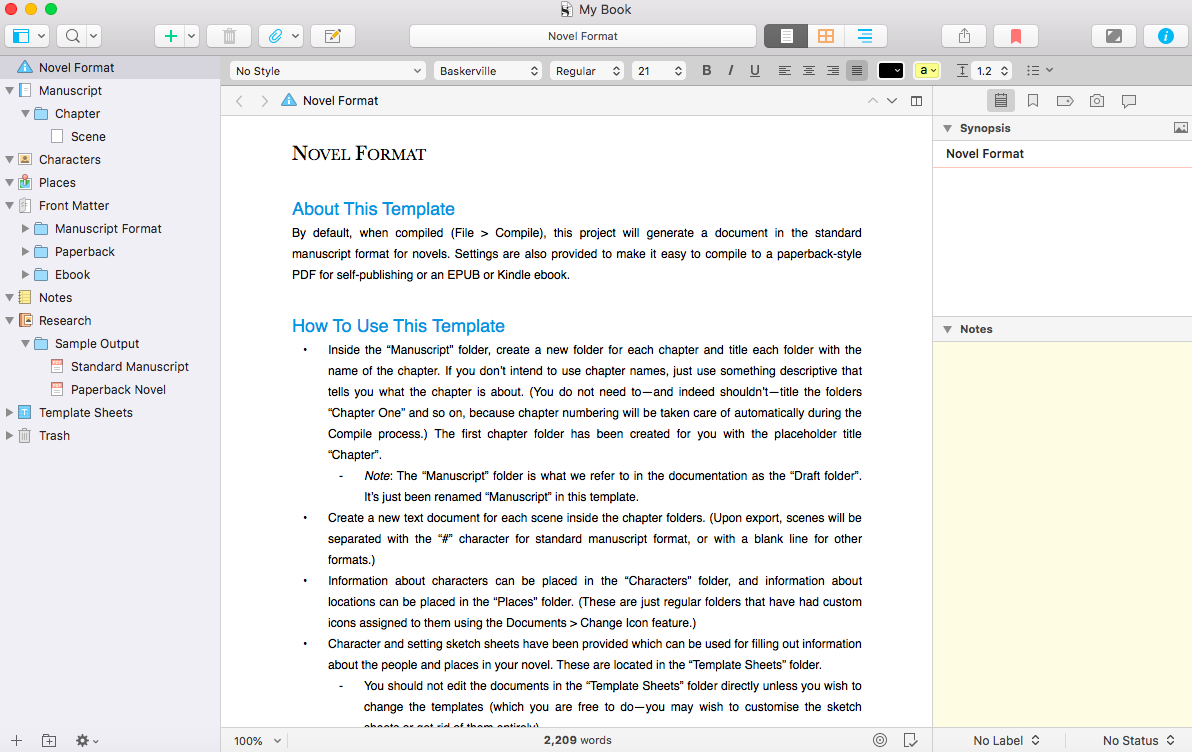 💰 Price tag: $44.99 license fee, free 30-day trial
✅ Features: Corkboard planner with virtual index cards, planning templates, integrated outlining system, customizable full-screen interface, split-screen function, import and export capabilities
Scrivener is one of the most storied (no pun intended) programs in use today. It markets itself as a "typewriter, ring-binder, and scrapbook all in one," and comprises tons of helpful features. But perhaps Scrivener's greatest benefit is the freedom it enables: with so many sections that you can arrange to your heart's desire, the program lets you write however works best for you.
With Scrivener, you can do as much or as little planning as you want, so you don't feel pressured to stay within certain constraints. You can shuffle your notes, outlines, and even chapters around wherever you need. It also has one of the most generous trial periods on offer — you can use it free for 30 days, but they don't have to be consecutive. (When you do decide to pull the trigger, make sure to apply a discount!)
The only potential catch with Scrivener is that some authors might find it a little too liberating. It doesn't provide much novel-specific instruction, as some other programs do. But it's still an excellent organizational tool with a great interface. Whether or not you choose Scrivener just depends on how much guidance you feel you need.
Milanote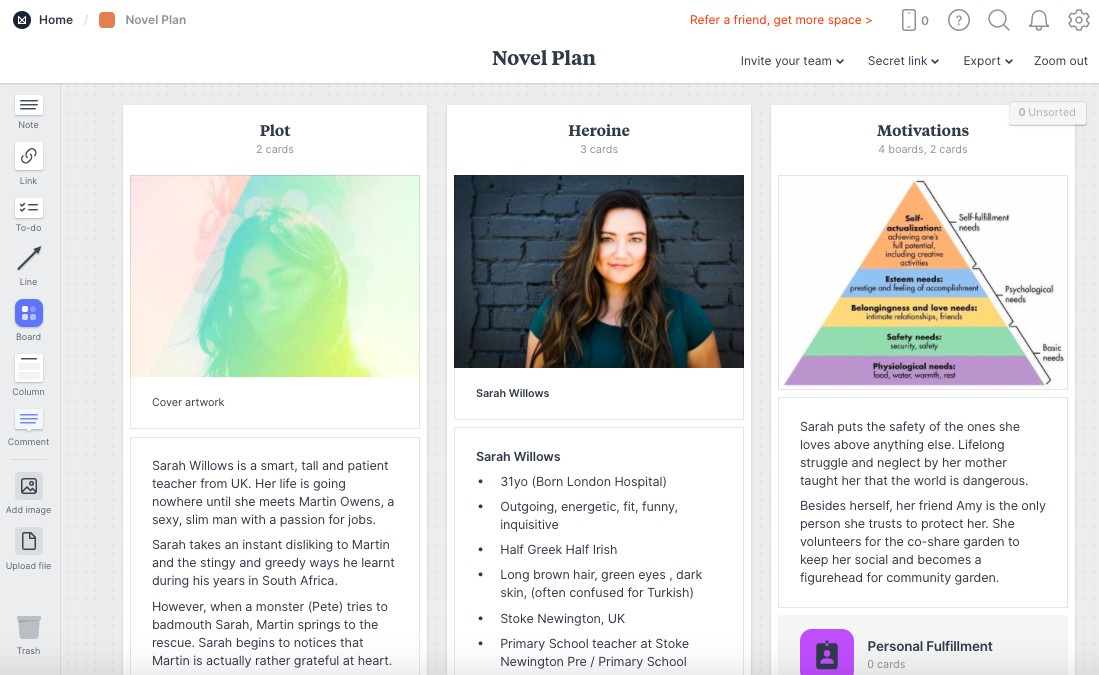 💰 Price tag: $12.50/month or $119.88/year, free "basic" plan
✅ Features: Easy drag-and-drop interface, flexible notes board, "moodboard" for inspiration, web clipper to save research and inspiration from the Internet
As all authors know, writing isn't always linear, because thinking itself isn't linear. Too often, straight-laced writing apps can't match up to the messy, chaotic, and wonderful way in which writers brainstorm and develop their stories — especially when they're just starting to take shape.
That's where this software comes in! Milanote is a super-versatile app that allows you to organize your research, ideas, characters and outline in one single place. Its visual workspace lets you clearly connect your thoughts, create mind maps, and develop moodboards. And for those who really struggle to get started, Milanote's amazingly detailed templates (see above) could be just what you need to hit the ground running.
In other words, Milanote is ideal for the initial planning stages of your novel. Not to mention it's incredibly easy-to-use, so authors can concentrate on the important stuff — their writing — rather than trying to figure out all the complexities of the app.
Novlr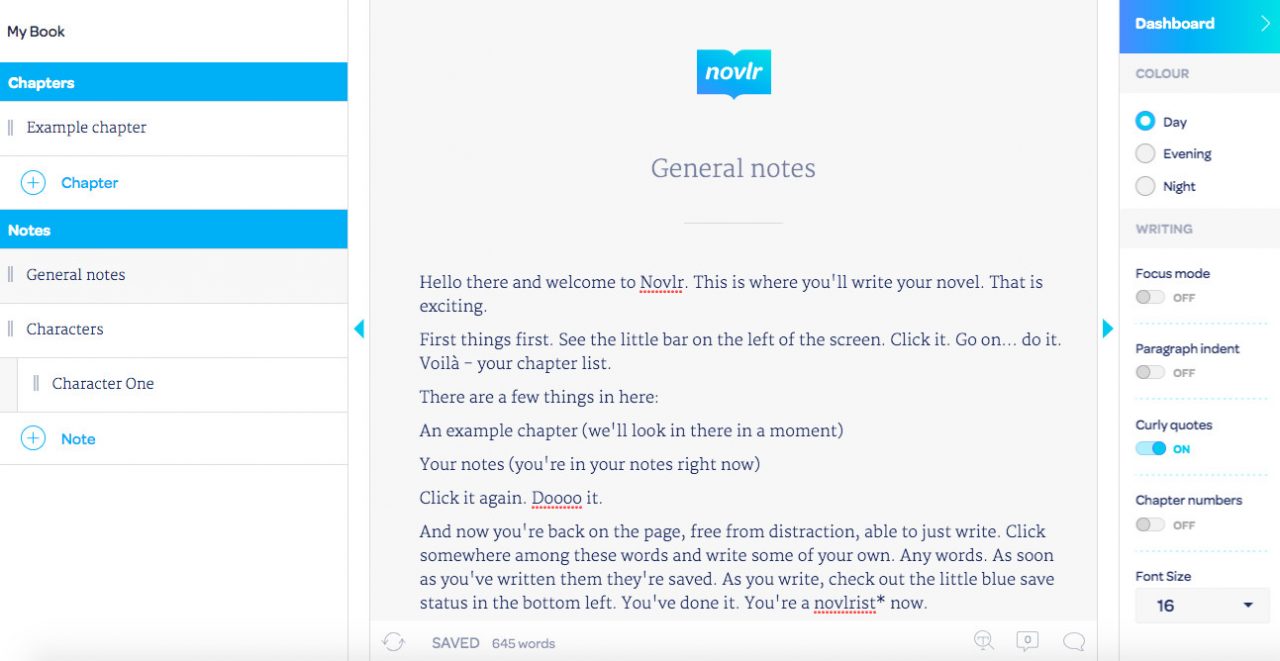 💰 Price tag: $10/month or $100/year, free two-week trial
✅ Features: Flexible word processing, mechanical and stylistic notes, goal-setting and progress tracking, learning courses
When it comes to writing apps that really push you to improve, Novlr is pretty darn effective. A relative newcomer to the novel writing software scene, Novlr has been climbing the ranks since 2017, with constant improvements being made based on user feedback.
In terms of actual writing, Novlr features a clean word processor which users can customize as they please. For example, there's "Evening" mode for those who prefer a darker color scheme, and "Focus Mode" to help with concentration. Making even the smallest formatting change, such as font size, will automatically update the entire text — convenient for writers who like to keep their aesthetics fresh.
Then when it's time to edit, the Proof Reader function at the bottom of the screen offers suggestions re: punctuation, adverb use, passive voice, and more. And for authors hoping to boost their productivity as well as their prose, a quick trip to the Dashboard reveals tons of useful features: a place to set your writing goals, an analytics tab for progress, and so on.
The one thing Novlr noticeably lacks is templates for story elements like plot, characters, etc. This may be a dealbreaker for writers who require (or simply prefer) that kind of structural guidance. But for seasoned writers looking for a sophisticated, web-based writing tool — and who don't mind paying for access to it — Novlr could be just the program for you.
Or you can check out the Reedsy Book Editor — a sophisticated, web-based tool that's 100% FREE (and not just for two weeks, either).
WriteItNow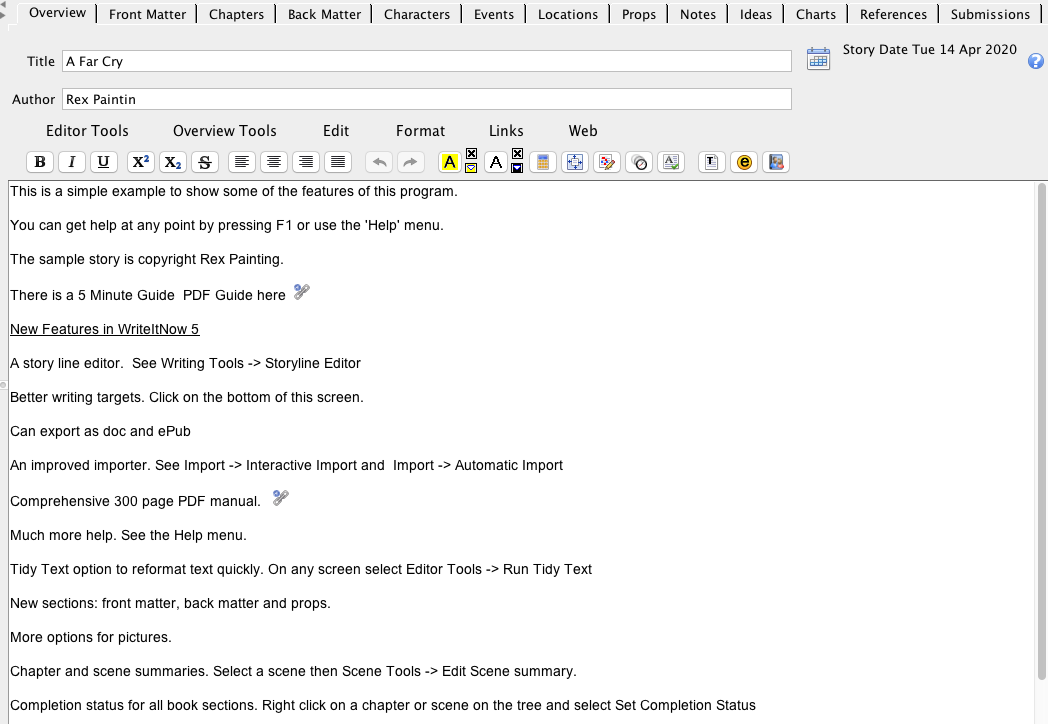 💰 Price tag: $59.95 license fee, free demo (doesn't save your work)
✅ Features: Chapter outlines, element sheets, editing tools including readability score and repetition finder, prompts and other tools for story inspiration
WriteItNow's no-frills design facilitates that all-too-elusive endeavor for authors: to simply write. Its interface is pretty basic, with a planning toolbar and a sidebar to keep track of the actual writing. But don't let its minimalism deceive you: WriteItNow also offers a variety of unique resources, especially for editing your manuscript.
After you've written a chapter or two with WriteItNow, not only can you check things like spelling and word count, you can also run editorial "Critiques" via the Editor Tools tab. The program will point out any repetitive phrases, unnecessary "padding" words, and even clichés you might have used — helping you polish your writing in the same way a professional copy editor might.
Another one-of-a-kind feature in WriteItNow is the "Create Idea" function. You can select a character and type of idea — in a maneuver reminiscent of choosing personality traits on The Sims — and the program will spit out creative prompts for you to integrate!
This program may seem a bit on the pricey side, but the license fee does cover both Mac and PC. In any case, WriteItNow absolutely lives up to its name in terms of helping writers get their work done. (And as every veteran writer knows, you can't put a price on that.)
For book formatting software, check out this post on Vellum.
AutoCrit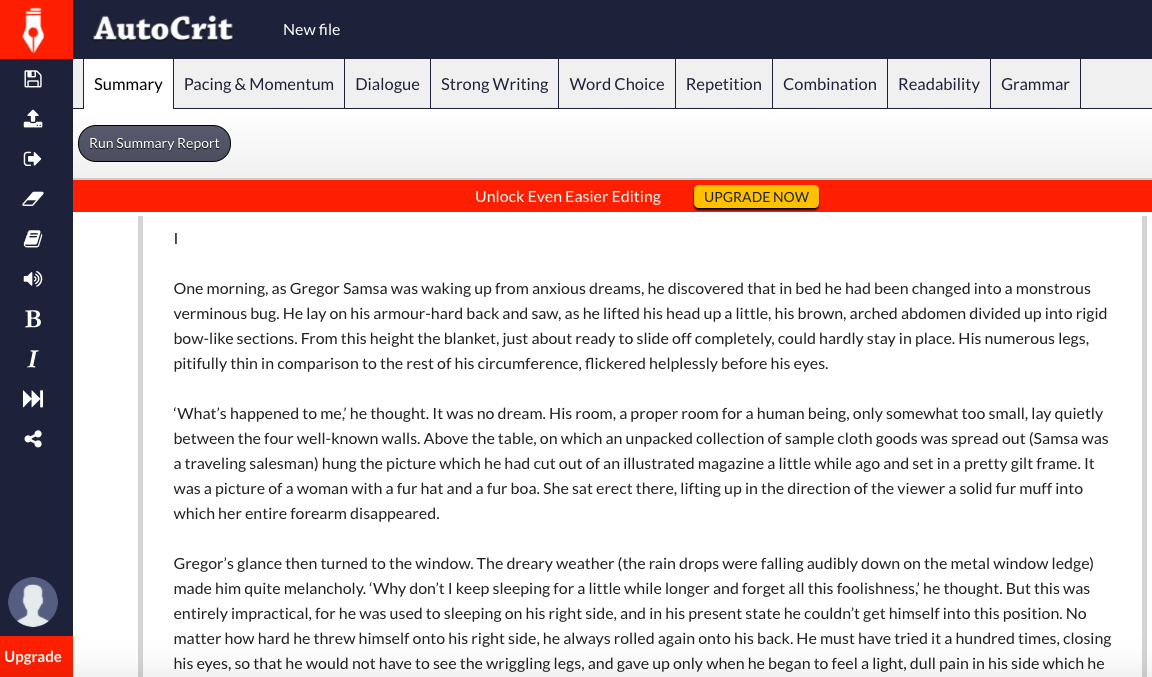 💰 Price tag:  $10/month for the "basic" plan, $30/month for "professional," $80/month for "elite," or $1 for a two-week trial
✅ Features: "Professional" plan entails genre filtering, an array of editing options for pacing, dialogue, "strong writing," word choice, repetition, and direct comparisons to bestselling works
While other pieces of novel-writing software help you organize, develop, and even self-edit your story, they don't include the in-depth editorial functions that AutoCrit does. This is the program to use if you already have a decent draft ready to edit. (Or if you're a micromanaging kind of writer who likes to edit meticulously as you go.)
AutoCrit tests your work for all the factors above, and even individual elements within those factors. So for example, after selecting "word choice" as your focus area, AutoCrit allows you to narrow it down even more. Do you want to check for generic-sounding descriptions? Improve your sentence starters? Work on personal phrases? You can achieve all that and more with AutoCrit.
The program also boasts an appealing modern interface, and decent prices considering the range of editing possibilities. Some writers might be reluctant to shell out for an editing program — but those writers probably don't know how hard it is to self-edit. When you think of it that way, AutoCrit is an amazing service: it helps you edit your manuscript with the perspective of a professional, all by yourself.
Ulysses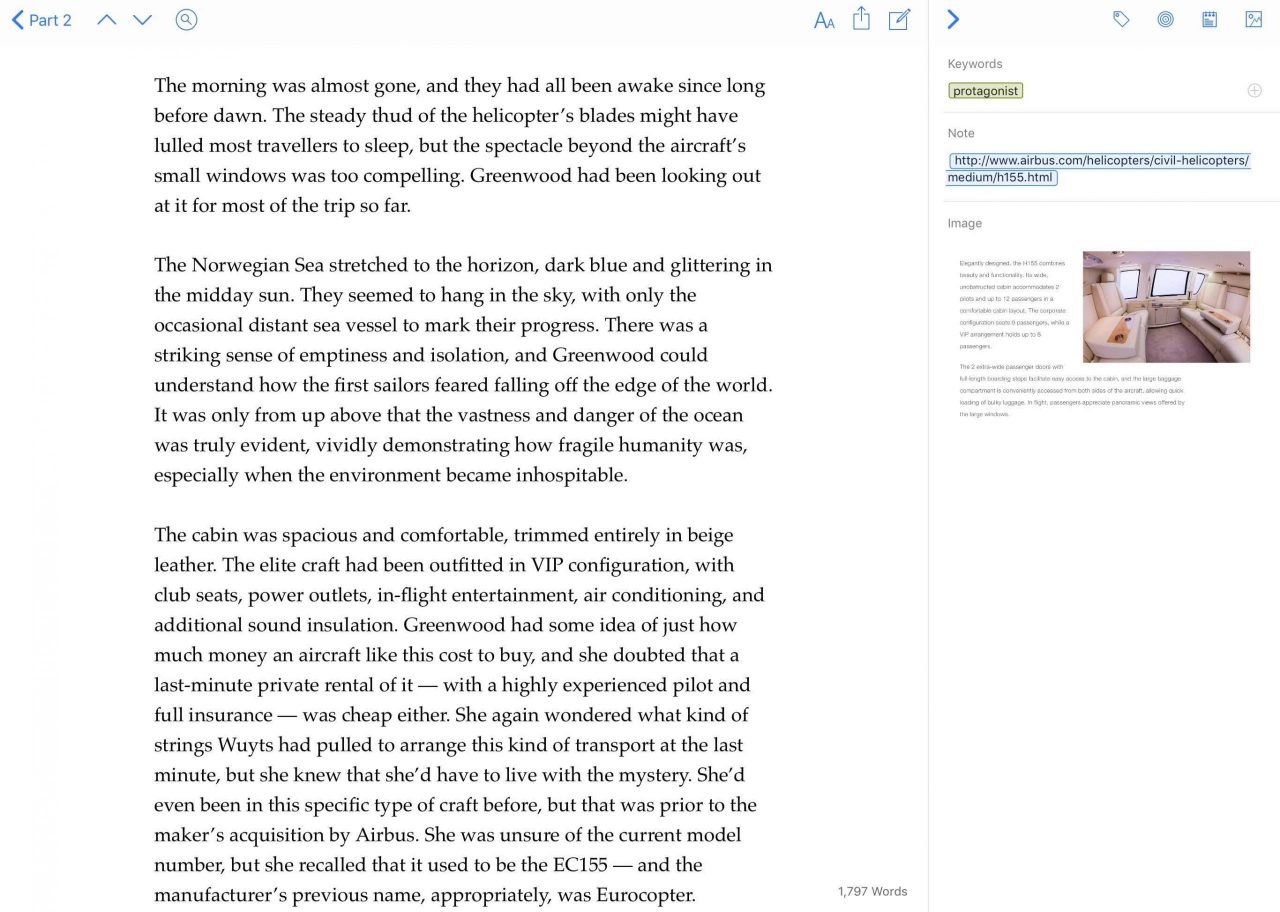 💰 Price tag: $5.99/month or $49.99/year ($4.17/month)
✅ Features: Typewriter mode, themeable editor, distraction-free interface, ability to set writing goals, ability to sync between multiple devices.
Ulysses is lauded for its sleek, clean, "distraction-free" interface. Some reviewers claim that this writing app gives you just the right amount of customization options in terms of appearance — without offering so many different options that it tempts you away from the actual goal of writing.
It does, of course, offer up a number of different functions that will appeal to authors. For instance, you can set daily writing goals, and even keep tabs on your progress so you can see when there are dips or spikes in your productivity. You can also organize your file into various groupings — for instance, you can just have one group called 'Works in Progress,' or you can set multiple subgroups like 'Characters Names' within 'Fantasy Novel Ideas' within 'Works in Progress,' etc., etc.
At the end of the day, Ulysses is something of a digital typewriter. You will find various features that may help you along the way, but the software is built such that when you arrive to it, you get to work right away.
Remember...
No novel writing software is actually magic — that is, none of it is going to write your book for you. But with the right tools to lend you some focus, structure, and a dash of inspiration, you might just be able to get 'er done all by yourself. 🙌
[updated: 08/10/2020 UTC]