27 Sites for Landing Your Next Freelance Writing Jobs
In our media-saturated world, it's often not hard to find writing jobs. That said, it's not always easy to find quality opportunities that pay and let you really buff up your writing portfolio. To help you become a prolific freelance writer, here are 27 sites that can bring you good freelance writing jobs. There's something for everyone, whether you're interested in publishing, media, or copywriting; and whether you're new to the craft or not! Hint: some of these are also great as in-between jobs to give you a break from writing your book while making some extra money. 
For jobs in the world of publishing 
You don't have to be an author to be writing in publishing — you can be an editor, a ghostwriter, or you can even have a book marketing job (which involves writing things like flap copies). Here are some of the best sites for you to find those jobs. 
1. Reedsy 
Reedsy is a marketplace that connects authors with publishing professionals who can help them produce stellar books. You'd most likely be interested in ghostwriting options. Authors usually help with writing a manuscript or a book proposal — and nonfiction books are quite popular! 
The mechanics of the platform is simple: sign up for an account, wait for us to review your CV, and once we're finished, you can complete your profile. We'll use information you left about your specialties and preferences to introduce you to suitable authors. If they're interested, they can send you a request for collaboration.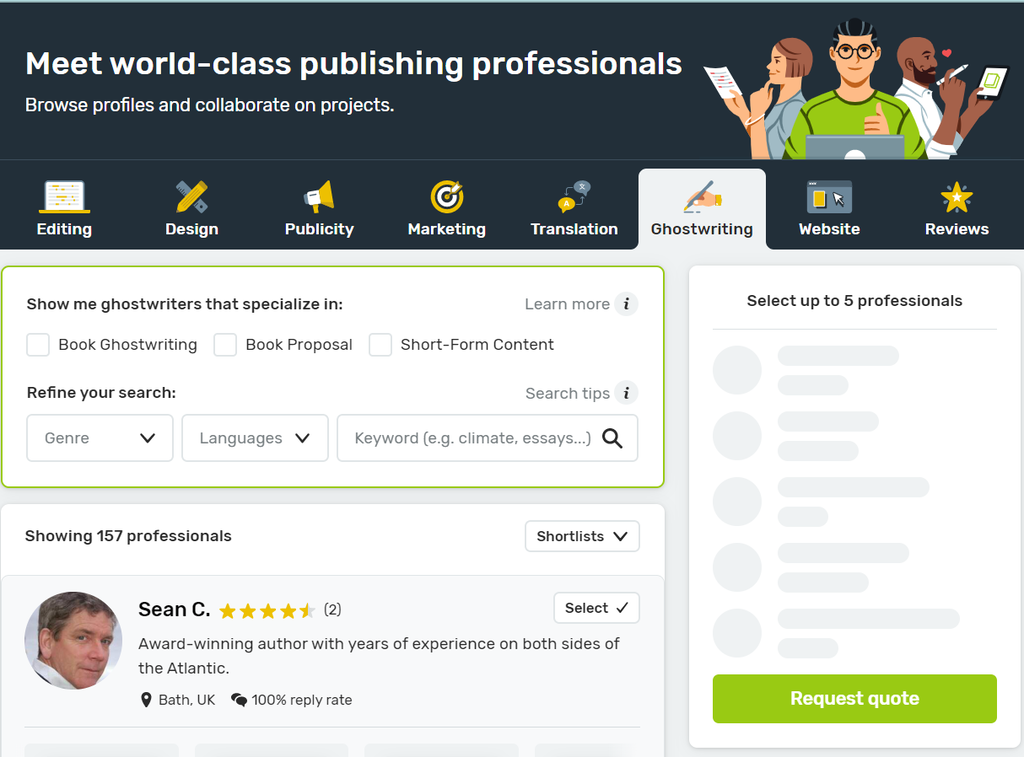 Find exciting new projects
We connect publishing professionals with our community of 1,500,000 authors.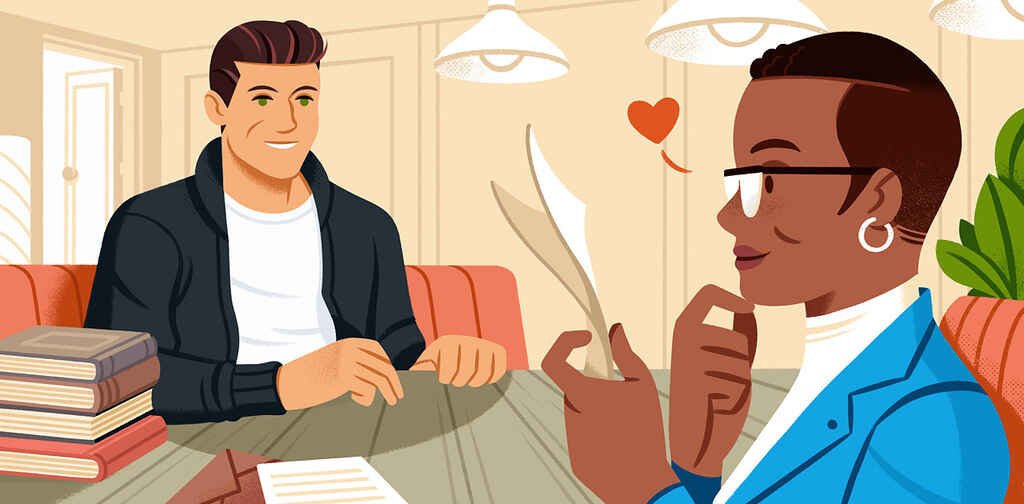 Ghostwriting Proposal Template
Lay out your rates, deliverables, and timeline with a professional template.
2. Personal networks 
It's a cliche tip but it's the truth — networking can be an incredibly effective way to get ghostwriting jobs. More experienced writers can reach out to previous clients who probably know other authors in need of writerly expertise. New freelance writers can ask family and friends; you'd be surprised how many good stories are lying underneath our everyday lives, waiting for a chance to shine. If you know someone who has a great story they might be comfortable sharing with the world — it could be a business experience, or perhaps a personal journey — pitch the idea to them and see if they're interested! 
💡 Pro-tip: Just because it's personal doesn't mean that you have to have met your contacts face-to-face! You can build a personal network on social media platforms like LinkedIn and Twitter as well.
3. Chicken Soup 
Remember those soulful short story collections that took the world by storm in the early 2000s? The original authors have been and are still self-publishing lovely compilations throughout the years. They're always looking for fresh new stories, and though it's not a long-term gig, the theme varies with time so you can submit different pieces every now and then. For each story (which are capped at 1,200 words), the contributor gets paid $200. 
4. Poets & Writers
Poets & Writers collects a wide range of job opportunities for US-based writers who want to enter the publishing industry. There are editorial assistant jobs, teaching jobs, advertising jobs, all of which are related to the sphere of writing one way or another. It's constantly updated so bookmark it and come back whenever you need a new lead! 
5. Quill and Quire
For those based in Canada, Quill and Quire's job board is the place to go. The magazine posts full-time, part-time, freelance, and remote positions in publishing houses big and small. Writing jobs are just one of the many professions they promote, so you get options to expand beyond writing. You can also subscribe to their newsletter to get the latest updates sent to your inbox.
6. Publishers Marketplace 
If you don't mind writing-adjacent jobs like editing, you can't ignore Publishers Marketplace. Just from its name, you know that this is a no-nonsense site that aggregates the latest job postings in the industry. One thing to note is that they tend to list vacancies at traditional publishing houses, so qualifications such as an MFA or editing certificates are often (but not always) a requirement.
Are you open to having an editorial job while you write on the side? You can always find employment opportunities directly at publishing houses' websites. Big 5 publishers are obvious options, but there are also a lot of independent publishers to check out. Below are a handful of companies that offer part-time or short-term opportunities for those who prefer a freelance-esque working experience.
7. Graywolf Press
Graywolf Press consistently puts out dozens of titles every year, fiction and nonfiction, that amplify the voices of underrepresented groups. The company offers seasonal paid internships and an annual fellowship for those new to creative writing jobs, which you can read about here. Both positions are part-time. 
8. The Coffee House Press
It started out small but The Coffee House Press has grown into a boundary-pushing company that brings out thoughtful and award-winning titles. The perks of working at this publishing house goes beyond its exciting projects — there are also remote opportunities! 
9. Soho Press
Based in New York, Soho Press is at the heart of the publishing world. The company is recognized for its mystery-specific imprint, and it offers seasonal paid internships, both on- and offline, for those who are interested.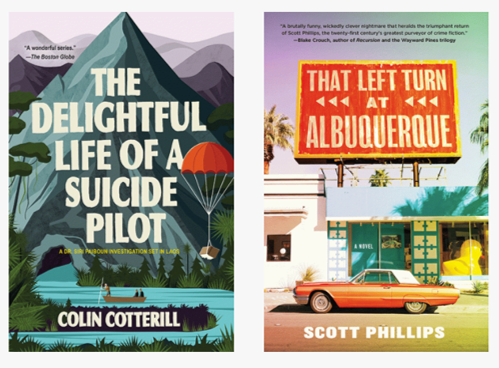 10. Milkweed Editions
Milkweed Editions stands out for its experimental prose and poetry books — and the company offers two-year fellowships with paid salaries. If you want to be part of a diverse team and learn the ins and outs of book production, don't forget to check Milkweed out. 
11. Tachyon Publications
If you love sci-fi and fantasy, then look no further, Tachyon Publications is where you should apply to. They're almost always looking for freelance copy editors and proofreaders to help out with new releases, and you might even find in-house opportunities to join their staff and office pets!
For jobs in media, culture, and journalism 
Another path writers can go down, especially if you have a strong interest in pop culture, literature, and all the latest trends, is to work for magazines and newspapers. You can write columns, comment pieces, and the likes for plenty of different outlets. 
12. Catapult 
Catapult is a media company dedicated to helping emerging writers. The company offers classes, runs a magazine, and publishes both nonfiction and fiction titles, so there are several ways you can work with them. If you want to put pen to paper, you'll be glad to know that the magazine's always looking for new columnists — you pitch them here.
13. The Atavist Magazine
The Atavist takes creative nonfiction to another level with their monthly long-form stories. Rather than looking for popular profiles, they want you to delve into a character-driven recount of ordinary lived experiences. Their articles are 8,000 to 30,000 words long, so they're almost like novelettes or novellas, and they offer a baseline payment of $6,000 per story. Find out more about how to pitch them here.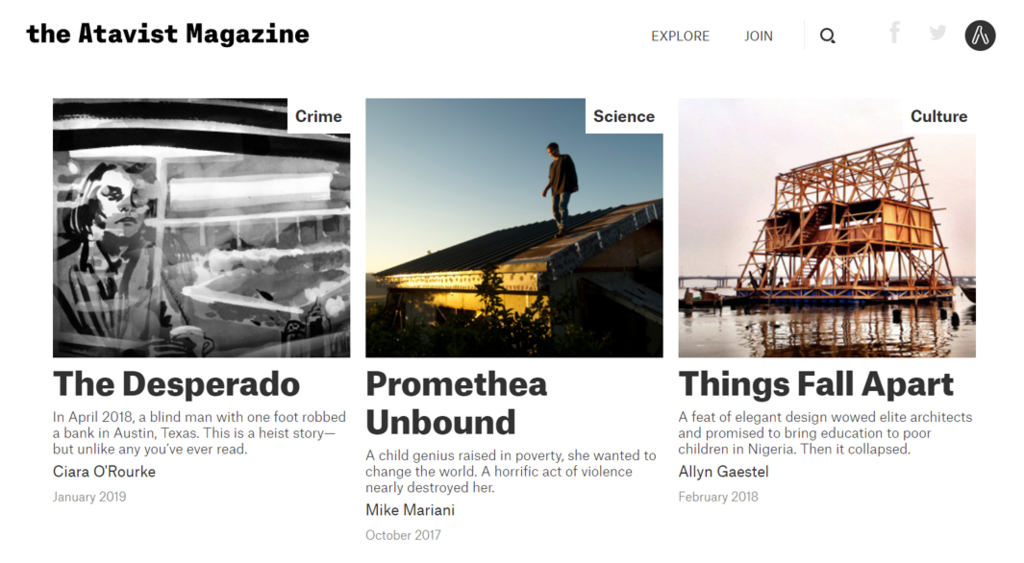 14. Narratively
Another story-based nonfiction magazine, Narratively is an alternative for those who love finding hidden stories in life but would prefer to work on something shorter than an Atavist piece. Narratively asks for unique stories with a clear arc that engages the reader, so some creative writing skills are crucial. They pay around 0.10$ per word, and most articles are within the 2,000-5,000 words range. 
15. Boulevard Magazine 
If you want to write short stories and get paid for it, consider submitting to Boulevard. They're open to fiction, non-fiction, and poetry submissions from November 1 to May 1, and they pay up to $300 per prose piece and $250 per poem. As with most literary magazines, you will have to space out your submissions, so this won't pay the bill by itself. Still, it's a bit of income you can add to your pocket every now and then!  
16. Electric Literature 
You might've heard of Electric Literature — it publishes fiction in its two weekly magazines (Recommended Reading and The Commuter) along with plenty of interviews, essays, and book listicles on its website. If you succeed in submitting a piece of flash fiction, short story, poetry, an interview, or an essay, you can earn between $75 and $300. They also host an annual short story contest, with an entry fee of $25, that can earn you $1,000.
✍ Interested in writing contests? Join Reedsy's weekly short story contest and get the chance to win $250! 
17. Longreads
Whether you have a reading list or a unique story to share, Longreads is happy to hear about it. The editors are looking for short listicles and extensive features — you can pitch to them according to these guidelines. Their rates are competitive, and they encourage you to keep sending them pitches even if they didn't accept you the first time around.  
18. Hyperallergic 
Looking for freelance writing jobs outside the realm of fiction and authorship but are still related to art and culture? If you're not one to miss out on the latest exhibitions and you keep up with the art world, you can write for Hyperallergic. They appreciate well-researched magazine articles that display interesting opinions, and they pay around $100 per piece. You can also go for a 10-week paid internship for a more extensive experience with them.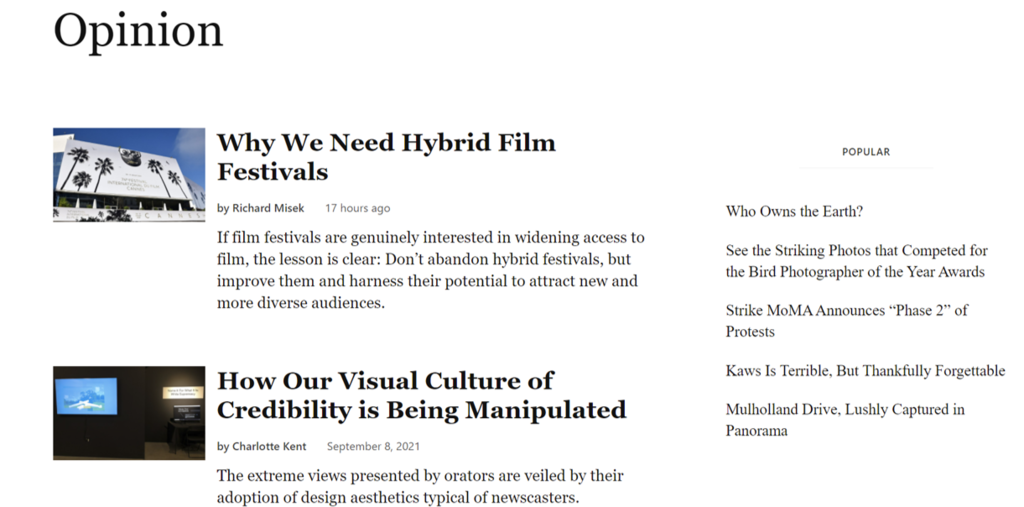 19. Vox Media
If you want to go for full-time writing and editing positions at a news outlet, check out Vox Media. With many magazines and ezines under its umbrella, from the culinary publication Eater to cultural sites like The Verge, there are plenty of vacancies to be filled. You'll find a mix of entry and senior level positions on their board, many of which are available remotely. 
20. MediaBistro
For those eager to dive into multimedia production, there isn't a more comprehensive job hub than MediaBistro. On this site, you can find a wide variety of jobs in magazines (including magazine editor positions, if you're ever interested), television companies, movie studios — the list goes on. While this selection does include more administrative positions, they still provide great inroads into journalist and screenwriting careers. 
21. Journalism Jobs
Another option is Journalism Jobs, where you can find pretty much all positions available in the media world. You can try your hand at op-ed and article writing, or you can start editing for newspapers. The work is fast-paced and fact-based, and there's plenty of room to hone your writing skills! 
For marketing and PR jobs
Copywriting and content writing remains one of the most common freelance jobs for those who love words nowadays, which is why it's a section we can't overlook. Let's check out some marketing and PR writing opportunities for you. 
22. Contently
As its name suggests, this job marketplace is all about content marketing. Brands and freelancers unite on the same site so that writers can be matched with projects they're suitable for. The network of clients on Contently includes companies like American Express and GE, which means the pay can be as high as $1 per word in some niches. In exchange, the quality of work has to be top-notch. As such, new writers might find that it takes a while before they get a job via Contently. 
23. The Dots
This UK-based creative network functions like LinkedIn: it's a space for creatives to showcase their profile, mingle with fellow workers, collaborate with one another, and apply to jobs. From TATE to Conde Nast to Burberry, there are global corporations on-site, searching for the next writer to strengthen their business. If you want to connect with like-minded people and keep your eyes peeled for high-profile opportunities, consider joining The Dots's community.
24. Problogger
Focusing on helping bloggers earn more income, Problogger shares short-form ghostwriting, content writing, and even copy editing job opportunities without asking you to sign up or create an account with them. But consider signing up anyway if you want email updates regarding new vacancies in your preferred niches.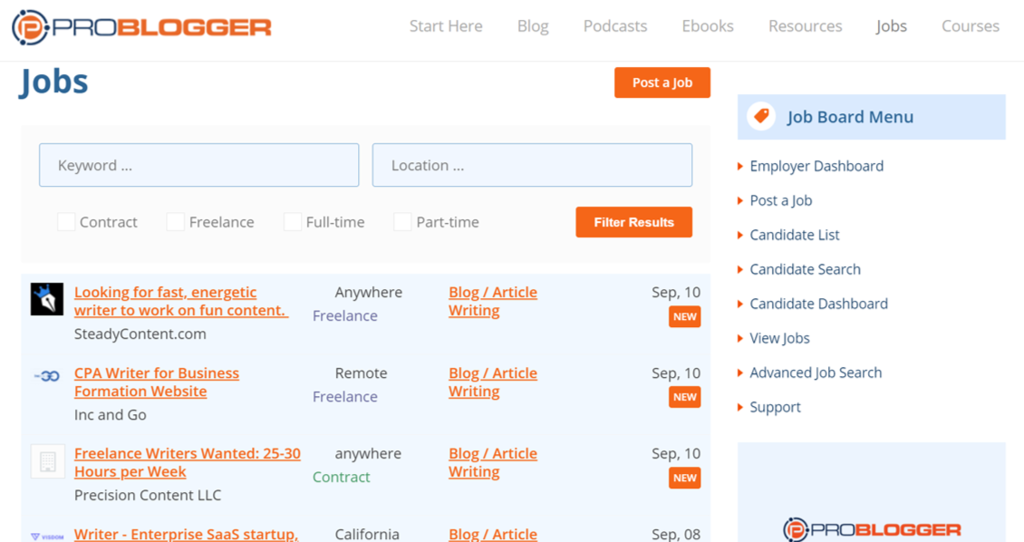 25. Freelance Writing Jobs
Freelance Writing curates a list of opportunities for writers in all industries, including marketing. It's alway being updated, so be sure to check in every now and then or subscribe to their newsletter to be caught up! There's really no fuss to the website — it's just a very handy resource for those looking for freelance writing jobs. 
26. Freelancer.com
Alternatively, you can check out Freelancer.com. This page lets you bid on writing jobs, and each client will select the freelancer most suitable for them. The problem with a site like this is balancing the competitiveness of your price with the value of your work so that you don't undercharge. Doing some research on how much freelance ghostwriters charge beforehand will be necessary if you're new to the craft. 
27. Upwork 
Another freelancer site you probably already know of is Upwork. While it uses the same mechanism as Freelancer, Upwork is a little more selective about its freelancers. They vet all applications, which means that you will have less people to compete with. Keep in mind though that, like Freelancer.com, Upwork is known for its lower rates.
And that's it, those are 27 places where you can find some rewarding and legitimate freelance writing jobs. Apply with your best writing samples and we're sure you'll be able to find something for yourself. Good luck!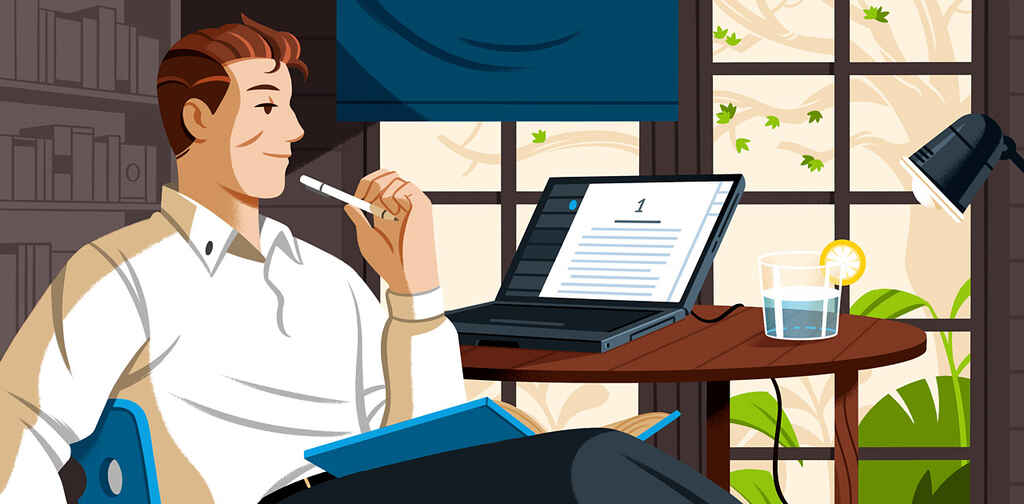 The Full-Time Freelancer's Checklist
Get our guide to financial and logistical planning. Then, claim your independence.