Last updated on Nov 18, 2021
7 Top Tips for Creating a Great Freelancer Profile on Reedsy
The Reedsy marketplace is home to the world's best freelance publishing talent, from editors and ghostwriters, to book cover designers and marketers. And while there's plenty of book projects to work on via Reedsy, you are in competition with a lot of talent to get the most suitable and exciting projects to show up in your request inbox. In order to give yourself the best chance to get good projects, you have to have a top-notch freelancer profile. 
The freelancer profile is what a job marketplace like Reedsy uses to match you with relevant authors. It also provides the information that authors will use to decide whether or not to request a collaboration with you. To help you perfect your profile, here are the seven tips from our acquisition team — along with quality freelancer profile examples for you to get inspired by. 
Create your Reedsy freelancer account
We have some great projects already lined up for you to work on.
1. Upload a clear image of yourself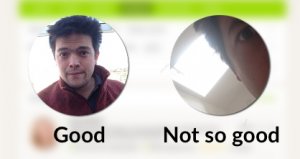 We're not saying you need to have a set of glamor shots taken: after all, this is a professional network and not a dating site. However, in our remote work environment, we've found that authors prefer to have a good image of the professionals they collaborate with. It's reassuring to know that there's an actual person behind all the testimonials and impressive experience! 
As such, including a clear headshot, where your face is center, to present your friendly self on your freelancer profile is an easy first step to improving your presence in the marketplace.
2. Be specific in your short description
What you write in the 'Short Description' section of your profile will be the first thing an author sees in their search results when they start looking for a professional on Reedsy. You only have 140 characters to play with, so get the essential information out there and hook them in! Clearly show, a) what you can do; b) which genres you work in; and c) any career highlights.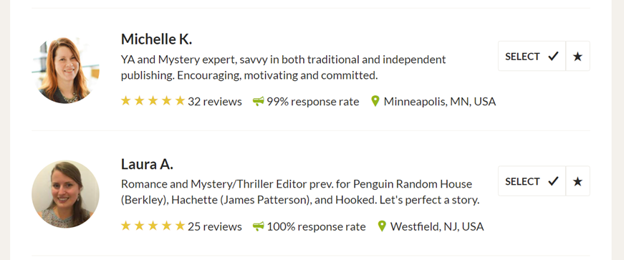 Above you can see two freelancer profile examples from editors Michelle Krueger and Laura Agpar. Both mention their specialties in their short intro, so that clients see right away whether this could be the editor for their book. 
We don't recommend being broad here: we found that targeted profiles are much more successful than those specializing in ALL genres. Authors are looking for their specific publishing professional — they want someone who cares about their genre and has the necessary insights on it. If you can demonstrate this passion and expertise from the get-go, you'll appear much more appealing to the relevant clients. 
On top of this, you can add something unique about yourself by being more personal in your approach (like Michelle) or by summarizing your professional experience (like Laura).
Note: We're all for sharing and finding inspiration from other freelancers, but avoid copying and editing other professionals' profiles at all cost! If our vetting team detects similarity with existing profiles, we will likely not accept your profile.
3. Address the author directly in the overview
After reading your short intro, if an author finds interest in your work, they'll click on your name and be taken to your profile. The next thing they see will be your 'Overview' section. 
This is where you can include an extended introduction of who you are, what you specialize in, how you work, and why an author should work with you. Again, you want to keep it concise, pinpointing exactly what the author wants from a professional like you so that you can address it directly. Remember to write in the first person to build your connection with the reader. 
Anticipate clients' concerns 
Beyond the basic introduction, you'll likely be more convincing if you can anticipate some of the questions authors might have about working with you and then answer them in your overview. 
Designer Jonas Perez, for example, begins by introducing his profession and his experience. Then he tells potential clients his style and work process, letting them know instantly of his preferences but also his professionalism and love for storytelling. Who wouldn't want to work with someone like that?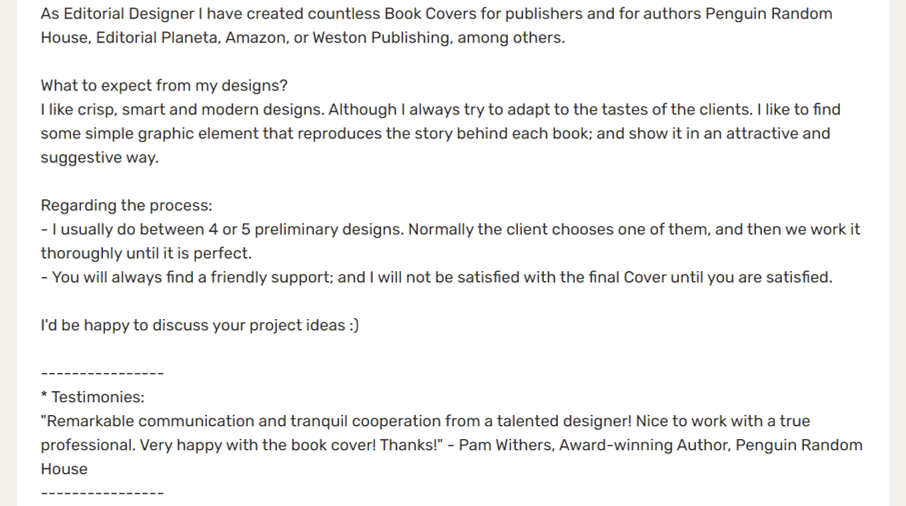 Quote a testimonial to supplement your profile
While there is a review section at the bottom where all of the feedback authors left for you after your collaboration on Reedsy, a good line of testimony in your overview certainly won't hurt your prospects. Reviews can be very convincing, especially if you can pick ones that add something new to your profile.
For instance, Perez has chosen a comment that highlights his communication and collaborative skills, which is something that's difficult to demonstrate by himself. It's a smart move on his part because he hasn't mentioned these skills before, and yet they're another asset in his profile. 
Break your texts up
While it is packed with information, Perez's profile isn't long or tedious to read. If possible, try to break your text up into clear sections so that clients can easily read what you're saying. Avoid long walls of text — the last thing you want is for prospective clients to skim your profile, grow weary, and move onto the next person's!
4. Make an introductory video
Authors are always looking for collaborators with whom they will click, so displaying a bit of personality and humor in your short description and overview is highly recommended. And if you want to go the extra mile, show the face behind the work by including a short video! 
It doesn't have to be anything extravagant, — editor Alyssa Matesic manages to say hi, introduce her services, and drop a few fun facts (including her adorable pet) in just 30 seconds. In fact, we recommend limiting it to half a minute. You don't want to repeat too much of the things you've already stated in writing, but rather to show who you are as a person.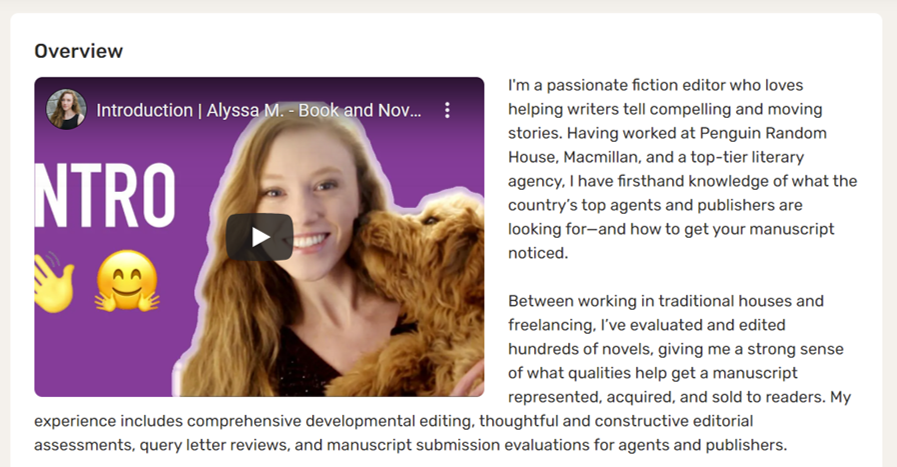 Top tip: Find our guide to adding a video to your profile here. 
The nature of hiring freelancers often means that much of our work is done online and via writing — it's no wonder that clients want to find a professional with a friendly face to work with!
5. Put your experience on display
The 'Work Experience' part of the profile is your chance to present your publishing bona fides. It reassures potential clients, knowing your previous employment and the trust other publishers and authors have put in you. Moreover, your years of experience with traditional publishers is an important criterion that the Reedsy team looks at during the selection process. 
Ideally, for each experience, you want to give one or two sentences explaining what you did or achieved while you were there. If you can home in on experiences in your specialties (especially in terms of your preferred genres), it'd be best.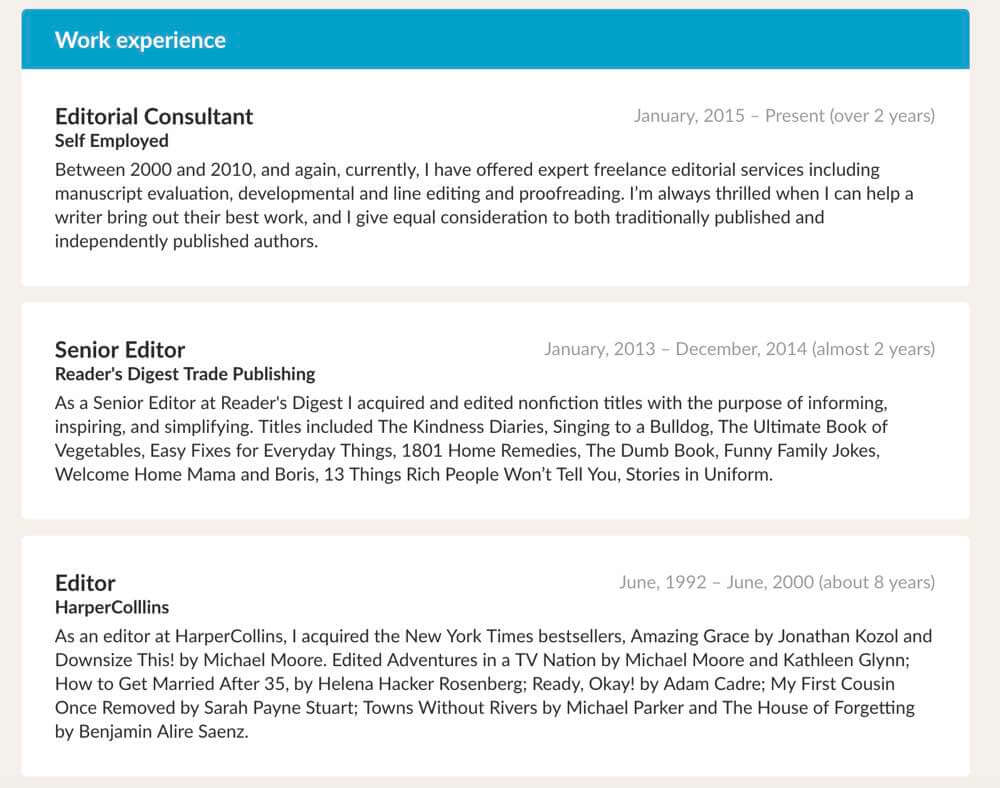 Editor Fiona Hallowell chooses to focus on the books she'd worked on to show her range of work within the nonfiction category.
6. Strategically add books to your profile
Another criterion that we examine carefully is the quality of your experience. Luckily, in the publishing industry, there's a very clear way to see this: it is by looking at the collection of books you've worked on. In your Reedsy profile, this collection makes up the 'Portfolio' section. 
Here is where you get to demonstrate all the nice things you've mentioned in your 'Overview' and 'Work Experience'. Rather than simply picking your favorite projects, think about how each complements something you've promoted about yourself. So for each genre you say you work in, select at least one book (more would be preferable). 
And if there's a kind of book you have worked on, but you don't necessarily want to work on again, think about not including it in your portfolio. It's like when you apply for a job — you always tinker with your CV and cover letter to suit the job you want to get. 
Ideally, the team at Reedsy would like to see at least ten titles listed on your profile.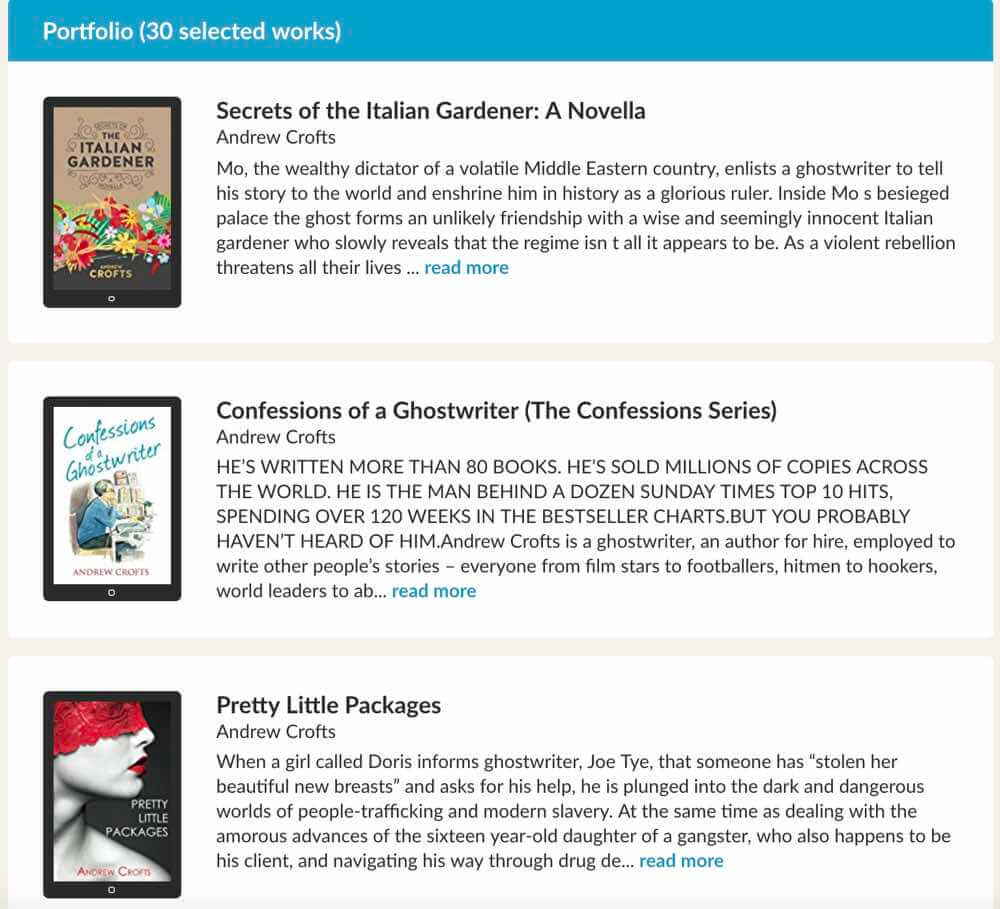 As for the actual steps of adding books to your portfolio, it's pretty straightforward. Simply paste the Google Play, Apple Books, or Amazon link of the book into the box on your 'Edit Profile' page.
Display design works in your 'Gallery'
Other than adding books to their portfolios, cover designers and book illustrators also have the option to upload samples of their work to their gallery. This is an opportunity to show off your range of styles across your chosen genres. You never know which art style appeals to a specific client, so picking a diverse range is only going to do you good!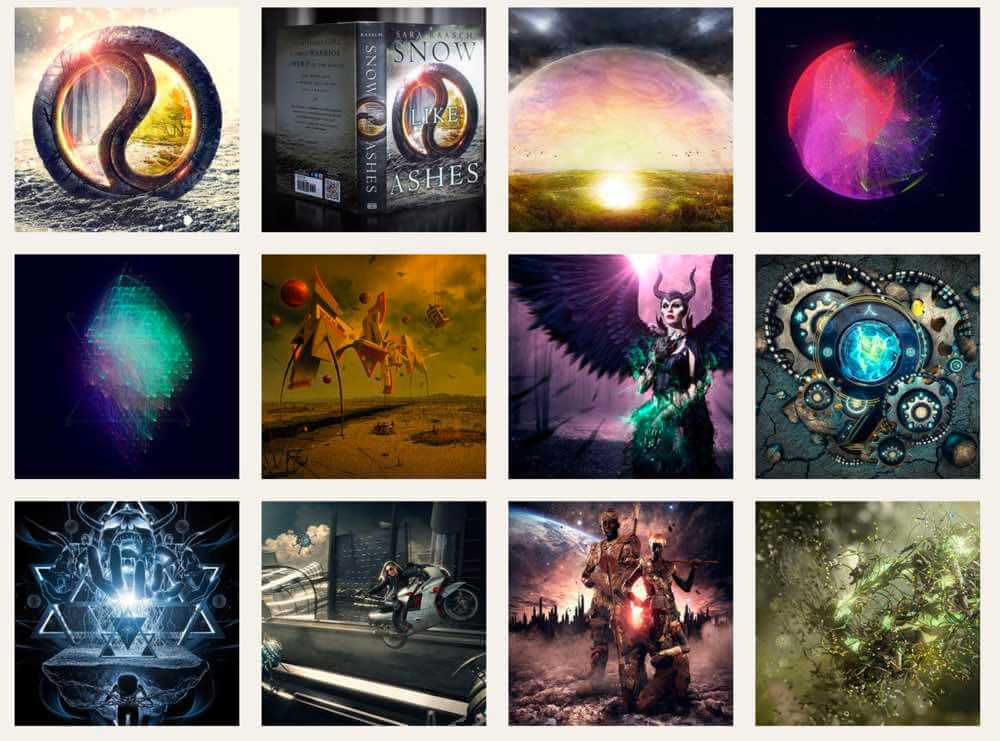 Top tip: When you load images onto your gallery, you can rearrange them as you wish. If you want to adjust your portfolio there is a 'pin' button that lets you send items to the top of the list.
7. Use the 'Projects' section
This only really applies to marketers, publicists, and web designers. Of all the kinds of publishing services out there, marketing and branding is possibly one of the most collaborative ones, since the author has to be actively involved in building their own public image. As such, potential clients tend not to care only about the outcome of marketing or web designing products; they'll also want to know about your problem-solving process. 
To demonstrate this, you can use the 'Projects' section in your Reedsy freelancer profile. Here you can explain the brief (in brief), demonstrate what you did during the project, and then reveal the amazing results that you'll be able to replicate for your future clients. You can also add photos to each project to visually show your progress and results.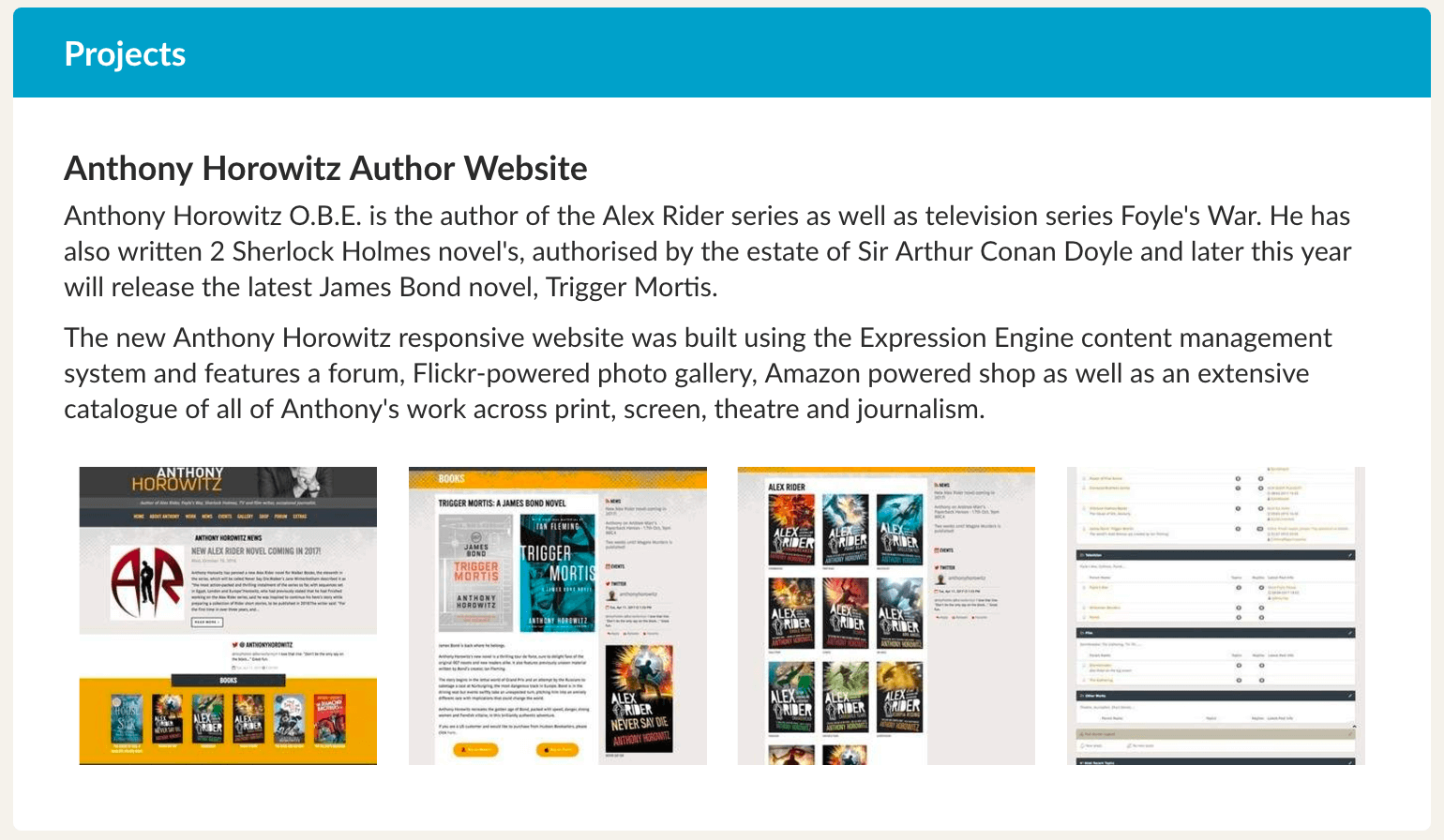 And voilà — that's it! If you've just set up your profile for the first time, hit the 'HELP' button and drop us a message to say you're done. Our team will then guide you through the review process and hopefully get you up and running. 
Now that your Reedsy profile is all set up, we have 7 insider tips on how to get more great requests and manage them effectively that you can check out. And if you have any questions about creating a Reedsy professional profile or joining the Reedsy marketplace as a freelancer, just send an email to us at service@reedsy.com.