9 Places to Find Flexible Part-Time Editorial Jobs
A source of extra income? Check. Opportunity to read plenty and help polish writing? Check. Working in your own time, from the comfort of your chosen environment — be it at home or at your go-to cafe? Check. As you can see, there's plenty of reasons to get yourself part-time editorial jobs. The tough part is, as with any job, finding them in the first place. 
But don't worry, we've got you covered! Below are nine sites that you can go to in search of flexible part-time editing gigs. Whether you have years of experience under your belt or are just starting out, whether you want to edit books or blog posts, there's something available for you.
1. Reedsy
If you're searching for part-time editorial jobs, Reedsy is a great place to be. Over 500,000 authors are currently using our platform to connect with editors who can help them produce flawless books, advise them on their query letters, and proofread their manuscripts. As such, freelancers on Reedsy won't be short of work opportunities! 
Once you sign up and your account is activated, your profile will be delivered to the search results of appropriate projects for authors to peruse. If an author then thinks you're suitable for their project, they'll send you a request. In response, you send them a quote for the proposed service. Once both parties have confirmed, then you can start the collaboration. To avoid the bidding wars found on other freelance work sites, an author can only request the services of maximum 5 professionals at once on Reedsy. This means you won't have to drop your editing rates to undercut competitors. 
Find exciting new projects
We connect publishing professionals with our community of 1,500,000 authors.
You can take on projects whenever you want, so part-time work is always an option.  
2. Scribendi 
Scribendi is a proofreading service provider that's always looking to expand its network of freelancers. It's required (among other things) that you have at least 3 years of experience in editorial crafts, and that you're a stickler for deadlines. 
The process is flexible — you take on work as your schedule permits. You'll likely be working on technical or academic projects, though occasionally there are book-editing jobs. Rates are determined by Scribendi, so you won't have to worry about negotiating with clients. 
You might also be interested in some remote proofreading jobs, which tend to be done on a freelance basis and are thus suitable for part-timers. 
3. Cambridge Proofreading and Editing 
Cambridge Proofreading and Editing is looking for those experienced in academic writing and publishing — so here's what to pay attention to if that's you. The company lets you choose your projects and schedule your own timetable, which means you can do this full or part-time. The rate offered is 20-25 USD per hour, which falls into the average copyediting rate for non-fiction. 
To apply, you have to complete a short screening quiz in which your eligibility as well as editing knowledge and abilities are assessed. They ask that you have at least a Bachelor's degree. 
4. Wordvice
Specializing in academic editing, Wordvice provides many different seasonal projects. From college admissions to thesis submissions, you can join and work on a variety of projects at different levels of academic rigor. The management assigns jobs with consideration for your schedule, which is perfect for part-timers. 

To apply, you need to hold an advanced degree: a master's, doctorate, or equivalent. There's no requirement for an editing certificate, although you will have to demonstrate (via an editing sample) proficiency in a few style guides and effective use of Microsoft Word to track and show clients your editing process. 
5. Gramlee
Given the size and scope of the academic world, it's no surprise that so many services choose to focus on the academic editing niche. Gramlee is one more to add to the list, and it offers both copyediting and proofreading services. If there happens to be a day in which you want some more technical and less literary work, you can always switch to proofreading via Gramlee. Note, however, that they do have a 24-hour turnaround guarantee to their customers, so need to be prepared to work fast. That said, you get to determine your general availability, so it is a viable part-time editing option. 
Apply by sending over your CV, and they'll respond if you meet their requirements. Needless to say, a good understanding of APA, MLA, and Chicago Manual of Style is a big plus. 
6. Domainite 
Interested in refining marketing content? Domainite is the place to go. Email marketing, web, and app content are just a few examples of the kind of writing that Domainite works with. These gigs are usually smaller but more frequent than books and essays, which may suit your schedule better. 
The application process is simple: you send in a sample of your editing, and they'll assess it, getting back to you if your work fits their requirements. The style for marketing content is a bit different from literary and academic writing, so be sure to read up on that before you send your application in.
7. Upwork 
Upwork is a name you're probably familiar with if you've begun the search for part-time editorial jobs. It's a freelance network where clients and freelancers meet to collaborate with each other. There are a lot of kinds of jobs there, including various editing jobs; you may find yourself working on books, blogs, brochures — there's something for everyone. 
The barrier to entry (the requirements for being an Upwork freelancer) is not very high, so you don't need a lot of qualifications. The downside is, however, that you'll have to bid against other freelancers for a job. The result of this system is that rates often end up being quite low. Another word of warning: you should beware of freelancer scams on Upwork. But if you're cautious, and you really want to start building your experience up (perhaps while you tuck into some books on editing), then it's a decent site to be on.  
8. MediaBistro 
As the name suggests, MediaBistro is a site through which you can find all sorts of media-related jobs. From publishing to journalism, whatever kind of editing you're interested in, you can find it here. Using the filters they provide, you can narrow the list down to part-time positions in your preferred industry.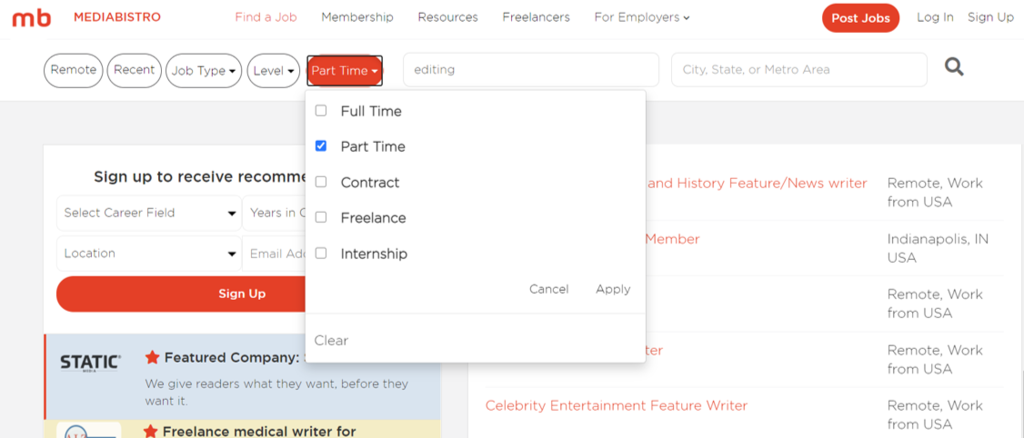 There might not always be a position that works for you, but be sure to check the site regularly, as the job board is updated all the time! (Hint: publishers sometimes advertise vacancies here, too, if you ever want you go down that route.) 
9. SimplyHired 
This job board is much broader than MediaBistro, but it can be just as useful. By searching for part-time editorial jobs in particular, you can find a range of technical and business editing positions. These include proofreading documents like contracts, business presentations, and websites. So, if you're looking to go into business-related proofreading, SimplyHired is a good place to start your search. 
With this list, we hope that you find suitable opportunities for some part-time gigs. They're a perfect way to dabble in the editing craft in your free time, or begin to build up skills for an exciting career ahead of you! (Give yourself a boost by keeping up to date with the latest publishing news and freelancing tips via Reedsy on LinkedIn.)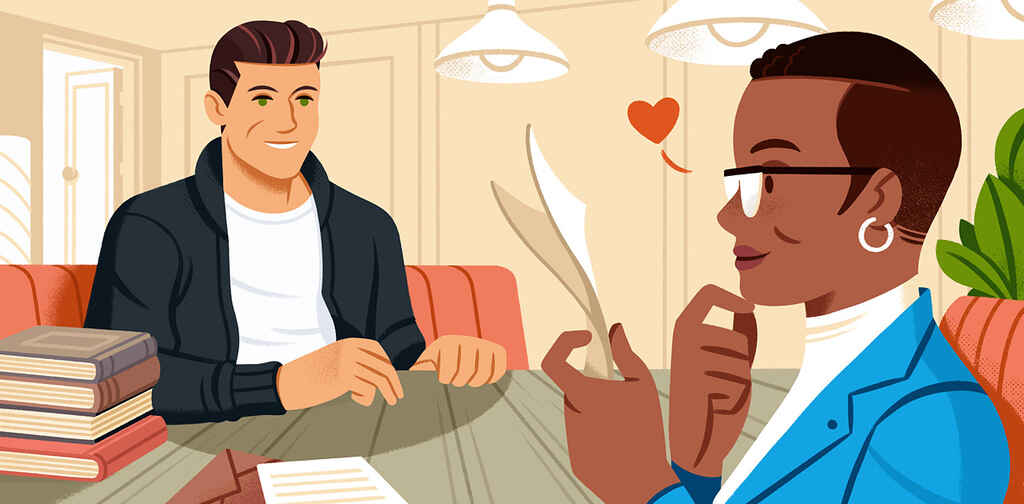 Quote Template for Editors
Lay out your rates, deliverables, and timeline with a professional template.