Last updated on Dec 12, 2022
3 Free Book Templates (Which One Should You Use?)
So your manuscript has been polished to a T, but you're not sure how to go from a Microsoft Word document to an actual book? Hiring a professional designer to typeset your content and format the interior will be the best answer to your questions, but if you want to go through the steps of typesetting your book yourself, using a template can be a good place to start.
A book template helps you format your book so that the inside looks like what you'd expect a book to look like. And while they can be a bit cookie-cutter, they do provide a simple and affordable alternative for self-publishing authors. For that reason, we've developed three beautiful templates that make the job easy for you — completely free of charge and available through the Reedsy Book Editor.
Psst. If you're looking for a template for your book cover instead, head over to our post where we share our best book cover templates.
And if you're looking for a template to help outline the plot, characters, or worldbuilding of your book, check out these book writing templates.
Before we look at the templates, what exactly is the Reedsy Book Editor?
Reedsy Book Editor: a free formatting tool
A free online tool, the Reedsy Book Editor is a great app for writing and editing your book, as well as for tracking your writing goals — and it just so happens to be one of the most reliable typesetting tools available. 
To get started, you can either create a new book, copy your text directly into the editor, or import your existing manuscript from any writing software. The formatting in the original manuscript will carry over, and your book will be ready to export in just a few minutes, complete with a copyright page, title page, chapter headings, page numbers, and so on.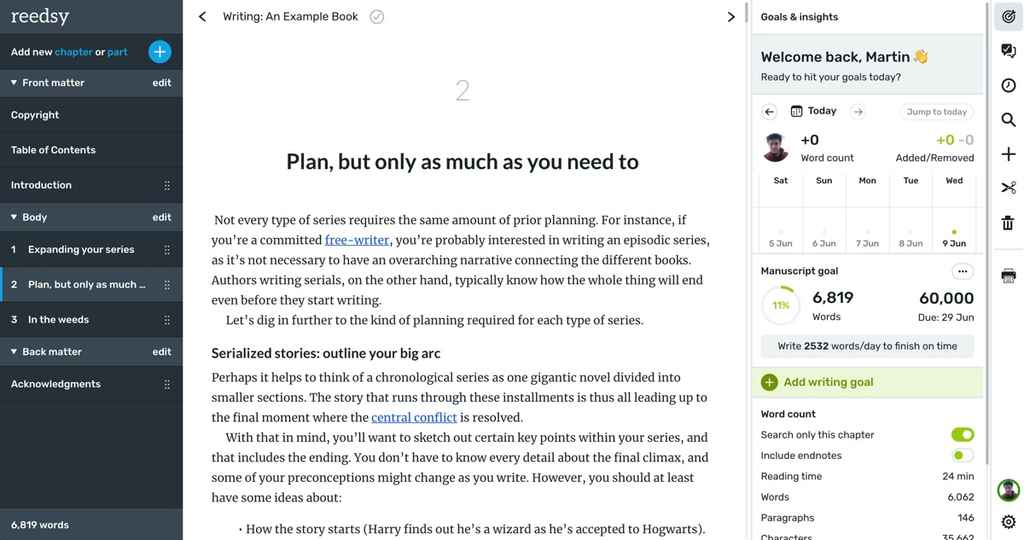 In the editor, you can apply your own preferred style or you can choose between three free book templates — Reedsy, Classic, and Romance — which differ in font type and page layout, and are typeset to industry standards size.
For more tips and information (as well as an example) on how to use the Reedsy Book Editor to manage your metadata, insert or move chapters around the different sections, or edit directly in the app, check out this guide.

Once you're ready, all you have to do is hit 'export,' and you'll get a perfectly reflowable ebook version as well as a print-ready PDF file which you can use with any print-on-demand or offset printing service. There's no need to take a crash-course in typesetting or paying for expensive programmes when the Reedsy Book Editor will make sure your margins are sharp and your text is resting against the perfect gridline.
Sign up to the Reedsy Book Editor here to unlock it, and then let's get to it! 
Looking for a professional formatting tool?
Sign up for free to start using the Reedsy Book Editor within seconds.
Learn how Reedsy can help you craft a beautiful book.
With that, here is a closer look at the three different templates you can choose from:
The Reedsy template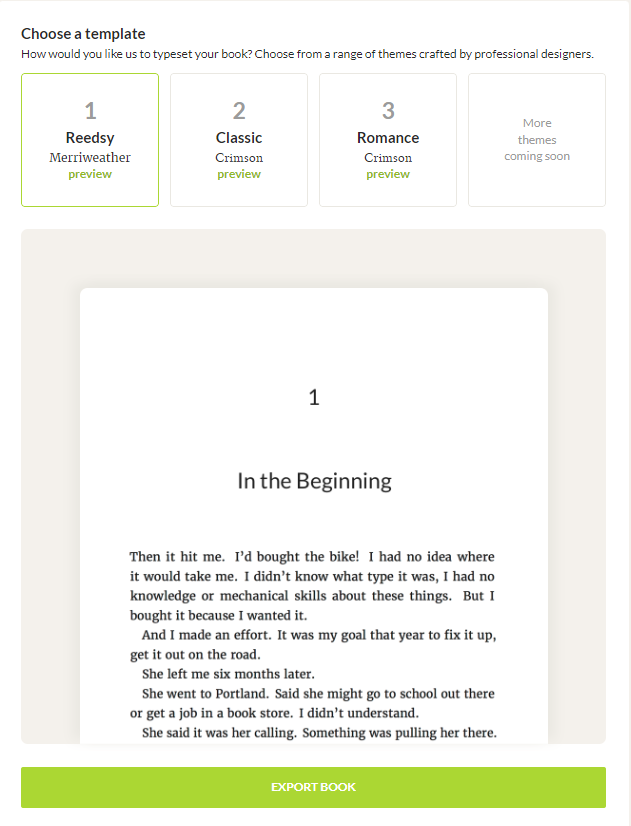 If you're ever in doubt about your font and typesetting preferences, Reedsy's original template is always a safe bet. Versatile and subtle, it features all the bells and whistles you could want in a book template (including optional chapter numbers and drop caps), and has been professionally designed to please the reader with its beautiful and non-intrusive fonts and clean finish. 
Simply apply the template to your manuscript and off you go!
Recommended for 
The Reedsy template is truly a flexible template, suitable for all genres and types of text, though perhaps its no-nonsense sans-serif headings and details makes it particularly suitable for nonfiction, for example.
The Classic template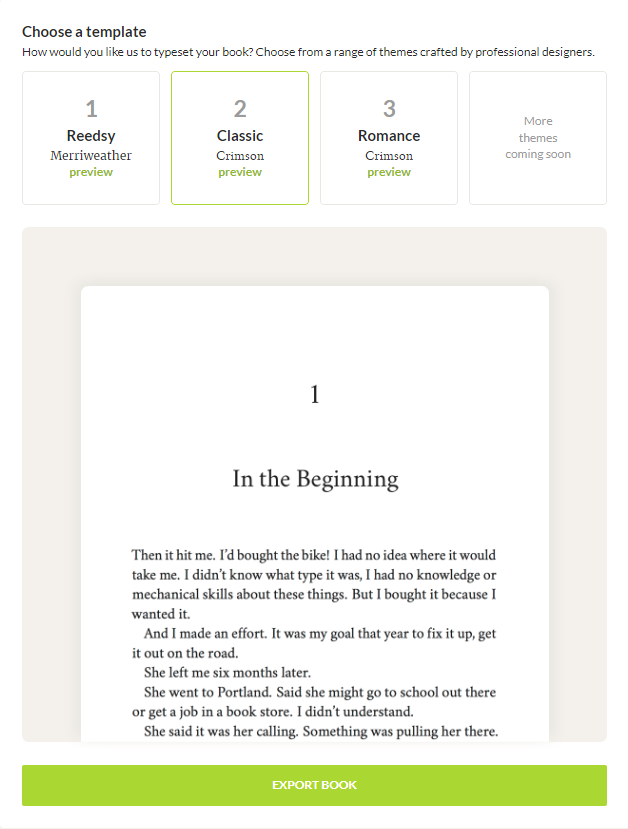 Like the name implies, Reedsy's classic template provides a timeless and classy finish for any occasion. Perfect for those who prefer a slightly softer touch, the classic template goes for serif fonts across the board, including for chapter numbers and headings, giving a slightly more literary feel than the original Reedsy template. Again, you can choose to remove the chapter numbers and add drop captions according to your preferences. 
Apply this template before you export your book to step your game up.
Recommended for 
Much like the original template, Reedsy's classic template is suitable for all genres and types of text, though the serif headings work especially well with fiction or narrative nonfiction.
The Romance template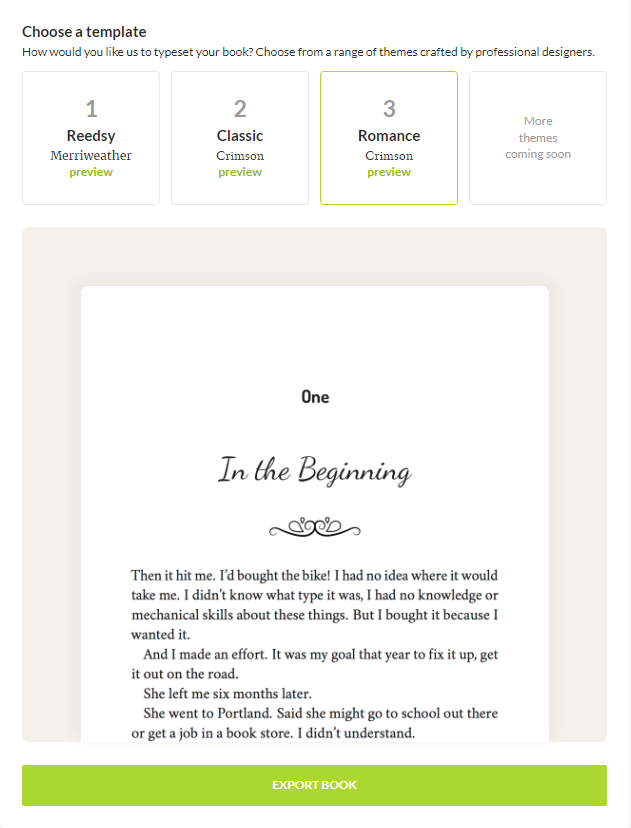 Slightly more elaborate and specifically developed for romance titles, the Reedsy romance template features decorative elements to provide a swoon-worthy reading experience. As opposed to the original and classic, the chapter number is spelled out and chapter headings are realized in a looping font. By replicating hand lettering, it provides a softer finish. Below the chapter headings, there's also a design element, giving an exclusive and custom-made touch.
Place an order for a healthy dose of textual elegance with this template.
Recommended for
Beyond bringing your romantic story to life, the romance template is a great option for writers who want something a bit more embellished and elaborate. From historical adventure novels to children's books or YA, the romance template will compliment and bring your story to life with an extra bit of flair and whimsical feel.
Who should use a template?
The unsung hero of the book world, interior design (or typesetting), greatly impacts how easy and enjoyable the reading experience is. The reason we take it for granted is that most books are professionally formatted. It's only when you read a book that's been carelessly designed on Microsoft Word, where the margins are all wonky, the text is difficult to read, and the kerning is off, that you realize there's a method to it all.
Provided your text doesn't pose any great design challenges, it's more than possible to use simple tools and templates to format the interior to an excellent standard. The exception to this rule will be books that involve lots of images, tables, or other fiddly elements — like cookbooks or picture books — or if you're looking for a more elaborate and exclusive typesetting for your novel. In these cases, an experienced and professional typesetter or interior designer will be necessary. They'll give you much better results and save you from tearing out your hair while trying to teach yourself Adobe InDesign.
Looking for a professional designer you can trust?
The best designers are on Reedsy.
Learn how Reedsy can help you craft a beautiful book.
---
There is nothing quite like working with an experienced designer to typeset your book, but if you're looking for a simple and affordable DIY-solution, the free templates available on the Reedsy Book Editor can help you typeset most books yourself, with a clean and professional finish. All you need is a computer and a winning manuscript and the Reedsy Book Editor will take care of the rest.