Last updated on Sep 12, 2023
How to Find a Ghostwriter You Can Trust With Your Story
✍️ This post is written by author, editor, and ghostwriter Tom Bromley. He is the instructor of Reedsy's 101-day course, How to Write a Novel.
It's part of a ghostwriter's job description to remain in the shadows. But while that discretion might help with the writing of a book, it's less useful when it comes to tracking down a ghostwriter that you want to work with. 
As a former publisher and a ghostwriter myself, I've worked with clients on dozens of different titles, both with traditional publishers and also on self-published works. Each of these projects had different starting points in how that relationship came about. 
In this post, I'm going to draw on this experience to give you my best advice on how to find and select potential ghosts for your book. 
Here's how to find a ghostwriter:
1. Browse marketplaces and agencies
To track a good ghostwriter down in the undergrowth, you'll need to become a bit of a literary David Attenborough! There are probably five places to start your hunt…
Where to find ghostwriters:
Freelancer marketplaces
Many ghostwriters work for themselves, so a good place to start your search are freelancer marketplaces, such as our one here at Reedsy. The advantage of using such a site is that the list of ghostwriters available is curated or quality checked: at Reedsy, we have strict criteria regarding the freelancers on our books. Each one of them has several years of experience and multiple projects under their belt.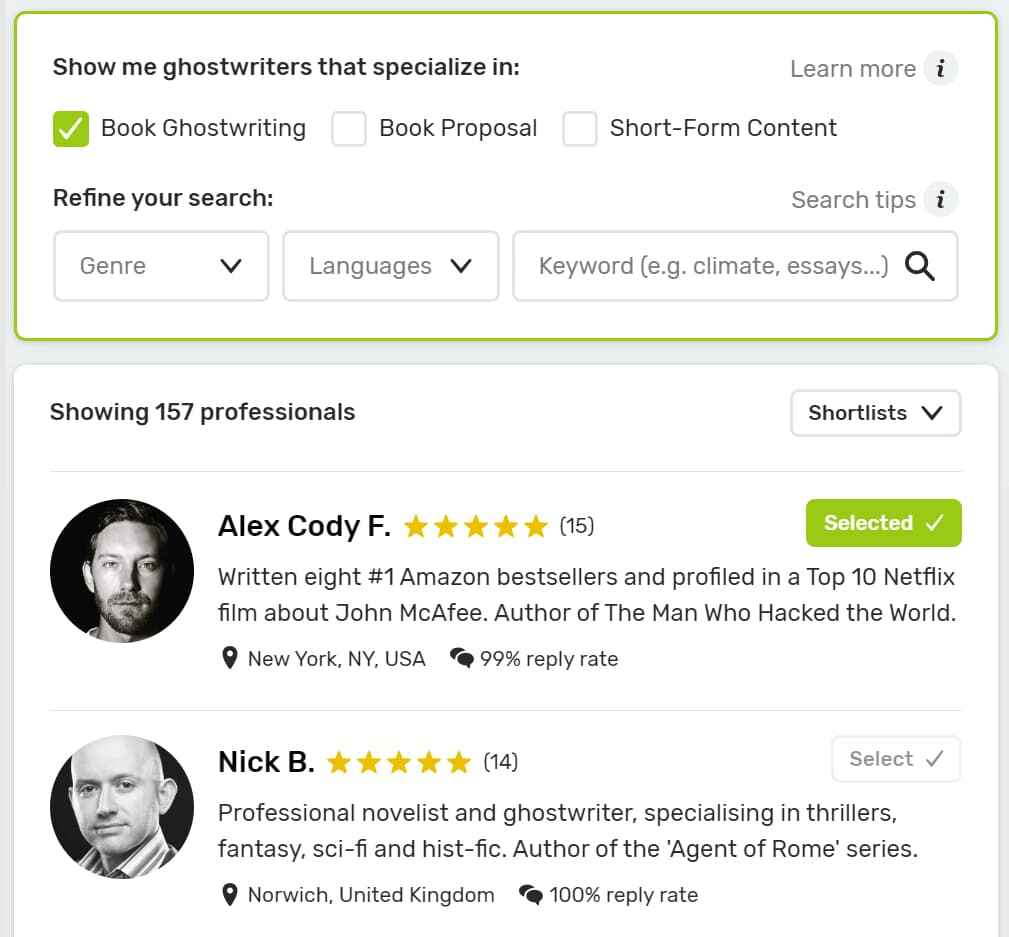 There is also the advantage of working within a pre-established and monitored system with regards to payment and so forth: if there are any disputes, there is a set-up to mediate and resolve them fairly, which you wouldn't have if you were dealing with the ghost directly.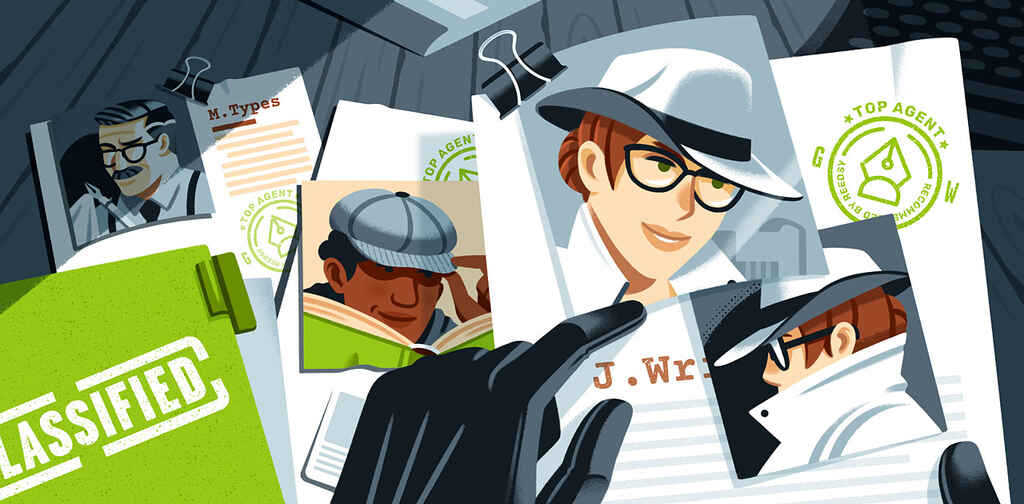 Find a ghost you can trust
Your mission? A fantastic book. Find the perfect writer to complete it on Reedsy.
Of course, Reedsy is not the only site that lists freelance gigs. Less experienced ghostwriters can be found on open marketplaces like Fiverr, Upwork, and Mediabistro. It's worth noting that these less specialized freelancing marketplaces are not as stringent with their vetting and quality control, and you'll need to bear this in mind when weighing up your options.
Literary agents and publishers
The second place to look is via the two main elements of traditional publishing 一 literary agents and publishers. Most literary agents will have a ghost on their books, or at least a writer or two they might try to persuade you would be suitable for a job. The downside here is that the agent is representing the ghost: not only will you have to factor in their fee, but they'll have their client's interest at heart. The potential upside is that, if they like your book idea, they may offer to represent it themselves.
Traditional publishers can be another source of ghostwriters. Most publishers will have particular ghosts that they use on a regular basis: if you can speak to a publisher, they may be kind enough to offer a suggestion or two. And if you're very lucky, a publisher might even decide to take the book on themselves.
Ghostwriting agencies
There are a small number of ghostwriting agencies out there, such as Gotham Ghostwriters, who can also put you in touch with a possible ghostwriter. As with a marketplace, they'll take care of the business side of the relationship for you, though like a literary agency, remember that they are representing their clients and their interests. Their pool of writers will be smaller than on a marketplace, so you might not have as many options as to whom to work with. 
LinkedIn and job sites
Another source to find a ghostwriter is through more traditional job sites and websites such as LinkedIn. This casts the net much wider, which could be useful, but will also turn up more irrelevant results, like people ghostwriting in other ways (e.g. speechwriting), which will require more sifting. 
While job sites can be a good place to search, not all ghostwriters will be on there, and unlike marketplaces and agencies, it will include people without any experience who are in search of work. Dealing directly should mean cheaper fees, though you won't have the backup of a marketplace or agency agreement should things go wrong. 
Google search 
If all else fails, you can Google! This should probably give the most exhaustive list of these approaches, but the one with the least quality control and the most sifting to do, since you'll have to go through each individual author's website.
After you identify your ideal platforms to hire a ghost, consider what kind of background and experience you seek. This will enable you to compile a shortlist of potential candidates. 
2. Determine the experience you seek
A number of ghostwriters I know, including myself, come from an editing background. Some ghostwriters are primarily novelists by day, looking for a side-project to work on whilst tapping away on their magnum opus. Many others start out as journalists with knowledge and contacts in a particular field: a sports memoir is often written by a sports journalist, a business book by a business writer, and so on.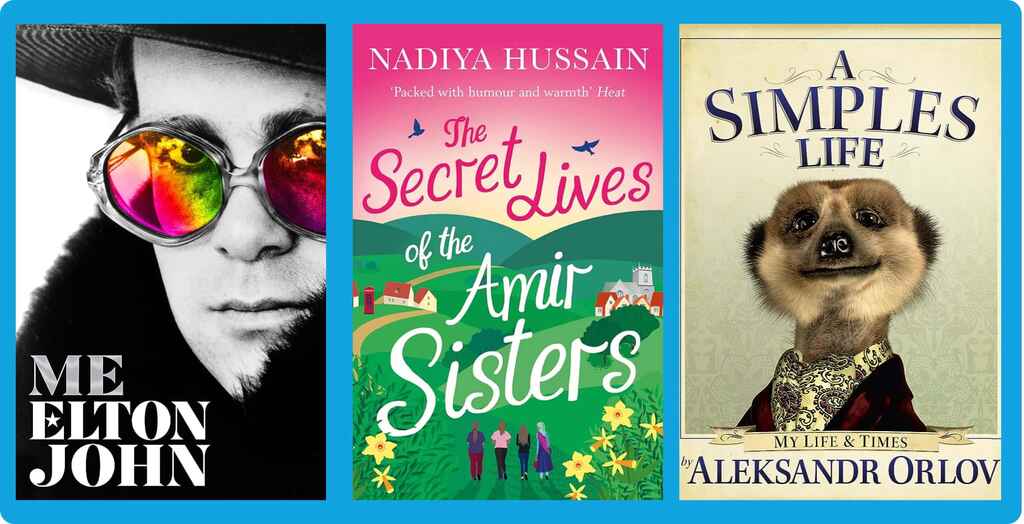 These different backgrounds may offer both pluses and minuses for your project. A former journalist might have lots of writing experience and an eye for a news angle but less experience writing books. A former editor will have much more knowledge of structuring a book and will also be invaluable if you want to work on some of the writing yourself, but might not have the same writing credentials. A novelist might be great at dramatizing your story, but may possibly be less skilled at interviewing. So think carefully about which experience best fits the book you want written. 
💸
What will it cost you to hire a ghostwriter?
Find out here! Takes 10 seconds.
The next step is to determine which writing style is most suitable for you.
3. Evaluate their previous work 
The best way to check a ghostwriter's skill, of course, is to dip into a book that they have written. A good writer will usually offer to share a couple of previous books for reference. Have a read of these and have a think about the style of writing. Does this read like someone you want to work with?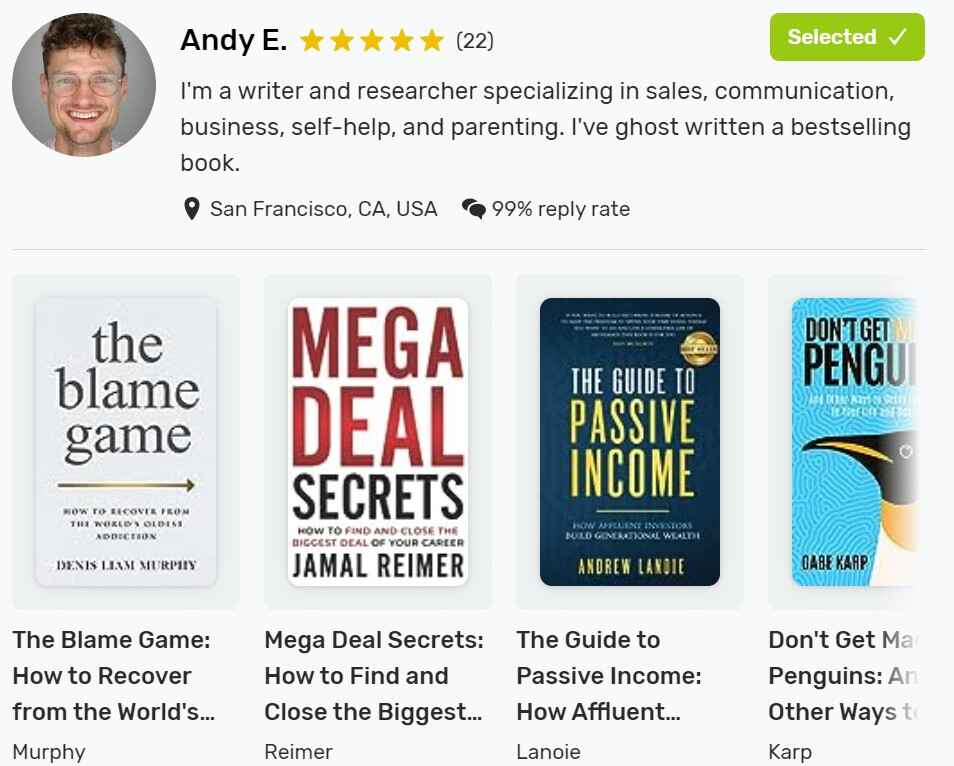 Make a note of which publishers the ghostwriter has worked with: that will usually give a steer as to their quality. Look also for relevant experience in your prospective genre. If you are looking for someone to write a memoir, what sort of similar books have they worked on previously? 
That said, not all ghostwriters are immediately forthcoming about which books they've worked on. There may be any number of reasons for that 一 for example, they may have signed non-disclosure agreements, which stop them from revealing who they've worked with. I'd personally take this discretion as a good sign rather than something to worry about: in a way, those ghostwriters who showcase the books they've worked on are sometimes the ones to be concerned about. Would you feel comfortable to see your own book highlighted in a similar way? 
If you can't find which books a ghost has worked on, simply ask. With my own website, I have no mention of any of my ghostwriting books, but once I am in conversation with a potential client, I will share a confidential document outlining my experience. If possible, it can also be worth asking someone in the business about their skills 一 for example, an editor that has worked with them previously, if you can track them down. 
Now that you have identified the type of profile you're looking for, it's time to get in touch. 
4. Reach out to a few ghosts
Hopefully by now, you've been able to fine tune your shortlist. I usually find with projects that there are two or three other ghosts in the bidding: I'd similarly come up with a list of three or four and rank them in order of preference (though don't necessarily tell the potential ghost that, unless they're the top of the list!)
🙌When you use platforms like Reedsy to reach out to ghostwriters, you can filter their profiles by genre, language, and area of expertise, and request quotes from five professionals simultaneously.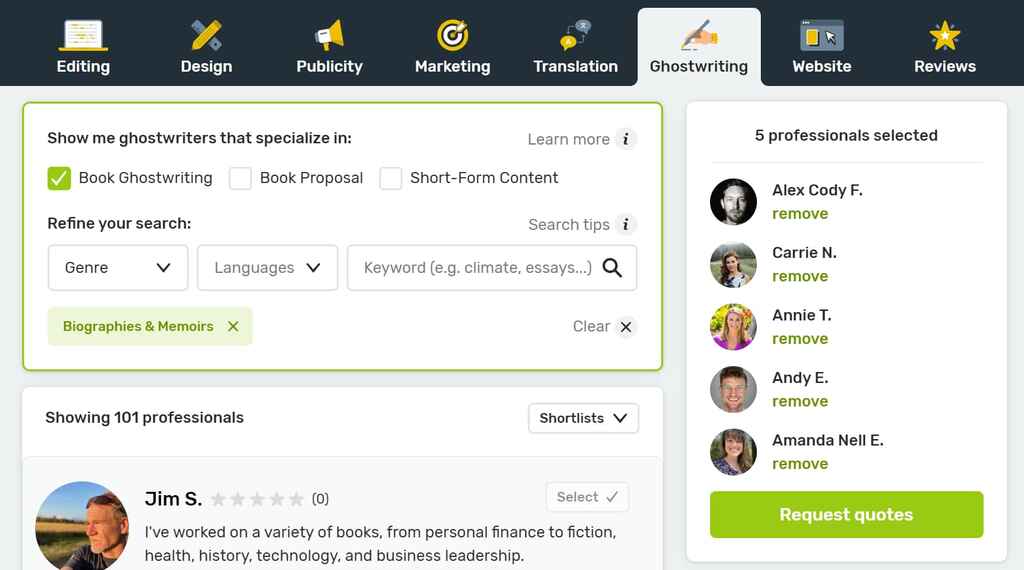 What happens next is perhaps the most important point in the whole process: meeting the potential ghostwriter for the first time. This is crucial in getting a sense of whether you connect with the ghost and feel that they are someone you can work with. 
Setting up a meeting before you agree on a collaboration is important for both parties: if that connection or chemistry isn't there, then however experienced the ghost might be, they're probably not the right fit for you. I've come out of these meetings where I've both been turned down and also where I've turned down the potential client. That's for the best and when this happens, there should be no hard feelings on either side.
Being a ghostwriter involves building a close and sometimes revealing relationship. I've written a lot of memoirs and clients have told me all sorts of secrets over the years: some that end up on the page, others kept between ourselves. A client is only going to give you that information if they feel comfortable and relaxed in your company. Similarly, you're only going to tell all to a ghostwriter if you trust them completely. Go with your gut here 一 if it doesn't feel right, then choose somebody else.
⭕ Consider a ghost's comfort level when writing or discussing difficult or sensitive topics. Check out David Wichman's story about working with an open-minded Reedsy ghostwriter.
As with any interview, turn up prepared to ask the right questions. In particular, ask the ghost about the working relationship. How much time do they have to work on the project? How long will it take them to complete it? Explain how involved, or not involved, you want to be in the process. The ghostwriter will ask questions back 一 when they do, gauge their reaction to the book. Do they sound genuinely interested, or are they going through the motions?
It may not always be possible, but these meetings work best when they are in person. I think you get a better sense of the individual face to face than screen to screen. It's also a good sign as to how flexible the ghostwriter is if they agree to meet up. If they can only meet on a Zoom call, then they might not be as committed to the project as you need.
Finally, you'll need a final proof to verify that they're the right person for the job 一 a sample of their writing applied to your story. 
5. Get a sample of their writing
The final piece in the jigsaw is to see if the ghostwriter can capture your voice. They might talk the talk, but can they capture how you speak and feel on the page? The only way to check that is via a trial session. Depending on your preference, you can ask for a couple of pages or a whole sample chapter.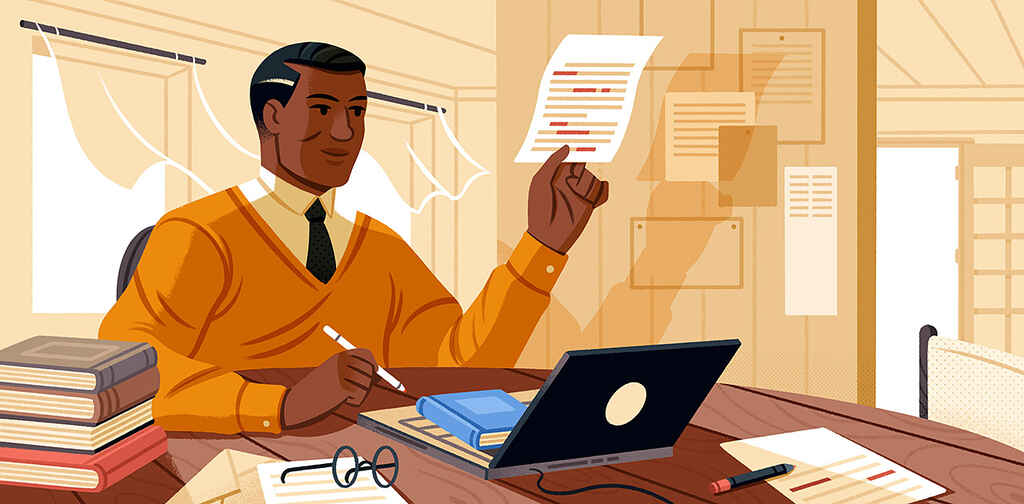 Sometimes this can come from the initial meeting: I've done this, where I've recorded a short section of an interview to go away and work on. On other occasions I've done this via a second meeting or via material presented or available, such as previous interviews and writings. 
This sampling process doesn't need to be particularly long, and you may need to pay for the ghostwriter's time, but it is well worth doing. It'll either give you confirmation that your instinct from the initial meeting is correct, or that you need to go back to someone else on your shortlist.
If everything feels right, you've found your ghostwriter! Hopefully they're as excited about working with you as you are with them. All there is left to do before starting work is to agree on a fee: to help decide that, you might want to take a look at our next post in the guide on the cost of hiring ghostwriters.
---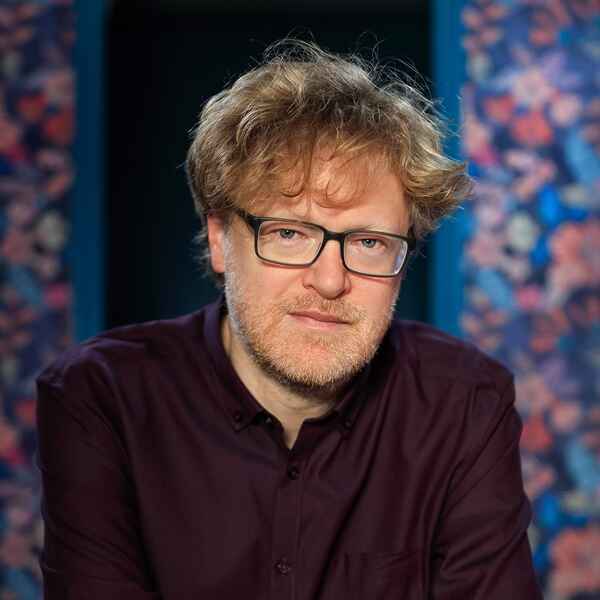 Tom Bromley is an author, editor, ghostwriter, and creative writing tutor. He is Reedsy's Head of Learning and the creator of their 101-day How To Write A Novel course. He has written and co-written a dozen books under his own name and ghostwritten fifteen more, including prize-winners and international bestsellers. As an editor and publisher, Tom has worked on several hundred titles, again including many prize-winners and international bestsellers.