Last updated on Feb 11, 2022
How to Write a Query Letter in 7 Simple Steps
A query letter is an inquiry to an agent asking if they're interested in representing a book. For context, the best agents receive dozens of queries a day, but might only sign a few authors per year. So you can see how writing a strong query letter is crucial to your success as an author! 
The good news is that once you're familiar with the format, assembling your query letter should be no trouble at all.
Here's the simple step-by-step process to write a query letter:
1. Open the query with a greeting
First off, keep the salutation simple. "Dear Carrie" is perfectly fine, assuming that is the agent's name. Addressing agents by their surname ("Dear Ms. Greaves") is also fine, though the formality may feel outdated, and you risk misgendering them by accident.
The next line should make the agent prick up their ears. If you've published before, you can start with that. Be sure to mention any critical recognition or awards you've received for your previous work!
I'm seeking representation for my second novel, Cobalt Eyes. This book is the follow-up to Inferno Hearts, which I self-published and which was shortlisted for the Jay Malcolm Independent Prize last year.
If you haven't published before, another great way to start is with a personal connection:
We met last year at the Writer's Digest Annual Conference and chatted briefly about your work with up-and-coming suspense authors.
Or better yet, get a referral from an established author or a publishing insider. "You want something that will bring the submission directly to the agent rather than an assistant or an intern," says editor and former agent Fran Lebowitz (not the NYC-based author). "Showing that you are connected never hurts."
Jane Doe at Del Rey Books suggested that I contact you regarding representation for my debut science fiction novel, Arbormancer.
If you have no industry connections to speak of, don't panic — just jump straight into your pitch. You can go the factual route by starting with your title, genre, and word count (rounded to the nearest thousand): three key pieces of information that will instantly paint a picture of your book.
I'm writing to seek representation for my 92,000-word crime thriller, Operation Kill.
Alternatively, you can try gripping the agent's attention by starting with your hook (more on that in the next step!).
💡Pro tip: Download our query letter checklist, which will help you as you write and perfect your queries: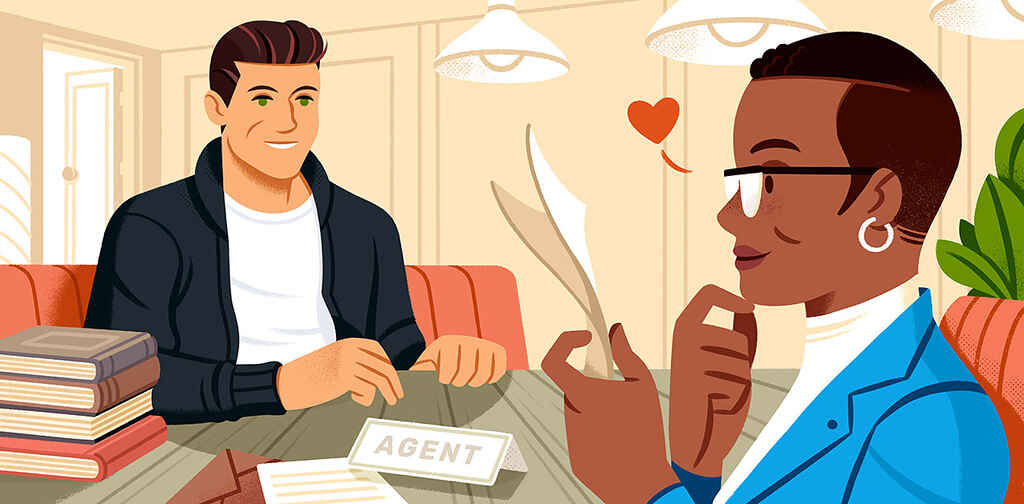 Query Letter Checklist
Learn how to grab a literary agent's attention with our checklist.
This resource is completely free, so download it and give it a spin.
2. Write a strong "hook" for the book
Within the first few pages of a novel, you need to make it impossible for readers to put your book down. In a query letter, you have to make do with just a few lines.
This part of the letter is known as the hook. Your hook should show agents how your book differs from the thousands of others in your genre. It should be an awesome concept that makes the reader wonder why someone hasn't thought of it before.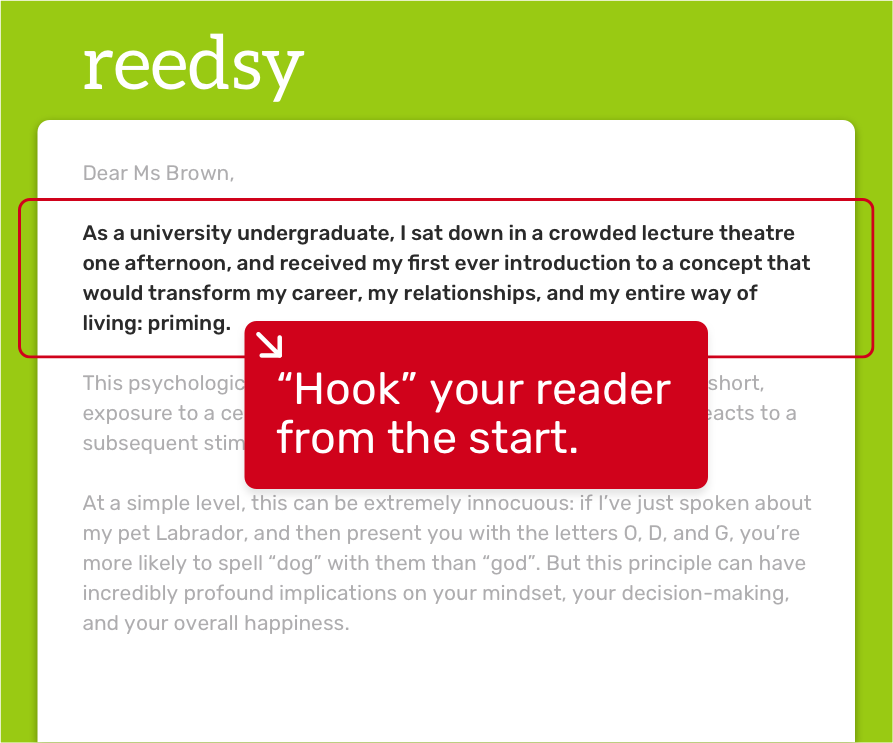 Just look at the hook for Jeff Lindsay's Darkly Dreaming Dexter (later adapted into Showtime's Dexter):
Meet Dexter Morgan, a polite wolf in sheep's clothing. He's handsome and charming, but something in his past has made him abide by a different set of rules. He's a serial killer whose one golden rule makes him immensely likable: he only kills bad people.
Another great hook might involve an intriguing central conflict, like the one in Stephenie Meyer's Twilight:
About three things I was absolutely positive. First, Edward was a vampire. Second, there was a part of him — and I didn't know how potent that part might be — that thirsted for my blood. And third, I was unconditionally and irrevocably in love with him.
Not only does this introduce the genre and tone, it sets up the narrator's internal dilemma: she's in love with someone who could possibly kill her. What will happen next? Is she walking into a trap? Will her love conquer the vampire's bloodlust?
Perfecting your hook might take a while, but it's hands-down the most important part of your pitch, so make sure you get it right! If you're unsure whether it's "grabby" enough, try testing it out on your friends — or better yet, have an editor with industry experience take a look.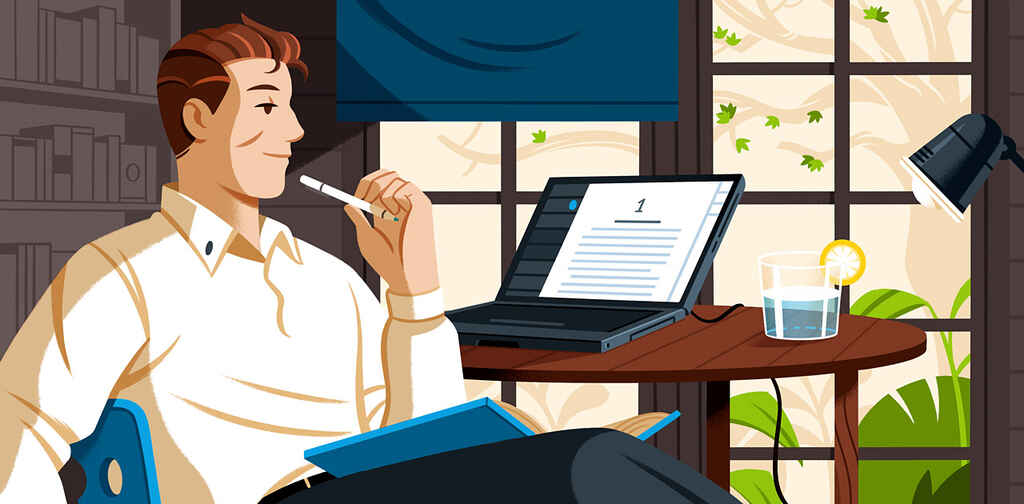 How to Write a Query Letter
Learn to grab agents' attention with 10 five-minute lessons.
3. Include a story synopsis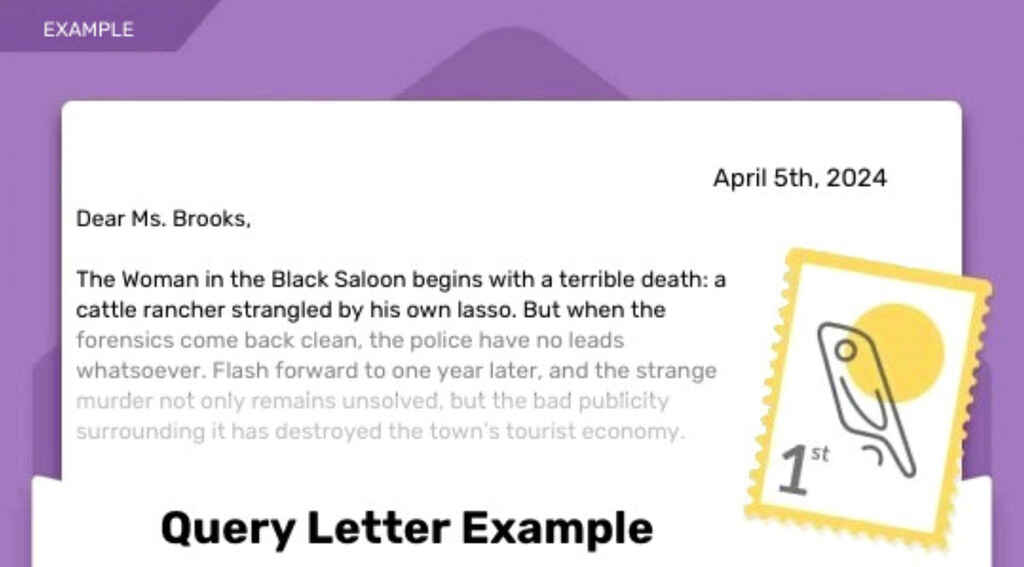 Now that you've "hooked" the agent, it's time to reel them in with your synopsis and get them to request your manuscript.
"The synopsis should really get an agent interested in your book," says Erin Young, a literary agent with Dystel, Goderich & Bourret. "Think as if you're writing the back cover of your book for future readers." In other words, your synopsis is your opportunity to shed some light on:
The plot
The primary characters
The central questions or conflicts that drive your story
Following Erin's suggestion, let's look at the back cover of Gillian Flynn's Gone Girl and see how its blurb addresses those points.
On a warm summer morning in North Carthage, Missouri, it is Nick and Amy Dunne's fifth wedding anniversary. Presents are being wrapped and reservations are being made when Nick's clever and beautiful wife disappears.

 

Husband-of-the-Year Nick isn't doing himself any favors with cringe-worthy daydreams about the slope and shape of his wife's head, but passages from Amy's diary reveal the alpha-girl perfectionist could have put anyone dangerously on edge. Under mounting pressure from the police and the media — as well as Amy's fiercely doting parents — the town golden boy parades an endless series of lies, deceits, and inappropriate behavior.

 

Nick is oddly evasive, and he's definitely bitter — but is he really a killer?
With just over 100 words, this synopsis lays out the plot, offers an impression of two multi-layered characters, and leaves us with the question that serves as the book's engine: Did Nick kill his wife?
Even without a grand mystery at the center of your book, you can still grip agents by vividly defining the central conflict and stakes. High stakes help readers invest in your characters and stories; otherwise there's no reason to care about the outcome of your book. So make sure the letter-reader knows what your protagonists stand to win or lose.
💡Pro tip: Your hook and synopsis should make up around 50% of your letter. That's 150 or 200 words at most.
And now that the hard part is over, let's talk about you: the author!
4. Pitch your author credentials 
Following the synopsis, the "cherry on top" of your query letter will be what you've accomplished as a writer. Try not to ramble on about your day job or your hometown, as it's much better to focus on your publishing history:
Have you had any short stories published?
Have you won any awards or writing contests?
Are you a graduate of a creative writing program?
Have you attended any writing conferences, workshops, or retreats?
That said, if you don't have any quantifiable writing chops, it's okay to write: "I live in Poughkeepsie with my wife and three kids. This is my first novel." You could also mention your inspiration for writing this book, or explain why you're the only person who can do this story justice.
I was inspired to write Bad Teacher by my decade of experience teaching in state prisons, in my home state of Missouri.
You can also show that you're going to be an informed publishing partner with an awareness of the market. A great way to do that is by identifying comparable titles and authors. That's where you say something like:
This book has the sprawling fantasy feel of The Starless Sea with the dark feminist bent of Mexican Gothic.
You want to make the agent think, "Ooh, I like those books! Maybe I'll like this one as well." However, avoid comparing your manuscript to:
Mega-successful books. You probably don't have the next Harry Potter.
Hyper-obscure books. They won't be impressed, they'll just be bewildered.
Books that are too dissimilar. "High Fidelity meets War and Peace" paints a weird picture.
Outdated books. Comparing your book to The Da Vinci Code might have been impressive 20 years ago, but today would make you seem totally out of the zeitgeist.
Finally, if you're a popular blogger or influencer or have a large social media following, bring it up! This lets agents know that you come with a built-in fanbase. Again, show them that you're approaching this like a professional and that you can help your book become a success.
Download our free template to ensure your manuscript looks professional and ready to impress: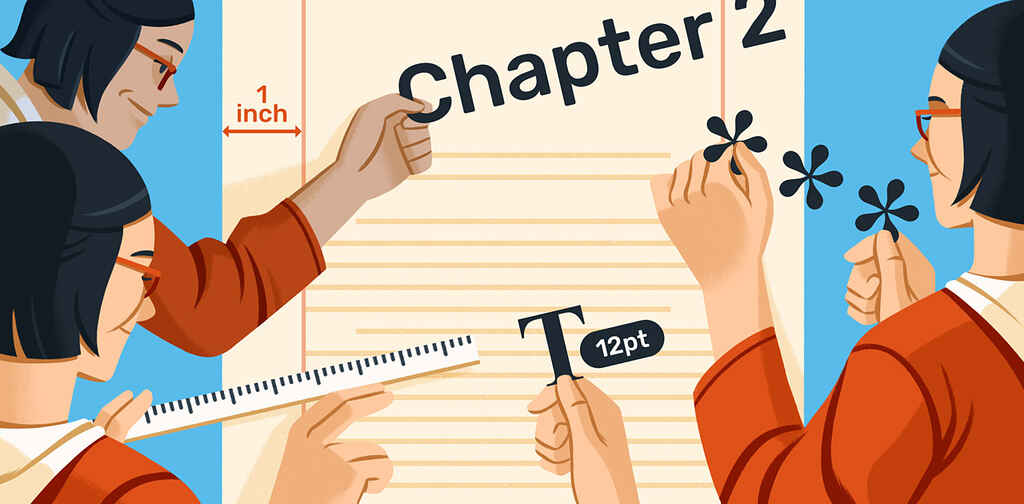 Manuscript Format Template
Get your manuscript ready for submission to agents and publishers.
5. Personalize to stand out from other queries
"You can tell when the letter's just a generic copy-and-paste job," says Amy Bishop, another agent with Dystel, Goderich & Bourret. "It indicates that the author hasn't done their research on the agent or agency they're querying."
At least a bit of personalization is crucial; without it, your letter is just spam. The easiest way to give your query a personal touch is to reference the agent's existing clients:
I am a huge fan of your client, Michael Chabon. The setting of The Yiddish Policemen's Union was a major influence on my novel.
Or if you want to do one better, mention something that the agent has written or said in public.
I saw your presentation at the Literary Writers Conference last year. Your comments on the dearth of female protagonists in fantasy really resonated with me. My book attempts to redress that balance.
Don't lay it on too thick. Just show that you've put thought and effort into choosing which agents you query.
Keep track of the agents you contact with our free query tracker spreadsheet: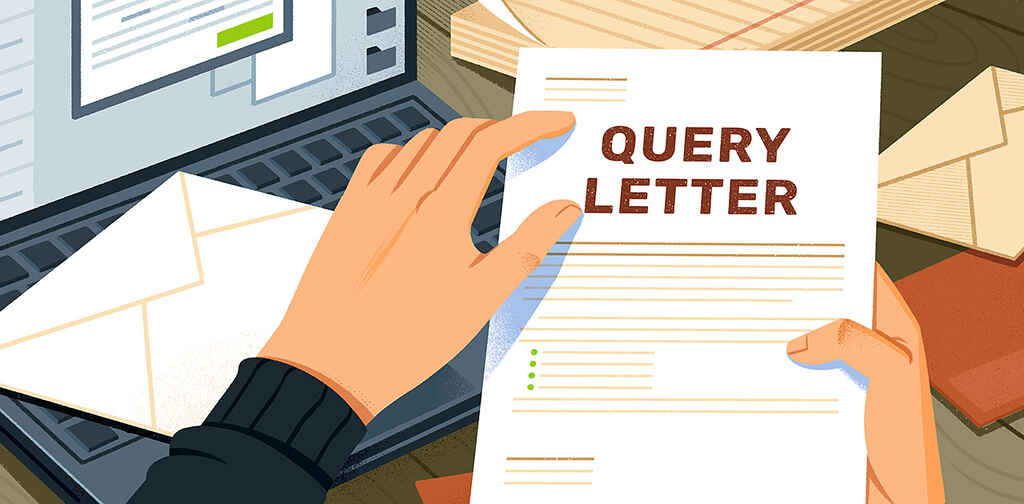 Query Submissions Tracker
Stay organized on your journey to find the right agent or publisher.
6. Close the letter by thanking the agent
No muss, no fuss.
Thanks for your consideration. I look forward to hearing from you.

 

Sincerely,
Your Name
Don't overdo the ending. Don't try to arrange a meeting or tell them how amazing it would be to work together. Just thank them and sign off!
7. Proofread your work
This step is extremely important in terms of preserving your professionalism! Before you call it a day, go back through the letter and triple-check that you've included the following details about your book:
Title
Genre
Audience
Word count
Comp titles
Make sure nothing is mistaken or misrepresented. If possible, get a friend to read through the whole thing to make sure your spelling, grammar, and punctuation are on point.
8. Hire a professional editor for a query letter review
Finally, if you want to guarantee that your query letter is firing on all cylinders, you can get a query letter review from a professional editor. This will ensure that every part of your letter is perfectly honed — and perhaps more importantly, that you aren't sending up any red flags to agents.
Why is getting a professional query letter review so much better than, say, having a friend read it over? Because you can work with an editor who's actually been an acquiring editor for a publisher, or maybe even an agent themselves. This intimate industry knowledge can be a game-changer for authors struggling to sell their books.
Looking for a query letter review?
The best professional editors are on Reedsy. Sign up to meet them today!
Learn how Reedsy can help you craft a beautiful book.
Not to mention that, compared to most editing costs, the cost of a query letter review is a real bargain — most of our editors charge between $50 and $150 for this service. Considering that a compelling query letter could be your gateway to a generous advance and lucrative career, it might be the best return on investment you'll ever get.
And that concludes our post on how to write a query letter! We realize we've just thrown a lot of information at you. If it seems like a lot to absorb, don't worry: we've created an infographic checklist to help you remember it all.
---
To see what a query letter should look like (and what you can expect from a query letter review!), check out the next post in this series. We've posted six examples of query letters from a range of genres that have been reviewed and improved by Reedsy editors.