Last updated on Jan 20, 2022
How Does Reedsy Select its Publishing Professionals?
We at Reedsy are immensely proud of the community of publishing professionals we have curated on our marketplace — we won't hesitate to tell you this whenever we're given the chance. This is because we have a thorough selection criteria that ensure we host the best of the best on site. 
Over 50,000 publishing professionals (editors, designers, illustrators, publicists, marketers, and translators) have applied to be featured on our site, and only 3,000 have been accepted. In this post, we'll explain the criteria that we use to screen our freelancers so that you know when best to join our marketplace. 
Buzzing to know if you're ready to join right now? Complete this 1-minute quiz: 
💼
Are you ready to join Reedsy?
Find out here! Takes 1 minute
We review freelancer profiles to find the best
To apply to be part of the Reedsy marketplace, you simply have to sign up on our website. Once you start a profile, you'll get the chance to register as a professional.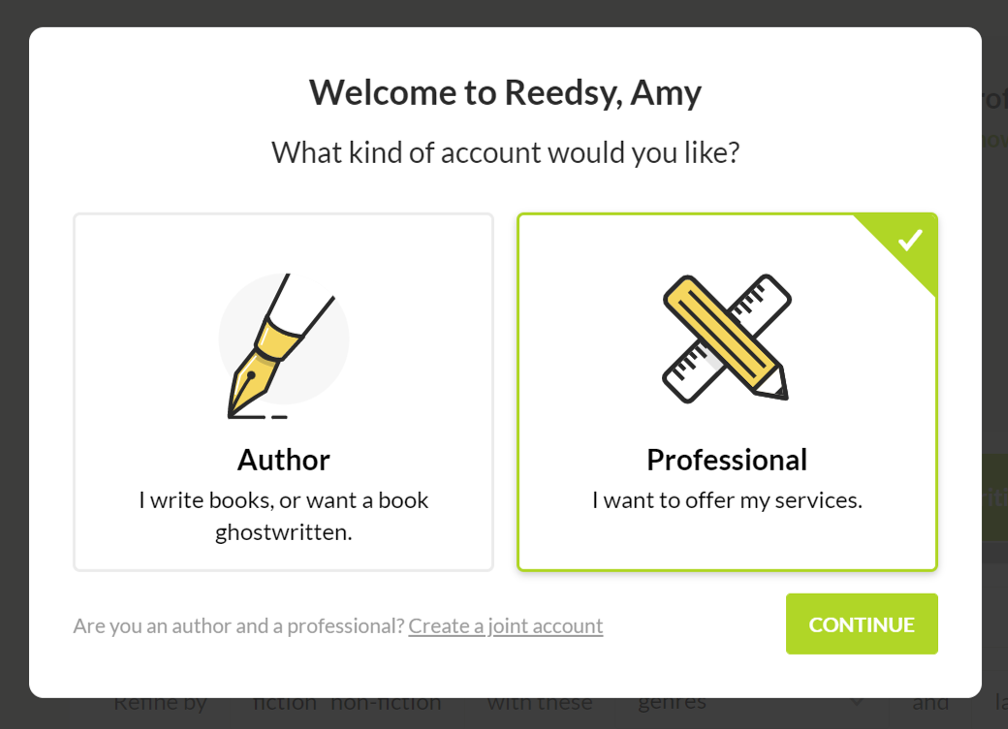 After that, you will have to fill in your Reedsy profile — a page that includes your professional introduction, experiences, portfolio, and work philosophy. Your profile will be publicly available once you create it, so you can use it as a website or landing page for all professional activity. 
That said, only profiles accepted by our team can become verified and therefore be listed on the marketplace, where authors can send you requests. More importantly, profiles form the core of our quality control process. In either case, you should fill as much of it out as possible. 
The minimum criteria
So how do we determine who to activate? As it's actual people — members of the Reedsy team — who are reading and verifying profiles, the decision is ultimately somewhat subjective. But we do use a list of tangible criteria to keep it as objective as possible. Here are the bare minimum requirements that all professionals on site must meet: 
Have at least 3+ years of experience in your profession (editing, ghostwriting, marketing, publicity, translating, or web development);
Demonstrate experience on at least 5 published books that are well-reviewed on Amazon, Goodreads, Google Books, or Apple Books.
Since the Reedsy marketplace is competitive, these are just the most basic requirements. Professionals meeting all the above criteria are not automatically accepted — we'll continue to consider other factors in order to pick the strongest professionals.
Additional points to make you stand out
Along with the minimum criteria, you have to have at least one of the following:
Significant experience working at a renowned traditional publishing company;
Significant experience working as a freelance contractor for a renowned traditional publishing company;
History of high-quality work with a bestselling author, or on a bestselling book;
Receipt of a distinguished award in your field.
Some of our editors have worked on books by authors such as Ken Follett, Isabel Allende, George R.R. Martin, Hugh Howey, and J.K. Rowling. It's not necessary to have big names in your portfolio, of course, but do be sure to include your work experience along with concise explanations of your duties so that we can make a fair decision. 
For artists, it's ideal if you can include photos of books in the same genre as the ones you hope to work on. Your profile should display all of your strengths with regards to working in your preferred genre. 
We do our best to ensure that all information entered by the professionals on their profiles is accurate. Often we'll verify our professionals' portfolios by searching books' "acknowledgements" sections for mentions of their editors and cover artists.
Once you've met all the basic and additional requirements, we'll get you activated and on-boarded onto our marketplace! 
Create your Reedsy freelancer account
We have some great projects already lined up for you to work on.
Constant quality control after activation
So, once you're in, you're in forever? Well, not quite. Our curation work doesn't stop once the professional has been accepted based on the information provided on their profile. We closely monitor our professionals' work through Reedsy and regularly survey our authors at the end of their collaborations.
On rare occasions, we will have to deactivate users because of unprofessional behavior. This includes when you are consistently unresponsive to clients and deliver low-quality work. Reedsy acts as a third-party guarantor for authors in their collaborations on the platform, so it is our duty to monitor all work done to make sure that agreements between authors and professionals are upheld. 
Our team also keeps an eye on the marketplace to ensure we have sufficient professionals listed and available in each genre. With over half a million authors in our community, we are always welcoming new professionals onto the platform. So if you meet the requirements, sign up today; you'll be getting requests for your service in no time! 
---
For more tips on how to be a better freelancer in publishing, follow us on LinkedIn.