Last updated on Dec 08, 2022
Reedsy Selection Criteria: How to Become a Reedsy Publishing Professional
At Reedsy, we pride ourselves on the community of publishing professionals we have built on our marketplace — we won't hesitate to tell you this whenever we get the chance. This is because we have a thorough selection criteria that we use to ensure that our freelancers represent the best of the best. 
Over 130,000 publishing professionals (editors, designers, illustrators, publicists, marketers, web designers, and translators) have applied to be featured on our site, and only some 3,400 have been accepted. In this post, we'll explain the criteria that we use to screen our freelancers so that you know when best to join our marketplace.
Buzzing to know if you're ready to join right now? Complete this 1-minute quiz: 
💼
Are you ready to join Reedsy?
Find out here! Takes 1 minute
Set up a profile for review
To apply to be part of the Reedsy marketplace, just sign up on our website. Once you start a profile, you'll get the option to register as an author or as a professional.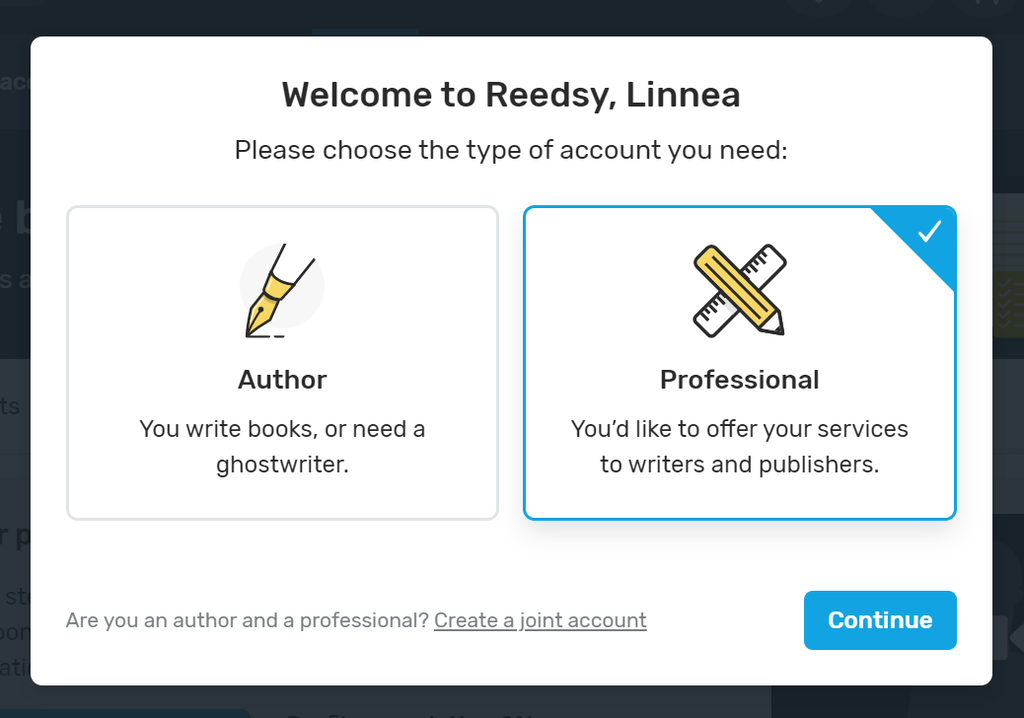 After you've selected "Professional", you will have to fill in your Reedsy profile — a page that includes your professional introduction, experiences, and portfolio. Your profile will be publicly available once you create it, so you can use it as a website or landing page for all your professional activity. However, to be featured on our marketplace (where authors can send you requests), your profile needs to be reviewed and accepted by the Reedsy team. 
Profiles form the core of our quality control process; only by filling out as much of your profile as possible can we assess whether you meet our selection criteria.
Meet the minimum criteria
Once you've submitted your profile, our team will assess it and see if it meets our selection criteria. As it's actual people and not AI who will review your profile, this might take up to 10 days and the decision is ultimately somewhat subjective. That said, we strive to keep our selection process consistent by using a set list of minimum requirements that professionals must meet to be considered for the Reedsy marketplace.
Please note that since the Reedsy marketplace is competitive, these are just the most basic requirements. Professionals meeting the criteria are not guaranteed to be accepted — we consider various factors in order to pick the strongest candidates.
With that said, here are the criteria for individual professions:
Editors
A good editor is eagle-eyed and has a strong sense of what effective storytelling entails. Authors on the Reedsy marketplace are looking for professional and experienced editors who know the workings of the publishing industry and have the skills to make their writing shine. To help meet that demand, we're looking for professionals who can demonstrate: 
At least 3 years of professional experience in editing, in the service they're applying for  (editorial assessment, developmental editing, copyediting, proofreading, indexing or query letter reviews).
Experience working for a traditional publisher.
Demonstrated experience on a minimum of 5 published books that are well-reviewed on Amazon, Goodreads, Apple Books, or Google Books. If this criteria can't be fulfilled, we can consider work that has been published in renowned journals, magazines, or newspapers (only for copyediting and proofreading).
Please note that proofreaders also need to be familiar with the Chicago Manual of Style.
Designers & illustrators
Design is potentially one of the biggest marketing assets for a book, so when authors are looking for a designer to hire for their project, they're looking for someone who can deliver top-notch results. That's why we require our freelance designers and illustrators to have:
At least 3 years of professional experience in the service they're applying for (cover design, book interior design, illustration, typography or production management).
A strong portfolio of quality work for print or digital supports, including a minimum of 5 published books that are well-reviewed on Amazon, Goodreads, Apple Books, or Google Books. Alternatively to books, we can also consider work done for different types of publications (such as magazines). The minimum of 5 published books is waived for illustrators, who can submit any print or digital art through other media.
When assessing book designers, we also encourage professionals to clearly demonstrate their style and preferred genres to work on. 
Ghostwriters
Beyond being discrete and consummate professionals, the ghostwriters on Reedsy marketplace also need:
At least 3 years of professional experience in ghostwriting.
Demonstrated experience on a minimum of 5 published books that are well-reviewed on Amazon, Goodreads, Apple Books, or Google Books. Alternatively, professionals who submit work that has been published by a renowned magazine, journal or newspaper can be considered for ghostwriting of short-form content.
While the nature of ghostwriting can make it tricky to provide evidence of your involvement in a project, we provide alternatives to describe your work so that we're able to assess your profile.
Marketers
Beyond simply being familiar with generally good marketing practices, the marketers on Reedsy are experts in book marketing in particular. They know the industry like the back of their hand and what channels are best to reach an author's target audience. To prove that they have what it takes, we ask that our marketers have: 
At least 3 years of marketing experience in the publishing industry.
Demonstrated experience on a minimum of 5 commercially successful books, whether self-published or traditionally published.
Proven expertise in the services you are applying for (marketing strategy, advertising, email strategy and/or SEO).
From Amazon algorithms to Bookbub ads and running price promotions, let us know in your profile how you will help authors meet their sales goals. 
Translators
To avoid things getting lost in translation and help authors reach a wider market of readers, it's absolutely necessary that our translators are qualified and certified to do the job. To join us as a translator, you need to have:
At least 3 years of experience as a translator of one of the following language pairs:

English <> German
English <> Italian
English <> French
English <> Spanish
English <> Portuguese

Experience translating a minimum of 5 published books that are well-reviewed on Amazon, Goodreads, Apple Books, or Google Books (for each language pair you offer).
Ideally, you can also deliver an edited and proofread translation — either yourself or by working in tandem with other professionals in your network.
Web designers
Unlike our other professions, we do not require (though we highly encourage) that the web designers we feature on Reedsy have publishing-specific experience. However, they must have:  
At least 3 years of professional experience as a web designer;
A strong portfolio of active websites with appealing designs and geared towards conversion; and
Knowledge of at least one of these CMS platforms: Wordpress, Shopify, Wix, Squarespace, ExpressionEngine, Ghost, Joomla.
With that said, if you cannot meet one of the above criteria, your application may still be considered if you can demonstrate a familiarity with the publishing industry and a strong portfolio that includes book or author websites.
Supplement your application
While we abide by our selection criteria in the majority of cases, we do allow room for some flexibility. In the same way as web designers can supplement their applications, we may consider editors, designers, ghostwriters, marketers and translators who do not meet one of the the minimum criteria, as long as they can demonstrate at least one of the following:
Significant experience working for a renowned traditional publishing company.
History of high-quality work with a bestselling author, or on a bestselling book.
Receipt of a distinguished award in your field.
There are also other ways you can strengthen your profile.
Make your profile stand out
Some of our editors have worked on books by authors such as Ken Follett, Isabel Allende, George R.R. Martin, Hugh Howey, and Suzanne Collins. It's not necessary to have big names in your portfolio, of course, but do be sure to include your work experience along with concise explanations of your duties so that we can make a fair decision.
For designers, it's ideal if you can also include photos of books in the same genre as the ones you hope to work on. Your profile should display all of your strengths with regards to working in your preferred genre. 
We do our best to ensure that all information entered by professionals on their profiles is accurate. Often we'll verify our professionals' portfolios by searching books' "acknowledgements" sections for mentions of their editors and cover artists.
Once you've met all the basic and additional requirements, we'll get you activated and on-boarded onto our marketplace!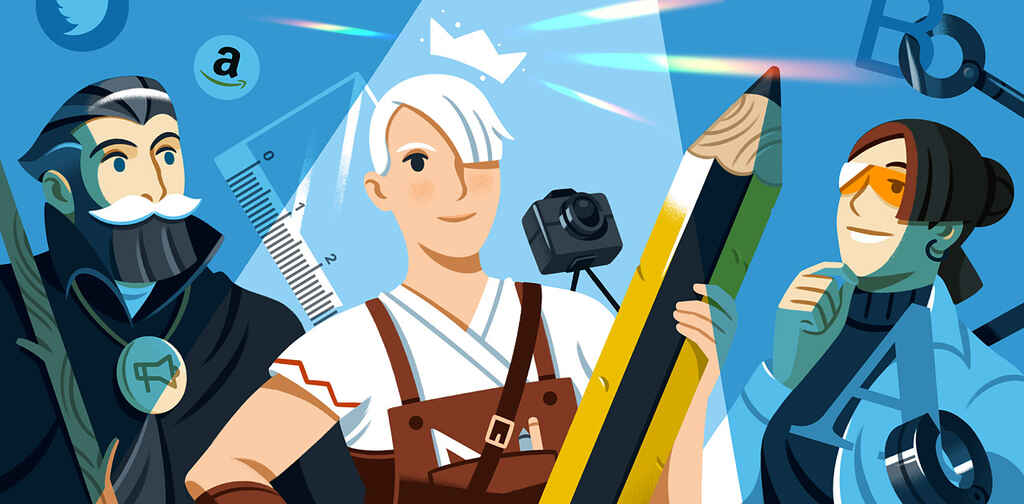 Reedsy Profile Checklist
Make sure you tick all the boxes on your Reedsy profile by referring to our handy checklist.
Maintain the high standard
So, once you're in, you're in forever? Well, not quite. Our curation work doesn't stop once the professional has been accepted based on the information provided on their profile. After activation, we closely monitor our professionals' work through Reedsy and regularly survey our authors at the end of their collaborations.
On rare occasions, we will have to deactivate users because of unprofessional behavior. This includes being consistently unresponsive to clients and delivering low-quality work. Reedsy acts as a third-party guarantor for authors in their collaborations on the platform, so it is our duty to monitor all work done to make sure that agreements between authors and professionals are upheld.
Our team also keeps an eye on the marketplace to ensure we have sufficient professionals listed and available in each genre. With over one million authors in our community, we are always welcoming new professionals onto the platform, so if you meet the requirements, sign up today; you'll be getting requests for your service in no time!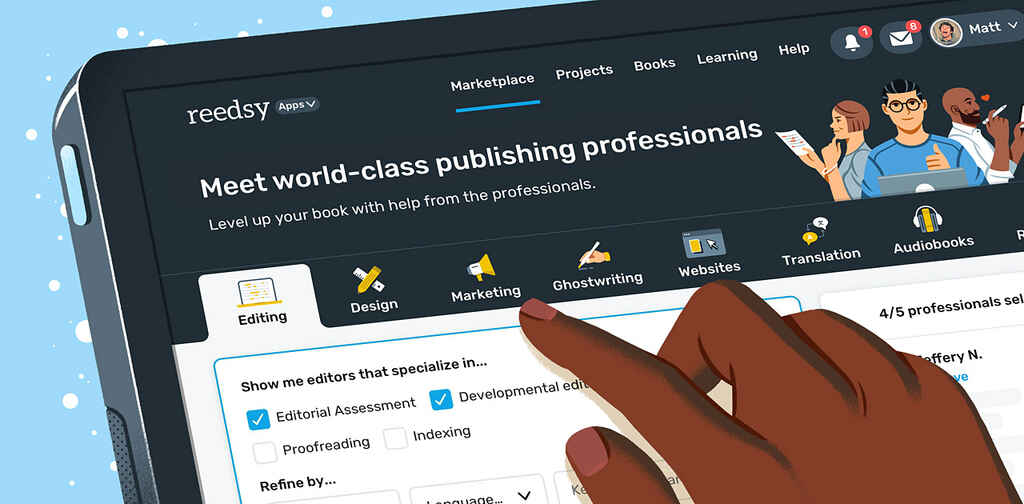 Supercharge your freelance career
Find projects, set your own rates, and get free resources for growing your business.
---
For more tips on how to be a better freelancer in publishing, follow us on LinkedIn.