Last updated on Mar 17, 2023
Book Cover Sizes: What are the Right Dimensions for Your Design?
When we talk about book cover design, we often focus on the color palette, typography and use of images. What we rarely mention are the dimensions of the cover. But getting the right dimensions for your book's cover is an important part of creating a professional looking book that fits in on readers' and bookstores' shelves — while standing out, of course. 
The most common dimensions for paperback books are:
Fiction — 5.5" x 8.5" or "6 x 9"
Memoir — 5.25" x 8" or 5.5" x 8.5"
Children's picture books — 7.5" x 7.5" or 10" x 8"
But on top of these paperback conventions, there are a whole variety of print sizes to wrap your head around; genre paperbacks, ebooks, hardcovers, and even audiobooks all require particular cover sizes. In this post, we'll look at the standard sizes of book covers in publishing and help you decide on the right dimensions when creating or commissioning your own design.
Psst — take this short quiz to find out how much it would cost you to get a professional book cover design. Our data is based directly on real quotes from the Reedsy marketplace.
💸
What will it cost you to get a professional book cover?
Find out here! Takes 30 seconds.
Paperback cover sizes
If you intend to create a physical version of your book, either by POD (Print on Demand) or by sending off for a print run, then your cover dimensions will largely be determined by your trim: the size and shape of each page. Depending on where you're based, this will be measured in inches or millimeters.
Choose the right trim size first
When choosing a trim size, bear in mind:
How it will affect your printing costs. Printers will charge more per-page when the trim is more substantial. However, it may also mean fewer pages, which could reduce the cost.
That each category has its standard book sizes. If you aim to create a title that (literally) fits the market, you may wish to adhere to the standards of the genre.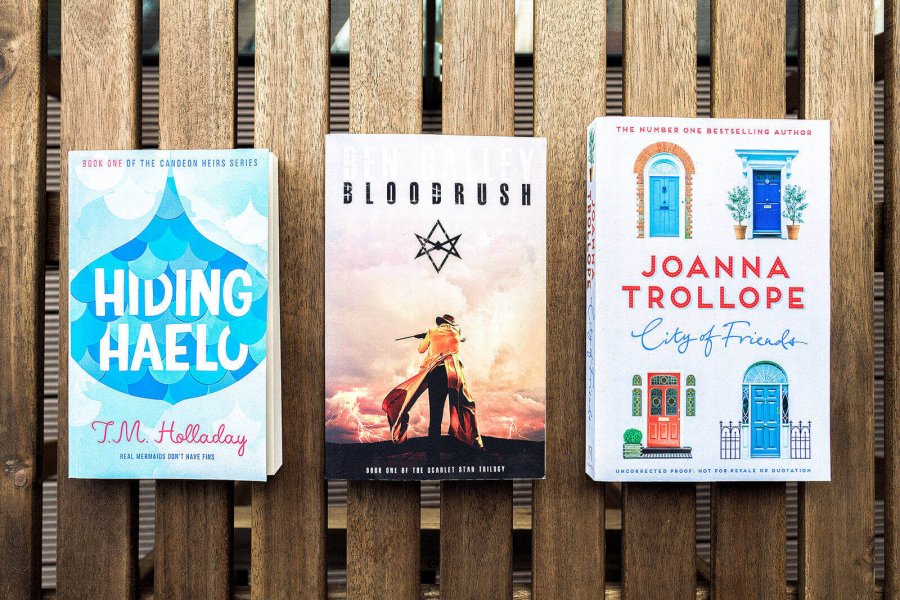 If you have any intention of selling print books, look through this post on standard book sizes. It will provide you recommended proportions for most major categories including novels, non-fiction, and picture books. Here's a primer of the most common paperback cover sizes by genre:
| | |
| --- | --- |
| Genre | Standard dimensions |
| Fiction | 4.25" x 6.87", 5" x 8", 5.25" x 8", 5.5" x 8.5", 6" x 9" |
| Novella | 5" x 8" |
| Children's | 7.5" x 7.5", 7" x 10", 10" x 8" |
| Textbooks |  6" x 9", 7" x 10", 8.5" x 11" |
| Non-fiction | 5.5" x 8.5", 6" x 9", 7" x 10" |
| Memoir | 5.25" x 8", 5.5" x 8.5" |
| Photography and Art | Whatever you see fit! |
As we mentioned, your front cover of your paperback will be the same as your trim size. The actual dimensions of the cover design file you submit to printers will be determined by these numbers, but taking into account a couple more variables.
Calculating the dimensions of a paperback cover file
Just about every POD services in the world will require you to submit a cover design that includes the front cover, the back cover, the spine, and bleeds.
Major printing companies like KDP Print and IngramSpark provide cover calculators on their websites to generate dimension guidelines specific to your book. Broadly speaking, these dimensions will take into account:
Width
Trim width x 2 — front and back cover
Spine width — determined by page count and paper thickness
Bleed x2 — an extra bit of design to allow for small printing errors (usually 3mm)
Height
Trim Height 
Bleed x 2 (again, 3mm, typically).
The good news is, if you're using a professional designer, they will take all this into account for you. But if you're making your own cover, you can look for templates on whatever design software you're using, and make sure that the settings match up with your printers' specifications.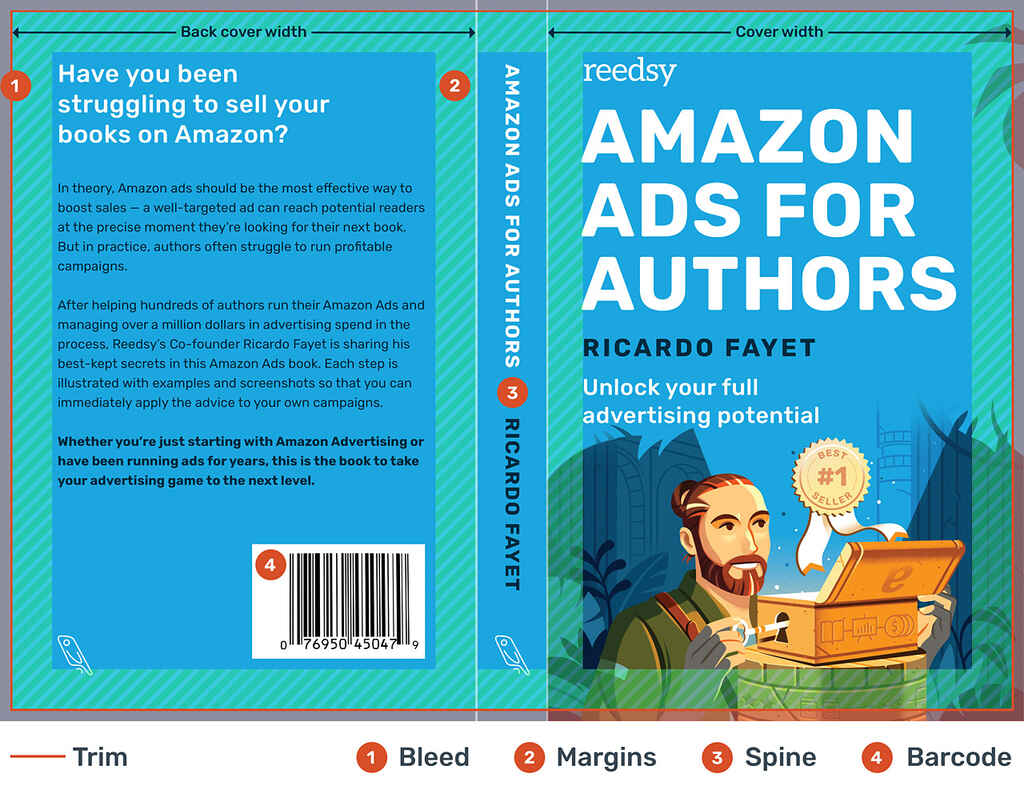 Hardback cover sizes
Hardcover books generally fall between 6 x 9" and 8.5 x 11", although there is a certain amount of variety. In between. As with paperback printing, hardcover book cover dimensions will be determined first and foremost by trim size, but there are other elements at play when choosing the dimensions for your final cover. 
Calculating the dimensions of a hardback cover
When creating a hardcover design, the size requirements may vary significantly from printer to printer even more so than when creating a paperback. Again, pay close attention to the guidelines provided by your printer and take advantage of their cover calculators. To give you an idea of the how a hard cover designed is pieced together, here are the elements that have to be taken into account:
Width
Trim width x 2
Margin x 2 — Hardbacks have covers that are larger than the paper size
Wrap x 2 — The area of the cover that extends past the hard board and is glued inside the cover (commonly 15mm)
Spine width — Again, determined by page count and paper thickness
Hinge — The part of the cover that folds over when you open the book
Height
Trim height
Margin 
Wrap x 2
These dimensions work when creating a conventional (or 'case laminate') hardcover book. If you'd like to introduce a dust jacket to your design, then you will need to take that into account, too.
Give your book the cover it deserves
The best book designers are right here on Reedsy. Sign up for FREE and meet them today.
Learn how Reedsy can help you craft a beautiful book.
Calculating dust jacket dimensions
Like tailoring a dinner jacket to fit your body, the key to creating dust jackets lies in careful measurements and design. You won't need to account for wrap, but will need to adjust for bleed, and add in the flaps, which may contain your blurb and the author bio.
Your printer will ideally provide you very precise specifications, based on your page count, paper stock and trim size — but these are the calculations involved:
Width
Trim width x 2
2 x Margin. 
Spine width — plus a little extra for the hinge
Flaps x 2. Conventionally, these will be between ⅓ and ½ the width of your trim size.
Bleed x 2. Most printers will request  a 3mm bleed size to allow for errors.
Height
Trim Height.
Margin x 1. 
Bleed x 2.
Ebook cover dimensions
As ebooks are meant to be read on a range of devices, there's no way to talk about their real-world physical size. However, the average e-reader screen (Kindle, Nook Simple, and iPad) has an aspect ratio of 1.33:1 — which means that for every 100 px (pixels) of width, there will be 133 pixels of height. This is equivalent to the shape of your old, standard definition TV turned on its side. 
Few publishers bother creating a cover that perfectly fits the Kindle. Each device will center the cover design seamlessly and, more often than not, the reader will never actually see it on their e-reader. So, instead of focusing on how your cover design will look on an ebook reader, consider how it will look on the retail platform. A book cover has to make an impact as a thumbnail if it has any hope of doing its job. Therefore, the aspect ratio is critical.
KDP's recommended size (2,560 x 1,600px)
The Amazon store is very flexible when it comes to the range of cover sizes that authors can upload to their product page. However, they do issue this recommendation:
The ideal size of your eBook cover art is a height/width ratio of 1.6:1. This means that for every 1,000 pixels in width, the image should be 1,600 pixels in height. To ensure the best quality for your image, particularly on high definition devices, the height of the image should be at least 2,500 pixels. Ideal dimensions for cover files are 2,560 x 1,600 pixels.
1.6:1 is a ratio you will see in paperback fiction — especially with the smaller, mass-market formats. You might notice, however, that it results in a 'thinner' design than you would expect from most novel covers on Amazon.
Other options for ebook covers
Publishers will commonly display a novel's original hardcover design on the book's Kindle page — and those designs often have a 1.5:1 ratio. It's a bit 'wider' than Amazon's recommended size, which offers more 'real estate' for the design, and this is extra-critical when you're displaying them in thumbnail form. To use the 1.5:1 ratio, we recommend setting your cover's dimensions to 2500 x 3750.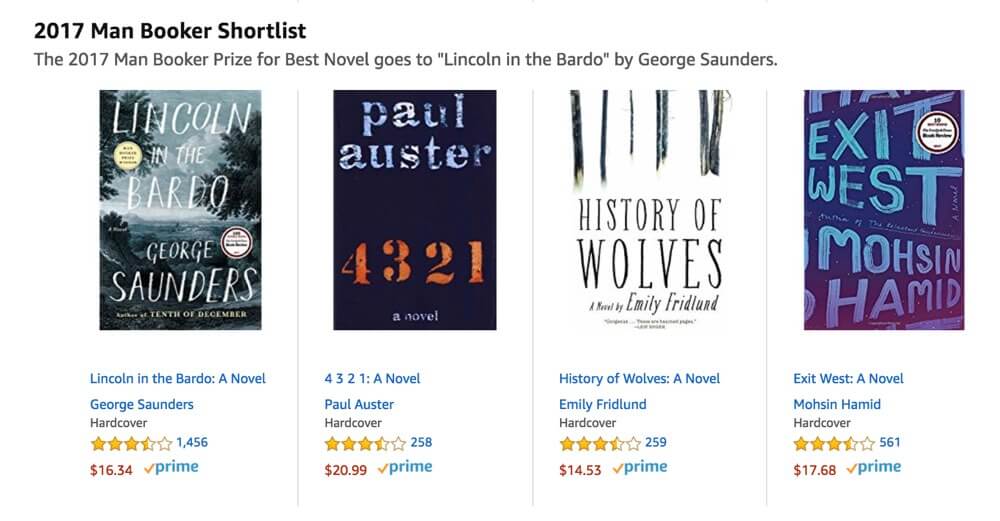 In general, illustrated titles such as photography, art, and cookery books tend to have a 'wider' trim which lends itself to the imagery. As a result, they tend to have covers with a 1.4:1 or a 1.2:1 aspect ratio, as you can see in the cookbooks below: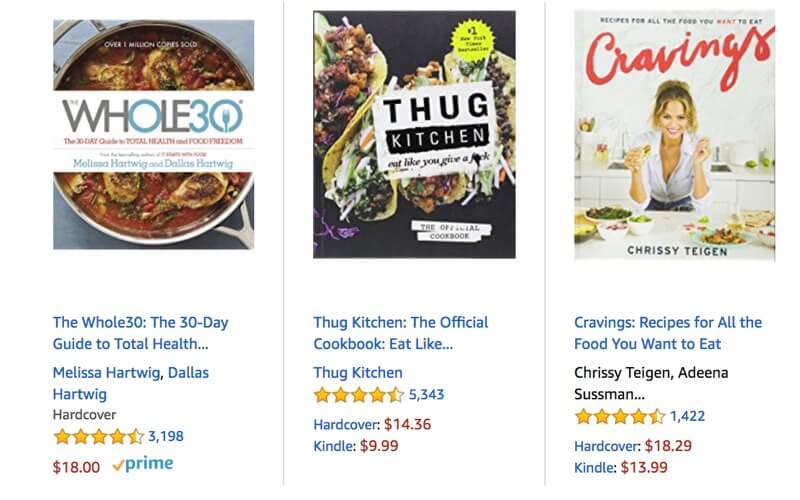 For these sorts of books, the artwork is a massive selling point — and these two formats can help the cover photography stand out. We recommend the following dimensions:
1.4:1 ratio —2800 x 3920px
1.2:1 ratio — 3000 x 3600px
Choosing the right resolution
To make sure your cover looks great, you will want to make sure your resolution is high enough to be clear, while also meeting your platform of choice's resolution requirement. Here's Amazon's advice:
Cover image must be less than 50MB in size. 
Avoid compressing your files as this can affect the quality of your cover when displayed on reading devices. 
Images should have a minimum resolution of 300 PPI (pixels per inch).
Audiobook cover dimensions
If you're making an audiobook, congratulations on entering the fastest-growing sector of publishing! When it comes to deciding what size to make your audiobook cover, the work has already been done for you.
Audible's recommended size (3200 x 3200px)
Audiobook covers have a 1:1 aspect ratio, which some people might describe as "a square." This is a throwback to ye olde days when people listened to books on CD.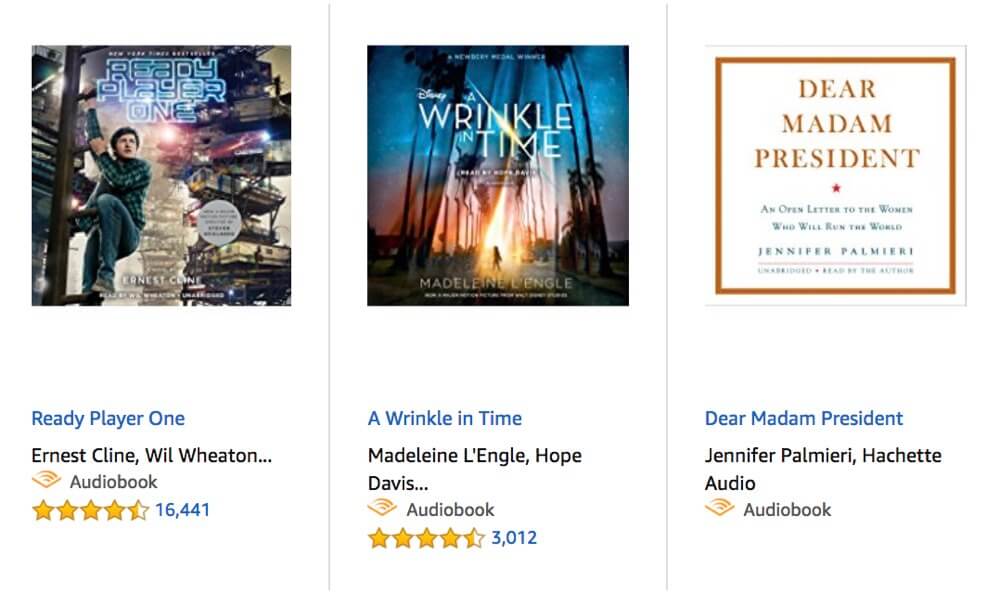 In a lot of cases, indie authors will make the decision to record an audiobook after the launch of the original book. This sometimes leads to the audiobook cover simply being a 'cropped' version of the paperback design. We would urge you, however, to work with your original designer on amending the design for audio. That way, they can re-adjust the type and imagery in a way that's best suited to a square design.
When designing your audiobook cover for retailers like Audible, we suggest setting your cover's dimensions to 3200 x 3200.
Free course: Book Design 101
Learn the fundamentals of book design, from creating beautiful covers to formatting and typesetting professional-grade interiors. Get started now.
We hope this post has served as a helpful introduction to book cover sizes. Want to learn more about cover design? Check out this complete guide to book cover design on the Reedsy blog.