Stepping Back From My Company To Become a Full-Time Mystery Novelist
JD Shiner enjoyed a twenty-eight-year career in the world of wireless data communications and now writes full-time. He is an expert on developing technologies, fiber transmission, firearms, fast cars, and thriller fiction. In this guest post, JD talks about his decision to take a break from the world of telecommunications in order to become a full-time novelist, and shares his advice for other writers looking to do the same.
After graduating university with a degree in Communications, I made a career in the fiber technology sector for 28 years — specifically, in long distance fiber telecommunications. Along the way, I developed the ability to express myself persuasively using the written word for reports, white papers, analysis updates, and consulting summaries. Writing always came easy for me. It was never a chore.
>Friends and colleagues would often tell me they enjoyed reading my work and that I should write a book. Over the years, I began keeping notes on various ideas that came to me for a good story. In my spare time, I would work on these ideas and develop them into tangible formats. I now have 26 of these unfinished manuscripts. The problem was that I could never finish any of the stories; life kept getting in the way. Time constraints set by family, business, and civic responsibilities took up all my quality writing time.
Taking the plunge: becoming a full-time novelist
In January of 2015 I made a decision that changed the trajectory of my life: I took a sabbatical from my technology consulting business to work full-time on writing a book. Manuscript #27. 
My wife was very supportive. We knew it would be risky; we had a window of about twelve months to complete the project before our allocated budget expired.
In the beginning, it was extremely stressful. I went through alternating periods of elation, depression and self-doubt. Although skilled in the ability to express my ideas through the organization of words, sentences, and paragraphs, I knew absolutely nothing about novel writing or publishing.
Stephen King's novel-writing tips 
I have always admired Stephen King as a writer, especially his earliest novels. In 1997, when he was laid up in bed for months (the consequence of being hit by a car while he was out walking), his wife encouraged him to start writing again. The results of those efforts are the volume entitled, On Writing. In it, Stephen King details his daily regimen for serious writing which includes the following:
A commitment to read a lot-write a lot
A private place to write with a door that can be closed
A goal to write a specific number of words every day
Although I was not able to follow his regimen to the letter, I did take his advice and set myself up on a modified version of it. For instance, Stephen King states that he likes to write 3,000 words per day. I only wish I could write that many! My goal was 1,000 words per day when I started. Some days I did more, some days less.
Self-publishing manuscript #27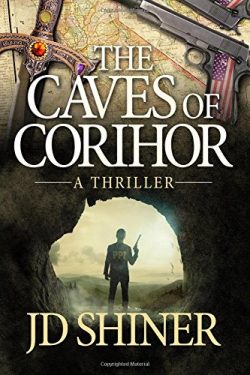 By the end of nine months I had the first draft of my novel completed. The Caves of Corihor, my 27th manuscript, was finished and ready to be taken off the 'unfinished' stack.
But now what to do? My beta readers confirmed to me that it was a viable concept and seemed to like the book. I knew I needed help with the editing but didn't know where to turn. I didn't want to try the traditional publishing route because of the extended time frame required to get to market — and that was if I could even find a publisher willing to make me an offer. I was at a definite crossroads.  A marketing friend of mine in our IT consulting business mentioned to me that I could self-publish the book. What a concept! I decided to do some research on the subject.
My research journey eventually led me to the Reedsy website. I couldn't believe it. Here in one place were all the professionals I would need to help me get my book completed. I started vetting the content editors and selected five of them, after which I was offered a no-charge edit of the first chapter of my manuscript from three of the professionals. Based on that sample edit, I selected the editor best suited for my genre, agreed upon a price for the service, and set up the collaboration online. Easy-peasy.
I went through the same process for cover art, proof-reading, formatting, and now marketing. I've used a total of four Reedsy professionals to assist me in publishing "The Caves of Corihor". The whole process from first content edit to publication on Amazon took six months. The book went live on Amazon in both print and eBook and has been doing well in both formats. It's received mostly five-star reviews, two of which are from the Readers Favorite group.
Now I am working on book two of the "Caves of Corihor" trilogy, and hoping the rough manuscript will be completed by spring of 2017. We will see!
My own novel-writing tips
Writing full time has been extremely challenging for me. It has also been extremely rewarding. I won't pretend to advise any aspiring author one way or another on taking the plunge. That is a very personal decision not to be taken lightly. But I will say that it was the right decision for me.
In the end, these have been my takeaways from this fulfilling experience:
Have a budget for how much you are willing to spend for editing, artwork, proofreading, formatting, etc. Stick to the budget.
Be committed to the project. Have a specific goal for number of words written daily.
As Stephen King suggests, write in a private place with a door you can shut. Make sure you are not disturbed during the times your writing-place door is closed.
Make time for physical activity to help recharge the cerebral energy you use while writing.
Never give up. Read a lot. Write a lot.
---
The Caves of Corihor is available on Amazon for Kindle and paperback.
Are you a full-time writer? Are you thinking of becoming one? What has the journey of deciding to devote yourself to your craft full-time been like? Leave your thoughts, experiences, or any questions for JD in the comments below.