Last updated on Sep 21, 2023
How to Publish a Children's Book [+ Submission Kit]
Publishing a children's book can be one of the most exciting and interesting things for new authors to get involved in. But while picture books and early readers may be shorter than titles for adult readers, the market is just as competitive — if not more so.
In this guide to children's publishing, we'll show you the best steps for getting your books in the hands of young readers.
How to publish a children's book in 7 steps:
Before we start, download our free book submission kit for all the resources you need to publish your book.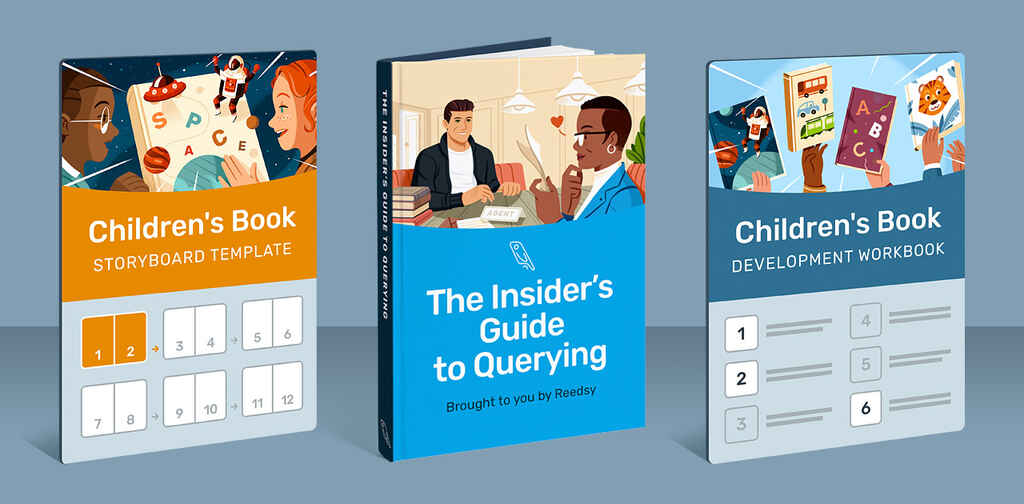 Children's Book Publishing Kit
Turn your idea into a book with our workbook, picture book template, and query letter template.
Okay. Let's get going.
1. Write a book that kids love
Knowing your audience is essential when you're writing your book and crucial when you're selling it. The first thing a publisher wants to know is whether it's the kind of book they can sell — and the first question they'll ask is, "What age group is it for?"
The answer cannot be too broad. Your book may have a massive appeal, but editors will usually despair if they hear that your target audience is "children of all ages." By identifying your book's specific readership, you'll also be better placed to edit your manuscript in line with industry expectations.
Stay within your category's word count range
Modern editors take word count quite seriously. They rarely have time to thoroughly edit the books they acquire, so if you've written a 200,0000-word middle-grade opus, most editors will think, "Who needs that kind of stress?" and give it a hard pass.
Broadly speaking, children's fiction is divided into four categories:
Picture Books: under 6 years old, under 1,000 words
Early Readers: 6+ years old, 2,000 to 5,000 words
Chapter Books: 7-9 years old, 5,000 to 10,000 words
Middle Grade (MG): 9-12 years old, 30,000 to 50,000 words
Young Adult (YA): 12-18 years old, 50,000 to 100,00 words
If you want to learn more about writing for each category in children's publishing, sign up for this free online course on Reedsy Learning.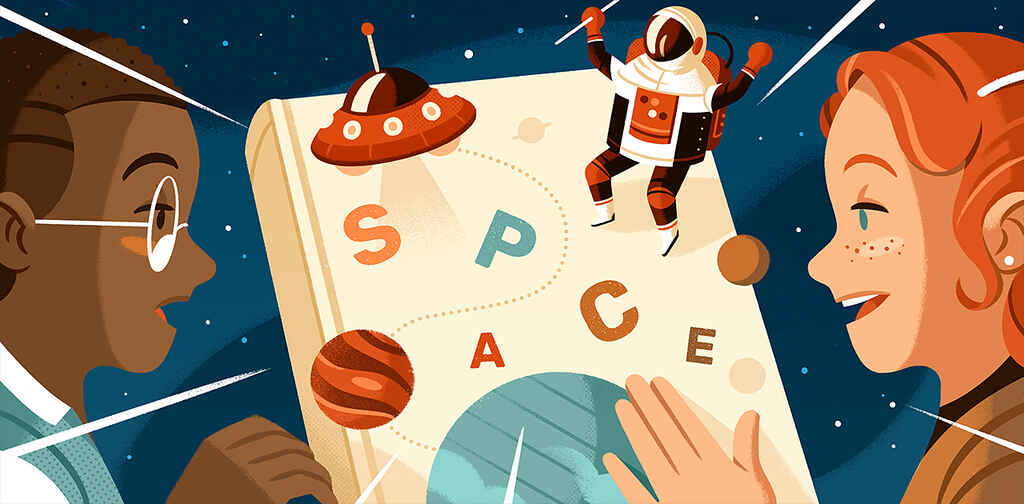 Children's Books 101
Learn the ABCs of children's books, from audience to character and beyond.
Once you've figured out what age you're writing for (and how many words you're dealing with), it's time to do some snooping.
Head to the bookstore and get to know your market
You want to see firsthand what bookstores are selling and promoting. Scanning Amazon's Best Sellers list is fine, but going into a Barnes & Noble or a Waterstone's will give you a much better idea of ongoing trends. Brick-and-mortar stores still make up a large chunk of the children's market, and — more so than with adult books — most parents still prefer them over online retailers.
So put on your spy hat and go on an intelligence-gathering mission to the children's section of a large bookstore. Locate the shelf where your book belongs (i.e., picture books, middle grade) and take notes on
Which authors are popular in your category;
What topics and themes seem to be trending; and
Which publishers are putting out these books.
You can easily scan through all the major titles in your category and determine which ones your book will compete with.
In publishing, we often talk about "writing to market," which naysayers interpret as "cynically imitating successful books." But really, it's about understanding the tastes of readers and publishers. You want to know what your audience has read before so you can either play to certain tropes or subvert them.
Tip: Sign up for the Children's Bookshelf newsletter at Publisher's Weekly to stay current with developments in the market (including the latest titles).
2. Hire a children's book editor
Many authors get children to read their manuscripts. Kids are brutally honest, making for some of the best beta readers. Parents are also great for feedback — they're the people who will actually buy your book, so their reactions can help you gauge whether the book is suitable for the market.
Once you've exhausted the patience of your friends and their kids, there are some other places you can turn to for feedback:
Joining a writers' community can make all the difference in your burgeoning career. Once you've established yourself as an active and giving member, you will find it much easier to find beta readers or ask for a referral to an agent or publisher.
Consider a professional editor
A professional editor doesn't just improve your storytelling and fix your grammar — they also help you understand whether you're writing for the right audience. Those with the proper experience will make sure your book adheres to the standards and unspoken rules of the trade, and often guide you through the process of submitting your manuscript.
🖋️
What kind of editing does your book need?
Takes one minute!
Many freelance editors on Reedsy have worked for the world's largest publishers, so they know precisely what acquiring editors are looking for. Their help can prove invaluable, so you should definitely consider getting a pro editor for your children's book. You can learn more in this article about working with professional fiction editors.
Tip: Editing costs are often based on word count. Picture books and early readers are short, so a professional edit can be surprisingly affordable.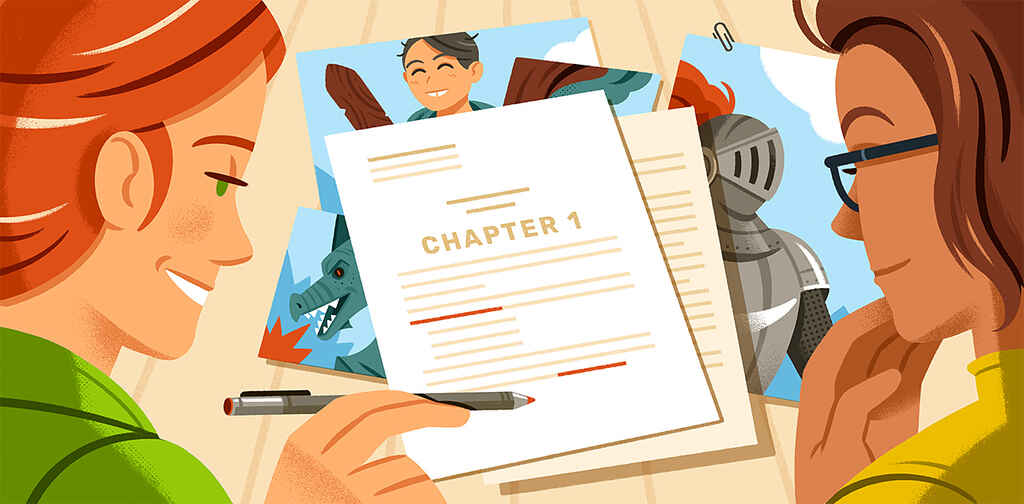 Make your story sing
Work with a professional children's book editor to take your book to the next level.
Don't illustrate your book yet
Unless you're already a professional illustrator like Raymond Briggs (The Snowman) or Jon Klassen (I Want My Hat Back), don't worry about illustrations. Don't do it yourself, and don't get your spouse, child, or college roommate to do it. Don't even provide guidelines. Publishers will have a long list of illustrators on their books and they'll want a hand in choosing them. Again, unless you are a pro illustrator who can do the job, submitting sketches or guidelines will only work to your disadvantage.
Now, assuming you've polished your manuscript to within an inch of its life, let's sell this thing!
3. Query literary agents
The most straightforward way of selling to a publisher is to first secure a literary agent, a professional whose job is to sell your book to a publisher and negotiate the best deal on your behalf. 
Most publishers don't accept unagented manuscripts
"Publishers who accept unagented submissions are pretty rare nowadays," according to Anna Bowles, a former commissioning editor at Hachette. If you want to be considered by most medium-sized and major publishers, querying agents will be at the top of your priority list.
Research agents looking for children's books like yours
To help you get started in your search, the team at Reedsy has created a vetted directory of over 200 children's agents who may be open to queries. You can also take the old-fashioned approach to agent-hunting: find out who represents your favorite children's authors by checking their websites or acknowledgments pages.
Whichever way you choose to look for agents, you'll want to make sure that they're suited to your book. With that in mind, here are two tips:
Only submit to agents who handle kid's authors. Too many authors don't do their research before they query an agent. Don't waste your time contacting agents who only handle adult titles or books that are way out of your category. Again, if you go through our directory of experienced children's book agents, this shouldn't be a problem!
Know where your book fits into their list. If the agent already has a few unicorn-based picture books on their list, mention how your unicorn picture book will sit nicely alongside them. If they don't have any unicorn books, say how your book can add depth to their list.
🖋️
Are you ready for a literary agent?
Find out here! Takes one minute.
Sharpen your query letter and sell them on YOU
A query letter for a children's manuscript, even a picture book, is not so different from any other kind of fiction query letter. It's a letter "querying" whether an agent is interested in representing you. Ideally, it is a one-page note with an "elevator pitch" that sells you and your book. It should succinctly explain the following:
Where your book stands in the children's publishing market;
What makes your book unique; and
Why you and the agent are perfectly suited to each other.
You want to make an impression. New writers will sometimes try to stand out by doing something crazy like filling the query letter envelope with glitter to show that they're "young at heart," but those guys are more likely to get arrested than represented.
If you're looking to maximize your chances of standing out from the countless other writers reaching out to agents, you can always get a query letter review from the editors on Reedsy — many of whom have worked as literary agents.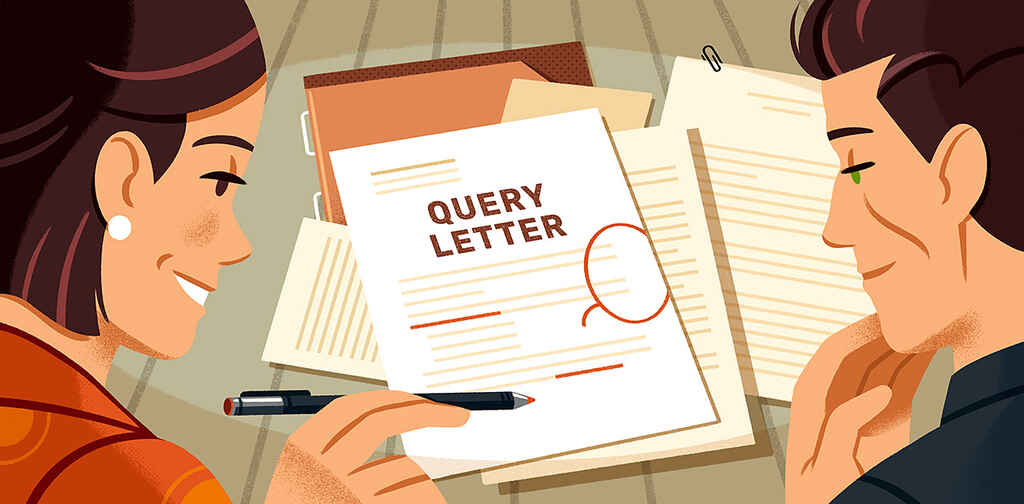 Agents and editors are on Reedsy
Meet experts who know what makes a query stand out.
If, for any reason, you don't get representation, all isn't lost. There's still another way to land a publishing deal.
4. Submit your children's book to publishers
Without an agent, you should search for publishers accepting "unagented submissions."  To give you a starting point, Reedsy has a vetted directory of children's book publishers currently accepting submissions! From fiction to nonfiction, picture books to middle grade, you'll surely find the perfect fit for your own beloved children's book.  
Search for imprints that accept unagented submissions
Certain major publishers have imprints that sometimes accept direct submissions. For example:
When "Big 5" presses say they're open to submissions, they often won't reply to an author unless they're interested in publishing. So be ready for silent rejection!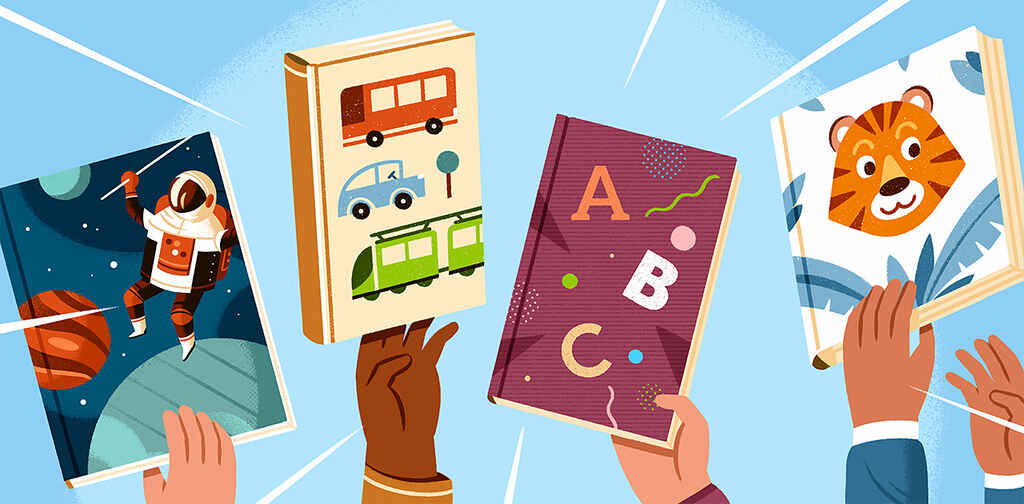 Dazzle children with design
Enchant kids and their caregivers with a professionally designed book.
Small and medium presses may be your best bet
Smaller independent publishers are more likely to show interest in unagented submissions. It's just a matter of finding the right ones. Here are a few resources to help you stay on top of your submission game:
In your search for a publisher, just remember that not all publishers are what they claim to be. If a publisher wants you to pay to publish your book, just run away. The publishing landscape is infested with vanity presses, looking to prey on the dreams of inexperienced authors.
How much can you expect to get paid? Children's authors can expect an advance of between $5,000 and $10,000 on their first book, with subsequent royalties of around 7% for printed books and up to 25% on ebook sales. Picture book royalties are split between the writer and the illustrator — and often in the illustrator's favor.
Statistically, most published authors don't make enough from their books to write full-time. If you see children's publishing as an easy way to make big bucks, you're setting yourself up for disappointment. But if you have an original idea for a story, the creativity to make it unique and enjoyable, and the drive to see it in the hand of your readers, then you can almost certainly get it published.
5. Keep self-publishing in mind
Now that you know the process behind traditional publishing, perhaps you're curious about the alternative: indie publishing. Once considered a last resort for authors unable to find a suitable press, self-publishing a children's book is to retain creative control over your project and not have to wait for the decisions of traditional gatekeepers.
Before committing to any publishing route, it's worth seeing what advantages and pitfalls await you.
The pros of self-publishing children's books
Complete creative control. You're the boss. You can decide how long your book is and you can approach the subject matter in whatever way you see fit. You can also pick your own illustrator (or choose to do it yourself).
Larger portion of royalties. Selling your book directly through platforms like Kindle Direct Publishing allows you to keep anywhere from 50-70% of the sale price (compared to 5-20% for traditionally published books).
Guaranteed publication. Ultimately, if your goal is to publish a children's book, to only way to ensure this happens is if you do it yourself. Also, a traditionally published book can take at least a year to hit the shelves. Self-publishing allows you to work to your own timeline.
The challenges of self-publishing children's books
The author foots the bill. In the traditional model, the publisher pays for the book's editing, design, production, and marketing. If you choose to go the indie route, you will be the publisher, so the upfront costs will fall to you.
Print costs can keep your profits slim. The most successful self-published authors tend to make most of their profit from ebooks, where the distribution costs are minimal, and the royalties are high. Picturebooks, however, are still very much a physical medium, so you will be relying on sales of printed editions.
Getting stocked in libraries and stores. Because children's books are such a print-forward category, readers and their grown-ups tend to discover new authors on the shelves of libraries and chain bookstores. Indie authors may find it harder to get instant nationwide distribution, so they must focus their efforts on independent stores and online marketing.
Getting your book illustrated as an indie author
If you're thinking about self-publishing your children's book and curious about how much an illustrator may cost you, we recommend taking this quick 10-second quiz below that will give you an estimate based on real data.
💸
What will it cost you to hire a children's book illustrator?
Find out here! Takes 10 seconds.
And if you'd like a personalized recommendation to find an illustrator who matches your style, we also recommend taking this quick quiz!
🎨
Which children's book illustrator is the best fit for your book?
It'll only take a minute!
If you want to know more, check out our guide on how to self-publish a children's book.
6. Build word-of-mouth via reviews
All books need reviews whether traditionally published or self-published, and children's books are no exception.
The trick, however, is getting reviews from the right people.
Parents rely more on reviews when buying books for their children than when they're doing it for themselves. They want to see what other parents think, how other children have enjoyed it, and whether the subject matter is appropriate for their own kids.
Even more so than with a self-published thriller or romance novel, a picture book with no reviews will really struggle to sell — and will be impossible to place in a library or bookstore. To learn how to get reviews for your book, check out this post.
7. Keep marketing to grow sales
As we mentioned earlier, regardless of whether they're self-publishing, children's authors are expected to do a significant share of the marketing work. 80% of the time, marketing "kidlit" is the same as marketing any other book. There are dozens of great book marketing ideas for you to mine — from creating a mailing list to running promotions with other authors.
In this section, we'll focus on the other 20%: the marketing techniques unique to children's books.
Go where your reader's parents hang out online
Blogs, Instagram, Facebook Groups, Twitter, Reddit. These days, most parents of young kids are millennials. As a result, they will rely on the internet for almost any kind of recommendation (another generalization, admittedly).
Search through Facebook for children's book groups, or groups that might be concerned with the topic of your book. If you've written a picture book about fire trucks, you can bet there's a Facebook group of people (or people with kids) who love fire trucks.
Share pictures of your book on Instagram or Twitter using relevant hashtags that either deal with your book's topic (#unicorns #firetrucks) or tap directly into your audience (#mommylifestyle #picturebooksaremyjam).
Work with an influencer
You will have likely heard of the term "influencer," most commonly used to describe YouTube or Instagram personalities who get paid by brands to promote products. While it's not a bad idea to reach out to any of these people whose interests align with your book, remember that influencers come in many forms!
Yvonne Jones wrote a picture book about a monster truck (Lil' Foot the Monster Truck), and to promote it, she reached out to Bob Chandler, creator of Bigfoot and originator of the monster truck sport. He liked the book and gave her a short review, which then helped get her foot in the door with various monster truck associations and blogs.
Similarly, if you can identify someone with some clout amongst people who might buy your book, then politely reach out, introduce yourself, and offer to send them a copy.
Harness the power of school visits
Most schools will welcome visits from authors — some schools even set aside an annual budget for it. So why not contact an administrator or a librarian and ask what you can do for them? And if you're doing the school visit for free, Jones suggests selling some copies.
"Follow up your first email with a phone call to let them know that you visit local schools for free, in return for the school sending slips home, offering the chance to buy signed copies of the book."
Of course, there are plenty of other marketing avenues to pursue — many of which you can learn about on Reedsy's free children's book marketing course.
---
Ready to continue your journey into the world of children's publishing? Check out our next post in this series which will show you how to query agents with your manuscript.