How to Plan a Successful Book Launch in 6 Easy Steps
Hitting 'publish' on a book you've spent months (or years!) writing is a moment you want met with a bang, not a whimper. To that end, if you want people to read your new publication, you need to direct their attention to it. And that's where planning an effective book launch comes in.
Unless you're Beyonce, your pre-launch strategy should focus on making your book discoverable to new readers, as well as letting existing fans know about your latest title. While many authors tiptoe around this kind of book promotion — either because it seems overwhelming or like an endeavor that taints artistic expression — to build a self-publishing career, you'll need to get comfortable with the more entrepreneurial side of publishing.
We're here to help you do just that! In this post, we break down the six key components of launching a book. To jump straight to our free book launch checklist, click here or download it directly below!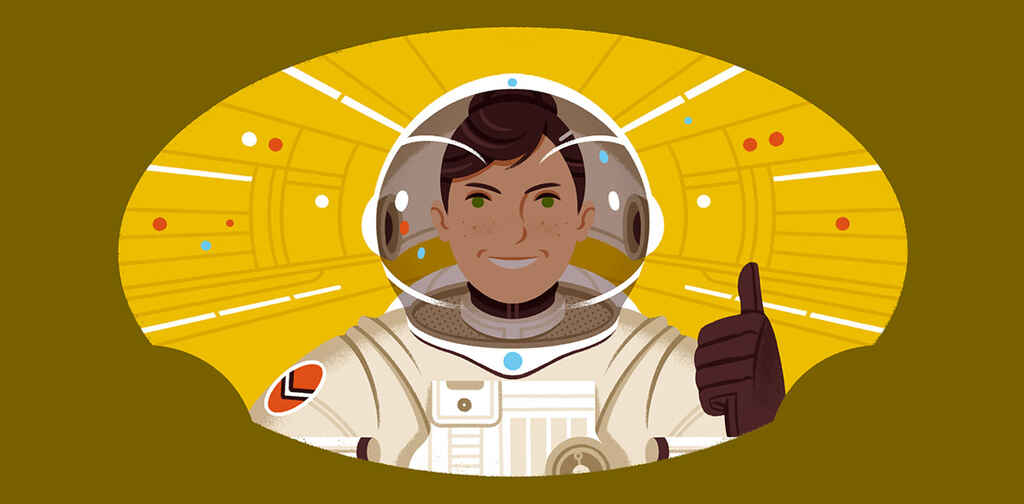 Reedsy's Book Launch Checklist
Launch your book successfully with our tried-and-true strategies.
1. Launch your book with a price promotion
In self-publishing lingo, a price promotion is when you discount your book for a short period of time, during which you engage in concentrated marketing activities. There are two main benefits to launching your book with a price promotion:
Attracting new readers. If you're an indie author just getting your feet wet in the publishing world, chances are you don't have much of a following yet. Perusing readers are much more likely to take a chance on an unknown author if their book is heavily discounted (or free!).
Discoverability. The primary goal of a launch is to give your book as much visibility as possible while it's still new. One of the best ways to do this is to land your book on Amazon's Best Seller list, as this is a heavily populated browsing-reader zone. The more copies of your book you sell, the more Amazon will feature it in its top charts, and the more copies you'll sell, so on and so forth — it's a cycle you definitely want in on!
Learn more about how to get your book on the Best Seller list in our post on selling ebooks on Amazon.
Launch at free to score reviews
As we mentioned earlier, book reviews are an incredibly powerful sales tool, as they provide prospective readers with social proof that other people are reading (and, ideally, enjoying) your book. Making your book completely free for a few days gives readers a no-risk opportunity to "buy" your book — and maximizes your chances of receiving those precious reviews.
Note that if you're launching your book on Amazon, only those enrolled in KDP Select can set a book's price to free. (However, Written Word Media does have this 'price matching' workaround that has allowed authors not enrolled in KDP Select to set up a free discount). Finally, check out our post on how to get book reviews for even more tips, or our directory of book review blogs!
📚
Which book review site is right for you?
Find out here! Takes 30 seconds
Launch at $0.99 to get ranked in Amazon's paid store
When it comes to attracting as many new readers as possible, a free book will always be superior to a $0.99 book. However, you may wish to avoid the free strategy in hopes of earning at least some royalties (35% on Amazon for books priced under $1.99). In addition, on Amazon, any sales you make while your book is listed as free will only boost your ranking in the free store. So you may decide to run a $0.99 promotion in order to ensure that when your free promotion ends, you don't lose your ranking.
Launch at $2.99 for maximum royalties
While there is something to be said about the psychology of "free" or a price that begins with "0," $2.99 is still a respectable launch price. The main boon of launching at $2.99 is that it's the lowest price with which authors begin to earn 70% royalties from Amazon.
Bottom line: Run a free or $0.99 promotion for new titles in order to find an early audience and garner reviews. Run a $2.99 promotion on existing titles that already have reviews to boost your revenue. But before you commit to anything, make sure you're fully versed in Amazon self-publishing royalty rates.
Free course: Price Promotions
Want to learn how to set up your price promotion? Enroll in our free course!
2. Have reader reviews ready to go
There's nothing quite like word of mouth when it comes to promoting a product. Sure, an ad (more on those later) can tell readers why you think your book is for them. But reviews from other readers will be far more effective in convincing prospective customers that's the case.
With your competitive price helping drive traffic to your page, furnishing your page with reader reviews is the way to seal the deal! In terms of numbers, having about 20 reviews is the sweet spot that will achieve a strong effect of social validation, while not giving the impression you went out and bought hordes of reviews.
So how do you go about securing this pre-launch feedback? Here are a few groups to reach out to:
✅
What's your book marketing IQ?
Test your skills here!
3. Announce your book launch
If a book is published and no one knows about it, does it make a sale?
Well, no. While this might feel like a trite, obvious tip, it's a vital one: you need to use any and all platforms at your disposal to tell the world about your book launch.
Here are a few book launch ideas to help you do just that.
Design eye-catching social media posts
Use a free design tool like Canva or consider hiring a professional designer to help create social media posts that show off your new book! These posts should use eye-catching images of your book, indicate its genre, and mention the important details — like price (especially if you're running a price promotion!) and where readers can purchase your book.
To see how it's done, take a look at how Mark Guerin utilizes social proof by highlighting a positive reader review, while Howard of Warwick features his discounted price and signals to readers that fans of Terry Pratchett will enjoy his historical novel.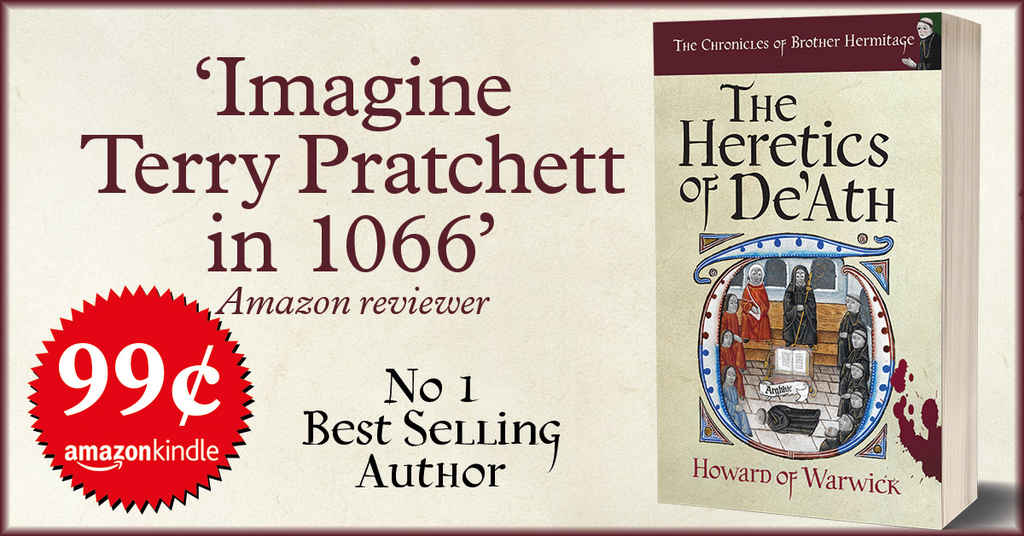 Run a giveaway for your subscribers
One of the best things an aspiring career-author can do is develop a mailing list. By setting up a newsletter for fans to enjoy, you're also building a list of people you can easily reach out to any time you launch a new book. Establishing a mailing list is a lot easier than it sounds, and you can get started right away by enrolling in our free course on setting up your mailing list.
And if you've already got a group of subscribers, go a step further than just announcing your launch — run a giveaway, choosing a few select winners to receive free, inscribed copies of your book!
Alternatively, you can offer subscribers a sneak peek of your new title and let them read the first chapter for free — enticing them to click your retail links to learn more (and pre-order).
Cross-promote your launch with other authors
While the world of traditional publishing may seem shrouded in ivy-gated mystery, the self-publishing community is accessible to all. Look around and you'll find tons of writing communities and critique circles where you can connect with fellow authors on their own self-pub journeys.
And besides the moral support these groups provide, joining forces with an author in the same genre to cross-promote each other is a great way to create buzz for your book! You might simply announce their new release to your own mailing list, while they feature your book to their subscribers.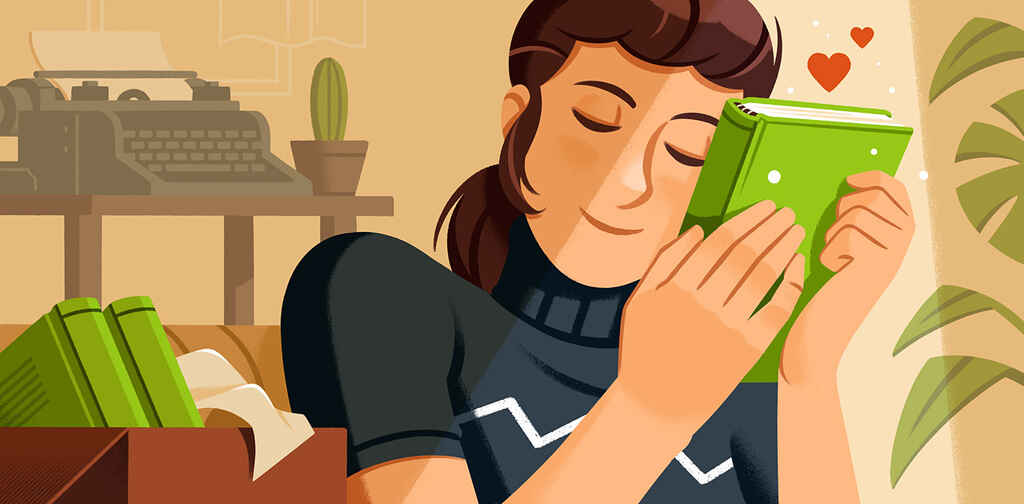 How to Self-Publish a Book
Learn to set yourself up for success as an indie author.
Or you can be a little more adventurous and take over each other's social media accounts, giving followers a 'day-in-the-life' taste of a new author they might just love — while letting them know about your newly published book, of course. You can also host a Facebook Live session, in which you interview each other about your new books — like Jojo Moyes and Sophie Kinsella. The options are endless!
Host a book launch party at a local bookstore
Alright, so this one might not be possible right now. But once the pandemic passes, you should remember not to overlook the power of "local." As a self-published author, you are now a local business owner, and fellow local bookstores may be willing to partner with you to host a book launch party; it's a way to mutually drum up business for your separate endeavors, similar to the symbiotic relationship of two cross-promoting authors.
When the time comes, you can invite family and friends, post flyers around your neighborhood and on local community boards, and reach out to local news outlets to see if they'd be willing to feature you. At each actual event, you can give a reading and host a Q&A session. You can even invite other local authors to present brief readings from their own books, and maybe they'll have you at their next event, too — more symbiosis!
Give your book launch the help it deserves
The best book marketers are on Reedsy. Sign up for free and meet them.
Learn how Reedsy can help you craft a beautiful book.
4. Schedule features on book promotion sites
In order to gain readers on Amazon, you need to climb the rankings. But how do you climb the rankings without Amazon customers? You can rely on a strong social media presence or a growing mailing list. Or you can turn to book promotion sites that will feature your discounted book on their blog or in their newsletters to readers.
Apply for a Bookbub Featured Deal
Bookbub is by far the most effective book promo site — and scoring a Bookbub Featured Deal is considered the jackpot for indie authors. However, even if you meet their minimum requirements, it's incredibly competitive to score a featured spot.
You can increase your chances by submitting as often as possible. You might not get featured during your actual launch, but there's never a bad time to be featured by Bookbub. To that end, we've created this free Bookbub calendar which will remind you when it's time to submit again.
Boost traffic to your book by "promo stacking"
Luckily, there are a number of other reputable promo services you can turn to, and our directory of book promotion sites is a great place to start. And while they may not have the same reach as Bookbub, you can achieve a similar boost in traffic to your newly launched book by "promo stacking" — or scheduling a few promos at once for each day that your book is discounted.
Here are a few of our top recommended book promotion sites to start with (in addition to Bookbub):
5. Use ads to promote your book launch
Another surefire way to reach new readers? Leverage the three main advertising platforms that have proven successful for authors selling their books:
Facebook ads
Facebook ads are a great tool for advertisers — much for the same reasons you may feel skeptical about it as a user. It collects data about where you live, your hobbies, interest, age, where you went to school, what event you attend, so on and so forth.
All of this information can be extremely useful to you when creating ads. If you're launching a historical romance set in Scotland, you can specifically advertise to fans of Outlander, or readers in Scotland who enjoy romance movies. This way, you get the best bang for your buck: you can ensure the ads you're paying for are being seen by the people most likely to actually buy your book.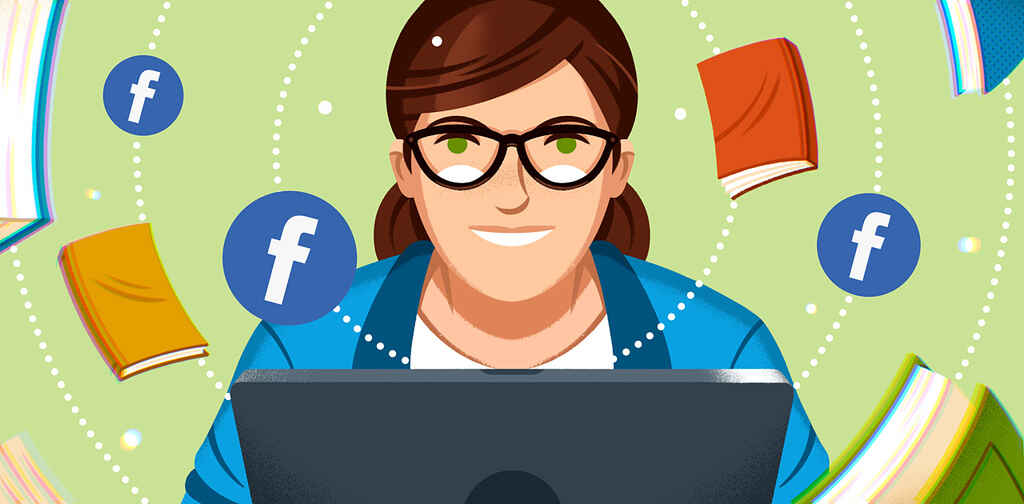 Facebook Ads for Authors
In 10 days, learn to boost book sales with targeted Facebook ads.
Bookbub ads
As with Facebook, Bookbub ads are shown to readers based on interests — in this case, the authors or genres they follow on Bookbub, as well as the deals or ads they've previously interacted with. So when setting up your ads, you want to think about which other genres or authors are relevant to your book.
Here's the caveat: you don't want to pick huge, household names, as they may have many casual followers who don't necessarily read extensively in their genre, or who simply aren't willing to engage with lesser-known authors.
As digital book marketing expert David Gaughran puts it, "I usually get best results with authors who have between 2,000 and 20,000 followers, with 5,000-10,000 often being a particular sweet spot. You can find out how many Followers any author has on the reader side of the BookBub website."
Amazon ads
Formerly known as Amazon Marketing Services, Amazon's advertising platform has gone through a number of updates and iterations and is still fairly new when compared to platforms like Facebook or Bookbub. Still, Amazon Advertising has the significant advantage of presenting your ads to people on, well, Amazon. Having your book marketed "in-store" means that you'll reach readers as they hunt for their next read. Not while scrolling through a feed full of cute animal videos 😊
And there's more: Amazon only charges you when people click on your ad, not just for impressions. Meaning thousands of people may look at your ad, but the cost of the ad will be purely based on how many people click to learn more about your book.
Free course: Amazon Advertising
Learn how to boost sales through Amazon ads!
6. Get all your ducks in a row with our book launch checklist
At Reedsy, we've had a hand in the production of thousands of books — many of which have gone on to become very successful. We've learned all about the best practices of launching a book, which we've shared here with you today.
To doubly ensure you have a smooth launch process, we've condensed the above tips — and many others, from editing to design to marketing — in this book launch checklist. Enter your email below to download it for free!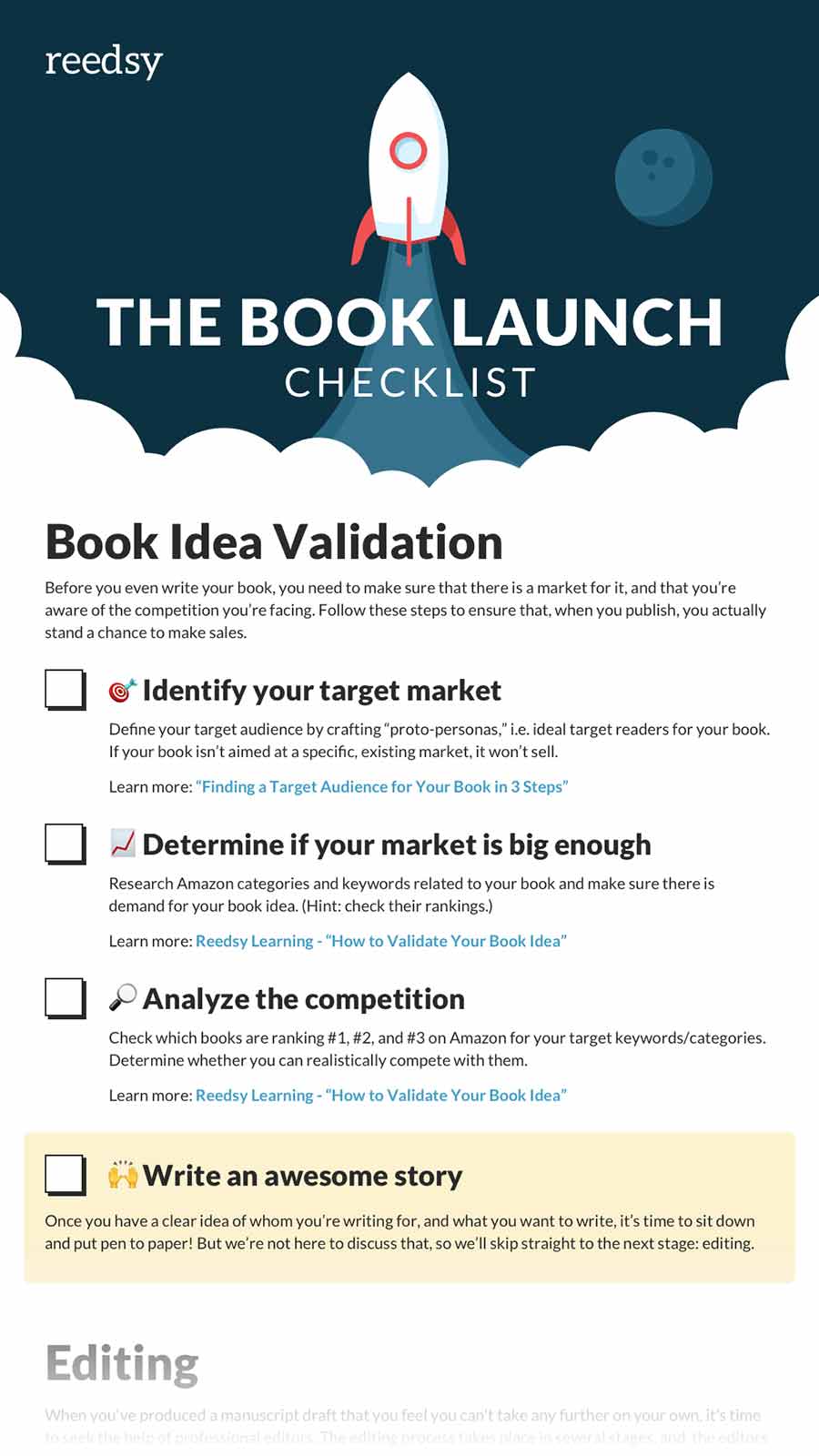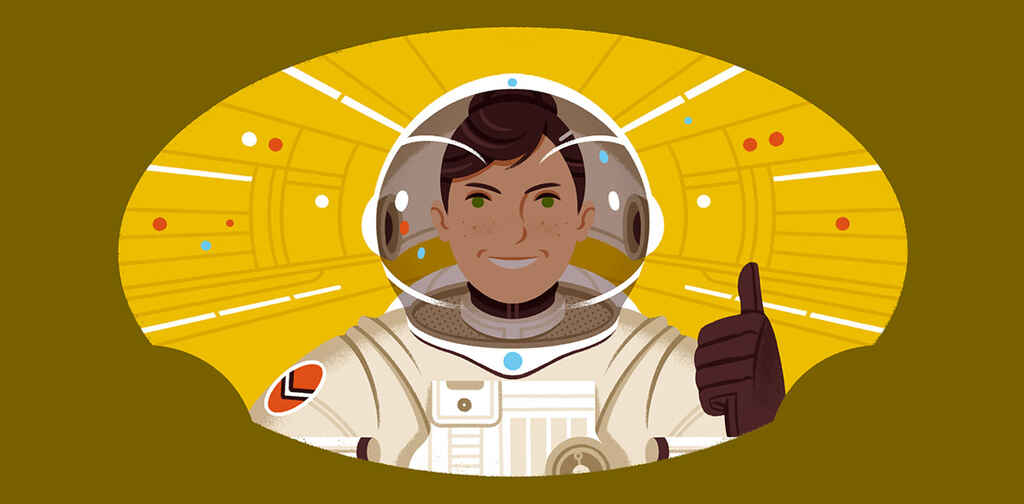 Reedsy's Book Launch Checklist
Launch your book successfully with our tried-and-true strategies.
And there you have it! With competitive pricing, ads and featured spots on book promo sites, and your ideas for announcing your book launch to your community all set, you're ready to not only publish your book, but to gain a host of new readers too.